Shakeology is a quite successful supplement program that has been heavily marketed in the fitness industry. While there are many positives to the program, cost is not one of them.
When I first set out to review Shakeology shake 5+ years ago, I wasn't intending to find faults with it. Much to the chagrin of Beachbody coaches everywhere, my somewhat mixed assessment (and statements that was over-priced), really struck a nerve!
Over the years, I've been amazed at how much controversy this has caused.
But here's the truth…
Shakeology's formula is not all that unique.
Bottom Line Up Front: I personally prefer Vega One available here as the top less expensive Shakeology substitute. It's virtually identical nutrient profile at half the price, makes it the most logical choice for Shakeology users looking to switch.
Editor's Choice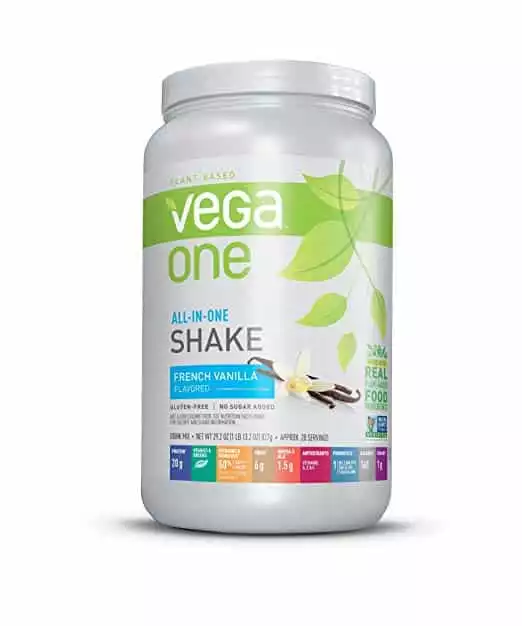 Why I Chose Vega
There's a lot of hype about certain brands, particularly in the multi-level marketing space. Vega is actually a GREAT alternative (with top of the line ORGANIC ingredients), BUT sells at a much lower price point. Check it out!
Check MyVega.com Price
Check Amazon Price
We earn a commission if you click this link and make a purchase at no additional cost to you.
In fact, you can find a number of Shakeology alternatives that are far less "marketed" but essentially the same.
Shakeology Comparison | My Top Less Expensive Shakeology Alternatives (Table)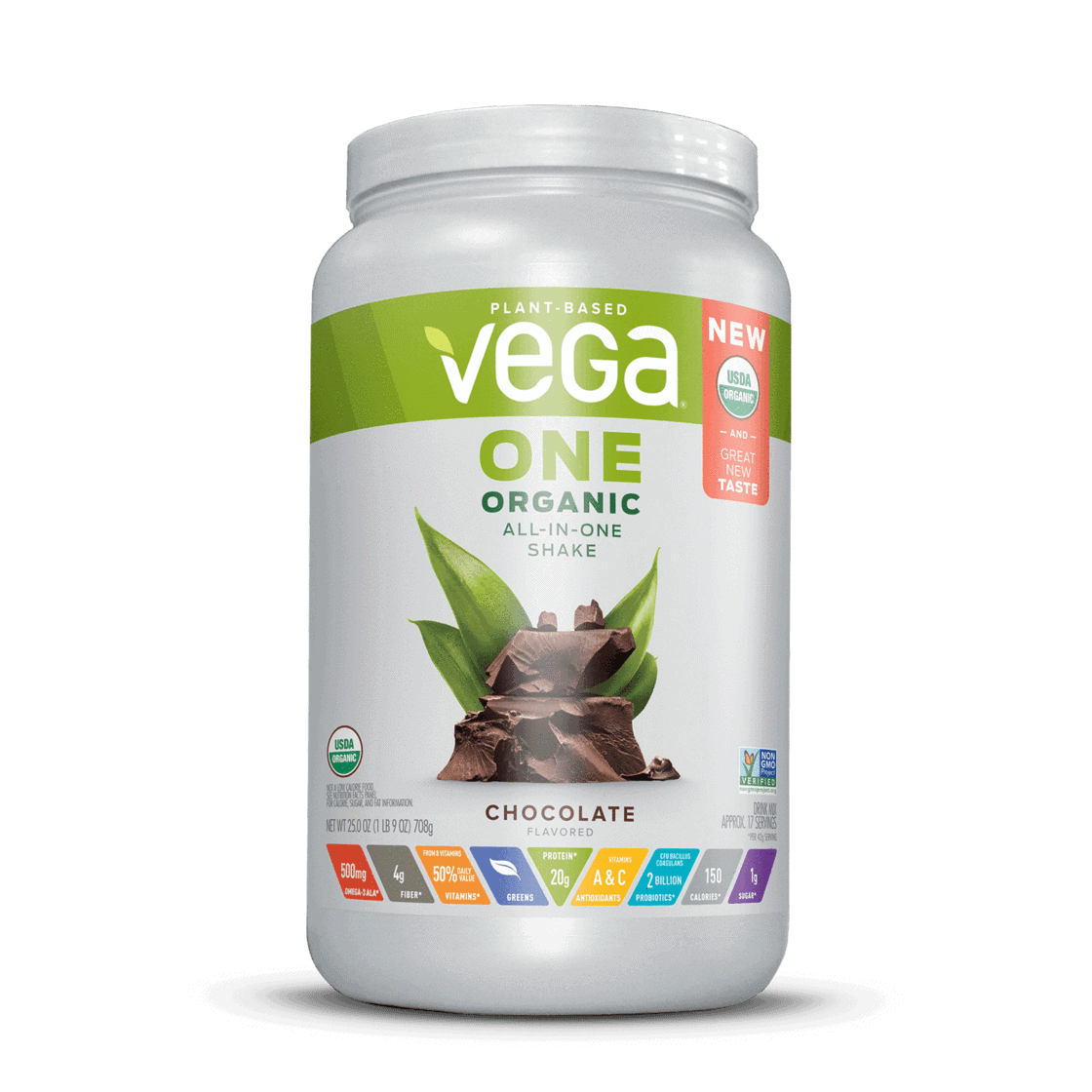 Best Overall
Most similar taste and texture
About HALF the price per serving
Organic high quality ingredients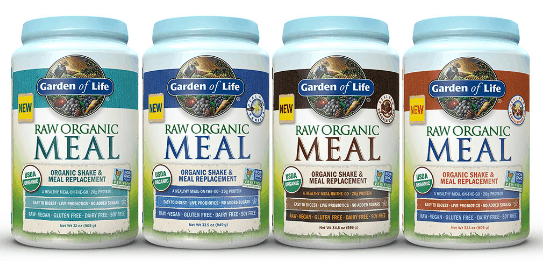 Best Organic
Organic whole food plant nutrients
Higher protein per serving
Less sodium per serving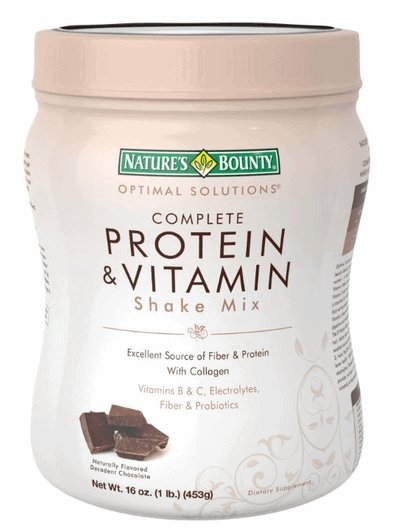 Best Budget
Extremely affordable
"Just the basics" protein
Mixes well in shakes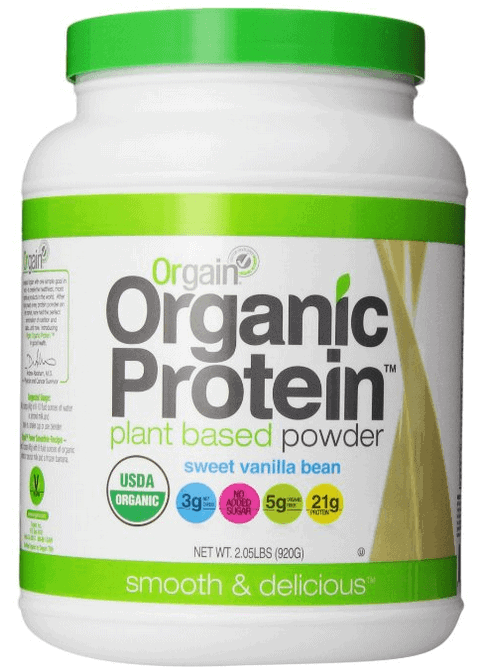 Runner Up #1
LOW Sugar (1g vs 6g)
Mixes well in shakes
Plant based Organic ingredients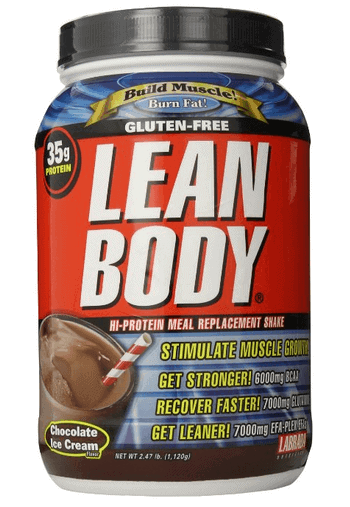 Runner Up #2
Tastes better than Shakeology
Traditional dairy based protein
Easy to mix on the go
For the full explanation for how I reached my decision (and why I am "disenchanted" with Shakeology), continue reading below Please feel free to share your comments and experiences at the bottom of the page!
Up Front Summary
Editor's Choice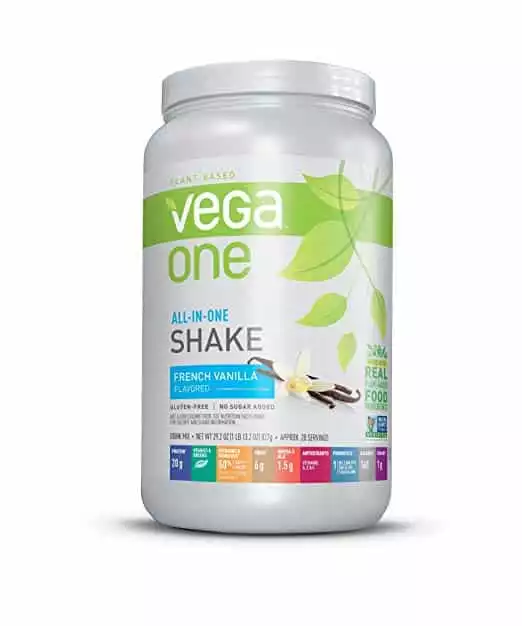 Why I Chose Vega
There's a lot of hype about certain brands, particularly in the multi-level marketing space. Vega is actually a GREAT alternative (with top of the line ORGANIC ingredients), BUT sells at a much lower price point. Check it out!
Check MyVega.com Price
Check Amazon Price
We earn a commission if you click this link and make a purchase at no additional cost to you.
I've actually done a head-to-head comparison of Shakeology vs Vega One here, but it's definitely worth mentioning Vega One in this article as well.
It's recently been one of my go-to meal replacements and definitely a top option to consider in lieu of Shakeology.
Like Garden of Life, Vega One is a completely plant-based supplement, without any dairy. This is good for a number of reasons, but mainly because most of us already have quite a bit of dairy present in our daily diet.
It's good to mix things up, and plant-based supplements can aid in digestion and help cleanse your dietary tract.
There is a perception that vegan supplements are light on protein, but Vega One has 20 grams of high-quality plant protein per serving. This is a full 3 grams more than Shakeology. It has 160 calories just like Beachbody Shakeology, less saturated fat, and much less sodium (only 30mg vs 150mg).
It also features 7 fewer carbs than Shakeology per serving, has the same amount of fiber, but over 5 grams less of sugar. It really hits all the marks in terms of nutrition facts that you want in a good meal replacement powder.
It also has a lot of antioxidants, amino acids, and "super foods" that defenders of Shakeology often point to as Shakeology's key advantage.
Vega One isn't as cheap as some, which is my only hesitation in recommending it. However, at just over $50 for a container of 20 servings that still works out to only around $2.60-70 per serving, almost half as expensive as Shakeology. That's actually a pretty good relative to the Shakeology price and Vega is marketed as a similarly premium plant-based protein supplement.
You can check out this listing for the current deals on Vega One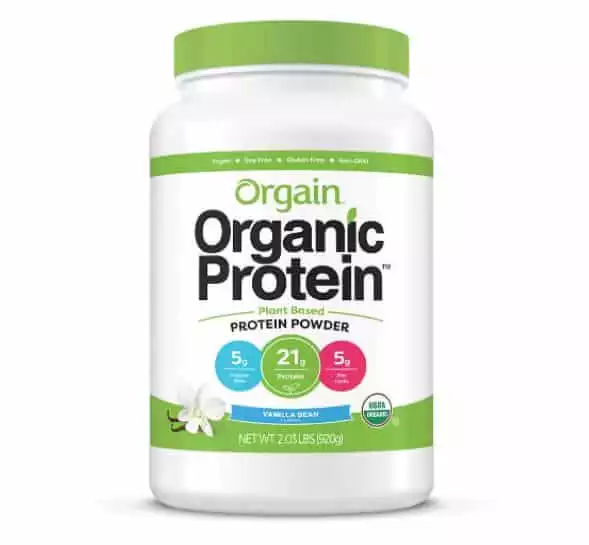 Why I Love Orgain
Smooth, slightly sweet (but not TOO much), all plant-based. Orgain is definitely one of my FAVS. Best of all, it doesn't break the bank.
Check Orgain.com Price
Check Amazon Price
We earn a commission if you click this link and make a purchase at no additional cost to you.
I've recently had a good experience with Orgain protein, (full review here). For people who are concerned primarily about taste and texture, this is a good option to consider.
It comes in a creamy chocolate fudge (similar to Chocolate Shakeology) or vanilla bean flavor, both highly mixable and great tasting.
Orgain really threads the needle with a smooth taste and simple, quality ingredients. It doesn't have all the "extra" superfoods like Shakeology and Vega One (below), but it does have a solid nutritional foundation.
The protein blend is a combination of my favorite plant-based sources, pea protein, hemp protein, and sprouted chia seed protein. In total, you get 21 grams of protein per serving, 4 grams more than from Shakeology.
What you get is an Organic, non-GMO, soy-free supplement. It's not marketed as a full meal replacement, but you can definitely use it as one. If you feel you are missing out on some of the superfoods, try adding something like Amazing Grass Green Superfood.
There is no sugar added and low sodium at 125mg per serving. It also only has 150 calories per serving, slightly less than Shakeology.
Best of all, it's a fraction of the price. I order mine here for a 20 serving container.
Read More: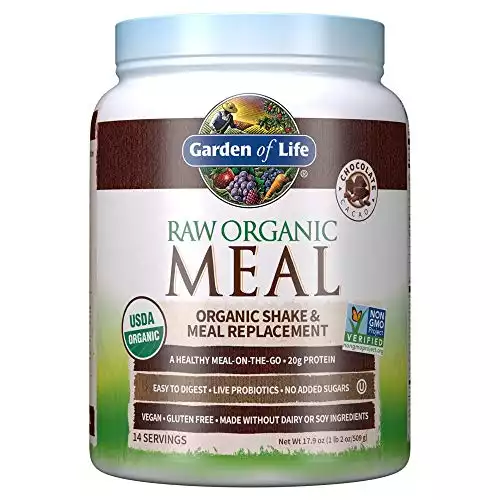 Garden of Life is one of my favorite all natural plant-based protein meal replacement supplements. I'll be the first to admit that it's not for everyone. It doesn't "taste sweet" or mixes as easily as Shakeology, but it has one of the best nutrient profiles out there. What is more, it is a "clean" supplement with no additives, artificial flavoring, or other "fillers".
While mixing it with water "works", I prefer using almond milk (lightly sweetened) or with berries and fruit in a smoothie. You can even use the same Shakeology recipes with Garden of Life as the replacement! For a full review of it, see this article.
Shakeology talks up their "unique" ingredient profile a lot, so I was very interested to check out what Garden of Life comes with as an alternative. First, its a sprouted brown rice protein base, combined with (all organic) Amaranth Sprout, Quinoa, Millet, Buckwheat, Garbanzo Bean, Lentil Flax Seed, Adzuki Bean, Coconut Blend, Sesame Seed, Chia Seed, Pumpkin Seed, Spirulina, Chlorella, Alfalfa, Barley Grass, Wheat Grass, Cherry, Blackberry, Blueberry, Raspberry, and other raw enzymes. In total, it actually measures up to and even exceeds the ingredient profile of Shakeology.
Perhaps most importantly, Garden of Life Raw has 34 grams of protein per serving. This is 2x the 17 grams of protein from Shakeology. If the ingredient profile isn't enough, this sure is. If you are serious about losing weight and finding a real meal replacement, then the key thing to look for is protein content.
Here, Garden of Life is clearly a more efficient protein source.
Finally, Garden of Life is better than Shakeology when it comes to price. Standard Shakeology bags come with approx. 30 servings at $129.95. Garden of Life comes in a 14 serving container at less than $40. That's $2.87 per serving Garden of Life vs $4.33 per serving for Shakeology.
You can find Garden of Life for even less than $40 at this listing here.
Read More: Shakeology vs Garden of Life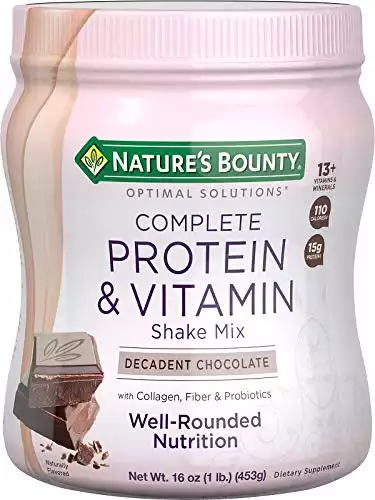 Protein Powder with Vitamin C by Nature's Bounty
Contains (1) jar of 16 ounces of Nature's Bounty Optimal Solutions Complete Protein & Vitamin Shake Mix in chocolate. Supports healthy skin, bone health, energy metabolism, muscle health. Provides digestive health support & immune health support.
View on Amazon
View on Walmart
We earn a commission if you click this link and make a purchase at no additional cost to you.
Nature's Bounty is similar in many ways to Shakeology, with a few key differences. The only downside is that it has only 15 grams of protein, instead of the 17 grams in Shakeology. However, it is ideal for those looking for a low calorie and low sugar alternative.
It has fewer calories than both Shakeology and Garden of Life, with just 110 calories per serving and 2 grams of sugar.
The protein blend is a combination of whey, soy and additional vitamins and enzymes. As such, it's not a vegan (dairy-free) supplement, but it does use all natural ingredients. Another aspect that I like about Nature's Bounty is that it has 50mg less sodium than Shakeology.
Sodium is considered a cheap flavoring "filler" and Shakeology has over 150mg of it. No Bueno for me. Nature's Bounty also has 1/3 of the sugar of Shakeology.
As a disclaimer, this supplement does contain soy. If you have sensitivities to soy or just don't want it, try one of the other supplements instead.
It's also not marketed as a pure meal replacement. The fact is that the difference between a meal replacement and a protein powder is really in how you use it (more on that later).
The last key selling point for Nature's Bounty vs Shakeology is the cost per serving. The standard Nature's Bounty containers only have 13 servings; however, at about $15 per container the cost per serving is quite affordable. It comes out to $1.15 vs $4.33 for Shakeology. You can find good deals at this listing for Nature's Bounty.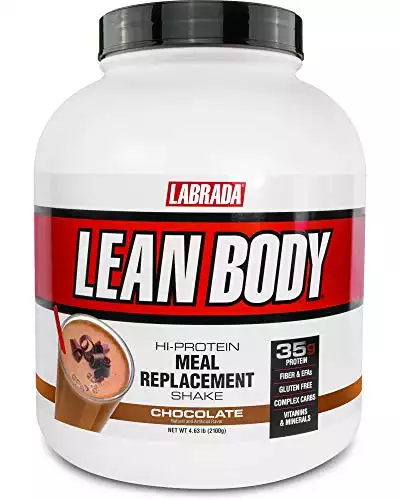 Lean Body All-in-One Chocolate Meal Replacement Shake | Amazon
Confused about what to eat and when for a lean, fit body? Lean Body Hi-Protein MRP takes the guesswork out of balanced, body-toning nutrition. It covers all your bases with 35 grams of an exclusive, high-grade protein blend, 21 essential vitamins and minerals for optimum wellness, and healthy carbs to keep your energy levels up throughout your day.
Buy at Amazon.com
We earn a commission if you click this link and make a purchase at no additional cost to you.
05/01/2023 12:11 am GMT
If you are looking for something more traditional, but still less than Shakeology, Labrada Lean Body is an excellent alternative. If the Garden of Life protein is too "green" or vegan for you, Labrada will taste quite similar to Shakeology.
You might not even notice a difference. It's one of the better conventional alternatives to Shakeology out there.
First, there are a few things that I don't quite like about Labrada. It has 350mg of sodium per serving, which is much higher than I usually like to go for a meal replacement supplement. It also has 290 calories per serving, again higher than Shakeology and other alternatives.
However, it really does act as a genuine meal replacement. Sometimes Shakeology left me feeling hungry all the time and not fully satisfied. The trick to sustaining a diet like this long term is having a meal replacement that actually feeds you.
The critical component of Labrada is 35 grams of protein per serving. This is the best pure protein meal replacement in its class. It's even 1 gram higher than my favorite Garden of Life.
It also more than double what Shakeology can offer. In terms of cost per serving, it's still a LOT more affordable than Shakeology at $2.19 per serving vs $4.33 (Shakeology). You can check out the full product listing for Labrada Lean body here.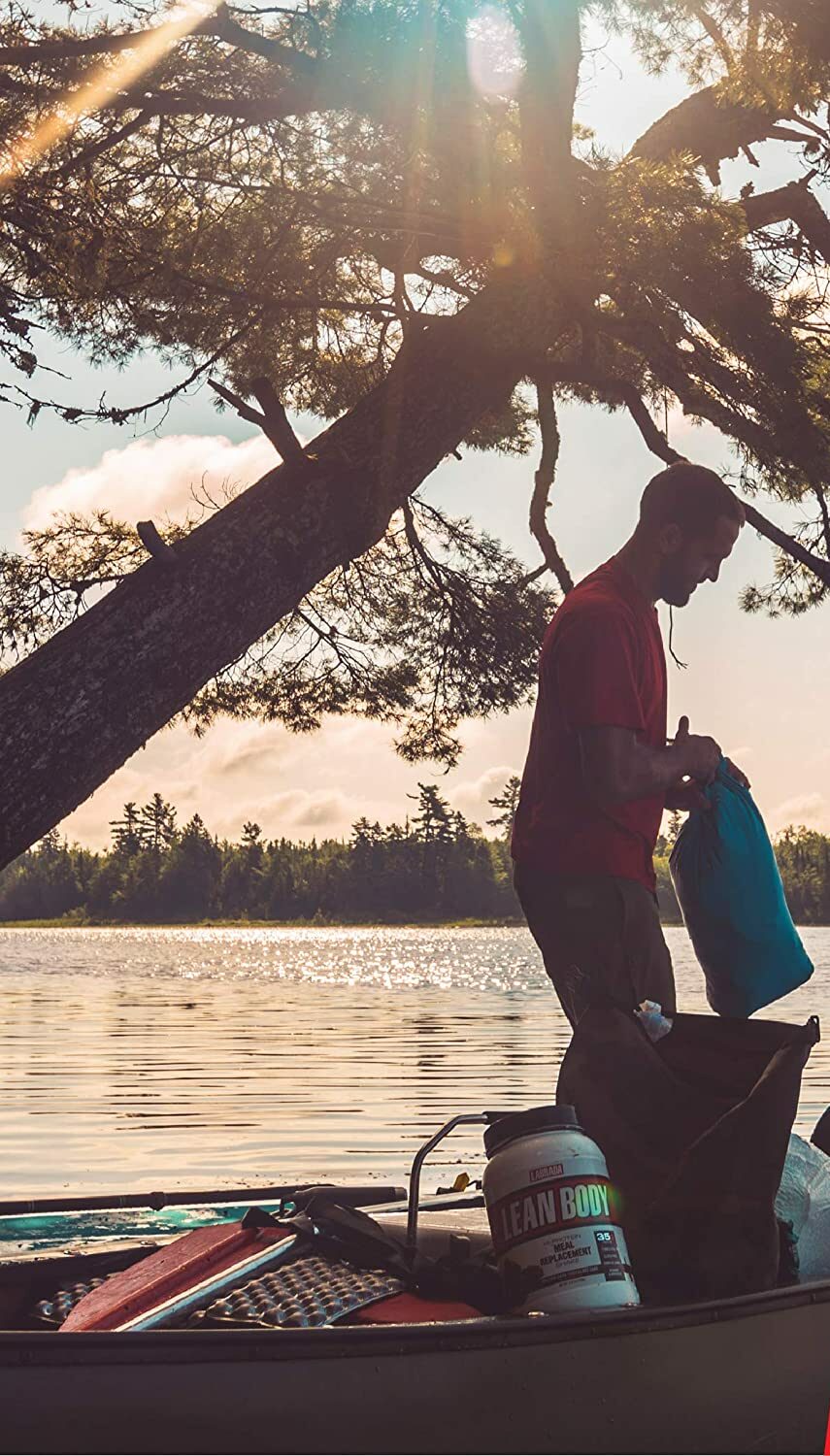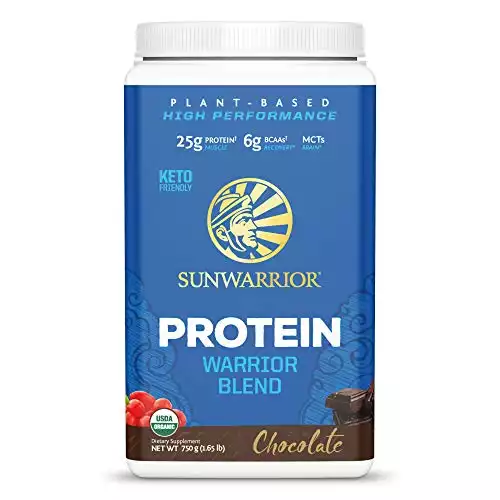 This product's formula contains a proprietary blend which is quite controversial because of the fact that there are no clearly-stated amounts of all the ingredients added to this powder.
Furthermore, each of the available flavors contains a somewhat different ingredient blend (organic chocolate extract, vanilla extract, etc.) but they all have the same key compounds:
Raw organic pea protein – this ingredient is rich in fiber and other important nutrients. It is a valuable source of protein and amino acids;
Organic hemp seed protein – this can be consumed as a sole food source without experiencing any ill effect whatsoever. The genetic structure of this compound is similar to the proteins found in the human body which allows your organism to absorb hemp seed protein a lot better and quicker;
Raw cranberry protein – each berry is full of muscle-pumping protein as well as a large spectrum of amino acids. It is a well-known fact that cranberries can boost one's immune system, alleviate stress symptoms, regulate cholesterol levels, and even lower the risk of heart diseases;
Coconut-sourced medium chain triglycerides – this ingredient represents an excellent source of fatty acids that can lead to a speedier fat burning process while also shortening your muscles' recovery time.
Further Read:
Why Shakeology Isn't the Answer: Shakeology vs Other Meal Replacement Shakes
Two words: marketing and price.
Shakeology has thousands of "distributors" who have a vested interest in pushing the product. It's not that the product is "bad"; it's just overpriced for what you get. In short, you are sold a lifestyle. Shakeology marketing will make you feel like you are receiving more value than you actually are.
Shakeology Cost: Why is Shakeology so expensive? If you are looking for the extra placebo effect, then maybe it's worth the money. However, I quickly realized that you can get the same nutrient profile (or better) and save as much as 60%!
UPDATE: Another "concern" with Shakeology is the much-publicized Dr. Oz report that it contained high levels of LEAD! Before the Beachbody "coaches/distributors" start parroting the company line, I did my research. Well, I read about other people who did the research. Check this article out for further validation.
The Beachbody response? Essentially that this lead is "natural" and found in many plants. The lead is natural!? While it may be true that some common ingredients include lead, this is a result of bad farming practices. In short, Shakeology has an issue sourcing and testing their ingredients.
It's not an acceptable excuse any more than polluted drinking water in Flint Michigan is "naturally occurring".
Unfortunately, all-natural lead is not the new superfood trend…
UPDATE #2: I've been told that the above test was done on an "older" blend (Shakeology Greenberry) that has since been rectified. This may be so. Personally, I'm not willing to take a second chance when a brand does something like this.
Especially not a brand that is THE most expensive on the market and touts their "premium" ingredients as the reason for the high cost. This isn't a case of lead paint. This is ingesting lead to a health supplement…
Comparable Shakeology Replacements (In Depth)
Here are some alternatives to Shakeology that I've had success with:
Protein Shakes Similar to Shakeology – Comparing ALL of the Alternatives
For an easy "at a glance" comparison of the five supplements (including Shakeology), see the chart below:
| Shakeology Alternative | Serving Size | Calories | Saturated Fat | Sodium | Carbs | Fiber | Sugars | Protein |
| --- | --- | --- | --- | --- | --- | --- | --- | --- |
| Shakeology (30 Servings) | 42g | 160 | 1g | 180mg | 17g | 6g | 6g | 17g |
| Garden of Life(14 servings) | 35g | 115 | 0g | 140mg | 8g | 7g | Less than 1g | 20g |
| Nature's Bounty (13 servings) | 33g | 120 | 1g | 110mg | 13g | 4g | 6g | 15g |
| Labrada Lean Body (16 servings) | 70g | 290 | 2g | 400mg | 21g | 7g | 5g | 35g |
| Vega One (20 servings) (EDITOR'S CHOICE) | 40g | 140 | 1g | 250mg | 9g | 4g | 1g | 20g |
| Orgain Organic (20 servings) | 46g | 150 | <0.5g | 200mg | 15g | 7g | 0g | 21g |
But Owen, These Aren't Meal Replacement Shakes Like Shakeology!
I've heard this criticism a few times, but here's the truth. First, Vega One, Garden of Life, and Labrada Lean Body ARE marketed as meal replacements.
Second, the difference between a "protein supplement" or "protein powder" and a "meal replacement" is largely in how you use it! For example. I've used Nature's Bounty shake mix, added berries and veggies in the blender, consume it at 7 AM and – Voila! – Meal Replacement!
When I evaluate a "protein supplement" or "meal replacement shake" or "protein shake", I look at the same nutrition label and ingredient list. A lot of times the term "meal replacement" is a marketing tactic. While the "Shakeology meal replacement shake" is marketed as just that, it's largely about how you use it. Sorry for the tangent – but I wanted to clear this up.
Further Research: Meal Replacement vs Protein Shake (what's the difference, really)
But Owen, These Other Shakeology Substitutes Don't Have SUPER Foods!
First, Vega One does have many of the same groups of ingredients.
Second, I'm skeptical of the true value of "exotic" superfoods. Science backs some, but many of them are unproven. At present, they are just a marketing tactic. For example, I've read the evidence on Spirulina…. its a GOOD superfood that has PROVEN results. On the flip side, I have no clue what to expect from "Yacon Root". Early evidence is mixed, at best. I'm not necessarily impressed by that.
Finally, why not purchase a superfood supplement separately? I've had good success with things like Amazing Greens and Garden of Life Green Superfood.
Great Affordable Alternative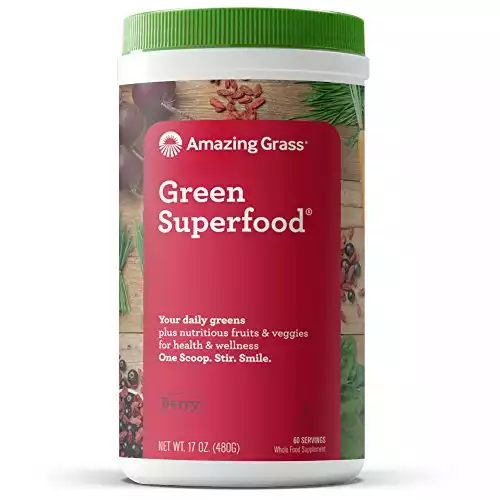 Amazing Grass Green Superfood | Amazon
This Berry Green SuperFood is a delicious drink powder infused with acai and goji berries to help you achieve your 5 to 9 daily servings of fruits and vegetables.
Buy at Amazon.com
We earn a commission if you click this link and make a purchase at no additional cost to you.
05/01/2023 12:10 am GMT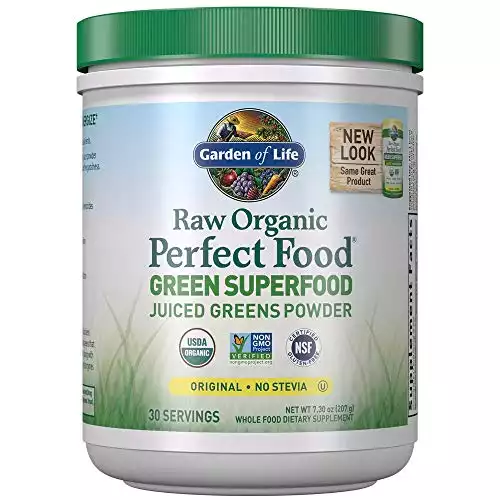 Garden of Life Raw Organic Perfect Food Superfood | Amazon
Capture the power of the sun with raw organic perfect food, packed with the power of nutrient-dense, raw, organically grown greens, sprouts and vegetable juices for the raw energy you need. Raw organic perfect food is the convenient, delicious way to get your Veggie Juice every day. No artificial flavors, sweeteners.
Buy at Amazon.com
We earn a commission if you click this link and make a purchase at no additional cost to you.
05/01/2023 12:10 am GMT
List of Shakeology Nutrition and Ingredients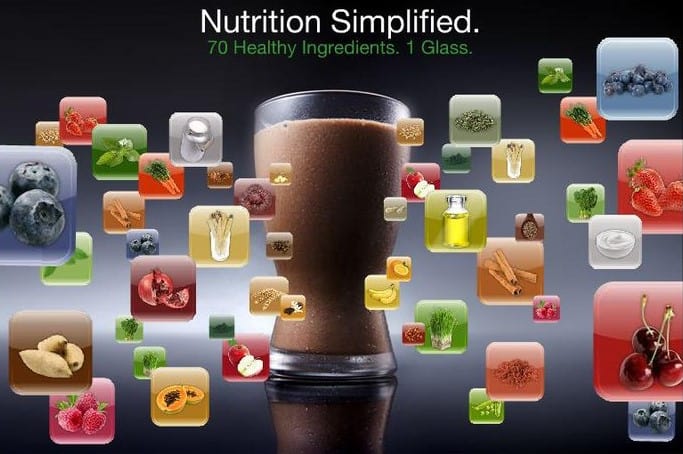 Speaking of ingredients, I thought I would do some more research on the actual ingredients found in Shakeology. I have gone to the source, the Shakeology website and downloaded a copy of the ingredient list for this one.
There are a lot of good ingredients in these shakes, but there are also a lot of expensive supplements that have yet been proven effective.
Another overall concern with the ingredient list is the amount and dosage of each ingredient in Shakeology — there are no amounts listed on any Shakeology ingredient list, and yes, that matters.
Without proper dosing, some of the good supplements are just not as effective. Also, another thing I noticed — the proprietary blends — we have no idea on the ratio, say for the digestive enzymes, and yes, that matters. Some digestive enzymes are better than others, while some are specifically used for things like dairy.
Another thing to consider with Shakeology ingredients — how are these sourced? Is the whey protein organic? Are the supplements organic?
There are still not enough regulations in the supplements yet. Some of the more exotic ingredients found in Shakeology, for example, the Reishi mushrooms — high-quality reishi mushrooms are very rare and quite expensive. A lot of supplements claim that they contain Reishi mushrooms, but it's not sourced, only recreated in a lab, as this article explains.
I love supplements. I love protein shakes, but I also love saving money. Shakeology is an expensive product with a long ingredient list. Check out my research on Shakeology Ingredients and judge for yourself. Is Shakeology worth it?
Ingredients
Research
Whey protein (as isolate)
While whey protein isolate does contain more protein than other forms of whey protein, it is only optimal if it is grass-fed and organic, which Shakeology's is not. This document from Shakeology confirms that this whey protein isolate is neither grass-fed, or organic.
Pea protein
Studies show that pea protein can be an effective source of protein to aid weight loss by controlling Ghrelin, regulate blood sugar, increase muscle thickness, may also decrease kidney disease, and is proven heart healthy. A serving of pea protein is 23 grams, but Shakeology's shake does not contain this amount, and due to their proprietary blend of protein, we cannot guarantee the amount of pea protein.
Chia (Salvia hispanica, seed)
There are a lot of people touting the health benefits of chia seeds out there. This study gave women 25 g of chia seeds daily for 12 weeks and proves that even though the plasma level of ALA increased in these women, there were "no significant results on weight loss and disease risk factors." Authority Nutrition claims that although chia seeds are high in protein and fiber, both of which have been shown to aid weight loss, the studies on chia seeds have not noted any effects on weight.
Flax (Linum usitatissimum, seed)
This study shows that flax seeds may help improve digestion and relieve constipation. They are also very high in the omega-3 fatty acid alpha-linolenic acid (ALA), which may decrease your risk of heart attack or stroke, as this study shows. There isn't enough flax seeds to supplement your Omega-3s, as this document from Shakeology discusses.
Quinoa (Chenopodium quinoa, seed)
Quinoa is known as a superfood because of its dense nutrients. It is a complete protein, and it does not contain gluten, so it can be a good protein source for vegans who are also gluten-free.

This study also shows that quinoa is also a good source of antioxidants and minerals, providing more magnesium, iron, fiber and zinc than other grains.

We do not know if there is enough quinoa in a Shakeology serving to make it effective.
Cacao
Raw cacao has been proven to have numerous health effects, as this article contends, raw cacao can even have effects on blood pressure, and cholesterol levels. This study also proves that raw cacao beans are a great antioxidant, but there is no research on the amount of raw cacao in each Shakeology serving.

Pea fiber (Pisum spp., seed)
Pea fiber is a gluten-free protein and fiber source made from the fiber that surrounds the pea. According to this study, pea fiber may have health benefits and can even lower glycemic index, however as this study contends, there is no research on its appetite suppressing properties, especially in such small amounts.
Yacon (Smallanthus sonchifolius, root)
There is one study about the effects of Yacon syrup that might show some weight loss benefits, however, it was a small study done, and the participants were given 1 serving of Yacon syrup roughly one hour before meals to act as an appetite suppressant. We do not know how much Yacon is in each Shakeology serving to say that it is a full serving (as in the study).

More research is needed to prove the efficacy of this root and its effect on weight loss.
Cordyceps (Cordyceps militaris, fungi)
According to Web MD, there are many benefits to Cordyceps, and is currently being used as Some people use cordyceps as a stimulant, a tonic, and an "adaptogen," which is used to increase energy, enhance stamina, and reduce fatigue.
Chlorella (Chlorella spp., whole)
Chlorella is an edible freshwater algae, and has been proven to have some health benefits. However, as this study shows, there have not been enough definitive studies to prove the effectiveness of Chlorella, what amounts you would have to take for any effectiveness and because of the way this must be processed in order to get any benefits, it can be a costly supplement, which can be easily replaced by other nutrient-dense foods such as kale or broccoli.
Spirulina (Arthrospira platensis, whole)
According to Web MD, there might be benefits to Cordyceps – a fungus that lives on certain caterpillars in high mountain regions of China – and is currently being used as a stimulant, a tonic, and an "adaptogen," which is used to increase energy, enhance stamina, and reduce fatigue. This is an exotic supplement that can easily be reproduced in the lab cheaper than harvesting. As with other natural supplements, dosing is so important, and WebMD recommends only taking Cordyceps for a short time, and gives warnings for people who should not take this supplement at all.

There is no information on how much Cordyceps is in each Shakeology serving, but this supplement is designed for short term use, and may have interactions with things like caffeine, as this study shows.
Acerola cherry (Malpighia glabra, fruit)
Acerola cherry, as this study confirms, is an expensive source of Vitamin C. "To date, there is no clear evidence that naturally derived vitamin C is superior in its clinical effectiveness than synthetic ascorbic acid."
Bilberry (Vaccinium myrtillus, fruit)
It turns out that even though bilberry extract is a popular supplement, there hasn't been enough definitive studies, as this report shows, to show that it's any more effective than other less expensive and readily available supplements, such as cranberry.
Blueberry (Vaccinium corymbosum, fruit)
Blueberry supplements may have some cognitive benefits, as this report shows, and many antioxidant benefits, but as a supplement, it is recommended to keep in cold environments, as blueberry supplements are heat sensitive.
Goji berry (Lycium barbarum, fruit)
Although there has been a lot of hype on the effects of goji berry supplements, as this report states, there is insufficient scientific evidence supporting the effectiveness of goji berry supplements, especially when it comes to weight loss.
Spinach (Spinacia oleracea, leaf)
Some studies have shown that a certain amount of spinach extract can help with weight loss, as this research explains, however there have not been enough independant studies to prove this to be true.
Maitake (Grifola frondosa, fungi)
There have been a lot of claims on the benefits of Maitake mushrooms, but as this report shows, there is still little research on the effects on humans for benefits such as weight loss.
Reishi (Ganoderma lucidum, fungi)
According to WebMD, reishi mushroom is used for boosting the immune system and has been shown to have some effectiveness according to users. Other uses for reishi mushrooms include reducing stress and preventing fatigue.

The quality of this supplement is important, and so is dosing. The standard time frame for treatment with this herb according to this study is one to three months, taken three times per day. Also, people with autoimmune diseases should not take reishi. There is no information on the type or amount of reishi in Shakeology, and as this article confirms, high-quality reishi mushrooms are quite rare and expensive.
Rose hips (Rosa canina, fruit)
Rose hips are a known anti-inflammatory supplement and should be taken with meals for full effectiveness. Studies have shown that taking rose hip supplements have had "a mild reduction in blood pressure" but there is limited evidence in human studies with regards to weight loss.
MSM (Methylsulfonylmethane)

There has been a lot of hype surrounding MSM, but according to Web MD, and other sources, there is little published scientific research to support its use. It can also be quite an expensive and ineffective supplement according to Web MD, and other sources.
Ashwagandha (Withania somnifera, root)
People use the ashwagandha plant for many things, but according to WebMD, "there isn't enough information to judge whether it is effective for any of them."

Ashwagandha is also used as an "adaptogen" to help the body cope with daily stress and as a general tonic, and there seems to be some evidence that it has antistress properties, as this study shows, yet there is still not enough human research to back up these claims.
Enzyme blend: Amylase
Amylase is known as one of the "starch blockers" of enzymes that some claim to help with weight loss, yet, as this study shows, there isn't enough evidence to say definitively that they help reduce carbohydrate absorption in humans.

Also, not all enzymes, as this report explains, even those with the same name as effective, and since Shakeology does not list the details of their proprietary blend, we do not know the ratios of these enzymes.
Enzyme blend: Cellulase
Cellulase as an enzyme that breaks down cellulose, so as an enzyme cellulase acts as fiber, which can help digestion. But, as this study shows, cellulase does not influence subjective appetite sensations, or seem to be an effective weight loss supplement.
Enzyme blend: Lactase
Lactase is an enzyme that breaks down lactose, the sugar found in milk, and can be effective in doing that, if, as this article explains, you take them in the required amounts and are lactose intolerant, and since there is lactose in the whey protein used, this might be a necessary addition.
Enzyme blend: Glucoamylase
Glucoamylase is an enzyme that can help break down starches, but as this extensive article explains, not all enzymes are as effective as others, even those with the same name.
Enzyme blend: Alpha-Galactosidase
Alpha-Galactosidase is an enzyme that is also known as "Beano", which is used to reduce gas in the digestive track.
Enzyme blend: Invertase
Invertase is an enzyme, derived from honey, or yeast that helps break down sugars. It is used in baking to make candy, as it helps break down the sugar molecules.

It is really hard to find any definitive studies on its effectiveness in breaking down sugars in the stomach, however, even if it did help, there is no evidence to how much of this particular enzyme is included in Shakeology shakes, like other digestion enzyme products clearly list.

Kale (Brassica oleracea, leaf)
We all know that Kale in its natural form is one of the most nutrient-dense vegetables around, however, as a supplement, you have to watch dosing, as high levels of Vitamin K can interfere with blood thinners, as this blog says.

Just like other supplements, the sourcing of the Kale is important and it is unclear if Shakeology is organic kale supplements or not.
Luo Han Guo (Monk fruit, Siraitia grosvenori)
Luo Han Guo, or Monk fruit is generally used as a sweetener, as this site shows.
Himalayan salt
Himalayan salt contains 84 minerals, as this article explains, but is a sodium and should not be used excessively.

Lactobacillus sporogenes (Bacillus coagulans)
Lactabacillus is a type of bacteria that can help digestion, however, as WebMD discusses, "There are concerns about the quality of some lactobacillus products. Some products labeled to contain Lactobacillus acidophilus actually contain no lactobacillus acidophilus, or they contain a different strain of lactobacillus such as Lactobacillus bulgaricus. Some products are contaminated with "unfriendly" bacteria."
Schissandra (Schisandra spp., fruit)
Schissandra is known as one of the "adaptogens" used for increased resistance to stress and disease, according to this site, Schissandra might be effective for mental performance, but there is insufficient evidence for exercise performance.
Maca (Lepidum meyenii, root)
Maca has been known for centuries as an aphrodisiac and is primarily grown in Peru. Although there are plenty of studies that show Maca's effectiveness, as this site says, many of these studies have been done in Peru. More research outside of Peru is needed to prove Maca's effectiveness.
Cinnamon
Cinnamon may also be used as a flavoring, but some claim it can lower blood sugar yet according to WebMD, some studies prove otherwise, or studies are inconclusive either way.
Green tea extract
According to this research, "Green tea catechins are four molecules, high amounts of which are present in green tea and other sources. The most potent one is EGCG. It is effective in respect to most claims and potent in a few. Any fat burning benefits are dependent on being Caffeine-naive." It looks like the caffeine content in green tea may help its effectiveness for weight loss.
Ginko biloba, leaf extract
Ginko biloba is a herb that some claim can help with mental alertness and brain functions, however, as this research shows, "Ginkgo biloba is the most commonly ingested herb for brain health. While it can boost cognition, this effect is not very reliable."
Moringa oleifera, leaf
According to this study, "For usage as a supplement, moringa oleifera is recommended mostly as being a highly nutritious antioxidant. While it is indeed nutritious, supplemental dosages are too low to acquire adequate nutrition from and this claim is not relevant."
Sacha inchi, seed
Often marketed as a Superfood, as this article explains, Sacha inchi is a plant native to Peru, where the edible seeds are used for supplements.

Although it is too soon to fully recommend Sachi inchi for weight loss, it can improve overall health because of nutrient contents, as this article explains.
Chicory root fiber
Chicory root fiber can help people with digestive issues, as this article contends because of the main ingredient, "Inulin", which may help decrease constipation, increase helpful bacteria in the colon, and may also decrease triglycerides in the blood.

There does seem to be some evidence that chicory root fiber might help with weight loss, as this study confirms, however, it is not as significant as some would lead you to believe and more research is needed for definitive connections.
Pomegranate (Punica granatum, fruit)
There are some studies that may prove that pomegranate supplements can help with weight loss, as this article explains, however, most of the studies were not conducted on human subjects, so more research is needed.
Astragalus membranaceus, root
Astragalus membranaceus is one of the more expensive supplements in this ingredient list but does have a long history in Chinese medicine and can "add life to your years, rather than adding years to your life" as this article explains.
Camu-Camu, fruit
As WebMD explains, "Camu camu fruit contains many nutrients including vitamin C, beta-carotene, fatty acids, protein, and others. It also contains other chemicals that might have an effect on the body. However, there is not enough information to know how camu camu might work for treating or preventing any medical condition."

This is also another one of the more expensive supplements on the ingredient list, and although it is a good source of Vitamin C and other flavonoids, there are other less-expensive sources out there.
List of Shakeology Vitamins and Minerals: What You Need to Know!
When it comes to expensive vitamin supplemented shakes, it's important to look at the source of each ingredient, including the sources of vitamins and minerals. It would appear that most (if not all) of Shakeology's vitamins and minerals are synthetic vitamins.
This is typical, as most high-strength, multi-vitamin pills on the market are synthetic. Not all vitamins are created equally, as this article explains, and can lead to dangerous mineral deficiencies and toxic effects, as this research also confirms.
Here is an overview of synthetic vs. natural vitamins that's worth a read, but here are some takeaways.
How can you tell that there are synthetic vitamins in a product?
"If the potency is higher than anything you would find in nature (example 1000% Daily Recommended Allowance of Vitamin C per serving), the product contains synthetically produced ingredients, no matter what the producer of that product might claim." (Source)
Putting the word 'natural' on a vitamin supplement is deceptive (Source)
Are certain synthetic vitamins worse than others?
Yes. Some vitamins are water-soluble, so they can easily be flushed out of the body. "The fat-soluble vitamins include vitamins A, D, E and K. Because they are soluble in fat (lipids), these vitamins tend to build-up in the body's fat tissues, fat deposits, and liver" (Source).
When it comes to the vitamins sourced for Shakeology, it would appear that many of them are synthetic (not whole foods sourced) versions of the vitamins and minerals. It also appears that the cheaper, less effective versions are used as well, for example, the Calcium used is an inexpensive and ineffective version.
It would be much better to invest in a high-quality multi-vitamin source if you feel that your diet might be lacking some minerals and vitamins. We've recommended some good ones before. Remember to carefully read the labels.
Vitamins and Minerals
Research
Vitamin A (beta-carotene) 5000 IU
Unless the whole foods source of beta-carotene is listed (which in this case, it is not) it is highly likely that this source is a synthetic vitamin, as this article explains, which can actually increase cancer risks, instead of lowering them as a whole food source would.


Vitamin C (ascorbic acid) 180 mg
Ascorbic acid, technically is not Vitamin C, only a part of the Vitamin C molecule, according to this research. The most effective form of Vitamin C is naturally found in food. According to this research, "For a complex matrix like Vitamin C to be effective, it has to be used as nature created it. Always use a full-spectrum food source supplement of Vitamin C and other supplements to insure that all the naturally-occurring nutrient factors are available to your body."
Vitamin D (cholecalciferol) 200 IU
This is a synthetic version of Vitamin D, which is made from "lanolin washed from lambs' wool" (according to this source) and should be avoided, especially because it is one of the fat-soluble vitamins.

"Fat-soluble vitamins in their synthetic form are especially dangerous because they can build up in your fatty tissues and cause toxicity," says Dr. Edward Group here.
Vitamin E (mixed tocopherols) 15 IU
This is another synthetic vitamin that should be avoided because of toxicity, according to this research.
Vitamin K1 (phytonadione) 40 mcg
Vitamin K is a man-made vitamin typically used for people with a Vitamin K deficiency, as this article explains. It is also a fat-soluble vitamin with inherent risks of flushing, sweating, or tight-chestedness as this article explains.

People on blood thinners should avoid excessive amounts of Vitamin K, which many Shakeology members have discussed on forums, yet still told how to "continue with the program".
Vitamin B1 (thiamin HCI) 1.5 mg
This is another synthetic vitamin that should be avoided because of toxicity, according to this research.
Vitamin B2 (riboflavin) 1.3 mg
This is another synthetic vitamin that should be avoided because of toxicity, according to this research.
Vitamin B3 (niacin) 5 mg
High levels of niacin can cause side effects, as this source explains, but the amount of niacin in Shakeology is not excessive.
Vitamin B6 (pyridoxine HCI) 2 mg
The amount of Vitamin B6 contained in Shakeology is not enough to supplement people who have deficiencies, but this is typical amount found in most multivitamin supplements.
Folic acid 200 mcg
This is another synthetic vitamin that should be avoided because of toxicity, according to this research.
Vitamin B12 (cyanocobalamin) 6 mcg
This is another synthetic vitamin that should be avoided because of toxicity, according to this research.
Biotin 90 mcg
This is another synthetic vitamin that should be avoided because of toxicity, according to this research.
Pantothenic acid 5 mg
This is another synthetic vitamin that should be avoided because of toxicity, according to this research.
Calcium (dicalcium phosphate)
300 mg
Dicalcium Phosphate is "an inexpensive, poorly absorbed form of calcium," says this research.
Iron 6 mg
There are two types of iron supplements, ferrous and ferric, of which ferrous is better absorbed in the body, according to this article. It is not clear or labeled what type of iron is in Shakeology.
Phosphorus (dicalcium phosphate) 230 mg
Not sure why this is listed separately as Calcium as dicalcium phosphate, they are the same. Dicalcium Phosphate is "an inexpensive, poorly absorbed form of calcium," says this research.

With 530 mg of dicalcium phosphate contained in Shakeology shakes, it could be harmful taken at one time, according to this research, instead, the dosing should be spread out throughout the day.


Iodine 52 mcg
Iodine is an essential element, yet not typically found in supplements because it is already added to table salt, as this research confirms.
Magnesium oxide 80 mg
Magnesium oxide is typically used as a laxative, and not as a magnesium supplement because the amount of magnesium absorbed is less than 4%, as this study confirms.

There are much better sources of magnesium supplements out there. Check out this comparison chart.
Zinc oxide 6 mg
Zinc oxide is an "inorganic compound of zinc most commonly used in topical ointments for addressing minor skin conditions such as burns and irritation. It is also a common ingredient in sunscreens. This type is a non-chelated, inorganic form of zinc. Studies show mixed results on the body's ability to absorb and metabolize this form of inorganic zinc" claims this research.
Copper gluconate 0.8 mg
Copper is not naturally found in the body, but is found in certain foods, as this research shows, but "copper gluconate is copper carbonate processed with gluconic acid. It is used as a deodorant" sites this research.
Manganese sulfate 2 mg
Manganese is a naturally occurring mineral in the body that is necessary for bone health,
Chromium chloride 60 mcg
This is another synthetic vitamin that should be avoided because of toxicity, according to this research.
Molybdenum (as sodium molybdate) 30 mcg
Sodium molybdate is a chemically altered form of sodium, as this article explains. Too much molybdenum can have side effects, however, it is different for every person.
But Owen, Good People Make Money from Shakeology!
I get it. I'm not trying to put down people who promote products. I am trying to present the other side of the story. A side that doesn't usually get told because Beachbody provides a lot of incentives to stick to the company line. I'm not anti-corporate, or anti-making money, I'm just anti-bias.
In my personal experience, most of the Beachbody coaches and distributors make professional trainers look bad. Just because you start calling yourself a "coach" doesn't mean you are. The fact is, Beachbody might empower people by calling them coaches, but they really don't have the training that the title entails (in fact, coach = distributor for all practical purposes).
Shakes Comparable to Shakeology
I frequently get asked to specifically compare products versus Shakeology. The following is a brief summary of my thoughts on direct comparisons. Where relevant, I link out to full reviews or comparisons that I've done.
Omnihealth Shakes vs Shakeology
I haven't tried Omnihealth yet, but I'm not looking forward to it. The ingredient list is full of ultra-processed preservatives. While it's certainly cheaper than Shakeology, I can find very little information about who actually owns the brand and how they source ingredients. It looks like their website is no longer up, which is a bad sign. My take: stay away and opt for another alternative to Shakeology.
Another one that I've tried and really liked is Naturade Vegan Smart. They are certified Vegan, Non-GMO and Low-Glycemic.
Not to mention Soy Free with ZERO cholesterol. With a solid 20 grams of protein (under 170 calories) and 7 grams of fiber, it's hard to see why NOT to try it. The ingredient profile is diverse, without being overly-complicated at 9 whole food plant-based combinations. Best of all, it's a fraction of Shakeology's cost here.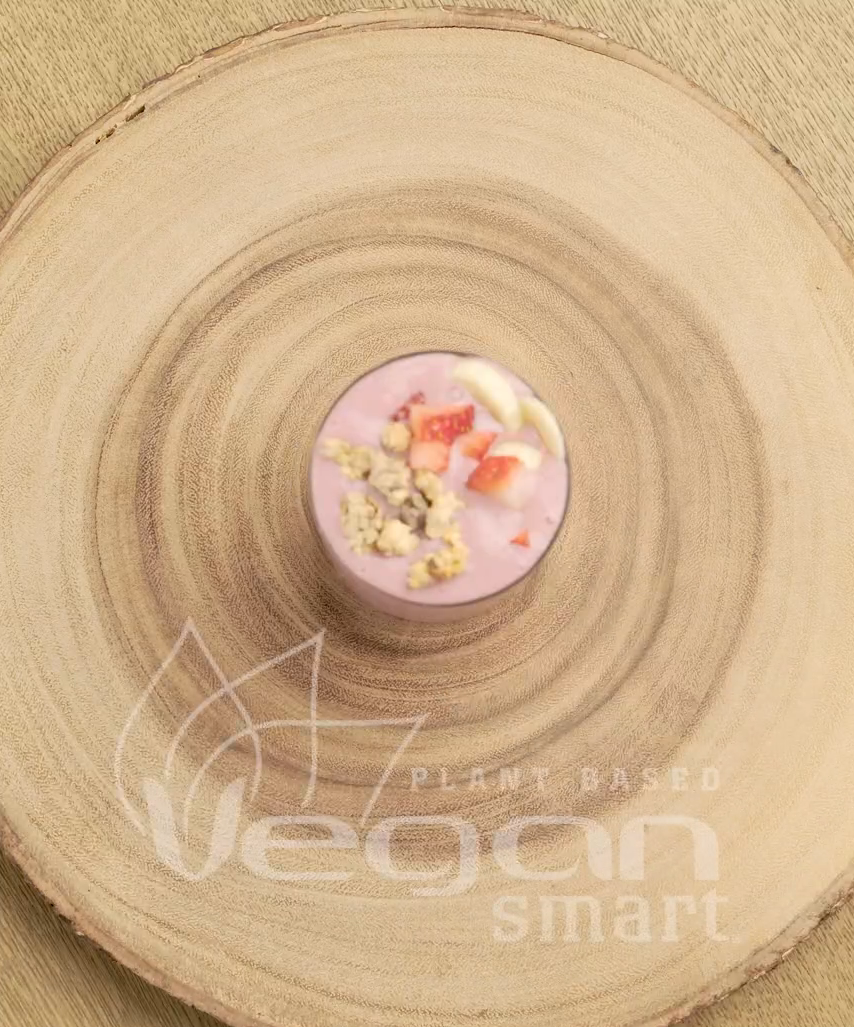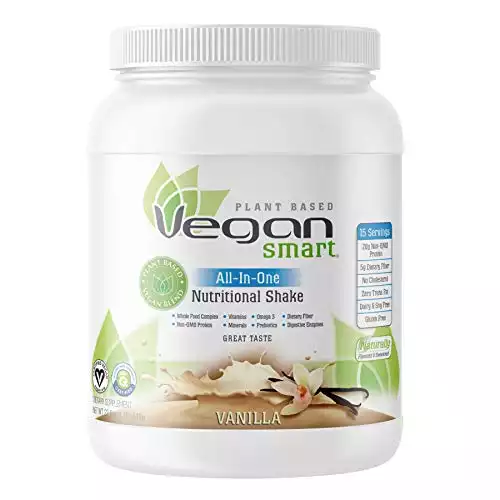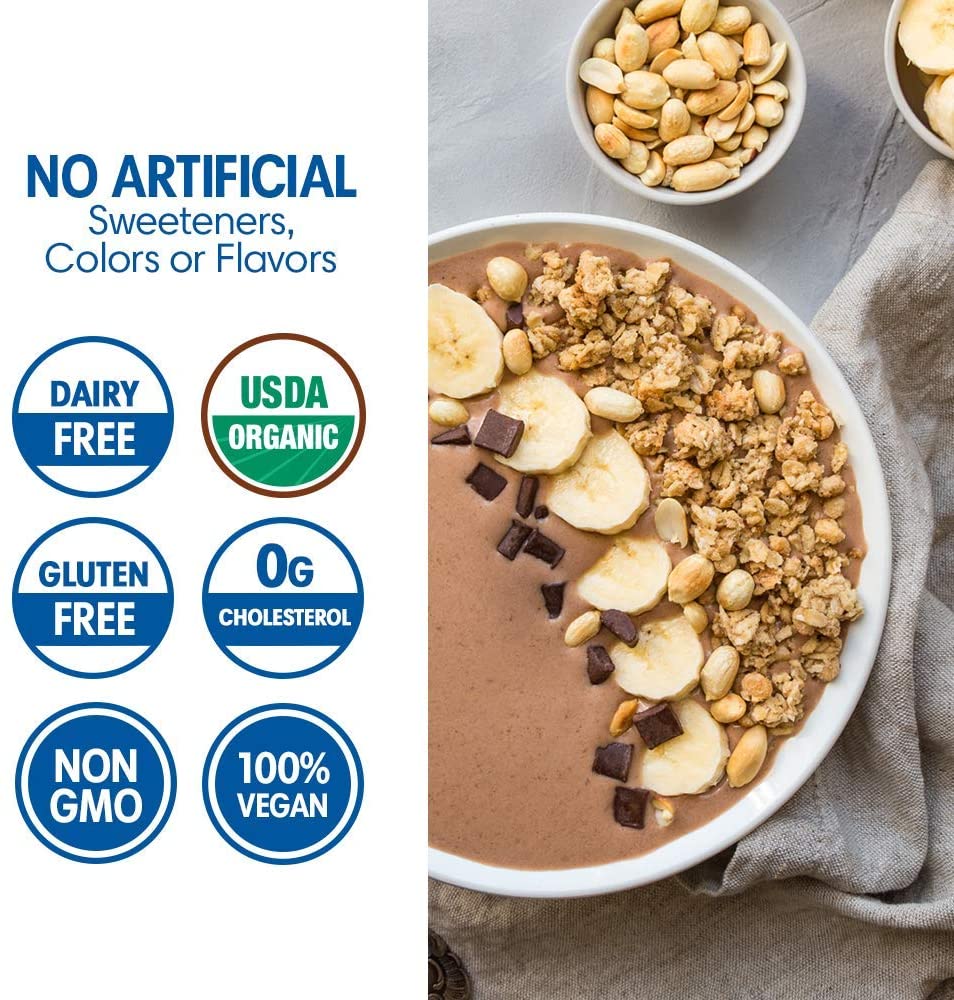 Purely Inspired is a straight up protein powder which offers a very similar profile to Nature's Bounty (recommended at the top). It's plant based (like Orgain / Vega), Non-GMO and extremely affordable.
They also offer a "complete meal replacement" on Amazon here for literally a fraction of the cost of Shakeology. We are talking like less than $15 per container. Hard to argue with that.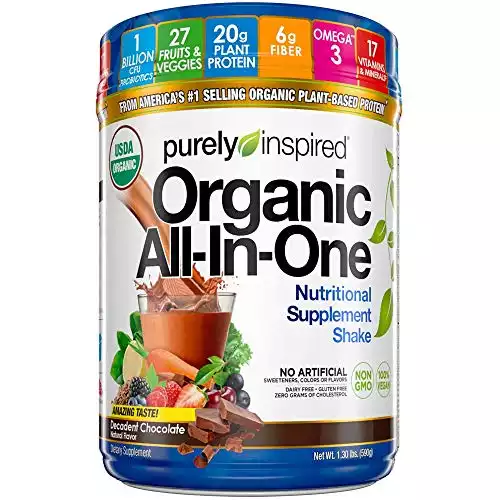 Purely Inspired All-in-One Meal Replacement | Amazon
Being busy doesn't mean you have to sacrifice the benefits of a complete meal replacement. Purely Inspired All-in-One Meal is packed with clear superfoods that provide you with the protein, fiber, probiotics, vitamins, minerals, fruits and veggies you would find in a well-balanced meal.
Buy at Amazon.com
We earn a commission if you click this link and make a purchase at no additional cost to you.
05/01/2023 12:10 am GMT
Further Reading:
Ideal Lean (by Ideal Fit), is owned by the HUT Group which also owns Ideal Raw and MyProtein (generally well thought of brands). Their Ideal Lean products are squarely targeted at women, but without the "distributor" relationship (thank you!). The ingredient profile is fairly generic, but offers 20 grams of protein and LESS than 100 calories.
In terms of taste, it mixes quite well with smoothies and has none of the mixability issues associated with some other Shakeology alternatives. However, what stands out MOST to me is the incredible difference in price point.
You can find Ideal Lean here for less than $30 for a 30 serving container. Not bad! It's a simple shake without the cacophony of extra ingredients in Shakeology, so you may need to supplement with an extra greens supplement (for example).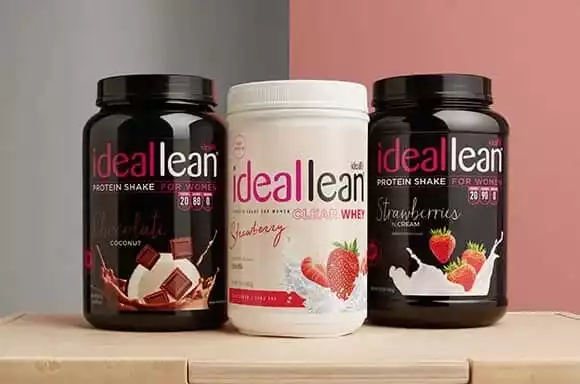 Ideal Lean | IdealFit
You deserve a protein shake made for YOU! IdealLean Protein has 100 deliciously smooth calories and 20 grams of whey protein isolate, so you can fuel your body right!
Check Price
We earn a commission if you click this link and make a purchase at no additional cost to you.
Further Read: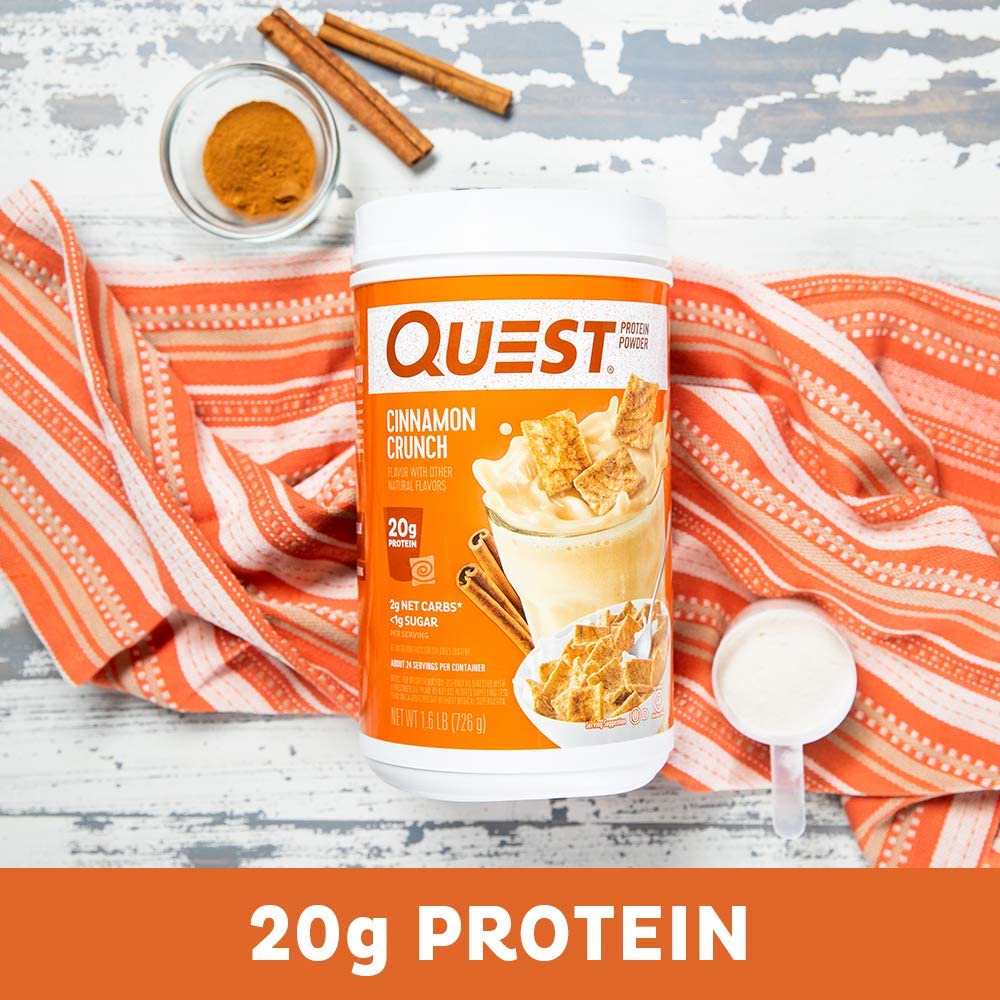 Quest has been around for over a decade and has built quite a name for themselves, particularly with their popular protein bars. That said, they also offer a full stack of supplements, just like Shakeology. They really go FURTHER than Shakeology as they make protein chips, protein cookies, etc…
You can view their full suite on Amazon here. What stands out is there attention to quality (I've tested a lot of their products over the years – they taste good and WORK) + their price point, roughly a third of what Shakeology charges.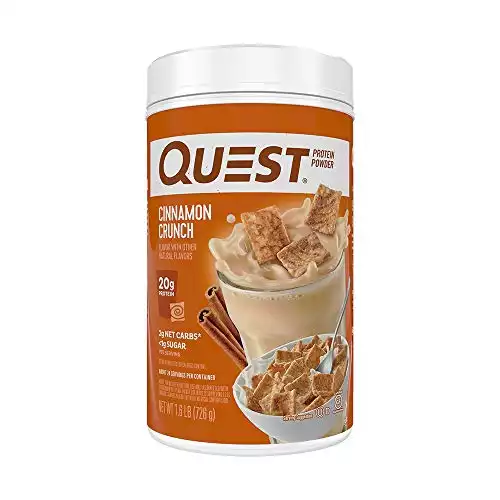 Quest Nutrition Cinnamon Crunch Protein Powder | Amazon
Quest Protein Powders use a unique blend of complete dairy-based protein isolates: fast absorbing whey protein isolate combined with slow-acting micellar casein and milk protein isolate to provide your body with all nine of the amino acids it needs.
Buy at Amazon.com
We earn a commission if you click this link and make a purchase at no additional cost to you.
05/01/2023 12:09 am GMT
Clean Shake has an interesting pitch and premise. In the age where supplements like Shakeology literally have 100s of upsells and additional supplements and programs, Clean Shake focuses on a simple 21 day program. Your choices for shake are Vanilla or Chocolate.
Clocking in at $68.00 per container, it's expensive but not nearly as pricey as Shakeology. The ingredient profile is also super simple (dare I say "clean"?), with a blend of rice and pea protein (two of my favorites) along with other natural ingredients like beet fiber, olive oil, acacia, apple fiber and other fruit extracts. It's actually available here on Amazon.
While I haven't personally done an in depth review, I like what I see compared to Shakeology.
Cleanshake Vanilla Protein Shake | Amazon
CleanShake is an Ultra-Premium Protein Shake that contains 23 Organic Fruits, Seeds and Root Vegetables, 23 Vitamins & Minerals of which 18 provide 100% of your daily value, Non-GMO & rBGH Free Premium Whey Protein Concentrate and a High Quality Probiotic.
Buy at Amazon.com
We earn a commission if you click this link and make a purchase at no additional cost to you.
05/01/2023 12:05 am GMT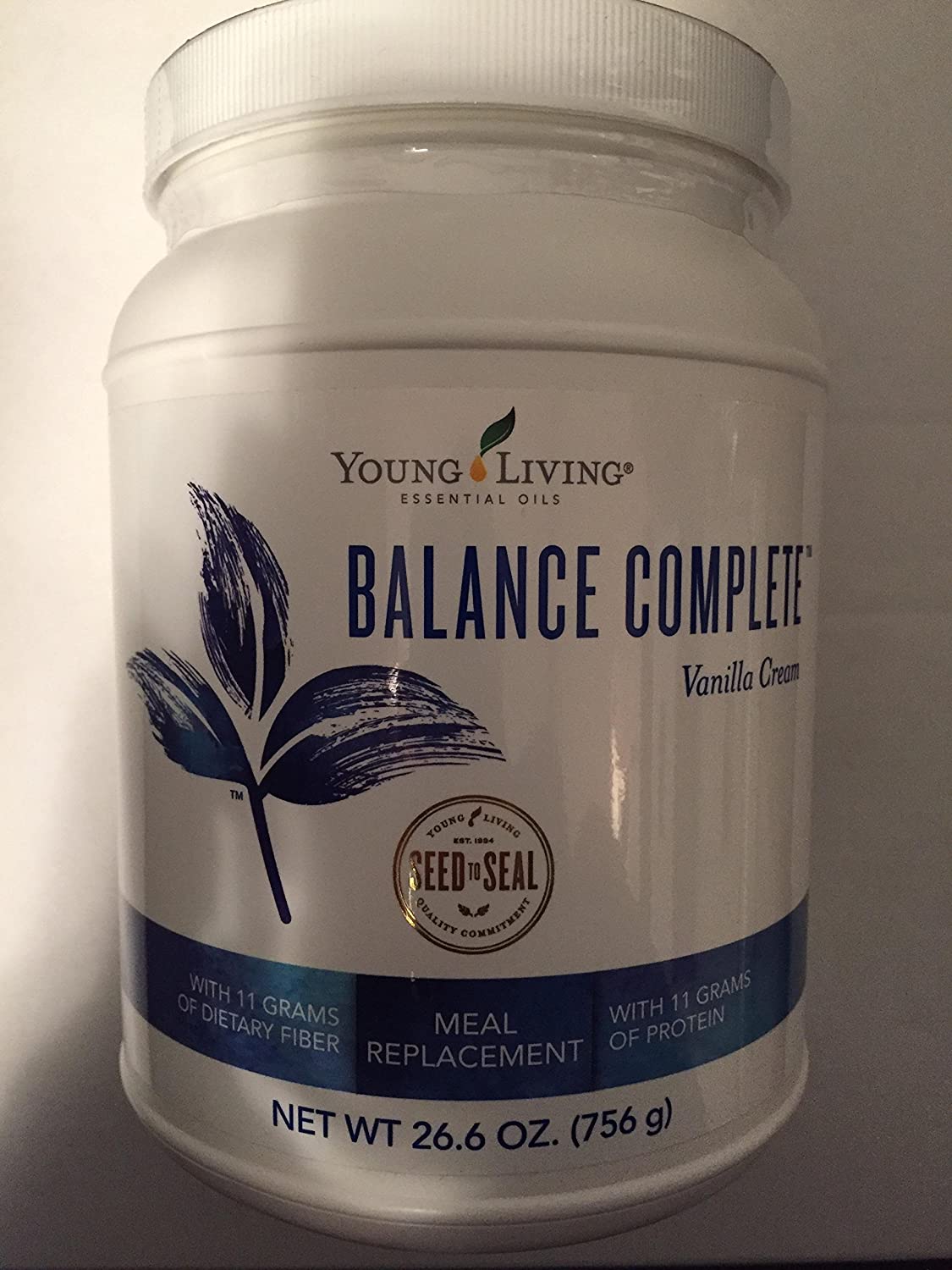 I'll admit that I had never heard of Balance Complete before a reader asked me to compare. I did some research and it looks like Balance Complete is old by Young Living Essential Oils. I'm not sure what an essential oils company is doing selling meal replacements… but that aside, the ingredient profile seem generic enough.
Protein was a bit low at only 11 grams per serving, but 11 grams of dietary fiber and 330 mg of potassium point to why it could help keep you feeling full. Until I test it directly, I'll withhold a full judgement, but I personally find it hard to trust brands without a track record in the space.
My suspicion is that the supplement is merely "white labeled" e.g. it's just another line without anything proprietary about it. It's also not particularly cheap at around $67 per tub (but admittedly less than Shakeology).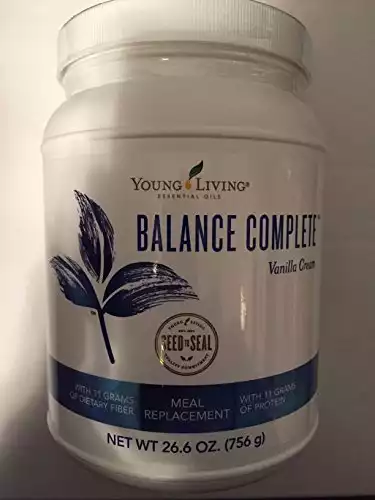 Balance Complete by Young Living | Amazon
Balance Complete is a super-food-based meal replacement that is both a powerful nutritive energizer and a cleanser. Offering the benefits of Ningxia wolfberry powder, brown rice bran, barley grass, extra virgin coconut oil, aloe vera, cinnamon powder, and our premium whey protein blend
Buy at Amazon.com
We earn a commission if you click this link and make a purchase at no additional cost to you.
04/30/2023 10:45 pm GMT
Slim Fast has been around a lot longer than Shakeology, having pioneered the diet in a drink model in the 1980s and 1990s. What Slim Fast does offer is a high protein content (good cost per protein serving) and readily available in most common supermarkets, pharmacies, and online via Amazon here.
Slim Fast is also "ready to drink", meaning that there's no complicated prep or blending required. It's also a fraction of the cost compared to Shakeology. All that being said, Slim Fast doesn't have nearly as many nutrients and vitamins as Shakeology.
If you are considering Slim Fast as a replacement, consider also separately picking up a greens supplement and you should cover your bases for a hybrid Shakeology replacement at a fraction of the cost.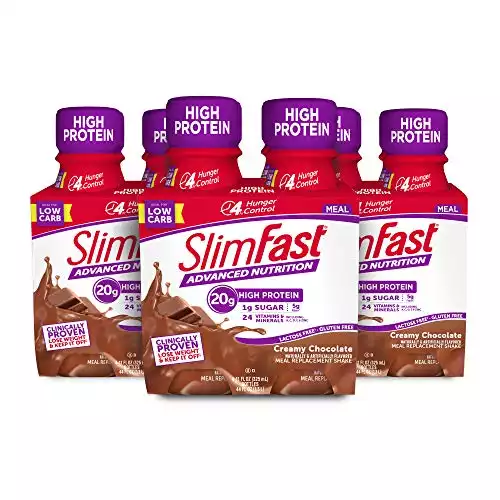 SlimFast Advanced Nutrition Creamy Chocolate Shake | Amazon
Yes, you can have Chocolate as part of your weight loss plan! The advanced Nutrition creamy Chocolate shake is part of the Slim-Fast plan, America's #1 best-selling weight loss shake brand. The Slim-Fast plan is proven to help you lose weight fast and keep it off. See results in just one week!
Buy at Amazon.com
We earn a commission if you click this link and make a purchase at no additional cost to you.
05/01/2023 12:10 am GMT
Further Protein Shake Research
If you are still stuck here are some other closely related shakes and meal replacement powders that we've evaluated:
Editor's Choice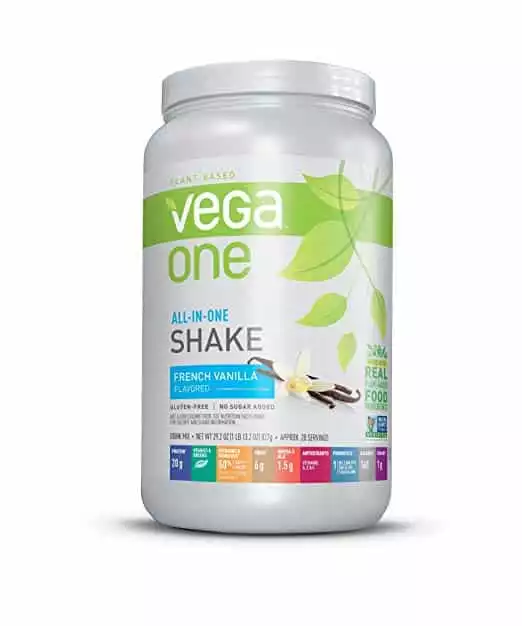 Why I Chose Vega
There's a lot of hype about certain brands, particularly in the multi-level marketing space. Vega is actually a GREAT alternative (with top of the line ORGANIC ingredients), BUT sells at a much lower price point. Check it out!
Check MyVega.com Price
Check Amazon Price
We earn a commission if you click this link and make a purchase at no additional cost to you.
Disclaimer
Last updated: November 19, 2019
The information contained on www.altprotein.com website (the "Service") is for general information purposes only.
Alt Protein assumes no responsibility for errors or omissions in the contents on the Service.
In no event shall Alt Protein be liable for any special, direct, indirect, consequential, or incidental damages or any damages whatsoever, whether in an action of contract, negligence or other arising out of or in connection with the use of the Service or the contents of the Service. Alt Protein reserves the right to make additions, deletions, or modification to the contents on the Service at any time without prior notice.
Alt Protein does not warrant that the Service is free of viruses or other harmful components.
Fitness disclaimer
The Service offers health, fitness and nutritional information and is designed for educational purposes only. You should not rely on this information as a substitute for, nor does it replace, professional medical advice, diagnosis, or treatment. If you have any concerns or questions about your health, you should always consult with a physician or other health-care professional.
Do not disregard, avoid or delay obtaining medical or health related advice from your health-care professional because of something you may have read on the Service. The use of any information provided on the Service is solely at your own risk.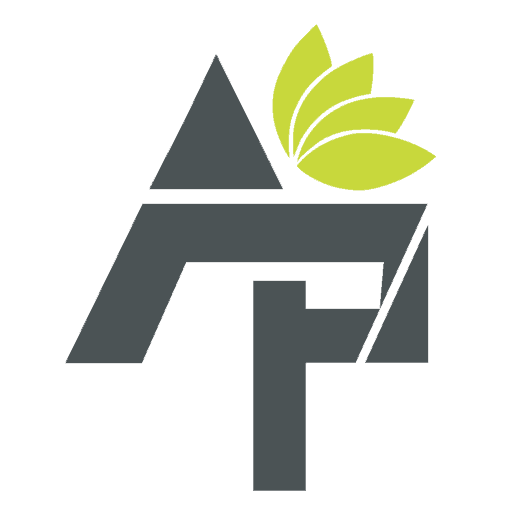 Alt Protein Team is a team of professionals and enthusiasts committed to bringing you the most up-to-date information on alternative protein, health and wellness, workouts, and all things health-related. We've reviewed a lot of products and services so you don't have to guess when you spend your hard-earned money on them. Whether you want to shed some pounds, build lean muscle or bulk, we can help you figure out what you need to do and what you need to have to achieve your goals.