If you're wondering whether or not a plant-based meal replacement can help you lose weight, you have come to the right place.
In this review, we will take a look at what Sunwarrior Illumin8 can actually do, its ingredient profile, potential side effects, price, and more.
In my quest of creating a comprehensive review, besides the fact that I have tried the product myself, I have also studied a lot of testimonials as well as customer comments and I have put them together to offer you all the essential facts you might need.
What Is Sunwarrior Illumin8?
The product I am reviewing in this article is an organic meal substitute with plant-based ingredients. It is produced by the Sunwarrior company and it contains brown rice protein, vitamins, sprouts, kelp, guar gum, chia seeds, and other healthy compounds.
The manufacturer claims this lean meal supplement lowers hunger, helps you lose weight while also aiding with long-term weight management, supports the health of your digestive system, and improves your overall well-being.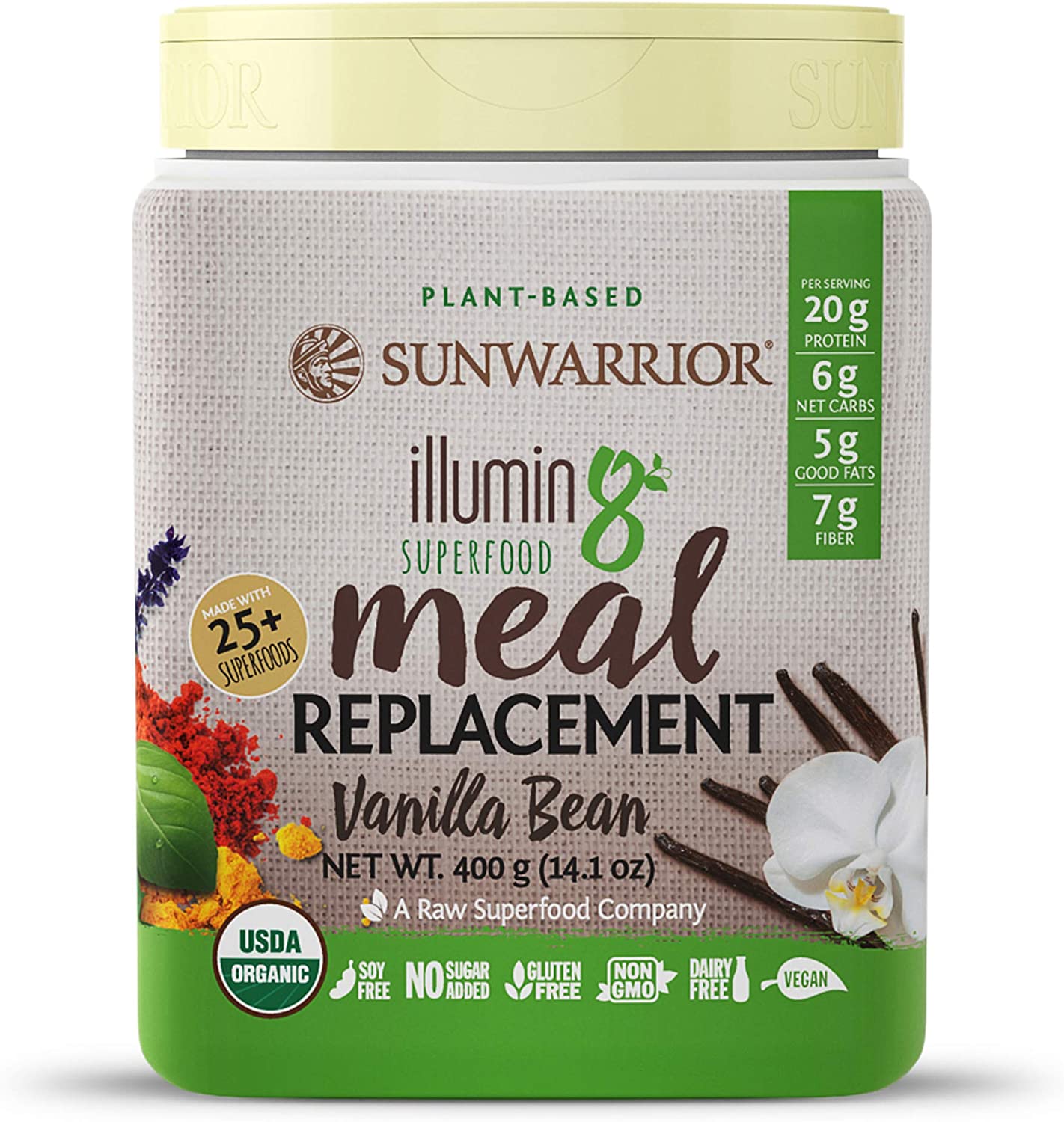 Sunwarrior Illumin8 Ingredient Profile
Illumin8 is a complex product that comprises the characteristics of a nutritional shake, a meal replacement, and a protein supplement, all in one.
In some cases, the Sun warrior protein powder alone might not be enough to replace a completely adequate meal but this depends a lot on one's body composition, fitness goals, and level of physical activity.
To achieve the perfect combination of protein and fat, I recommend you mix this vegan protein powder with avocado, soy milk (unless you are soy free), or coconut milk. Let's see what Sun warrior protein Illumin8 is made from.
"Core 8" Lean Meal Ingredients
Protein blend – pea protein, quinoa, chia, sprouts, flax, and brown rice protein, all organic. These elements support an optimal muscle recovery process.
Healthy fats – flax, coconut, chia. These fats are the perfect energy supply that your body cells need. Furthermore, they will improve vitamin absorption and promote a healthier skin.
Carbohydrates – in this supplement, all the carbs are gluten-free and they are combined with other amazing ingredients such as lentil sprouts, quinoa protein powder, garbanzo, and amaranth for a better effect.
Fiber – flax, baobab, and chia. This mix contains both soluble and insoluble types of fiber that come together with powerful antioxidants which work great for a gentle cleansing, a well-hydrated body, and a healthy digestive system.
Vitamin blend – holy basil, organic guava, vitamins A, D3, E. Illumin8's vitamins are sourced from organic essential oils, amino acids, herbs, and superfood without any synthetics whatsoever.
Mineral blend – calcium, folate, selenium, biotin, iodine, etc. Minerals are collected from an ancient seabed with organic origins that is not influenced by modern pollution.
Probiotic blend – Sunwarrior Illumin8 comes with no less than one billion gut-friendly bacteria which act as effective micro-warriors. Being stable as well as acid-resistant will help these probiotics arrive safely in your gut area.
Digestive enzyme blend – bromelain, cellulase, lipase, fungal protease, pectinase, etc. The enzyme mix is specially designed so that it will maximize nutrient absorption. It is what I like to call a "tailored nutrition."
Lean Meal Nutritional Values
Nutritional Facts – Sunwarrior Illumin8 – per one serving (2 scoops of 40g)
Calories
160
Protein
20 g
Total fat
5 g
Carbohydrates
13 g
Dietary fiber
7 g
Sugar
5 g
Sodium
20 mg
Does The Illumin8 Meal Replacement Taste Good?
Sunwarrior Illumin8 Taste
When it comes to vegan protein powder supplements, the Sunwarrior Illumin8 meal replacement is a decent choice in terms of taste and flavor.
However, that is only my humble personal opinion and I must say that the topic of taste for this product remains controversial and debatable.
Some users complained about the fact that Illumin8 has a pretty bland flavor. Others think it is tolerable while a few of those who have tried this protein powder believe the taste is simply horrible.
So, as you can see, there are plenty of opposing opinions, hence, it is best to try it for yourself and see whether or not you will enjoy the taste of this vegan supplement. After all, it is a matter of personal preference so it is highly subjective.
Sunwarrior Illumin8 Texture
Illumin8 is not great when we're talking about texture either.
In fact, it has a slightly gritty consistency. Moreover, a few reviewers stated they have tried to mix the powder with several different beverages but none of them could really save the final drink from not having a grainy texture.
All in all, despite the fact that it doesn't mix perfectly, Sunwarrior Illumin8 is definitely one of the best plant-based protein supplements out there.
Probably the main issue with Illumin8 is that it doesn't really exceed dieters' expectations.
Sunwarrior Illumin8 Lean Meal Flavors
Sunwarrior Illumin8 lean meal is marketed in three available flavors: vanilla bean, mocha, and Aztec chocolate.
Unfortunately, I wasn't able to find the vanilla bean variety so I have only tried the chocolate and mocha flavors. Both of them had a pretty creamy consistency which means a lot considering that I combined them with plain water.
The chocolate variety was better if you ask me. I find it to be quite delicious and what I like most about it is its strong cocoa flavor which reminds me of a chocolate fudge brownie. It provides both a smooth and rich taste that is sweet enough without being overwhelming.
This is due to the stevia content which is modest in intensity. I would love to try this flavor again in the future, but this time, I would combine it with something else like coconut milk.
The other variety I have consumed, Mocha, is a bit similar to Aztec Chocolate but not as good as the first option I described above.
Don't get me wrong! This is also creamy and smooth and it has a rich chocolate flavor.
Still, both cinnamon and vanilla hints are more apparent and it is very hard to get rid of the cinnamon taste. On the other hand, the mocha flavor is too subtle for my taste. So, if you love a stronger coffee taste, you will most likely be disappointed by this variety.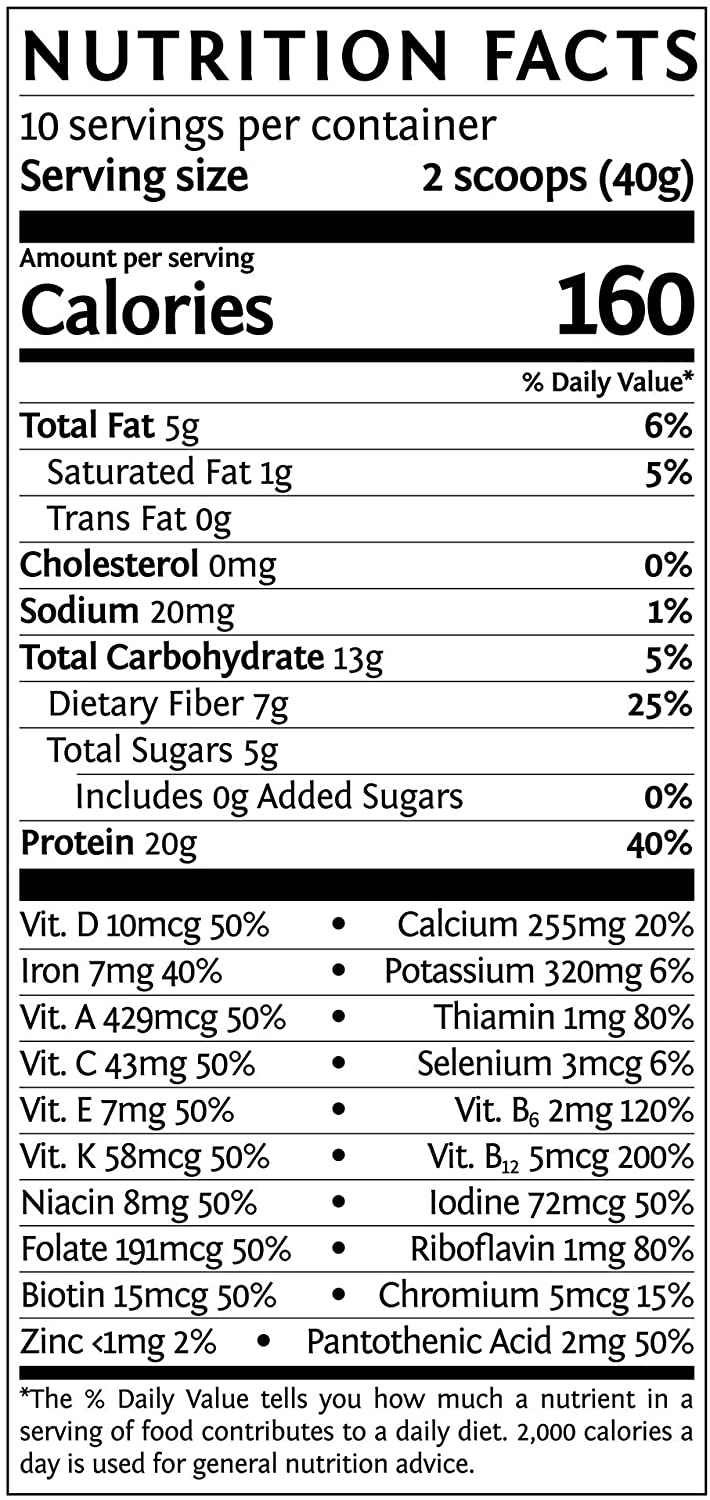 How to Use Sunwarrior Illumin8 Lean Meal
One serving of the Sunwarrior Illumin8 meal replacement is created by mixing one scoop of this protein powder with approximately 12 ounces of water, vegan milk, or any other drink of your choice.
You can use a shaker cup to prepare this beverage or simply stir the combination with a spoon. Either way, you will achieve a nice texture that's only slightly grainy and doesn't have too many clumps. It is best to consume it right after preparation but you can also keep the shake in the refrigerator to drink it later that same day.
Pros and Cons of Sunwarrior Lean Meal Illumin8
Sunwarrior Illumin8 Advantages
It is a pretty effective organic protein powder that can help you lose weight (healthy weight loss) if you use it as a meal replacement;
It is a vegan protein powder so it matches the lifestyle of those of you who don't want to eat dairy (dairy free) or other animal-sourced products (vegan);
There are three available flavors to choose from so you won't get bored easily;
Contains powerful antioxidants, and other high-quality certified organic ingredients such as digestive enzymes, vitamins, protein, fiber, and probiotics;
It is said to speed up one's post-workout muscle recovery;
The flavor, although quite bland according to some, it doesn't have an artificial aftertaste.
Sunwarrior Illumin8 Disadvantages
It won't make you feel satiated enough if you consume this protein shake as it is without anything else to combine it with;
Some people think this supplement is a bit pricey;
A few reviewers complained about Illumin8's taste, saying it is a bit bland;
According to certain users, this powder doesn't mix very well so you must stir it vigorously if you want to achieve a smooth beverage.
Does Sunwarrior Illumin8 Really Work?
You are probably wondering by now whether this product is backed up by science or not. Well, the answer is not really! In my opinion, it is a critical aspect for a supplement to be supported by solid science and, unfortunately, this is not the case of Illumin8. Even though today's reviewed protein powder is not connected to any research, I believe it can help you lose weight.
This is due to the fact that the shake contains a good-quality protein blend, vitamins, minerals, digestive enzymes, antioxidants, and probiotics. All these elements put together lead to a nutritious snack that can easily function as a healthy meal replacement.
Sunwarrior Illumin8 Potential Side Effects
Sunwarrior Illumin8 is a safe and healthy protein supplement. It can easily be consumed by healthy people as a vegan protein shake without experiencing any serious side effects.
Still, some users might deal with mild issues like gas or bloating. Also, if you don't use this product properly and you don't follow the recommended daily dosage, you might face severe side effects like allergic reactions, fever, bleeding, joint pain, and others.
Another thing you should consider is consulting your physician before consuming this type of products, especially if you're suffering from a chronic illness. Furthermore, nursing or pregnant women should also seek their doctors' advice before using a meal replacement.
How Much Does Illumin8 Cost?
It is quite difficult to list a specific price tag of this product because its cost usually fluctuates depending on the seller. This aspect is easily seen on Amazon, for example, where Illumin8 can be bought from several different providers. Usually, a container of ten servings costs around $20 while a tub of 25 scoops is sold for the price of approximately $46.
You can also purchase Illumin8 on iHerb.com. A container of 35.2 ounces costs almost $45. If you subscribe to the platform's membership program, you will receive a 5% discount which is called a loyalty credit.
Still, the most trustworthy seller remains the product's manufacturer so I recommend you to buy this supplement from the company's official website. On Sunwarrior.com, in the Store section, Illumin8 costs $19.97 for a 10-serving container while a tub of 20 servings is sold for the price of $37.36.
Note: I'd recommend checking both their direct website for deals here AND cross-checking the Amazon listing here. Deals tend to varry.
From what I've seen, Sunwarrior Illumin8 is marketed as a premium supplement and it is perceived as a better product compared to other similar vegan protein powders. Although some people might think this shake is a bit on the pricey side, I personally believe that it is fairly priced, especially given the fact that it contains high-quality organic ingredients and it can be consumed as an effective meal replacement.
One amazing perk that the manufacturer offers is a 30-day money-back guarantee. So, if you're not satisfied with this product, you can easily receive a full refund.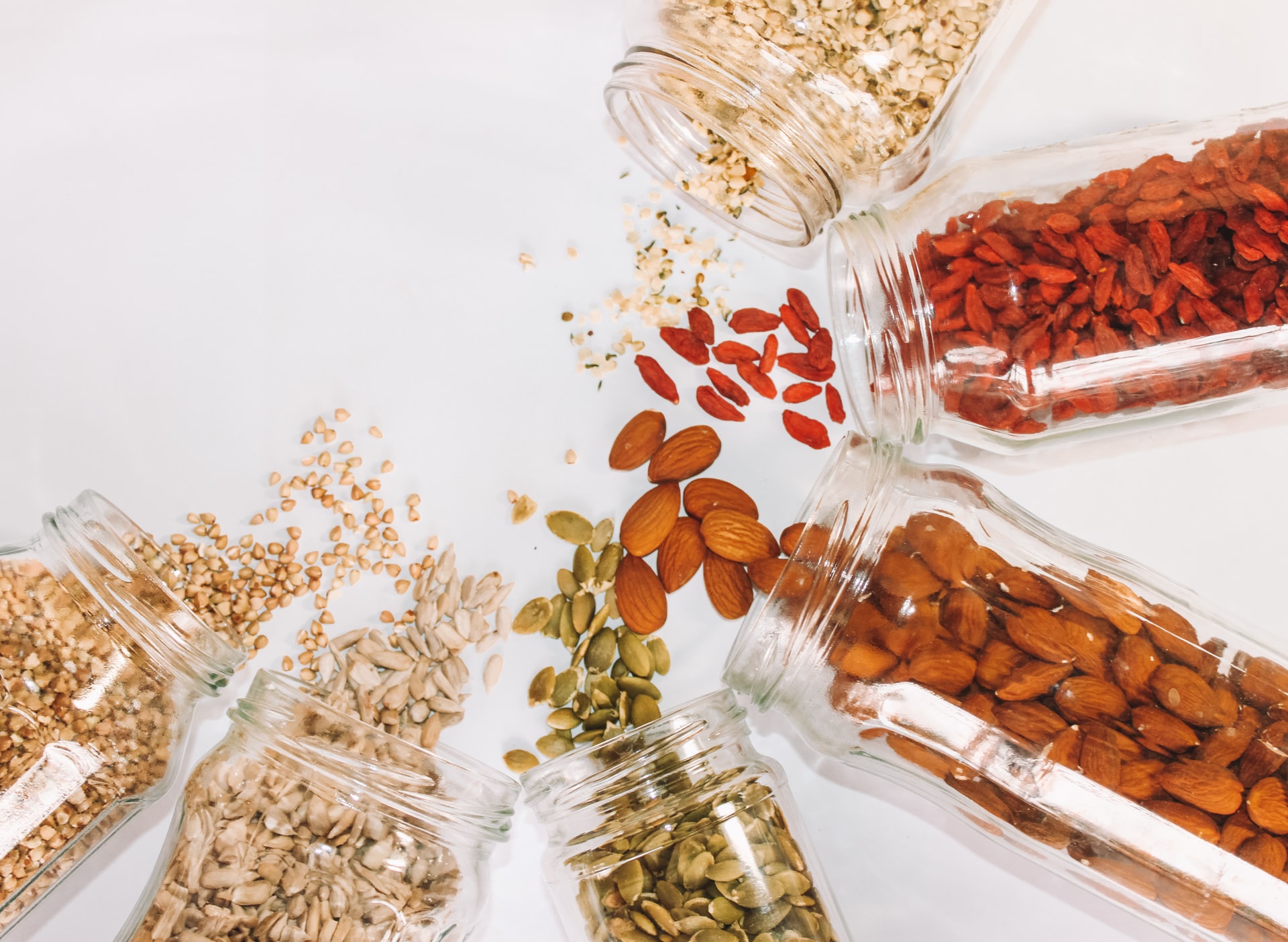 What Are Consumers Saying About It?
Sunwarrior Illumin8 has received a rating of 4.1 out of 5 stars on Amazon which is not great but not bad either. Most consumers are happy with this supplement's ingredients but they are discontented with the beverage's taste. Others say it works as an excellent breakfast substitute which is also easy to prepare and highly convenient.
So, from what I see, the main drawbacks of this protein powder are its taste and texture while the most important advantages are the ingredient profile and the fact that it is a very convenient product.
FAQs
Question: Is the Sunwarrior Illumin8 supplement worth it?
Answer: The Sunwarrior Illumin 8 is a great weight loss supplement, but some customers say they don't like the way it tastes and others say it doesn't mix really as expected and they end up with small lumps.
Question: Is the Sunwarrior Illumin8 supplements sweet or more natural?
Answer: Sunwarrior no longer sells the original vanilla flavor with a more natural taste, so the new flavors come with more stevia, and they indeed taste sweeter than the previous version of the supplement.
Question: Does Sunwarrior sells more than just protein powder?
Answer: Yes, in addition to the Sunwarrior protein powder that comes in several flavors, Sunwarrior also sells raw protein bars and other superfood options that promote the overall health.
Sunwarrior Illumin8 – Final Verdict
Usually, a meal replacement works as a weight-loss solution but is Sunwarrior Illumin8 good enough to compete with other similar products? Well, I think it is worth a try.
What I like most about it is its high protein content (one serving provides 20 grams of high-quality plant-based protein). What I don't like about this supplement are its grainy texture and poor taste. Also, another issue that represents a possible drawback is the fact that Illumin8 is not connected to any research or studies that prove its level of effectiveness.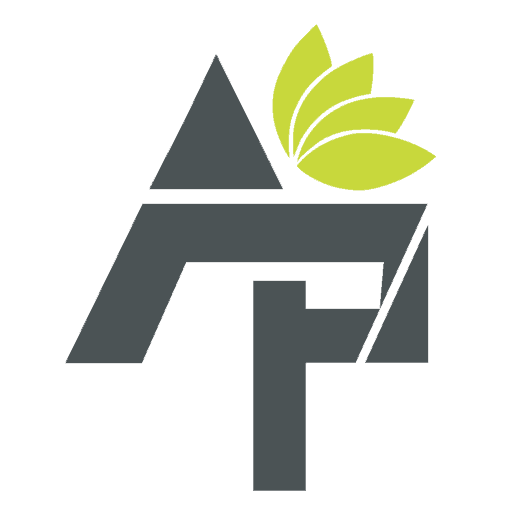 Alt Protein Team is a team of professionals and enthusiasts committed to bringing you the most up-to-date information on alternative protein, health and wellness, workouts, and all things health-related. We've reviewed a lot of products and services so you don't have to guess when you spend your hard-earned money on them. Whether you want to shed some pounds, build lean muscle or bulk, we can help you figure out what you need to do and what you need to have to achieve your goals.