Living a healthy lifestyle is crucial in this day and age. But most of us do not have the luxury of time to commit to cooking nourishing dishes that will fuel our cells with essential nutrients for maximum output and an enhanced state of health. This is why we opt for the fastest option in the form of powders, protein shakes, and supplements.
There are a lot of these products on the market today and many have become extremely popular with health-conscious individuals. Each one of these products promises to provide the perfect set of nutrients that will enhance one's health as the ideal meal replacement option.
But one thing is evident here: protein shakes, supplements, and powders are processed foods. Whether or not these purported meal replacement options contain real foods is very questionable.
In this article, we will be taking a close look at Thrive Shakes and its counterpart, Shakeology. Which of these is better? Which one offers more benefits than the other? Which one has undesirable side effects? This – and much more – is what you will find in this comparison article.
The Criteria: What to look for in a protein shake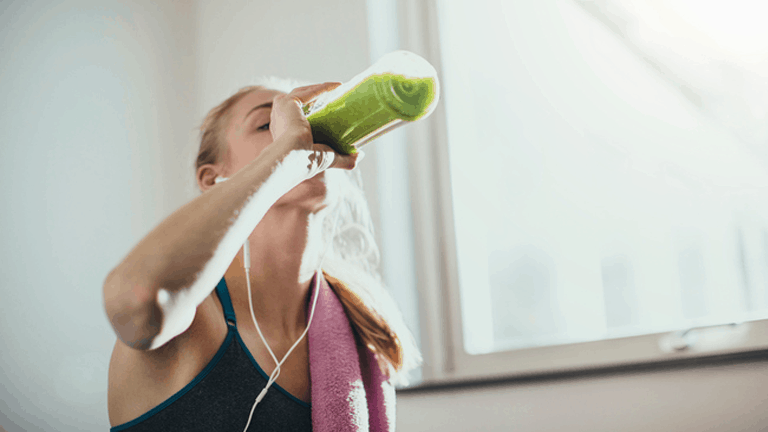 Before we jump into looking at Thrive Shakes vs Shakeology, it's important to note what is, and what's not, important to consider when buying protein shakes.
1. High Protein
This is a must, of course, since protein is the very reason these shakes are being purchased. Just what exactly, though, is considered 'high protein'? While there is no definitive answer, you generally want to look for at least 12 grams of protein (on the low end) or around 30 percent of a recommended daily intake (based on typical USDA guidelines, per 2,000 calorie diet).
More is not always better: if these drinks are used with a diet with other protein sources, you may not need as high of a protein count. If you are following keto or a high protein diet, of course, this needs to also be taken into consideration.
2. Low Sugar
Unfortunately, protein shakes can be sugar traps. Per American Heart Association guidelines, your cap on added sugars should be 37 grams a day for men and 25 grams a day for women. Some protein shakes have 20 grams or more of the sweet stuff- which undermines any health or fat burning benefits you might get from the protein. It's also a huge no-no for anyone on low carb diets. New labeling guidelines require that added sugars are distinguished from natural sugars, which is helpful. Don't sweat about natural sugars, but do try to limit added sugars as much as possible.
3. Fiber
Fiber is another thing that too often gets ignored when it comes to selecting your best protein shake. While it might be strange to be thinking about fiber for a protein shake, fiber, along with protein, helps increase your level of satiety. It also helps mitigate the effects of simple sugars.
4. Ingredients
Most protein shakes rely on some form of whey or soy protein, but it's the fine print that you'll want to pay attention to. Can you pronounce all of the ingredients? Are there ingredients you don't recognize? Be especially on the lookout for additives, preservatives, artificial flavorings, colors, and any form of hydrogenated oils or corn syrup.
5. Variety
Do the shakes offer variety in terms of a type of shake, size, and flavors? In order to stick with a protein shake regimen, it has to be something that will realistically fit into your lifestyle and something you won't get bored with.
6. Price and Availability
It can be the best protein shake in the world, but if the shake isn't affordable or easy to order (or pick up), it's not something you'll stick with. You also want to comparison shop: sometimes your prices will differ, for instance, if you buy a shake in store vs via their company website or on a site like Amazon. Buying in bulk can be helpful too, but a word of caution: buying more isn't always the better deal, especially if you don't end up consuming all of it.
7. Other Nutrients
While it's ideal to get vitamins and minerals from whole food sources as well, if you're implementing shakes either as meal replacements or even just on a regular basis, it's a good idea to aim for something that provides some of those essential nutrients. While most protein shakes have vitamins and minerals in general, look for shakes that provide some amount of at least most of the 11 essential vitamins and minerals.
Thrive Shakes: What are they?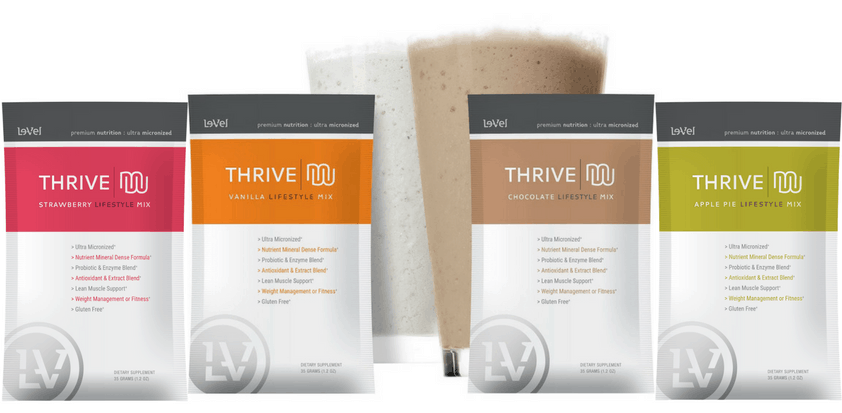 Thrive-Mix is a shake powder that is available in three unique flavors – chocolate, strawberry, and vanilla. Thrive-Mix can be mixed with milk or water, though you should remember that using milk will only help you pile on extra calories you can do without, and potentially make you fat, especially if you don't go for skimmed milk. But then Thrive-Mix shake powder has 110 calories, so you can still use milk when preparing your protein shake and keep the calories relatively low.
Thrive-Mix also has 2 grams of sugar, 2 grams of fat, and 5 grams of fiber, making it one of the best macro products out there. The fat in the blend enhances the absorption of fat-soluble vitamins, and this is a good thing to throw into your diet.
Thrive Shake Nutrition Facts
Thrive-Mix also contains caffeine, the stimulant found predominantly in coffee and tea. So if what you need is a good dose of vitamins and a shake, you're in for a treat! Regular use of Thrive-Mix may lead to the loss of water weight almost immediately, but you need to ensure that you don't take in too much caffeine to avoid dehydration.
Protein Source
Thrive relies on a protein blend of soy, pea and whey concentrate. At 15g per packet, it's a healthy source of protein but not as high as protein as what professional bodybuilders would likely use.
Sugar Count
As far as the sugar count is concerned, Trive's Shakes contain a very respectable sugar count: a mere two grams. Those two grams come from sucralose. Thrive Shakes also add stevia leaf to their products, unlike other non-nutritive sweeteners.
Fiber
By using these shakes, your body will definitely benefit from 5 grams, which is exactly 20% of your daily needs. This helps bring the net carb count down to 6 grams.
Thrive-Mix: Ingredients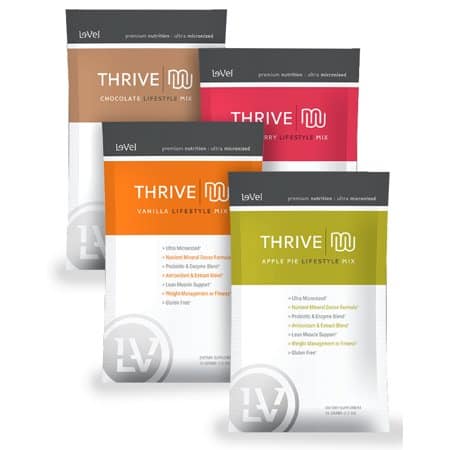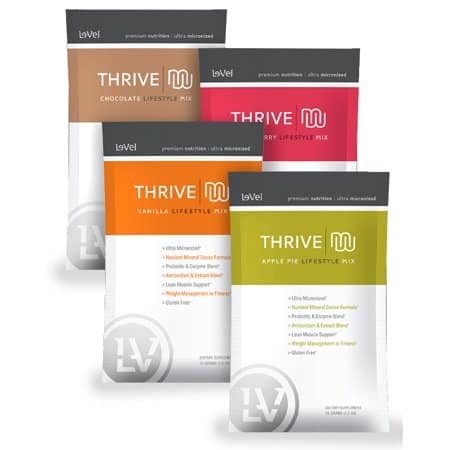 You will find a clear-cut image of Thrive-Mix which highlights the nutritional label of the product on the Le-Vel official website.
The ingredients are divided into two different categories: Proprietary Blend and Other ingredients.
The ingredients in Thrive-Mix vary from one flavor to another, but some of the more common components are included below:
• Oat fiber – This is a good source of fiber and can contribute to weight loss, especially if you eat approximately 30 grams of fiber on a daily basis.
• Natural Caffeine from Black Tea – You may boost our energy, courtesy of the caffeine that is present in the product. But this is only temporary, and it is highly unlikely that you will notice any permanent or significant weight loss, according to the physicians at Mayo Clinic.
• Garcinia fruit extract – According to WebMD, garcinia cambogia is a tropical fruit that helps in reducing appetite and also helps the body to burn off excess fat, thanks to a substance known as HCA (hydroxycitric acid). This substance can be found in the rind of the garcinia fruit.
However, this particular ingredient – i.e. garcinia fruit extract – only has a negligible effect on weight loss. According to a study that was carried out, some participants were made to use the product while others did not. At the end of the study, participants that used the product lost only two pounds, while those who did not use it stayed the same weight.
Other ingredients in Shakeology shakes include:
• Protease 5000
• Cardamom seed extract
• Lipase 1000
• Ginger root
• Lactobacillus Acidophilus
• Protease 1000
• Cinnamon bark extract
Variety and Price
Although you might expect some new flavor that you have not already tried, Thrive offers generic flavors that you have probably already used. Vanilla, chocolate, strawberry and apple pie are your options, but hey, sometimes simple classic flavors are better!
The Thrive shakes are sold in packet format, as I have previously mentioned and you can hardly find them on Amazon, but are available on the official website of the company.
To purchase it, all you have to do is create a customer account and once you make a contact with a promoter, you will have a direct access to the account.
This is definitely a downside for Thrive, as it can be too bothersome to do all the procedure just for buying something.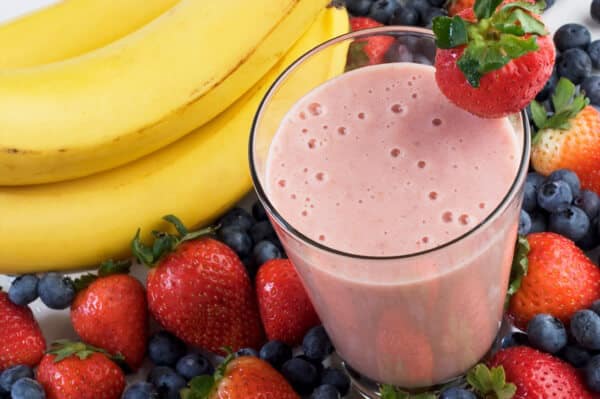 Why You Should Try It
Thrive's Shakes are mostly made of natural ingredients, powerful probiotic blend, low-carb, low-sugar , high carb ratio. The biggest downside however is that the product is not convenient for lactose intolerant people.
Men vs. Women Vitamins
The vitamins you will obtain from Thrive products are divided into two; for men and women. However, the products are virtually the same. You should also be careful and take your time when going through the instructions printed on the pack of this unique product.
Although the Thrive vitamins are available in convenient packs of twos, you should only take one pack per day.
Thrive-M – for men – contains vitamins A, B, and D, vanadium, and selenium. Vitamins A and D are fat-soluble, and since this product does not contain fat, you may have to use it when eating regular food. You should also know that there is a maximum amount of chromium you shouldn't exceed per day.
Chromium has been clinically proven to contribute to weight loss. Thrive-M also contains caffeine which is obtained from tea and coffee sources. Caffeine also helps in the burning off of fat from the body. But if you're a vegetarian or vegan, you may want to avoid using this product as it contains shellfish.
Thrive-W – for women – has almost similar ingredients that are present in Thrive-M. The product also contains folic acid, a B-vitamin that is essential for women who are within childbearing age. The deficiency of folic acid may result in congenital disorders – such as cerebral palsy – and it is often too late to discover by the time some women find out they are in the family way.
This is why folic acid is highly recommended for women to use as a precautionary measure. Thrive-W gets an "A" for containing this vital and complex vitamin.
The fact that Thrive-W contains folic acid – and other essential vitamins up to 100% – results in a higher price tag. Regular workouts will also help you to get rid of the excess vitamin in your body. So those extra vitamins may not provide any significant benefits except turning the color of your urine into several unique colors over time.
Thrive-Mix: The Company behind it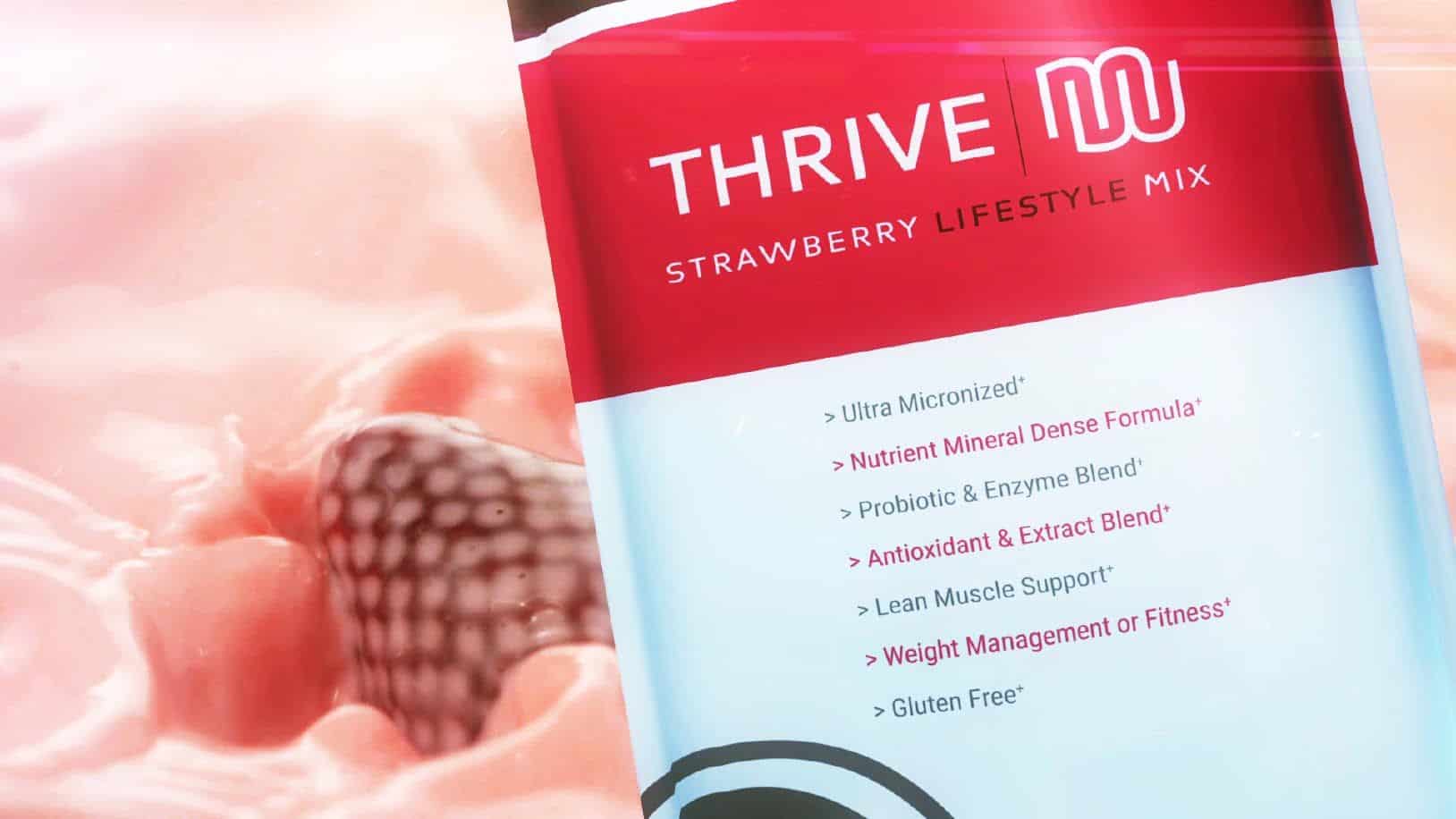 Thrive-Mix is one of the products created by Le-Vel, a multi-level marketing company that has been doing business for about five years now. Le-Vel was founded by Paul Gravette and Jason Camper. Although the official website states that both founders have a combined experience – in the health and fitness niche – of 41 years, there is no specific evidence that states what the experiences are.
Le-Vel is all about building a household brand that will stand the test of time. However, they seem to be more about the "premium lifestyle" and "brand" than they are about the quality of their product or the benefits of using them.
There is no precise statement from the creators of this protein shake about the benefits of using this product. Le-Vel hypes about a "premium you" which is ambiguous at best.
You will also find statements on their official website such as:
• Lean muscle support
• Weight management or fitness
But there is no relevant information on how Thrive-Mix will help users to achieve this.
Thrive-Mix: What are users saying about this product?
Thrive-Mix is sold primarily on the official Le-Vel website, so there is hardly any user or consumer testimonials available that one can count on, except those employed in their marketing materials.
You may, however, find other comments – both negative and positive – on other review sites, though there aren't any specifics on Thrive-Mix protein shake.
Thrive-Mix: Side Effects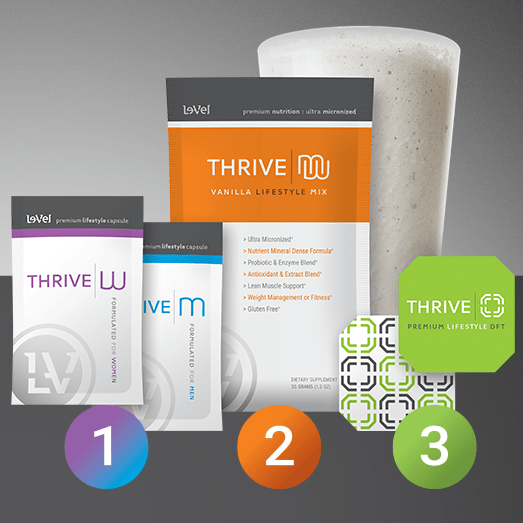 Although the official Le-Vel website does not list any potential side effects of using the Thrive-Mix protein shake, it does not imply that there aren't any. There is no way such a long list of ingredients will not have a few substances that will work adversely when used by some individuals.
For instance, a few of the known side effects of using Garcinia Cambogia include:
Headaches
Nausea
Digestive discomfort
Oat fiber is also known to initiate side effects such as:
That lineup is indeed very gross, but then no one is immune to side effects from any substance or ingredient. Everything depends on how your body deals with it.
Thrive-Mix: Does it work?
Thrive-Mix protein shake contains several natural ingredients – that, in itself, is an excellent thing. There is also evidence that users may experience weight loss, thanks to the fiber content of the product.
But the following glaring issues appear unshakeable:
There is no relevant user feedback about this protein shake. Consumer testimonials are virtually non-existent
No one is sure what Thrive-Mix protein shake is intended to do when put to use. According to research, the ingredients listed above do not offer enough clout to bring about significant and permanent weight loss
The parent company, Le-Vel appears more concerned about selling their brand – or image – than selling a supposed good weight loss product
If your goal is to lose weight or boost up your energy, you need to go for products that have undergone clinical scrutiny and research, backed by a lot of positive reviews.
Unfortunately, Thrive-Mix protein shake – and the other ones in this product line from Le-Vel – do not meet these criteria.
Thrive Patch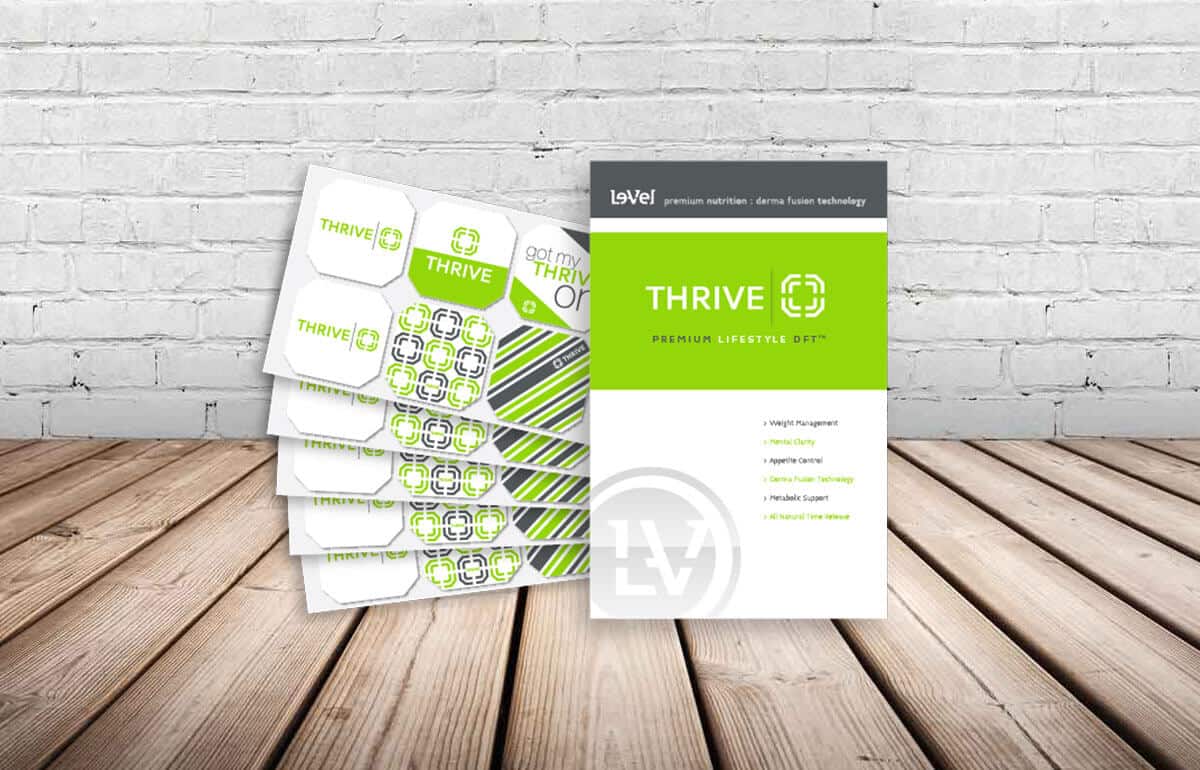 To enjoy the maximum benefits of the patch, you should wear it for at least 24 hours. This may be a limiting factor if you love working out or when you need to take a shower. The Thrive patch also has cosmoperine and forslean as part of its components. These commercially-made ingredients remain a mystery as no one seems to know how they are produced or created.
The patch, however, has other ingredients such as garcinia cambogia and green coffee; the effectiveness of these ingredients are felt via a patch as they can readily be absorbed into your system.
Although caffeine also plays a crucial role in weight loss, you need to be watchful especially if you are a tea- or coffee-drinker or love to take an occasional bite of dark chocolate. Garcinia cambogia is a supplement that is still under debate as regards its contribution to weight loss.
The Thrive patch also has white willow bark; its use cannot be ascertained other than the fact that is a filler that boosts up the price of the product.
What is Shakeology?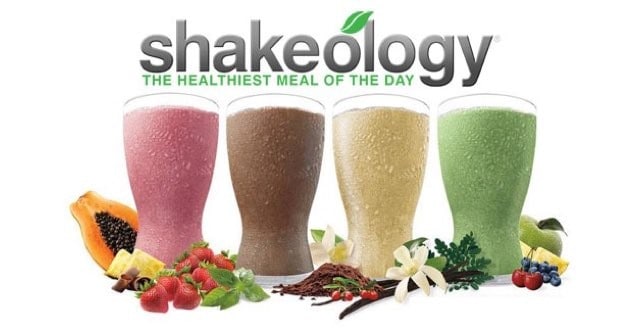 Shakeology is the brainchild of a team of wellness aficionados – along with the co-founder and CEO of Beachbody, Darin Olien. Beachbody is a business enterprise that sells nutrition programs, supplements, and workout videos.
Shakeology Vanilla 24 Individual Packets | Amazon
Shakeology contains over 70 healthy ingredients from around the world, including super-proteins, super-fruits, antioxidants, supergreens, phytonutrients, 9 adaptogen herbs, pre- and probiotics, and digestive enzymes.
Buy at Amazon.com
We earn a commission if you click this link and make a purchase at no additional cost to you.
The company utilizes the multi-level marketing approach to sell off their products, one of which is Shakeology and claims to have more than 340,000 coaches promoting and selling their products primarily on social media platforms.
Shakeology is, therefore, a superfood nutrition shake that was created with the aim of helping users or dieters to:
• reduce unhealthy cravings for junk food,
• lose weight,
• facilitate healthy digestion
• boost up your energy levels
• support muscle growth
This product – which is a cross between a meal replacement shake and a protein shake – is available as a powdered supplement in a variety of flavors such as chocolate, strawberry, and vanilla. Vegetarians or vegans have also been considered and therefore, have their options they can go for, any time, any day.
Shakeology: A quick rundown of the ingredients
Shakeology comes with over 70+ superfood ingredients, though only the most prominent ones will be highlighted below:
• Antioxidants and Superfruits – Antioxidants and superfruits contribute to the overall health of the body by minimizing the oxidative damage that is initiated by free radicals. Oxidative damage is the main culprit behind dementia, aging (degenerative) conditions, arthritis, and high blood pressure (which may eventually progress and result in stroke).
• Amino acids and Protein – Amino acids and protein help the body by healing wounds, building lean muscles as well as improving hair and the skin. They also support mental clarity and optimal brain function. These substances are also known to reduce food cravings and improve the mood as well.
• Digestive Enzymes – Digestive Enzymes assists the body to break down foods as well as facilitate rapid absorption of essential nutrients.
• Prebiotics and Probiotics – These substances enhance the production of essential bacteria that play a crucial role by improving the digestion process. They also help the rapid absorption of nutrients into your system.
• Adaptogenic Herbs – These are plant-derived agents or substances which help the body by protecting it from the effects of stress. Adaptogen herbs can efficiently balance the immune system and endocrine hormones.
• Supergreens and Phytonutrients – This powerful combination of ingredients help in the fight against diseases, boost immunity, detoxify the body, and delay the aging process significantly. They also have alkalizing properties.
By alkalizing your body, your kidneys, liver, and blood will be detoxified, thus leading to the restoration of health and vitality.
Shakeology: Taste
Since Shakeology comes in numerous flavors, it is essential that we look into how they taste:
• Café Latte Shakeology taste – This is the perfect flavor for coffee lovers. Café Latte also contains every ingredient found in a typical Shakeology protein shake as well as whole coffee fruits, thus providing additional health benefits. Café Latte is smooth and tastes much like Mocha Frappuccino from Starbucks. But then, the coffee taste is not all that bold, yet the protein shake contains the same amount of caffeine found in other Shakeology varieties.
• Chocolate Shakeology taste – The Chocolate Shakeology shake has the thickest and smoothest tasting, much more than other types in this lineup. This protein shake has a pleasant chocolate taste and is the most prominent Shakeology flavor that keeps garnering sales, day in, day out. However, this may be because most people have a sweet tooth for all things chocolate.
• Chocolate Vegan Shakeology taste – Chocolate Vegan has a lighter taste when compared with the regular Chocolate Shakeology shake. It has recently been made even smoother, probably in a bid to get people's interest since most individuals are turning away from the product because it is Vegan. However, the taste of Chocolate Vegan Shakeology is fantastic with only almond milk and water.
• Vanilla Shakeology taste – This is a light-tasting and smooth Shakeology shake and contains all the natural ingredients – without any and Drug Administration loopholes. You can personalize or customize Vanilla using different vegetables and fruits. This may, however, result in a change in the taste of your favorite protein shake. So, if you're not a chocolate fan, Vanilla Shakeology shake comes highly recommended for you.
• Strawberry Shakeology taste – Strawberry Shakeology shakes flows smoothly, just like all the other Shakeology flavors. However, unlike its counterpart – i.e. the Tropical Strawberry Shakeology shake – you will experience the real taste of strawberry in this nutritious health shake. But you should be warned: Strawberry Shakeology flavor has a slightly bitter taste. So if you must drink this particular Shakeology shakes, ensure that you make use of Strawberry Shakeology recipes extensively.
• Greenberry Shakeology taste – This is another Shakeology flavor that tastes sweet and comes with a smooth texture. The taste can be likened to a thick, creamy and highly sweetened Green Tea. People who are not used to drinking health shakes may be put off by this Shakeology flavor.
• Tropical Strawberry (Vegan) Shakeology taste – This Shakeology flavor is not as smooth as it is publicized by Beachbody. The taste of Tropical Strawberry (Vegan) Shakeology is also very light and easily customizable with fruit. A lot of people that drink this variety of Shakeology recommend using frozen fruit, e.g. bananas, etc. to smooth out the taste.
Shakeology: How it works
Shakeology works by supplying your body with the essential nutrients it needs. This protein shake contains up to 7 nutrient groups which you will never find in a typical meal. Not only will you feel nutritionally satisfied, but you will also feel full for a considerably long time afterward.
The following are the 7 nutrient groups in Shakeology:
• Phytonutrients
• Protein and essential amino acids
• Vitamins and minerals
• Digestive enzymes
• Adaptogens
• Antioxidants
• Prebiotics and Probiotics
It is also important for you to know what Shakeology does NOT contain. Shakeology will help you lose excess weight without:
• Artificial stimulants
• GMOs
• Refined sugars
• Soy
• Artificial sweeteners
• Artificial colors
• Artificial flavors
Shakeology: Benefits of using this product
#1: Significant weight loss results
An intensive study was carried on a group of individuals – up to fifty – who drank Shakeology for breakfast and lunch over a period of 12 weeks. These individuals did not include exercise or change their diet throughout this period.
At the end of 12 weeks, most of these participants experienced significant weight loss, with the highest coming in at 24lbs over a period of 90 days.
#2: Cholesterol nose-dived
People who are obese or overweight also have cholesterol issues. Participants noticed a drastic reduction of their total cholesterol – up to 7%. The maximum recorded drop in cholesterol was 50%!
#3: High blood sugar
Another health problem that obese people need to cope with and puts them at risk of developing diabetes is high blood sugar.
The participants mentioned earlier were able to reduce the amount of sugar in their blood by 5% while some even experienced blood sugar reduction up to 19%!
#4: Shakeology is healthier than other nutritious beverages
Shakeology packs a lot of punch – in terms of nutrients, etc. – much more than other nutritional beverage products on the market today.
This is because most of the protein shakes or nutritional products marketed out there nowadays are loaded with unhealthy oils, artificial colors, preservatives, and artificial sugar. Although Shakeology contains sugar as well, the quantity or amount is lower when compared to other protein shakes. Shakeology contains no preservatives, colorings or artificial flavors.
#5: Shakeology is convenient
The busy lifestyles of most of us leave little time to prepare healthy meals. Although it is medically advisable to obtain as many nutrients and calories as you can from whole foods, drinking Shakeology occasionally to replace one of your meals is quite harmless.
So, for people with limited time to put a meal together in the morning, they can grab hold of Shakeology instead of opting for unhealthy junk foods while on the run.
Other benefits of using Shakeology include:
• Curbing of junk food and soda cravings
• Boosting energy levels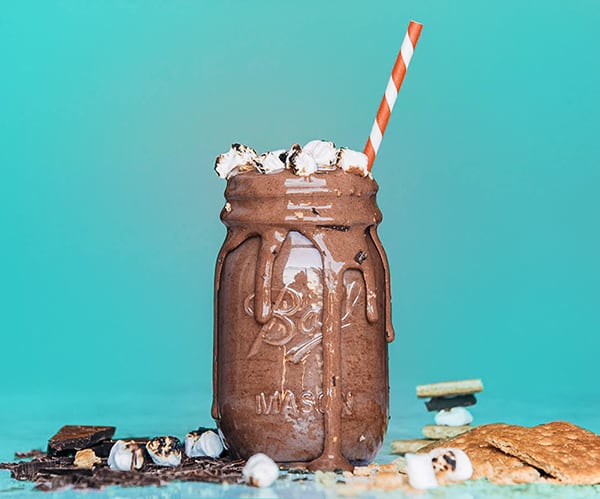 Shakeology: Potential downsides of drinking this nutritious shake
#1: Shakeology is a supplement, not real food.
Many users make the mistake of drinking Shakeology time and again without considering the option of eating real food.
Shakeology may contain a rich dose of vitamins, proteins, and minerals, you can obtain the same benefits from homemade meals or protein shakes as well. Therefore, stop comparing a supplement with real and wholesome foods.
#2: Shakeology is expensive
This is quite obvious, considering the number of nutrients loaded in this protein shake. Thirty servings, i.e. a one-month supply of Shakeology costs $129.95. If you're living on a budget, this protein shake may not be right for you.
#3: Shakeology contains lots of superfoods, but the exact amounts are unknown
Although Shakeology claims to be loaded with a super rich amount of powerful and highly nutritious ingredients such as digestive enzymes, adaptogens, prebiotics, chlorella, etc. it does not list the exact amount or quantities of these components.
Research may support the use of a few of these ingredients in foods or for beneficial purposes; the amounts used in this protein shake matters a lot.
#4: There is little scientific evidence that backs up Shakeology's claims
On the official Beachbody and Shakeology websites, you will come across information that states that "Shakeology is now clinically shown to help you lose weight, maintain healthy cholesterol levels and support healthy blood sugar levels." In 2014, Beachbody conducted a clinical study on Shakeology to prove its benefits and claims. The research was carried out by Medicus Research and led by Dr. Jay Udani, a Medical Director, and CEO.
Apart from this particular study – which has sketchy details as the results are rarely found online – there isn't any other clinical study carried out to back the claims of Shakeology's creator. Another clinical study – which was sponsored by Beachbody – was conducted to test the effect of drinking Shakeology on weight loss in June 2018. The results are not made public.
Conclusion
The benefits, side effects or downfalls of these nutritious products have been entertained and tested.
From all indications, Shakeology is preferred over its counterpart, Thrive. There are numerous positive reviews from users who attest to the effectiveness of Shakeology, but almost none is found about Thrive.
Shakeology Vanilla 24 Individual Packets | Amazon
Shakeology contains over 70 healthy ingredients from around the world, including super-proteins, super-fruits, antioxidants, supergreens, phytonutrients, 9 adaptogen herbs, pre- and probiotics, and digestive enzymes.
Buy at Amazon.com
We earn a commission if you click this link and make a purchase at no additional cost to you.
The ingredients used in Shakeology are also much better and this gives it an edge over Thrive which is made of a pretty ambiguous list of ingredients.
So, if you have to choose between Thrive and Shakeology, Shakeology shakes is your best option between the two!
Further Reading:
Disclaimer
Last updated: November 19, 2019
The information contained on www.altprotein.com website (the "Service") is for general information purposes only.
Alt Protein assumes no responsibility for errors or omissions in the contents on the Service.
In no event shall Alt Protein be liable for any special, direct, indirect, consequential, or incidental damages or any damages whatsoever, whether in an action of contract, negligence or other arising out of or in connection with the use of the Service or the contents of the Service. Alt Protein reserves the right to make additions, deletions, or modification to the contents on the Service at any time without prior notice.
Alt Protein does not warrant that the Service is free of viruses or other harmful components.
Fitness disclaimer
The Service offers health, fitness and nutritional information and is designed for educational purposes only. You should not rely on this information as a substitute for, nor does it replace, professional medical advice, diagnosis, or treatment. If you have any concerns or questions about your health, you should always consult with a physician or other health-care professional.
Do not disregard, avoid or delay obtaining medical or health related advice from your health-care professional because of something you may have read on the Service. The use of any information provided on the Service is solely at your own risk.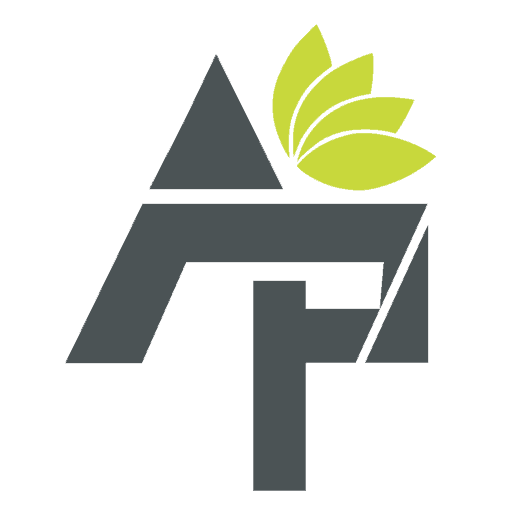 Alt Protein Team is a team of professionals and enthusiasts committed to bringing you the most up-to-date information on alternative protein, health and wellness, workouts, and all things health-related. We've reviewed a lot of products and services so you don't have to guess when you spend your hard-earned money on them. Whether you want to shed some pounds, build lean muscle or bulk, we can help you figure out what you need to do and what you need to have to achieve your goals.