As an athlete, bodybuilder, or simply a sports enthusiast, you must put in a lot of effort and discipline to achieve your fitness goals.
Still, besides physical activities, there are also other complementary methods to get the body strength and health you have always desired. Yes, I am talking about workout supplements, especially the green organic ones.
Finding the best alternatives to Athletic Greens can be a daunting task. After my initial review here, I was very impressed. However, the one thing that through me off a bit was the higher cost.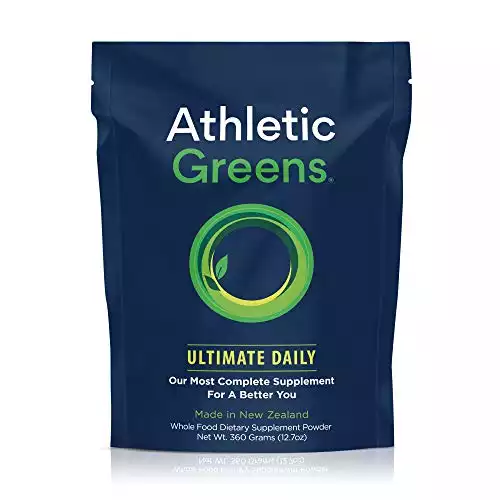 With this in mind, I set out to find some best Athletic Greens alternatives. The recent proliferation of aggressive marketing campaigns can make anyone a bit confused about which workout supplement they should try. This is why we have gathered some of the healthiest and most effective options to consider.
Athletic Greens Alternative Picks (At a Glance)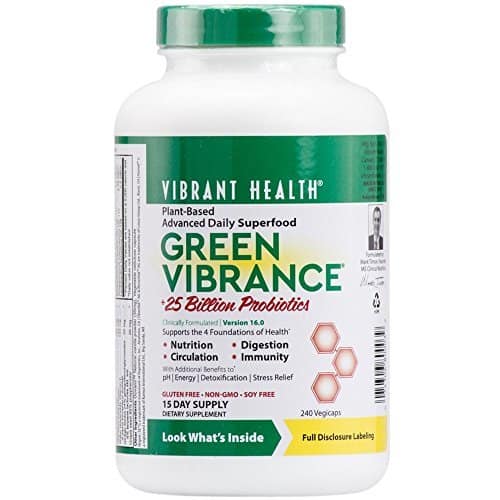 Best Overall
Contains a lot more vitamins, minerals, and probiotics compared to others
A great source of proteins and nutrients
Organic ingredients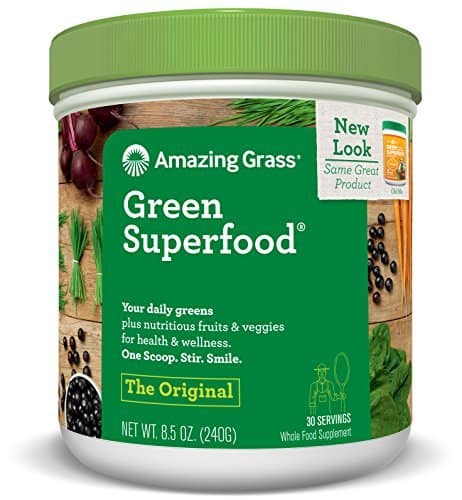 Best Organic
High-quality source of digestive enzymes and probiotic bacteria
Tastes better than other supplements
Sugar- and soy-free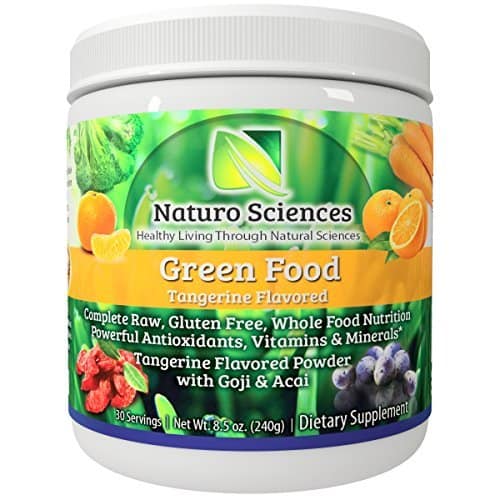 Best Budget
MOST AFFORDABLE alternative on the list
Contains a wide range of healthy ingredients
Nutrition label is clear and detailed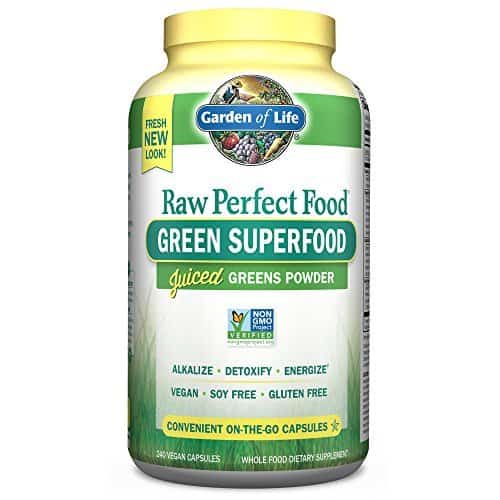 Runner Up
1 billion probiotic bacteria
High in iron and vitamins C and K
Only raw organic ingredients
*The following dietary supplement options are ranked by price, from the most affordable to the most expensive one*
Which Are the Best Alternative to Athletic Greens to Consider?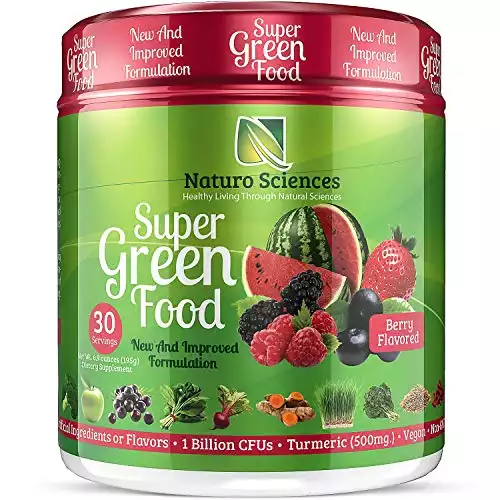 Naturo Sciences is a raw superfood supplement powder that contains only natural ingredients. It is a supplement dedicated mostly to those of you who are looking for a raw and vegan-friendly product. It doesn't contain gluten and its enzymes and probiotic content will improve your digestion as well as your immune system.
Nature Sciences is simply loaded with vitamins, minerals, and other healthful ingredients. Also, it is moderately priced, so we can state it is more affordable than plenty of other supplement brands.
Although some might prefer other premium products, this one is a decent energy source with a pleasant taste. But let's take a closer look at its ingredients, pros, and cons.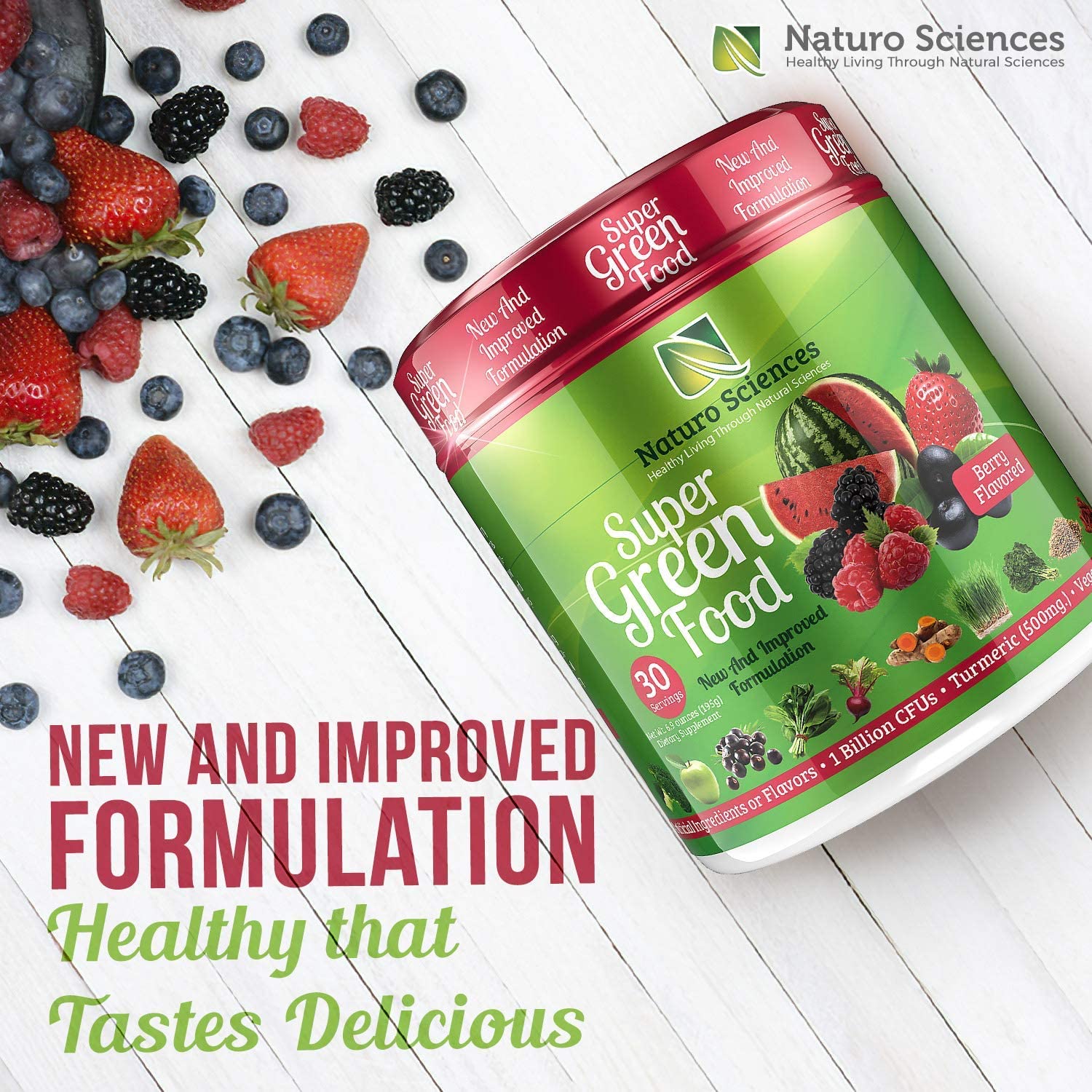 Naturo Sciences Natural Greens Ingredient Profile
This supplement provides all the benefits of the best whole foods one can find. It has powerful antioxidant properties due to its goji berry, acai berry, carrot, pineapple, and green tea content. When it comes to Naturo Sciences, everything is divided into four categories:
Food Blend – wheatgrass, spinach, spirulina, barley grass, broccoli, and chlorella.
Antioxidant Blend – green tea, maca root, acerola cherry, acai, and rose hips.
Digestive Enzyme and Prebiotic Blend – one type of probiotic bacteria and five types of digestive enzymes.
EFA Fiber Blend – apple pectin and flax seed.
One serving of this supplement powder will provide 30 calories, one gram of fiber, and one gram of protein. It tastes better than other supplements and you can choose between two flavors: berry and tangerine.
Naturo Sciences Pros
It has a pleasant taste.
This product contains a wide range of healthy ingredients and it is a great source of vitamins and minerals such as B12, C, and iron.
Its nutrition label presents all that this supplement contains in a detailed and clear way.
Naturo Sciences Cons
Some of its competitors provide a larger amount of minerals and vitamin mixes.
We know it contains antioxidants but we don't really know the exact amount.
There's no information regarding this product's amount of probiotic bacteria.
Naturo Sciences Prices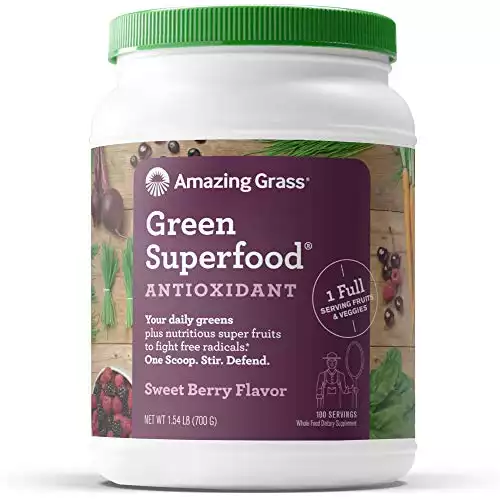 Amazing Grass Green Superfood Antioxidant | Amazon
Crafted with 7 alkalizing farm fresh greens. Our nutrient-dense formula is filled with antioxidant-rich super foods like Camu , Elderberry, Mangosteen and more targeting ALL five major types of free radicals.
Buy at Amazon.com
We earn a commission if you click this link and make a purchase at no additional cost to you.
05/01/2023 12:11 am GMT
There are plenty of great alternative to the Athletic Greens supplements. The Amazing Grass supplement powder is one of the most popular ones due to its ingredients, effectiveness, taste and overall value. Amazing Grass is a fitness supplement industry leader with an extensive product line.
If you are looking for a vegan and organic alternative to Athletic Greens, the Amazing Grass powder drink is the right choice for your needs with many of the same Athletic Greens ingredients.
It is sugar-free and soy-free. One serving doesn't have more than just 30 calories. So, it is a great option not only to increase your energy level but also to aid your weight loss process.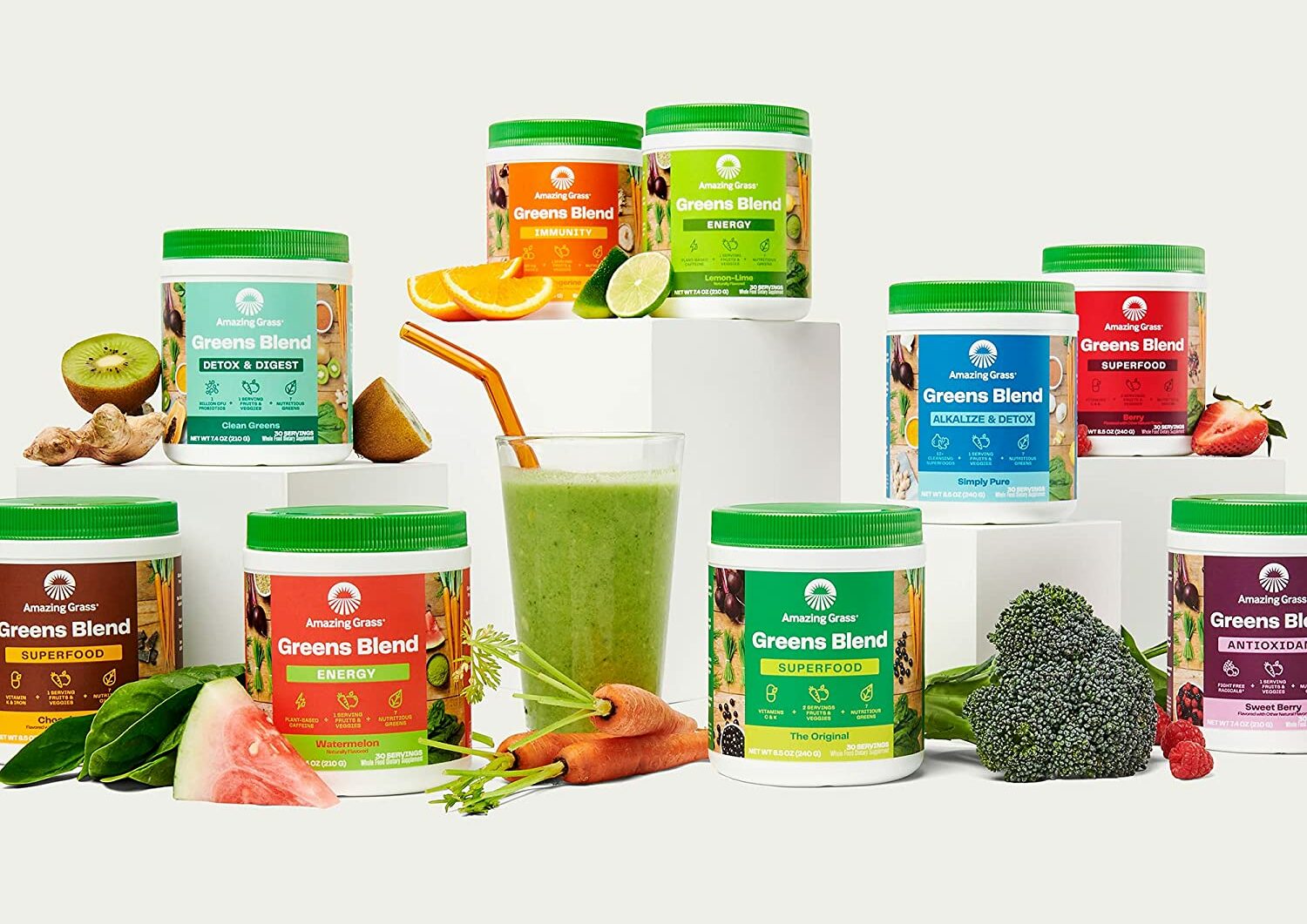 Amazing Grass Greens Ingredient Profile
When comparing Athletic Greens vs Amazing Grass, you'll want to consider the ingredient profile. Amazing Grass contains a nutritious blend of vegetables, fruits, probiotics, digestive enzymes, and cereal grasses.
Basically, these are all the things your body needs to boost its energy level as well as to improve the immune system and promote detoxification. Below, you will find a short list of this product's ingredients:
Cereal grasses: organic wheat grass, barley grass, etc.
Broccoli.
Spirulina.
Over 1000 mg of an antioxidant mix.
More than 400 mg of digestive enzymes and probiotics.
Amazon Grass Pros
It is one of the most affordable supplement brands on the market.
It is a high-quality source of digestive enzymes and probiotic bacteria.
This product has a relatively high content of iron and vitamin A, C, and K.
Tastes slightly better than other powder supplements. It's true you can feel it when you mix it with water. Still, if you combine this powder with milk or natural juice, the taste goes undetected.
Amazing Grass Cons
Some consumers say this product has a pretty vague label that lacks clear and quantified ingredients list.
There are other more effective supplements out there.
There were a few cases of people who experienced bloating and an upset stomach after drinking Amazing Grass supplement.
Amazing Grass Prices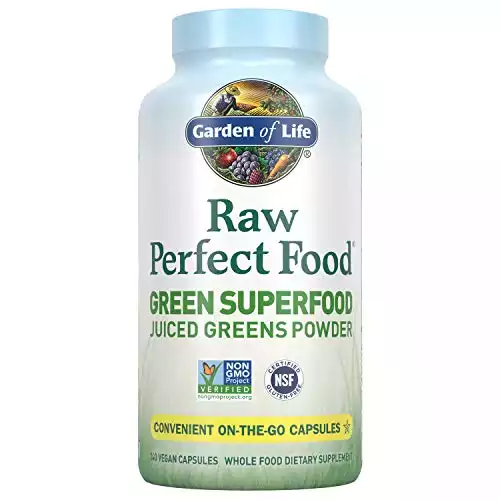 This is another great alternative to Athletic Greens. It is a powder supplement full of healthy nutrients that boost your immunity and improve your metabolism. Most customers say that once they get their daily dose of the Garden of Life supplement they feel energized instantly.
This product comes in two versions, the main and most popular one being the powder. However, if you don't like drinking this powder mixed with water, you can also combine it with pomegranate or carrot juice. Another option is to buy the capsule version.
Something that sets this product apart from the rest of the workout supplements available on the market is the fact that the manufacturer is a certified B corporation. This means that it complies with all the social as well as environmental responsibility standards. Also, it is an accountable and responsible company.
Garden of Life Perfect Food Ingredient Profile
The Garden of Life Perfect Food powder provides three different categories of mixes:
Green Juice Blend – wheat grass, Kamut grass, oat grass, barley grass, and alfalfa grass.
Veggie Juice Blend.
Sprout Blend.
All the blends listed above contain only raw organic ingredients. They are free of artificial sweeteners, colors, preservatives, and flavors. Being made of plants juices makes this product significantly more nutritious than its competitors because juice is more nutrient dense than pulverized plants.
We have established what the first blend contains. But what about the other two? Well, they are a mix of over a dozen vegetables and fruits such as berries, apple, cauliflower, Brussels sprouts, and even asparagus. One scoop has 25 calories, one gram of fiber, and two grams of protein.
Garden of Life Perfect Food Pros
It is packed with digestive enzymes and probiotics.
It is very affordable.
Contains over one billion probiotic bacteria.
This product is high in iron and vitamins (C vitamin and K vitamin) content.
Garden of Life Perfect Food Cons
It has quite an unpleasant taste but if you mix it with natural juice instead of water, the taste won't so grassy.
There is no information regarding the amount of antioxidants contained in this product.
Price: $18.19 – $53.99 (depending on the amount of caplets found in the container).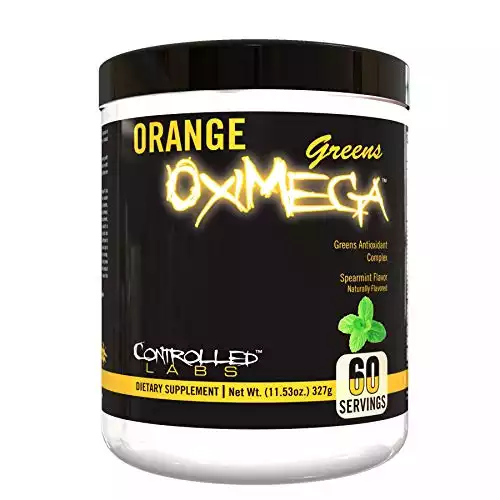 Controlled Labs Orange OxiMega Greens Spearmint | Amazon
This blend is high in natural antioxidants for enhanced performance support. With added enzymes and probiotics for maximum absorption, you can establish a strong foundation for maximum gains in the gym and in life with Orange OxiMega Greens.
Buy at Amazon.com
We earn a commission if you click this link and make a purchase at no additional cost to you.
04/30/2023 12:15 pm GMT
Controlled Labs Greens is one of the best and most effective greens supplement available on the market which is why we have included it in our top best Athletic Greens alternatives list. It contains over three billion probiotics and it doesn't have any synthetic ingredients. Moreover, this product will provide a lot of minerals, vitamins, antioxidants, and phytonutrients.
Orange OxiMega Greens improves your blood flow, lubricates your digestive system, acts as a detox agent for your liver, and boost your energy level. If you're looking for all these benefits, then this supplement is the perfect one for your needs.
Controlled Labs Orange OxiMega Greens Ingredient Profile
Controlled Labs Greens is packed with healthful ingredients. Let's discover some of them in the list below:
Spirulina.
Chlorella.
Wheat grass.
Kale.
Lecithin.
Billions of probiotics.
Omega-3 fatty acids.
Minerals and vitamins.
What Will You Find in This Greens Powder?
Antioxidant complex – pomegranate, acai, cranberry, raspberry, green tea, and others.
Greens blend – wheat grass, dulse, barley grass, chlorella, oats, apple fiber, etc.
Enzyme blend – papain, amylase, protease, and more.
Cardiovascular complex – carrot, cauliflower, beet root powder, spinach, kale, broccoli, and parsley.
Dairy-free probiotic mix – bifidobacterium longum, lactobacillus rhamnosus, and many others.
Pros
Provides a good value considering its quality.
It has a great nutritional content.
Great mixability – it mixes well with water or juice.
It has a more than pleasant taste.
Boosts your body's energy almost instantly. Also, it gives you a sense of well-being.
It has the lowest calorie content. You will include in your diet only 15 calories per scoop or serving.
Cons
According to some consumers, there might be some small issues with this powder mixability ease and foaming consistency when you use a spoon to blend the powder with your chosen liquid.
Some think is not quite affordable if you compare this product with other similar ones in terms of price, effectiveness, and overall value.
Unfortunately, it has a bad taste.
Some of its ingredients are underdosed.
Price: $24.98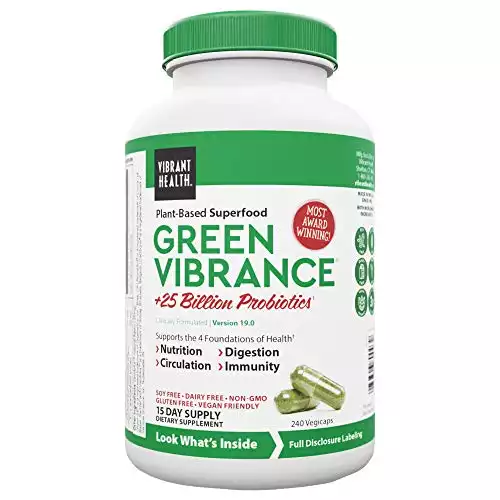 Vibrant Health, Green Vibrance | Amazon
Supports daily health: Supports a more robust immune response, clarity of thought and increased energy and endurance in convenient and comprehensive capsules.
Buy at Amazon.com
We earn a commission if you click this link and make a purchase at no additional cost to you.
05/01/2023 12:16 am GMT
Green Vibrance is a Connecticut-based company that produces good-quality fitness supplements. Being one of the top best-selling supplement powders in the digital environment has landed this brand among the best Athletic Greens alternatives list. It is a robust and well-rounded green drink formula.

Green Vibrance Ingredient Profile
Green Vibrance is a solid supplement that contains mostly organic pulverized plants ingredients. But what truly differentiates this brand in the Athletic Greens vs Green Vibrance conversation is the fact it effectively combines dozens of ingredients that other supplements would rather specialize in. Here is a brief list of what this product contains:
Nutrient-dense plant concentrates wheat grass, oat grass, parsley leaf, broccoli sprouts, etc.
High fiber foods and prebiotics.
Antioxidants such as acerola berry juice powder and grape skin extract.
12 dairy-free probiotic cultures.
Enzymes like lipase and protease.
Vitamins: A, C, B12, D3, E, K.
Calcium, Magnesium, and Iron
Green Vibrance Pros
It contains a lot more vitamins, minerals, and probiotics than most of its other competitors.
It is an affordable supplement.
Green Vibrance comes with a detailed nutrition label.
This product is a great source of proteins and nutrients.
It contains organic ingredients.
Green Vibrance Cons
Some clients were not satisfied with its taste, saying it is a bit grassy and peppery.
Although the label says it contains antioxidants, this content is not quantified.
It must be stored in the freezer at all times.
Price: $39.96 (For the latest prices and discounts, check here)
Summing It Up: Best Greens Powder to Switch To
So, these were, in our humble opinion, the best alternatives to Athletic Greens supplements. They are all effective and contain high-quality ingredients. Now that you are better informed, you are able to make a smarter choice, one that will suit your needs and preferences.
There are plenty of factors to consider when purchasing the best fitness supplement. First of all, think about your budget. Some of the above brands are more affordable than others. Then, don't overlook their ingredients. This is more complicated and it depends on what you're looking for: whether you're into raw or vegan-friendly products or not.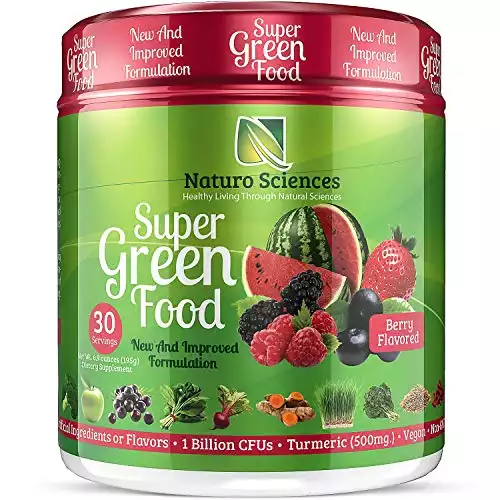 Finally, one must also take into consideration the supplement's effectiveness and it overall provided value. So, make sure not to rush into making a decision.
Have you tried any of the products listed in our article? If yes, let us know how well it worked for you, in the comments section below.
Further Reading on Super Greens & Green Powders: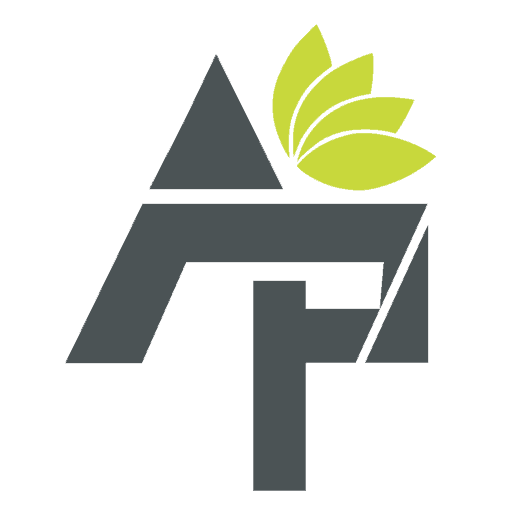 Alt Protein Team is a team of professionals and enthusiasts committed to bringing you the most up-to-date information on alternative protein, health and wellness, workouts, and all things health-related. We've reviewed a lot of products and services so you don't have to guess when you spend your hard-earned money on them. Whether you want to shed some pounds, build lean muscle or bulk, we can help you figure out what you need to do and what you need to have to achieve your goals.