Finding the best protein powder is not as easy as it sounds for women. Women looking for a healthier and leaner body can use protein supplements for relatively fast-acting results. Replacing empty carbs and fat with protein is one of the best ways to enhance weight loss and curb cravings.
The point of this page is to answer a common question many women have; "What is the best protein powder for women?"
Detailed Reviews of Our Protein Recommendations
Aria Designer Whey Women's Protein Powder (Vanilla)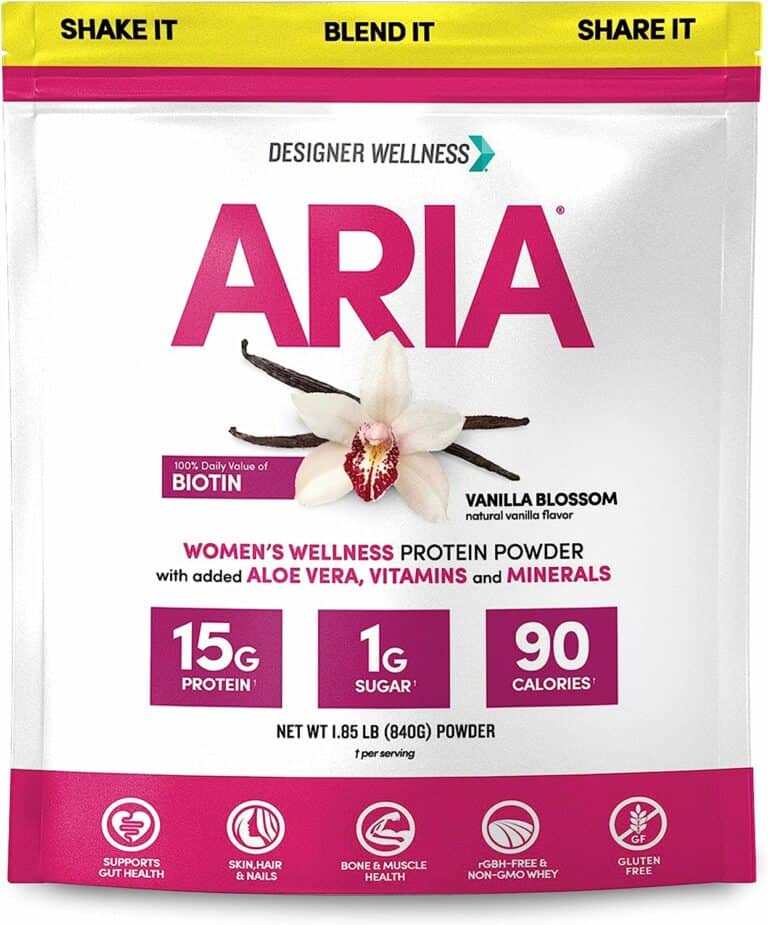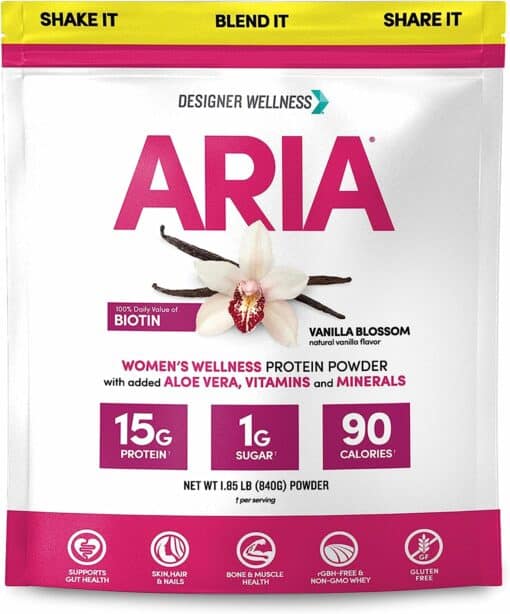 With Aria Designer Whey women's protein powder, you've found a protein-rich source that won't sabotage your diet. Each serving has 14 grams of protein with only 3 grams of carbohydrates.
At a mere 80 calories, it can be a great pre-or post-workout snack, fueling your body with what it needs to improve muscle tone without packing on pounds of fat. Mix it with water for the fewest calories, or stir it into milk, juice, or yogurt for a protein-packed meal replacement. In fact, many users swear by using it daily for breakfast to feel energetic throughout the day.
This protein powder is unique in that it has a 50:50 blend of soy and whey protein, which have different rates of absorption, so you experience its benefit over time instead of all at once.
Whey protein helps women achieve the lean muscle mass that makes the body feel hard without being bulky, and soy protein is known for being beneficial to the cardiovascular system.
Research also suggests this particular balance of proteins is especially effective in regulating the female metabolism. With the addition of just one serving a day into a healthy diet and regular exercise, you can achieve greater health and a toned figure.
Aria Designer Whey women's protein powder blends smoothly without clumping, so it's a quick fix to curb your appetite when you're on the go. It is known for its superior flavor that makes it taste more like a dessert than something good for you.
Free of artificial sweeteners, artificial colors, and salt, this protein powder fits right into your diet. This vanilla protein powder is also 99 percent lactose-free and doesn't use genetically modified soybeans. Chock full of benefits and low on the things you don't want, Aria Designer Whey is a great supplement to help you achieve your fitness and weight goals.
Garden of Life Raw Protein Powder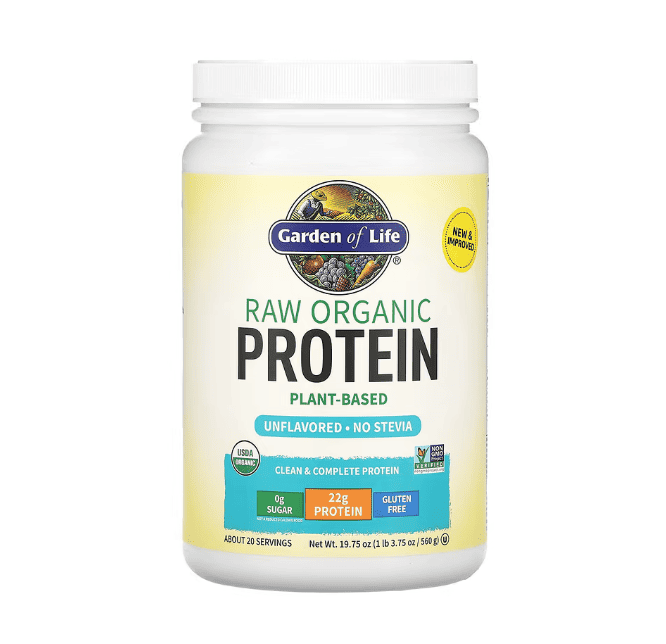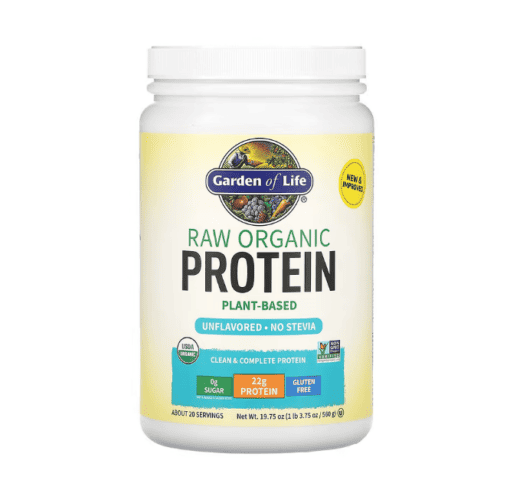 Designed to fit vegetarian and vegan lifestyles, Garden of Life Raw Protein Powder delivers 17 grams of protein in every serving with the soy or animal products found in other protein powders on the market.
That's a whopping 33 percent of the recommended daily amount of protein. All of that protein is from plant sources, so you can use it with confidence, knowing that you are fueling your body with what it needs straight from nature itself.
This unique protein blend features 13 raw, organic seeds and grains that provide all of the essential amino acids that help your muscles recover quickly after intense workouts and aid in the production of energy. With greater stores of energy, you'll feel like working out harder and longer, burning far more calories than you did before.
With protein-digesting enzymes and live probiotics, Garden of Life Raw Protein Powder digests easily without causing any embarrassing gastrointestinal issues.
Mixed with water, this protein powder has a mere 3 grams of carbohydrates and 80 calories in every serving, so it won't derail your dieting efforts. Its neutral flavor allows you to blend it into anything, including milk, yogurt, or juice.
You can even mix it straight into food to increase the levels of protein in your meals, and you'll never taste the difference. It also comes in single-serve packets, so you can easily tote it in your purse or gym bag to always keep a healthy dose of protein nearby.
Garden of Life Raw Protein Powder is ideal for those with lactose intolerance or other intestinal issues because it is dairy- and gluten-free. This high-quality, organic protein blend is also free of artificial flavors, synthetic ingredients, and fillers, so you know every ounce of it is healthy. With everything going for this dietary supplement, there's no reason to hesitate to try it.
Nature's Best Isopure Protein Powder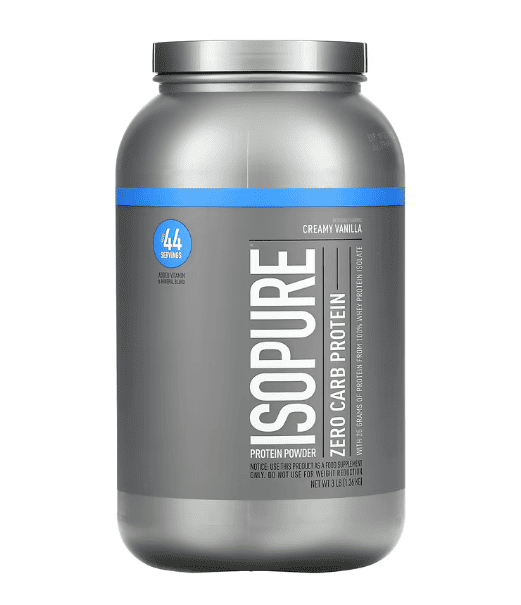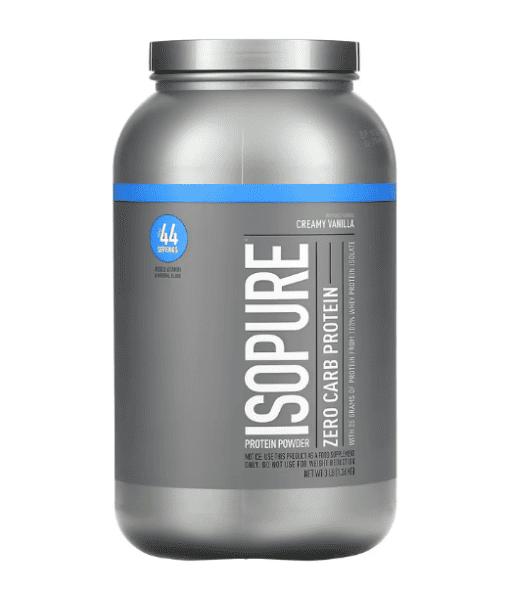 Fitness enthusiasts and serious athletes require more protein than the average person due to high levels of activity depleting the body of the amino acids and such necessary to perform at tip-top condition.
That's why athletes frequently turn to supplements to get the protein necessary to increase and maintain the muscle tone they work so hard to achieve instead of relying on diet alone to get what they need. Nature's Best Isopure protein powder is a great choice to add to your dietary regime, delivering a massive 50 grams of 100 percent whey protein isolate in every serving.
What sets this particular protein powder apart from the competition is that it is completely free of carbohydrates and fat. This means it can be used in conjunction with a low-carb, low-fat diet, and you can consume it without a bit of guilt.
Being free of carbohydrates and fat, Nature's Best Isopure protein powder helps you achieve the lean and toned appearance you desire. Even if you're lactose-intolerant, you can harness the benefits of this protein supplement because it's lactose-free.
Isopure is made from only the finest ingredients, and the proof of its purity is in the mixing. It blends crystal clear into the water and doesn't have the odor or taste of milk, the source of its quality proteins.
Since the powder is instantiated, it mixes easily into your beverage of choice with a few waves of a spoon. This supplement is also rich in glutamine and branched-chain amino acids, which help your muscles recover quickly after hard workouts.
Available in an assortment of flavors, this protein powder is known for its great taste, so it will feel more like a reward for hard work than something good for you. At 200 calories per serving, it can double as a light meal replacement when you're pressed for time.
Click Espresso Protein Drink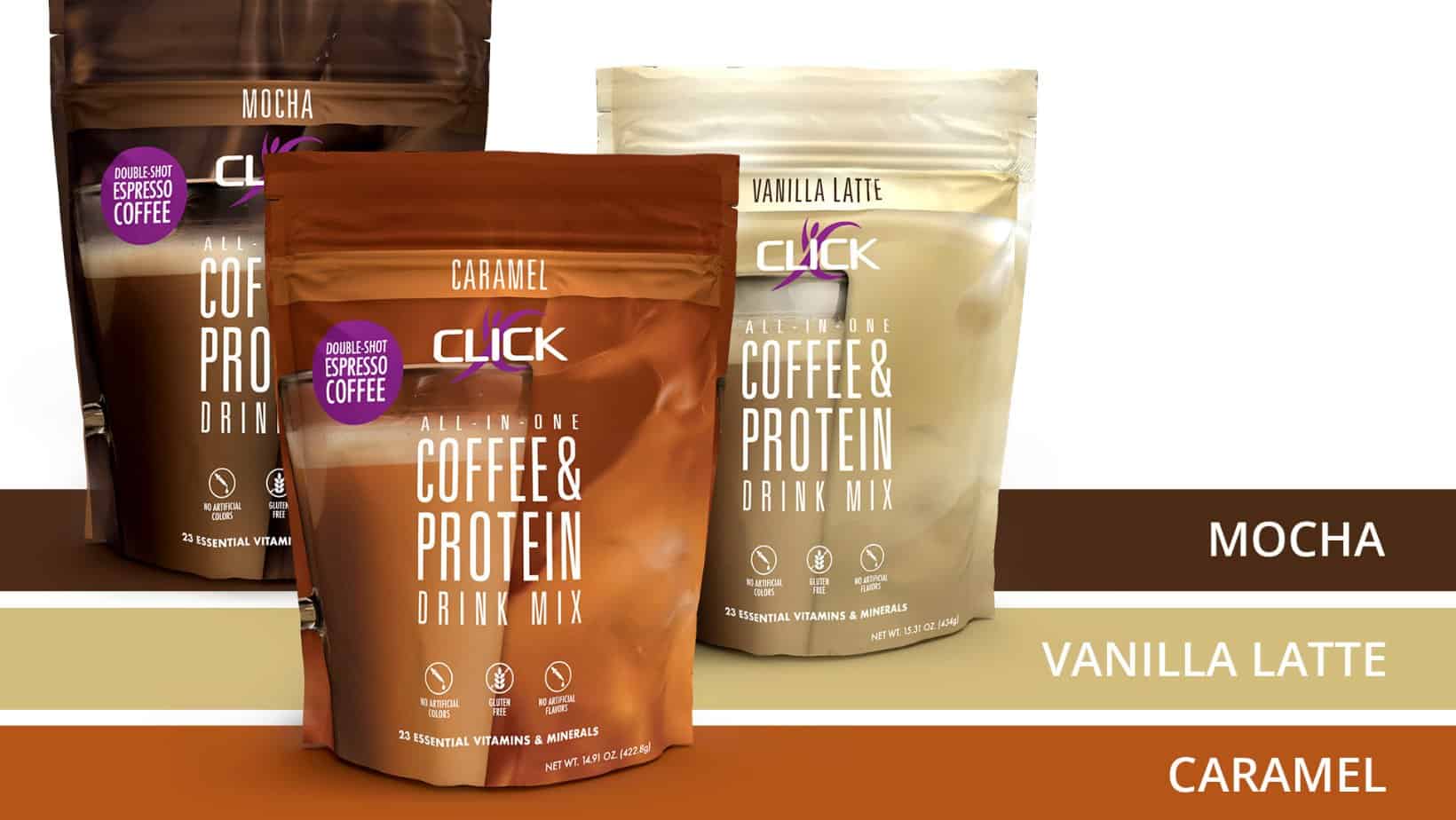 Achieve energy levels you never thought possible with Click Espresso Protein Drink. This innovative supplement packs a double shot of power with the protein to fuel your body throughout the day and a caffeine boost to energize you right off the bat. Ditch the energy drinks, and use it just before your workouts to make you feel like going harder and longer, which will catapult you closer to your health and fitness goals.
Every serving packs 15 grams of protein and 11 grams of carbohydrates to fuel energy levels over time. With only 120 calories, you can enjoy this delicious supplement that tastes like gourmet coffee without any sense of guilt.
Simply blend it in water for a mouthful of flavor your taste buds won't even suspect is healthy. You can even pop it in the microwave to have the full espresso experience, although enjoyed cold is just as good. Used regularly, it can help you save money by keeping you out of expensive specialty coffee shops.
The health benefits of Click Espresso Protein Drink don't end at providing muscle-building proteins and the energy to perform at your very best. This great-tasting blend also has 23 essential vitamins and minerals. It is low in sugars that could be converted to fat yet isn't short on sweetness because it contains fructose and sucralose. Without artificial flavoring or colors, you can also feel confident about the quality of the ingredients inside.
Click Espresso Protein Drink isn't just good for a pre-workout shake. It is hearty enough to use as a meal replacement, or you can use it as a snack to curb your appetite between meals.
Replace your early morning coffee routine with Click Espresso to feel energized the whole day through, which can be beneficial to your productivity in and out of the gym.
EAS Lean 15 Protein Powder (vanilla)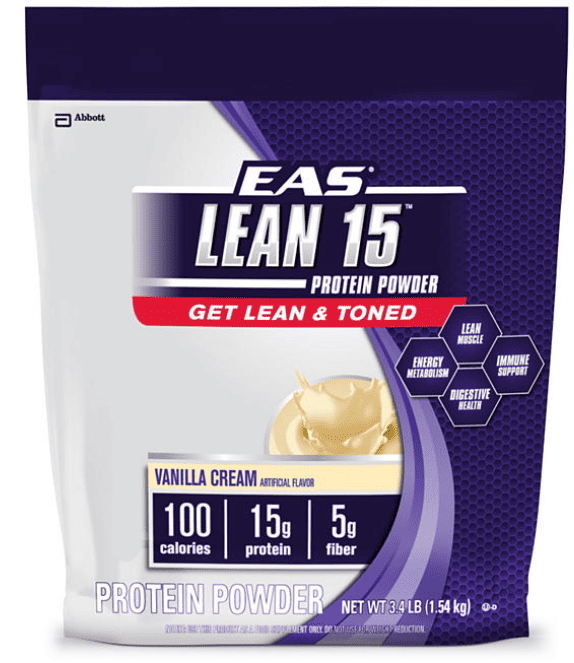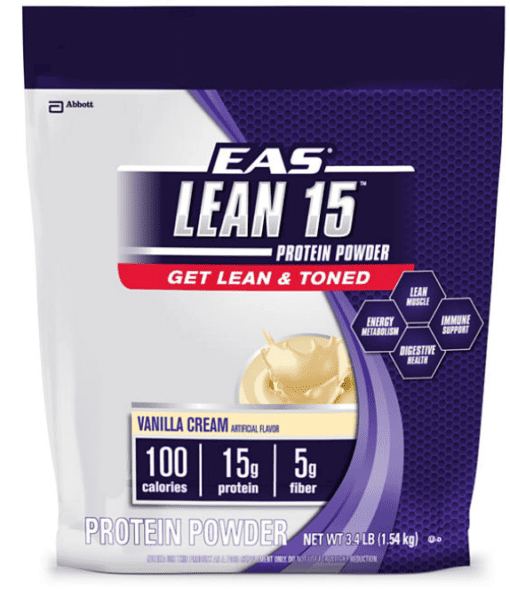 When you need a protein-packed supplement that won't wreck your diet, EAS Lean 15 protein powder fits the bill nicely. With 15 grams of protein in every serving and virtually no fat, it delivers what your body needs to build and maintain the lean muscle mass responsible for the toned look you want to achieve.
It is also only 100 calories with 11 grams of carbohydrates, so you can get the extra protein active people need without any guilt. This protein powder mixes smoothly in water as the lowest calorie option, but you can also mix it into milk or yogurt as a healthy meal replacement for when you're pressed for time.
This protein supplement is better than many of its competitors on the market because it contains two types of protein that are absorbed at different rates. The whey protein digests quickly to provide energy-producing amino acids to your muscles in a jiffy, making this an ideal pre-workout drink.
The micellar casein protein digests more slowly, delivering amino acids to your muscles when they need help recovering after a strenuous workout. Use it regularly to ensure your body is never deficient in the building blocks necessary to produce energy, and it will ultimately help you achieve the body of your dreams.
EAS Lean 15 protein powder is also known for its great taste and consistency that is neither too thick nor too thin, so you'll actually look forward to drinking it each day. Since it's quite filling, it can also curb your appetite between meals and keep you from reaching for higher-calorie options that could potentially undo all of your hard work.
Added fiber helps this supplement digest quickly and easily, contributing to your gastrointestinal health, and it is filled to the brim with vitamins and minerals that will help the rest of your body be in tip-top shape.
Labrada Nutrition Lean Body Meal Replacement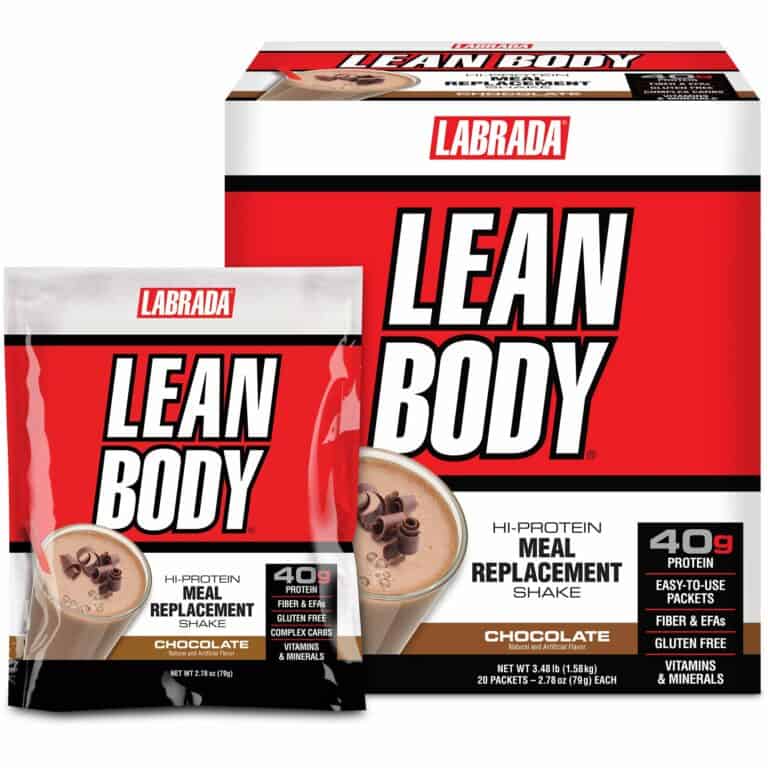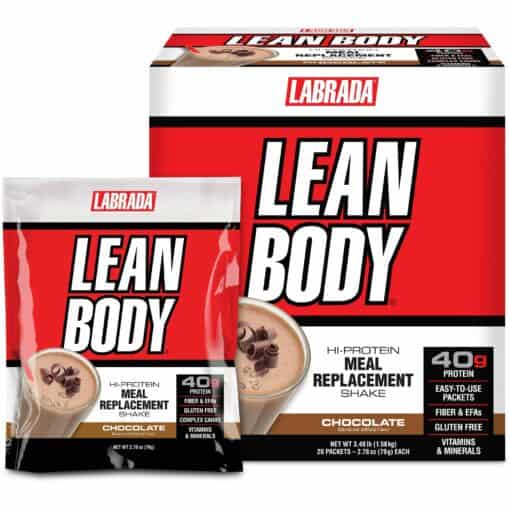 Whether you're a fitness model or a weekend warrior, active people have different needs than those who lead more sedentary lifestyles. Anyone involved with strength training knows that providing the body with extra protein is one of the most important of those needs.
Protein fuels the body with the amino acids that play a pivotal role in energy production at the cellular level, and it's often difficult to get all the protein you need from diet alone, thus the popularity of protein-rich supplements. Labrada Nutrition Lean Body meal replacement satisfies those needs, delivering a massive 40 grams of protein to your body in every serving.
This meal replacement has been formulated with a 50:30:20 protein, carbohydrate, and fat ratio thought to be ideal for providing time-released energy throughout the day, so you won't just workout harder at the gym; you will also have greater mental focus, which can help you in every part of your life.
The 24 grams of carbohydrates that are in each 330-calorie serving are the right kind of high-fiber carbs to stabilize insulin and blood sugar levels, ultimately promoting greater energy and the right environment for torching fat. It is also high in glutamine, which is responsible for preventing muscle breakdown.
Labrada Nutrition Lean Body is more than your average protein supplement. It's an entire meal replacement with 24 vitamins and minerals to ensure your body gets everything it needs to perform at its very best. Without any maltodextrin, trans fats, aspartame, or artificial preservatives, it is free of the things you don't want.
Simply stir a packet into water for a simple yet nutritious meal you don't have to laboriously plan and prepare. There's absolutely no measuring necessary, and the flavor is unbelievably good. In fact, the American Culinary Institution awarded this meal replacement its Gold Medal Taste Award five times.
Lifetime Life's Basics Plant Protein (Vanilla)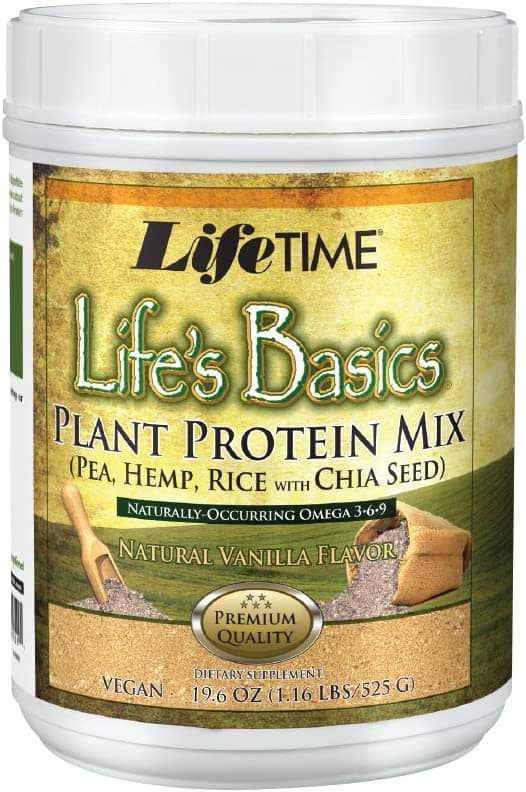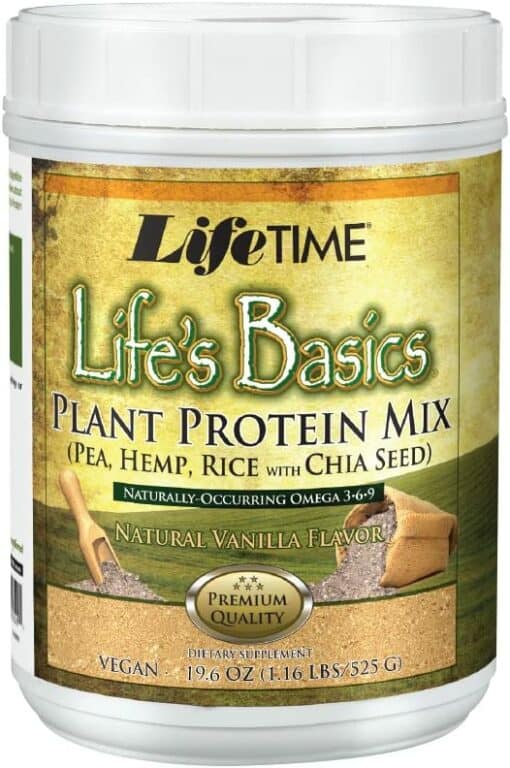 Ideal for those following a vegetarian or vegan lifestyle, Lifetime Life's Basics Plant Protein contains everything your body needs to build and maintain lean muscle tissue without all of the animal products found in similar products on the market.
Every serving delivers an impressive 22 grams of muscle-building protein to help you achieve the hard body of your dreams. It also won't interfere with your diet because it is only 130 calories with a mere 9 grams of carbohydrates. Since it is sweetened and possesses a decadent flavor, it also serves as a tasty treat you'll enjoy incorporating into your dietary regime.
It possesses a unique blend of pea, hemp, rice, and chia seed proteins to fuel your muscles through your strenuous workouts and even help them recover once it's all over. When used regularly with exercise and a healthy diet, this plant protein supplement will increase your overall energy levels and help transform your body by adding muscle while losing fat.
It also contains all of the amino acids you require to perform at your best and is a great source of the omega 3, 6, and 9 fatty acids that contribute to cardiovascular health.
You don't have to be a vegan to enjoy Lifetime Life's Basics Plant Protein because it has an incomparable flavor that more closely resembles a sumptuous dessert than a healthy dietary supplement.
Many users even mix it into rice or almond milk for a meal replacement when there simply isn't time to plan or prepare a meal. For the lowest amount of calories without sacrificing its great taste, however, mix it into water. It is also free of gluten and GMOs, so this plant protein can be a part of virtually any lifestyle. It is best enjoyed cold, and, for optimum results, use it daily.