Shakeology is expensive.
I've heard that "you get what you pay for" a bunch of time from "coaches" who promote it, but is that really true?
After publishing my initial post on Shakeology substitutes, I've received many questions about WHICH alternative to choose. Garden of Life Raw Meal was one of the alternatives I suggested, so I thought it would be useful to craft a head to head comparison between Raw Meal vs Shakeology.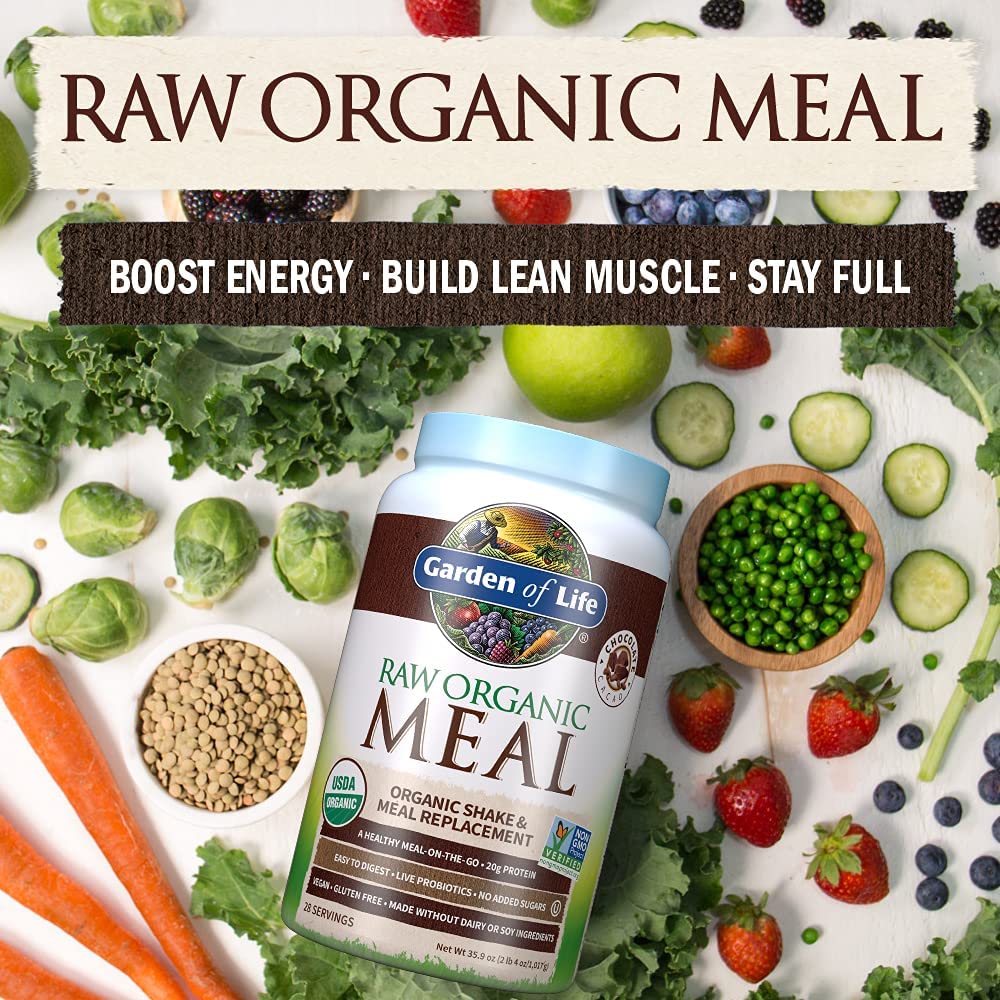 The goal of this article isn't to "sell" you on one or the other, BUT let the facts speak clearly.
Our Recommendation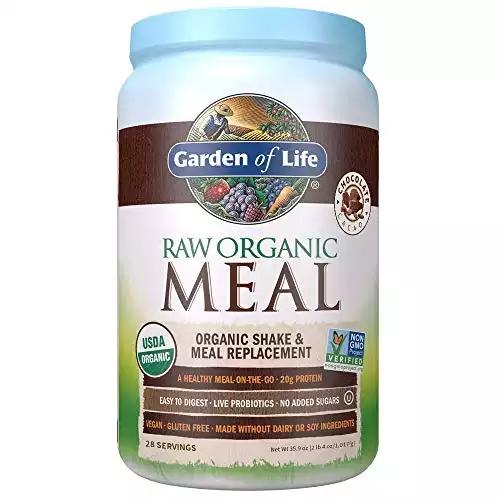 Pros and Cons of Shakeology
Pros
First up, here are some of the advantages you might consider in Shakeology's favor:
Diverse Nutrient Profile: If you are looking to pack lots of different minerals and nutrients into one supplement, Shakeology definitely delivers. It's hard to follow the benefits of every ingredient, but if you want MORE, Shakeology has a little bit of everything.
Might Help You Lose Weight: Any kind of diet restriction tends to have weight loss benefits, Shakeology is no different. While it's hard to claim any one supplement is best, people that use Shakeology have seen results. BUT, like all supplements, diet and exercise are the key attributes (not necessarily the supplement itself).
Coaches Advice: While I think the use of the word "coach" by BeachBody is rather deceptive (coaches = distributors), IF you do have a REAL fitness coach via Shakeology, this can be an added benefit.
Community of Other Users: What BeachBody does very well is create an engaged community of users and promoters. If you are the type of person who really needs constant reinforcement, this can be helpful.
True Meal Replacement: Shakeology is branded and designed to work as a meal replacement. With the sorry state of most peoples diets, there are some positive benefits to replacement an "egg McMuffin" with virtually anything!
Low in Fat: With only 15 calories from fat per serving, Shakeology hits the mark in terms of a low fat supplement.
Tastes Nice: If you like your meal replacements more on the "milk shake" side of things, Shakeology fits the bill. It's highly drinkable taste and texture mean that it will be easy to keep taking over a longer period of time, at least for most users.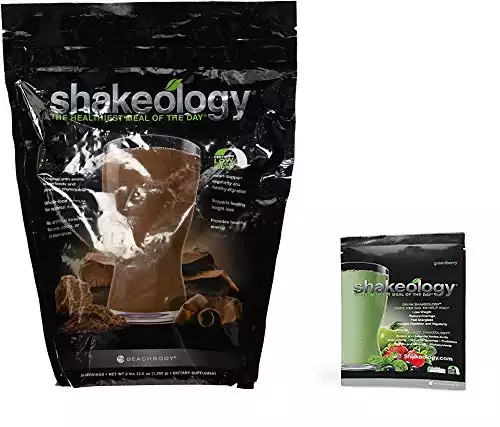 Cons
Next up, here are the major drawbacks that any potential user of Shakeology should consider:
Price Point: This is the single top complaint I get from users and/or prospective customers of Shakeology. It's dang expensive! Yes, you get lots of different ingredients and "health is wealth" and all that tripe… BUT being healthy doesn't have to be THIS expensive (between $4 and $4.50 per serving!). I'm sorry. For all those BeachBody "coaches" out there, I'm not saying Shakeology is crap. What I'm saying is that you can find MANY good substitutes (like Garden of Life, Vega One, Sun Warrior, etc…) that are still premium, but not nearly as expensive. What Shakeology really does is sell you a story and then tell you that Shakeology is cheaper than a daily Big Mac (yes… as is every supplement….and a gym membership).
Pushy Marketing: Multi-level marketing isn't new. Shakeology has leveraged it particularly well. The problem is not that "people make money", the problem is that it incentivizes all kinds of behavior. Your friends who promote Shakeology use familiar language ("your health is WORTH it") in order to keep you hooked, because they earn recurring revenue every time you order. It's hard to disentangle the motives. If you click my links on this site, I might make a referral commission of a few dollars on your first order, but I don't have an incentive to push one product over another. In fact, there are about a half dozen alternative supplements that I can recommend over Shakeology (at different price points).
Questionable Ingredients: Look, I'm all for superfoods. I think they are generally helpful for health and wellness. However, not all new exotic ingredients are necessarily medically justified. Many times, it's just a fad. The most important ingredient is always the amoung and quality of protein. Other minerals are definitely good. Antioxidants are great. There IS a point of diminishing returns, however. These supplements are not miracle drinks. Many times, you are better off investing in a or taking a daily multi-vitamin and keeping your protein separate.
Shakeology is NOT Certified Organic: In this day and age, any good vegan supplement should be Certified Organic. If you aren't onboard the organic train, then there is probably nothing I can say that will convince you here. BUT, for those who care about the quality of ingredients (not just the name of the ingredients), this is a big con.
MSM in Shakeology: MSM (Methylsulfonyylmethane) is an anti-inflammatory that helps with joint pain and digestion (among many other things). Personally, I don't see why this is present in this amount. Talk about throwing the kitchen sink at people. If I have joint pain, I'd prefer to tackle that problem on it's own, not in my daily meal replacement shake.
Components Cheaper? While it's nice to have "all in one" solutions, sometimes it's important to break about the components to see what you "really need". For example, a simple clean protein supplement, plus a great greens supplement might be both MORE cost effective and offer more control. Key to this is being able to determine cause and effect. Example: maybe Shakeology makes you feel great, but in reality it's the spirulina that is the primary reason.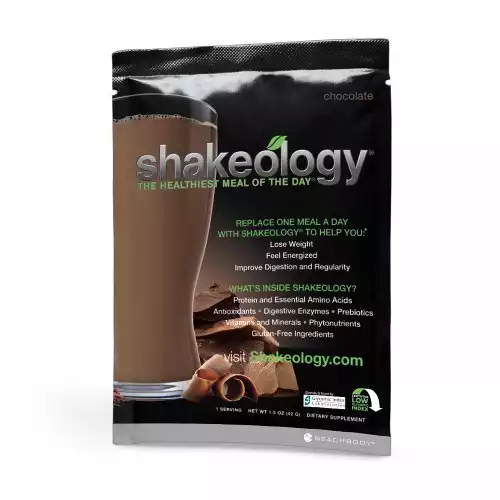 Shakeology Chocolate | Amazon
Shakeology is a powerful Superfood formula designed to give your body the perfect combination of nutrients to help give you energy, reduce cravings, maintain healthy body weight, and support your immune system.
Buy at Amazon.com
We earn a commission if you click this link and make a purchase at no additional cost to you.

Pros and Cons of Garden of Life Raw Meal
Pros
Okay, so how does Garden of Life Raw Meal measure up? Here's the positive contrasts:
Price Point: Garden of Life is a LOT cheaper than Shakeology on a per serving basis. It's about $2.67 per serving vs about $4.30 for Shakeology. You can often

find it for less at this listing on Amazon

, too. If monthly expenses are important to you, this is a clear benefit to consider. Again, being healthy doesn't have to break the bank.
Similar Nutrient Profile: When compared head-to-head, Raw Meal offers many of the same minerals, nutrients and "super foods" offered in Shakeology, just without the same over the top (miracle) marketing. A sampling of ingredients includes a Raw Organic Fruit and Vegetable Blend (Spinach, Baobab, Carrot, Brussels, Cherry, Parsely, Asparagus, Blackberry, etc..), a Raw Organic Greens Blend (including Aflalfa Grass, Spirulina, Barley, Oat Grass, Wheat Grass, etc…), a Ra Probiotic Blend, Fiber Blend, and Flavor Blend.
Less Processed: While this can also be a slight con for some, it's also a reassuring attribute. The ingredient list is full of organic whole foods, with minimal extracts and excessively processed ingredients.
Also a Meal Replacement: The Raw Meal is marketed and functions as a full meal replacement, just like Shakeology. Unlike some other alternatives that are "just" protein supplements, this is a "whole food" nutritional substitute.
Less Sugar: Personally, I would rather not be consuming additional sugar in my supplement. Particularly if I'm blending in a smoothie, it's just unnecessary, even for taste. Garden of Life features less than 1 gram per serving while Shakeology clocks in at 6 grams. Not a HUGE fault, but a noticeably advantage to Raw Meal in my book.
More Protein: I like to play the "cost per gram of protein" game frequently with protein supplements. Shakeology only has 17 grams, which is quite a bit lower than the 20 grams in Garden of Life. Even if we assume the quality is equal, Raw Meal just seems like a better value here.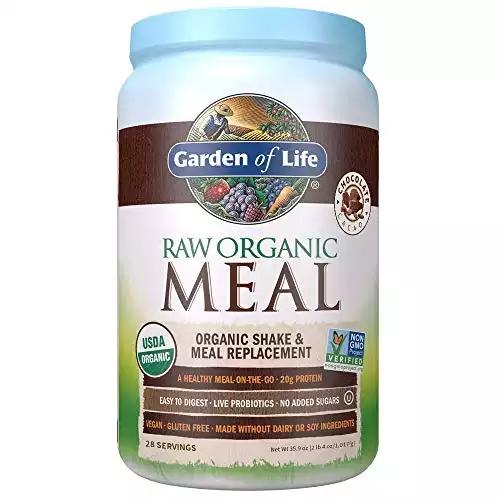 Cons
And here are some drawbacks to consider when contrasted with Shakeology:
Still Lots of Components: Similar to Shakeology, Garden of Life packs a lot into this supplement. This means it can be hard to really figure out causality and also challenging for those with various allergies or sensitivities.
Tastes "Healthy": If you are looking for some that is noticeably sweet and "easy to drink", this is not the chocolate miracle shake you are looking for! I've found the mix to be slightly more prone to clumping and grittiness than Shakeology. Coming from Shakeology, it takes some getting use to. But just like eating healthy, eventually I started to crave it in a positive way. That said, not for everyone.
Still Not the Cheapest: The Organic, Non-GMO nutrient profile still makes Garden of Life a bit more expensive than your run of the mill whey protein supplement. It's not cheap, but still DEFINITELY cheaper than Shakeology (without all of the upsells, too).
Our Recommendation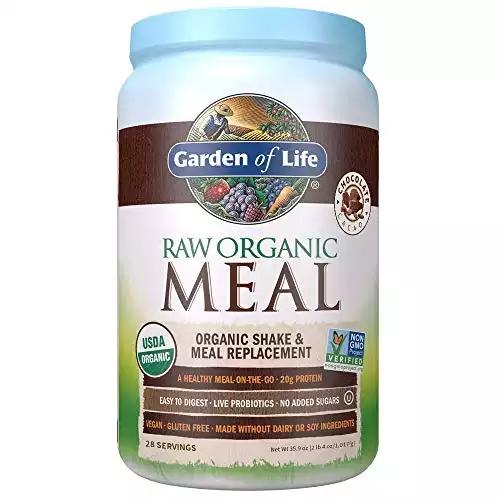 Shakeology vs Raw Meal Comparison Table
Here's a table that breaks down the key facts (as well as other meal replacement shakes) at a glance:
| Shakeology Alternative | Serving Size | Calories | Saturated Fat | Sodium | Carbs | Fiber | Sugars | Protein |
| --- | --- | --- | --- | --- | --- | --- | --- | --- |
| Shakeology (30 Servings) | 42g | 160 | 1g | 180mg | 17g | 6g | 6g | 17g |
| Garden of Life(14 servings) | 35g | 115 | 0g | 140mg | 8g | 7g | Less than 1g | 20g |
| Nature's Bounty (13 servings) | 33g | 120 | 1g | 110mg | 13g | 4g | 6g | 15g |
| Labrada Lean Body (16 servings) | 70g | 290 | 2g | 400mg | 21g | 7g | 5g | 35g |
| Vega One (20 servings) (EDITOR'S CHOICE) | 40g | 140 | 1g | 250mg | 9g | 4g | 1g | 20g |
| Orgain Organic (20 servings) | 46g | 150 | <0.5g | 200mg | 15g | 7g | 0g | 21g |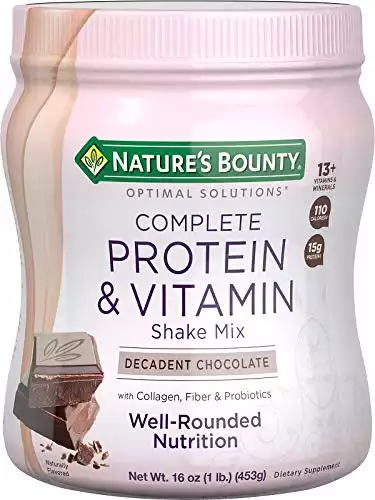 Protein Powder with Vitamin C by Nature's Bounty
Contains (1) jar of 16 ounces of Nature's Bounty Optimal Solutions Complete Protein & Vitamin Shake Mix in chocolate. Supports healthy skin, bone health, energy metabolism, muscle health. Provides digestive health support & immune health support.
View on Amazon
View on Walmart
We earn a commission if you click this link and make a purchase at no additional cost to you.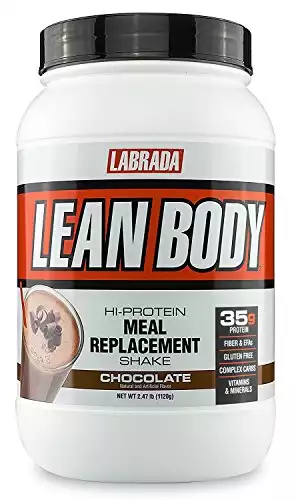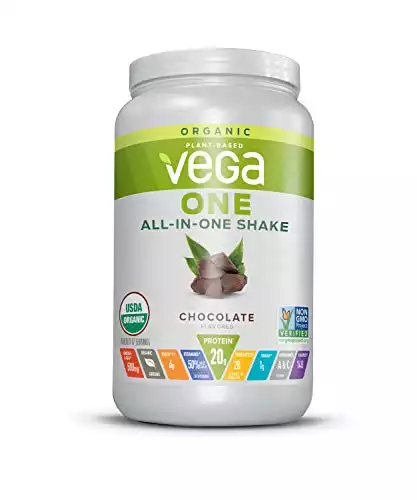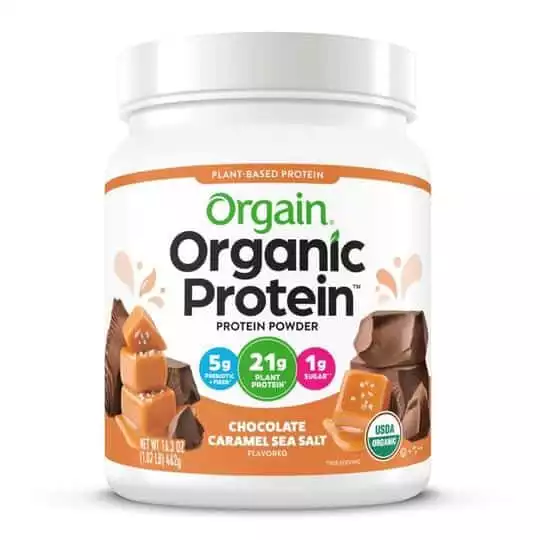 Organic Protein Plant Based Protein Powder | Orgain
This Chocolate Caramel Sea Salt Plant-Based Protein Powder contains a solid 21g of vegan protein per serving, no added sugar, and a complete amino acid profile, making this one indulgence you'll never have to feel guilty about.
Check Price
We earn a commission if you click this link and make a purchase at no additional cost to you.
Other Alternatives Worth Considering
It would be foolish to think that it's a binary choice between Garden of Life and Shakeology. Here are some other products that I have reviewed which you might find worthwhile:
Shakeology vs 18 Shake: 18 Shake is more of a traditional meal replacement "program" to look at. While the ingredients are somewhat of a step down (in my opinion), the taste is a step up (and the price!).
310 Shake vs Shakeology: 310 is another new plant based meal replacement shake that's comparable to Shakeology but roughly HALF the price.
PlantFusion Phood versus Shakeology: This one is a more even playing field, with Phood taking square aim at Shakeology on price, taste, and ingredients.
SunWarrior vs Garden of Life: This one is VERY close in my opinion. I tend to recommend trying both, but there are some important differences worth noting.
Garden of Life vs Vega One: This is another close call for me. I've used both for many years. The one advantage of Vega One for me is that it mixes and tastes a bit better.
Final Decision – Which Would I Personally Go With?
This is actually an easy decision for me. The prohibitive cost of Shakeology is an insurmountable objection. There is no GOOD (re: factual) reason why Shakeology is so expensive. It's not the only supplement on the market.
This isn't 1999, either. Consumers aren't in the Dark Ages when it comes to education. Would I rather trust every single word out of a BeachBody "coach" or do my own research (from multiple sources online as well as first hand research personally)? It's not that hard,
Bottom Line: If I was forced to choose, I would definitely go with Garden of Life Raw Meal (I regularly by mine at this Amazon listing).
Our Recommendation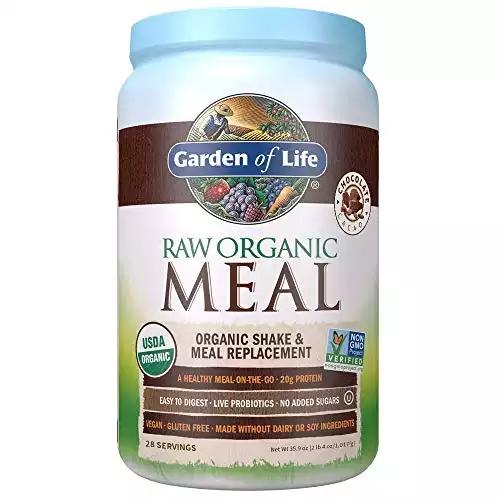 Recommended Reads:
—-
Disclaimer
Last updated: December 16, 2019
The information contained on www.altprotein.com website (the "Service") is for general information purposes only.
Alt Protein assumes no responsibility for errors or omissions in the contents on the Service.
In no event shall Alt Protein be liable for any special, direct, indirect, consequential, or incidental damages or any damages whatsoever, whether in an action of contract, negligence or other arising out of or in connection with the use of the Service or the contents of the Service. Alt Protein reserves the right to make additions, deletions, or modification to the contents on the Service at any time without prior notice.
Alt Protein does not warrant that the Service is free of viruses or other harmful components.
Fitness disclaimer
The Service offers health, fitness and nutritional information and is designed for educational purposes only. You should not rely on this information as a substitute for, nor does it replace, professional medical advice, diagnosis, or treatment. If you have any concerns or questions about your health, you should always consult with a physician or other health-care professional.
Do not disregard, avoid or delay obtaining medical or health-related advice from your health-care professional because of something you may have read on the Service. The use of any information provided on the Service is solely at your own risk.
You can also review our Editorial Integrity Policy.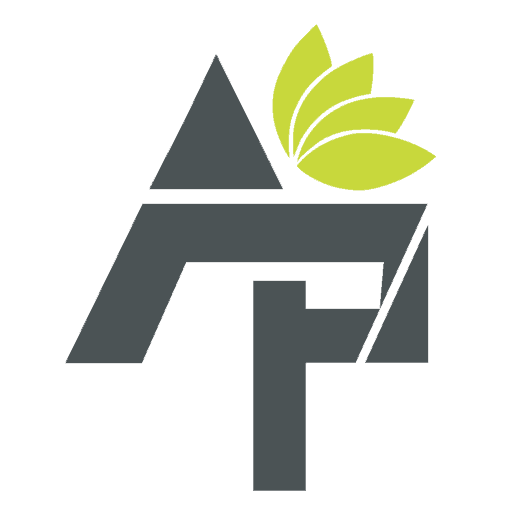 Alt Protein Team is a team of professionals and enthusiasts committed to bringing you the most up-to-date information on alternative protein, health and wellness, workouts, and all things health-related. We've reviewed a lot of products and services so you don't have to guess when you spend your hard-earned money on them. Whether you want to shed some pounds, build lean muscle or bulk, we can help you figure out what you need to do and what you need to have to achieve your goals.