Both 18 Shake and Shakeology are some of the best and most popular protein supplements in the United States. These brands have acquired millions of loyal consumers and both of them can be used as healthy meal replacements.
But, which of these two shakes will work better when it comes to losing weight and maintaining a healthy organism? You're about to discover that as well as many other interesting aspects of these products.
18 Shake vs Shakeology – Brief Comparison
| | | |
| --- | --- | --- |
| | 18 Shake | Shakeology |
| Ingredients | Natural ingredients | Proprietary blends |
| Available flavors | 2 | 7 |
| Number of natural ingredients | 18 | >70 |
| Calories per serving | 90 | 150-200 |
| Manufacturing company | 18 Nutrition | Beachbody |
| Price per bag | $47.99 | $129.95 |
| Rating on Amazon | 3.4 out of 5 stars | 2.7 out of 5 stars |
18 Shake vs Shakeology – What They Are
18 Shake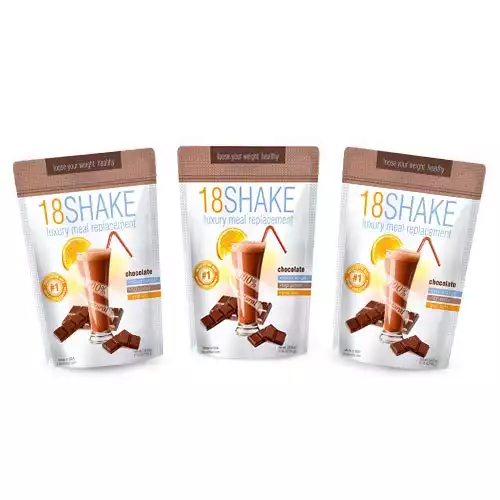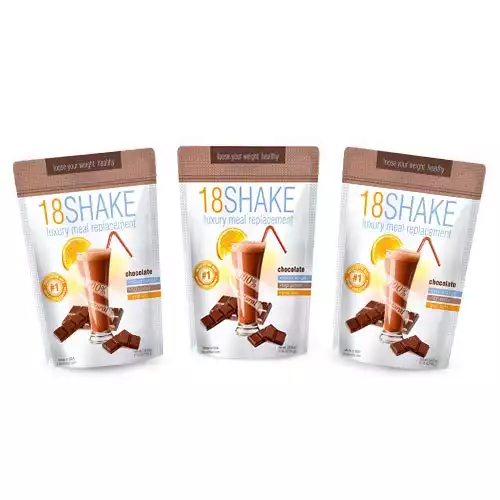 This is a popular weight-loss plan that focuses on meal replacements. In other words, dieters will have to replace a couple of their daily meals with 18 Shake's nutritional beverages. Furthermore, the company also provides a useful eBook that guides you while you're consuming these shakes.
18 Shake supplements are created by 18 Nutrition Company which is located in California. According to its manufacturer, 18 Shakes meal replacements contain 18 natural ingredients like proteins, vitamins, fiber, and minerals. They are marketed in two available flavors: chocolate and vanilla.
Read my full 18 Shake review here!
Shakeology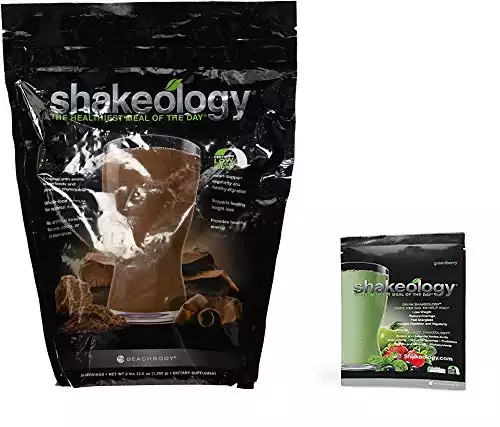 This is another popular and powerful superfood formula that was specially designed to provide your body with the perfect mix of essential nutrients to boost your energy levels, lower cravings, support a healthy immune system, and help you lose weight in a safe manner. The brand's main products are its protein shakes which can replace one or even two of your daily meals.
Well, to be honest, it is quite hard to accurately classify Shakeology because it is more than a simple protein shake but it is not truly a complete meal replacement either. These beverages are very dynamic and classifying them in a simplistic way will only limit their complex characteristics. Instead of substituting an entire meal, these shakes can only be part of a meal so you should combine them with whole foods like fruits, veggies, or nuts.
Shakeology's formula contains more than 70 different natural ingredients that include super greens, proteins, phytonutrients, super fruits, probiotics, and others. It comes in a wide range of available varieties and it is one of the best products of its kind on the market. Shakeology's manufacturer and the seller is Beachbody.
18 Shake vs Shakeology – Ingredient Profile
18 Shake
You can find the entire list of ingredients on both the product's label and on the company's official website which is something I really appreciate about a supplement. Still, I felt the need to investigate the ingredient profile a little further and here is what I found. 18 Shake is a low-calorie product that is rich in vitamins and fibers. These powders contain the following main compounds:
Protein blend – whey isolate and whey concentrate. Because protein's metabolic process lasts longer than other elements, your organism will be forced to burn more calories. Not only will this aspect help you lose weight but it will also keep you fuller for a longer time.
Stevia – this natural sweetener doesn't affect your blood sugar level as much as other types of sugar. Furthermore, it doesn't lead to weight gain or tooth decay.
Fibersol-2 – this compound is an effective appetite suppressant and supports a low-calorie intake. Some say it might even balance blood sugar levels while also curbing cravings.
Vitamin and mineral blend – vitamins B and C, potassium, calcium, phosphorus, chromium, iodine, magnesium, copper. This formula boosts metabolism, supports a healthy thyroid gland, increases your energy and focus, burns carbs, regulates blood pressure, and improves your overall immune system.
Natural cocoa – has antioxidant properties and it is a very nutritious ingredient.
Shakeology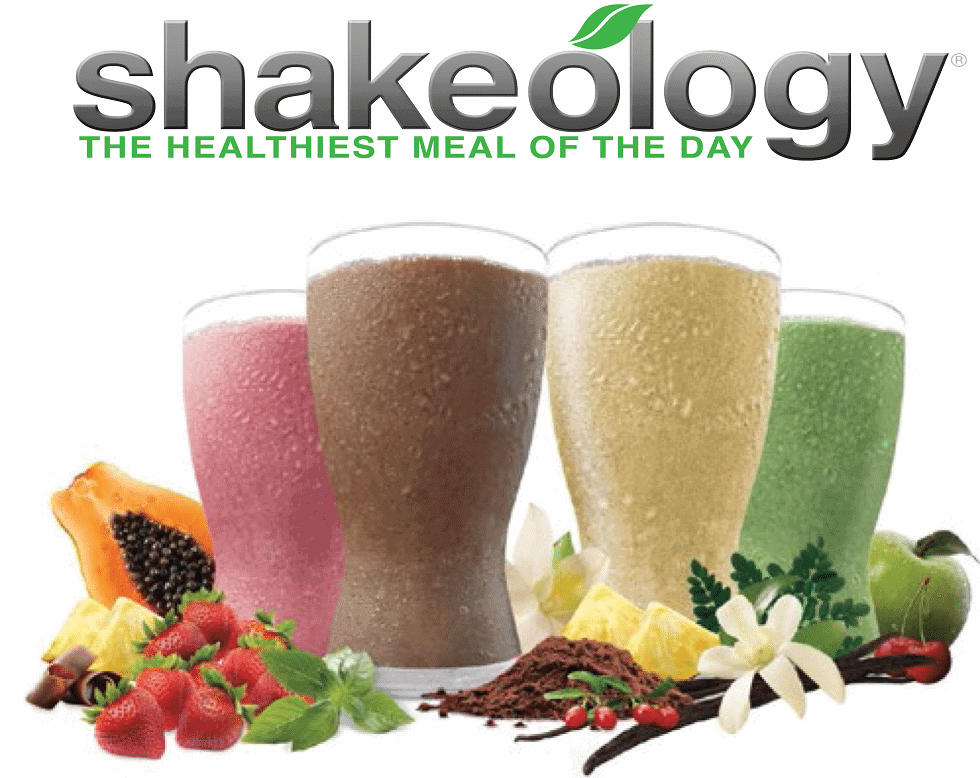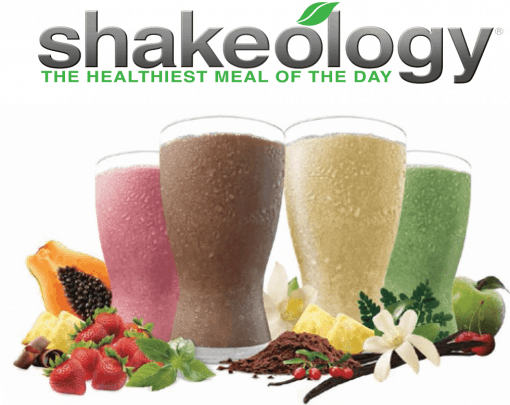 Shakeology's manufacturer opted for an original formula based solely on proprietary blends:
Protein blend – includes pea, chia, whey, quinoa, flax, etc. Proteins support the process of bones, muscles, and cartilage creation. Also, they improve the health of your blood and skin.
Phytonutrient blend – chlorella, spinach, moringa, spirulina, kale. All these elements lower the risks of severe and chronic illnesses such as cancer and cardiovascular conditions. They fight free radicals and their oxidative stress effect.
Antioxidant blend – acerola cherry, rose hips, green tea, Camu-Camu, goji berry, etc. Antioxidants prevent plenty of diseases and they improve the way your skin looks. Furthermore, they support your immune system and keep your heart, eyesight, and nervous system healthy.
Adaptogen blend – Maca, Reishi, Astragalus, Ashwagandha, Maitake, Cordyceps, and Schisandra. Adaptogens lower stress, balance your mood, boost immunity, regulate hormonal imbalances, improves cognitive functions, and have powerful anti-fatigue properties.
Digestive enzyme blend – pro and prebiotics such as cellulase, yacon root, amylase, lactase, etc. Digestive enzymes alleviate acid reflux symptoms and they prevent nutritional deficiencies.
18 Shake vs Shakeology – Nutritional Values
18 Shake
18 Shake Nutritional Facts – per one serving (one scoop of approx. 27 g)
Calories
90
Proteins
15 g
Carbohydrates
8 g
Total fat
1 g
Dietary fiber
5 g
Sugars
1 g
Sodium
19 mg
Shakeology
Shakeology Nutritional Facts – per one serving (one packet of 47.5 g)
Calories
150-200
Proteins
20 g
Carbohydrates
16 g
Total fat
6 g
Dietary fiber
3 g
Sugars
6 g 220 mg
Sodium
18 Shake vs Shakeology – Taste and Mixability
18 Shake
There are two available 18 Shake flavors: vanilla and chocolate. Some consumers said they simply love the way these shakes taste while most people stated the flavor is very similar to the one of any other similar supplement. If you find it difficult to ingest these beverages as they are, you can always combine them with fresh or frozen fruits, vegetables, and even nuts. My personal favorite variety is chocolate and I would always choose it over the vanilla variety.
18 Shake powder is easy to prepare. Just mix one scoop of this product with any beverage of your choice. You can prepare the beverage in a blender if you want to obtain a smooth texture. Otherwise, you can also place the mix in a shaker cup for a better consistency and to avoid clumps.
Shakeology
One aspect I truly like about these shakes is their wide range of available flavors:
Vanilla;
Chocolate;
Strawberry;
Greenberry;
Café latte;
Tropical strawberry vegan;
Chocolate vegan.
When it comes to Shakeology's taste, people's opinions vary quite a lot. Some say they have a pleasant taste while others don't really like it. Still, certain flavors are more delicious than others. For example, vanilla, chocolate, and strawberry varieties are the company's bestsellers. The least favorite flavor is Greenberry which has a tangy taste.
I've noticed that the manufacturer is constantly working on improving the taste and consistency of these shakes. All in all, Shakeology tastes pretty good although it doesn't provide an over-the-top flavor. In terms of mixability, you can easily combine this powder with any liquid of your choice such as soy milk, water, organic juice, etc.
UPDATE! Shakeology has recently launched two more flavors that target vegan and vegetarian audiences: café latte vegan and vanilla vegan.
Pros and Cons
18 Shake
Pros
Contains only natural ingredients and it is free of artificial flavorings;
Boosts one's energy levels;
It can be used as a meal replacement;
Speeds up the weight-loss process and lowers the sensation of hunger;
It tastes good and it is low in sugar, containing stevia which is a natural sweetener;
Supports a healthy metabolic rate and balanced immune system;
It is high in vitamins, minerals, proteins, and fiber;
This product is very easy to prepare and highly convenient.
Cons
There's a risk of some mild yet annoying side effects like bloating and nausea;
You can only purchase these shakes online;
Sometimes, the seller is out of stock which can be quite frustrating.
Shakeology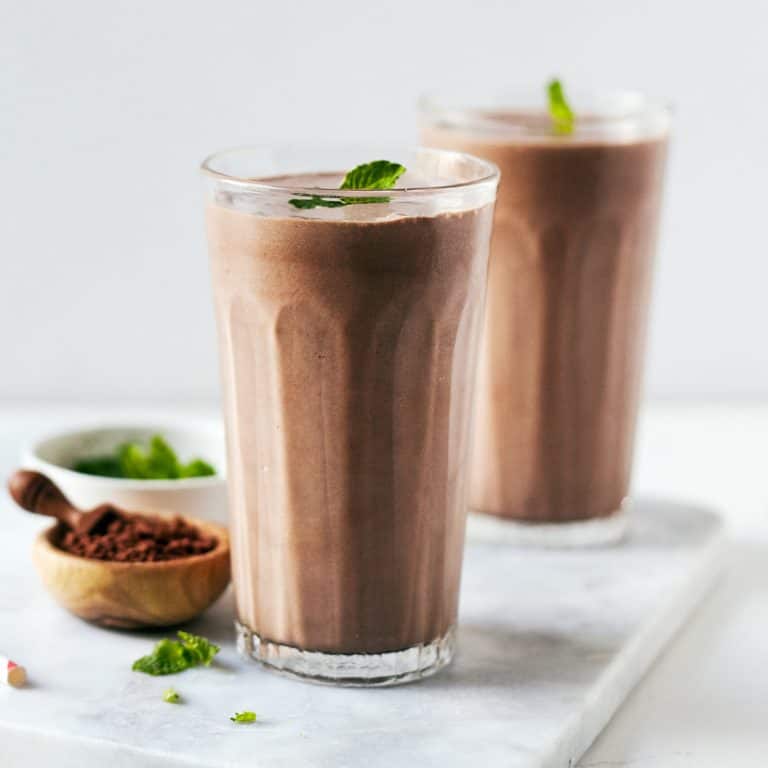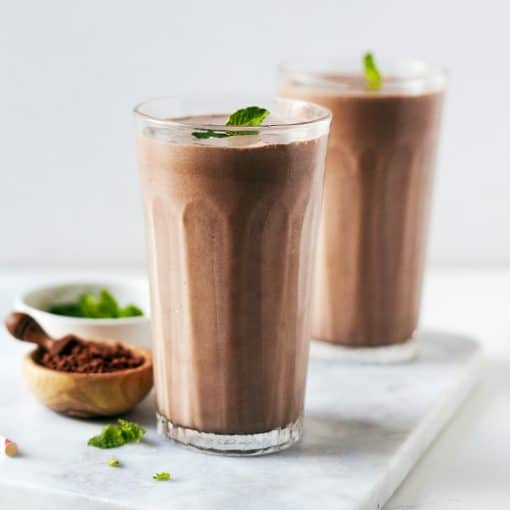 Pros
It is formulated with high-quality ingredients;
Promotes lean muscle mass growth;
Boosts immunity and helps your overall health;
The manufacturer also sells both vegan and vegetarian alternatives;
It is easy to prepare and it mixes well with plenty of liquids;
It is a non-GMO supplement;
Although it is not really a meal replacement, it can easily be consumed as a healthy and nutritious snack.
Cons
It is pretty expensive;
Some users say they did not like the taste of these shakes;
A few consumers claim that certain ingredients are totally unnecessary. This is the case of pea protein.
Possible Side Effects
18 Shake
Usually, these protein shakes don't have any side effects, especially due to the fact that they contain natural and safe ingredients. However, more sensitive people might experience several unpleasant symptoms such as:
Bloating;
Cramps and an upset stomach;
Nausea;
Fatigue;
Headaches.
Shakeology
Shakeology shakes are pretty safe to consume but if you deal with a serious health condition or if you're allergic to any of this product's ingredients, you should either avoid drinking it or seek your doctor's advice first.
The most common potential side effects are:
Insomnia or fatigue;
Stomach cramps;
Diarrhea or constipation;
Headaches;
Vomiting;
Allergic reactions.
18 Shake vs Shakeology – Purchasing Options and Pricing
18 Shake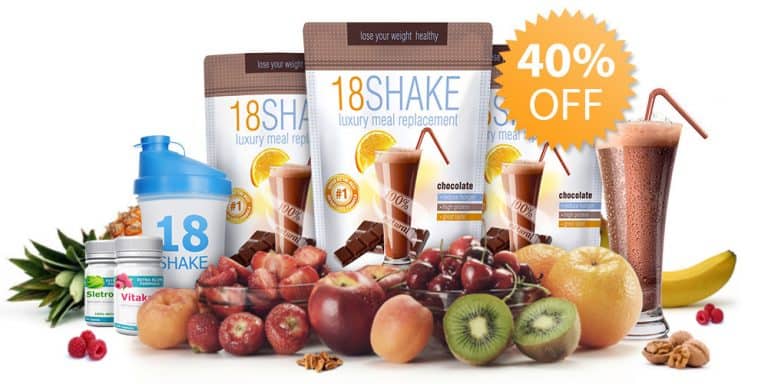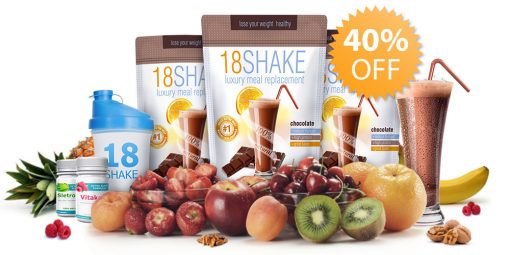 You can either purchase 18 Shake from the company's official Internet page or from third-party online sellers like Amazon.
If you opt for the first alternative, you will benefit from a limited time offer that translates into a 40% discount. They are currently selling their supplement for the price of $47.99 per bag. All you have to do to order 18 Shake is to complete the brief form you will find on their page. Besides one bag of powder, you will also get a free eBook that will teach you how to eat and cook properly in order to lose weight. Moreover, the package also contains a shaker cup.
All orders are eligible for the company's money-back guarantee and the shipping is totally free of charge.
On Amazon, you can buy a minimum of two packages which will come with a free eBook and an extra free 18 Shake bag. The total price is almost $179 and the shipping cost is $4.49 so purchasing this product on Amazon is more expensive than buying it on the company's online page.
Shakeology
Shakeology can be found on Beachbody's official website. There, one bag of protein powder costs $129.95 which is quite expensive but some of you might consider the price totally worth it due to the fact that we're talking about a premium and high-quality supplement. You can either buy a box with 24 individual packets or a large resealable bag that contains 30 servings.
In terms of order type, clients can opt for a monthly authorship program that provides super discount shipping. The second alternative is a one-time order. Monthly subscribers will also benefit from a $2 deduction per unit. Another perk is the 30-day money-back guarantee applied by the company.
On Amazon, all I could find was a mixed package of Shakeology and 3 Day Refresh supplements, both delivered by Beachbody. The package includes three individual bags of Shakeology, six Vanilla Fresh packets, three Fiber Sweep packets, and a program guide. The total cost is $82.90.
18 Shake vs Shakeology – Final Verdict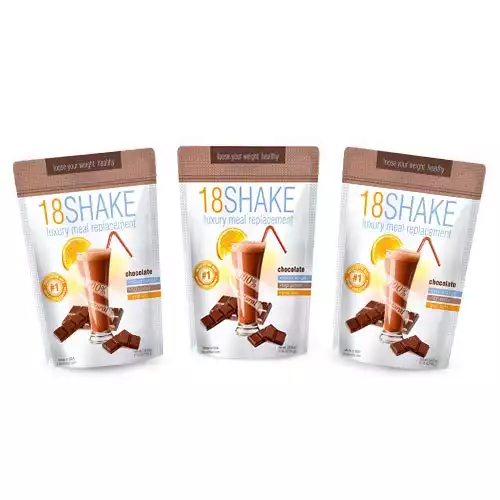 18 Shake Chocolate 3pck | Amazon
18SHAKE provides a wholesome all natural approach to not just sustained weight loss, but also an overall healthier body in the long term.
Buy at Amazon.com
We earn a commission if you click this link and make a purchase at no additional cost to you.
It can be hard to choose between these two supplements because they both provide plenty of nutrients as well as health benefits. It all depends on what your budget, personal preference, and needs are. For example, if you're trying to lose weight by consuming a less expensive meal replacement, I recommend you to go with 18 Shake. This product might lack some of the minerals and vitamins that Shakeology offers but it is just as nutritious as its competitor.
If you ask me, I would say that my favorite option is 18 Shake. It is true that Shakeology contains superfoods and probiotics but you can get those nutrients from whole foods.
Recommended Reads:
Disclaimer
Last updated: December 16, 2019
The information contained on www.altprotein.com website (the "Service") is for general information purposes only.
Alt Protein assumes no responsibility for errors or omissions in the contents on the Service.
In no event shall Alt Protein be liable for any special, direct, indirect, consequential, or incidental damages or any damages whatsoever, whether in an action of contract, negligence or other arising out of or in connection with the use of the Service or the contents of the Service. Alt Protein reserves the right to make additions, deletions, or modification to the contents on the Service at any time without prior notice.
Alt Protein does not warrant that the Service is free of viruses or other harmful components.
Fitness disclaimer
The Service offers health, fitness and nutritional information and is designed for educational purposes only. You should not rely on this information as a substitute for, nor does it replace, professional medical advice, diagnosis, or treatment. If you have any concerns or questions about your health, you should always consult with a physician or other health-care professional.
Do not disregard, avoid or delay obtaining medical or health-related advice from your health-care professional because of something you may have read on the Service. The use of any information provided on the Service is solely at your own risk.
You can also review our Editorial Integrity Policy.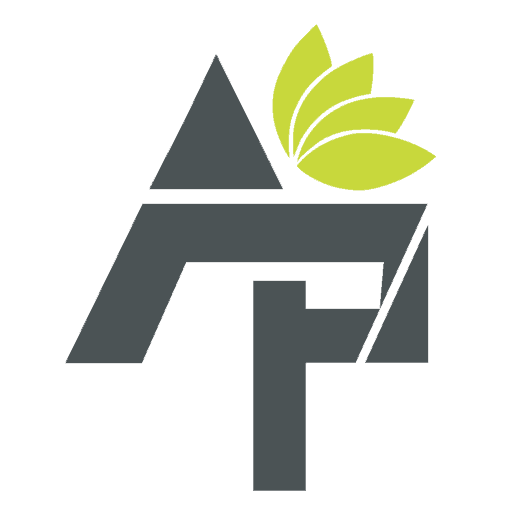 Alt Protein Team is a team of professionals and enthusiasts committed to bringing you the most up-to-date information on alternative protein, health and wellness, workouts, and all things health-related. We've reviewed a lot of products and services so you don't have to guess when you spend your hard-earned money on them. Whether you want to shed some pounds, build lean muscle or bulk, we can help you figure out what you need to do and what you need to have to achieve your goals.