In today's world, there are a lot of products that were once thought to be a part of science fiction books or movies. We have technology like the internet which allows us unlimited knowledge, easy and quick communication and the creation of incredible devices such as cell phones, spacecraft, and meal replacements.
Whenever I think of meal replacements, I think of astronauts eating their food through a straw; it seems very dystopian.
But it's not really like that at all. In this article, we will define what a meal replacement is and give you personally recommended 6 alternatives to the popular meal replacement that you can find in almost every grocery store, Soylent products. So let's begin.
My Best Soylent Alternative List Includes:
Huel
Ensure
Super Body Fuel
Atkins Shakes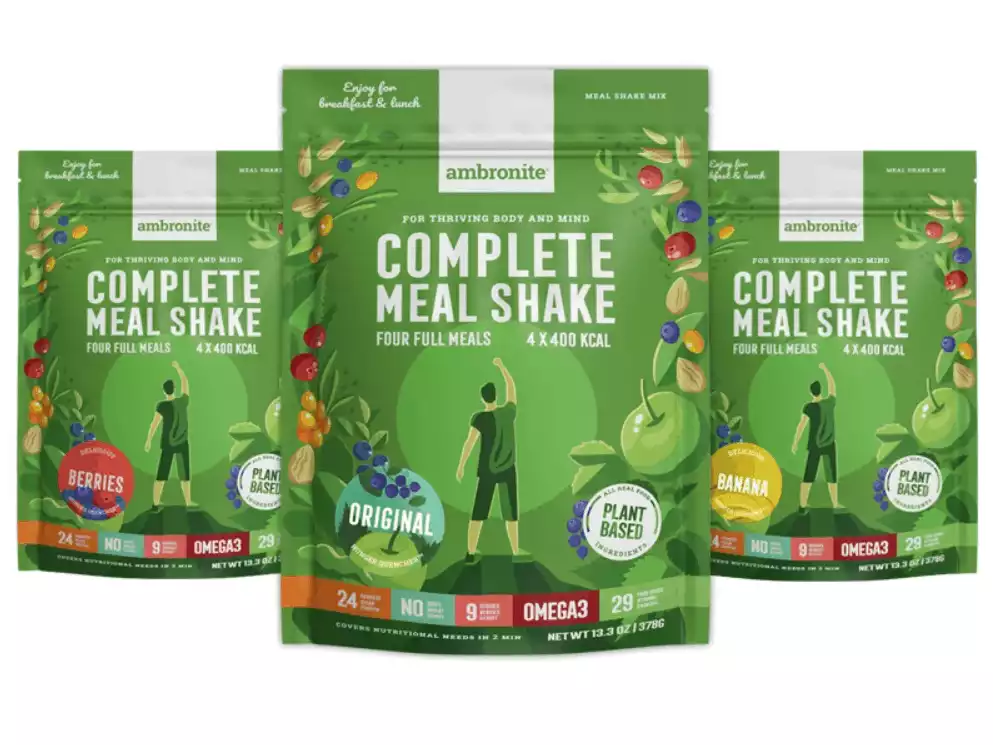 I Personally Prefer Ambronite
Better ingredients, 100% Organic (Non-GMO) and more fruits and veggies. To me, Ambronite tastes clean and healthy and goes down easy (100% plant-based). It's a bit more expensive, but the higher quality ingredients is WORTH IT to me.
Buy Ambronite
We earn a commission if you click this link and make a purchase at no additional cost to you.
Soylent: One of the Most Popular Meal Replacement Drinks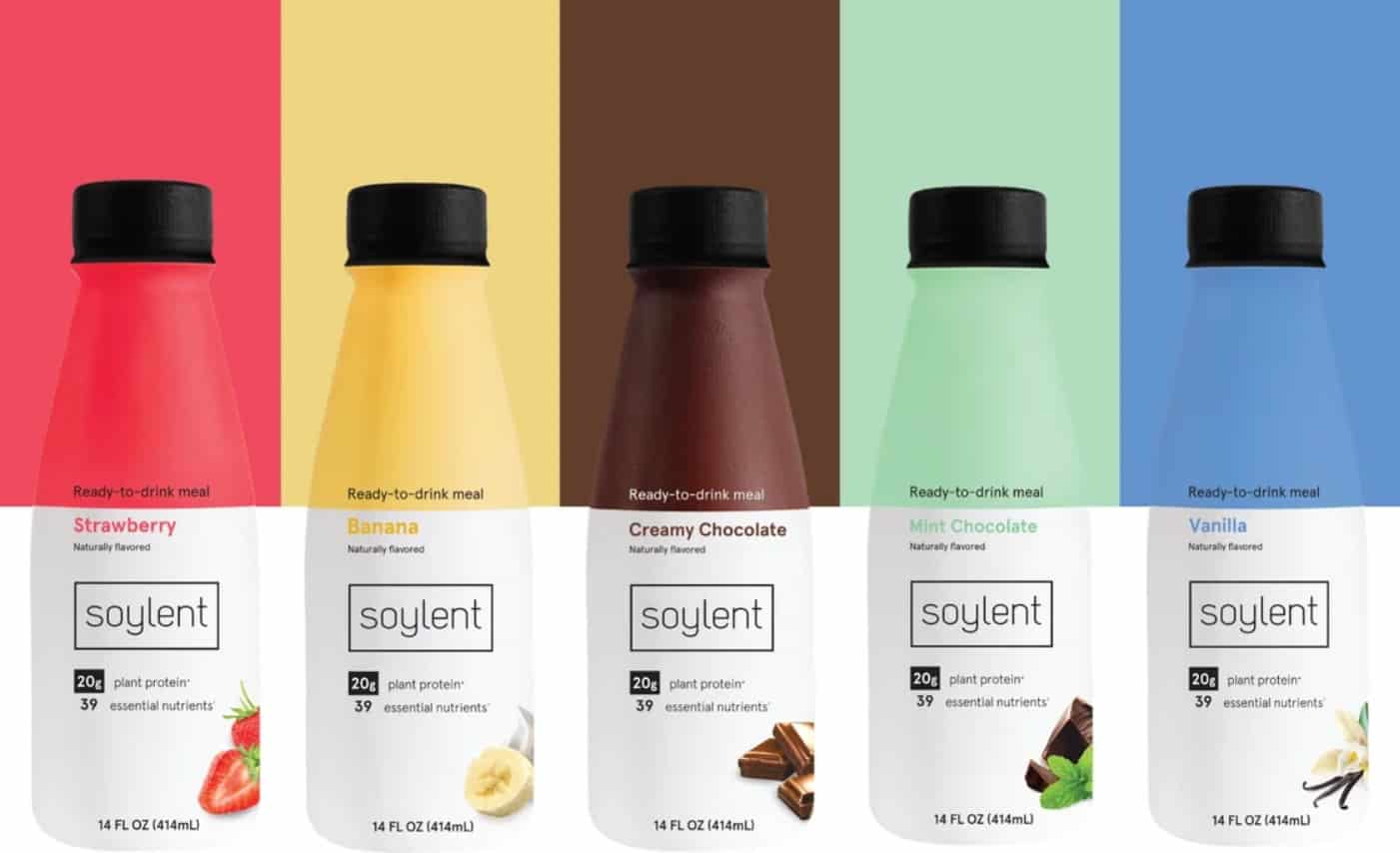 One of the most popular meal replacement drink on the market is Soylent. Soylent was produced in 2014 after it got a massive $1.5 million in pre-orders through crowdfunding campaigns. Soylent was a name inspired by a science fiction novel by Harry Harrison.
The goal of the Soylent drink is simple: food can be made simpler and healthier. Initially, Soylent began as a simple powder that you can drink by being mixed in a bottle with milk or water. But what began as an experiment has revolutionized the way we look at food.
Soylent not only has mixable powders but a ready-to-drink meal replacement shake options and Café Soylent for an extra boost of energy as well.
Soylent powder is available in the original and delicious cacao flavor. The ready-to-drink Soylent is also available in various flavors like strawberry, vanilla, and original. This is a meal in a bottle. Delicious and healthy. Café Soylent is a relatively new product line. It is available in café vanilla, café chai, and café mocha.
Soylent Ingredients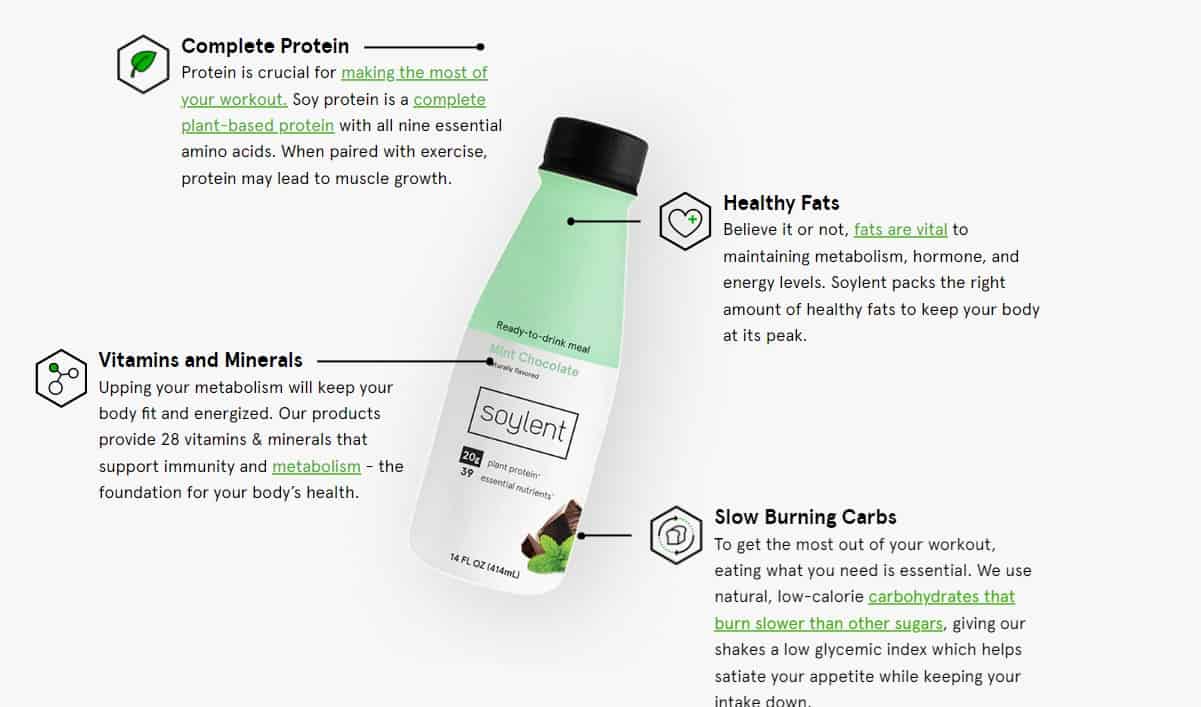 Soylent powder contains 20 grams of plant protein with all their amino acids and calories. The plant-based protein present here is from soy, hence the name of the product. Soy was chosen because the digestive system easily absorbs it when you drink it and also because soy is easy to produce than other plant-acquired proteins.
Soy is present in the form of soy isolates here. The soy isolates have a smooth texture which adds to the deliciousness of the Soylent meal replacement. Soylent also contains slow-burning carbs extracted from beetroot. These carbs help to maintain energy for a longer period of time.
The carbohydrate is present in the form of a sugar called isomaltulose. It is one of the best sources of sustainable energy in the body without causing random energy spikes or high blood sugar which is so common when normal sugar is used.
The fats present in Soylent are extracted from sunflower oil. Sunflower oil is a source of monounsaturated fats of high quality. It does not contain any trans-fat, which is a type of bad fat. These fats help Soylent to maintain a low glycemic index, which is the relative ability of a carbohydrate-containing food to affect the glucose level in the body.
The fat is also responsible for making you feel satisfied and full in just one drink. The fat provides 500 mg of omega 3, which is required by the body.
What Soylent Offers?
Each serving of Soylent also contains 26 vitamins and minerals including Vitamin A, Chloride, Vitamin B6, Vitamin B12, Vitamin B, Iodine, Zinc, Calcium, Folic Acid, Magnesium, amino acids, calories, and many more other essential vitamins and minerals.
Soylent Café also contains caffeine for a boost of energy as and it also contains L-theanine, which is an amino acid required in the body.
Since Soylent products contain all the ingredients provided by the plants, this powder is an excellent choice for anyone looking for a vegan meal replacement option.
While Soylent promises to be a great meal replacement, it is certainly not the right choice for those that are looking to lose weight, are against GMOs, or are allergic to soy. Each serving of Soylent contains 400 calories, and therefore it is not designed to be a weight loss supplement or replace solid food.
Soylent is pro-GMO. So people who do not want any GMO in their diet should probably stay away from Soylent. Although, Soylent believes that GMOs is a more sustainable option for the ever-growing population.
Since Soylent uses soy isolates as a source of protein and that is why it is not an ideal meal replacement option for people allergic to Soy. You can buy Soylent through Amazon, Soylent's official websites, or your local grocery store like 7-Eleven.
If you also experience any of these problems or other problems like the taste of Soylent or its nutritional content then don't worry, we will give you the top five best alternatives to Soylent that we love and recommend. But first, let's take a look at a crash course in meal replacements.
What Are Meal Replacements?

Before we actually begin, let's dive into a quick crash course in meal replacements. So what is a meal replacement anyway?
A meal replacement is any substance that can be swapped with the regular meals you eat. A good meal replacement is usually high in nutrients and macronutrients like proteins while being low in calories and other unwanted and problematic molecules.
A meal replacement is supposed to replace a meal and should, therefore, contain all the essential nutrients that you are supposed to get from your meals. Meal replacements have become a popular weight loss product recently.
Meal replacements can be in the form of soups, bars, powders, and even meal replacement shakes. Meal replacements are just a simple and healthy substitution for food. A meal replacement is supposed to help you get all your dietary requirements while cutting off unhealthy food choices from the menu and getting a low-calorie diet. This helps in preventing many problems like obesity, high cholesterol, unhealthy blood sugar level, etc.
Most commonly meal replacement is used in weight loss. It is not at all surprising that meal replacements, in the beginning, were designed for the sports industry. It was meant to help the athletes maintain or reach their desired weight and body goals quickly. Meal replacements would help the athletes get all the required nutrients while eliminating excess fats.
But now meal replacements are not just used in the sports industries. They are endorsed by several companies as a product that's great for the general public. This is why you can see almost every gym or the shelves of health food stores filled with meal replacements like soylent formula.
What to Know Before You Buy?
Before you buy a meal replacement, there are a few choices you have to make. You need to understand what is convenient and more suitable for you. If you don't want to miss the meal experience of sitting and simply eating? If this is you, then you should go for meal replacement soups. They give you the feeling of having a meal and eating a meal replacement in the form of soups works best as dinner or lunch.
Do you want to eat an easy meal that you can bring with you almost anywhere and have it on the go? If you said yes to this, then we recommend you have meal replacement bars. These are easy to store, you can even put them in your pocket, and you are good to go. And don't worry, meal replacement bars are just as fulfilling as meal replacement soup.
We recommend meal replacement shakes if you want to have a quick meal and do not mind sipping it. Most meal replacement shakes can also usually as protein shakes. In fact, if you want, while making your meal replacement shake you can also add a scoop of your protein powder. Meal replacement shakes are delicious and make you feel full for a long time.
Meal replacement shakes can be convenient too. These days, so many companies are manufacturing a ready to drink meal replacement shakes. You can carry a shaker bottle around with you anywhere you go and instead of a large meal you can have your meal replacement shakes in your daily bottle.
Meal replacement shakes are one of my favorite options thus far. Chilled meal replacement shakes taste delicious, are refreshing and you can have it for breakfast, lunch, and dinner. So it is versatile and convenient.
Advantages of a Good Meal Replacement
A good meal replacement must have optimal nutritional value. It should contain 220 to 350 calories per serving while containing less than 5 grams of fat per serving and it also must contain 10 to 15 grams of proteins and a third of daily vitamins and minerals required by the body.
So when you are buying a meal replacement, check the nutrition label and see if the product contains the recommended nutritional contents. It may not be exact, but it has to be in this range. There are a lot of advantages of meal replacement. First of all, it gives your body all the required nutrients while minimizing fats and bad cholesterol. Another advantage of a meal replacement is that you don't have to waste your time with meal planning and meal prepping.
Preparing a replacement meal is an easy task that you can do on the go. Meal replacements substitute meals, but that does not mean that the taste is compromised. On the contrary, most meal replacements are delicious while still being healthy. So taste is not a problem.
Meal replacements help you to learn to control your portion size. They are also great for anyone who wants to learn how to have mindful and portion-controlled meals. It teaches you how to feel fulfilled while still being careful about the amount of food you are eating. So portion controlling is another advantage of meal replacements over normal meals.
The portion-control practice leads to another advantage. That advantage is weight loss. When you control the amount of food you eat, you are cutting back on unnecessary food which gets stored in your body in the form of fats.
Another reason meal replacements help in weight loss is that you are taking reduced amounts of fats. This reduced fat is enough for your body to digest without it getting accumulated as adipose, fatty tissues.
Meal replacements are just a great option for anyone who wants a well-balanced healthy meal that is convenient, saves time and can easily be carried around.
What Are Some Things I Should Watch Out for with Meal Replacements?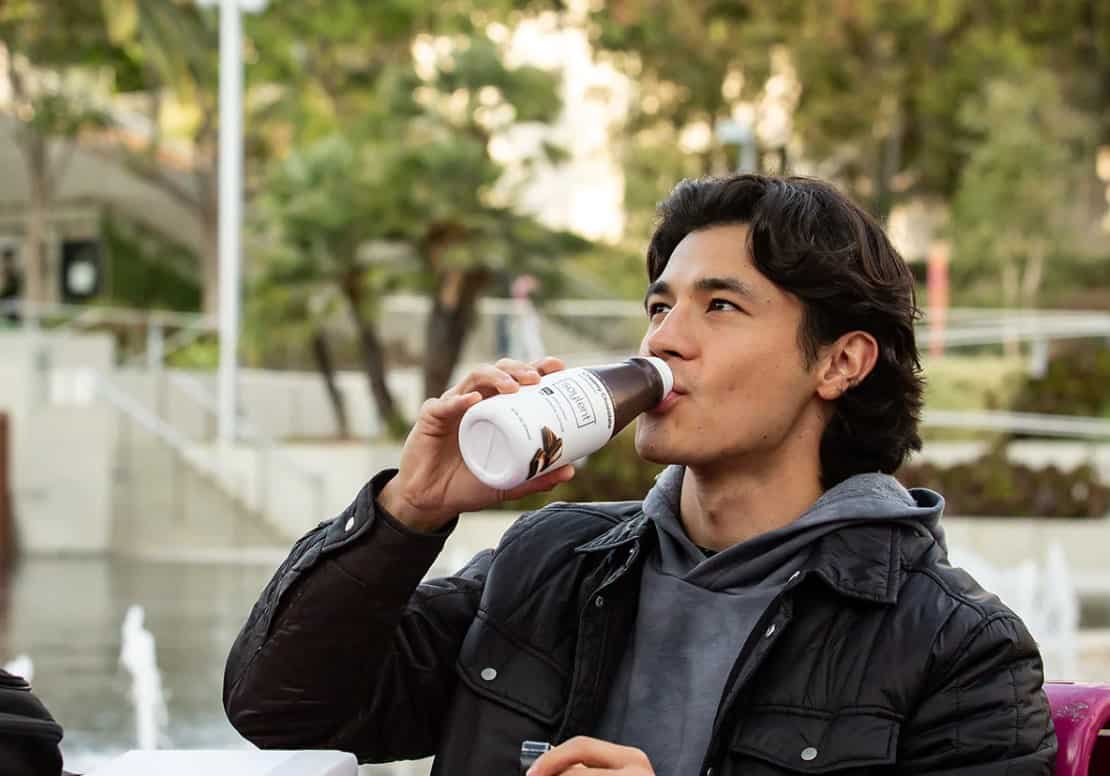 When beginning your meal replacement journey there are a few things you need to be careful of. Your body takes time to adapt so first replace only one meal. We recommend breakfast.
Observe how your body behaves, whether you feel good or not. A good meal replacement is supposed to be just as fulfilling as your meals.
So if you find yourself getting hungry at times when you would normally not feel hungry, then something is wrong with your meal replacement. Try to change it or have a healthy snack like a fruit or some veggies such as carrots or celery dipped in hummus or something similar.
So, now that we have a better idea of what meal replacements are and what they can do for your health and wellness goals, let's get to our top-5 Soylent meal replacement alternatives.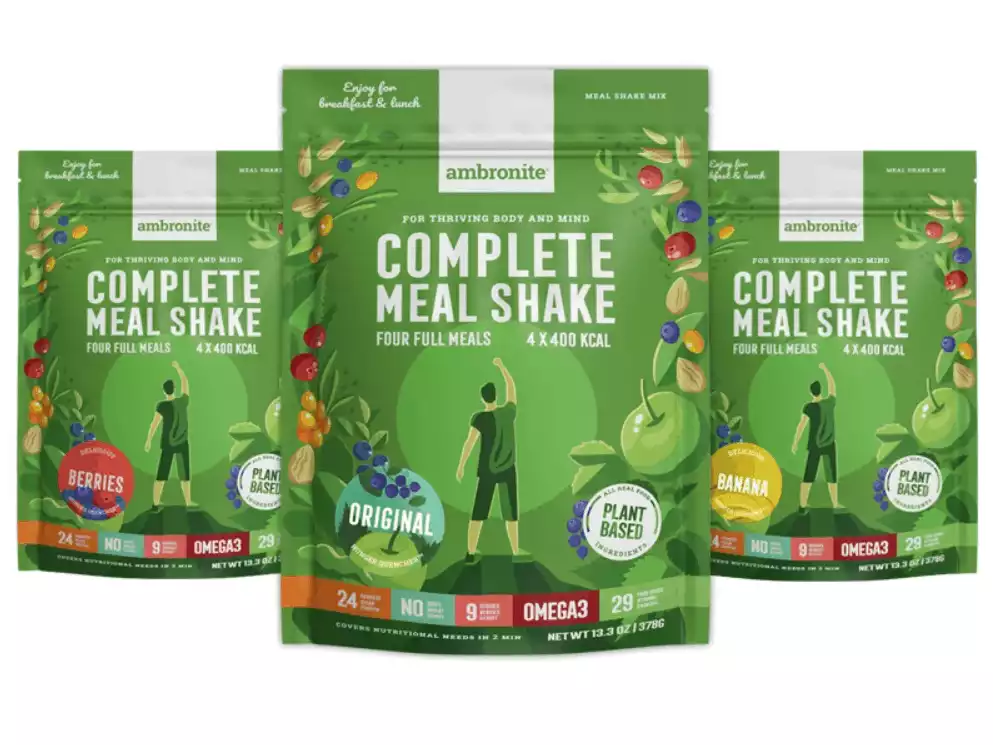 I Personally Prefer Ambronite
Better ingredients, 100% Organic (Non-GMO) and more fruits and veggies. To me, Ambronite tastes clean and healthy and goes down easy (100% plant-based). It's a bit more expensive, but the higher quality ingredients is WORTH IT to me.
Buy Ambronite
We earn a commission if you click this link and make a purchase at no additional cost to you.
Ambronite is another option that serves as a great replacement for Soylent. It is a great meal replacement product. The thing that truly differentiates Ambronite from other meal supplements is that it is manufactured using real food as ingredients.
It does not contain any processed food. In fact, you can probably even gulp it down without milk. You will be able to taste hints of some foods like oats, cranberry, or almonds.
The ingredients used to prepare Ambronite are oat protein, almonds, oats, apple, coconut sugar, oat fiber, nettle leaf, sea buckthorn, mineral salt, black currant, chlorella, flaxseed, spinach, spirulina, cranberry, guar gum, yeast, and bilberry.
Ambronite is big on oats. It derives its protein content and fiber from oats. It contains a total of 160 calories per serving. This calorie content is a little less, but it is best for people trying to lose weight. It contains 6 grams of fat, with trans-fat being 0 grams, it contains 10 grams of protein and 17 grams of carbohydrates along with 3 grams of dietary fiber.
Ambronite is rich in 40+ minerals, vitamins, and other essential nutrients. It has stuff like Vitamin A, Calcium, Vitamin D, Vitamin K, Riboflavin, Vitamin B6, Vitamin B12, copper, zinc, and many such nutrients.
Ambronite has been able to use all healthy and real food ingredients and come up with a 100% vegan meal supplement that is filled to the brim with all the goodness the body requires. It makes use of seaweeds, coconut sugar, and other innovative ingredient to make its products.
Ambronite is perfect for anyone who is allergic to soy, as it does not contain soy. It is also free of GMOs, so people who want their diet to be GMO-free can opt for Ambronite. Ambronite is also free of any artificial flavorings. It is available in original flavor, banana flavor, ginger, and apple flavor, and lastly in berries flavor. Even the flavor they offer is innovative.
Ambronite helps improve your life by improving focus and gives you a boost of energy. It also helps you work harder and more effectively during workouts. Ambronite helps you lose weight while also improving the health of your gut and improving your immunity system.
Further Reading, Ambronite vs Soylent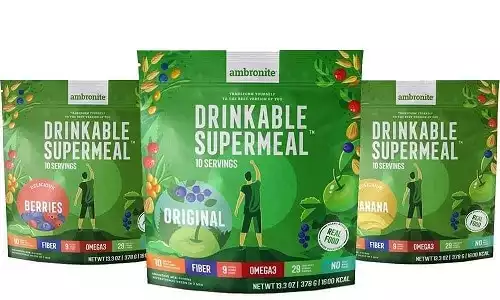 Why go with Ambronite?
Very similar to Soylent, but with 18 ingredients from REAL, unprocessed foods. It's also a better option for those looking to shed some weight vs just replace a meal (more so than Soylent). Personally, it's my top pick here.
Buy Now
We earn a commission if you click this link and make a purchase at no additional cost to you.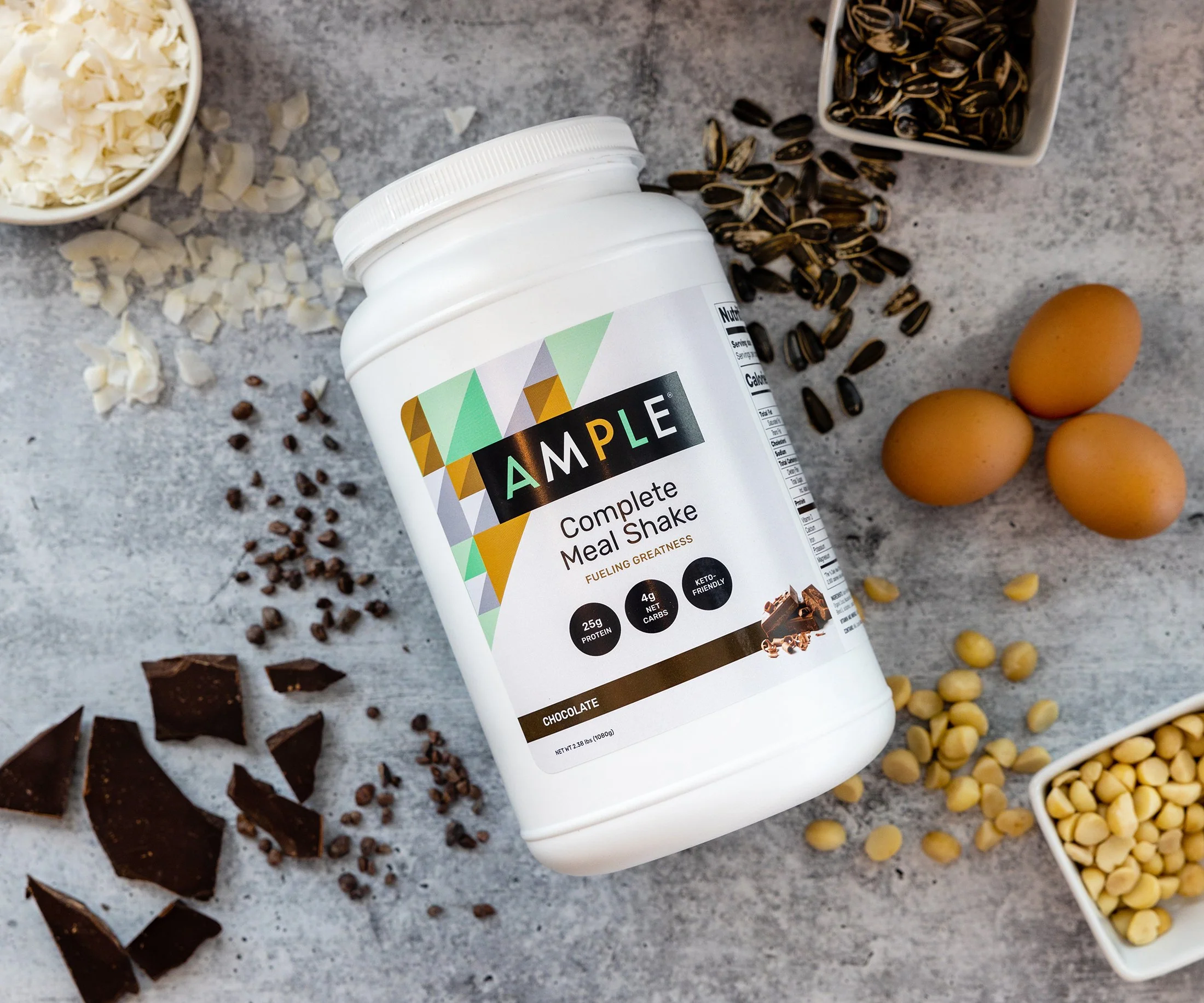 Ample Meal is a relatively new contender but is squarely aimed at the premium meal replacement market.
Ample offers 100% real food all organic (Non-GMO) and soy-free ingredients, packed into a 400-calorie meal with 4 grams or less of sugar.
Some highlights include organic wheatgrass, grass-fed whey, collagen, and pea protein, sweetened with dried honey, stevia extract, and monk fruit flavored with sea salt. Where Ample stands out with a unique digestive and probiotic blend to help stay regular. This is in contrast to Soylent and Huel which don't pay much attention to this (and many people DO complain about digestive issues). Notably, Ample also offers specific varieties for the Ketogenic Diet and Vegan Diets if you have restrictions.
#3 Huel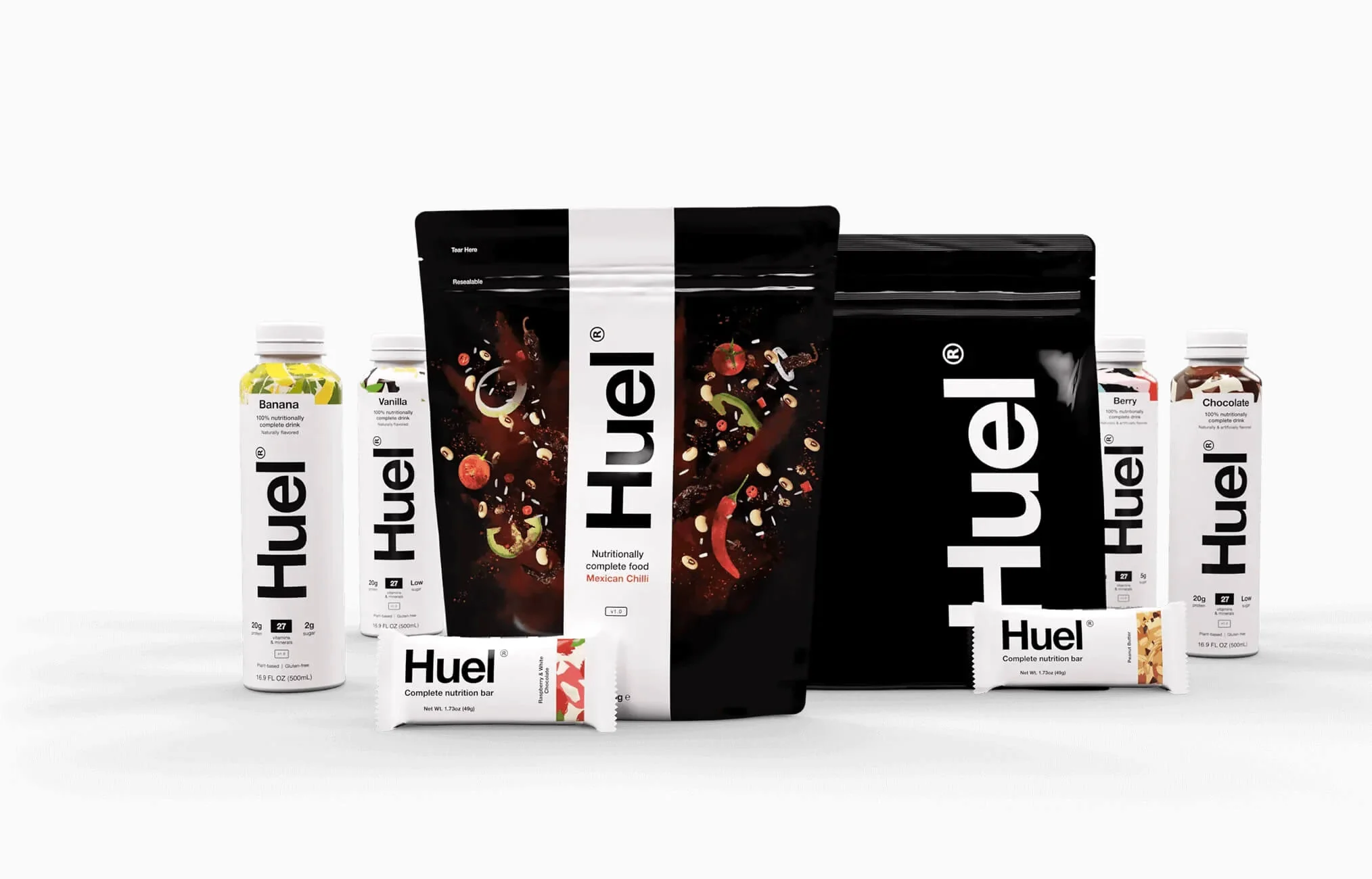 Huel is probably the best meal replacement option and an alternative to Soylent. Huel is described as a nutritionally complete food that provides all the essential nutrients, vitamins, and macromolecules like protein, carbohydrates, etc.
Huel meal replacement is the brainchild of the renowned nutritionist James Collier, who has 25 years of experience working in the nutrition and dietetics industry. Huel is high in proteins, fiber, and other essential micronutrients. Huel is prepared using a plant-based product and therefore 100% vegan.
Also, the Huel powder is complete nutrition in a scoop. It meets the US DV (Daily Values) standards for micronutrients and macronutrients and also healthily provides sustainable energy. Huel follows the 37:30:30:3 formula.
This formula determines how much energy is acquired from where. So according to this formula, 37% of total energy comes from carbohydrates, the other 30% each from proteins and fat, and 3% of the total energy comes from fiber.
The Huel powder contains a blend of oats, Pea protein, rice protein, flax seeds, sunflower oil, vanilla flavoring, a sweetener, and a wealth of essential nutrients and minerals. In the case of Huel, the main source of carbohydrates is high-quality oats. The protein is acquired from the Pea plant and monounsaturated fatty acids are acquired from sunflower oil.
Flaxseeds in the Huel provide omega 3, and there are also 28 essential minerals and vitamins. We can compare Huel to Soylent and see how it does not just compare but in some areas, is better than Soylent.
Per 2000 calories, Huel contains 148 grams of protein while Soylent contains only 100 grams of protein. Huel contains 35 grams of fiber while Soylent contains 25 grams of fiber. The amount of fat per 2000 calories in Huel is 64 grams while in Soylent, it is 100 grams of fat.
The main source of carbohydrates in the case of Huel is oats which have a low glycemic index. Oats also contain natural vitamins, minerals, and phytonutrients. While the main source of carbohydrates in the case of Soylent is maltodextrin or isomaltulose. It has a high glycemic index and does not contain any nutrients, minerals, or phytonutrients.
The protein in the case of Huel is from two main sources: pea and brown rice. But in Soylent the protein source is only soy. Also, Huel contains Vitamin K2 as well as phytonutrients, avenanthramide, ferulic acid, and lycopene. These are all absent in Soylent.
Huel uses L-methyl folate calcium which is the active form of folate and can be easily absorbed by the body. Huel also contains Vitamins K1 and K2 which are easily taken in by the body. They act as anti-inflammatory agents in the body and helps in the improvement of bone density as well reduces the risk of prostate cancer.
Huel, as noticed also contains phytonutrients in their product. Phytonutrients are important in the body as they reduce the risk of several diseases and helps in the improvement and maintenance of overall health. Huel meal replacement can be bought in bulk without having to worry about it getting spoilt or expired. Huel has a shelf-life of a year, and it requires minimum to no packaging for storage.
You can enjoy Huel as unsweetened or in vanilla and chocolate flavor. Personally, we recommend that you enjoy your delicious Huel chilled.
Further read, Soylent vs Huel: Which Meal Replacement Would You Prefer?
#4 Ensure Original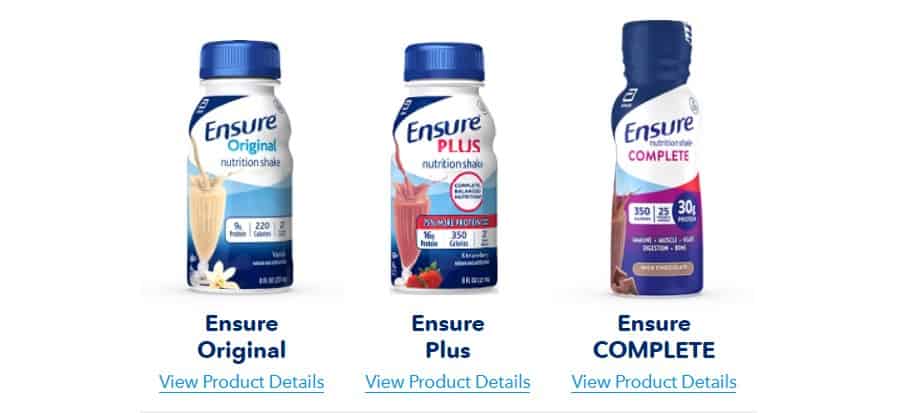 This is another product that we like and think is a great replacement to Soylent. Ensure has been in the market for longer than you would expect. Ensure Originals was introduced as a liquid nutrition in the year 1973. It quickly became the go-to product of the doctors, and they recommended it to any of their patients that needed to follow a liquid nutrition diet.
But now Ensure Original is also recommended as a great meal replacement. Ensure prides themselves for holding a high standard of nutrition and helping to improve the quality of life of people of all age groups. Ensure Original nutritional powders and drinks provide a balanced diet filled with nutrients.
Ensure is free of gluten so perfect for people who are allergic to gluten. It is also suitable for people who are lactose intolerant. But it contains soy protein isolates so not suitable for people who are allergic to soy.
8 fl-oz. of Ensure Originals contains 8 grams of high-quality protein, 24 essential vitamins, and minerals which also includes antioxidants. All of this in 240 calories. So it is a perfect meal replacement.
When compared to Soylent, Ensure Originals contains 33 grams of carbohydrates, 240 calories, 2 grams dietary fibers, 8 grams of fat and 8 grams of proteins.
The main protein source of Ensure Original is soy isolate, just like Soylent. The carbohydrates is derived from Maltodextrin, again similar to Soylent. But in case of acquiring maltodextrin from beetroot, Ensure Originals has got their maltodextrin from corn.
The fat present is acquired from vegetable oil containing a mixture of high sunflower oil, soy oil, and canola oil. It is similar to Soylent which derives its fat from high oleic sunflowers. Ensure Originals contains minerals and vitamins that are essential for the body like calcium, sulfate, potassium, zinc, iron, Vitamin D3, Vitamin A, Thiamine, Riboflavin, Vitamin B12, folic acid, chromium and so on.
#5 Super Body Fuel's Light Fuel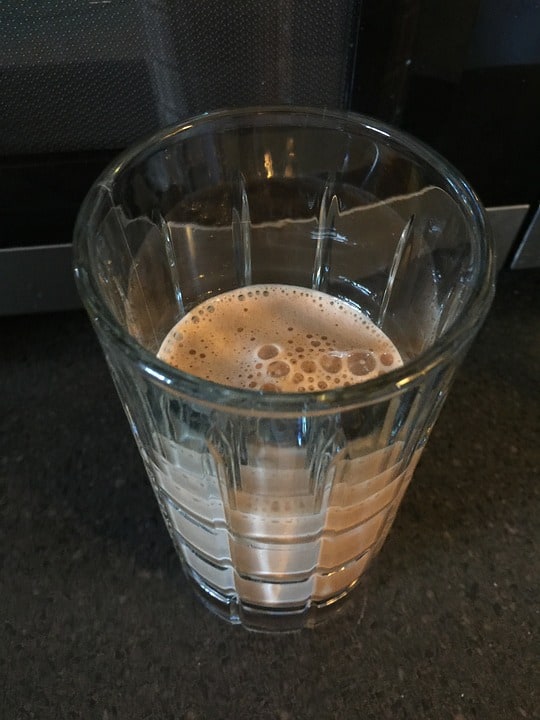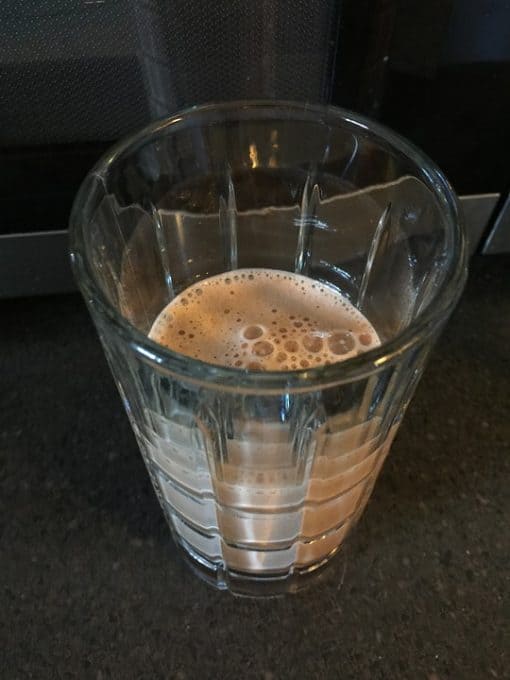 Super Body Fuel came up with a meal replacement product called Light Fuel. This product is really unique on this list, and it is a great alternative to Soylent. It is a low-carb meal replacement and available in vanilla, plain unsweetened flavor, cinnamon, and chocolate flavor.
Formerly this product used to be known as Super Fuel. It is a powder that is nutritionally optimum enough to be used as a meal replacement. The unique thing about this product is the way it is consumed. You mix Light Fuel powder in, get ready for it, oil and water. Yes, you read to right, it is oil and water. And no, it does not taste horrible. It tastes almost like cake mix or pancake batter.
The great thing about Light Fuel is that it is vegan, soy-free, gluten-free, dairy-free and nut-free. So anyone with all these allergies can have it. Depending on the oil you choose, Light Fuel has a caloric range from 1200 to 2500. To prepare a meal of Light Fuel, pour some water into a shaker, add oil, Light Fuel powder and shake to mix all the ingredients together. Add some more water and put it in the refrigerator for 2 hours before drinking. It is important to refrigerate after mixing.
Light Fuel has 5 grams of total fat, 33 grams of carbohydrates, 9 grams of dietary fibers, 25 grams of protein and other vitamins and minerals like Vitamin A, Vitamin D, Vitamin K, Vitamin C, potassium, iodine, zinc, selenium, thiamin, iron, potassium and many more.
Light Fuel contains gluten-free oat flour, organic brown rice protein, L-Lysine and Hydrochloride. It also contains electrolytes like potassium bicarbonate, Himalayan pink salt, calcium phosphate etc. The protein source of the Light Fuel is brown rice. This is a great product that has some great products.
#6 Atkins Shakes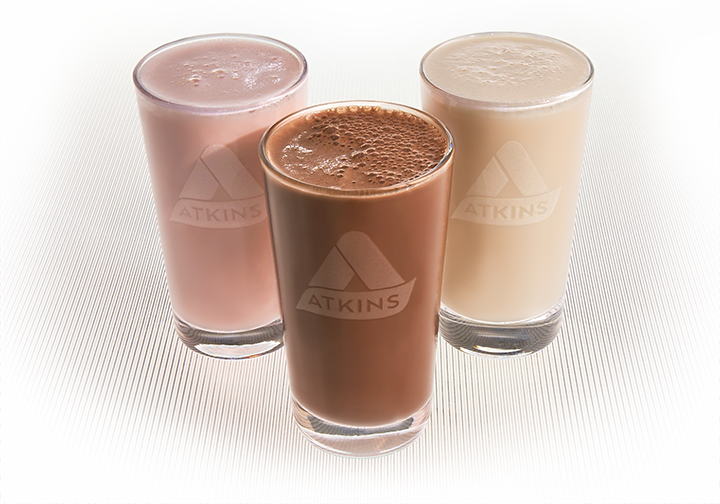 This is another product on this list that can be easily used in place of Soylent. The name of this product is gotten from the Atkins Diet. It was specifically designed for people who were following Atkins Diet and probably other low-carb high-fat diets like Keto Diet, Bulletproof Diet, or another low-carb high-fat diet.
But it can be used by anyone looking for a nutritious and easy meal replacement. Atkins shakes are creamy and sweet which makes for a perfect meal. These shakes are specially tailor-made for those of you trying to lose some fat. Atkins shakes contain 160 calories per serving, 150 grams of protein, 1 gram of fiber, 2 grams to 5 grams of carbohydrates, and 1 gram of sugar. The carbohydrate content is between the range of 2 to 5 because carb content varies depending on the flavor.
The main ingredients of the Atkins Diet are milk protein concentrate, sunflower oil, pasteurized cream, and soy protein. The main source of protein of the Atkins shake is soy protein and milk protein. Since this product contains soy, milk, and cream, it is not an option for anyone allergic to soy or lactose intolerant or allergic to dairy. So if you are allergic to either or all of these products then you should look for different options.
Atkins shakes have a high protein content and a low carb content, a signature of the low-carb diet. You can get Atkins shakes in flavors such as vanilla, chocolate, and caffeinated coffee flavors like mocha latte and caramel. You can buy the Atkins shakes through online retail stores like Amazon or the Atkins website. You can also find Atkins shakes in your local Walmart or any health-food stores. Alright, so we saw the five best alternatives that can be used instead of Soylent.
Maybe you cannot use Soylent maybe because you are allergic to the ingredients used or maybe you don't like its taste. For whatever reason, if you are looking for a Soylent alternative then you can choose any of the five meal replacements we mentioned above.
Honest Opinion: Final Analysis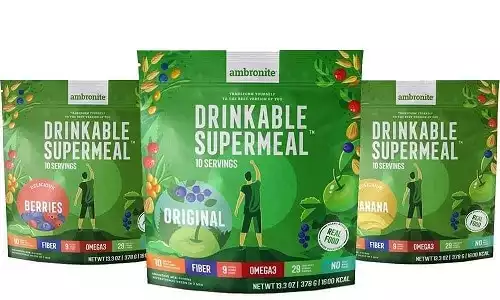 Why go with Ambronite?
Very similar to Soylent, but with 18 ingredients from REAL, unprocessed foods. It's also a better option for those looking to shed some weight vs just replace a meal (more so than Soylent). Personally, it's my top pick here.
Buy Now
We earn a commission if you click this link and make a purchase at no additional cost to you.
There was a reason why Huel was at the top of our list. It has impressed us the most thus far. In fact, I think it is better than Soylent, personally. It is delicious and as great as any meal.
It works for Breakfast, lunch, dinner, and even as a snack. The other product that also impressed us is Ambronite. We like how they use nature's backyard to create such a unique and effective product. It is delicious and best of all, natural.
We liked how Ambronite uses 18 ingredients retrieved from 18 real, unprocessed foods. It is a great product for anyone looking to lose some weight or bring quick energy and focus into their life. Just a few words of caution.
Do not replace all your meals with meal replacements.
Your body does require some solid and real food. We recommend swapping breakfast and dinner with meal replacements at most. But have a real lunch. And make sure it is healthy with enough veggies and healthy fats.
This is a no-brainer, but do not have junk food or foods high in bad fats. No matter how many meals you replace, if you do not improve your habits and eat clean and healthy, it will not help you. So, avoid junk foods and load up on proteins, good fats, complex carbs, and other essential nutrients and minerals.
If you are going to be using a meal replacement, then get ready to develop the habit of reading ingredients and nutrition values label. This is important. Sometimes, some products are just not what the advertisements make them out to be and they are duds. So be aware of that.
Read the labels and compare different products. Select the ones that are best for you and even then always observe how your body is reacting to the meal replacement. Always avoid meal replacements that contain ingredients that you are allergic to.
If you are pregnant or nursing, then it is probably not a good idea to start a meal replacement. Wait for some time and then with the advice of an expert use a meal replacement as instructed. The same advice goes to anyone suffering from any disorder or any condition.
Another thing you have to remember is that meal replacements are temporary options. They teach you about eating in controlled quantities so do not overdo it. If necessary, take supplements after consulting your physician.
So that was our top 5 best alternative that you can try in place of Soylent. We hope that you enjoyed the article and if you have any other alternatives then do let us know. We'd love to get feedback and hear from you!
FAQs
Question: What's the Best Flavor of Soylent?
Answer: Soylent offers perfectly portioned nutrition whether you are planning on getting shakes, powders, or mini-meals. If you are wondering which is the best Soylent flavor, a crowd favorite is the Ready-to-drink Cacao which has more than 300 positive reviews on Soylent's official site.
Question: What are the Best Alternatives to Soylent?
Answer: The best alternatives to Soylent are Huel and Ambronite. Huel is a meal replacement powder and it usually contains peas, coconut, oats, rice and lots of vitamins and minerals that our body needs in order to function properly.

They offer ready to prepare drinks which come in different flavors and are intended for the go. Ambronite sells only meal shakes which come in a variety of flavors and they are no-GMO, dairy, soy or any other additives.
Question: Can You Survive On Meal Replacement Shakes?
Answer: Technically yes, but you are not supposed to use meal replacement shakes independently. Instead, you can skip a meal and drink a shake.
Bottom Line: Which Alternative to Soylent to Pick?
While ALL of these alternatives are worth considering, my overall top alternative to Soylent is actually Ambronite. Put simply, it's the most similar to Soylent, but with some extra nutritional benefits. You can pick up Ambronite directly here.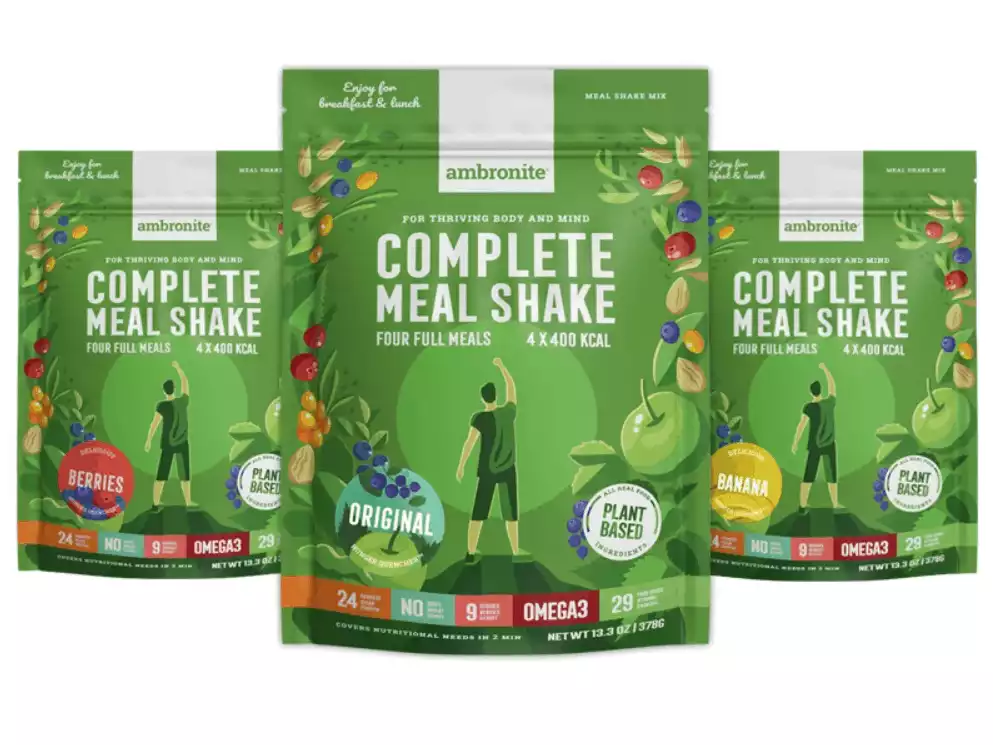 I Personally Prefer Ambronite
Better ingredients, 100% Organic (Non-GMO) and more fruits and veggies. To me, Ambronite tastes clean and healthy and goes down easy (100% plant-based). It's a bit more expensive, but the higher quality ingredients is WORTH IT to me.
Buy Ambronite
We earn a commission if you click this link and make a purchase at no additional cost to you.
Further Reads:
—-
Disclaimer
Last updated: December 16, 2019
The information contained on www.altprotein.com website (the "Service") is for general information purposes only.
Alt Protein assumes no responsibility for errors or omissions in the contents on the Service.
In no event shall Alt Protein be liable for any special, direct, indirect, consequential, or incidental damages or any damages whatsoever, whether in an action of contract, negligence or other arising out of or in connection with the use of the Service or the contents of the Service. Alt Protein reserves the right to make additions, deletions, or modification to the contents on the Service at any time without prior notice.
Alt Protein does not warrant that the Service is free of viruses or other harmful components.
Fitness disclaimer
The Service offers health, fitness and nutritional information and is designed for educational purposes only. You should not rely on this information as a substitute for, nor does it replace, professional medical advice, diagnosis, or treatment. If you have any concerns or questions about your health, you should always consult with a physician or other health-care professional.
Do not disregard, avoid or delay obtaining medical or health-related advice from your health-care professional because of something you may have read on the Service. The use of any information provided on the Service is solely at your own risk.
You can also review our Editorial Integrity Policy.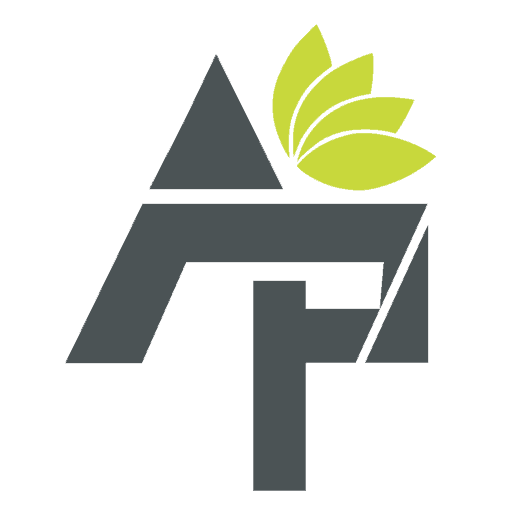 Alt Protein Team is a team of professionals and enthusiasts committed to bringing you the most up-to-date information on alternative protein, health and wellness, workouts, and all things health-related. We've reviewed a lot of products and services so you don't have to guess when you spend your hard-earned money on them. Whether you want to shed some pounds, build lean muscle or bulk, we can help you figure out what you need to do and what you need to have to achieve your goals.