Finding a protein bar isn't really difficult. Chances are your local grocery store even has a few options for nutrition bars that focus on delivering protein, vitamins and minerals. Sadly finding good protein bars isn't so easy, especially if you have certain dietary restrictions or are trying to eat a fairly clean diet including your snack time.
Many protein or so-called "nutritional bars" are nothing more than a candy bar. Sure, you might be getting 15-20 grams of protein but you're also getting a ton of carbs, calories and sugar in one tiny delicious bar as well. Arguably even worse than sugar-filled protein are those that are loaded with chemical sugars, sodium, fillers, and other ingredients that you'd probably be better off not eating.
Going by the idea of "If you can't pronounce it, don't eat it", many cheap protein bars would be off the menu.
Thankfully there are many brands, especially as of late, that is focusing on making protein bars that are as equally delicious and crunchy as they are healthy. Not only will you get a punch of protein, vitamins and minerals, but also some other health macros as well.
One excellent example of a newer bar that is a great choice as a healthy protein bar is FitJoy. On the other hand you also have Quest Nutrition Bars, as a standby that remains an easier-to-find favorite.
Both are great choices but when compared head-to-head you might find you prefer a certain brand over the other.
What is in FitJoy Bars?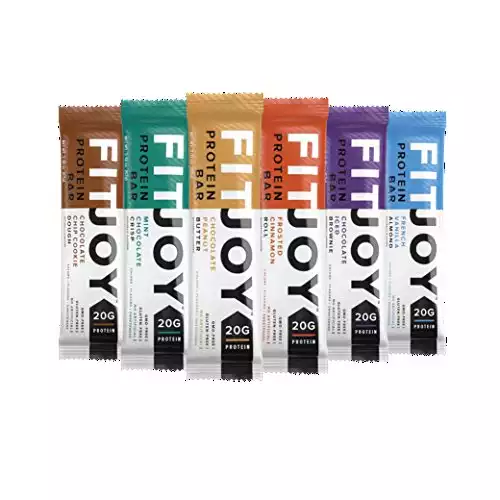 You may not have seen FitJoy bars in the protein section of your local grocery store but you may be able to find them in supplement/fitness stores. As mentioned earlier FitJoy is a somewhat newer brand but one that is already creating quite a fanbase on personal blogs and social media.
There are tons of customers raving about how amazing FitJoy bars taste as well as praise for how healthy this snack is.
FitJoy high protein bar has also added a few new flavors to their line, bring it up to 10 flavors in total:
Flavors
Cookies and Cream
Raspberry Chocolate Truffle
Chocolate Chip Cookie Dough
Birthday Cake Batter
Chocolate Iced Brownie
Chocolate Peanut Butter
French Vanilla Almond
Frosted Cinnamon Roll
Mint Chocolate Crisp
Homemade Pumpkin Pie
All flavors are sold in boxes of 12 bars for just about $28 (For the latest prices and discounts, check here).
FitJoy also has another option for 6 bars for $14.99 called FitJoy Favorites which, as you'd assume, include the top 6 most popular flavors. This is a nice way of trying about some of these bars before committing to a box of 12 in a single flavor.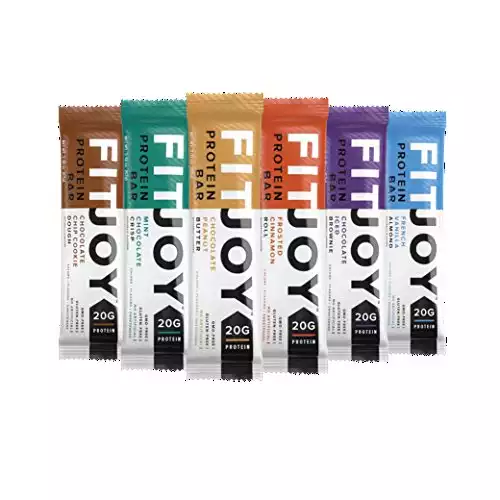 Nutritional Value
When it comes to nutritional value it does vary from bar to bar but overall you will be getting:
20 grams of protein
220-230 calories
10-13 grams of fiber
Here is a more in-depth look at the nutritional facts for the Chocolate Chip Cookie Dough bar:
220 calories
7 grams of fat
25 grams of carbs
20 grams of protein
13 grams of fiber
4 grams of sugar
Ingredients in the Chocolate Chip Cookie Dough flavor include:
Dairy Protein Blend (whey protein isolate, milk protein isolate, whey protein cocoa crisp)
Calcium Carbonate
VitaFiber
Ground Almonds
Vegetable Glycerin
Water
Chicory Root Fiber
Unsweetened Chocolate
Natural Flavor
Sugar
High Oleic Sunflower Oil
Erythritol
Salt
Sunflower Lecithin
Dextrose
Stevia
Soy Lecithin
Furthermore, FitJoy bars are also gluten-free, contain no artificial colors, flavors, or sweeteners.
What is in Quest Bars?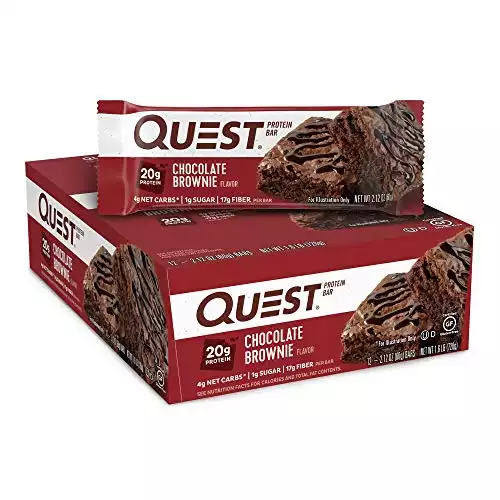 Quest Nutrition has long been a trusted company, and though they make various types of nutritional bars and protein powders, most know this company for their protein bars. Quest are a go-to bar for many due to its nutritional macros, tasty flavors, and the ability to find them on the go at pretty much any store.
One thing Quest has absolutely hit out of the ballpark is a huge selection of flavors. There is little chance you're going to get bored when you have 20+ tasty options to choose from, including:
Flavors
Mocha Chocolate Chip
Blueberry Muffin
Oatmeal Chocolate Chip
Rocky Road
Chocolate Chip Cookie Dough
Cookies & Cream
S'Mores
Mint Chocolate Chunk
Double Chocolate Chunk
White Chocolate Raspberry
Chocolate Brownie
Cinnamon Roll
Chocolate Peanut Butter
Strawberry Cheesecake
Apple Pie
Mixed Berry Bliss
Coconut Cashew
Banana Nut Muffin
PB&J
Vanilla Almond Crunch
Lemon Cream Pie
Peanut Butter Supreme
Ingredients
Quest also makes a Chocolate Chip Cookie Dough flavor, which makes comparison easier. The nutritional facts for their bars include:
190 calories
9 grams of fat
20 grams of carbs
21 grams of protein
14 grams of fiber
0 grams of sugar
*There is no sugar in this bar, but there are 2 grams of erythritol*
Ingredient-wise the Quest bars are slightly more basic than FitJoy. The Chocolate Chip Cookie Dough Flavor is made of:
Protein Blend (milk protein isolate, whey protein isolate)
Soluble Corn Fiber
Almonds
Water
Unsweetened Chocolate
Natural Flavors
Erythritol
Cocoa Butter
Palm Oil
Sea Salt
Calcium Carbonate
Sucralose
Stevia
Quest bars can be found in many stores as single bars or online from Quest directly for $2.39 per bar (For the latest prices and discounts, check here).
A box of 12 bars is right at $25 (For the latest prices and discounts, check here), so it's slightly less expensive than FitJoy. If you find you have a flavor you love it is a good idea to order by the box to save money.
Which One is Better?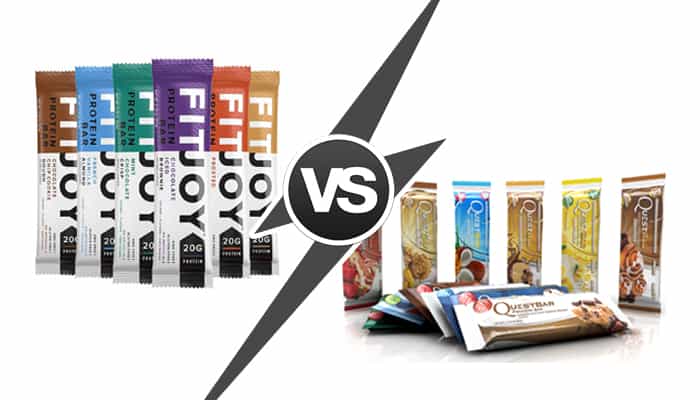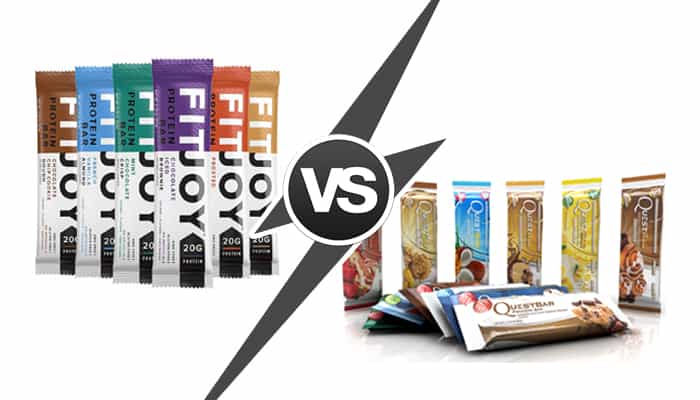 There are three major points of comparison between FitJoy and Quest bars – Ingredients, Taste, and Availability. When it comes to ingredients both bars are fairly similar. They both rely on milk and whey protein.
Both protein sources are isolate which is easier on the stomach, and often a good choice for those that occasionally experience some symptoms of lactose intolerance with dairy. Where they do differ is with the sweeteners used.
FitJoy contains both sugar and erythritol while Quest has erythritol and sucralose. Sucralose is essentially what Splenda is, so those that avoid this chemical sweetener may find this to be a turn-off. Both bars are also nutritionally very similar with FitJoy being a little higher in calories and carbs. Quest bars are a better choice for those needing to stick to a low-carb diet.
Taste-wise they are also very similar but FitJoy comes out a little ahead. Erythritol often gives a distinct alcoholic sweet flavor to nutritional/protein bars yet FitJoy bars seem to mask this taste. Quest bars by no means have an overpowering fake sugar taste but it is slightly more noticeable than FitJoy, despite being less noticeable compared to other brands.
Many find that FitJoy bars do taste slightly more like the real thing overall. Despite limits in flavor, FitJoy really does make some delicious bars that don't taste like your typical protein bar.
The final concern is availability, which may have more of an effect on which bar you want to choose than you think. If you don't have the bar in your local area then you're going to have to order it online. Perhaps this isn't a huge deal to some but it can be an annoyance.
It's safe to say that essentially all health-related stores will have Quest bars, and even more important, the majority of major grocery stores also have Quest bars. They are easy to find as they are one of the most popular bars. Chances are the stores that do carry them will also carry a wide flavor selection rather than just a couple of options.
FitJoy bars are super tasty and definitely a must-try but they are more difficult to find, though it seems GNCs and other supplement stores are carrying a couple of flavors now. You probably won't find these bars in other stores, especially a grocery store. Most customers will need to order their bars online.
These bars are so similar it's difficult to choose a winner. Overall Quest bars come out slightly ahead in terms of flavors, availability, and slightly better nutritional facts. However, FitJoy taste is difficult to beat. Quest is the better daily protein bar for most but FitJoy is definitely worth a try as well, perhaps as a treat when you're really craving something that tastes like dessert.
Recommended Reads: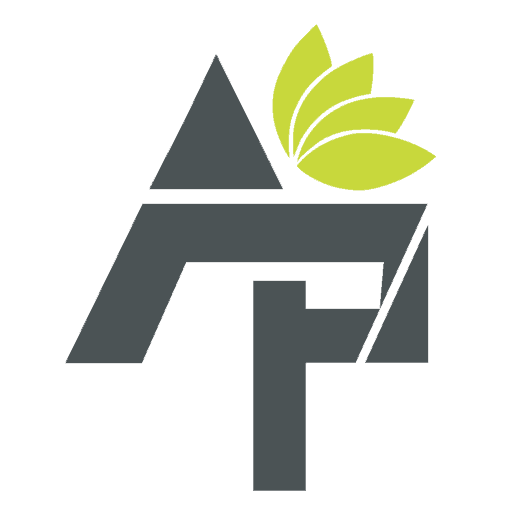 Alt Protein Team is a team of professionals and enthusiasts committed to bringing you the most up-to-date information on alternative protein, health and wellness, workouts, and all things health-related. We've reviewed a lot of products and services so you don't have to guess when you spend your hard-earned money on them. Whether you want to shed some pounds, build lean muscle or bulk, we can help you figure out what you need to do and what you need to have to achieve your goals.