Purely Inspired Organic Protein is a plant-based nutritional shake which has raised quite a controversy regarding its level of effectiveness. Some consumers stated this product worked great for them while others pointed out several red flags. Purely Inspired manufacturer commercializes protein powders as well as other weight loss supplements.
They provide two main types of protein powder supplements: plant-based organic protein (which will be the main focus of our review) and organic whey and greens.
Let's not waste any more time and go straight to the review.
What Is Purely Inspired Organic Protein?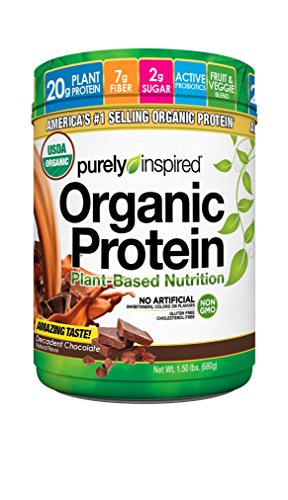 Purely Inspired Organic Protein is a weight loss and fitness supplement that comes in the form of a protein shake mix. You can choose from two different packaging options: 1.5-pound and 2-pound containers.
This product is created from a vegetable and fruit blend and it is a vegan-friendly supplement. It doesn't contain allergens such as gluten or soy. Purely Inspired is a USDA-certified protein powder that is free of artificial colors, sweeteners or flavors. So, if you are a vegan or vegetarian fitness enthusiast or you simply want to lose weight, you should give this product a try.
You can find two types of Purely powder protein supplements on the market: organic protein and whey protein and greens.
Purely Inspired Organic Protein Overview
How Does Purely Inspired Organic Protein Work?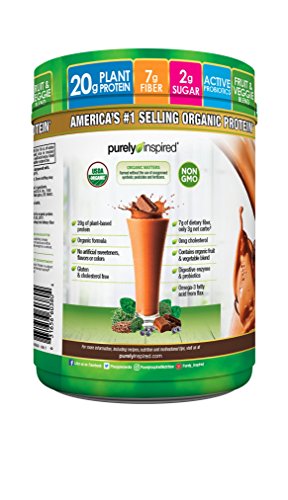 Purely Inspired contains a high level of protein and dietary fiber. This makes it a nutritious meal replacement, especially for those of you who are pursuing a healthier lifestyle.
Nutritionists say you should definitely replace certain harmful foods that have plenty of carbs and unhealthy fat with this well-balanced meal replacement.
This supplement is full of essential minerals and vitamins. Not to mention, it also contains an excellent probiotic blend which leads to an improved digestive system. We will discuss more useful details about its ingredients in the dedicated section, below.
A Little Something about the Manufacturer
Iovate Health Science is the manufacturer of Purely Inspired Organic Protein supplement. This company provides several health and fitness supplements under the same corporate umbrella. This business was launched in 1995 as a mail order firm that delivered the product directly to consumers.
Iovate's headquarters are located in Oakville, Ontario. It has two distribution centers and over 30 professionals working in the field in three countries: the USA, Australia, and Canada. They are well-trained and provide both sales as well as customer support services.
Besides the popular Purely Inspired brand, Iovate also owns other health-related brands like Hydroxycut, Xenadrine, MuscleTech, True Grit, and Nature's Food.
Ingredient Profile
As we previously mentioned, the company produces two main types of powder supplements:
A plant-based organic protein;
An organic whey protein and greens.
Each one of these products come in two available flavors: decadent chocolate and French vanilla.
Purely Inspired Plant-Based Protein Powder – Ingredient Overview
Nutritional Facts per One Serving (Two Scoops – Around 36 – 38 grams)
French Vanilla
Decadent Chocolate
130 calories
140 calories
20 grams of protein
20 grams of protein
9 grams of carbohydrates
10 grams of carbohydrates
7 grams of dietary fiber
7 grams of dietary fiber
2 grams of sugar
2 grams of sugar
Both these varieties contain calcium, sodium, iron, vitamin A, and vitamin C. Moreover, they are made from two categories of ingredients: probiotic and digestive enzyme blend and fruit and veggie blend. Besides these two blends, you will also find an organic protein blend made from organic brown rice protein and organic pea protein.
Purely Inspired Whey Protein & Greens – Ingredient Overview
Nutritional Facts per One Serving (One Scoop – approximately 35 grams)
French Vanilla
Decadent Chocolate
130 calories
130 calories
20 grams of protein
20 grams of protein
9 grams of carbohydrates
9 grams of carbohydrates
5 grams of dietary fiber
5 grams of dietary fiber
2 grams of sugar
2 grams of sugar
Although the Whey Protein and Greens is not the main focus of our review, we want to make sure you're fully informed before actually making a purchasing decision. So, you should be aware of the fact that there are two products sold by Purely Inspired and this second supplement contains whey protein concentrate, sunflower lecithin, and stevia leaf extract.
Hereinafter, we will concentrate only on Purely Inspired Organic Protein powder because this appears to the more popular than the other Purely protein alternative. It is highly appreciated and recommended by both fitness enthusiasts and professional athletes.
Purely Inspired Organic Protein – Detailed Ingredients' List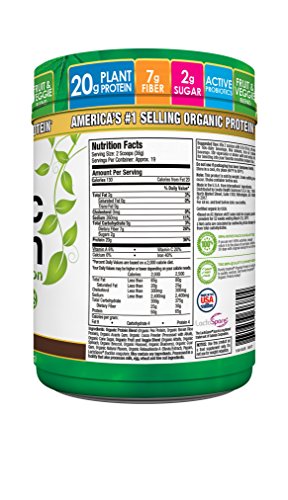 #1. Plant-Based Ingredients
The organic protein shake mix made by Purely Inspired contains five plant-based ingredients. All of them are organic:
Spinach leaf;
Flax seed;
Alfalfa herb extract;
Whole broccoli;
Blueberry fruit.
This fruit and veggie organic blend represent approximately 909 milligrams of each portion or serving.
#2. Enzymes and Probiotic Blend
Purely Inspired also comes with a healthy and effective probiotic blend made of the following elements:
LactoSpore Bacillus coagulans – this probiotic promotes a properly gastrointestinal activity by helping and improving your digestive process;
Papain – this is a digestive enzyme extracted from the papaya fruit.
The probiotic blend of this supplement makes up to 71 milligrams of each Purely Inspired serving.
#3. Additional Ingredients
Organic protein blend: brown rice protein and pea protein;
Cane sugar;
Organic cocoa powder for the chocolate variety shake.
According to the label, other flavoring ingredients and preservatives are also from organic sources.
Pros of Purely Inspired Supplement
Affordable supplement. Purely Inspired is well-priced and one of the least expensive supplements on the market. One container usually costs around 20 dollars but we will discuss this aspect in the pricing section of our review. The price has been a major competitive advantage as well as a major selling point.
Plant-based and completely organic product. Both vegans and vegetarians are quite satisfied with this product and they tend to express their enthusiast by offering positive 4 and 5-star reviews. Another main bonus that comes when buying this supplement is its soy-free and gluten-free content. This leads to a low allergenic impact.
Cons of Purely Inspired Organic Protein
Controversial ingredients. Some people flagged a few ingredients contained by Purely Inspired such as gums, additives, thickeners, and fillers. They state these are neither natural nor organic elements and some of them might even produce harmful effects in one's body.
Questionable taste. Unfortunately, there are many consumers who have said this protein shake tastes pretty bad. They characterize Purely's taste as being chalky and nasty. According to them, people with a sensitive palate should probably avoid this protein supplement.
Pricing Options
Purely Inspired Organic Protein supplement is sold by retailers like Wal-Mart at an average price of 20 dollars. This price is for a container of 1.5 pounds with around 19-20 servings. If you choose to purchase a 2-pound container, the price will be slightly higher.
Another viable and trustworthy source is Purely Inspired official website. You will find both vanilla and chocolate flavors available for sale on the brand's official website:
Although the price is significantly higher compared to the ones provided by other selling channels, on the Purely Inspired website you will benefit from a promotional offer; if you buy one container, you will receive a 50-percent discount for the second one. Also, every order comes with a free shaker cup and a free sample of the organic protein supplement.
However, if you want to benefit from price discounts, you should buy this product on online e-commerce platforms like Amazon. Here, the price may vary a little bit depending on the chosen flavor:
1.5-pound container, Decadent Chocolate variety: $18.97 for subscribers; an one-time purchase costs $19.97;
 1.5-pound container, French Vanilla flavor: $16.38; if you choose not to subscribe, this product will cost you $17.24.
What Consumers Say about Purely Inspired Organic Protein – Reviews & Ratings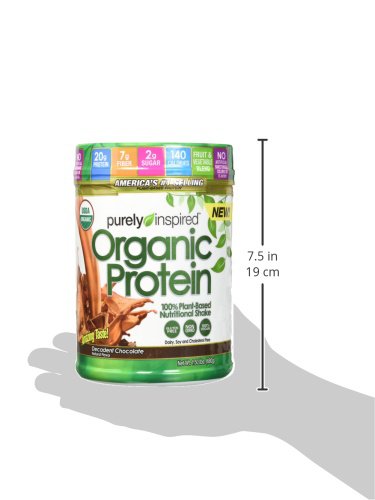 If you check out online reviews left by Purely consumers, you will discover that this product has an overall great online rating. It usually receives around four out of a total of five stars on sites like Amazon. And this result comes from hundreds of reviews posted by buyers.
If you take into consideration that almost half of these reviews gave Purely protein shake a full five-star review, we could say it is a rather popular supplement. On the other hand, around 18 percent of the consumers reviewed Purely Inspired poorly, giving it only one star. The main complaint is related to this product's taste which seems to be quite unpleasant.
Bottom Line of Purely Inspired Organic Protein – Should You Buy It?
All in all, Purely Inspired Plant-Based supplement seems to be an excellent choice for those of you who want to avoid unhealthy foods and try a well-balanced meal replacement. This product is specially created for vegans and vegetarians who don't eat meat but still want to have a good protein intake from organic-certified sources.
Purely's main advantages are its organic veggie and fruit blend, probiotics and enzymes, and the lack of potentially allergenic ingredients. You can enjoy these refreshing and energizing shakes without feeling guilty at all.
On the other hand, same consumers mentioned the poor taste of this supplement. They have described it as being unpleasant and chalky. This product's taste is, however, an ongoing controversy because plenty of other consumers said they liked the taste.
Our Final Verdict
In the end, we say you should definitely try Purely Inspired Organic Protein. It contains organic ingredients that help your digestive system and its price will not break the bank. This supplement's price is usually around 20 dollars per container which makes it one of the most affordable meal replacement products on the market.
If you don't like this supplement, you can always try another one, without experiencing the guilt of spending a lot of money on something you were not satisfied with.
(Visited 116 times, 3 visits today)
Health enthusiast, runner, protein nut. Owen likes to write about protein, particularly alternatve supplementation and supplement comparisons.