In our side-by-side comparison, you will find two of the best meal replacement supplements a.k.a diet shake variants on the market. We will discuss how good these two products are, their prices, pros, cons, ingredients, and more.
Both 310 Shake and Shakeology are meal replacement shake options. Here I will give a short 310 vs shakeology Review, so let's start with the comparison.
These products help keep you satiated for a longer time and they work great when it comes to curbing your cravings. Choosing the right weight loss shake for your needs and preferences can become a difficult process. Therefore, we offer you this great read in order for you to gather all the necessary details that will provide you a clearer idea of which shake has the best results.
Nutritional Facts & Price/Serving – 310 vs Shakeology Shake
310 Shake vs. Shakeology – What Are They?
What Is 310 Shake?
This is a well-known meal replacement shake that helps you achieve your weight loss goals. This product is a good alternative to Shakeology and doesn't contain any allergens, fillers or chemical additives. In other words, it is a healthy protein shake that curbs your cravings and fills your body with protein and fiber.
What Is Shakeology?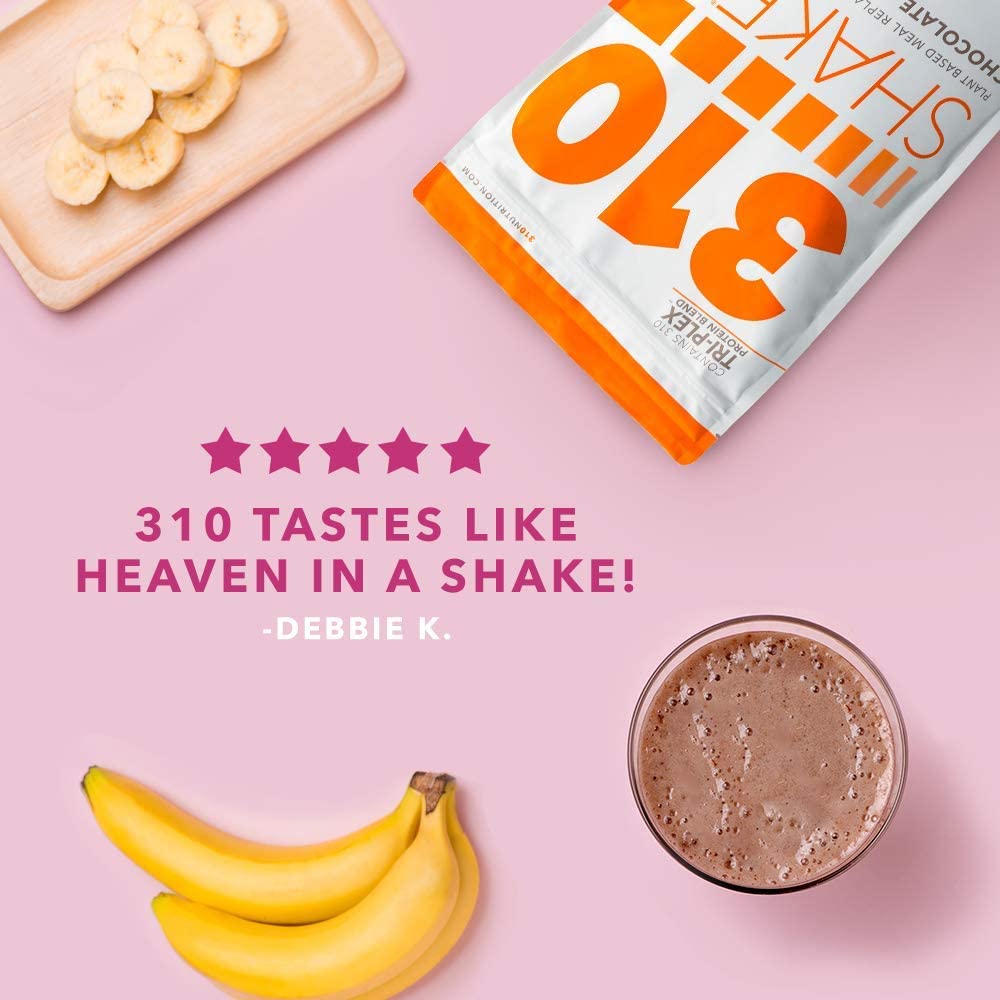 According to the manufacturing company, this is a nutrient dense shake marketed by Beachbody. This meal replacement shake product keeps you full, helps you flush out toxins from your body, and promotes weight loss. The company claims this supplement offers an energy boost, better focus, and a well-balanced blood sugar level. In a nutshell, this product improves your overall health.
310 Shake vs Shakeology – How Do They Work?
How Does 310 Shake Work?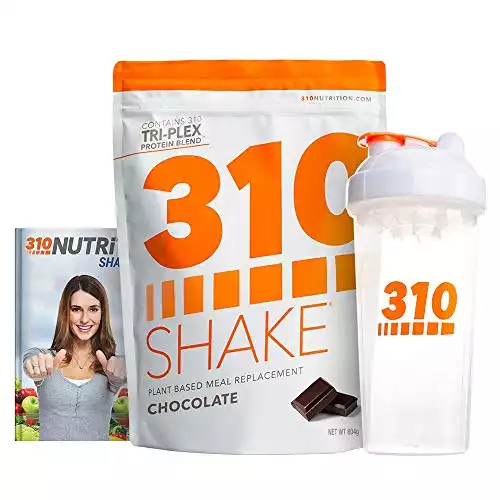 I Personally Prefer the 310 Shake
A lower cost per serving, less sugar, and more a more transparent business and brand "story" make 310 Shake my pick here. Plus, they are Soy-free and have plant-based versions available too.
Buy at Amazon.com
We earn a commission if you click this link and make a purchase at no additional cost to you.
05/01/2023 12:11 am GMT
This meal replacement shake uses the Tri-plex protein profile which is a special element to curb one's appetite for up to four consecutive hours. It contains an excellent protein blend which includes whey protein concentrate, whey protein isolate, pea protein, milk protein concentrate, and Fibersol 2.
All these elements are essential for one's health and will keep you satiated for hours. And, on top of that there is stevia as a sweetener, instead of artificial sweetener which makes you crave for more. Due to the Tri-plex protein profile, this shake slows down the brain's ghrelin process which is a specific hormone that triggers the hunger and craving signal.
Also, Fibersol 2 is a great prebiotic that stops your brain from craving junk food. These two hunger blocking ingredients along with all the other quick-absorbing proteins help you lose weight, stay in shape, and be healthier.
http://shakeology I've talked about Shakeology a lot on this site — you can see how I feel about this, why I feel that there is much better nutrition shake options out there than this in my full Shakeology alternative list to consider.
How Does Shakeology Work?
Shakeology is a protein shake with proteins, minerals, vitamins, and healthy fats which make you have a full sensation for multiple hours. All the beneficial ingredients contained by Shakeology beverages will satisfy your organism's nutritional needs. So, you will not crave soda or snacks anymore.
These products were specially created for those moments in between main meals when you feel hungry and in need of a snack. Drinking this protein shake is much better than eating chips, cookies, and other unhealthy foods. Interestingly enough, some consumers claimed that certain flavors work better than others in keeping them satisfied for several hours.
This has a reasonable explanation: the amount of fullness given by a flavor varies depending on what type of minerals, vitamins, and other nutrients it contains.
310 Shake vs Shakeology – Ingredient Profile
Both shakes contain a lot of ingredients that come from herbs and plants. Also, they contain plenty of healthy and well-rounded elements and blend such as probiotics, enzymes, and proteins.
310 Shake Nutrients & Ingredients
310 Shake's ingredients are grouped into three different categories:
Probiotics. These were added in the shake to make it healthier. This way, the beverage will boost your immune system among other health benefits.
310 Greens Blend. The shake contains plenty of nutrients from powerful superfoods such as kale, beet juice, organic broccoli, spinach, pomegranate extract, spirulina, and others.
Vitamins and minerals. This blend promotes a healthier body. It includes calcium, potassium, magnesium, vitamin A, and E.
Shakeology Nutrients & Ingredients
Shakeology nutritional powder is made with worldwide sourced superfoods and high-quality ingredients. Moreover, it contains four categories of ingredients:
Fiber and proteins. These help lower food cravings and hunger.
Adaptogen herbs. These elements are usually used to support the body adapt and react to stress and its negative effects.
Prebiotics, digestive enzyme, probiotics, and fiber. These promote nutrient absorption as well as a healthy and well-balanced digestion.
Phytonutrients, antioxidants, minerals, and vitamins. They help your organism fight free radicals and they promote a healthy and well-functioning immune system.
Taste and Available Flavors
310 Shake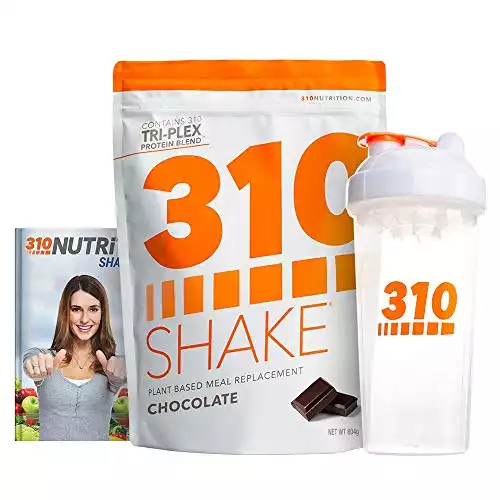 I Personally Prefer the 310 Shake
A lower cost per serving, less sugar, and more a more transparent business and brand "story" make 310 Shake my pick here. Plus, they are Soy-free and have plant-based versions available too.
Buy at Amazon.com
We earn a commission if you click this link and make a purchase at no additional cost to you.
05/01/2023 12:11 am GMT
To be completely honest, many users have complained that 310 shakes taste bad. While it does not have to taste good to be effective as a nutrition shake, we think that who wants to drink something that doesn't taste good?
It all depends on how you perceive the fact that this product's creators have decided that there will be no added sugar to this beverage. Apparently, this decision came at a price: people not liking the flavor and taste of this shake.
On the other hand, the fact that 310 Shake contains less than one gram of sugar is great news for diabetics or those who simply don't want to eat unhealthy foods. You will probably experience a sour aftertaste when you consume 310 Shake.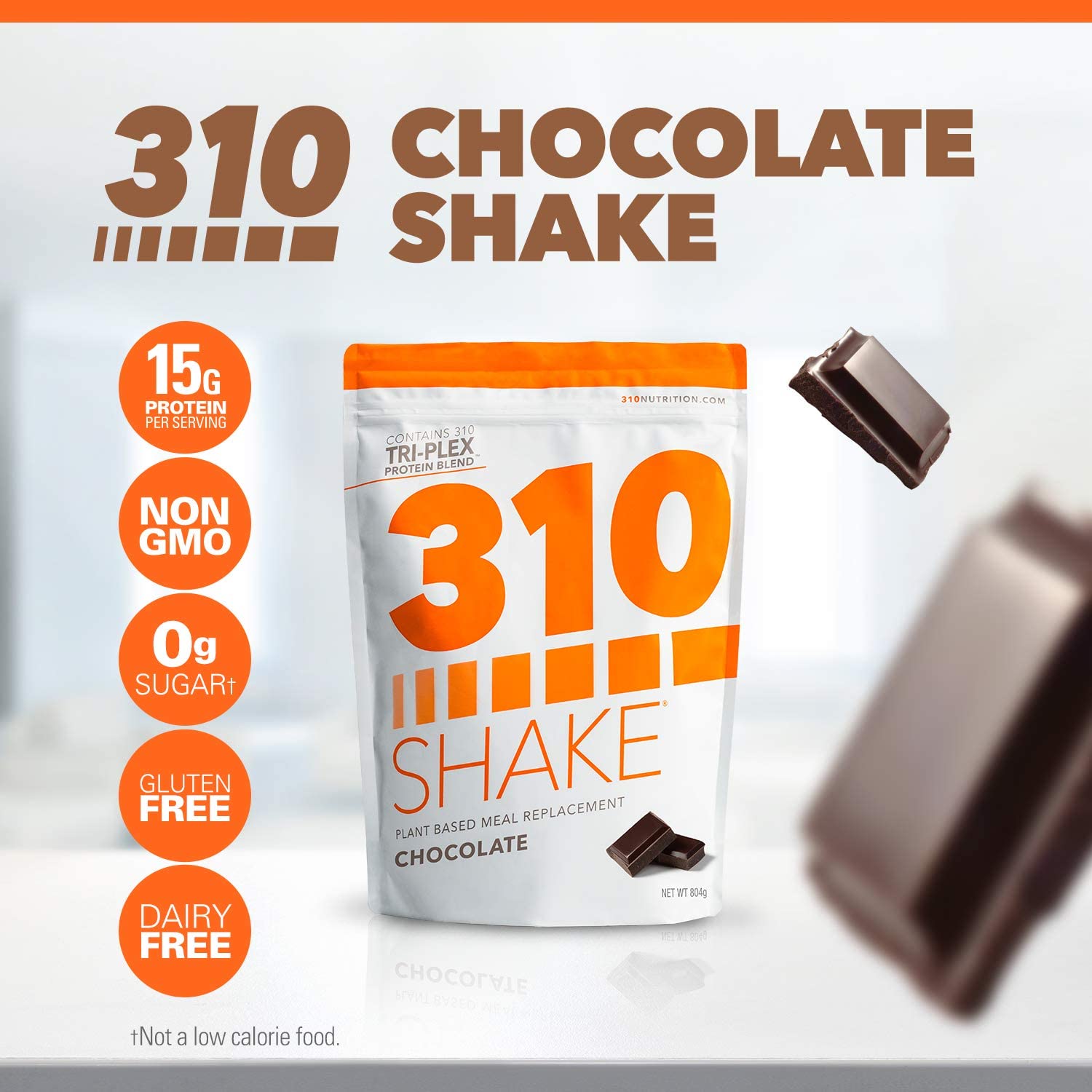 Currently, 310 Shake provides six different flavors to choose from:
Chocolate Shake;
Vanilla Shake;
Mocha Shake;
Vanilla chai;
Strawberry;
Salted caramel.
Shakeology Taste
Unlike 310 Shake, Shakeology is said to have an amazing taste. The most popular and best-selling flavors are Vanilla and Chocolate. Some reviewers even said that these shakes are perceived as treats or desserts. On the other hand, there were a couple of consumers who experienced a slightly unpleasant aftertaste but, according to them, one can get used to that very quickly.
If you want, you can easily add fruits, nuts, and experiment with different milk types to enhance the shake's flavor.
Besides the fact that Shakeology sells two types of meal replacement shakes (regular and vegan), they also have a wide range of options when it comes to flavor selection:
Vanilla;
Chocolate;
Café latte;
Tropical strawberry;
Strawberry;
Greenberry.
Preparation and Mixability
310 Shake
Preparing this shake is quite easy and it requires you to combine one scoop of 310 Shake with about 8-10 ounces of water. You can also add some ice to achieve a refreshing effect. We also recommend you to add veggies, fruits, and nuts to obtain a better-tasting beverage.
Shakeology
Like its competitor, Shakeology is also very easy to prepare. For a Shakeology meal replacement shake, simply add one scoop of this powder to approximately 8-10 ounces of cold water and add some ice cubes in there if you're looking for a refreshing effect.
Moreover, you can include some additional ingredients such as fruits and nuts. This will increase the overall nutritional value of the shake.
While any decent protein supplement can be a meal replacement, Shakeology vows that you don't need to add any other sources of protein, healthy fats, or veggies to get that complete nutrition. I say, that this is an expensive way to replace a meal.
How Much Do These Meal Replacement Shakes Cost?
310 Shake Cost and Value
This Shakeology alternative is a lot more affordable. It comes in bags of 28 servings each. One package costs $68 but both handling and shipping are not included in this price tag. So, at a cost or less than $2.50 per serving, this product is an excellent option if you want to consume a meal replacement of a good quality without breaking the bank.
You can purchase the 310 Shake from the company's official website or on Amazon:
310 Shake Shop Store – $68 per 28 portions(if you subscribe, you will get a 40% discount off their lifestyle starter kit);
Amazon – $69.99 per 28 servings (subscribers will receive a 25% discount).
Cost of Shakeology and Value
Shakeology Vanilla 24 Individual Packets | Amazon
Shakeology contains over 70 healthy ingredients from around the world, including super-proteins, super-fruits, antioxidants, supergreens, phytonutrients, 9 adaptogen herbs, pre- and probiotics, and digestive enzymes.
Buy at Amazon.com
We earn a commission if you click this link and make a purchase at no additional cost to you.
One Shakeology drink costs a little over $4 but you cannot buy just one shake. Instead, Shakeology's minimum purchase is a month-long supply which is $129.95. Like in the case of 310 Shake, this cost doesn't include handling and shipping.
Although this price is pretty high and Shakeology is an expensive product, most consumers believe it is totally worth it because this shake is a premium meal replacement with high-quality ingredients.
Of course, we think cost is a big factor. As I have discussed many times before on this site, that is one of the drawbacks of products such as Shakeology — cost. There just are a lot of much better, much less expensive alternatives to Shakeology that I prefer.
Here are my top alternatives to Shakeology as a reminder: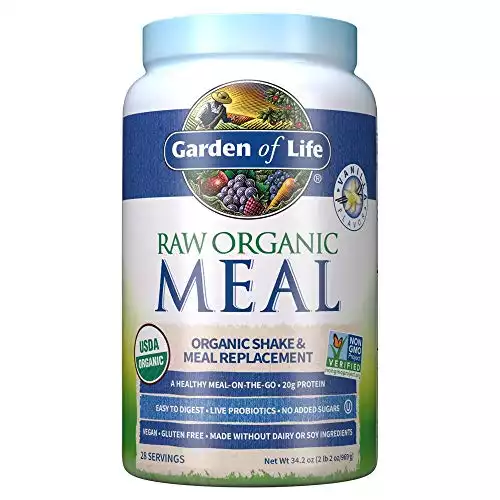 I love this raw vegan meal replacement shake so much. Shakeology really highlights their ingredient list, so that's the first thing I should discuss here — Garden of Life Raw Vegan Meal Replacement has a sprouted brown rice protein base, combined with (all organic) Amaranth Sprout, Quinoa, Millet, Buckwheat, Garbanzo Bean, Lentil Flax Seed, Adzuki Bean, Coconut Blend, Sesame Seed, Chia Seed, Pumpkin Seed, Spirulina, Chlorella, Alfalfa, Barley Grass, Wheat Grass, Cherry, Blackberry, Blueberry, Raspberry, and other raw enzymes. In total, it actually measures up to and even exceeds the ingredient profile of Shakeology.
Garden of Life Raw Vegan Meal replacement also has 2x the amount of protein as Shakeology, and it is also less expensive, which is a much better value for your protein supplement requirements.
Further Reading: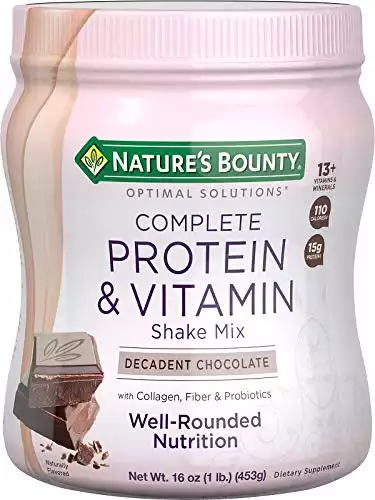 Protein Powder with Vitamin C by Nature's Bounty
Contains (1) jar of 16 ounces of Nature's Bounty Optimal Solutions Complete Protein & Vitamin Shake Mix in chocolate. Supports healthy skin, bone health, energy metabolism, muscle health. Provides digestive health support & immune health support.
View on Amazon
View on Walmart
We earn a commission if you click this link and make a purchase at no additional cost to you.
This is my second alternative to Shakeology that I can confidently recommend. Nature's Bounty Protein Shake Mix is a great alternative with quality ingredients.
Although it does have 2 fewer grams of protein per serving, for those looking for a better alternative with less sugar and fewer calories, this is a great alternative. It's not a vegan supplement, but does a have a good mix of whey, soy and additional vitamins and enzymes. It has 1/3rd less sugar than Shakeology and way less sodium.
Further Reading:
3. Labrada Lean Body Meal Replacement
If you are really, really in love with Shakeology, I give you the very close second, Labrada Lean Body Meal Replacement. While it does have a higher sodium count, it contains 35 grams of protein per serving for a relatively value-based price as well.
310 Shake vs. Shakeology – How Effective Are They?
310 Shake Effectiveness
This is a simple yet effective meal replacement supplement that will help you lose weight and stay healthy. If you search this brand online, you will easily find plenty of testimonials in which customers say how pleased they are with this product's level of effectiveness.
And if you still don't believe us, you can always benefit from their free samples. After all, you have nothing to lose. The manufacturer is aware of the shake's value and is not shy when it comes to market it in an attractive manner.
Shakeology Effectiveness
When it comes to weight loss, Shakeology is very effective. It is a meal replacement shake that provides all the nutrients your body needs while also curbing food cravings. If you want to control your calorie intake, then Shakeology is the answer.
On the other hand, this beverage can also work in reverse. Simply put, it can help you gain weight as long as you consume it right after the main meals to increase the overall calorie intake.
This effective supplement boosts energy and improves your digestion and metabolism.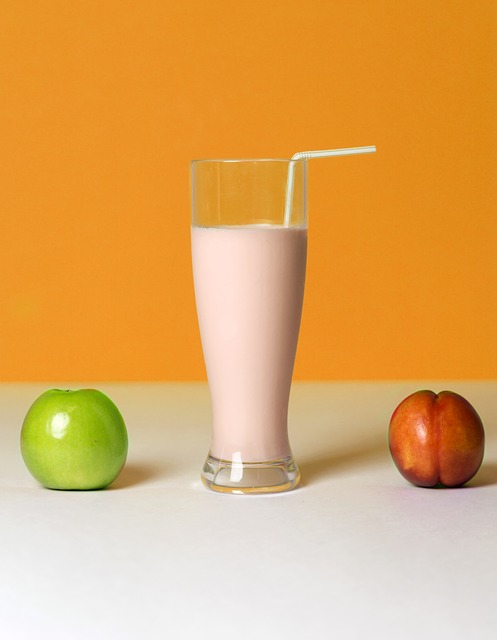 Pros and Cons of These Two Shakes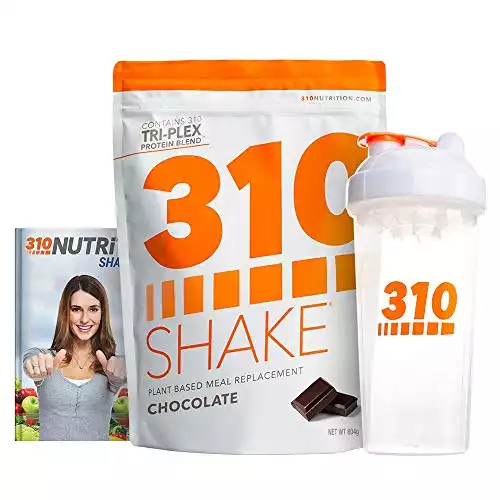 I Personally Prefer the 310 Shake
A lower cost per serving, less sugar, and more a more transparent business and brand "story" make 310 Shake my pick here. Plus, they are Soy-free and have plant-based versions available too.
Buy at Amazon.com
We earn a commission if you click this link and make a purchase at no additional cost to you.
05/01/2023 12:11 am GMT
Pros
There are no artificial sweeteners and fat;
Provides a high content of protein;
It is a low-calorie meal replacement with only 90 calories per portion;
Suppresses hunger and curbs cravings;
It is less expensive than other similar products;
Increases energy and boosts endurance;
Keeps you full and satisfied for hours;
It is a great product for diabetics because it doesn't contain sugar;
It is easy and convenient to prepare and consume.
Cons
Some complain that it has an unpleasant taste and a bad aftertaste;
Although it is a quite affordable supplement, some consumers consider it a bit pricey;
Some reviewers have complained about hidden auto-ship terms because of which they cannot receive a refund. So, in these people's opinion, 310 Shake should improve their customer service.
Shakeology Vanilla 24 Individual Packets | Amazon
Shakeology contains over 70 healthy ingredients from around the world, including super-proteins, super-fruits, antioxidants, supergreens, phytonutrients, 9 adaptogen herbs, pre- and probiotics, and digestive enzymes.
Buy at Amazon.com
We earn a commission if you click this link and make a purchase at no additional cost to you.
Pros
Builds and repairs muscles while also helping you achieve your weight loss goals;
Promote healthy nails, skin, and hair;
Balances your blood sugar level;
Boosts your immunity;
Fights free radicals and their damaging and aging effects;
Protects your body from the effects of stress;
Promotes both mental and physical wellbeing;
Supports nutrient absorption and a healthy digestion.
Cons
It is significantly overpriced. All customers agree that Shakeology is very expensive;
A few consumers have said that this shake has a pretty bad taste although that statement is argued by most reviewers;
There are several ingredients in this powder that are not really necessary. This is the case of the pea protein included in Shakeology shakes;
Many people avoid purchasing the Greenberry flavor because it seems that this variety is the least tasty one of all the six available ones.
Possible Side Effects
Side Effects of 310 Shake
If you consume high doses of this shake you might experience:
Fatigue;
Thirst;
Headaches;
Nausea;
Bloating.
Side Effects of Shakeology
Common side effects might be the following ones:
Gas and bloating;
Headaches and dizziness;
Diarrhea;
Itchiness.
FAQs
Question: Is 310 Shake good for weight loss?
Answer: Yes, 310 Shakes are good for weight loss, since they have lots of vitamins and minerals the body needs, as well as probiotics, fiber, and proteins for promoting weight loss. This of course, means you will use these weight loss shakes with food that is rich in essential nutrients as well, otherwise, you can experience health issues.
Question: Does 310 Shakes Really Work?
Answer: Yes, 310 shakes really work in long term if you create a diet and follow it for long period of time. These shakes are low in calories and have high amounts of proteins, and there are tons of customers that are happy with their weight loss results.
Question: Are 310 shakes worth the money?
Answer: Yes, 310 shakes are meal replacement drinks that come in lots of different flavors, so you will definitely find your favorite, and they indeed are worth the money if you are looking for an efficient way to loose weight.
Question: Can I buy Shakeology in stores or online?
Answer: Shakeology is not available in regular markets, or diet stores, so you can only find it on their official site.
Question: How can I buy Shakeology for cheaper?
Answer: The only way to buy Shakeology for cheaper prices is by becoming a Beachbody Club Member and get everything for 10% OFF and also get all of their workout programs on your PC or phone.
Bottom Line: Shakeology or 310 Shake?
Both 310 Shake and Shakeology meal replacements are good and effective. Now, it all comes down to the things that are most important to you.
If you want to save money, you should choose 310 Shake.
When it comes to taste and available flavors, Shakeology wins the race, especially because 310 Shake is said to have an unpleasant aftertaste.
Both are easy to prepare and very convenient. The preparation process is basically the same: one scoop of the powder must be mixed with cold water. Additionally, you can include other foods like fruits and vegetables to create an even tastier beverage.
Bottom Line: In the long term, while Shakeology has a more developed ecosystem of products, I prefer the more nature and cost effective profile that 310 shake offers here.
Further Research
Our team has also reviewed and compared both Shakeology and 310 Shake to other popular options:
—-
Disclaimer
Last updated: December 16, 2019
The information contained on www.altprotein.com website (the "Service") is for general information purposes only.
Alt Protein assumes no responsibility for errors or omissions in the contents on the Service.
In no event shall Alt Protein be liable for any special, direct, indirect, consequential, or incidental damages or any damages whatsoever, whether in an action of contract, negligence or other arising out of or in connection with the use of the Service or the contents of the Service. Alt Protein reserves the right to make additions, deletions, or modification to the contents on the Service at any time without prior notice.
Alt Protein does not warrant that the Service is free of viruses or other harmful components.
Fitness disclaimer
The Service offers health, fitness and nutritional information and is designed for educational purposes only. You should not rely on this information as a substitute for, nor does it replace, professional medical advice, diagnosis, or treatment. If you have any concerns or questions about your health, you should always consult with a physician or other health-care professional.
Do not disregard, avoid or delay obtaining medical or health-related advice from your health-care professional because of something you may have read on the Service. The use of any information provided on the Service is solely at your own risk.
You can also review our Editorial Integrity Policy.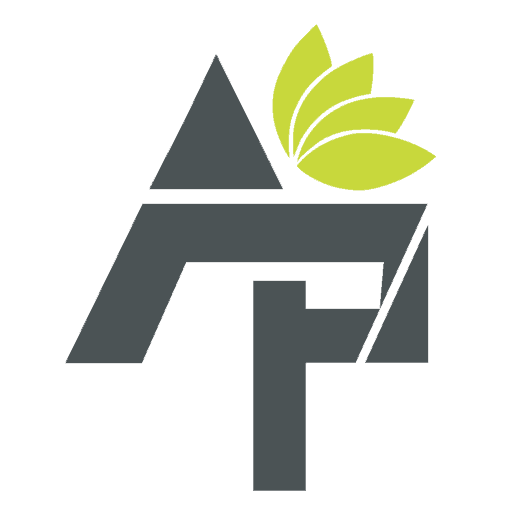 Alt Protein Team is a team of professionals and enthusiasts committed to bringing you the most up-to-date information on alternative protein, health and wellness, workouts, and all things health-related. We've reviewed a lot of products and services so you don't have to guess when you spend your hard-earned money on them. Whether you want to shed some pounds, build lean muscle or bulk, we can help you figure out what you need to do and what you need to have to achieve your goals.