Nutrisystem food is a popular eating plan that actually works but it is not the only viable options on the market. In this article, we will take a closer look at some of the best Nutrisystem alternative food services that you should consider trying this year.
Who knows?! Maybe one of them will really do the trick for you and your weight loss goals!
Top 6 Most Popular Nutrisystem Alternatives to Consider
What is Bistro MD
Bistro MD is a fusion of personalized Doctor recommended meal planning with artisan chef inspired meal creations. Bistro MD follows a low calorie restriction diet, focusing on kickstarting metabolism and re-aligning the digestive tract. Where Bistro MD really shines is with genuinely delicious meals, kind of like if Nutrisystem used more fresh ingredients.
Our Pick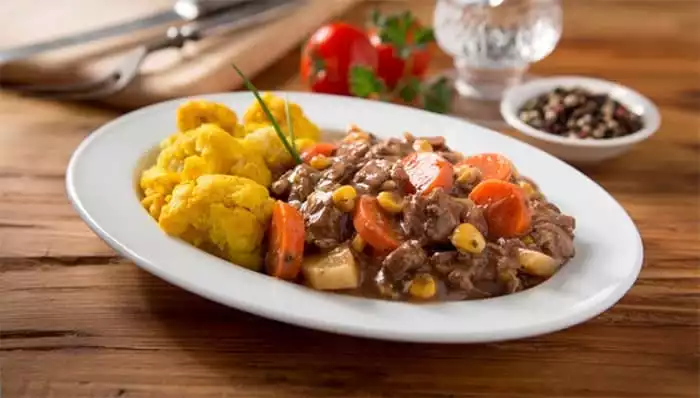 Why I Prefer BistroMD
Put simply, BistroMD has more science and data behind it. They offer CUSTOMIZED meal plans based on your unique health profile, bringing together expert nutritional advice with professional chefs.
See the BistroMD Plans!
We earn a commission if you click this link and make a purchase at no additional cost to you.
Bistro MD Advantages
Delicious and flavorful meals
More customized meal planning (non-generic, Doctor advised)
Offers a Gluten-Free program
Offers a special Menopause diet program
More flexible weekly payments (vs monthly with Nutrisystem)
Bistro MD Disadvantages
Shipping costs are additional (about $19.95 per order)
Not as many snack options or on-the-go choices
Some plans can be MORE expensive than Nutrisystem
Bistro MD Cost: Expect to pay around $160 per week depending on the latest promotions. Check this promo page here for the latest.
Further Reading:
2.

South Beach Diet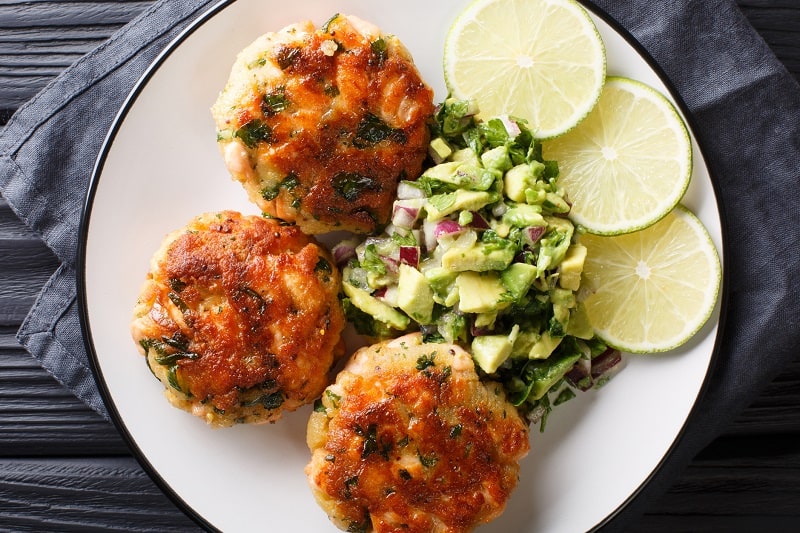 What It Is
The South Beach Diet is an eating system that has the goal of helping you lose weight, burn fat, and maintain a healthy body. Although the food quality is comparable to the one marketed by Nutrisystem, the style and approach are different. Another similarity is given by these programs' cost which is almost the same. Still, Nutrisystem is a bit more affordable.
This diet has been on the market for plenty of years and it is well-known due to its high level of effectiveness. It is known to provide incredible results for most of its loyal consumers. Initially, all the recipes and foods recommended by South Beach were prepared by consumers, at home. Nowadays, you can easily order prepackaged meal replacements like shakes, meals, and snacks.
South Beach has some things in common with Paleo and the Keto Diet, actually offering a South Beach Keto-friendly option.
What You Should Know About It
It has

three main phases

: the first phase is a strict one, it lasts two weeks, and it is supposed to eliminate cravings and jump-start your weight loss; the second phase is a long-term weight-loss one and you must remain in this phase until you achieve your desired weight; the last phase is the maintenance one which must be followed for life and it actually represents a healthy lifestyle.
Unlike other weight-loss diets, South Beach doesn't completely eliminate carbohydrates.
During this eating plan, you will

consume mostly fats and good carbs

: plenty of veggies, eggs, lean protein like turkey or chicken, nuts, whole grains, fish, dairy, etc.
There's a

dedicated app

that will help you keep track of your entire progress.
South Beach Pros
It offers you a bit of freedom and

flexibility

because South Beach dieters are allowed to consume desserts and snacks;
You won't have to count calories which makes this diet a real

time-saver

;
Lowers your blood cholesterol level;
Helps you lose weight in a safe and balanced manner;
You will gain access to many

online tools

provided by the company that will support you in your weight-loss journey.
South Beach Cons
You will spend a lot of time preparing and cooking your main meals;
At first, you might feel tired because of the lack of glucose in your organism;
It is a highly restrictive eating plan, especially for beginners, so you need a lot of willpower to complete it.
Cost: the minimum fee is around $75 per week which equals $300 per month.
**NOTE** You can save 40% off with this link (if you are interested).
Further Read: South Beach Diet vs Nutrisystem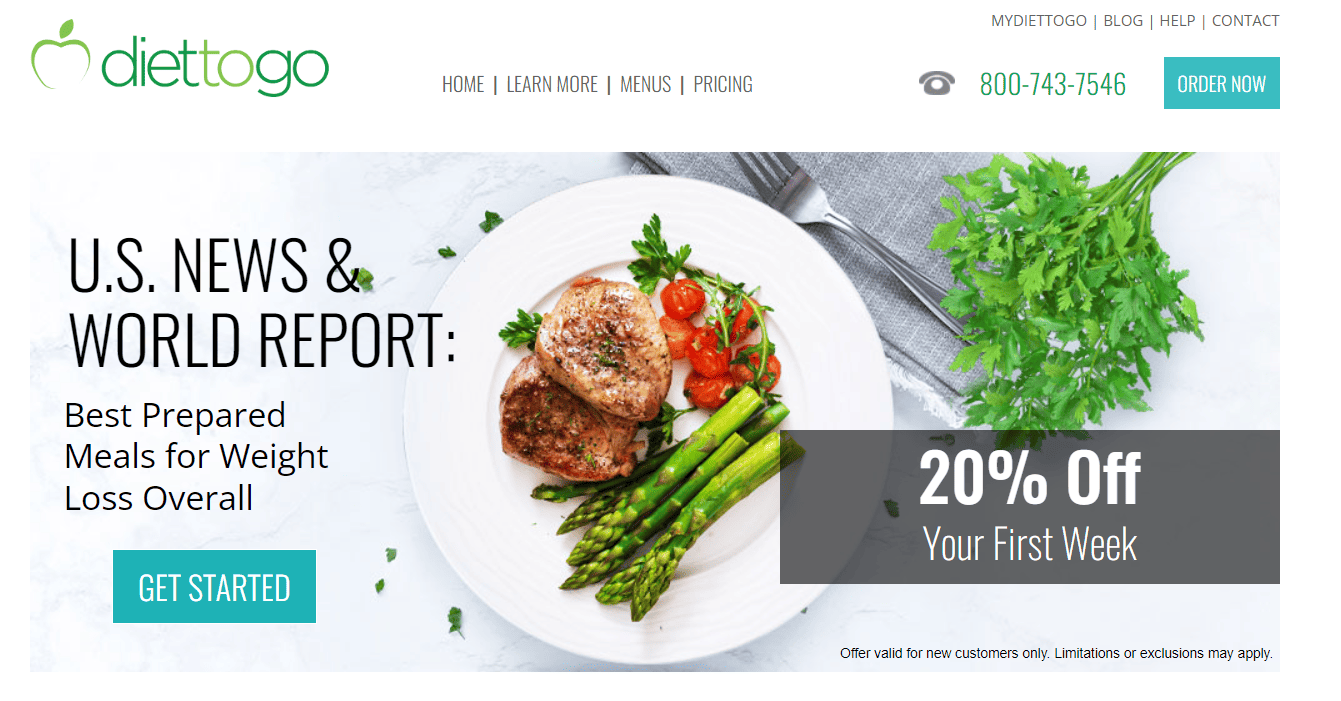 What It Is
When we say Diet-to-Go, we're talking about a popular meal delivery service that offers low-calorie food options full of vegetables that are supposed to help you lose weight. Each meal is personalized to suit a client's fitness objectives, the portion is already measured, calories are counted, etc. Most consumers said Diet-to-Go meals are delicious and they are prepared according to the customer's input. (Check out our Diet to Go vs Nutrisystem Diet Comparison)
What I am excited about when it comes to this diet plan is their five-week rotation approach which is applied so that the meals will not repeat very often. They even have an alternative menu for vegetarian people with the most tasty vegetables and other food choices. According to some reviewers, this is definitely a revolutionary healthy food delivery service.
What You Should Know About It
The company provides three different available menus of diet foods: the

basic meal plan

which is a

low-fat

one, a

low-carb

eating system, and a special

menu designed for diabetic people (glycemic index control)

.
Diet-to-Go meal options are much more than a weight-loss diet. It also provides comprehensive weight-loss support as well as nutritional guidance to all its customers.
All the meals are prepared with healthy

whole foods

and they come in plastic trays.
The manufacturing company has been in the nutrition and wellness industry for a very long time. Their Diet-to-Go product has been trusted by dieters all over the United States since 1995.
Get 20% Off Your First Week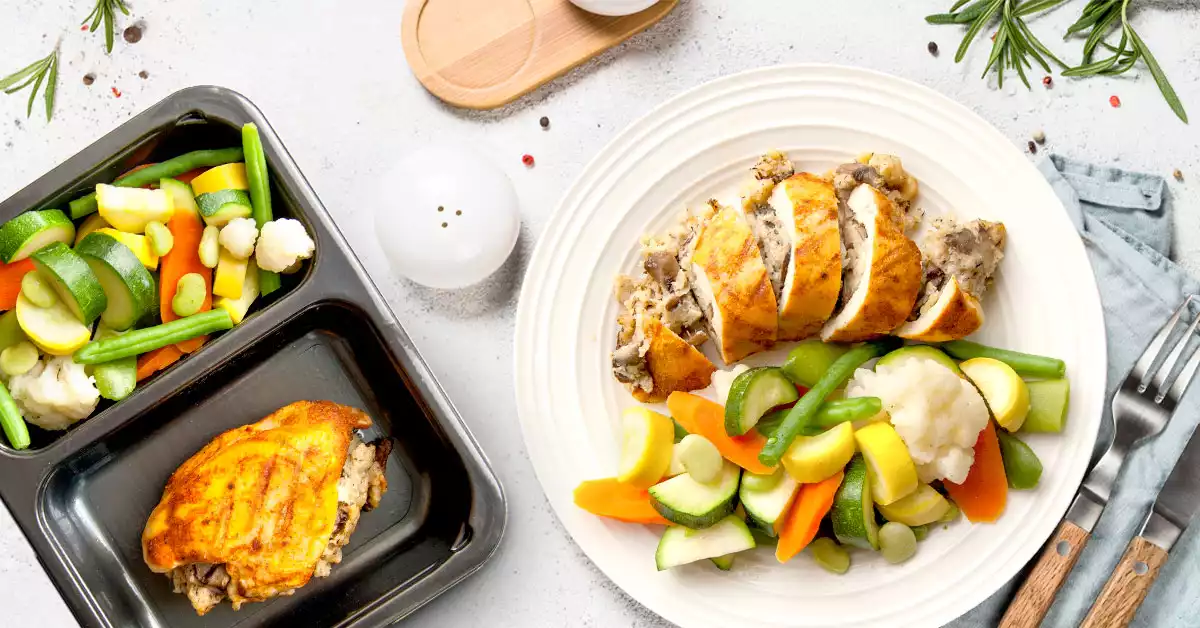 Weight Loss Meal Delivery | Diet-to-Go
From food sourcing to meal delivery, Diet-to-Go adheres to the highest food safety standards and best practices in our government-inspected commercial kitchens.
Get Started
We earn a commission if you click this link and make a purchase at no additional cost to you.
Pros
This is a highly

convenient

eating system;
The company delivers their meals to your doorstep and it covers plenty of locations;
There is a wide range of meals to choose from;
Diet-to-Go foods have a

great taste

;
All their eating plans are

customizable

;
The meals are created by a team of nutrition specialists and professionals;
Unlike other diets, this is a

more

affordable

choice (still, not a cheap program, though).
Cons
Deliveries are made only once a week;
According to some reviewers, this can be an expensive eating program;
A few users stated they had to quit the program after a couple of months because they couldn't afford it anymore;
Although the meals taste pretty good, they might not look very appealing;
Some dieters claim they got bored with the company's menus after a while.
Cost: this diet plan will cost you around $100 per week or even more, depending on the plan option you choose to purchase.
Learn More About Diet-to-Go Here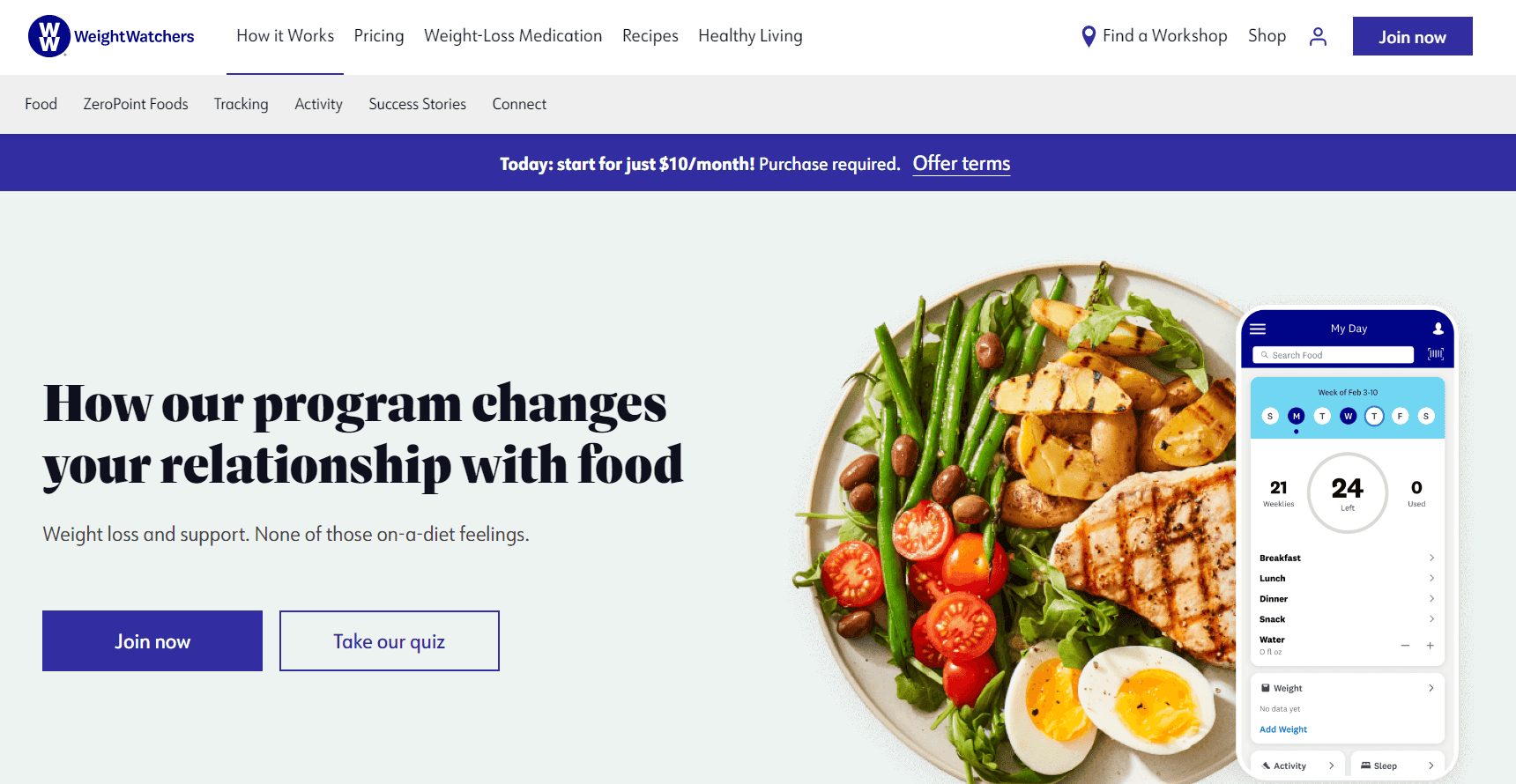 What It Is
This is a very popular and appreciated diet program that focuses on guiding people in their challenging journey of making healthier life choices. Weight Watchers is even supported by celebrities such as Oprah Winfrey. The entire diet is developed on a system which transforms complex nutritional information into points that are nothing else but simple whole numbers.
Then, these points, called SmartPoints, are allocated to Weight Watchers' menu items and the objective is to successfully guide dieters towards a fuller life and a healthier eating pattern. The total food amount recommended for you to consume is based on your body type, measurements, and weight-loss goals.
What You Should Know About It
Menus consist of big portions of

fruits, lean protein, and vegetables

. Also, you will be required to eat less fat and sugar.
The company provides plenty of

online tools such as FitPoints app

, coaches, and even a support community of other dieters who are willing to share their insights with you.
Weight Watchers was initially launched more than 50 years ago, and it was located in Queens, New York.
The company has an impressive member base of

1.1 million users

.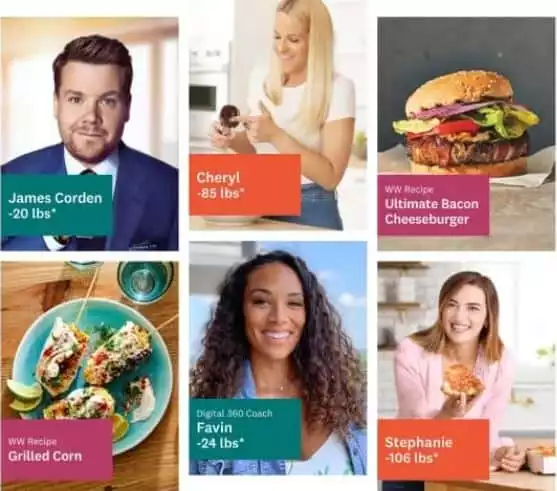 Weight Watchers Diet Plan | Weight Watchers
Eat the foods you love while reaching your weight-loss goals. We are the #1 doctor-recommended weight-loss program.
Join Now
We earn a commission if you click this link and make a purchase at no additional cost to you.
Pros
Their eating plans are developed by true professionals;
Not only will this program help you lose weight, but it will also support you along the way in your quest of living a fuller life;
There's a

free demo version

of the program: you can try the Weight Watchers system free of charge, for a

whole week

;
It is one of the most affordable nutrition programs out there;
In this program, no foods are forbidden so it is a more

flexible

diet;
You will achieve a slow yet steady weight loss.
Cons
The group meetings enabled by the company are not a viable solution for all dieters because some people might not want to share their personal weight-loss data or concerns and frustrations with others;
Counting your earned SmartPoints can be a bit tedious;
There's too much freedom in eating any type of foods you want which might interfere with your weight-loss progress.
Cost: the cost varies depending on the plan you choose to buy. OnlinePlus costs $64.50 for the entire three-month period. OnlinePlus with meetings included is $124.50 for three months. The most expensive plan is the OnlinePlus with coaching included which costs $152.25 for a three-month period.
5.

Medifast Eating Program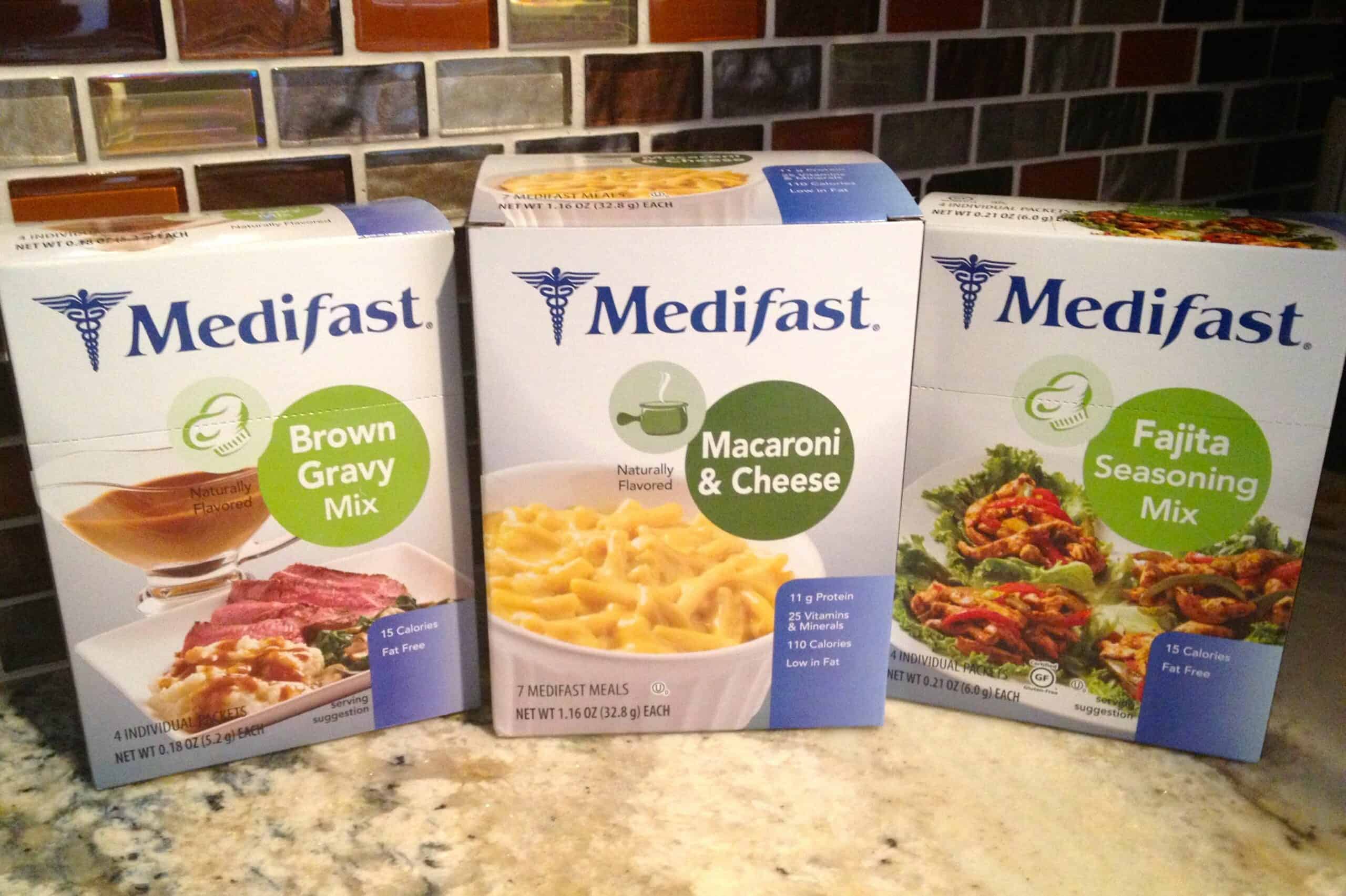 What It Is
In terms of both taste and food quality, Medifast food choices are quite comparable to Nutrisystem. Although the second one provides several frozen meal entrée choices which is definitely a competitive advantage, all in all, these two diet plans are pretty similar. Medifast diet system was created by dieticians, doctors, and other nutrition specialists for weight loss and it has been on the market for quite some time.
Medifast food is more than a simple weight loss solution. Once you become a client, you will receive the meal replacement products that you order from the company. Furthermore, you will learn the proper way to combine foods as well as portion control. (Check out our Medifast vs Nutrisystem Comparison)
What You Should Know About It
This diet plan allows you to eat

six meals per day: three main pre-packaged meals and two snacks

.
The brand sells

more than 70 different prepackaged foods and meal options

as well as a wide range of healthy meal suggestions.
The company's meal replacements contain the following main ingredients: whey protein isolate, canola oil, vitamins, minerals, milk protein concentrate, organic cracked wheat, oat fiber, etc.
There are

three separate phases

that you must follow during this eating program: phase 1 (weight-loss stage), phase 2 (the transition period which lasts six weeks), and phase 3 (lifelong maintenance plan).
Pros
Helps you lose weight while also preserving lean muscle mass;
It is a solid, healthy, safe, and

nutrient-dense eating plan

;
Medifast bars and shakes come in 8 available flavors: chocolate, vanilla, strawberry, mocha, peanut butter, caramel, etc.;
It is a

convenient

eating system and it is very easy to use;
Saves you a lot of time because it doesn't require you to count calories;
Lowers the hunger sensation and acts as an appetite suppressant while also keeping you fuller for a longer period;
It is a

clinically-proven weight-loss solution

.
Cons
Medifast is more expensive than Nutrisystem and costs more than plenty of other similar programs (but check here for promos – as prices change seasonally);
It doesn't provide a lot of variety and you need to include whole foods in your diet as well;
Some users might experience certain unpleasant side effects such as bloating, constipation, etc.
Cost: approximately $300 per month or even more.
6. Jenny Craig Weight-Loss Plan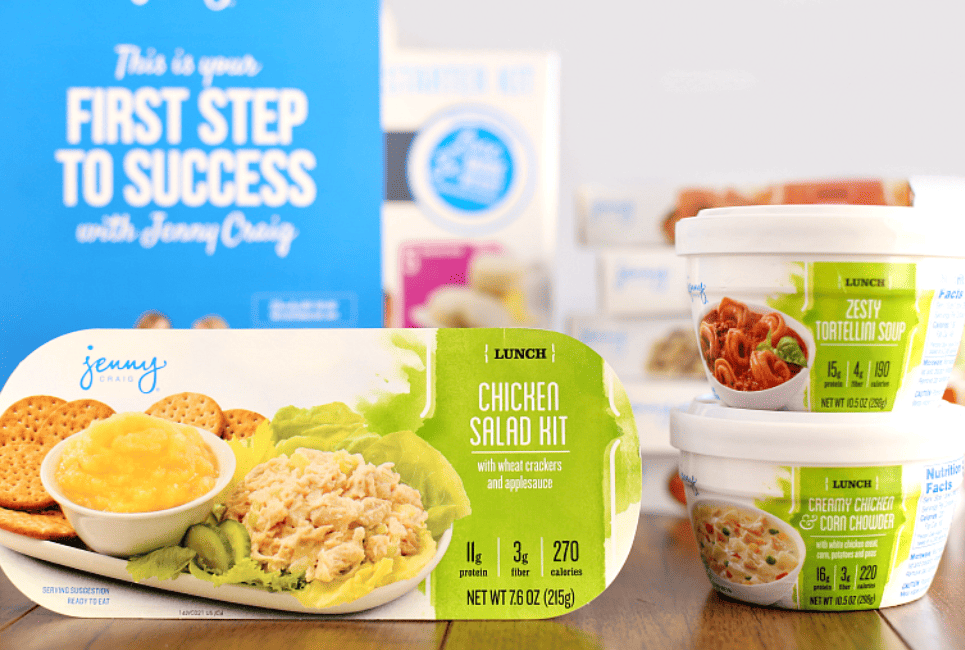 What It Is
This is a popular diet plan that was initially launched in Australia back in 1983. The company has started its operations in the United States in 1985. It is a complex plan that teaches dieters the proper way to lose weight, boost their energy level while also consuming a reduced amount of food. According to Jenny Craig, all these can be easily accomplished through manageable physical activities.
The system was created by Jenny Craig along with his husband. They sold their product to Nestle, in 2006. The menu consists of mostly prepackaged meals and their calories are already counted for you.
What You Should Know About It
The program is developed on

three different levels

:

food

(you will learn how to prepare and cook meals in a healthy way, how to properly choose and purchase only nutritious foods, etc.),

body

(to lose weight you need to eat well but also have an active lifestyle so this program will teach you some effective workout strategies),

mind

(eating healthy and exercising are not enough if you want to have a happy life and achieve a certain level of well-being; this is why Jenny Craig will also teach you how to be positive and surround yourself with supportive people).
The meals' nutritional content consists of

20-25% protein, 20-25% fats, and 50-60% carbohydrates

.
Pros
It is a

convenient

weight-loss program;
The Jenny Craig diet is an

effective

weight-management system;
Dieters will become part of a

support community

;
It is a diet that comes

custom-tailored

to meet each client's needs and personal goals.
Cons
Usually, Jenny Craig meal plans, especially strict ones, don't work as a long-term weight-loss solution, unless you combine them with organic whole foods, regular workouts, and an overall healthy lifestyle;
A few studies have shown that some people might develop binge eating issues because of low-calorie diets;
It is a very expensive eating plan;
It can make you deal with certain side effects like constipation, diarrhea, nausea, and fatigue.
Cost: Jenny Craig dieters can easily end up spending almost $150 per week which means you will have to pay around $600 per month. This is not something that many people are willing to do.
Let's Recap: Best Alternatives to Nutrisystem
If you have already tried Nutrisystem and you're ready for an alternative, I recommend that you consider the BistroMD. Although Nutrisystem is my personal favorite program in terms of meal delivery diets, a comparable option is the one I just proposed. BistroMD is my first choice due to all its perks. More important, it is a low-carb eating plan that produces amazing results.
On the other hand, if money is no object for you, Diet-to-Go is another awesome choice that offers premium level food. When it comes to quality, they are a top-rated diet program.
Our Pick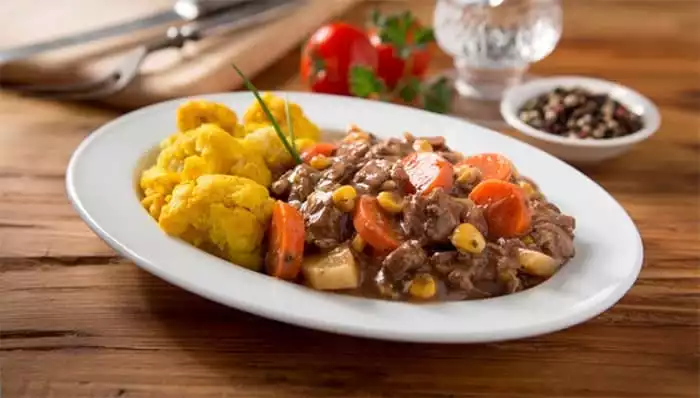 Why I Prefer BistroMD
Put simply, BistroMD has more science and data behind it. They offer CUSTOMIZED meal plans based on your unique health profile, bringing together expert nutritional advice with professional chefs.
See the BistroMD Plans!
We earn a commission if you click this link and make a purchase at no additional cost to you.
Additional Readings
Disclaimer
Last updated: October 23rd, 2020
The information contained on www.altprotein.com website (the "Service") is for general information purposes only.
Alt Protein assumes no responsibility for errors or omissions in the contents on the Service.
In no event shall Alt Protein be liable for any special, direct, indirect, consequential, or incidental damages or any damages whatsoever, whether in an action of contract, negligence or other arising out of or in connection with the use of the Service or the contents of the Service. Alt Protein reserves the right to make additions, deletions, or modification to the contents on the Service at any time without prior notice.
Alt Protein does not warrant that the Service is free of viruses or other harmful components.
Fitness disclaimer
The Service offers health, fitness and nutritional information and is designed for educational purposes only. You should not rely on this information as a substitute for, nor does it replace, professional medical advice, diagnosis, or treatment. If you have any concerns or questions about your health, you should always consult with a physician or other health-care professional.
Do not disregard, avoid or delay obtaining medical or health related advice from your health-care professional because of something you may have read on the Service. The use of any information provided on the Service is solely at your own risk.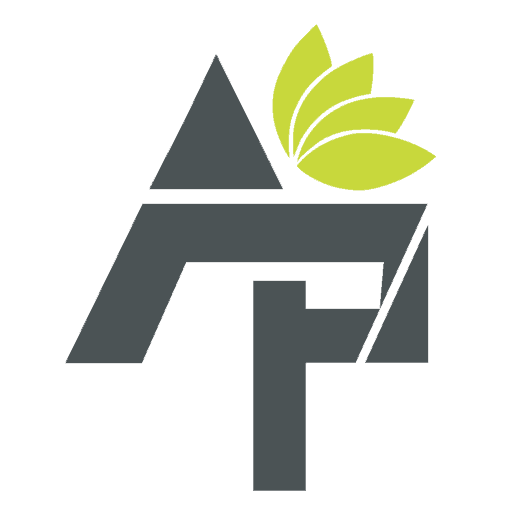 Alt Protein Team is a team of professionals and enthusiasts committed to bringing you the most up-to-date information on alternative protein, health and wellness, workouts, and all things health-related. We've reviewed a lot of products and services so you don't have to guess when you spend your hard-earned money on them. Whether you want to shed some pounds, build lean muscle or bulk, we can help you figure out what you need to do and what you need to have to achieve your goals.