If you're like me and get more exhausted from the meal-prepping portion of your commitment to a healthier lifestyle than the actual workouts, you'll love shopping for the best meal delivery service for fitness.
I started working out at age 15 but didn't bother with the nutrition component until around age 26 (I know…). I was misinformed about what made the biggest difference and thought as long as I worked out, it didn't matter what I ate. Wrong.
Once I learned that lesson the hard way, I had to start planning and cooking my own meals to support my workouts and everyday life. I'm thrilled there are so many meal delivery services to encourage healthy lifestyles and help people reach their fitness goals now.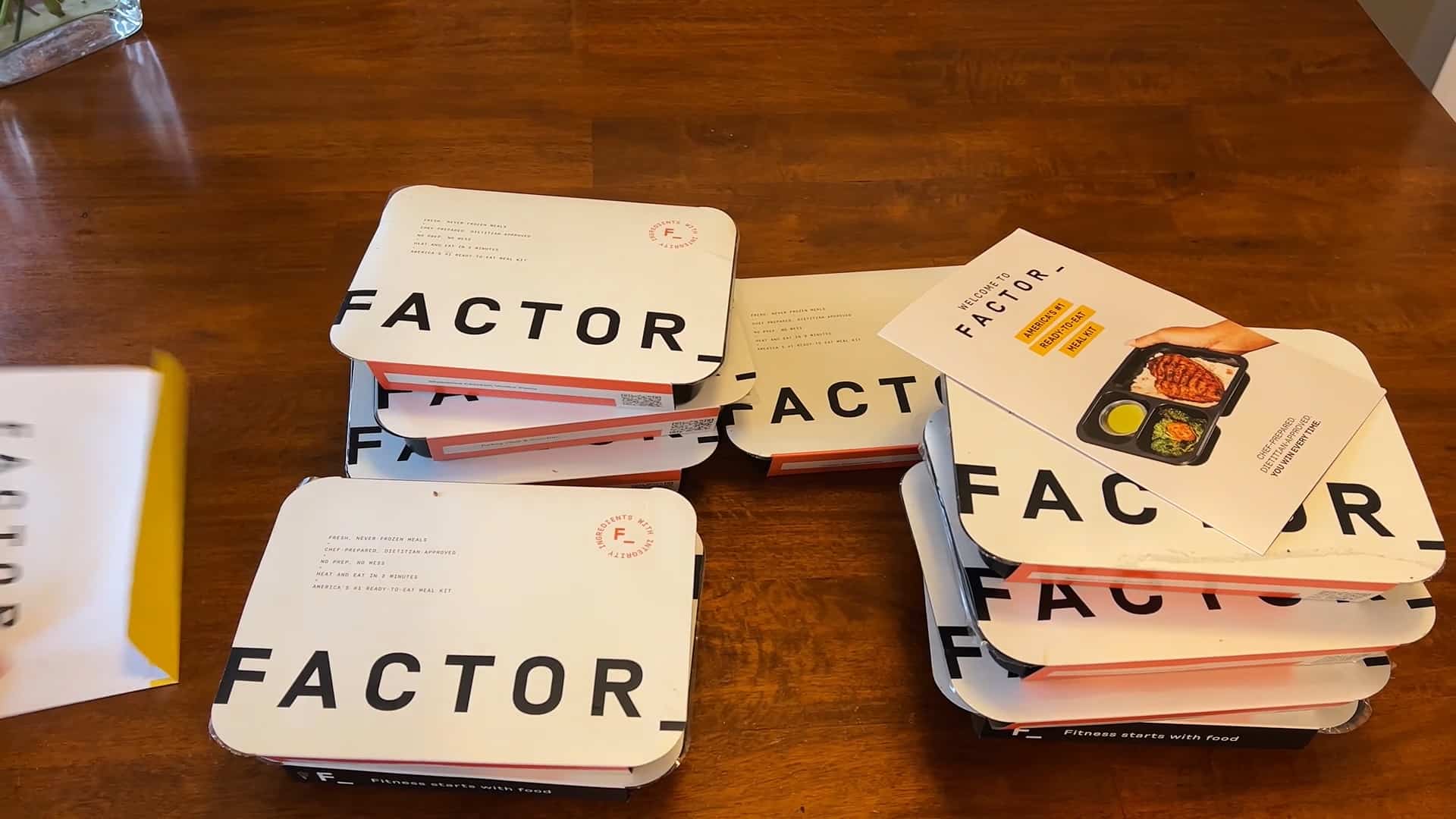 My Top Picks at a Glance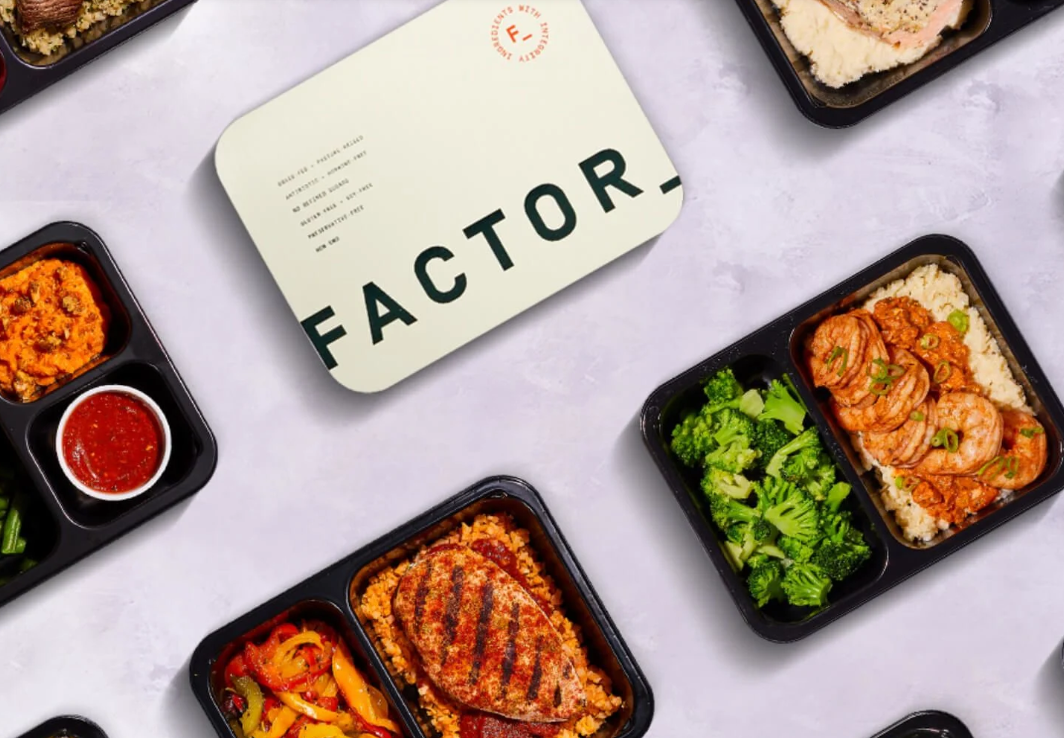 How to Know Which One Is Right for You
What's Your Definition of Fitness?
Are you training for an event? How should you fuel for it?
Do you want to lose weight? Build muscle? Recomp? This will affect your macro count.
Is there a specific type of meal plan you prefer?
Are you trying to eat better to support your body as protection against aging complications?
Just looking for general fitness-friendly meal-prep options because the drive-thru is way too tempting sometimes, or are you counting macros?
Questions to Keep in Mind
Do you need ready-to-eat meals because you're always on the go, or do you enjoy winding down in the kitchen in the evenings?
How do you feel about leftovers?
Are you meticulously tracking your macros, or are you just looking for healthier, lower-calorie choices, possibly with a specific focus (like high protein, low carb, or high fat)?
How I Chose the Best Fitness-Friendly Meal Delivery Services
Because fitness looks different for everyone, I cast a wide net when it comes to the best meal delivery service for fitness. Here are some of the things I looked for:
Variety of meal plans
Prep/cook time
Options for individuals and families
Fresh ingredients, focused on whole foods
Meals that aren't exceptionally high in calories
Reasonable prices for the food you get and how much of the work is done for you
The 9 Best Meal Delivery Services for Fitness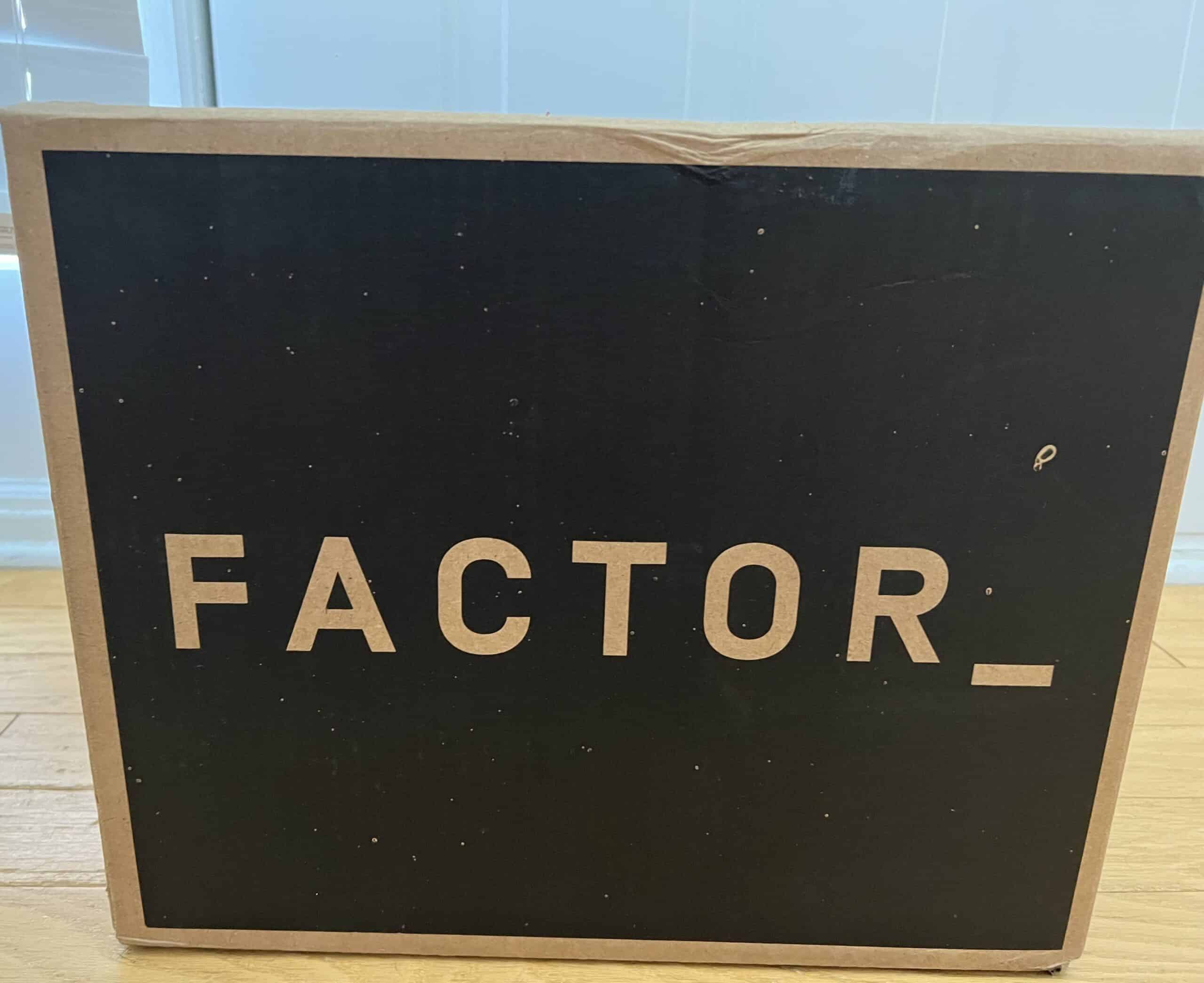 I've been a fan of Factor for quite a while now. They're a good option when you're looking to clean up your diet without any special restrictions (just getting away from less healthy habits, like hitting up the drive-thru at lunch or on the way home after work) or follow a more specific/strategic way of eating to meet your goals. You can order six, eight, 10, 12, 14, or 18 meals at a time, and though they ask for your meal plan preference, you'll still have access to everything.
These meals are individual servings you heat in the microwave or oven in just a few minutes.
Prices start at $10.99/serving.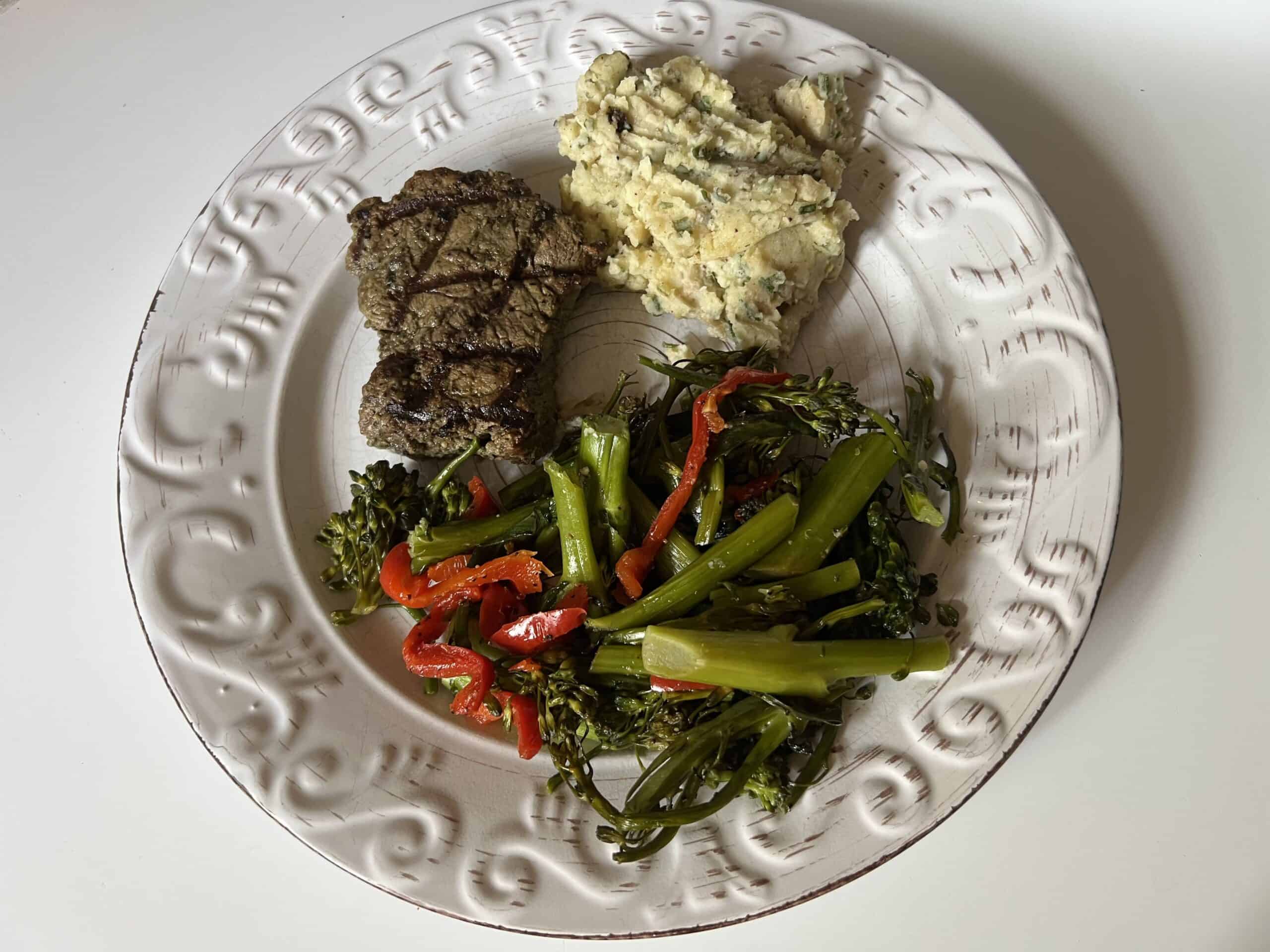 Best for: Individuals, people who don't like to cook, couples, those who want a lot of healthy fats in their diet, and people stepping away from the standard American diet and looking for options that'll keep them full
Available plan options: Keto, Chef's Choice, Calorie Smart, Protein Plus, and Vegan & Veggie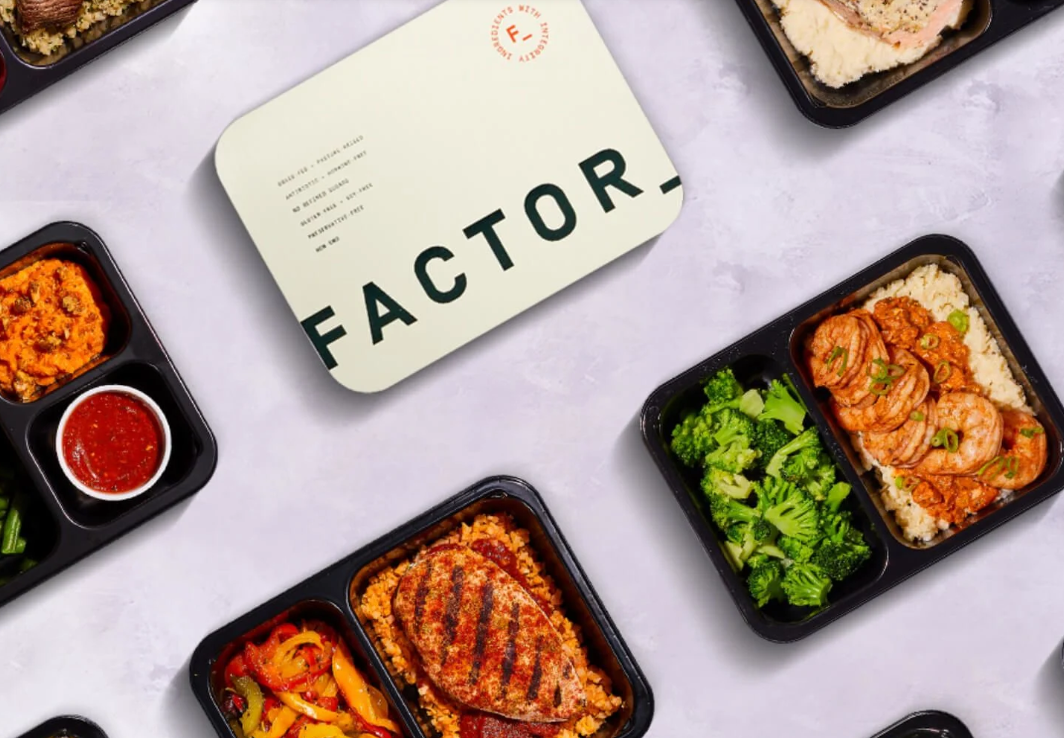 Pros
Every Factor meal I've tried has been delicious, and I've sampled from several different meal plans.
There's no clean-up other than rinsing the trays for recycling.
I stayed full longer with these than some other options.
Most aren't too low or too high in calories. The average is about 550-600 calories per meal.
They're fresh, not frozen, and last up to seven days in the fridge (you'll see an "Enjoy By" date on each meal).
Cons
Depending on your needs, many options could be too high in fat to fit your diet.
These aren't exceptionally high in sodium, but if your doctor has told you to follow a low-sodium diet, you should look elsewhere.
There's a lot of packaging.
I'd like to see more Vegan & Veggie options.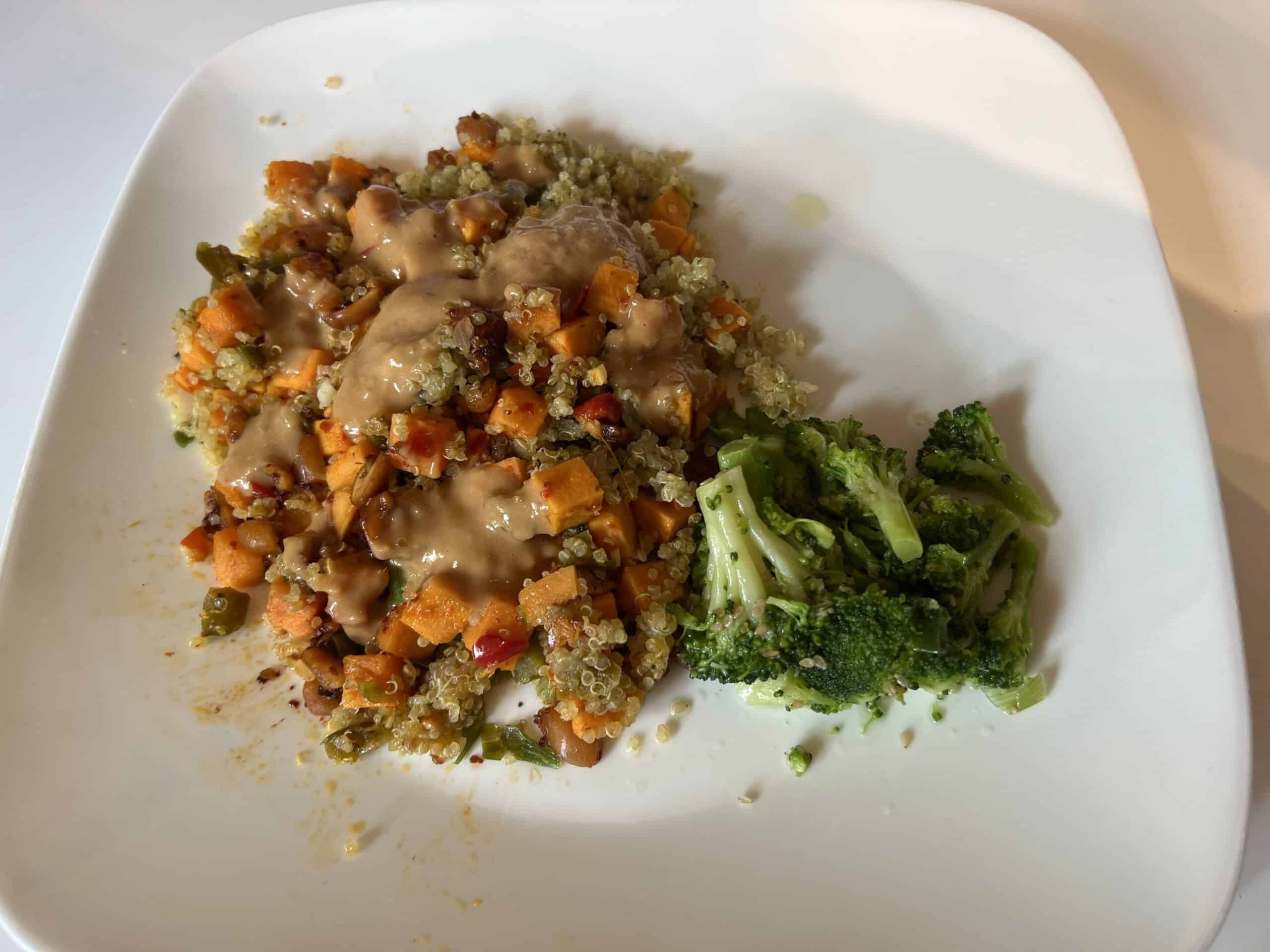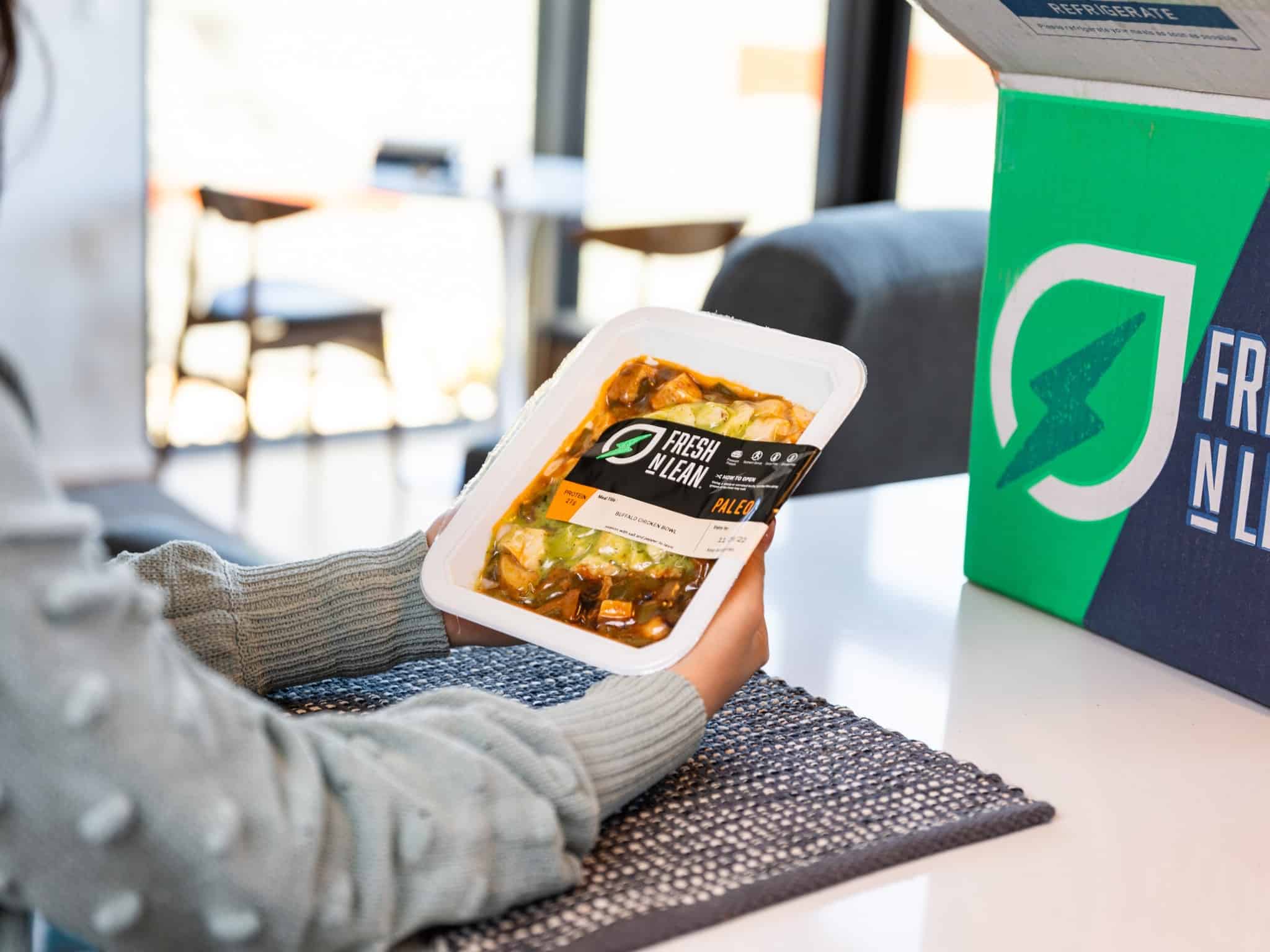 Fresh N Lean sends individual servings in BPA-free plastic (recyclable) trays. You can choose from their meal plans or shop a la carte.
The average calorie range for their meals is about 400-500, and they use organic produce, grass-fed and antibiotic-free meat, free-range poultry, and sustainably caught fish.
Each week brings 100 or more meal choices (across all meal plans, not per).
If you're on the vegan plan, you'll pay about $9.99 per meal. For others, you'll pay about $10.32 to $10.66 per serving.
Best for: Individuals, couples, people who want convenient meals without loads of sodium, and people who want organic, antibiotic-free, non-GMO foods
Available plan options: Protein+, Keto, Paleo, Whole30-Approved, Standard Vegan, Low-Carb Vegan, Mediterranean Diet, and Bulk
Pros
High-quality, organic ingredients
Recyclable packaging
Meals can be frozen for up to two months if you don't eat them in time.
You can keep them in the fridge for seven to 10 days.
Lower in fat and sodium than a lot of alternatives
Plenty of protein-rich options, like Protein+, Paleo, and Whole30-approved.
Cons
There are ways around it, but for the most part, your meals will be limited to your chosen meal plan.
A la carte options are expensive.
There's a lot of packaging.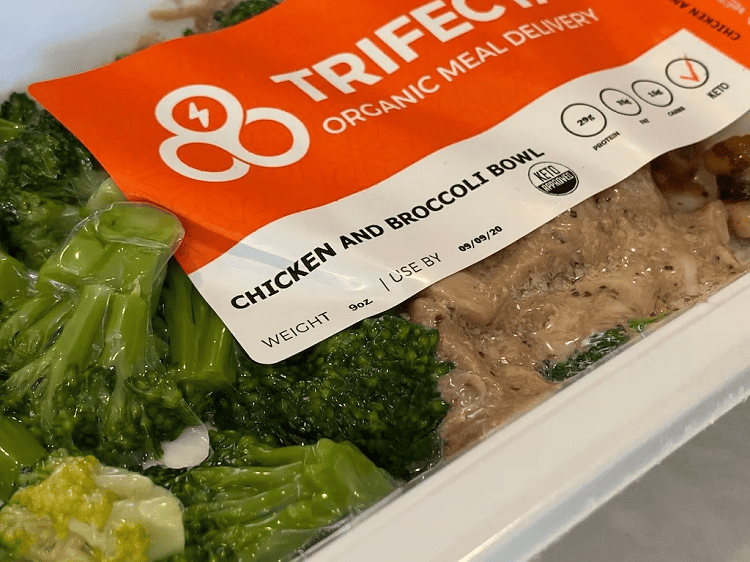 Trifecta wants to know your goals and then help you get there with your meal plan and a community to cheer you on. Trifecta's meals are primarily focused on performance and weight loss.
The meals (individual servings unless you use the Meal Prep section) are cooked and ready to be heated or frozen for later. They'll stay good in the fridge for up to seven days, but you can keep them in the freezer for up to three months.
Seven entrees will cost $110.99 on all plans except plant-based ($104.93), making the average cost per serving $15.43.
Best for: Individuals with serious fitness goals, those who want/need a community to support them in their journey, someone who wants a personalized plan
Available plan options: Clean Meal Plan, Paleo Whole30 Approved Meal. Plan, Keto Meal Plan, Plant-Based Meal Plan
Pros
There's a 100 percent money-back guarantee on your first order (up to seven meals).
The app makes it easy to keep up with your macros and meal plan. Plus, you get daily tasks to complete based on your goals.
You don't have to cook, and there's almost no clean-up required.
The packaging is nearly 100 percent biodegradable.
You can choose your meals or leave it up to the chef.
Trifecta can cover three meals a day for a week if you want. Still, other options (five, seven, or ten entrees, no breakfasts) are available, too.
Cons
They don't have as many weekly options as some other services do. They have 25+ meals per week.
You don't choose your delivery day–it's Friday or Saturday.
Shipping is $9.99 to most states but $49.99 to Alaska and Hawaii.
It may feel too involved for someone who's already got a good handle on their fitness and wants quick and easy meals.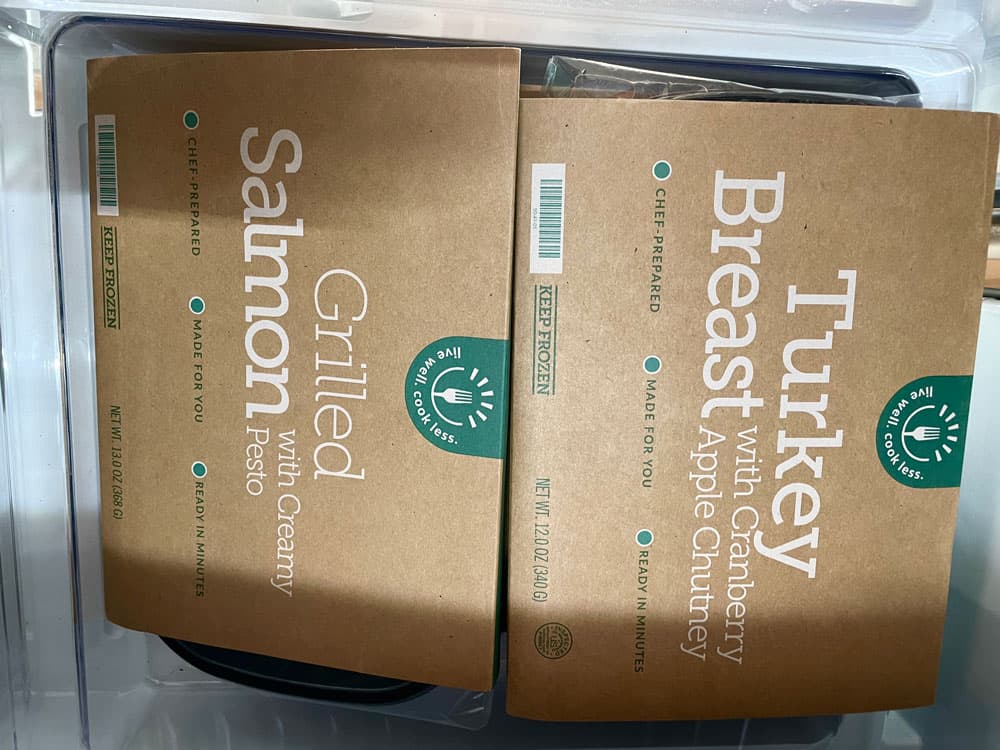 Weight loss is the goal BistroMD's ready to help you with as you improve your fitness. They consider things I haven't seen anywhere else, like menopause. There are other plans, like healthy-eating, diabetes-friendly, and gluten-free. You pick your program and how many meals you want each week, and registered dieticians devise your custom diet plan.
Prices start at $6.59 per serving on your first box, but $10.99 is the regular price (for the full seven-day program, which is the cheapest per-serving option).
Best for: People who want to lose weight, people who need a meal plan for a specific concern (like diabetes) or stage of life (like menopause), someone easing into a fitter lifestyle who wants to focus on diet first and then worry about more strenuous workouts
Available plan options: Signature, Gluten-Free, Menopause, Keto Flex, Heart Healthy, Diabetic, and Vegan
Pros
Women and men have the same plan options, but the meals aren't the same. They're tailored to address specific concerns women and men might have.
There's a lot of lean protein. Forty to 50 percent of the total caloric intake is from protein, which is beneficial when losing fat and maintaining muscle.
BistroMD doesn't buy into the simple message, "Eat less, move more." There's some wisdom in that, but sometimes, a diet needs more tweaking for the best results. These meals are designed to stabilize your blood sugar and fuel your metabolism without making you feel hungry almost as soon as your meal's over.
You get three meals and two snacks per day with the full program. In my experience, this schedule is excellent for keeping energy levels up throughout the day.
I love that they have Keto Flex and Menopause programs. I found the keto lifestyle challenging to maintain and think a less restrictive version that would've kept me on track. The closer I get to perimenopause/menopause, the more aware I am of all the adjustments I may need to make to my lifestyle and diet (thanks, targeted ads). Knowing BistroMD has a plan like this backed by expert knowledge is a comfort.
Cons
The calories might be too low for some people. For example, under the women's section, it shows the daily calorie count will be between 1100 and 1400. The average for men is 1400. If your fitness routine involves lifting weights and you're not sitting all day, this could be on the low end.
If you want to follow a true keto plan, you won't find that here. The Keto Flex option is low-carb but looser with the rules than a traditional keto plan. That's not necessarily bad, but the program might not match your preferences.
The Vegan program has about a quarter of the meal options as other plans (25 lunches and dinners vs. 85 to 150 for the others).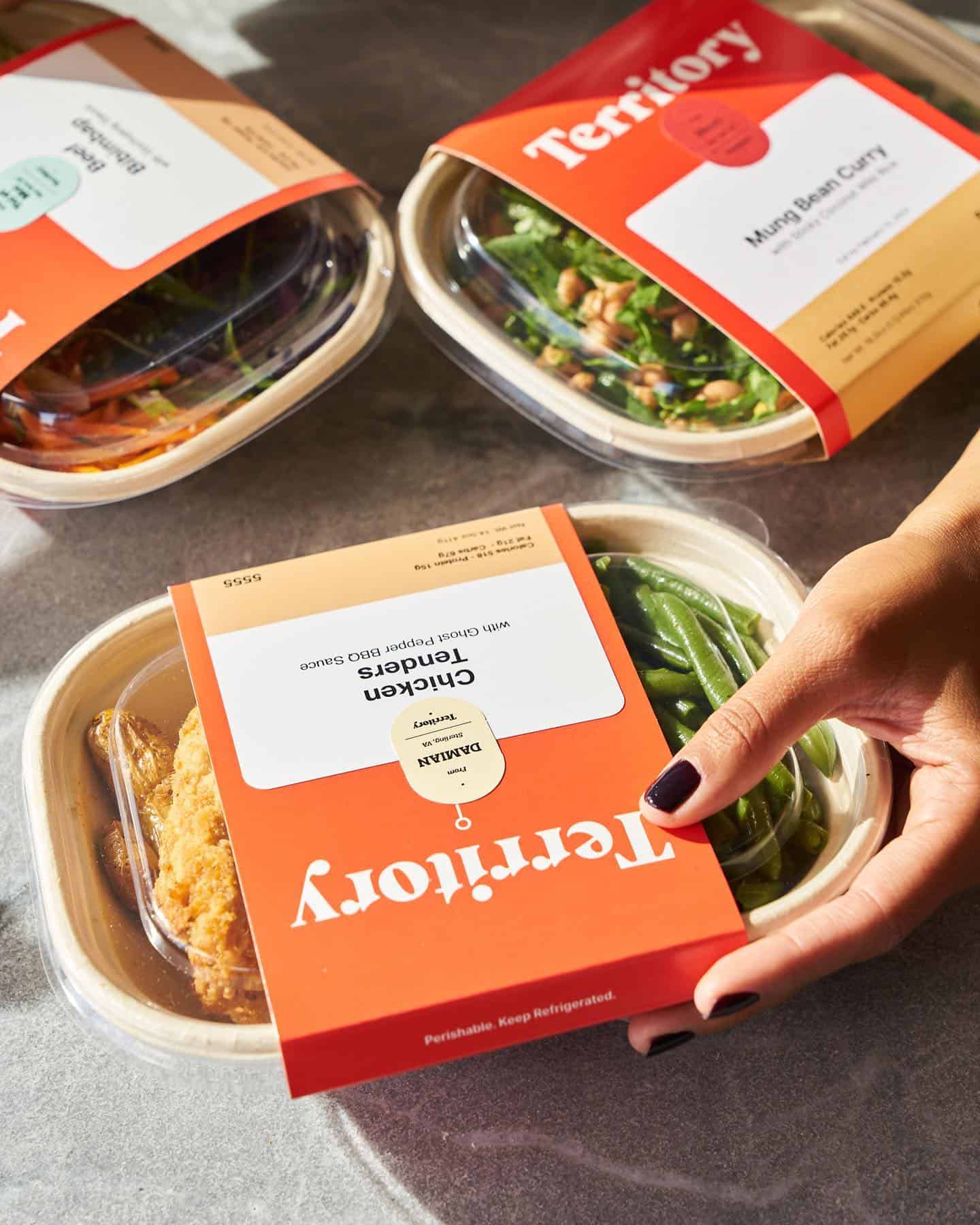 Territory has an astounding number of meal plans. The meals aren't focused on macro counts or anything like that. Instead, they're focused on keeping inflammation to a minimum, being good to the environment, and helping feed the hungry.
Best for: People looking for healthy meals that'll fuel their bodies without needing to focus on the numbers, people who struggle with inflammation, those who are interested in trying out a new way of eating (or maybe a less strict version of one they've already followed)
Available plan options: Paleo, Keto-Friendly, Mixitarian, Plant-Based, Vegetarian, Vegan, Whole30, Low-Fat, Low-Carb, Mediterranean Diet, Pre & Postpartum, Diabetes-Friendly, Ilana, Provenance, Performance, All Meals, Nourish by Orro
Pros
You're not limited to once-a-week deliveries; you can get them twice weekly.
Meals are made without gluten, dairy, or refined sugars.
You can give feedback on the meals so they know what to recommend.
I love the Mixitarian plan because it's Paleo-adjacent but includes some grains, like quinoa, brown rice, and legumes. I like how Territory takes plans known for having strict "rules" and loosens them up. It feels more sustainable, so using Territory to get a handle on healthy foods and portion control as part of your fitter lifestyle can set you up to create your own similar meals.
It's nice to see a pre- & postpartum option, and it's even dairy-free. That's extremely helpful for some breastfeeding moms whose babies are sensitive to dairy.
There's a Whole30 plan. This takes the biggest headache of doing a round of Whole30 (the meal prep) and makes it completely doable. You'll still have cravings and wonder why you're putting yourself through it during some parts (if you've seen the outline in the Whole30 guide or you've already done a round, you know what I mean), but you won't have to deal with those and the cooking part.
Cons
Other options may have more meals, but you still get 50+ here.
You'll need to look elsewhere if you're looking for meals designed around macro counts and similar customizations.
They have a keto-friendly plan but don't guarantee that all meals are appropriate for someone following a strict keto diet. However, you'll find meals with fewer than 15 net carbs on this plan.
This isn't really a "con," but it's something to keep in mind if you're eating their Vegan or Vegetarian plan–you might need to supplement with a protein powder or other protein source of your choosing, which could be an additional cost.
It's expensive. Three-serving "family style" meals are around $22.99 for meat and $11.99 for sides (give or take a few dollars), and individual servings range from $14.99 to $17.99.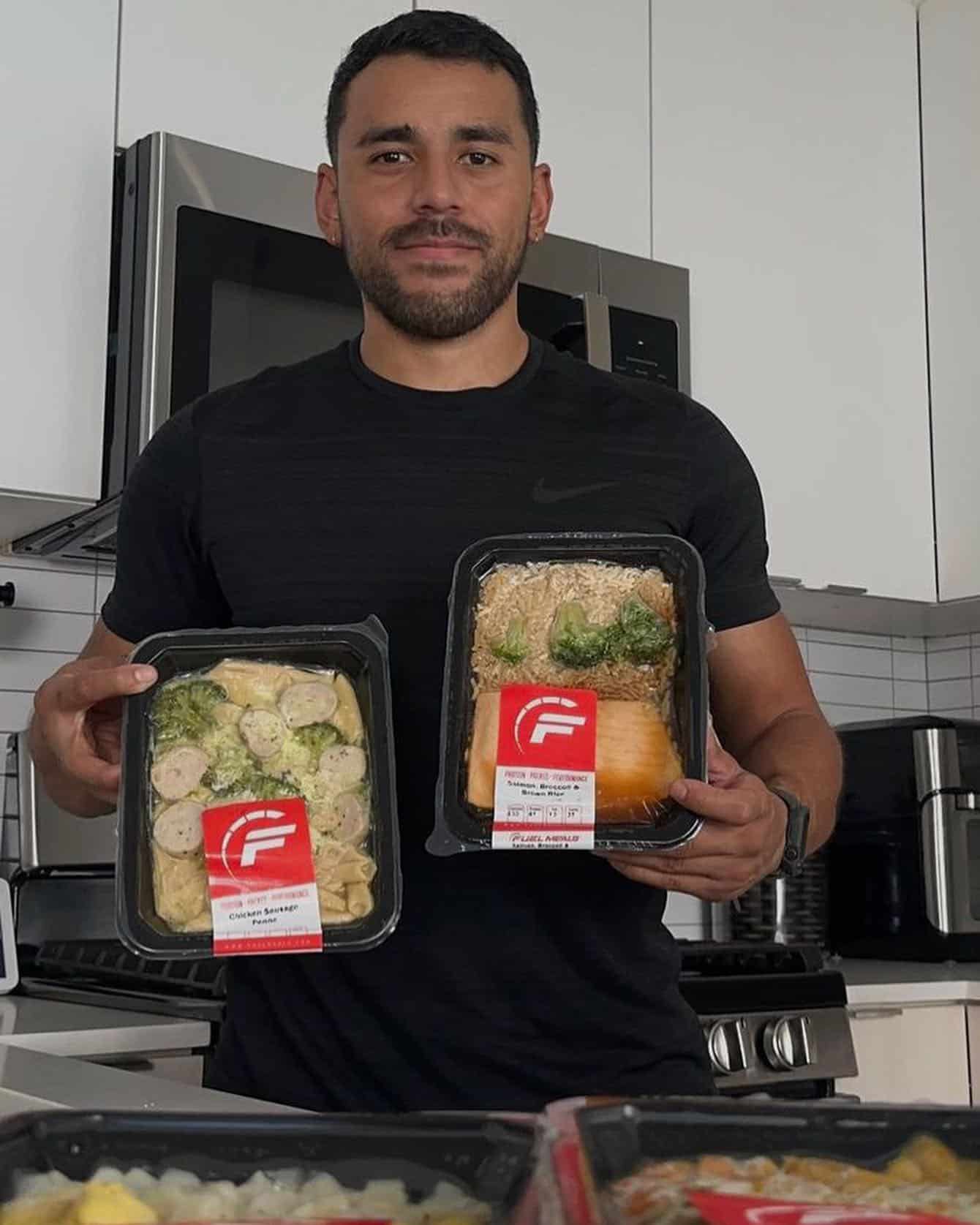 What's interesting about Fuel Meals are their two tracks: Weight Loss and Muscle Gain. You can order entrees, food by the pound, shop the breakfast or snack menus, or get custom meals.
Their meat is hormone- and antibiotic-free, and their fish is wild-caught. In addition, their vegetables are organic and pesticide-free.
Best for: Bodybuilders, people who want to lose weight
Available plan options: Weight Loss, Muscle Gain
Pros
There are separate plans for men and women.
Their chocolate protein brownies have a whopping 24 grams of protein. (They have other snack options with significantly lower protein, carbs, and fat.)
The by-the-pound option makes it easier to customize your meals.
When you need precision in your macro counts, this is an excellent way to get it with minimal effort. Not all macro counts are the same across the meals, but many are within a few grams of each other (mainly where protein is concerned).
You can filter for dairy-free, dairy-free and gluten-free, or gluten-free meals. You can also filter for protein sources you prefer.
They're not exceptionally high in sodium.
Shipping is free on subscription orders.
They deliver to all 50 states and Puerto Rico.
Cons
It doesn't seem customizable, as most of the meals are in the same macro range, so if you need more or fewer calories than what's listed, it could be tough to stick with these meals.
There's not a lot of room for different ways of eating, like vegan/vegetarian, pescatarian, Paleo, or keto. You might be able to do pescatarian or Paleo some weeks, but it'll severely cut down on your options. The site says you can build meals around your dietary requirements, so it's possible, but it may take jumping through more hoops (and possibly spending more money).
It's expensive. Entree prices range from $13.95 to $15.95 per serving.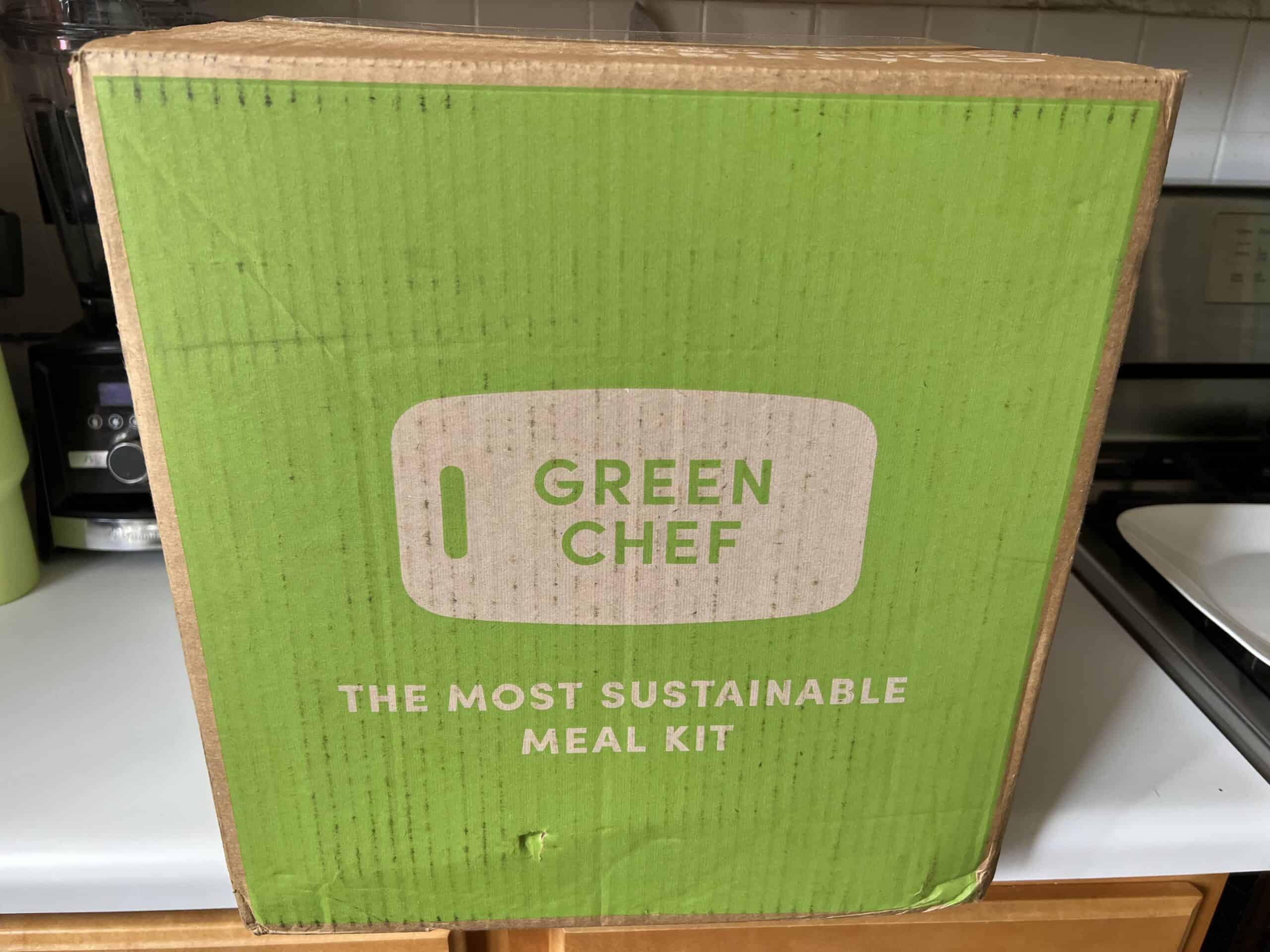 Choose how many servings per recipe you need from two, four, or six. You can order three or four meals if you're going for two or six servings. If you need four servings per meal, you can choose just two meals per week.
I like looking for healthy meals on the Green Chef site because once you click to see the whole weekly menu, you'll see that each meal is labeled with the appropriate labels. It makes it easy to filter through them as you go, choosing meals that fit your goals and lifestyle, but you still get to see everything. That's helpful if they have a meal that wouldn't usually fit your usual guidelines, but you want to be adventurous or splurge a little.
There are so many promo codes and sales, you probably won't pay full price on your first box. For example, the regular price per serving starts at $11.99, but as of this writing, it's automatically making the cost as low as $7.66 per serving.
Best for: Families, people who like to cook, individuals who want to cook once and have leftovers for a couple of days, people who want as much organic produce as possible
Available plan options: Mediterranean, Calorie Smart, Quick & Easy, Plant-Based, Protein-Packed, Keto, Delicious Discoveries, Gluten-Free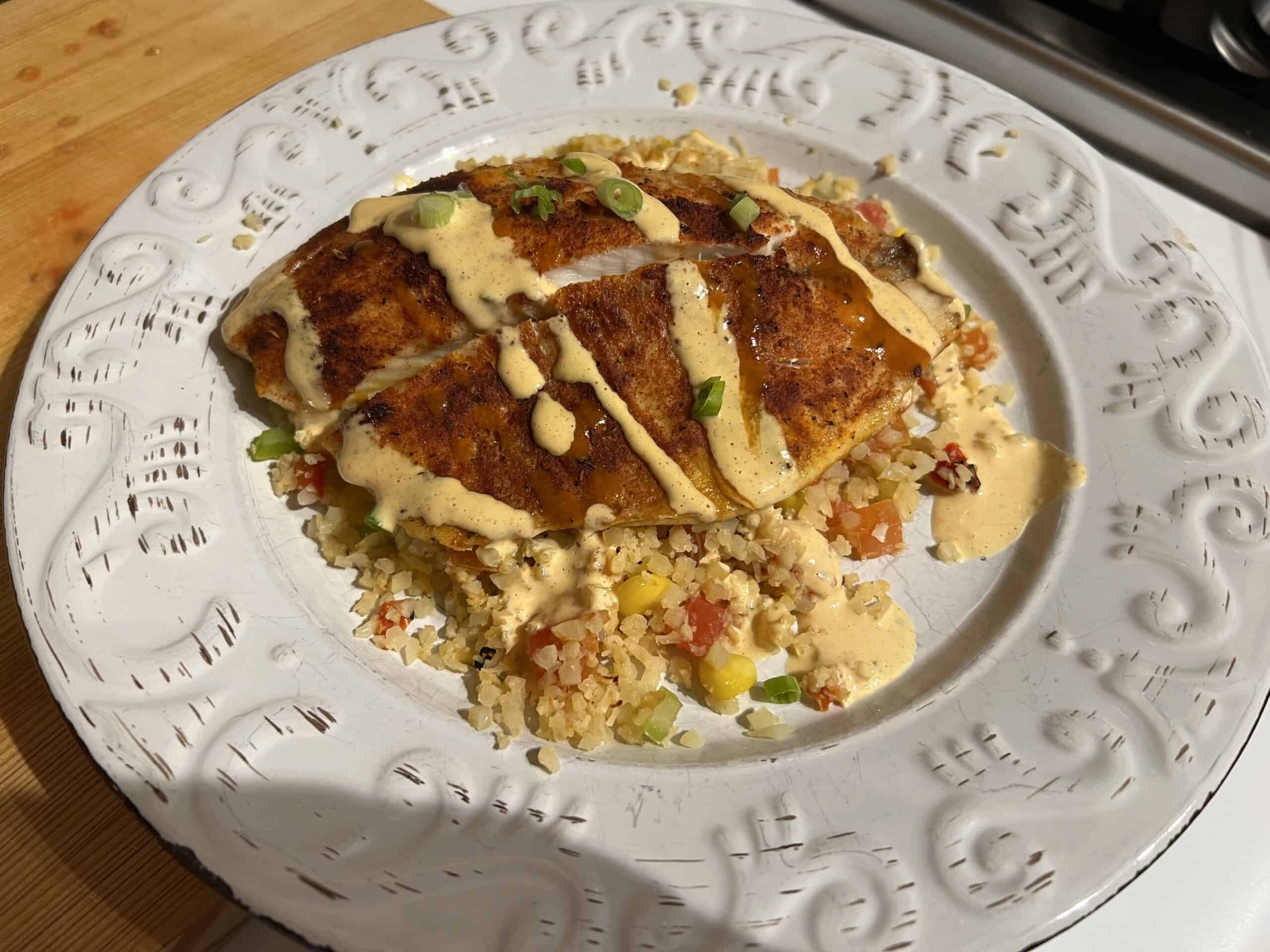 Pros
Balanced, delicious meals
A lot of the prep work is already done for you when the box arrives, which differs from some similar meal kit services.
Doesn't rely heavily on butter and/or salt to make the dishes tasty
Organic ingredients
You can reuse the recipe cards to recreate the meals at home when those meals aren't available from Green Chef, or you're just taking a break from the service. However, it could get tricky with the seasoning and sauces since those are pre-made.
They have quick, easy options for when you're running low on time to make a meal but want something healthy.
Cons
Compared to the others on this list, this will be the most time-consuming because you do need to prep (some) and cook the meals.
With the cooking comes clean-up. I used several pots, pans, bowls, and a cutting board for a few recipes.
Though one person can cook these recipes, having an extra set of hands is helpful. I experienced some hectic moments making one or two of the recipes I tried.
Some meals took longer than the recipe card said they would.
Huel Hot & Savoury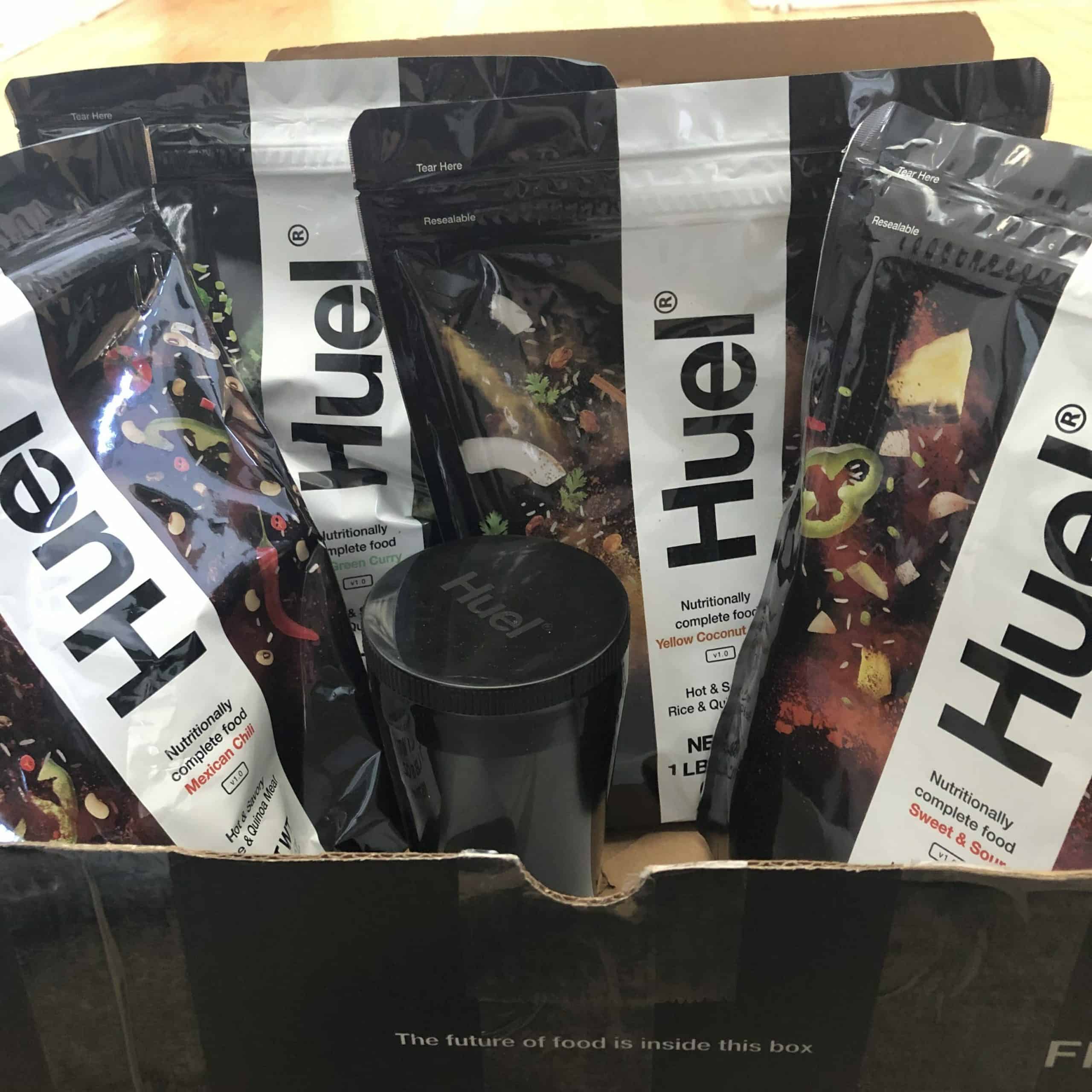 Ever see something and feel intense curiosity and skepticism at the same time? That was Huel Hot & Savoury for me. I just knew I wouldn't like it, but the health benefits and convenience (and the protein, which I struggle to get!) all kept calling me back to a place of curiosity. So I tried it. I was pleasantly surprised.
With Huel's Hot & Savoury line, each meal has about 400 calories, up to 25 grams of plant protein, slow-release carbs, tons of vitamins and minerals, lots of fiber, and a surprising amount of flavor compared to what I expected.
Prices start at $3.76 per serving ($26.30/bag).
Best for: On-the-go, keeping in your desk at work, those who want a quick and easy vegan option
Available plan options: Hot & Savoury Instant Meals, with 10 flavors; each pouch has seven meals. (Other options are available within the Huel line, but for comparison's sake, I'm sticking with the Hot & Savoury line in this article.)
Pros
I can't believe how easy it is to get a healthy meal in the middle of a busy day, but Huel doesn't disappoint.
Several flavors to keep in rotation can keep things interesting for a while, so lunch doesn't start to feel like a chore.
Huel doesn't need to be refrigerated or frozen.
Because you're just scooping from one bag and using your own reusable dish to heat it, there's less packaging to worry about and dispose of.
Plant-based protein
It's formulated for slow-release energy, so you won't crash after eating it.
Even though the calories were low, I felt full.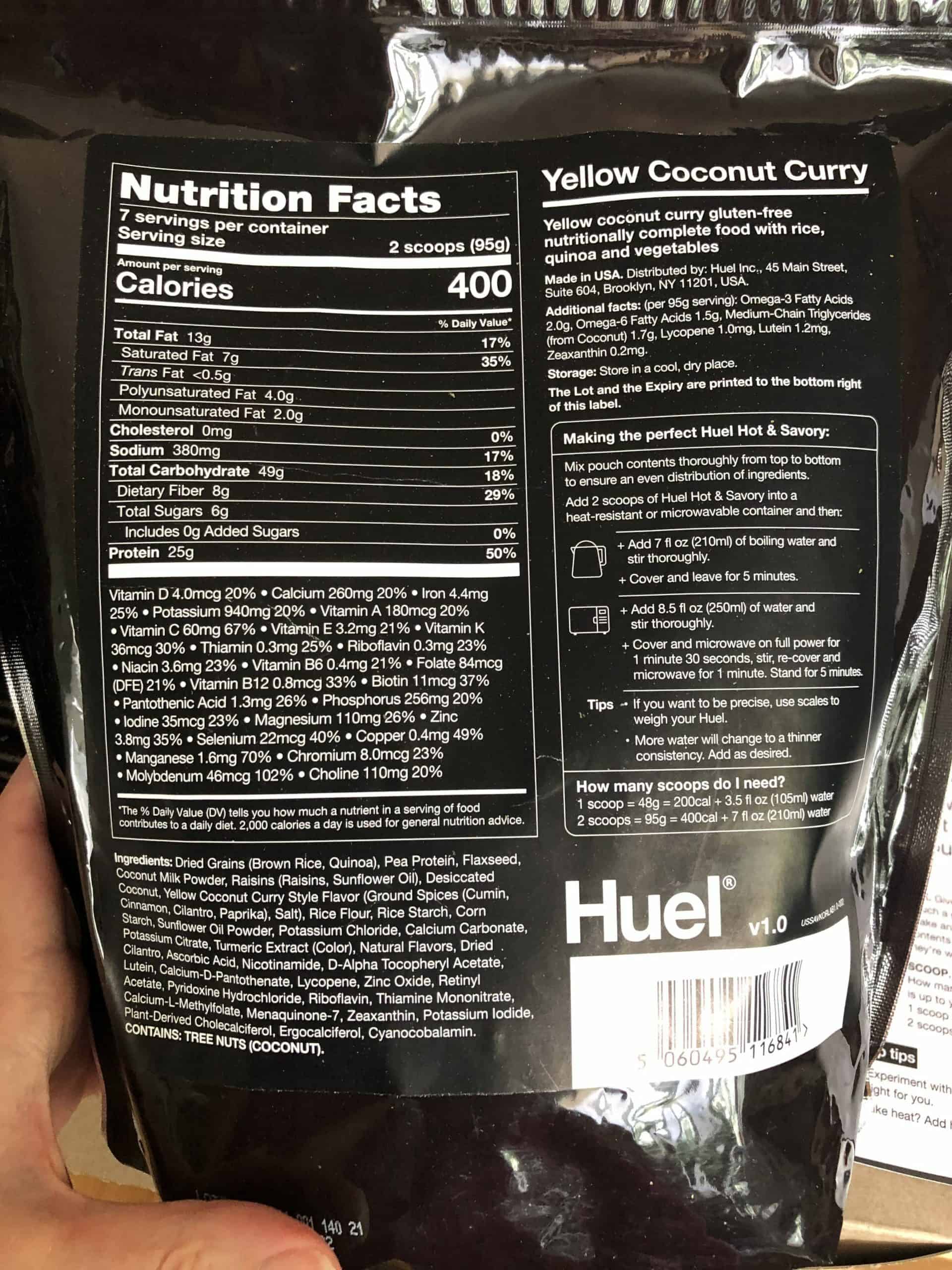 Cons
I wanted more flavor, but if you plan ahead, it's easy to add.
It can get boring if you rely on it often. Even though there are several flavors to choose from that keep it interesting, the textures are similar, and it can start to feel monotonous. They have added some pasta options since I tried it, which helps.
These meals could be too low in calories for some individuals, especially those who are not looking to lose weight.
This is a reach, but you'll have more to clean up than with pre-cooked individual servings like Factor or Fresh N Lean because you'll have to wash the container you heat it in (I used a microwave-safe cup for mine).
ProMeals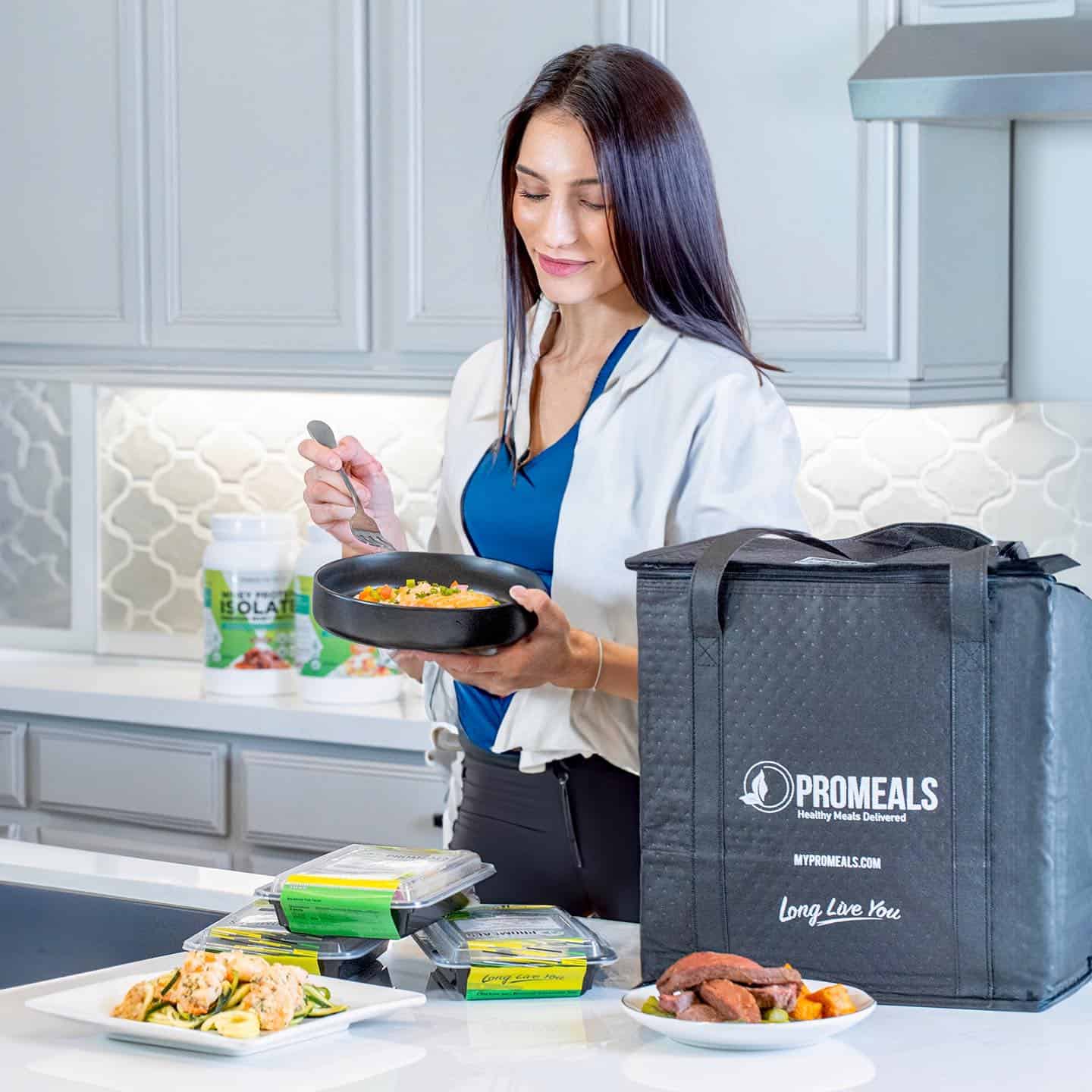 ProMeals is one of the more customizable options. You can still choose a subscription plan and select meals from it (or any of the other ones since you're not locked into one), or you can go the customization route and omit ingredients, add protein, and/or build your own meals that they'll cook up for you. Meals have an average of 400 to 700 calories.
If you go to their locations page, it looks like they only deliver to parts of Texas. However, the bottom of the page says they now offer nationwide shipping.
Best for: People who struggle to get enough protein in to support their workouts, people who want all three meals covered (and maybe some snacks, too), individuals who want to be able to leave specific allergens or ingredients out of their meals, those who wish to have more input on their meals through customization
Available plan options: Low-Calorie, High-Protein, Keto, Plant-Based, Family-Style, and Custom Meals. (There are also cold-pressed juices, healthy snacks, and whey protein isolate.)
Pros
If you'd prefer to avoid certain ingredients or have allergies to worry about, you can have them left out of your meals.
You could cover all three meals, seven days per week, if you wanted to. Other options are available, but if you really don't want to think about what to eat, they'll have you covered.
Shipping is free.
The a la carte menu is a lot like the subscription.
Custom meals are available, starting at $7.50 each.
These menus have a lot of variety, color, and flavor.
Quick turnaround. The site says if you order before 2:00 PM, you'll have your meals the next day.
It's for more than just individuals; they have family-style options, too, which many fitness-focused meal delivery services don't offer.
Cons
Some of the meals may need more calories for some people. For example, the Mango Habanero Chicken and HP Birthday Cake Protein Pancakes have 390 calories each.
Though the prices are reasonable (maybe a little high) overall, the Family Style menu seems pricy. For example, a cooked pound of 96/4 ground beef is $21.00. Parmesan fries are $12.50 per pound.
FAQs
Question: Is HelloFresh good for muscle gain?
Answer: There are better options out there. When building muscle, I look for high-protein options with low-to-moderate fat and carbs per meal. HelloFresh has healthy options, but the macros could be in better proportions for gaining muscle. You could find a few meals to fit your needs, but I wouldn't rely on them long-term with this particular goal.
Question: Are Factor meals good for building muscle?
Answer: Yes, especially if you focus on the Protein Plus category. Some of those meals have 40-50 grams of protein. You'll also have the option to add extra chicken, steak, or fish to your order.
Question: Are meal prep services worth it for bodybuilding?
Answer: Yes. Balancing life and bodybuilding goals takes time and mental and physical energy. Meal prep services can help keep you on track with your macros without enormous demands on your time. If the meals come pre-cooked, even better, because that gives you more time to rest and recover.
Still Not Sure? Start with This One

I will always be a big Factor fan. I recommend it to anyone unsure where to start with meal delivery services when they have fitness goals. I love that the meals are already cooked, delicious, in individual servings, and created with fitness and macro-friendliness in mind. Fresh N Lean is another top-notch option if you know which meal plan you'd like to follow.
Of course, they won't be the perfect solution for everyone.
If you're feeding a family, jump right to Green Chef. Looking for support for a specific health concern while also focusing on fitness? Look to BistroMD or Territory.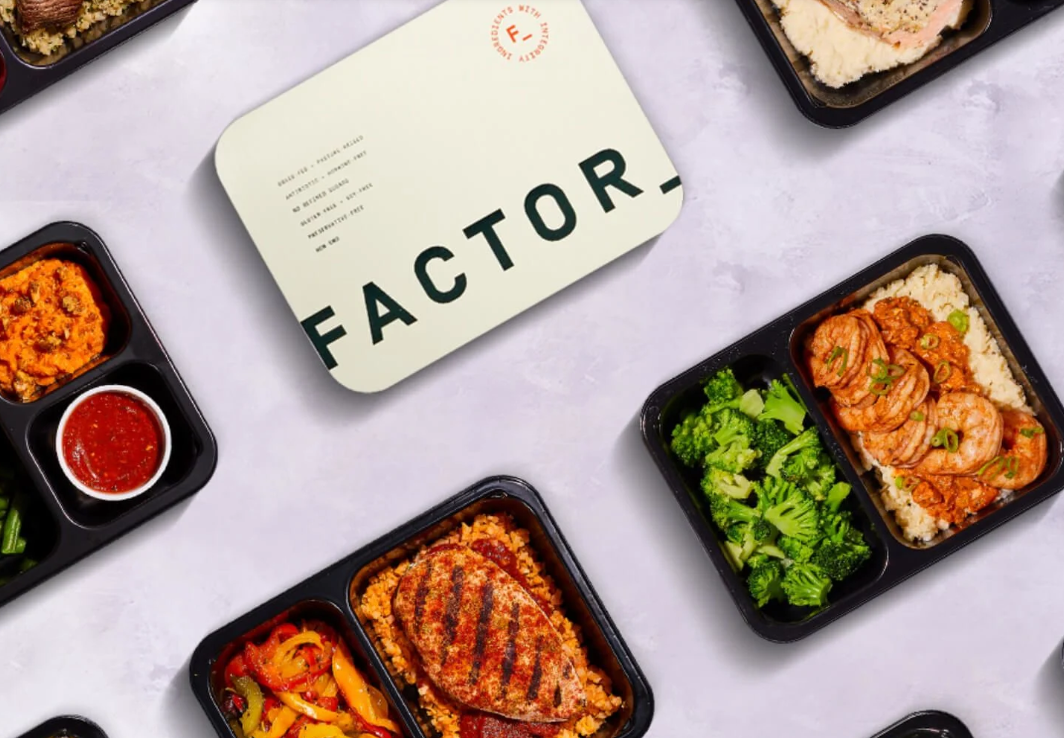 Continue reading:
Metabolic Factor Review: Should You Buy?
The Factor 75 Meal Delivery Service Review You Have to Read
Fresh N Lean vs Factor Compared: I Was Surprised by the Outcome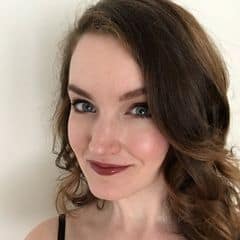 Crystal Schwanke has been on a fitness and health and wellness journey for more than a decade. She used to do wellness-related ghostwriting work and content writing for several well-known websites.
During this time, she tried all the protein powders, meal replacement shakes and mixes, and workout programs. Crystal's favorite way of eating is Paleo(ish) and even when she isn't writing about health and wellness and fitness, she often spends her time researching for the sake of learning. Her goal is to better equip herself so she can build a framework that will allow her to handle anything life throws at her.