If you're following a vegan diet, it's often difficult to find a good source of protein that is both vegan-friendly and provides all the essential amino acids. Most plant-based proteins are lacking in some of the important amino acids, with only a few truly complete proteins available.
Your options for complete proteins are limited to soy and quinoa, or you can mix whole grains with legumes and other plant-based proteins in an attempt to get all the essential amino acids.
Or, you can simply try a protein powder!
Vegan protein powders adhere to the rules of veganism, but they contain a complete amino acid profile that will deliver all the nutrients needed to build muscle. Whether your goal is weight loss, muscle growth, or simply improved overall health, protein powder may be your best way to get more protein in your vegan diet.
Sun Pyramid Raw Vegan Super Food is a protein powder that lines up with your vegan diet, and it's an option to consider if you want to add a protein supplement to your daily menu. Below, you'll find out everything you need to know about it…
About Sun Pyramid Protein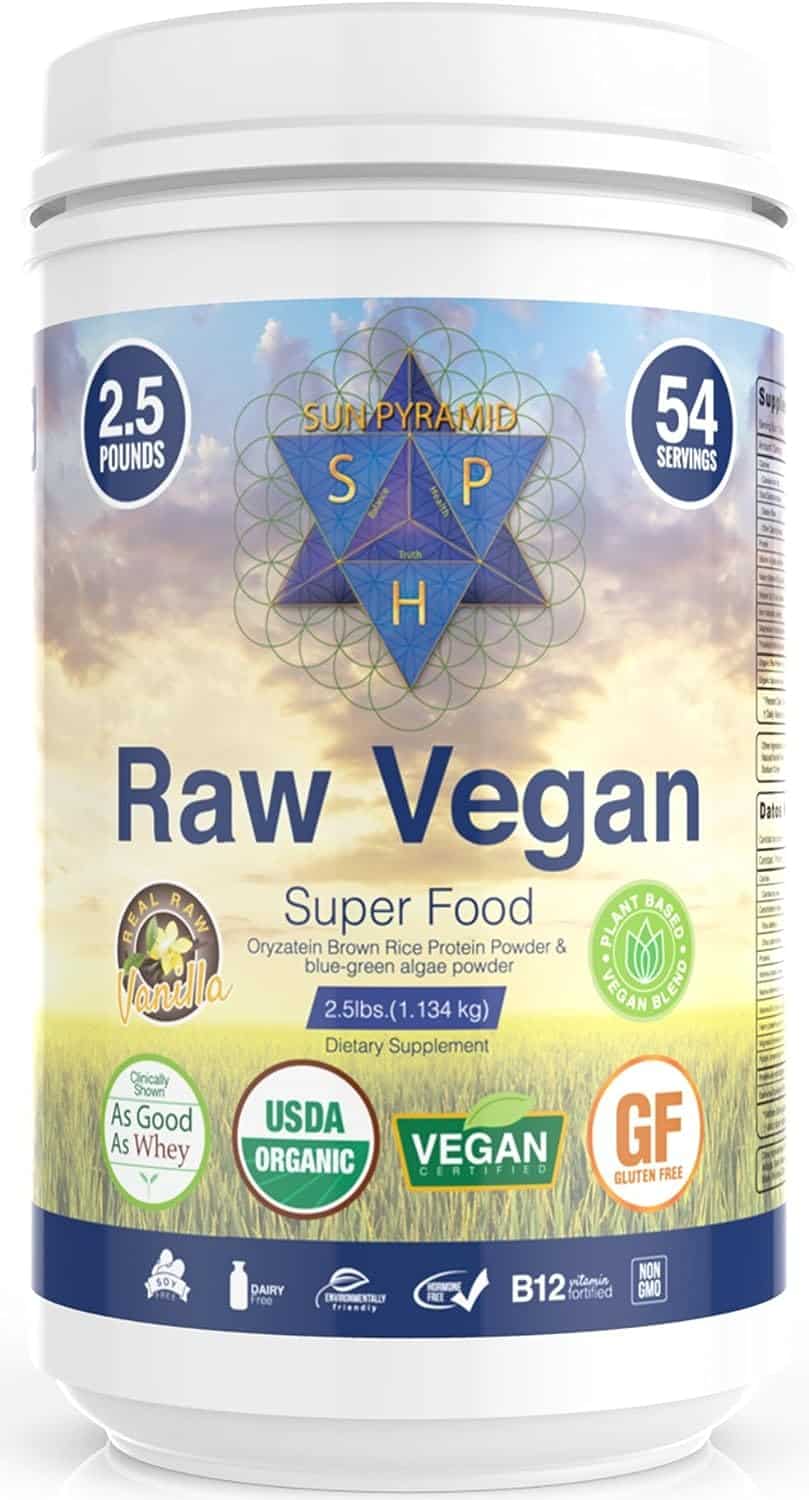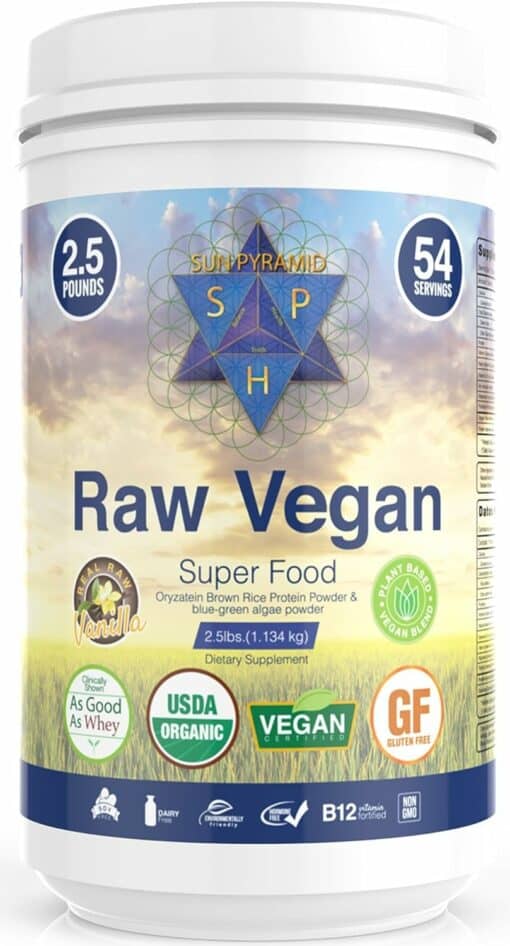 Sun Pyramid Protein is a protein powder made from brown rice, with Vitamin B12 and spirulina algae as two of the ingredients to help round out the nutritional profile. It contains all the amino acids needed for muscle building, but it's a fully vegan option that is great for those who are also trying to follow a Raw Diet.
The minimally processed protein powder is Raw Diet-friendly, and it will be a good way to increase your protein intake on a vegan diet. This isn't only designed as a muscle-building supplement, but it can be used as a meal replacement for those who are trying to cut back on calories. It has a very low-calorie content per scoop, making it a much better choice than the higher-calorie whey or egg protein powders.
Key Features
Ingredients: Brown rice, spirulina algae, Vitamin B12
Made with high-quality, minimally processed ingredients
Certified Organic
Free of gluten, soy, dairy, and non-GMO
Contains no artificial ingredients or chemicals
74 calories per serving
Container size: 2.5 pounds
Price: $25.73 (For the latest prices and discounts, check here)
Specifications
One of the things that make this protein powder such a great choice is the fact that it's made from brown rice and spirulina algae. While casein and whey protein (milk products) can be hard on the digestive system, brown rice and spirulina are wonderfully easy to digest. This is a protein powder that is very unlikely to cause the side effects (indigestion, lactose sensitivity, etc.) common with whey protein powder.
For vegans, this is one of the best protein powders around. It's not too high-priced, but it has an excellent nutritional profile, and will deliver a healthy dose of protein. It's great for those with a soy allergy, as its ingredients are hypoallergenic and thus safe for everyone to use.
The Pros
Here are a few of the positive things users have had to say about Sun Pyramid Protein:
"It is low carb, low calories, low fat and high in protein as well as vitamins and minerals which is exactly what I was looking for!"
"All essential amino acids needed for building and maintaining muscle, even with low-calorie diets. If you're looking to stay lean and get muscle definition, the calorie count on this powder is reasonable and no sugar."
"Easy to blend and works great with milk, almond milk and good old strawberries and bananas – I also tried it with orange juice."
"The biggest benefit to this, besides being palatable in taste, is the greens. It is very convenient to have them as part of a high protein shake breakfast!"
The Cons
As with any product, there are drawbacks to Sun Pyramid Protein:
"The first time I tasted it, it was a bit hard to take in. I believe the blue-green algae was to blame."
"The vanilla taste wasn't as strong of a vanilla flavor as I would've expected or compared it to other competitors."
"Even though this powder is very fine, when you mix it in a smoothie it almost has a gritty, grainy texture. It was really hard to chug down that fruit smoothie to be honest merely because of the texture alone."
Other Vegan Options
If you're not certain Sun Pyramid Protein is the best choice for you, here are a few alternatives to consider: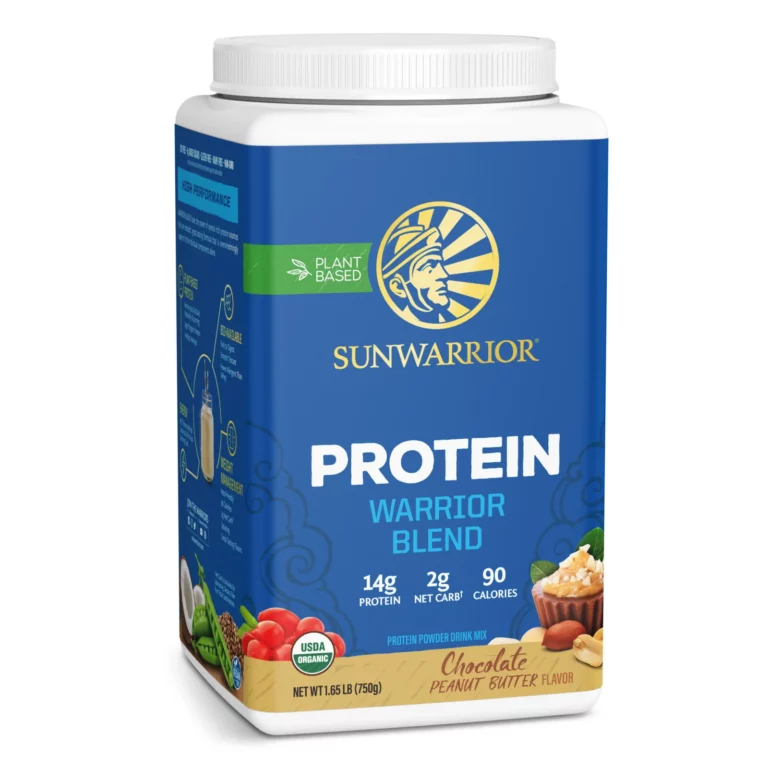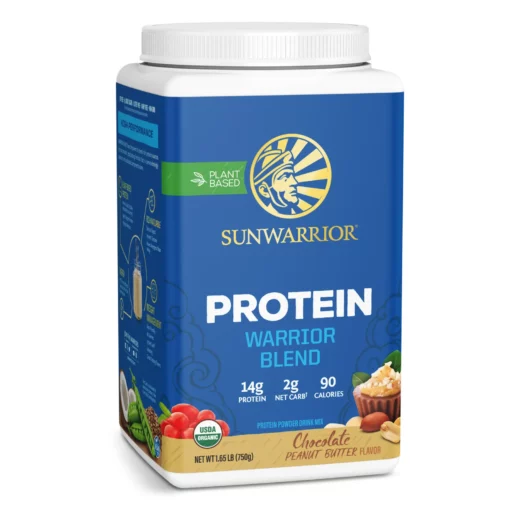 This Raw, plant-based protein powder is an excellent option for vegans who are looking for a wide variety of proteins. It's made from organic pea, hemp seed, and cranberry, and has added BCAAs and plenty of medium-chain triglycerides (from the coconut oil) to make it a healthy option. The nutritional profile is excellent, and you get a solid 19 grams of plant-based protein per scoop.
The natural chocolate flavor is one you can't help but love. However, it's a pricey vegan protein! You end up paying around $45 (For the latest prices and discounts, check here) for just over 2 pounds of the powder. Still, if you want high quality and a good balance of nutrients, it's worth considering.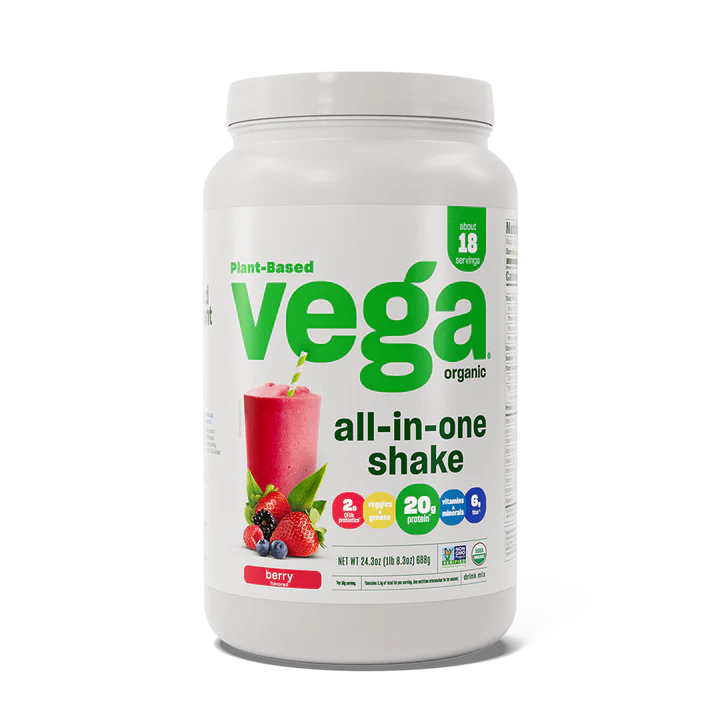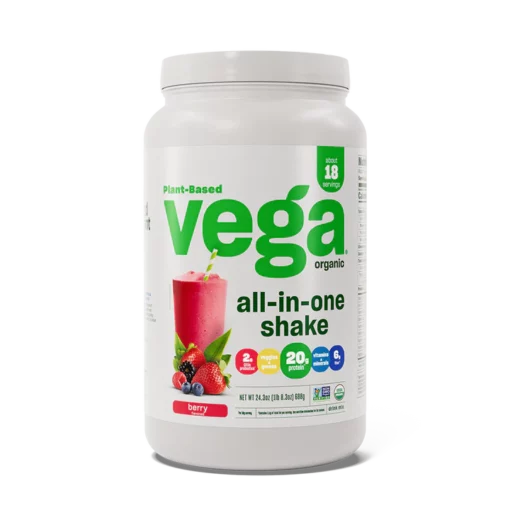 Yet another excellent option for those who want plant-based protein for their vegan diet. The protein comes from hemp seed, flax seed, peas, and SaviSeed, giving you a complete amino acid profile. You also get six servings of greens per serving of protein powder, along with 50% of the vitamins and minerals you need each day.
It's more than just a protein powder–it's a meal replacement supplement that will be just what you need to keep your calorie intake in check. With just 160 calories per serving, it's a very diet-friendly option. However, be prepared to pay a high price–$51 (For the latest prices and discounts, check here) for less than 2 pounds.
You can also check out my Vega One comparison to Shakeology where I give more details on why I think Vega One is a powerful choice.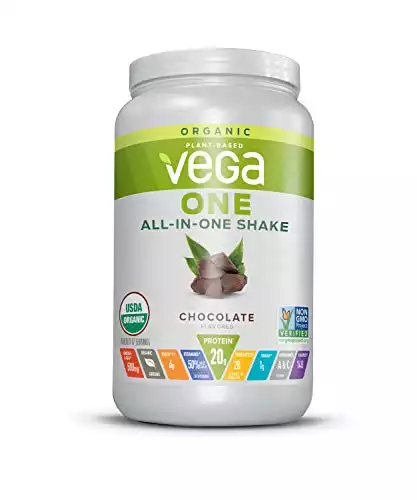 If you want a well-priced protein powder, this is a good option to consider. It's a bit pricier than the Sun Pyramid protein ($21 for 2 pounds versus $25 for 2.5 pounds), but you get delicious flavors like creamy chocolate fudge. The protein comes from chia seed, brown rice, hemp, and peas, making it a well-balanced protein powder that delivers.
It's a great option for vegan bodybuilders who need more protein and calories in their diet, as you get 21 grams of protein per scoop. With 3 grams of net carbs and no added sugar, it's a healthy, well-balanced product worth the price. Check out my full review of Orgain Organic Protein Plant Based Powder for more details and insights.
The Final Scoop
Sun Pyramid Protein is an option you'd do well to consider if you're looking for a protein powder to match your vegan diet and lifestyle. It may not be the best-tasting protein powder on the market, but you'll find that it blends well, delivers an excellent balance of nutrients, and keeps you fit, full, and happy.
Thanks to the Vitamin B12, you can boost your metabolism and keep your body working well even without animal proteins. The protein powder is just what you need, and it's sold at a price you're more than happy to pay. Definitely one of the best vegan protein powders on the market!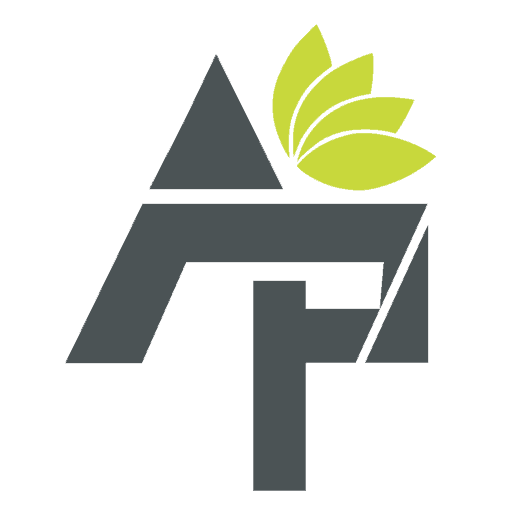 Alt Protein Team is a team of professionals and enthusiasts committed to bringing you the most up-to-date information on alternative protein, health and wellness, workouts, and all things health-related. We've reviewed a lot of products and services so you don't have to guess when you spend your hard-earned money on them. Whether you want to shed some pounds, build lean muscle or bulk, we can help you figure out what you need to do and what you need to have to achieve your goals.