Most have encountered foods that claim to be gluten-free, given the trend towards increased health awareness. Whether you have an ailment that prevents you from consuming it or want to take steps toward nurturing your body on the right path, cutting gluten can be wise. Gluten is an umbrella term for various proteins naturally found in grain products such as wheat or barley. It gives bread a desirable chewy texture that people are accustomed to.
That's why when you switch to gluten-free bread, you will notice a tremendous difference that might not be favorable. But what about meals in general? Is it possible to have a delicious gluten-free meal and live according to the standards of that lifestyle? Shopping for the right products can be challenging, but having them delivered to your door with a convenient gluten-free meal delivery service is ideal.
Shifting your direction against consuming foods with gluten will inevitably turn your life around for the better in most cases. Remember that gluten in moderate amounts also yields some perceived benefits when consuming whole grains to deter events like heart attack and stroke. Still, it's worth trying a diet free of gluten to see if you notice any prominent differences in your mood & overall health.
There are many gluten-free meal kit services, but a few stand out from the rest. I am here as your advisor & confidant to reveal the best of the bunch. With my expertise and these healthful options, you can make an informed decision and get on track to wellness without gluten weighing you down. Let's explore them together, and I guarantee you'll find something conducive to a gluten-free lifestyle that doesn't sacrifice the taste!
Interested in finding a diet plan that actually works for you? Read our guide: How to Find the Best Diet Plan
Bottom Line Up Front
The gluten-free diet is challenging to sustain, but with these best meal kit delivery services, you can keep up with the demands of your new diet and thrive. There are various brands to try, and I have chosen the best ones possible based on the reviews, efficiency & overall ingredient quality.
The gluten-free meal kit options include Green Chef, ModifyHealth, Epicured, Splendid Spoon, Snap Kitchen, The Good Kitchen, Magic Kitchen, & Bistro MD. Of course, there are others to explore, but these are excellent options when pursuing a gluten-free lifestyle. Each has its subtleties and will influence your decision, and here they are compared for your convenience.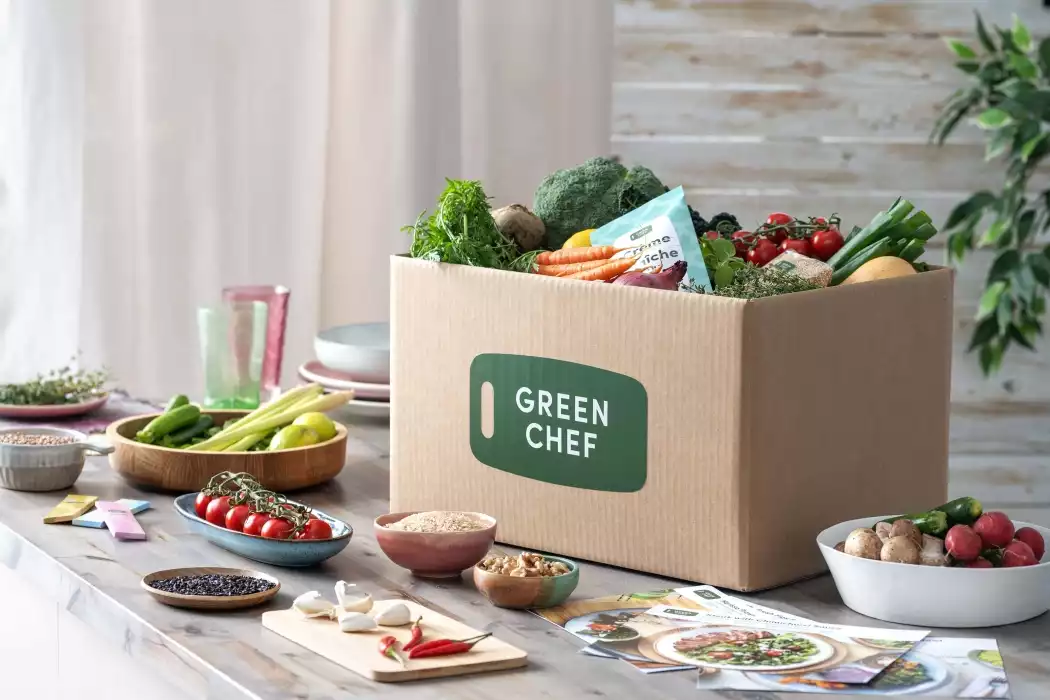 Where Health Meets Flavor | Green Chef
Chef-crafted recipes that tempt your taste buds, made with clean ingredients that nourish your body.
Get Started
We earn a commission if you click this link and make a purchase at no additional cost to you.
Selection Criteria
For your reference, you should understand my selection process for these gluten-free meal services to gain perspective and confidence when settling on your perfect choice. Here, I will expound on my selection criteria, so you have more certainty when choosing one and can perceive my deliberation process. After all, we each choose things differently based on various factors, so let's list them to thrive together in the commitment to a more refreshing life, and it starts with what you put in your body. Here are the selection criteria for these best gluten-free meal services so you can make an appropriate choice!
All services need to have gluten-free or primarily gluten-free options.

The food must be prepared with integrity in light of the gluten-free diet.

Ingredients must be fresh with substantial nutrients & nurture overall wellness.

These meal kit services must adapt to different lifestyle choices and have some flexibility.

The gluten-free community must have good opinionated reviews for these meal services.

All services save you time & energy pursuing the gluten-free diet with standard grocery shopping.

Gluten-free meal kits must have a high standard when it comes to customer service & quality.
Our Top Gluten-Free Meal Delivery Services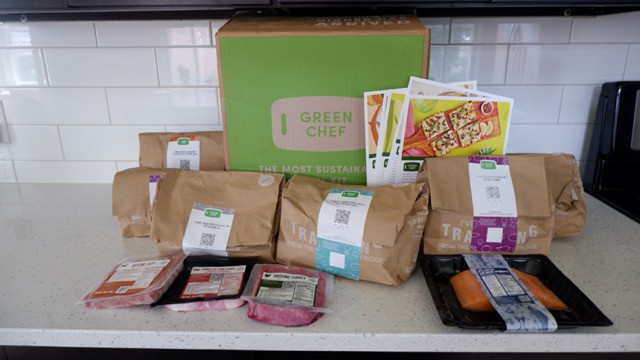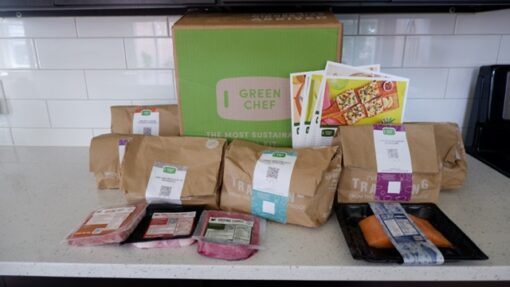 Green Chef isn't your standard gluten-free meal service and stands out among the rest as the top choice for many people thanks to the high quality and nutrient-rich foods offered. The price is higher, but Green Chef is the way to go if you're a conscientious eater or trying to make positive changes to your diet.
I enjoyed every meal and felt the health benefits flowing through my veins having increased energy and focus with cleaner food that doesn't pollute the body or mind. You will get the premeasured ingredients to reduce waste and craft some excellent meals at home that are gluten-free and full of enriching nutritious compounds. It is primarily organic and caters to those who wish to cut gluten out of their diet.
They are proud to be the "first meal kit company on the market to receive an official Gluten-Free Certification and are true experts in delicious gluten-free meal prep." Green Chef takes the hassle out of going to the store and finding elusive ingredients while reducing the temptation of buying garbage that slowly poisons you. They know how to craft meals to nurture your health because they care about the final result.
Cost
Two Servings
Three meals a week:

$13

Four meals a week:

$13
Four Servings
Two meals a week:

$13

Three meals a week:

$12

Four meals a week:

$12
Six Servings
Three meals a week:

$12

Four meals a week:

$12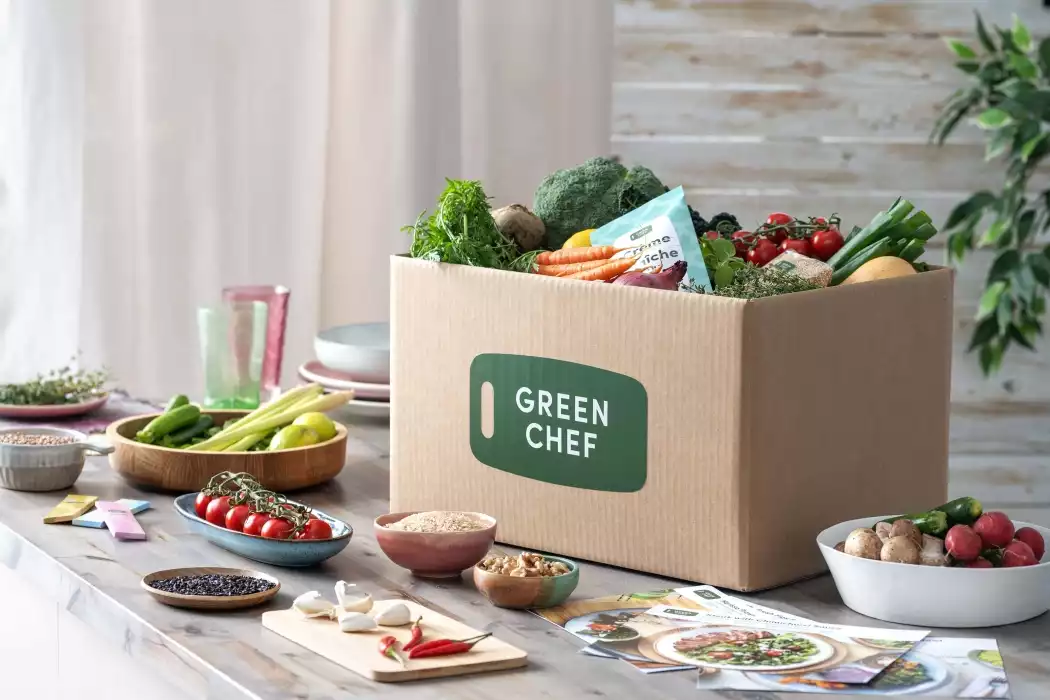 Where Health Meets Flavor | Green Chef
Chef-crafted recipes that tempt your taste buds, made with clean ingredients that nourish your body.
Get Started
We earn a commission if you click this link and make a purchase at no additional cost to you.
Pros
It helps you adapt your needs to a particular diet with comprehensive meal plans.

The taste is delicious and encourages you to keep eating healthy psychologically.

Certified organic ingredients, although not everything is organic

Considers those with an intolerance to gluten with the proper meal plans

Considerate of the environment with packaging and food processing
Cons
It's a rather expensive meal kit service, but they deliver on quality

There is a hefty separate shipping charge that adds to the higher price

The meals might be challenging to prepare sometimes if you've never cooked

Cook time is usually a bit longer than anticipated and is less convenient than pre-made meals

Organic ingredients are not the only kind found in Green Chef meals
Modify Health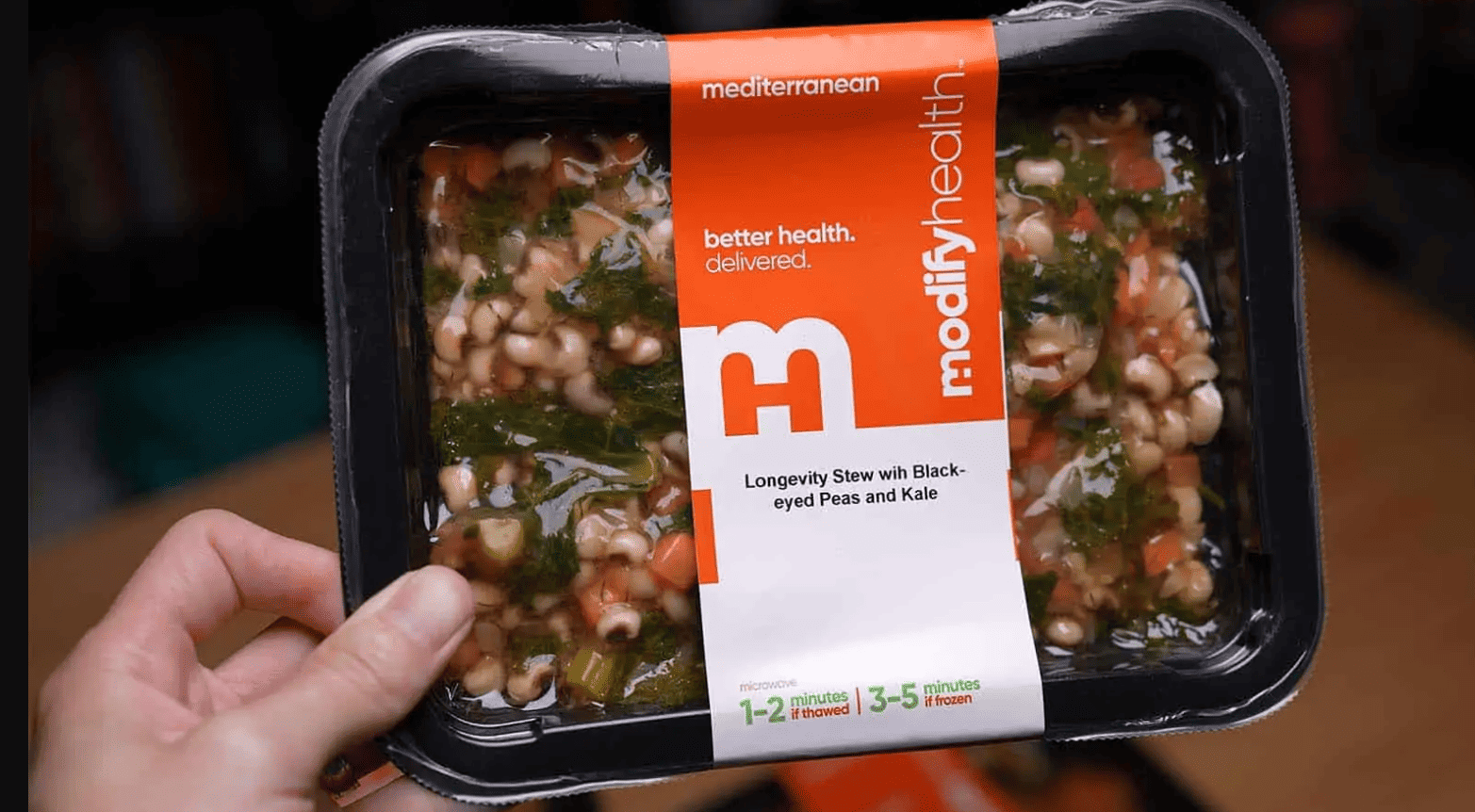 If you're looking for an impressive menu with a wide variety, then Modify Health might be a good fit. They offer 25 Low FODMAP meals and 21 delicious Meditteranean meals each week. They don't just smack these meals together because they are crafted precisely to bring you some of the best flavor combinations. Their inventive gluten-free recipes stand out more than other lesser meal delivery services.
Modify Health's "gluten-free menu options contain less than 20 ppm of gluten per meal and are prepared in a gluten-free kitchen based on FDA guidelines." Not only that, but they "offer two Gluten-free Meal Plan options to help you take control of your health." Firstly, they have a gluten-free meal plan for your standard needs that covers the simple bases and various gluten intolerances to make things quick and easy in the kitchen.
Secondly, they have the Gluten-free Fit Quickstart Program, where you will consult with a dietician to get a well-rounded plan towards wellness with professional support. Modify Health is a more advanced choice for gluten-free consumers, and you'll be happy with either of these subscriptions and the result with increased wellness! They have excellent Mediterranean options with healthy proteins that keep you living your best life each day despite any ailments you're experiencing.
Cost
Entrees:

$12.95

Breakfast:

$9.95

Shipping:

Free

Around the USA

Dietician Consultation Cost:

$99

for

three

consultations
Pros
Nurtures your gut health and takes it very seriously

It has excellent versatility to keep you guessing

They are specifically designed to help you mitigate the factors of several debilitating diseases.

Delicious meals that are easy to fix for cooking novices

Gluten-free programs to help you manage the gluten in your diet
Cons
Some reports of texture & flavor problems

Portions might not be big enough for some

It is not a replacement for genuine medical advice, but it can help with diet

They only have two meal plans available, but it's sufficient
Epicured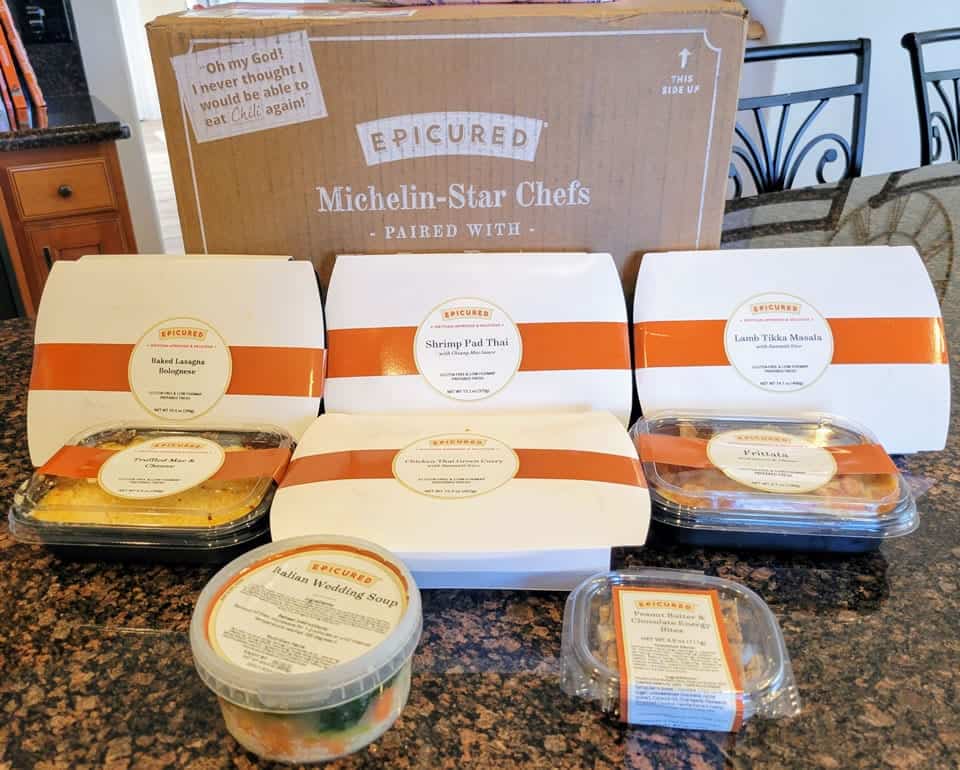 Epicured is a meal delivery service that takes your health seriously because they consult with dieticians and doctors to form meals perfect for various conditions. They understand that wellness starts with how you treat your body and recognize that what you put in is what you get out. There are many benefits to having a medically-controlled meal service that puts your health first. Everything they offer is gluten-free with an a-la-carte style. They help you acquire an "arsenal of knowledge and strategies to navigate the social scene while maintaining your gluten-free diet successfully."
This meal service is specifically built for those with more complex needs, so it might not be the best option if you're looking for supreme taste and meal satisfaction. That said, they do an excellent job of bringing patients the right foods to nurture recovery or manage chronic conditions like celiac disease. The menus aren't rotating, and there are limited options when it comes to customization, but that's to be expected because this is a tailored meal service that's for people with various illnesses.
You can turn to this company for all your gluten-free needs because they operate with you in mind and with great integrity. The portions are moderate, and you can change the frequency of meals at any time every week. You can modify your search according to nutrient-specific needs to attack a specific problem and keep you flourishing without any issues. Overall, Epicured is a targeted approach to dealing with the various gluten intolerances and is a cunning choice if you have pressing changes that need to be made with professional results.
Cost
Least-Expensive Entree:

$10.65

General Price Range:

$12.99-$18.99

Shipping cost:

Varies

by location
Pros
Targeted approach to wellness in dealing with gluten intolerance

Crafted with the advice of doctors & professional dieticians

Easy to search for the right ingredients to enhance your nutrition

Reliable in giving you delicious gluten-free meals
Cons
The subscriptions are rather unclear at times

The menu generally stays the same except for seasonal snacks

It is not ideal if you are looking for the highest level of flavor & don't care about gluten

It can get costly for larger groups of people
With Splendid Spoon, you get what you paid for, and that's a pretty penny when it's all said and done. Still, it's to be expected that some of these services would be more expensive because they're top-notch. Splendid Spoon offers plant-based meals that include healthy smoothies, noodles, exotic grain bowls, & much more. Their "meals are 100% vegan and gluten-free & their kitchens follow a strict protocol to control allergen cross-contamination, conduct regular product testing, and complete annual compliance audits."
As you can see, they are committed to giving gluten-free, healthful products that will keep you healthy and vibrant despite dealing with gluten intolerances. Enjoy many meals and subscriptions available, which makes this a worthy choice if you're searching for increased variety in your diet. Their process and high standard means you won't have to struggle to attain the right plant-based foods. Instead, everything comes in a comprehensive kit to ensure you're thriving without the need to go shopping for contaminated ingredients.
Splendid Spoon's meals are fully prepared for your convenience and offer an impressive rotating menu with over 60 smoothies and delicious plant-based meals. You have intense customization power to mix things up according to your needs. If you desire more significant portions, they have also incorporated new dishes that are higher in protein and more filling for more active individuals with increased caloric needs.
Cost
Breakfast
Lunch
7 grain bowls & soups for

$100.42
Breakfast & Lunch
7 smoothies, grain bowls, & soups for

$147.36
Breakfast, Lunch & Dinner
7 smoothies, soups & grain bowls, four noodle bowls, & 3 dishes for

$226.79
Pros
Offers smoothies, which is something you don't see often from meal kits

All the meals are free of gluten, soy, GMO & are fully vegan

There is no preparation required when receiving the meals

Some dishes are exceptionally filling compared to other services
Cons
The service is relatively expensive when compared to similar meal delivery kits.

You will discover that not every ingredient is organic quality.

Not the most suitable program for those with severe food allergies

Low-calorie items might not be as filling as you would prefer
You might be also interested in our Chef V cleanse Review, click here to know all about it.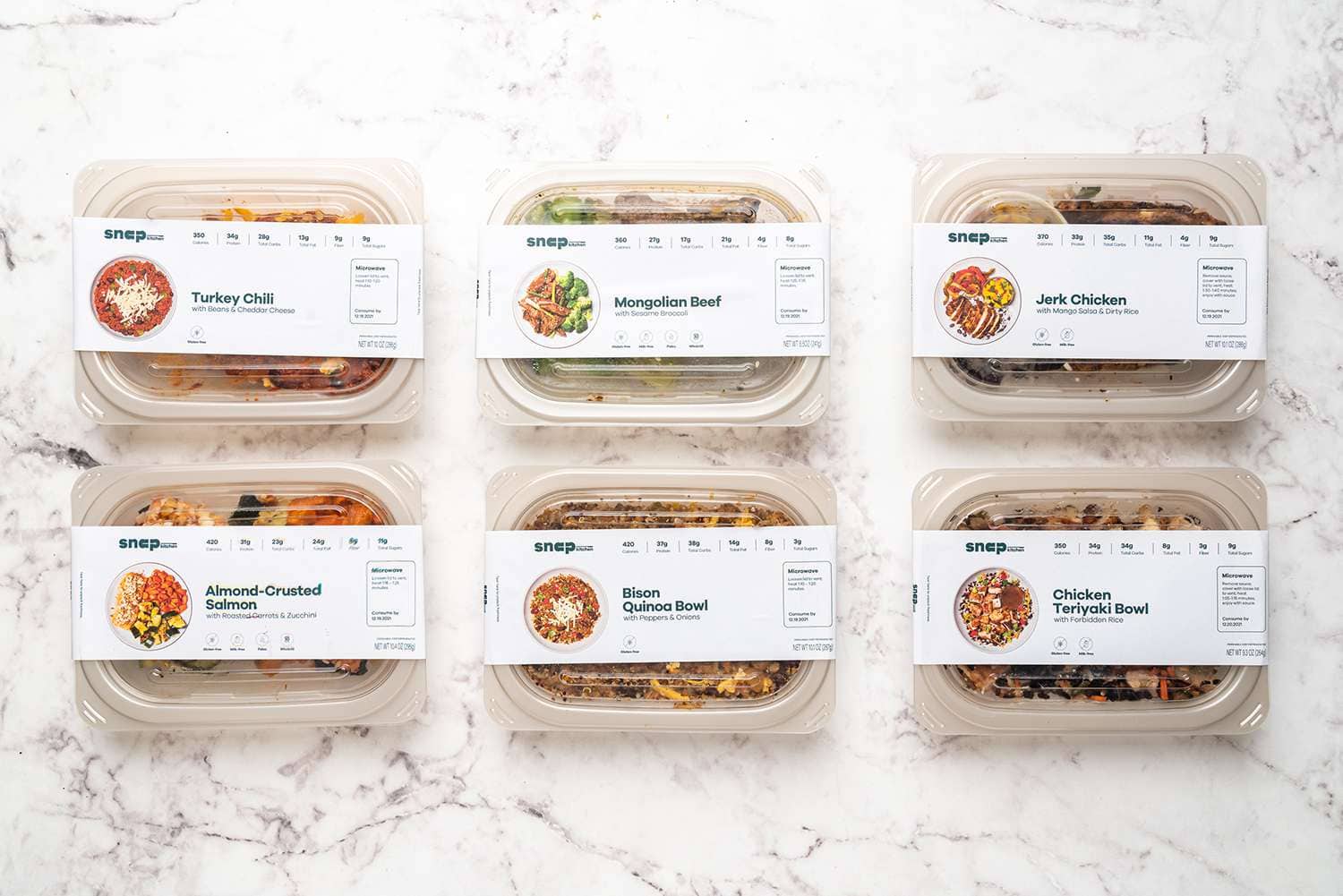 Snap Kitchen is a meal delivery kit service that makes things more manageable without the need to shop around for ingredients. They have a rotating menu that features over 30 meals to weigh each week with the ability to cater to your dietary needs. We all have different eating patterns, and Snap Kitchen has an "expert team of chefs and dieticians who hand-craft your meals in their gluten-free kitchen out of Fort Worth, TX."
Remember, they are "not a certified gluten-free kitchen. However, they follow all gluten-free kitchen standards and testing." You will get quality pre-prepared meals that are fresh and delicious each week to meet your nutritional needs. Every week allows you to have six or twelve meals arrive within the same day, which is exceptionally convenient and vital if you have dietary restrictions and need something gluten-free quickly.
If you aren't about putting too much effort into your meals, then Snap Kitchen will be the snappiest option because all you have to do is heat it in the microwave. Of course, that comes with the downside of nuking your food with all the problems it entails. Still, it's a good compromise for saving time and energy to eat gluten-free and not have to cook anything.
Cost
Six Meals Per Week
Twelve Meals Per Week
Pros
An impressive rotating menu to suit your dietary patterns with precision

An affordable meal service to accommodate different lifestyles

Free shipping on orders

Single-serving meals with little to no preparation

It can help you lose weight if it's all you are consuming
Cons
Vegans & vegetarians will be somewhat limited at times

Unstable option for those with food allergies

Incorporates conventional items that might be problematic on a strict diet

If you're active, then these meals may not be enough to fuel your body daily
The Good Kitchen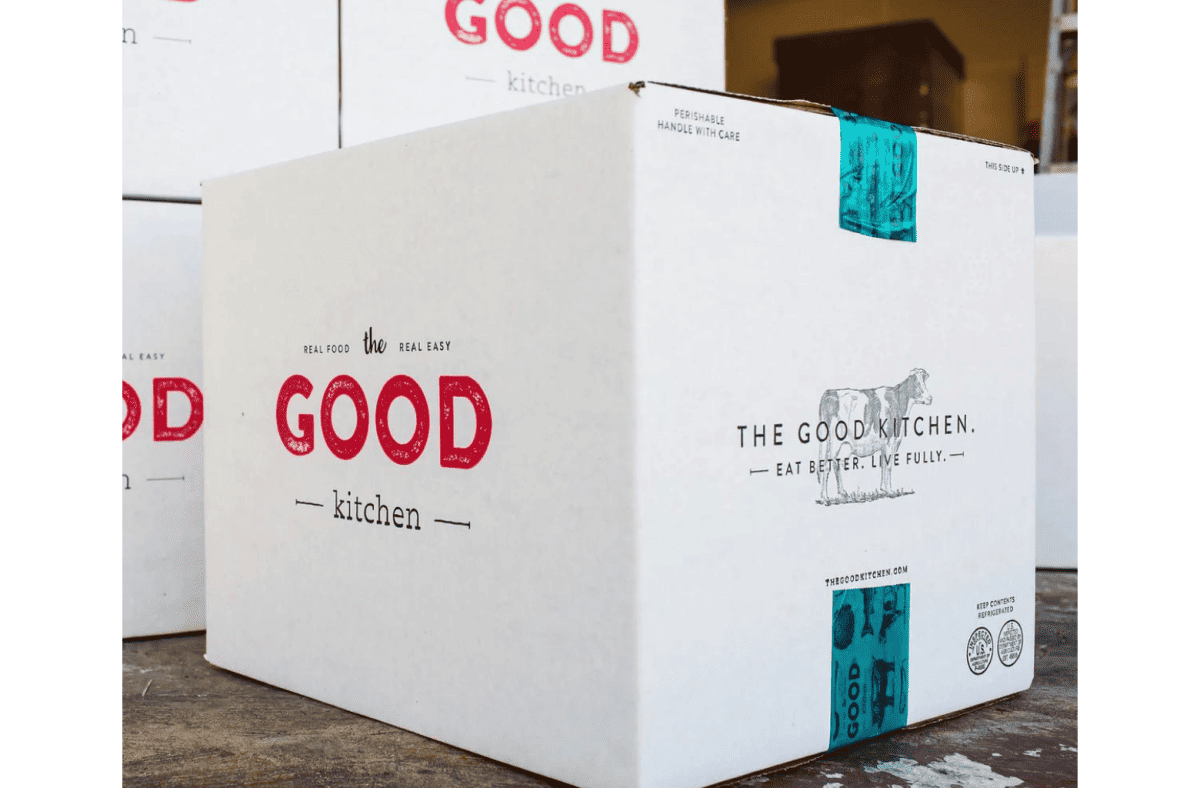 The Good Kitchen offers supreme variety and high-quality, tasty gluten-free meals that adapt to your dietary needs and give you a well-rounded experience. The company takes great pride in utilizing the best organic ingredients to forge meals suitable for even the pickiest eaters. The nice part about this subscription service is you can obtain them at various supermarkets in addition to online ordering. They "don't use any ingredients with gluten in our meals because they can contribute to inflammation for many people."
These meals are fully prepared and will help you thrive no matter how demanding your eating patterns are. The Good Kitchen gives you versatile options that include paleo, keto, gluten-free, & vegetarian options that keep your mouth watering for more. You can switch your meals at any time, and they have an a la carte menu and other options online, like with Amazon, if you're looking to simplify things since many people shop there anyway.
There are many choices for the number of meals and how often you receive them, so it's suitable for small or large groups. The Good Kitchen has versatility and delicious foods that comply with the Whole30 standard. It's a high-quality service so you can expect to pay a little more than average when purchasing from them regularly.
Cost
6 Meals:

$16.48

per serving and

$98.87

for the whole

8 Meals:

$16.17

per serving and

$129.36

for the whole

10 Meals:

$15.88

per serving and

$157.66

for the whole

12 Meals:

$15.02

per serving and

$180.18

for the whole

16 Meals:

$14.29

per serving and

$228.62

for the whole

20 Meals:

$14.23

per serving and

$284.63

for the whole

30 Meals:

$13.06

per serving and

$391.69

for the whole
Pros
Fully cooked meals make preparation a breeze

Free of most allergens including gluten, peanuts & soy ingredients

Whole30, vegetarian & paleo options are available here

Stringent guidelines for all ingredients so you can have more confidence

Many different purchase options for different shopping styles
Cons
Slightly more costly than other similar meal kit services

There are no vegan options available here

The shipping cost is rather inconvenient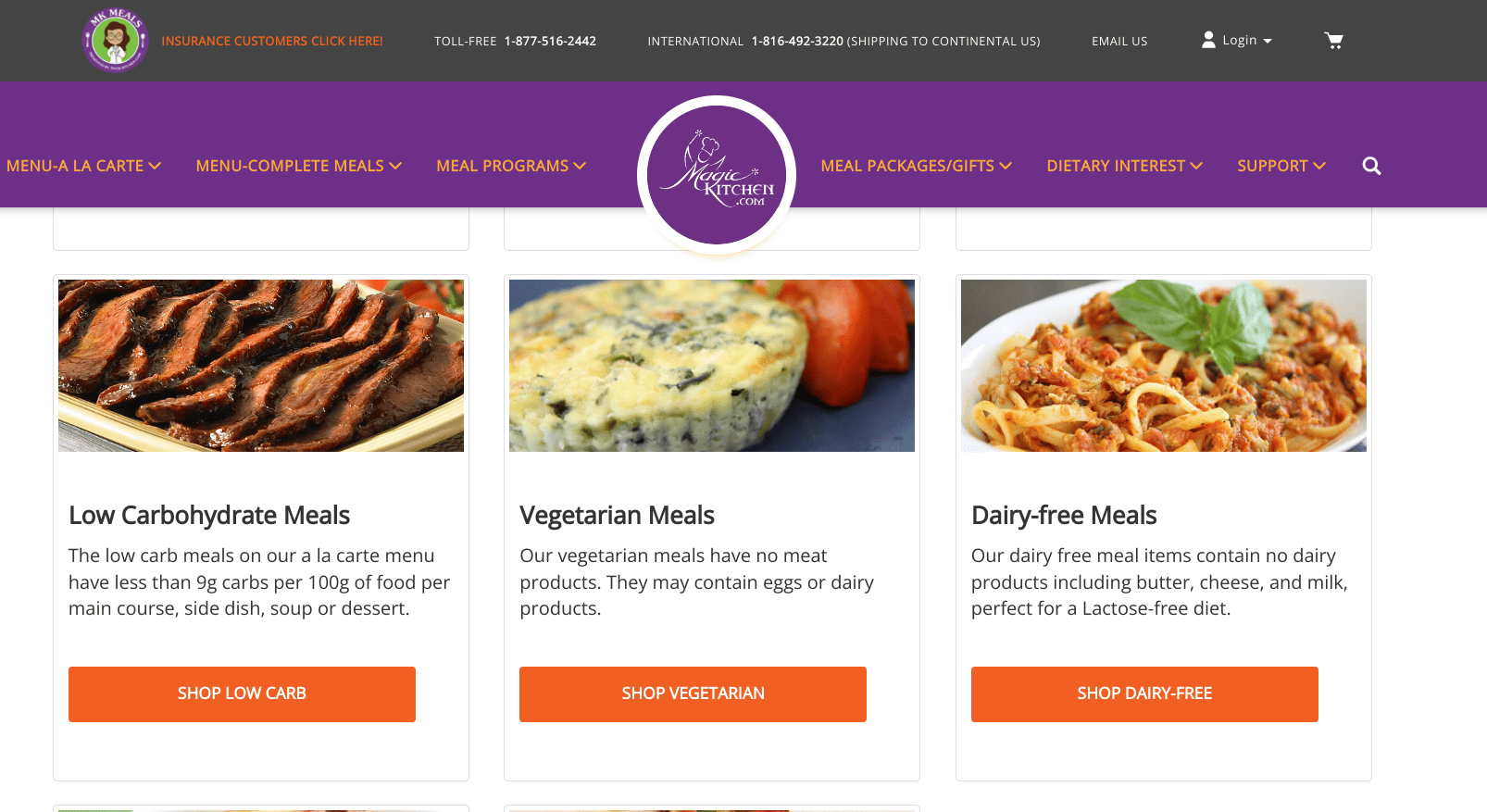 Are you ready to put the magic back into cooking at home? Well, Magic Kitchen has your name on it if you're looking for a higher standard for frozen meals. I know it seems questionable initially to consider something frozen with a meal kit service, but this is a different experience altogether, with chef-prepared meals catering to your dietary needs. When you're sick or have a weak digestive system from old age, you need to adjust your diet to live better naturally.
Magic Kitchen is about helping those with various ailments to attain nutritional peace of mind. Their website states, "Gluten-free and celiac meal delivery from MagicKitchen.com offers a convenient solution. Whether new to the diet or looking for healthy options to stock your freezer, we make gluten-free eating easy." You can perceive they have adopted a higher standard for people who need it most. They recognize that eating gluten-free is no easy task, with ingredients like wheat being in practically everything we consume in the modern diet filled with threats around every corner that cause inflammation in countless people.
These meals have been assessed extensively by expert nutritionists and determined to be suitable for a wide range of dietary needs. Their website features a menu with filter options to narrow down what's best for your diet and get cooking quickly, but you will barely need to lift a finger to enjoy a delicious chef-inspired meal like magic!
Cost
Complete Meals: An Entree with 1-2 sides will be around

$10-$15

per serving

A la carte:

$5-$28

per serving for two portions

A la carte sides:

$2-$15

per side

Meal bundles: A

discounted

price that varies

Delivery: Rates begin at

$18.95

but vary based on location. Shipping is throughout the USA
Pros
An excellent service for those with various meal restrictions and special dietary needs

There are different meal options, such as a la carte, sides, & bundles.

Meals are high in fiber and protein and can help stimulate fat burning with proper exercise.
Cons
There is not much information regarding where the ingredients are sourced from

Meals are not created within the confines of a gluten-free facility

The price is relatively expensive for some, especially for the long term.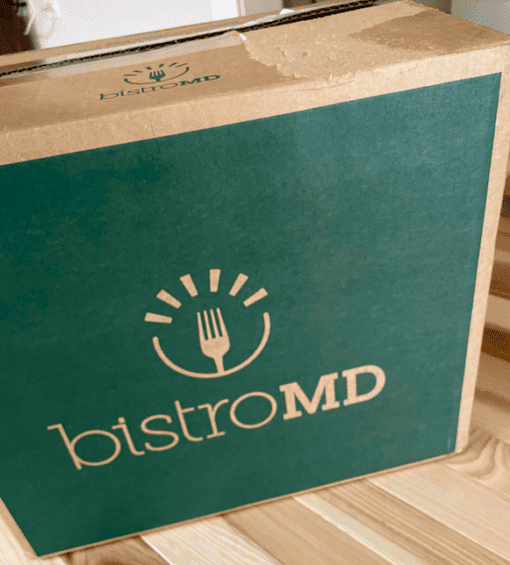 The Bistro MD is a service considered a weight loss program designed to make healthy eating less of a chore. They have many entrees explicitly designed to encourage weight reduction, and you also have access to professional dieticians who serve as a profound resource when planning your journey. It's also a delicious meal service that doesn't skimp on flavorful meals crafted to keep you afloat and motivated when losing weight.
One of the most challenging tasks is dealing with a lack of flavor when eating healthy, and many naturally regress into unhealthy eating of various comfort foods. There are many subscription options available that help you thrive beyond recognition. A certified bariatric specialist formed the program, so you know the company is operated with integrity and a first-hand appreciation of the importance of health and longevity.
Bistro MD boasts that "All meals on the BistroMD gluten-free program are tested to the FDA gluten-free standard not to contain wheat, rye, or barley. They contain natural ingredients with real flavor, and you can choose from over 100 gluten-free meals!" It's easier to take confidence in a program designed by someone who understands what the body needs and is board certified. That's what sets this gluten-free meal delivery service apart from the rest.
Cost
The Full Program
Lunch & Dinner
Snacks
Snacks

can be added for an additional fee that varies
Shipping
$20

flat fee and ships throughout the United States. New customers get free shipping and

25%

off their first order as a welcome gift.
Pros
A massive menu with over 150 different entrees
Different types of menus to support various dietary needs
BistroMD dieticians are at your beck and call to get much-needed advice
It is designed to aid in your weight ambitions & can help nurture goals
Cons
Moderately more expensive than other similar services
Some dietary restrictions or allergies may not be covered here
Stay away if you prefer to have locally sourced or organic foods
The additional snacks will add insult to injury regarding the price if you desire them
Which Is The Best Gluten-free Meal Delivery Service?
Green Chef is the best gluten-free meal delivery service, but everyone has different tastes. Any of these options are worth trying, and you can weigh them yourself to determine the best one to enjoy first. Regarding taste and health, you can't go wrong with these because they are gluten-free and are specifically crafted to nurture you to health. You will notice a difference in your body and mind when trying nourishing foods not packed with harmful ingredients. Green Chef has terrific reviews and has been reported to hit the spot, making it the most rewarding option on this list to consider!
Frequently Asked Questions
Question: Are meal service kits more convenient than shopping at the store?
Answer: In most instances, ordering a gluten-free meal kit will be especially beneficial instead of hunting for ingredients at the store that don't contain gluten. Most standard grocery stores are severely limited in their gluten-free products, and sometimes, you can't trust it even if it says it these days. The reality is it's safer and more convenient to get meals with a higher standard and no gluten for your health needs. If you're gluten intolerant, it's a lifesaver that keeps you from scrounging around the store for hours and waiting in long lines.
Question: Is gluten worth cutting out of your diet in favor of these meals?
Answer: Gluten has been linked to various diseases, but no definitive evidence says it's problematic overall for every person. It refers to general elastic proteins known as prolamins, commonly found in grain products and others. Listening to your body and seeing if cutting gluten out is a wise decision is essential. It is based on the case studies and that many people are intolerant to this substance. Many studies suggest that the human digestive tract has difficulty handling it; thus, it should be avoided where possible. I feel better when stopping, and you probably will, too.
Question: Do gluten-free meal service kits cost a lot to maintain?
Answer: This will depend on your chosen service, but it can cost a hefty amount if you're looking for something high-quality and dependable long-term. The sacrifice in your wallet is minuscule if you're used to compulsively buying anything and everything at the store without a list or plan. It's much safer than going to the store because they manipulate you to buy things with various active marketing strategies. A meal kit keeps you contained at a fixed price, and if you resist going to the store, it will save you some money even at the higher price ranges.
Conclusion: The Best Gluten-Free Meal Delivery Services Will Enrich You Without Sacrificing Time or Flavor
To summarize this delicious article, every service here will enrich your health while saving you time and energy. It's not always easy on the wallet because you're paying for higher-quality foods and services. Still, exploring the various options available is definitely worth the investment. You are making the right choice by considering any of these because I have experienced the benefits of eating gluten-free meals, and you feel less sluggish and tired.
It's ideal for an active lifestyle and nurtures various diseases while reducing inflammation, a core source of many ailments from celiac disease to cancer. Sustaining your body is the most important thing before anything else, and these meal delivery services will discourage you from eating poorly and encourage you to live your best gluten-free life. It's a decision that comes with many challenges because gluten is rampant, but these services will help you cut it out with exquisite tastes so you never look back!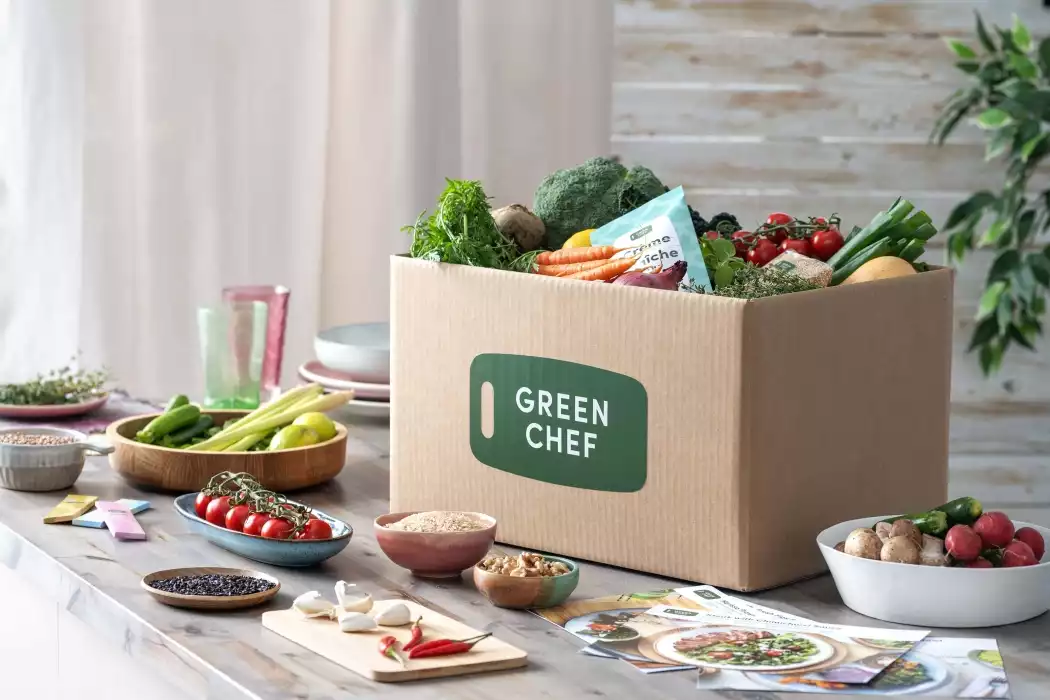 Where Health Meets Flavor | Green Chef
Chef-crafted recipes that tempt your taste buds, made with clean ingredients that nourish your body.
Get Started
We earn a commission if you click this link and make a purchase at no additional cost to you.
Continue reading:
10 Best High Protein Meal Delivery Services
11 Best Low-Carb Meal Delivery Services
What to Look for in a Good Meal Replacement Shake