The toughest thing about working out isn't lifting weights – that's the fun part! Instead, most gym-goers have problems finding the right meal regimen that would fuel their bodies for new endeavors. Not only do you need the right balance of nutrients, but you should also minimize the time spent in the kitchen.
In fact, that's something I've also struggled with for the longest time.
My biggest issue was finding yummy, protein-rich dishes that wouldn't get boring too fast. Eating eggs and chicken every day can drain you mentally, sometimes making you regret the decision to bulk up. Luckily, I found a solution with meal delivery services.
Although more expensive than cooking meals at home, these providers eliminate the annoying daily routine that leads to fast burnout. In this article, I wish to share everything I've learned about US meal services, especially those that specialize in high-protein dishes.
Bottom Line Up Front
My favorite high-protein meal delivery service is Factor. Their Protein Plus menu is tailor-made for athletes and people who do arduous physical jobs. It also helps that all meals are fresh and taste fantastic.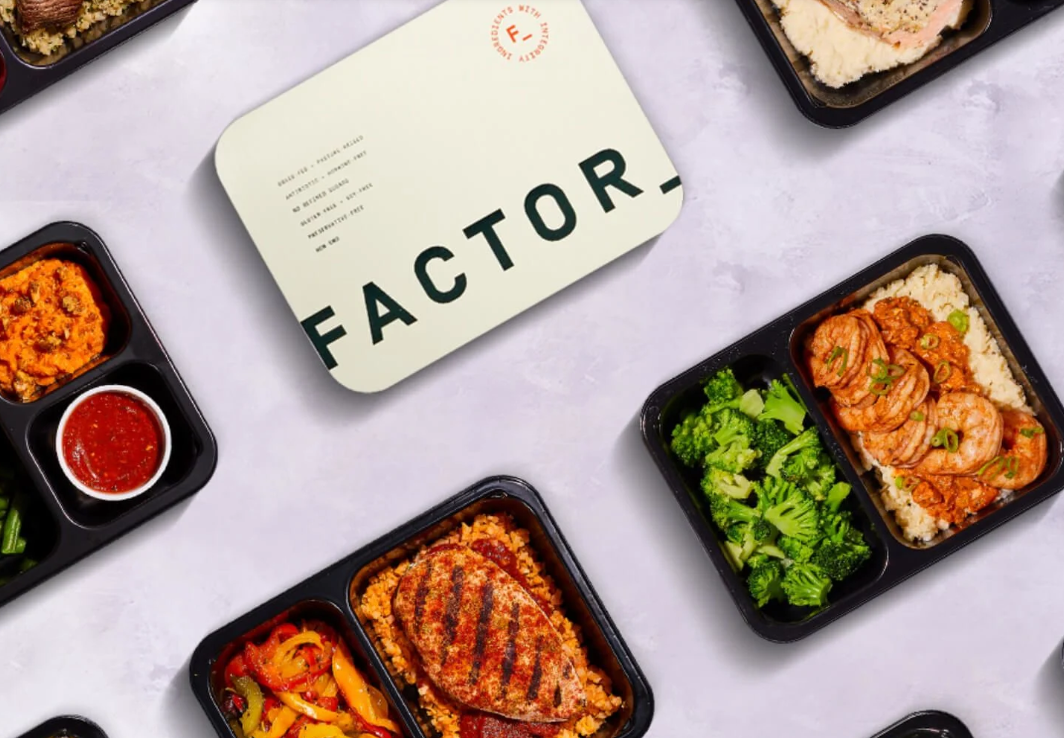 What Were the Selection Criteria?
To ensure you'll get the biggest bang for your buck, I was extremely meticulous when making the list. Aside from considering positive factors, I thought about all the negative things that might interfere with your experience:
High protein content

Meal taste and variety

Meal provider reputation

Good quantity for athletes and bodybuilders

Organic policies

Additional services
When analyzing each of the providers, I first checked their bodybuilder menus (if they have one). I went through available meals, trying to determine the average protein and calorie quantity per dish. One of the biggest issues with these menus is that some of them can't fuel bigger bodies, making you feel exhausted after a few weeks of subscription.
Although I tried most of the service providers on the list, I also went through online reviews to ensure my first impressions were correct. Lastly, I paid close attention to all other things that might bother users when using these companies.
10 Best High-Protein Meal Delivery Services
After a week of thorough research and several phone calls, I made a list of the top 10 providers in the US: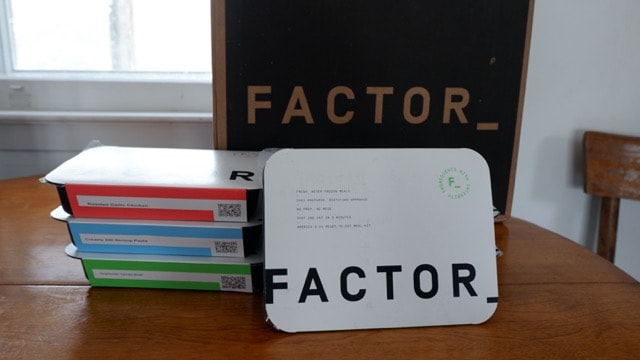 Price range:

$11 – $13

Protein range:

30 – 55

Bodybuilder plan:

Yes
Factor is your one-stop diet shop. The provider is renowned for featuring numerous exotic recipes and having some of the best add-ons. Factor discloses all nutrient and ingredient info for each dish, so you can tweak your weekly diet needs on the fly.
There are some of the heavy hitters I had the opportunity to try out:
Cheesy bacon ranch Shredded Chicken (52 grams of protein)

Cheesy pimento chicken pasta (41 grams of protein)

Grilled filet mignon and creamy parmesan shrimp (55 grams of protein)
If this is your first time using a meal prep service, I suggest you start with this company. They have registered dieticians who can help you figure out the optimal weekly menu. This is a fantastic choice not only for bodybuilders and other athletes but also for those looking to lose weight.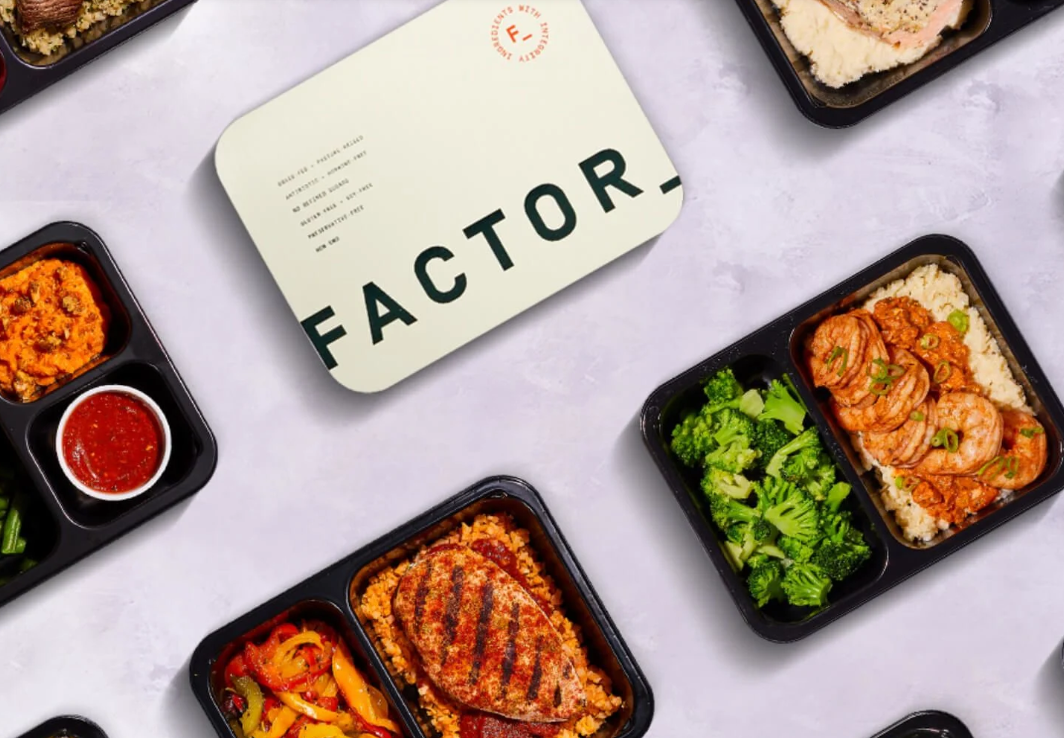 Pros
Meals ready in two minutes

Dietician consultations

Non-GMO food

Big portions

Interesting recipes
Cons
Limited plant-based options

Many meals are high in fat

Somewhat expensive
My Take
Factor is my first choice for a reason. The company has weekly rotations that keep things fresh, and the portions are good enough for most athletes. You also have Smart Calorie dishes that are better for light individuals. My main issue with the provider is that they don't use that many veggies in their recipes.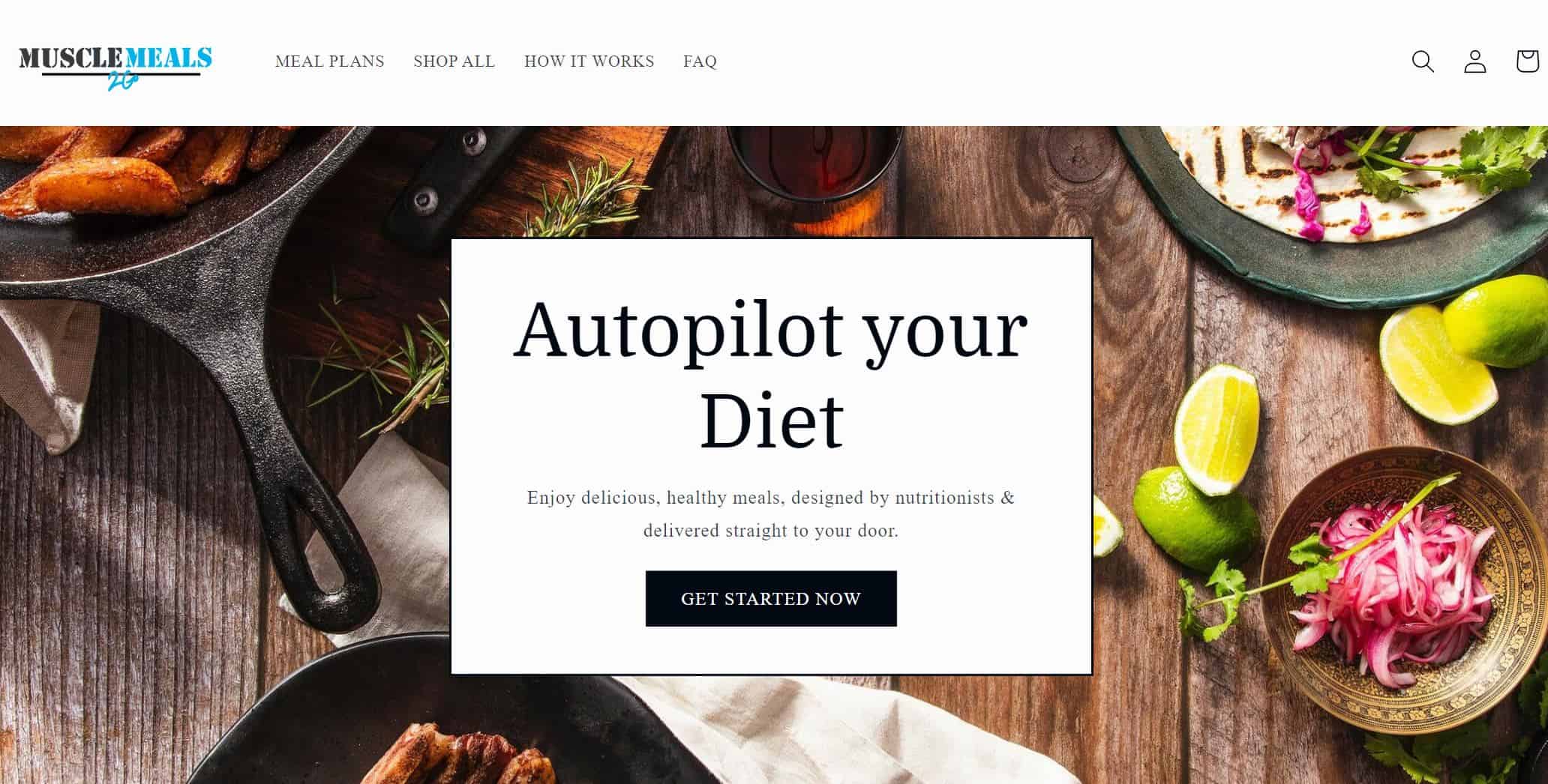 Price range:

$15

Protein range:

38 – 81

Bodybuilder plan:

Yes
Muscle Meals 2 Go features some of the meanest, manliest dishes out of all bodybuilding meal services. Their signature recipes have about 700 calories with Herculean protein content ranging from 40 to 80 grams per serving. And if you ever decide to lose a few pounds, you can switch from Gain to Lean plan.
Here are a few bad boys that helped me bulk up:
Roasted garlic chicken (58 grams of protein)

Napoli pasta and meatballs (81 grams of protein)

Thai peanut chicken (81 grams of protein)
Seemingly, the brand has covered all the angles by allowing you to tweak recipes and remove allergens. If you wish to eliminate the guessing game, you can simply go with vegan or gluten-free plans. It also helps that the company has breakfasts, snacks, and desserts for your cheat days.
Pros
Specialized bodybuilding plans

Great customization options

Plans for people with restrictive diets

Option to tweak servings

Organic food
Cons
Meals are frozen

Somewhat expensive

Ordering can be annoying
My Take
Muscle Meals 2 Go is a fantastic long-term option for various athletes. Besides the standard bulking plan, you can switch to the cutting menu whenever you want. The meals are chunky, packed with proteins, so you won't have to worry about random nonsense. If I had to nitpick, I would mention ordering as my biggest complaint against the provider.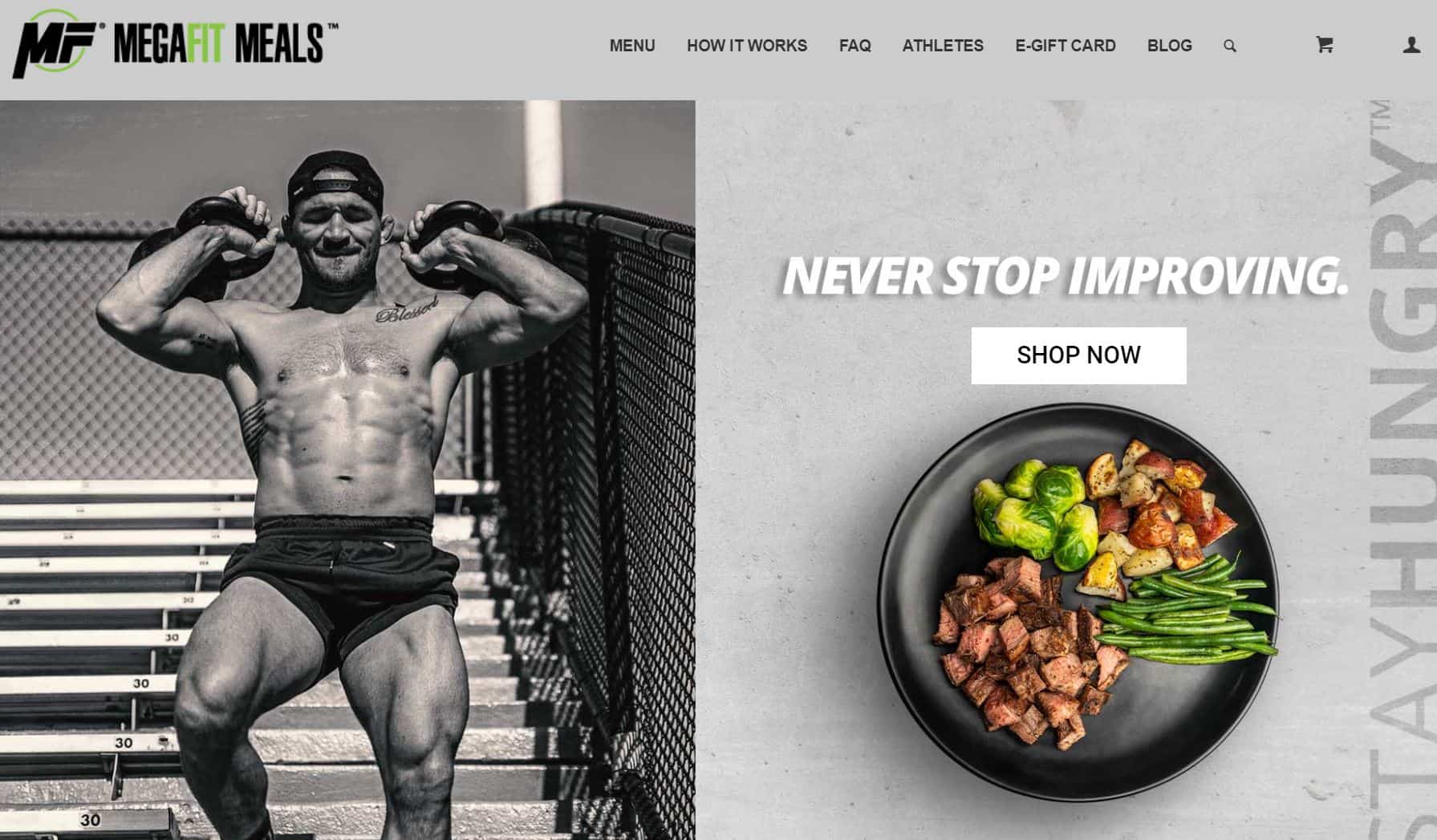 Price range:

$11 – $15

Protein range:

23 – 57

Bodybuilder plan:

No, but meals are customized for bodybuilders
Who better to prepare your bodybuilder meals than professional bodybuilders? The company was founded by Billy and PG Georgiou, who have a keen understanding of your daily nutritional requirements, focusing on high-protein dishes, clean ingredients, and premium quality. No GMO, no hormone-injected animals, no preservatives, and no problem!
Almost every dish they make has more than 30 grams of protein per serving (if we exclude extras and desserts). Some of the meals I really enjoyed include:
Low-carb chicken parm (57 grams of protein)

Buffalo chicken quesadilla (57 grams of protein)

Chicken burrito bowl (47 grams of protein)
Funny enough, the thing I like about the brand has nothing to do with their meals or policies. MegaFit Meals sponsors several bodybuilders and fitness experts, serving as the community's pillar. It's also worth mentioning that the meal provider has specialized pescatarian, keto, vegan, dairy-free, and gluten-free plans.
Pros
Organic, humane animal and plant policies

Plans for allergies and food preferences

Bulk orders

Free shipping
Cons
Meals come frozen

Delivery is available only in the continental US

Low-calorie content
My Take
While I can't complain about the protein content, I was discouraged by the calories. Most of MegaFit Meals have from 300 to 600 calories, and bigger guys simply won't survive on that amount. Then again, my impression was that this brand is perfect for lighter individuals with specific food and anti-allergy requirements.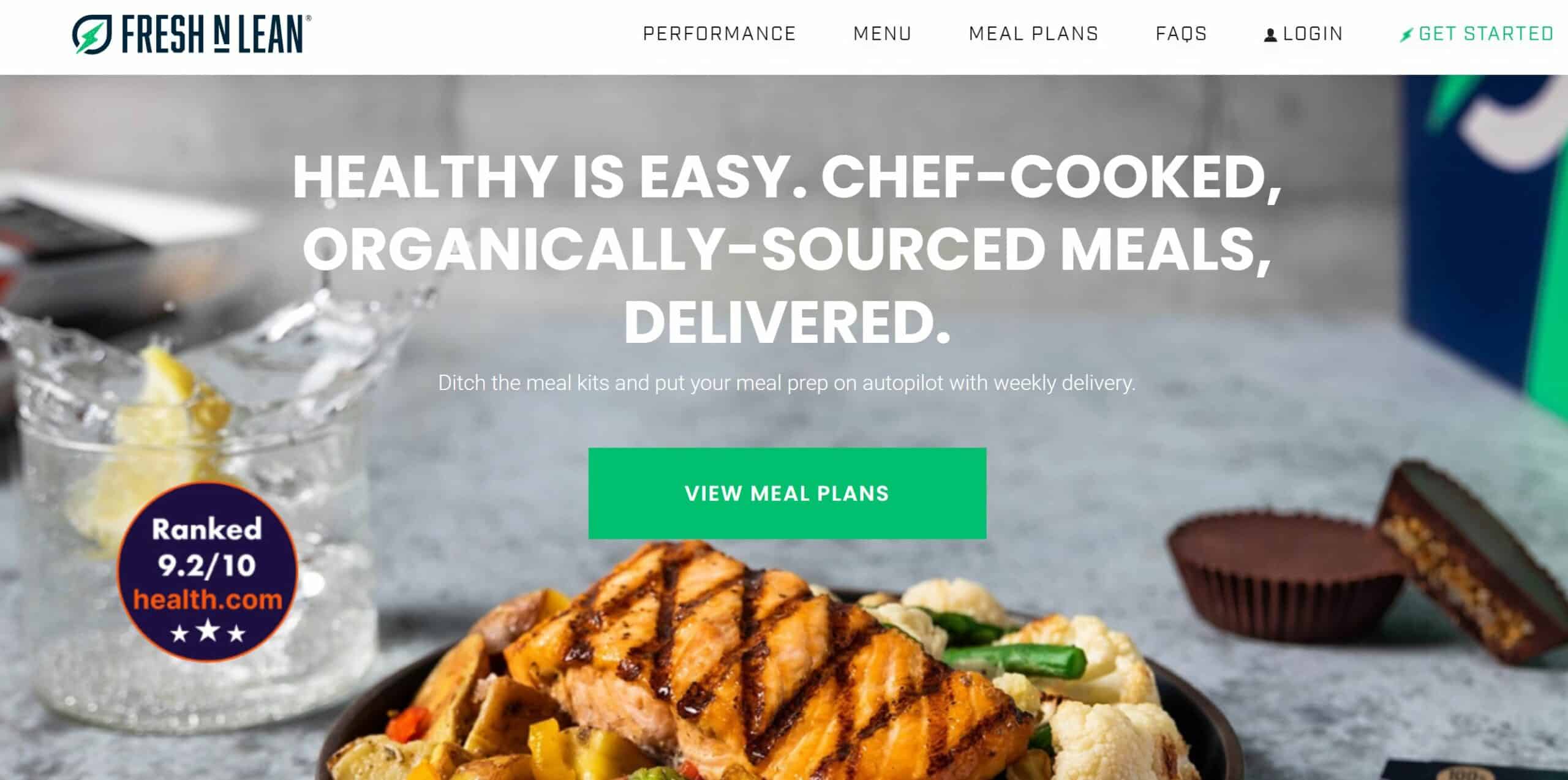 Price range:

$10.50 – $15.50

Protein range:

28 – 37

Bodybuilder plan:

Yes
Not only does Fresh N Lean adheres to sustainable policies, but their food is also non-GMO. The service is FSMA-compliant and USDA regulated, making it a perfect choice for gym-goers who care about their insides as much as their outside appearance. As if that wasn't enough, the business features some of the tastiest fitness dishes in the US.
My personal favorites for bulking up include:
Peach jalapeno chicken breast (37 grams of protein)

Chicken pizzaiola with summer squash (33 grams of protein)

Smoky maple BBQ chicken (36 grams of protein)
While the nutrient quantity might not seem enough, with weekly plans averaging 30 grams of proteins per serving, you can modify the meals to meet your daily needs. Aside from incredible Protein+, there's also the Bulk menu, which is basically the company sending you pieces of cooked, seasoned meat. No carbs and no-nonsense; just non-stop gains!
Pros
The company adheres to environmentally-friendly policies

Food devoid of chemicals

Great variety and taste

Two specialized plans for bodybuilders

Option to tweak and combine the meals
Cons
Slim vegetarian choices

Ordering and changing plans can be annoying

Low calorie content
My Take
Fresh N Lean is a fantastic long-term option. The company features 8 menus, so you can go from bulking to cutting with a click of a mouse. As mentioned, they can also send you cooked pieces of meat to ramp up your intake, and they have a nice selection of almond snacks. While pricier than the competition, the investment pays off.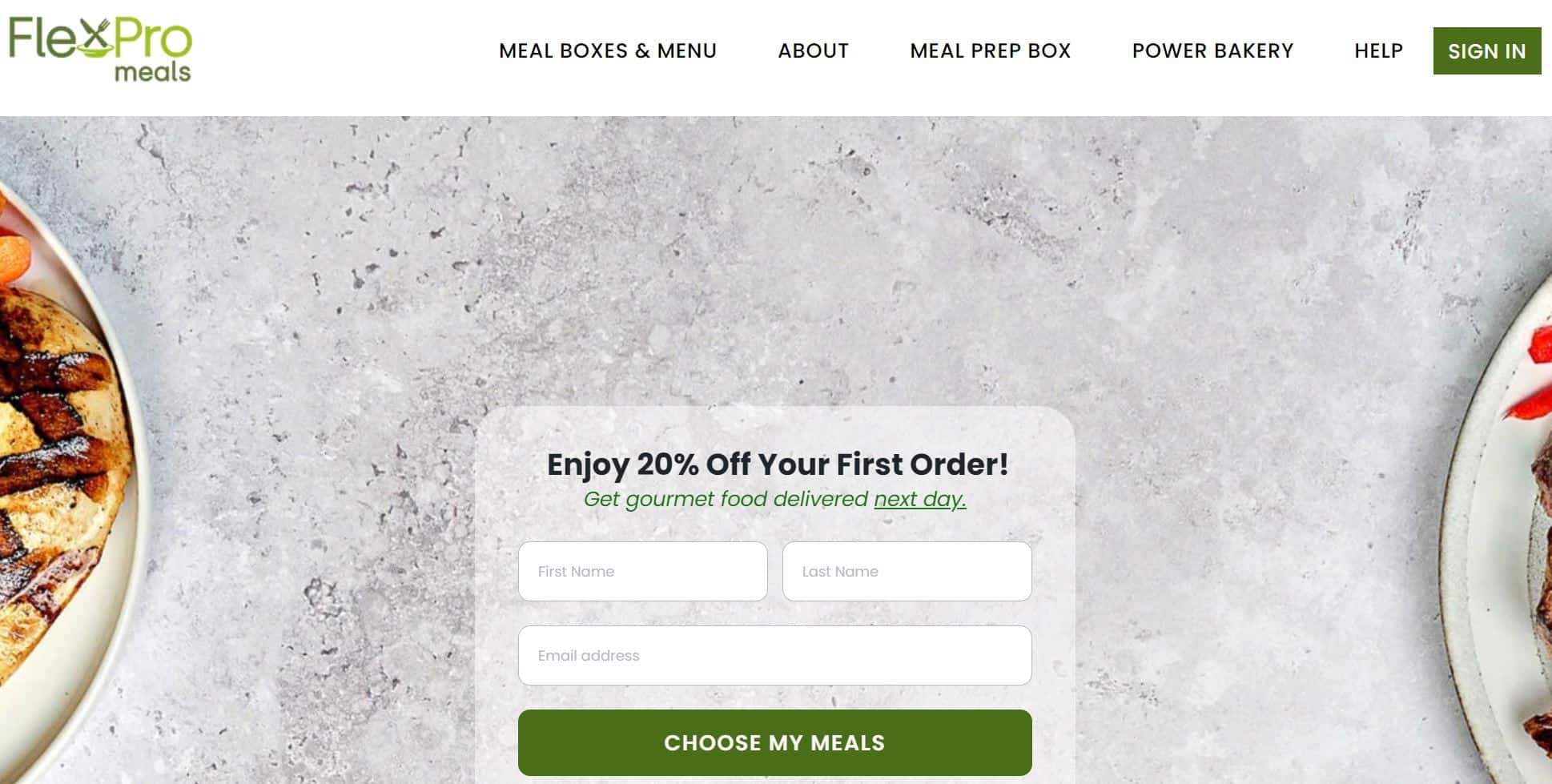 Price range:

$8.50 – $13.50

Protein range:

28 – 34

Bodybuilder plan:

Yes
One of my main issues with some athletic meal services is that they don't give you the option of switching up calories and nutrients. This can make your life a living hell when trying to bulk or cut, as you're forced to munch on food that you don't need.
FlexPro Meals tackles this common problem brilliantly by allowing you to buff up carbs and proteins. Anyway, here are a few dishes that blew me off my feet:
KETO Mongolian beef (32 grams of protein)

Burrito grande (29 grams of protein)

Cheesy burger bowl (33 grams of protein)
Aside from allowing you to tweak intake, the business helps you achieve different goals with two specialized plans in Lean Muscle and Fat Trimmer. Despite having a somewhat limited number of options, around 35, the company is a good choice in the long run. By purchasing their 21-meal box, you can reduce the price of each dish to $8.50.
Pros
Specialized bodybuilding plans

Option to modify meal size

Add-ons perfect for bulking

Good value for money
Cons
The difference between the two plans is minimal

Lack of veggies (although you can add them as extras)

Not that heavy on proteins
My Take
FlexPro is an excellent choice if you're looking to bulk up fast. While the dishes are a bit low on calories, you can always add chicken filets; they can also work well as snacks. My main issue with the provider is that there's a bit too much emphasis on rice and pasta. I would love to see some potatoes as a side.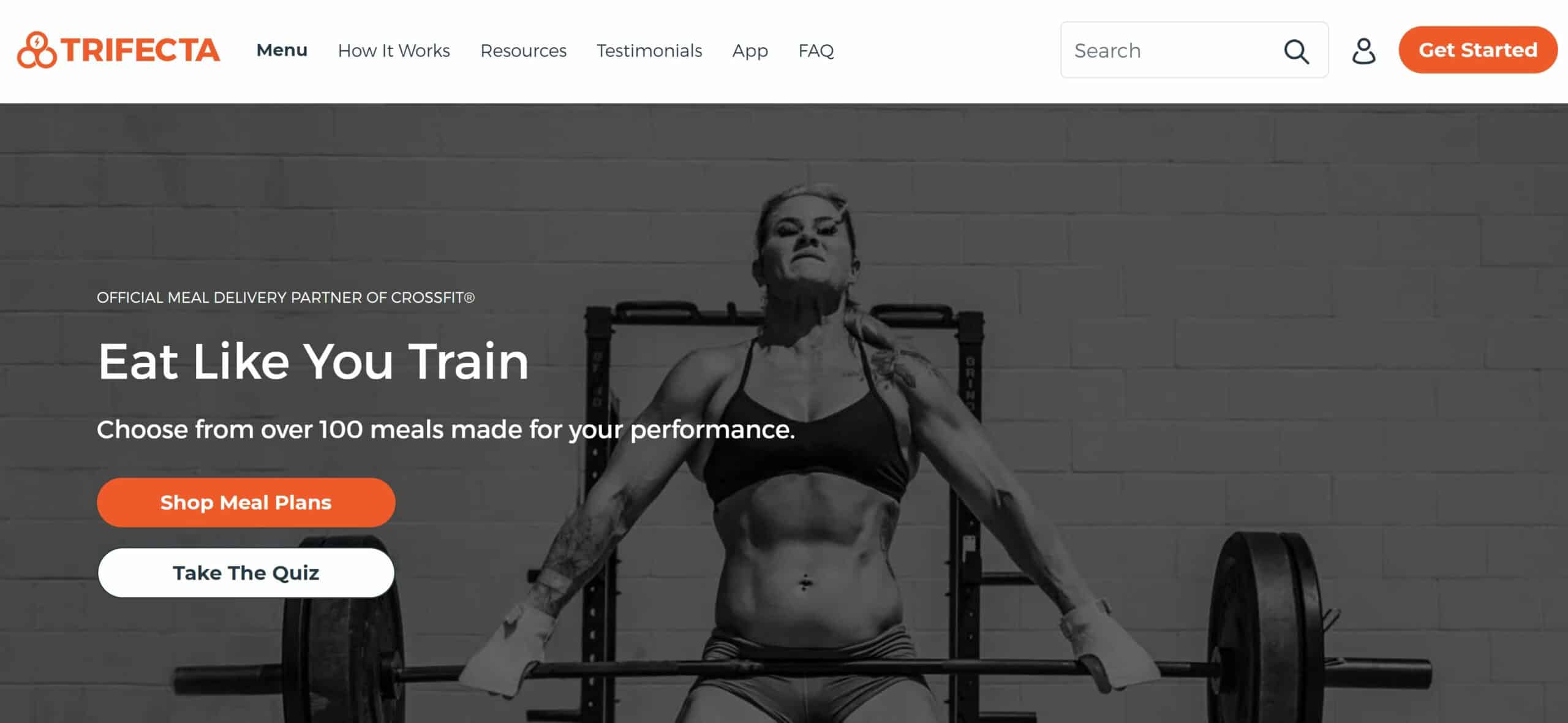 Price range:

$13.50 – $14

Protein range:

30

Bodybuilder plan:

Yes
It's hard to make a bodybuilding meal provider list without mentioning this elite brand. Unlike most other companies on this list, Trifecta puts emphasis on diversity, featuring more than 100 dishes, out of which 25 are in a weekly rotation. Then again, there are some restrictions when choosing meals and removing ingredients.
These are my favs when using the service:
Beef patty and broccoli with chimichurri (30 grams of protein)

Salmon, rice, and vegetables (27 grams of protein)

Chicken fajita with salsa verde black beans (33 grams of protein)
Another thing worth mentioning is Trifecta's app, which helps track your progress and intake. As we all have different bodies and workout regimens, this can make a major difference in how quickly you can reach goals. Trifecta Nutrition is excellent for people who are just getting acquainted with the nutrition side of bodybuilding and can't manage the diet themselves.
Pros
Tailor-made for bodybuilders

Wide variety of weekly options

App for tracking results

Organic, fresh ingredients

The chef can pick meals for you
Cons
You can exclude only two ingredients

The protein content is lower than some other meal providers

Expensive
My Take
Diversity is definitely the main reason to go with this provider. Meals are tasty and well-made, and you'll be happy as a clam whenever you see the delivery van. Trifecta Nutrition is an excellent choice for newbies who need a motivational boost (especially because you can track results via the app). Unfortunately, the high price might force you to end your subscription abruptly.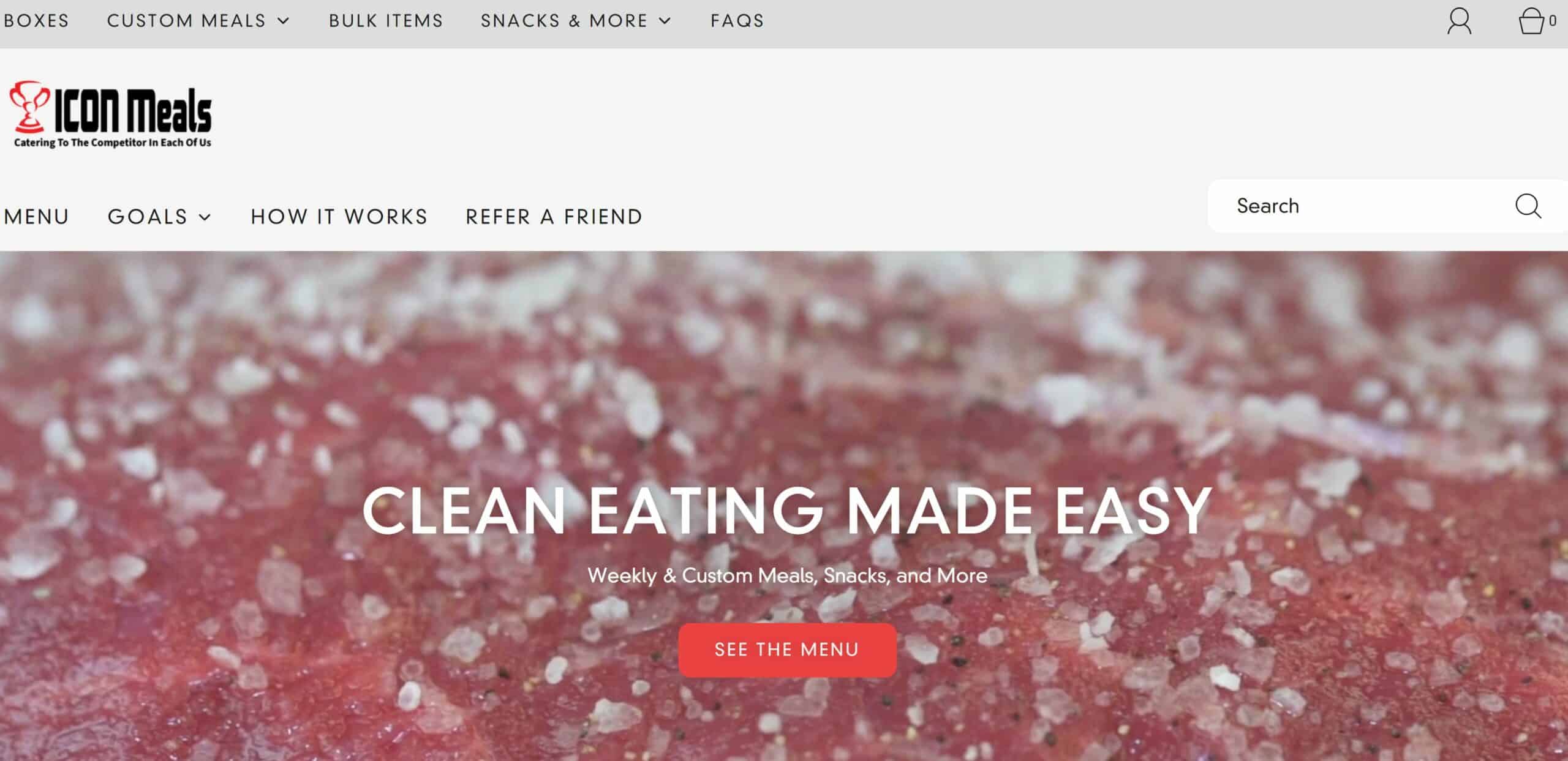 Price range:

$12.50 – $22

Protein range:

23 – 91

Bodybuilder plan:

Yes
Aside from Build Muscle, Icon Meals has two additional athlete-focused plans in Eat Clean and Lose Weight. Build Muscle plan is perfect for large guys and girls frequenting the gym as it features protein and calorie-rich meals. Even better, the company's menus are USDA approved, so you'll never have to worry about potentially harmful substances:
When I want to bulk up, I usually focus on the following Icon Meals:
The Titan breakfast burrito (52 grams of protein)

Double protein saffron rice (91 grams of protein)

Sweet and savory brisket dinner (59 grams of protein)
Icon Meals definitely won't sell you on taste. Not that the meals are awful; it's just that other providers have much better treats. Instead, Icon Meals tries to focus on gains as much as possible, putting protein quantity ahead of everything else. This policy can also be seen when you place orders, as the company only has 12 and 24-meals-per-week plans.
Pros
Perfect for bulkier dudes and girls

High protein quantity

Large meals

USDA approved

Low carb content
Cons
Somewhat dull meals

No vegetable protein

Limited sourcing info

Ordering is tedious
My Take
Icon Meals are perfect for bigger users who need enormous quantities of food. The best thing yet, the calorie content you get from each dish isn't that high compared to the protein amount. So, you can optimize your nutrient intake and, thus, your results. On the flip side, the provider isn't ideal for picky eaters.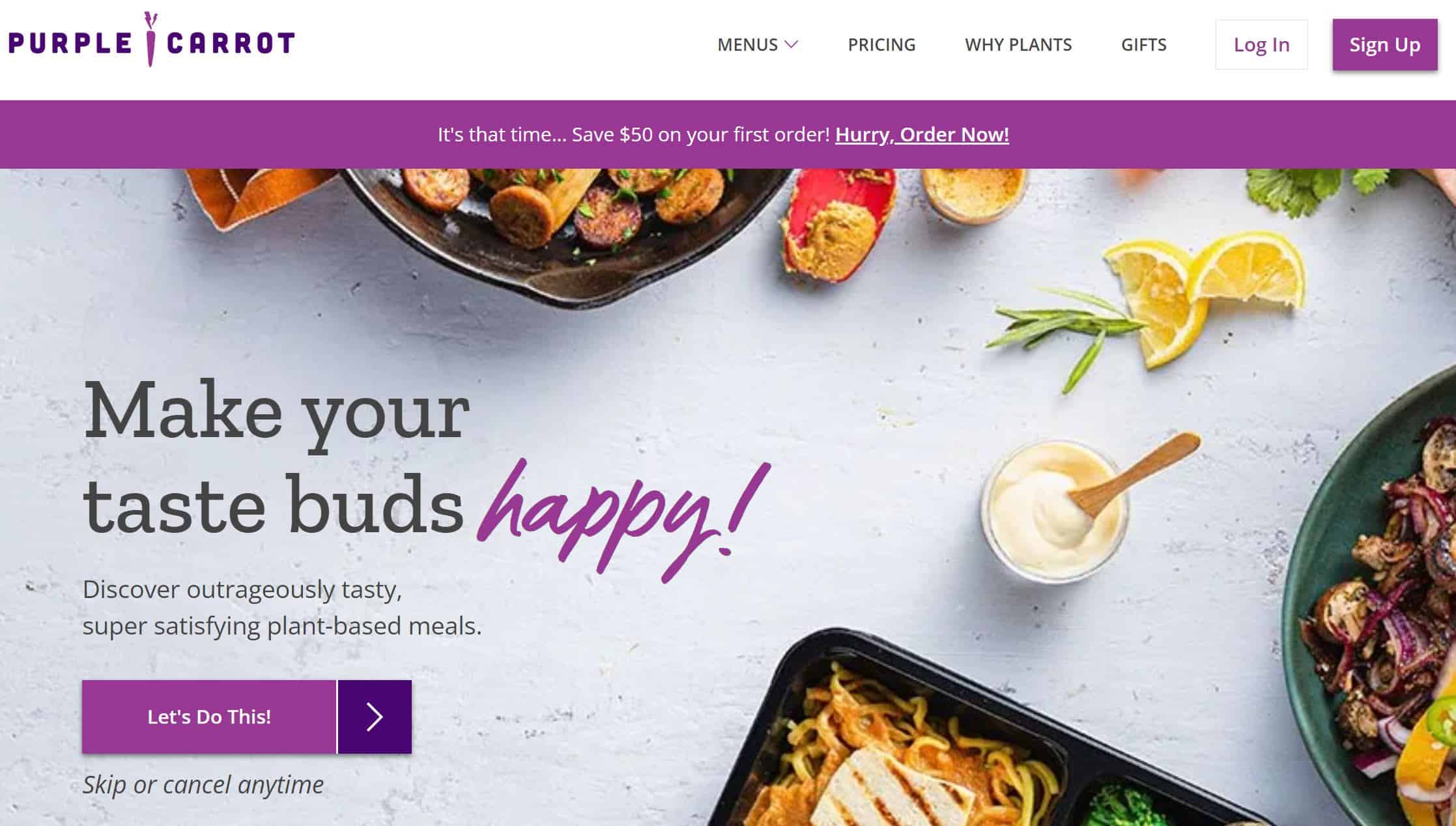 Price range:

$11 – $13

Protein range:

10 – 43

Bodybuilder plan:

No
Purple Carrot is my favorite vegan provider in the US. Although the company doesn't have specialized bodybuilder plans, I know a few girls who managed to get incredible results sticking to this diet. Most importantly, meal service avoids using the same ingredients over and over again, which means that each dish feels fresh and innovative.
Some of my favorites include:
Smashed lentil tostadas (43 grams of protein)

Black pepper tofu (33 grams of protein)

Panko-crusted tempeh (40 grams of protein)
Another perk of choosing this provider is that you can choose between prepared meals, kits, less prep, and frozen meals. That way, you can get fresh meals and stock up your freezer at the same time. The biggest issue is that dishes, while rich in calories, are somewhat low in protein compared to other providers.
Using these plans can still work for vegans, but it requires some adaptability on your side.
Pros
Vegan-only food

Great meal diversity and taste

Different prep methods

Excellent add-ons
Cons
A limited number of protein-rich meals

Expensive

Meals have high calorie/carb content compared to protein
My Take
Purple Carrot struggles to find a balance between calories and protein. Due to the lack of meat, some dishes will have 700+ calories, 70 or 80 carbs, and only 30 to 40 proteins. Nevertheless, their dishes are perfect for growing teens, lighter males, and especially females that want to stick to a vegan diet while bodybuilding.

Price range:

$10.50 – $12.50

Protein range:

28 – 41

Bodybuilder plan:

No
While Snap Kitchen doesn't have specialized bodybuilding plans, they still have a selection of 9 high-protein dishes. Unfortunately, the lacking selection is my main issue with the meal provider. Unless you have a Spartan mentality, you'll get bored with the menu after a few weeks.
Here are a few of my favorites:
Steak street tacos and Spanish rice pilaf with salsa verde (41 grams of protein)

Cacio e Pepe with rosemary chicken (37 grams of protein)

Peach BBQ brisket with loaded cauliflower (38 grams of protein)
Despite a somewhat slim selection of dishes, everything I've tried was quite tasty and well-seasoned. For what it's worth, you'll enjoy the experience for as long as it lasts. The brand also has licensed dieticians that will help you find the optimal diet, and they have human farming and herding policies.
Pros
Consultations with licensed dieticians

Animals are kept in humane conditions

Dishes from different international cousins
Cons
A small number of options

Lower protein count compared to other providers

Not available in certain locations
My Take
If you don't mind a somewhat lackluster selection, you should subscribe to Snap Kitchen. When I used the meal service, I went with a smaller, 6-meal week plan and made other dishes myself. That way, I didn't have to cook every day and got to eat tasty food without getting bored.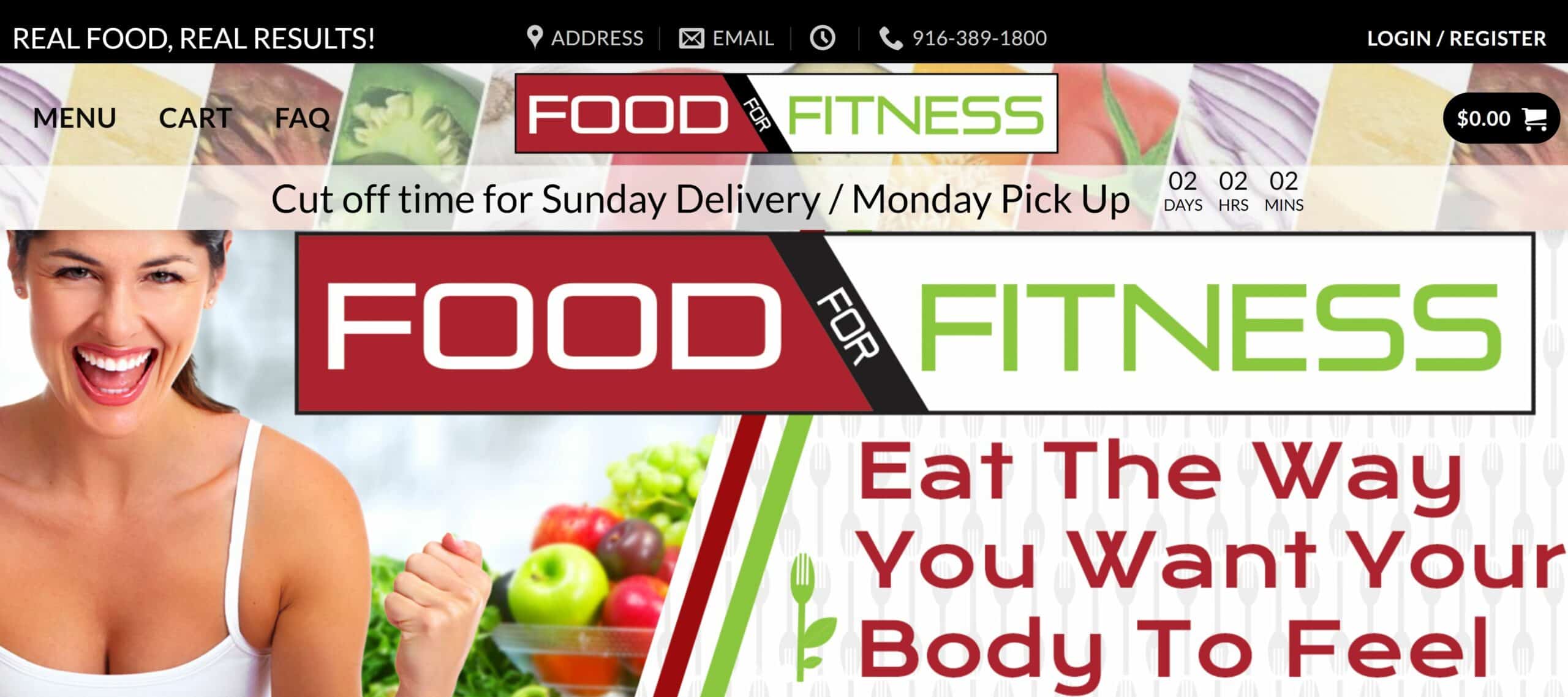 Price range:

$10 – $25

Protein range:

19 – 58

Bodybuilder plan:

No
Food for Fitness (not to be confused with Australian Food4Fitness) is one of the promising newcomers on the market. Although they don't have a specialized bodybuilding menu, you can easily tweak meals according to your requirements by adding or removing ingredients and increasing portion size. Unfortunately, adding ingredients will cost you extra bucks.
These are my favorite meals:
Southwest chicken salad (57 grams of protein)

Teriyaki shrimp (51 grams of protein)

Asian chicken wrap (58 grams of protein)
The biggest issue with the service is that it covers a limited area, mostly California and a few surrounding states. So, while I had fun with the provider, there's a good chance they won't deliver to your address. Still, the food quality, variety, and locally sourced ingredients would make your subscription worthwhile.
Pros
Solid protein quantity

Option to increase meal size

Option to add/remove ingredients

Food quality and variety
Cons
Limited coverage

No specialized plan

Additional services and shipping aren't free
My Take
The portion size and focus on bulking are good enough reasons to give Food for Fitness a try. Their meals are delicious, so you definitely won't regret paying for this service. Unfortunately, uncompetitive prices will likely force your hand to cancel your subscription a few weeks too soon.
Conclusion
Although proteins are vital for getting better results, you should also consider other factors. For example, I would much rather prioritize providers that can deliver tasty and versatile dishes. Keep in mind that the mental aspect is every bit as important for your progress as stuffing your body with nutrients.
Also, while Factor is the preferred choice for many users, that doesn't necessarily mean it's the best fit for you. Every option on this list is solid and is focused on specific users. By better assessing your needs and goals, you can pick the right meal provider that you can stick with in the long run.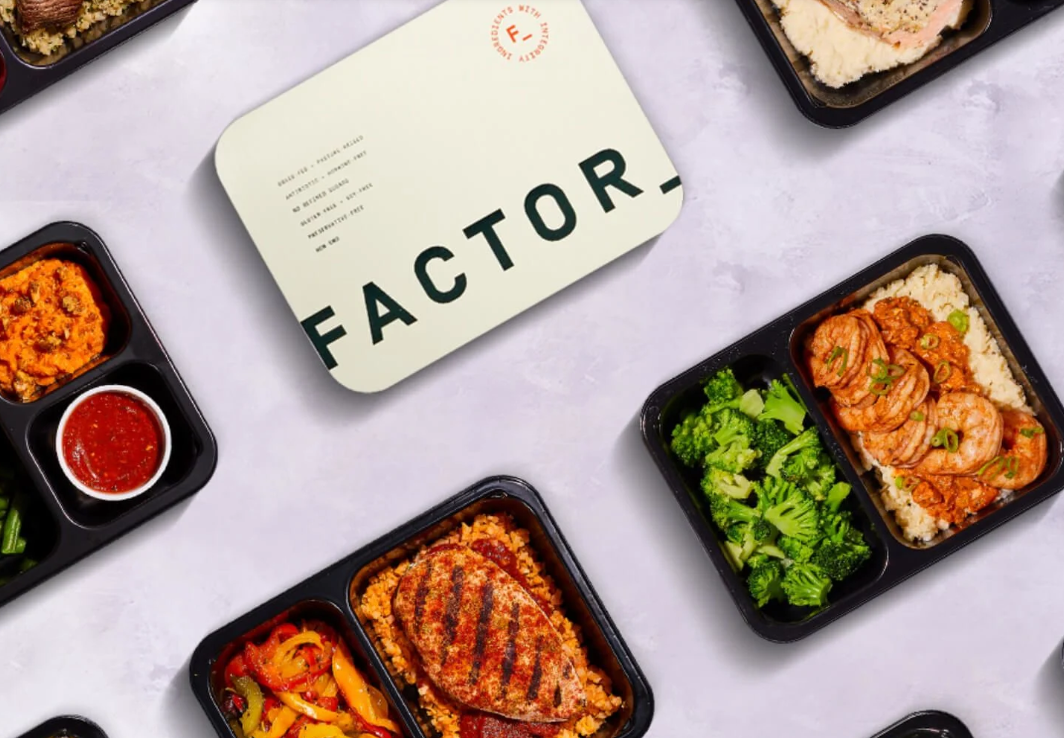 FAQ
Continue reading:
11 Best Bodybuilding Meal Delivery Services
Is Herbalife Safe? Plus 4 Alternatives to Herbalife to Consider
7 Best Tasting Vegan Protein Powders: Don't Compromise Taste or Nutrition