There is a myriad of reasons why people choose to supplement their diet with protein shakes.
Often, people find themselves wanting to lose weight quickly, or they don't have the time required to prepare and eat a meal. Sometimes, one will simply reach for a protein shake in an effort to supplement their daily nutrition, which they might feel is lacking.
Whatever the reason, it is essential to do your homework and choose the right protein supplement, or the very thing that you are striving to improve, your health, will seriously suffer the consequences.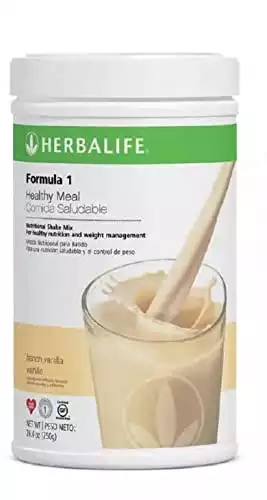 Herbalife Formula 1 Shake Mix | Amazon
Before using this product, or beginning any weight-control program, it is advisable to consult a physician. This is especially important for individuals with chronic kidney problems or insulin-dependent diabetes. A healthy weight-loss program should include modest calorie intake, balanced diet, and regular physical activity.
Buy at Amazon
We earn a commission if you click this link and make a purchase at no additional cost to you.
04/30/2023 10:50 pm GMT
Why People are Choosing Herbalife
Although Herbalife may be all the rage in the blogosphere right now, the truth is coming out that this particular company cuts corners and that their products are manufactured with less-than-stellar ingredients.
With a sales-driven mindset and a pyramid scheme-esque approach to marketing, it is no wonder that Herbalife's products are low in quality and contain an abundance of cost-cutting additives and fillers.
With the relatively affordable cost (approximately $1.07 per serving), it might be easy to rationalize the choice. However, you may be doing long-term damage to their health and well-being in the meantime.
Herbalife Features – What's the Draw?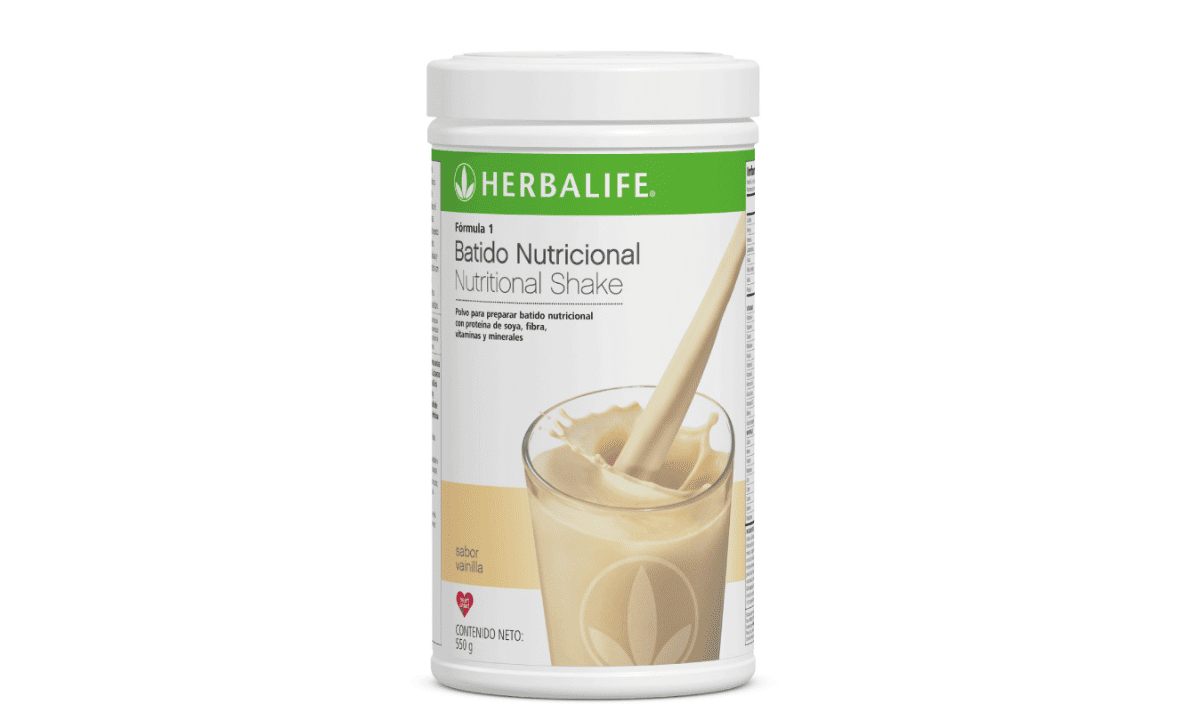 The Herbalife F1 Shake Mix is marketed as a total meal replacement shake. The company claims that their product will assist with weight loss while supplying ample protein and other essentials such as vitamin B5, vitamin A, and zinc. Herbalife promises that their products will help with weight loss and achieving balanced nutrition.
Although some consumers may experience weight-loss success with this product, this does not automatically indicate that they are healthier and that their long-term health is not being compromised.
One look at the nutritional label on the Herbalife F1 Shake will reveal that this product does not supply any more than 30% of the daily value of any of the vitamins and minerals that it contains.
However, it contains an ingredient list riddled with harmful additions. It is a simple question of risks versus benefits. Is the small amount of protein, vitamins, and minerals that one would absorb while using this product worth the health risks involved with the consumption of destructive ingredients?
Herbalife regards themselves as a "global nutrition company", but let's take a look at some of the harmful ingredients that are present in the Herbalife F1 Shake Mixes.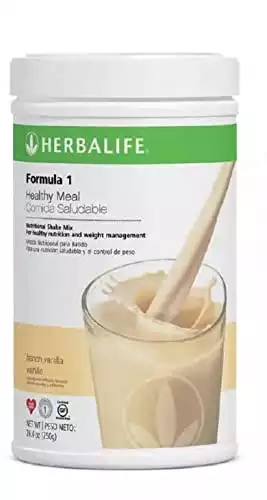 Herbalife Formula 1 Shake Mix | Amazon
Before using this product, or beginning any weight-control program, it is advisable to consult a physician. This is especially important for individuals with chronic kidney problems or insulin-dependent diabetes. A healthy weight-loss program should include modest calorie intake, balanced diet, and regular physical activity.
Buy at Amazon
We earn a commission if you click this link and make a purchase at no additional cost to you.
04/30/2023 10:50 pm GMT
Herbalife Ingredients List
Carrageenan – Herbalife contains carrageenan, which is a toxic emulsifier that has been shown to inflame the digestive tract. This risky ingredient has been linked to the development of certain cancers and to digestive disorders. With prolonged exposure, carrageenan can cause ulcers and intestinal bleeding. It is particularly harmful to those with autoimmune disorders, such as ulcerative colitis or Crohn's disease.
Carrageenan sourced naturally from seaweed, and for that reason it is often lurking in natural and organic products such as almond or coconut milks, yogurt, and ice cream. Fortunately, some naturally-minded companies are catching on to the dangers of carrageenan and are voluntarily reworking some of their products to eliminate this harmful ingredient.
Carrageenan is just one of the many reasons to avoid Herbalife F1 Shake Mix.
Artificial Sweeteners – Herbalife Shake Mixes also contains artificial sweeteners – either fructose or sucralose depending on the flavor. Most know that a high-sugar diet is not a healthy option, yet alternative sweeteners, even though they are marketed as the healthier choice, are composed of toxic chemicals that can cause extensive damage.
Sucralose has been linked to digestive disorders, headaches, dizziness, blood sugar reactions, and blurred vision. It is also shown to disrupt healthy gut flora significantly. A gut flora imbalance, also known as an overgrowth of yeast or non-beneficial bacteria, is a common reason why some people are following a low-sugar diet in the first place.
Scientists say that the genetic makeup of sucralose resembles that of pesticides more than the genetic makeup of sugar. Yikes!
Artificial Flavors – There are thousands of "artificial flavors" out there. Unfortunately, this certain label is non-transparent and knowing what a company means when they claim that their product contains artificial flavors is next to impossible. Artificial flavors can cause a whole host of health problems including allergic reactions (that are difficult to avoid if you don't know what you are eating).
Unfortunately, this list of side-effects attributed to artificial flavorings is too long to list here. Who knows what is lurking within the "artificial flavors" category in Herbalife Shake Mixes…
Soy Protein Isolate – Soy protein can also cause a host of issues, including hormonal imbalance, erectile dysfunction, mood swings, decreased libido, thyroid issues, and mineral depletion. Soy protein isolate in large amounts has even been shown to contribute to infertility in both men and women.
It is important to note that even though it is marketed as a soy protein shake, this product does contain milk products, which can pose a huge health problem for some.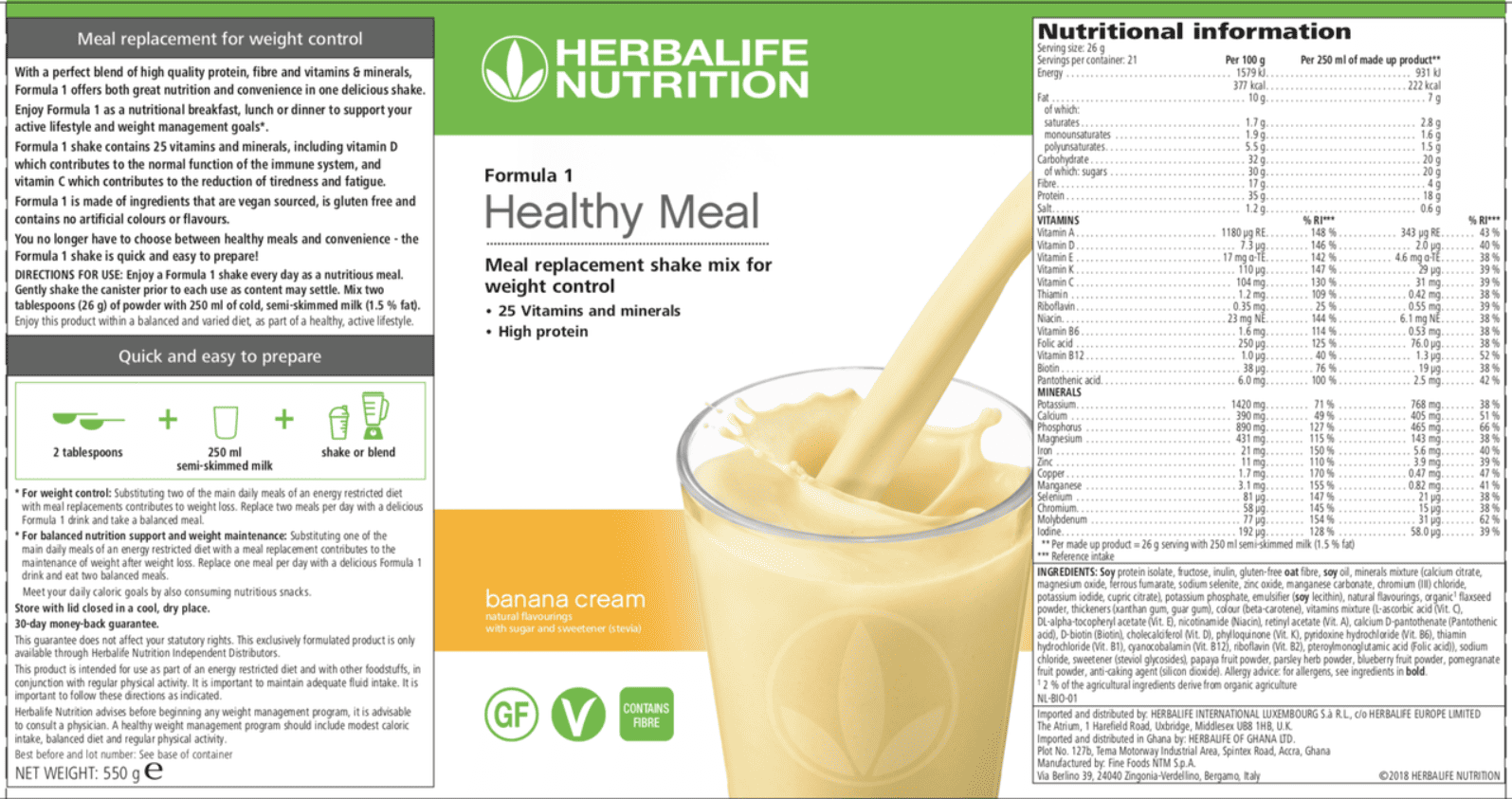 GMOs – Multiple ingredients listed on the Herbalife F1 Shake label are riddled with genetically modified organisms. Genetic modification changes the food that we eat from its natural state, into something that never would have existed in nature, and thus into something that our bodies are simply not developed
to digest.
Unfortunately, GMOs of one kind or another are present in almost all processed food and the majority of produce available in the United States. Evidence linking GMOs to health problems is quickly stockpiling, and due to health and environmental concerns, non-GMO products are on the rise.
So, as I quickly realized after hearing all the hype, Herbalife can be a detrimental choice and is not the miracle health drink that the company claims it to be.
So what are the alternatives? If you are looking for a nutrient-dense protein shake that will boost your overall health, but also realize that a diet consisting of plenty of raw fruits and vegetables and exercise is essential, then there are a few products out there that provide a safer alternative to Herbalife.
Herbalife Alternatives – 4 Different Recommendations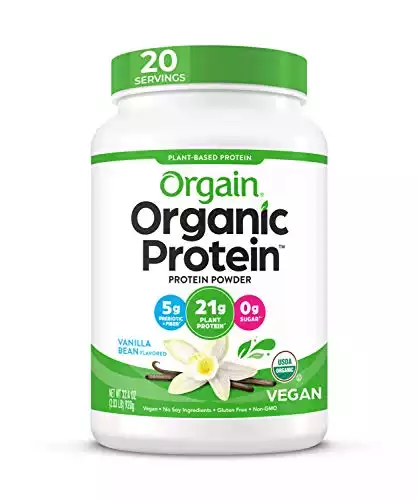 Orgain is a relatively new player on the market, but I love their organic ingredients AND great taste.
Many plant-based protein supplements suffer from chalky or gritty textures, but Orgain is among the smoothest I've tested.
With 21 grams of protein, Orgain is also among the better values (per protein serving) on the market right now.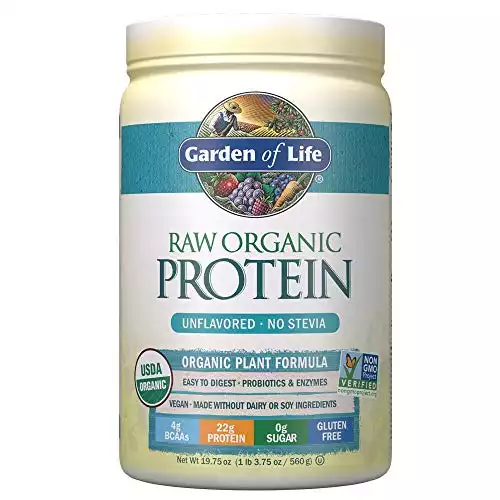 Garden of Life Raw Organic Protein Powder | Amazon
22 grams of complete, sugar free plant protein from USA-grown peas and 13 RAW organic sprouts. Help your muscles recover with a clean nutritional shake and get back in the gym faster.
Buy at Amazon.com
We earn a commission if you click this link and make a purchase at no additional cost to you.
04/30/2023 11:45 pm GMT
A completely vegan, plant-based protein powder. Garden of Life Raw Protein is free of GMOs, artificial ingredients, gluten, and dairy, and there are no preservatives or fillers. The protein in this powder is derived from sprouted beans and seeds. To aid absorption and promote absorption of the vitamins and minerals that it contains, this formula also includes digestive enzymes and probiotics.
In addition to protein, this product contains 100% of the daily value of vitamin D. Raw protein comes in three flavors: original, chocolate, vanilla, and vanilla chai. Raw Protein can be efficiently mixed with either food or beverages to add 17 grams of protein per serving to your diet.
With a much more affordable cost and 28 servings per container, the original flavor rings in at approximately $1.35 per serving.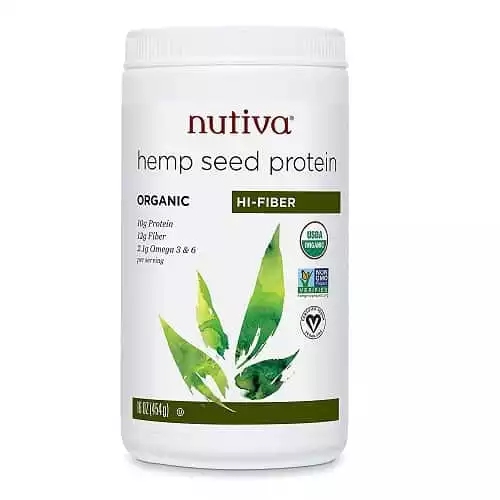 Nutiva Organic Raw Hi-Fiber Protein Powder | Amazon
Rich in plant protein, fiber, magnesium, iron, zinc, and sustainable source of amino acids, fatty acids, protein, and edestin—one serving provides 10 grams of raw organic protein and 12 grams of fiber with no trans or saturated fats.
Buy at Amazon.com
We earn a commission if you click this link and make a purchase at no additional cost to you.
05/01/2023 12:10 am GMT
With 15 grams of protein and 8 grams of fiber per serving, Nutiva's Hemp Protein is a solid choice for those looking to add a bit of plant-based protein seamlessly to their routine. This one-ingredient, easily-digestible powder naturally contains nine essential amino acids, as well as magnesium, iron, and zinc.
Hemp has a slightly nutty taste and can be mixed with any beverage, but may work especially well with alternative milks. Nutiva's Hemp Protein is certified organic, non-GMO, vegan, and chemical-free. A 30 ounce container costs even less than Garden of Life and contains 30 servings, which works out to about $0.73 per serving.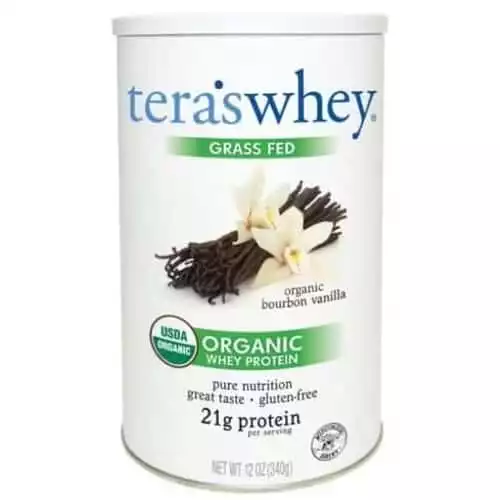 Tera's whey Organic Protein Powder | Amazon
Our organic, grass fed whey protein is blended with organic Madagascar Bourbon Vanilla for a perfect combination of great taste and pure health. Certified Gluten Free, rBGH/rBST and antibiotic free, and Non-GMO.
Buy at Amazon.com
We earn a commission if you click this link and make a purchase at no additional cost to you.
If you are looking for an option that comes in a variety of flavors like Herbalife does, and if you don't have trouble with dairy, this one is probably your best bet. Tera's Organic Whey offers certified organic nutritional shake powders in a medley of recipes. Made with organic whey derived from grass-fed cows, these powders are non-GMO and contain no artificial ingredients.
In addition to the naturally flavored varieties, a plain variety is available that is comprised of only two ingredients: organic dairy whey protein concentrate and organic sunflower lecithin. Even the flavored powders are made with minimal ingredients.
As an example, the blueberry flavor adds only two ingredients in addition to the whey and lecithin: organic stevia leaf extract and organic blueberry flavor. All flavors contain at least 20 grams of protein per serving.
Expect to spend about $2.33 per serving for the organic variety and $1.71 per serving for the non-organic option. This company also offers a protein powder made with goat milk whey.
Other Herbalife Substitutes and Comparisons
Here are some additional direct comparisons I've done over the years:
Herbalife Alternatives Comparison
For easier comparison of the key features, I've put together a table below to compare the key ingredients side by side.
Is Herbalife Safe: FAQs
Question: Is Herbalife good to lose weight?
Answer: Maybe. Herbalife has a program that works for some people, but I would argue that it's far more expensive and less effective than the alternatives.
Once you understand the principles of calorie deficits, the specific meal replacement supplement is less important than the discipline required to stick to limiting calories and even exercise (although exercise is second to proper diet).
Question: Can Herbalife cause liver damage?
Answer: There is a well-publicized case where Herbalife was sued for Fraud and Negligence and some supporting medical evidence from studies, precisely for this reason. I'm not a big fan of the Herbalife ingredients, to begin with so this wasn't an altogether surprising discovery for me.
Question: How Expensive is Herbalife?
Answer: While it can depend on your "supplier", a 30 serving container is generally over $40. Herbalife recommends shakes 2X per day, so this is about $80 just on the shakes (not to mention the other supplements they push). This makes it a good 30-50% more expensive than comparable protein shake supplements.
Further Reading:
—-
Disclaimer
Last updated: December 16, 2019
The information contained on www.altprotein.com website (the "Service") is for general information purposes only.
Alt Protein assumes no responsibility for errors or omissions in the contents on the Service.
In no event shall Alt Protein be liable for any special, direct, indirect, consequential, or incidental damages or any damages whatsoever, whether in an action of contract, negligence or other arising out of or in connection with the use of the Service or the contents of the Service. Alt Protein reserves the right to make additions, deletions, or modification to the contents on the Service at any time without prior notice.
Alt Protein does not warrant that the Service is free of viruses or other harmful components.
Fitness disclaimer
The Service offers health, fitness and nutritional information and is designed for educational purposes only. You should not rely on this information as a substitute for, nor does it replace, professional medical advice, diagnosis, or treatment. If you have any concerns or questions about your health, you should always consult with a physician or other health-care professional.
Do not disregard, avoid or delay obtaining medical or health-related advice from your health-care professional because of something you may have read on the Service. The use of any information provided on the Service is solely at your own risk.
You can also review our Editorial Integrity Policy.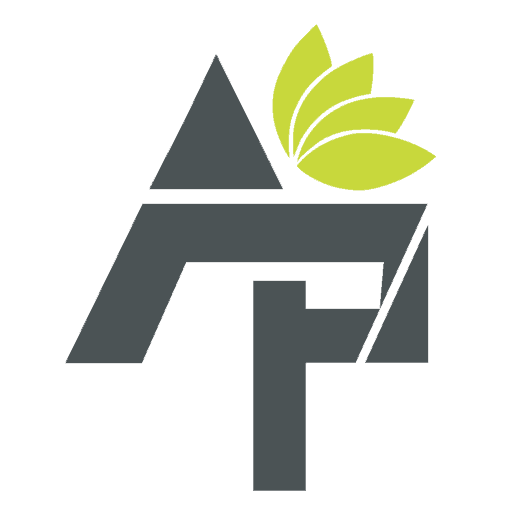 Alt Protein Team is a team of professionals and enthusiasts committed to bringing you the most up-to-date information on alternative protein, health and wellness, workouts, and all things health-related. We've reviewed a lot of products and services so you don't have to guess when you spend your hard-earned money on them. Whether you want to shed some pounds, build lean muscle or bulk, we can help you figure out what you need to do and what you need to have to achieve your goals.