Outside of the best heart-healthy meal delivery services, convenience and nutrition focused on supporting heart health (or any health) rarely seem to go together.
High blood pressure runs in my family, and I've had a few heart-related issues (nothing serious so far) over the past several years, so I look for meals that support overall health and help me maintain good heart health.
I'm also low on time to cook. Prepping meals for the week on the weekends isn't always doable. Quick options (delivery, takeout, drive-thru, and prepared/frozen meals from the grocery store) are usually loaded with sodium, too high in calories, or too processed.
That's where meal delivery services with healthy ingredients come in to save the day.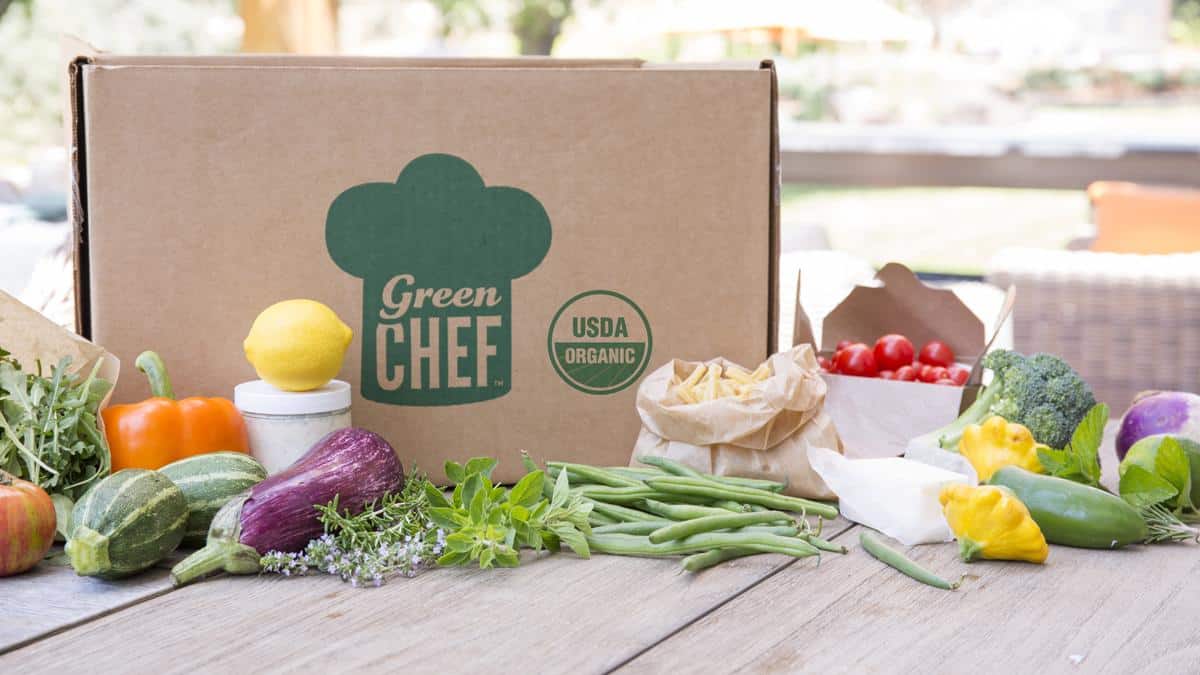 My Top Picks at a Glance
Green Chef and Sunbasket: Best when you're cooking for the family
Fresh N Lean, Green Chef, and (runner-up) Blue Apron: Best for maintaining good heart health
BistroMD, NutriFit, and MealPro: Best if you're already experiencing heart-related issues and need a low-sodium diet (Be sure to consult your doctor first.)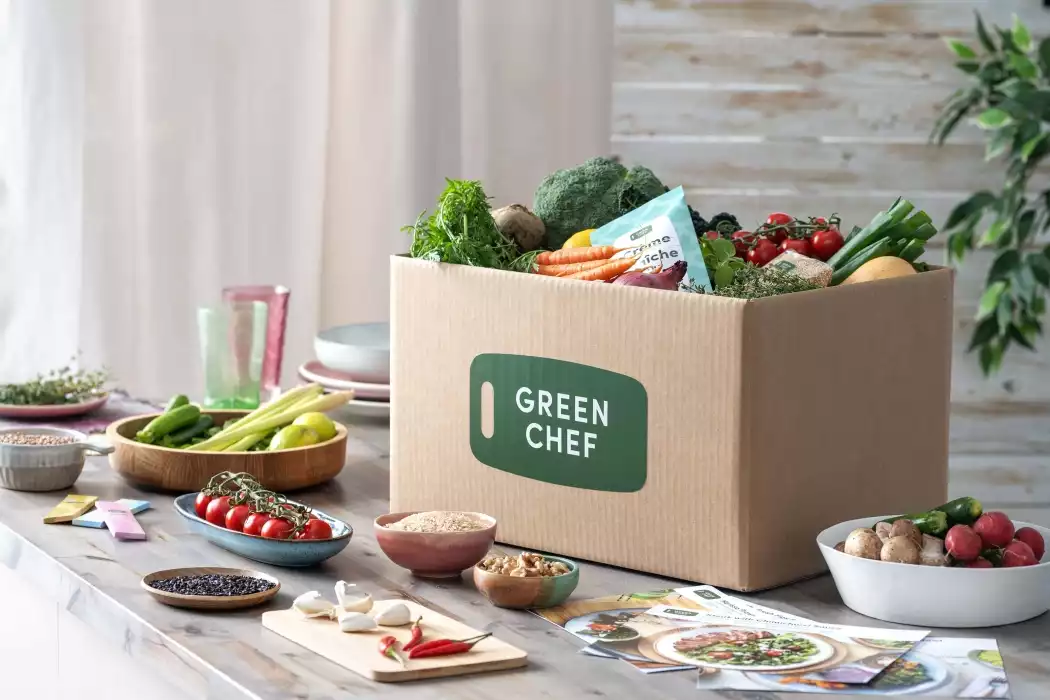 Where Health Meets Flavor | Green Chef
Chef-crafted recipes that tempt your taste buds, made with clean ingredients that nourish your body.
Get Started
We earn a commission if you click this link and make a purchase at no additional cost to you.
How I Chose the Best Heart Healthy Meal Delivery Services
First, I checked for meal plans, like Mediterranean, plant-based, pescatarian, or similar, that fit the general recommendations for a heart-healthy diet.
From there, I looked at the sodium content. If too many meals had a large percentage of the daily recommended value, they were crossed off the list. Some sodium is good, especially when working out, but many prepared meals have too much.
I considered price, but when you get into the ones with nutrition specialists targeting specific needs, like heart health, sometimes they are more expensive than your average meal delivery service.
What Diet Do Heart Doctors Recommend?
Take all the generally accepted guidelines regarding what makes a heart-healthy diet. You'll probably notice a few diets that match up well.
Mediterranean (this one seems to be recommended most often)
Plant-Based
Paleo (sort of, since it focuses on whole foods, though the use of butter and inclusion of some red meat make it trickier to navigate)
Simple Guidelines
Portion Control
Focus on portion control. Eating healthy, whole foods in the appropriate portion sizes for your body can significantly improve your overall health.
Most meal delivery services take this off your plate because they're already individually packaged servings with your health needs considered.
Nutrient-Dense Foods
Focus on nutrients. That means a lot of fruits and vegetables. You'll need healthy (unsaturated) fats, lean proteins, and whole grains, too.
What to Get More of
Fresh/frozen vegetables and fruits (or canned, as long as there's not a ton of sodium or sugar)
Whole grains
Oatmeal
Lean proteins (like skinless poultry, lean ground meats)
Healthy fats like olive oil, nuts, seeds, olives, and avocados
Legumes
Low-fat dairy
Herbs for flavor (instead of table salt)
Reduced sodium condiments
Herbal teas (especially if you're trying to cut back on coffee, soda, or other sweetened beverages)
What to Limit
Sodium (you need some, but a lot of fast food and prepared meals have too much, especially when combined in a single day)
Alcohol
Saturated fat (limit this to less than 10 percent of total daily calories)
Trans fats
Fast food
Most prepared food (think canned soups and frozen meals from the grocery store, not the options on this list)
Refined grains
Fried foods
Heavy syrups (in some canned fruit)
Organ meats
Full-fat dairy
Sugar
Red meat
The 7 Best Heart-Healthy Meal Delivery Services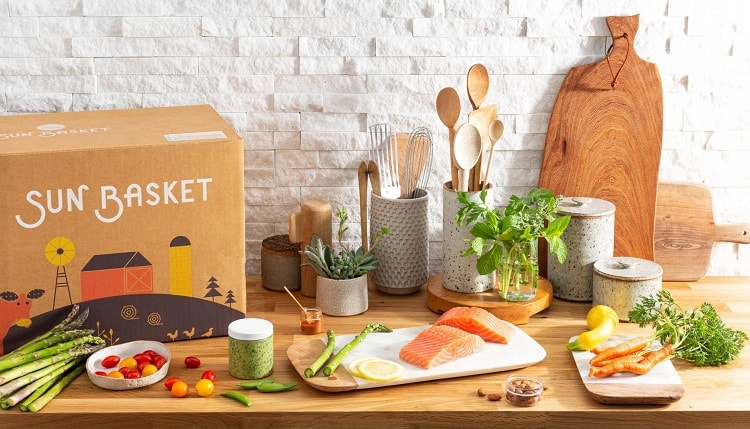 Sunbasket is a good option for families, with organic ingredients and meals you can cook together (or by yourself if that's how you wind down in the evenings).
Several of their plans generally fit the heart health guidelines. Still, you'll always want to double-check the nutrition labels since these meals aren't created strictly for heart concerns like others.
Depending on whether your doctor has already recommended a low-sodium diet to address heart-related issues or you're just looking to prevent future problems, there are meals here that could work.
For example, the Moroccan Sheet Pan Chicken and Roasted Sweet Potato with Kale Salad only has 125 mg of sodium. The recipe calls for more salt while you make it (not included in the nutrition facts), but you could limit or omit it.
Pros
There are additional layers of health consciousness here. It's not all about carbs and calories. You can choose to address a few specific health concerns, like diabetes. The Diabetes-Friendly meals are worth a look even though you're shopping for heart-healthy options because these meals focus on fiber, good fats, low sodium (less than 700mg per serving), the types of carbs that doctors recommend for a heart-healthy diet, and fewer than 10 percent of calories from added sugar.
The Mediterranean, Pescatarian, and Vegetarian meal plan options also fit incredibly well within the recommendations for a heart-healthy diet.
You can choose from meal kits you cook or Fresh & Ready meals that only have to be heated up (if you're concerned about sodium levels, take extra care to check the Fresh & Ready meals).
Meals start at $9.99 when there aren't any discounts. As of this writing, you can get them as low as $4.28 per serving.
They offer add-ons for when you need an on-the-go option or snack.
Most of the packaging can be recycled or composted.
Meals are low in sugar.
These are higher in calories than some of the plans explicitly developed around heart health, which might be good if you need more calories to support your workouts or daily life.
Cons
Some meals have slightly more sodium than I'd like to see, especially in the Fresh & Ready section.
Since these are designed with heart health as the focus, you'll have to sift through them to find the ones that fit your needs.
MealPro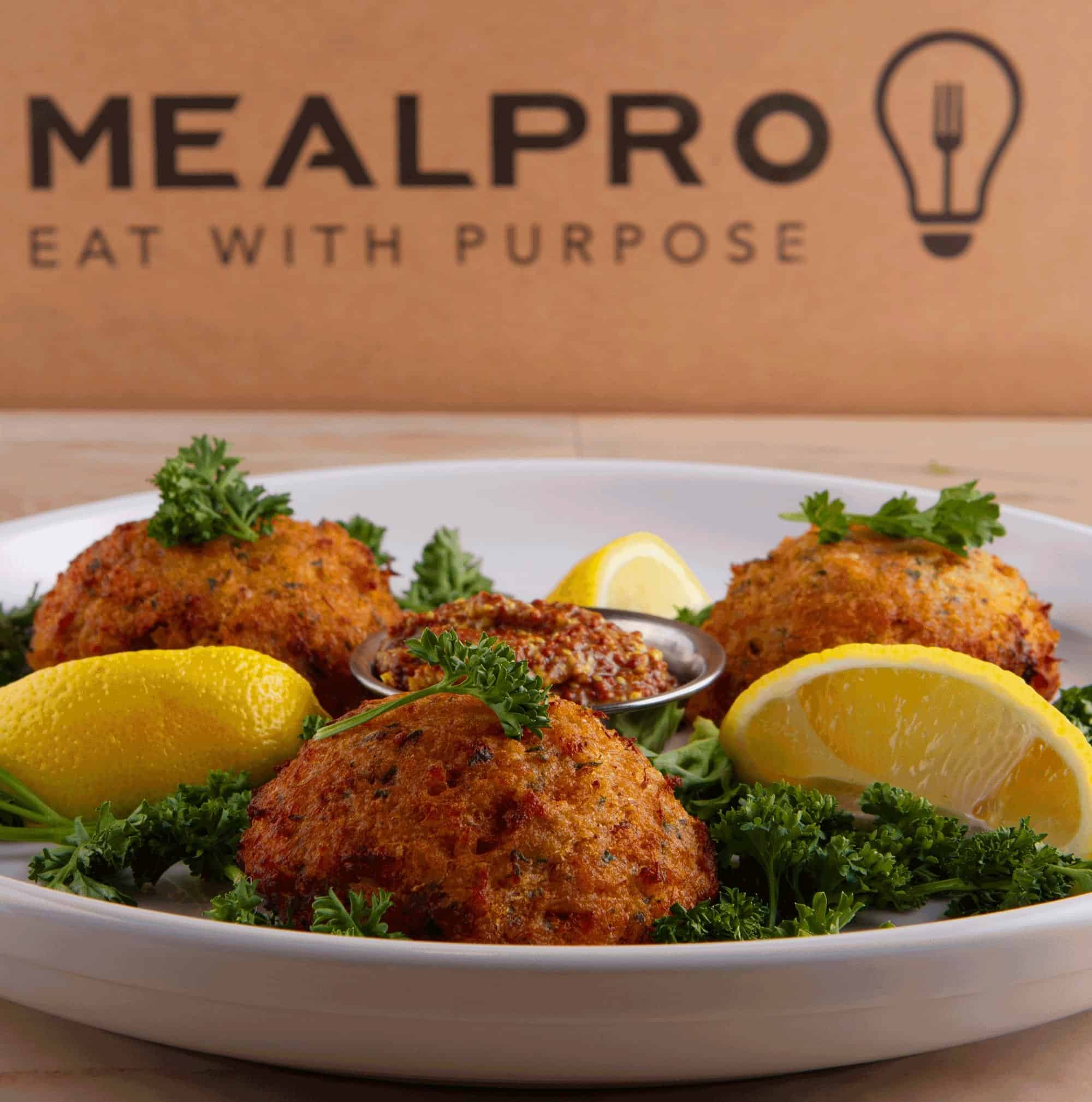 MealPro meals are low-fat, low-sodium, and low-cholesterol. They're cooked when they arrive, so you just need to heat them up when it's time to eat.
The calories are low, so you may have to eat a larger breakfast or more snacks, depending on your needs. Still, you don't have to agonize over ingredients or sodium levels.
The price isn't exceptionally high or low at $14.39 per meal, but you will get little say in the meals you get with the Heart Healthy plan.
They'll deliver to the continental United States and parts of Alaska, Hawaii, and Canada, which is a big deal compared to many companies that only deliver to 48 states.
Pros
I see a lot of ingredients that are good for other things, like inflammation (the turmeric in the Turmeric Turkey)
The whole menu is designed around heart health, so you won't have to dip in and out of full nutrition facts on the labels only to be massively disappointed when a seemingly healthy meal has 4000 mg of sodium (that's a bit of an exaggeration, but you know what I mean).
The cholesterol, allergens, and sodium are listed under the recipe's name and picture on the website, so it's easy to see which ones you'd like to investigate further. When you click for full nutrition facts, it doesn't take you to a new page, so choosing meals is quick.
The lists of ingredients are so simple, you'll probably never wonder what anything is.
It's not a subscription, so there's nothing to remember to skip, cancel, or choose by a deadline.
Cons
Some of these meals are extremely low in calories (for example, the Couscous Prawns have 300, and the Zucchini Chicken has 370). If you're working out, too, you'll have to supplement a lot.
Some meals could use a flavor boost, which you can do at home with salt-free seasonings. For example, the Zucchini Chicken has grilled chicken, zucchini, quinoa, and yam. No seasonings are listed.
You don't get to choose your meals with this plan. They have 10 meals, and you'll get two of each for $287.80. It's nice that you don't have to spend the mental energy choosing–unless you have a lot of additional dietary preferences.
These only stay good in the fridge for about three or four days, while some others claim they're good up to seven to 10 days. You can freeze them for later, though.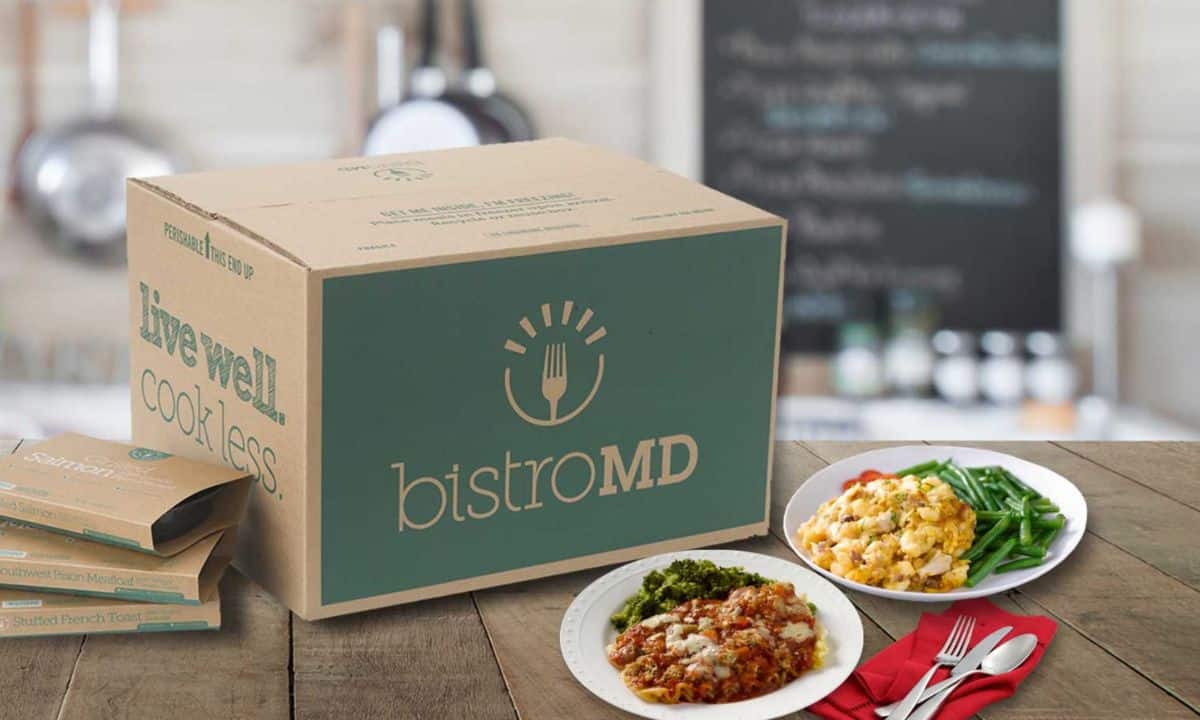 BistroMD focuses on weight loss, and they offer meals designed with heart health in mind, following the recommendations from the American Heart Association regarding calories, sodium, and fat.
With BistroMD, you get the option to choose the full program for five or seven days (three meals per day, except for one dinner on the seven-day plan, which they call "My Night" where you get to apply what you've learned, and enjoy a meal from outside the plan).
If you'd prefer to do your own thing for breakfast, that's okay. They also have a Lunches & Dinners option for five or seven days per week.
This is one of the ideal picks if you're already experiencing heart issues and/or have been instructed by a doctor to follow a low-sodium plan. Suppose you're looking for a more general meal delivery service to help maintain good health. In that case, consider other options, especially if you're not trying to lose weight.
Pros
You get support from registered dieticians and a program built just for you.
The meals in the heart-healthy plans were created with that specific goal in mind, so it takes out a lot of the guesswork.
All their heart-healthy meals have less than 600mg of sodium. You'll also notice they're low in saturated fats.
It's inexpensive to try–you can get meals as low as $6.59 per serving for the first week (40 percent off, plus free shipping).
There's a good variety in the meals, with options like Stuffed Grape Leaves with Tomato Sauce, Hickory Smoke BBQ Pork with Broccoli, and Jerk Spiced Tilapia with Mango Pineapple Salsa. There are "comfort dishes" like Chicken, Rice, and Cheddar Casserole and Turkey Breast with Cranberry Apple Chutney, too.
There are over 100 meals to choose from.
There's enough flexibility to keep it from feeling stifling but not so much that it's easy to veer off-course.
Cons
I was surprised to see pork in so many meals, though it can fit into a heart-healthy diet if they're lean cuts. I don't enjoy pork, so the prevalence of it here (at least the week I'm writing this) is disappointing. Still, there are chicken, fish, and even bison options.
If you don't have to be on a strict heart-healthy plan and you're looking for something that supports heart health as part of a diet overhaul meant to improve your dietary habits and overall health, this may feel too restrictive.
They only ship to the continental United States. Shipping costs $19.95 on all but the first box.
It can be expensive, especially if you only get lunch and dinner for five days. You'll pay $14.99 per serving. It's not quite as bad if you go for the full plan for seven days. In that case, it's about $10.99 per meal. (These prices are based on the full price, not the first-box discount.)
NutriFit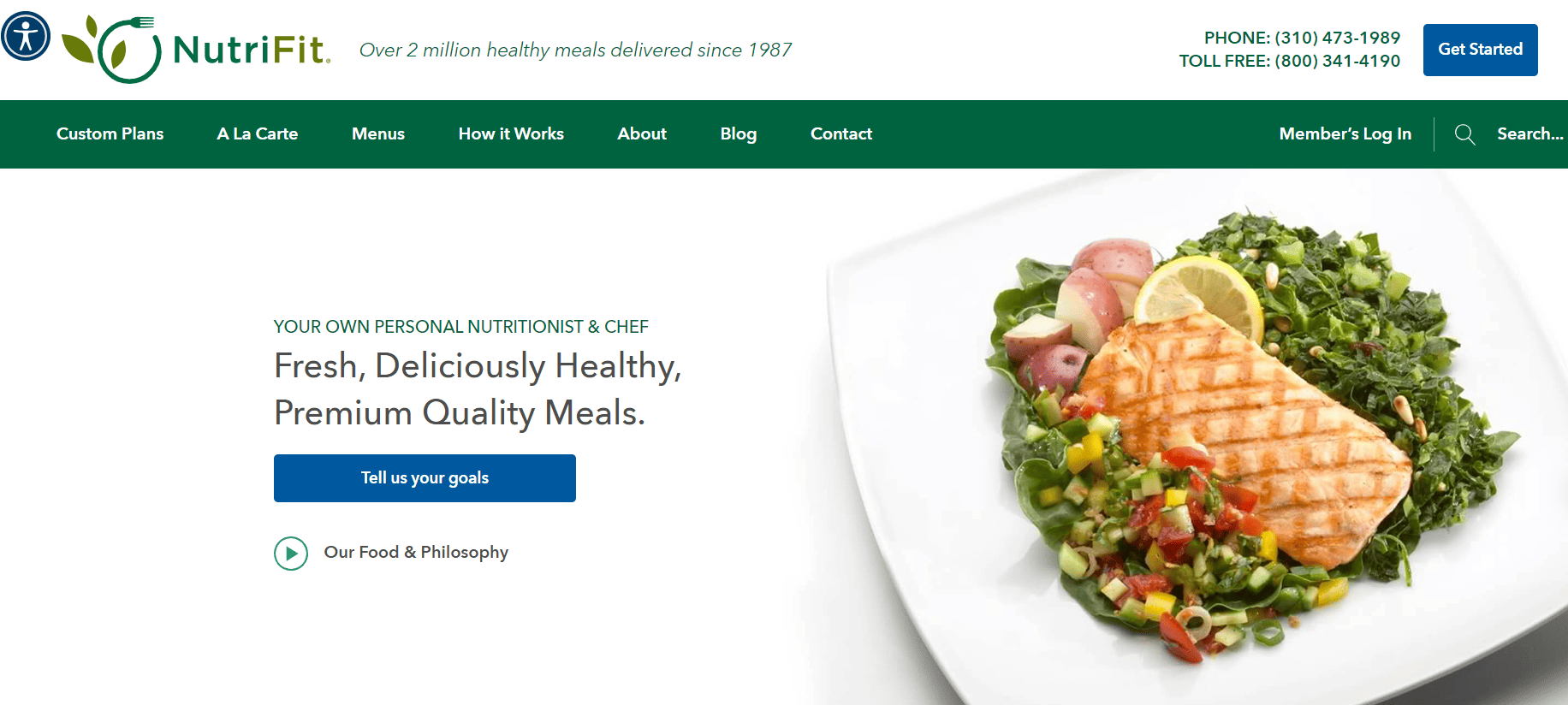 If you have heart disease, NutriFit has a plan that works with you to support your heart health. There are two paths you can take: Essentials or Premium. If you can swing it, I recommend the Premium option because it's more customizable and includes soups, snacks, salads, and desserts.
Pros
You can choose between 1200, 1500, and 1800 calorie plans on the Essentials plan (this applies to the breakfast, lunch, and dinner plan). I love that this isn't a cookie-cutter plan. Some people move around more than others, so many factors affect how many calories an individual needs. The Premium plan gives you even more wiggle room because it's customized to your needs.
If you're trying to gain weight, you'll find that the Premium plan can accommodate that (you can get up to 2800 calories per day).
The Premium plan can be gluten-free.
You get a lot of options with either plan, like which daily meals you want, whether you want additional daily snacks, soups, desserts, smoothies, juices, etc. (these are included in the Premium plan).
You can select a Tuesday or Thursday delivery day, giving it a sense of predictability.
You can opt for a two-day trial (not free) to see if you like the meals and the service before you commit. Even with a regular sign-up, you only commit to a week at a time.
You can fill in calories and/or macros on the Premium plan (it's not a requirement).
Cons
You miss out on many options with the Essentials plan, like calorie counts for your specific needs (though the three tiers they offer are alright) and other customizations, like multiple dislikes and allergies.
If you need to gain weight and it'll take more than 1800 calories, the Essentials plan won't work for you on its own. You'll either need to add things to it on your own or upgrade to Premium.
It is shockingly expensive. The weekly cost for seven days of three meals (plus an afternoon snack, a side of soup or salad, and a dessert or evening snack) at 1750 calories is $540.79. I can feed my family for at least two weeks for that price (granted, there's no nutrition professional, weight loss/gain coach, or chef involved when I do that).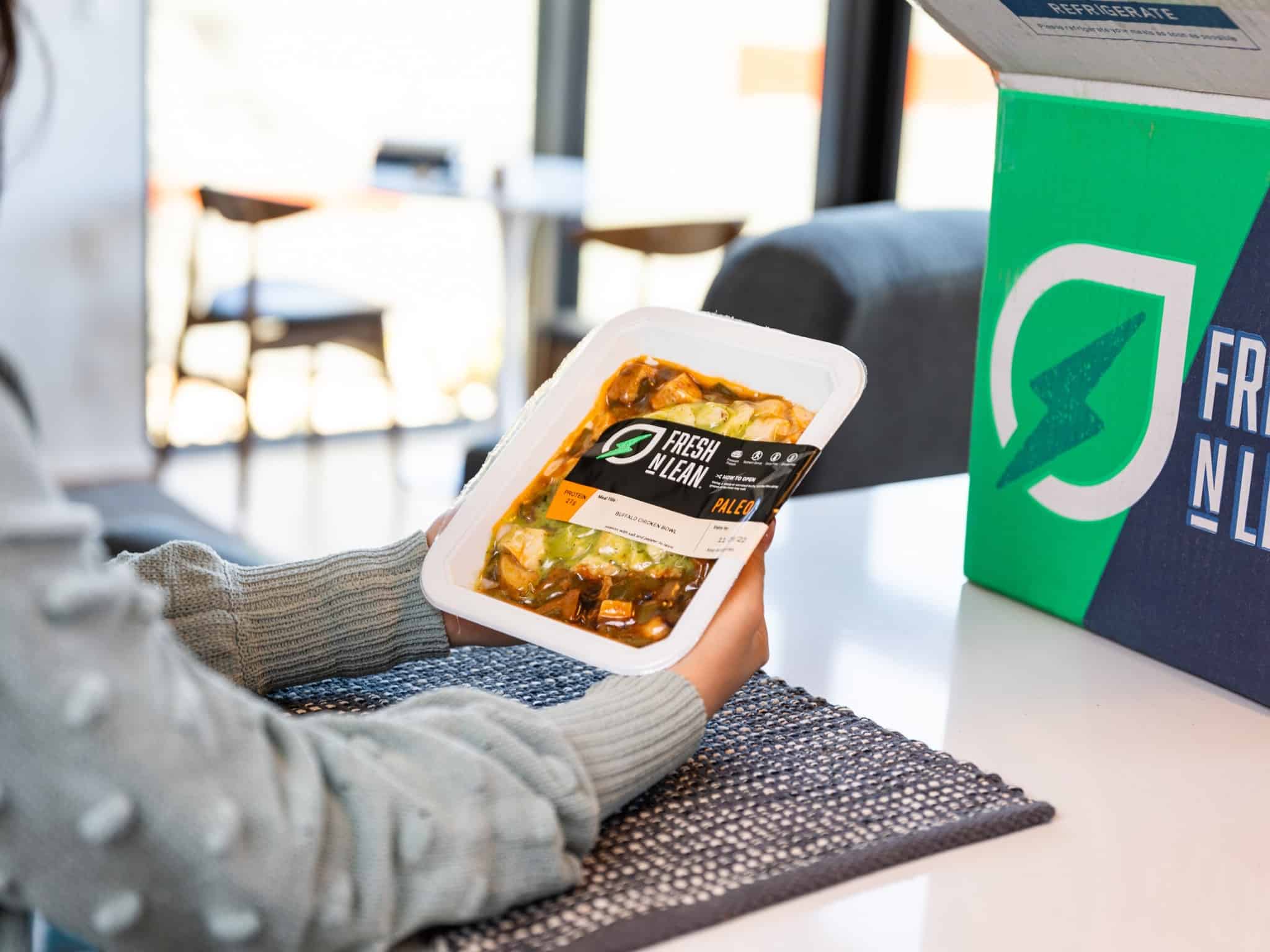 Fresh N Lean has Standard Vegan, Low-Carb Vegan, Protein+, Paleo, Whole30 Approved, and Mediterranean diets (plus a few more that don't match the specified heart-healthy guidelines quite as well).
Any of those plans could have heart-friendly meals. However, since they like for you to choose one program and stick with it, I'd start with the Mediterranean since that diet checks the most boxes for a heart-healthy way of eating.
A la carte options are available, but working them in is more challenging with Fresh N Lean than other meal delivery services.
You can also add another meal plan at checkout, but you'll still have the same options (breakfasts, lunches, and/or dinners for five or seven days), which could be too much food for the week. Freezing the meals is an option in this case, if you want to mix and match between plans for two or more weeks at a time.
Prices start at $10.32 per meal (when you get breakfasts, lunches, and dinners for seven days). That puts you over the $100.00 threshold for free shipping if you live in the contiguous United States.
Pros
There are over 100 meals to choose from every week, so you won't be locked in with the same handful of meals on repeat. I thought the selection could still feel limited since the 100 meals are spread across meal plans. Still, for the week of September 18th to September 22nd, 12 meals could be used as lunches and dinners and eight breakfasts. Not bad.
The healthy fats here promote heart health.
These meals have 30 grams of fiber, an essential component of a heart-healthy menu.
These are not bland meals, so if eating heart-healthy has your taste buds nervous, you'll love these. You'll see options like Hot Honey BBQ Chicken with Sweet Potato and Spicy Corn Succotash, Sesame Salmon with Vermicelli and Thai Almond Sauce, and Chipotle Lime Shrimp with Southwestern Cauliflower Rice.
The calorie range for these meals is around 400-600, which should fit most diets well.
These meals are made with organic ingredients.
You can buy bulk sides, like salmon, almonds, and broccoli if you want more heart-healthy food to round out your meals.
You can exclude up to three ingredients from your meal plan and let them know about any allergies you have at the beginning of the checkout process.
Cons
Some of these are lower in protein (14g) than I'd like to see from a fitness perspective, but others have more (37g), so it balances out.
Some meals are slightly higher in sodium than I'd prefer. For example, the Spicy Kung Pao Chicken Stir-Fry has 670mg of sodium.
I've been obsessed with Green Chef for a while now. This is one of the healthier "general" meal delivery services I've found (meaning not specifically for fitness or any health condition), and they do a lot of the prep work for you, too.
I've included them because of their Mediterranean, Plant-Based, and Calorie Smart menus, which will have heart-friendly options. You'll still want to look at the full nutritional details before you order a meal to be sure it's a good match.
The price per serving starts at $11.99.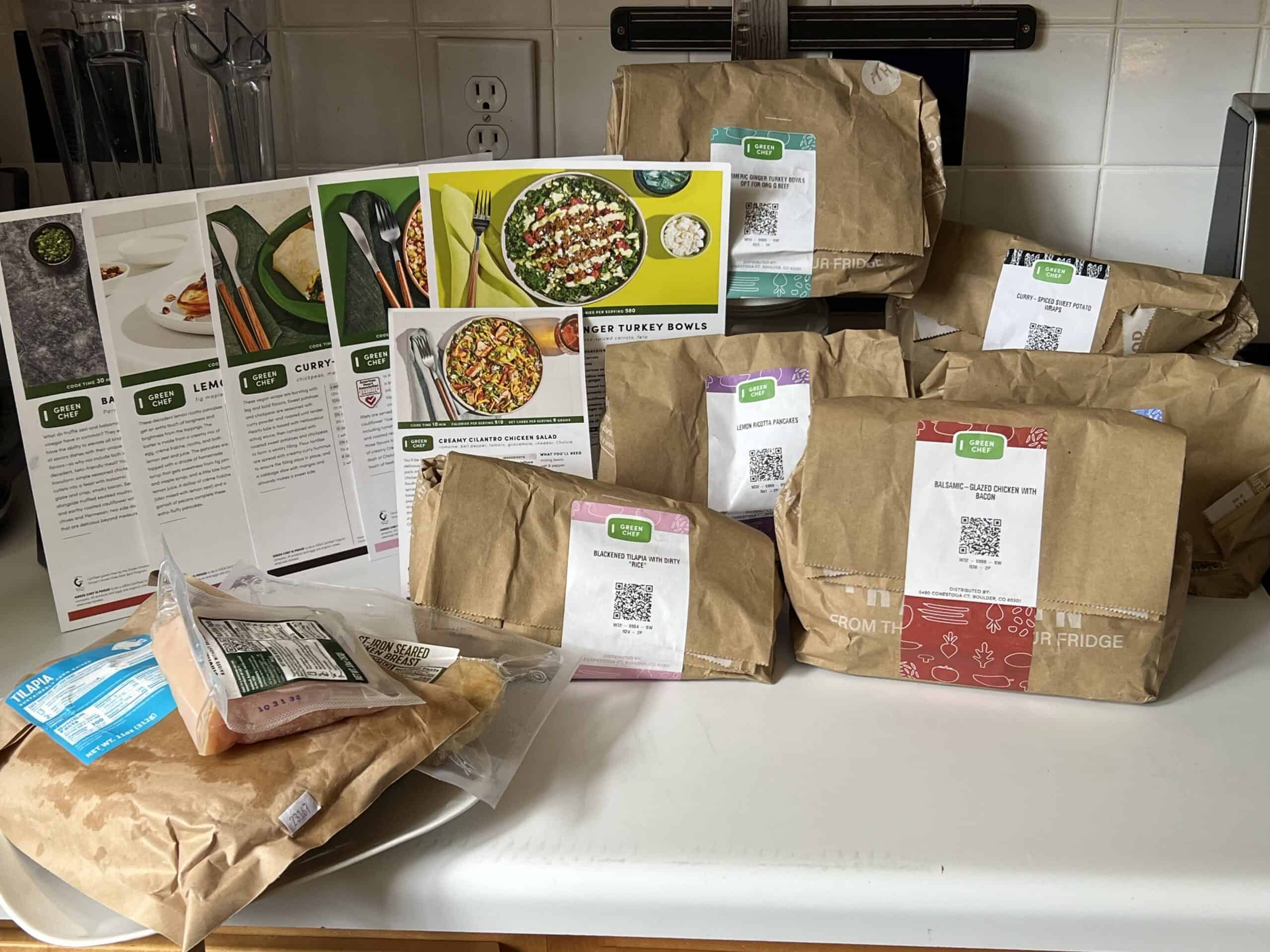 Pros
You can score a pretty awesome discount on your first one to four boxes. As of this writing, you can get $101.00 off your first four boxes (total), but other coupons are probably floating around out there, too.
I loved the balanced flavors here. There were lots of herbs and spices, not high-fat sauces, salt, and sugar.
They have breakfasts, too. They're not all lunches and dinners.
I wasn't expecting so much to be pre-chopped or the sauces already made. Sometimes, you may have to chop or mix something, but I've had to do more with other kits.
You get sustainably sourced and organic ingredients.
Most calorie counts are in the 600 to 800 range, which might be high for some people.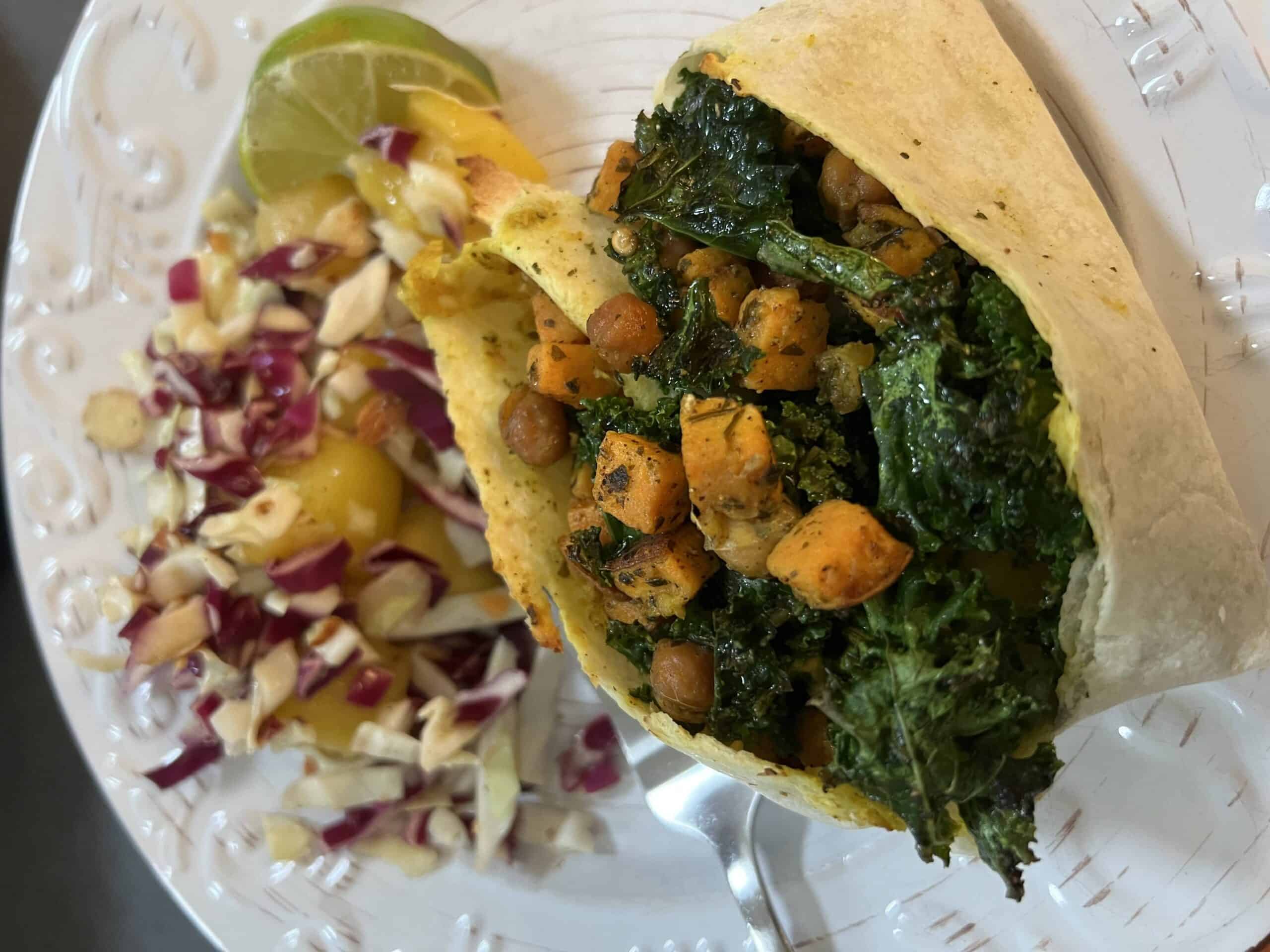 Cons
Though it's one of the healthier options for meal kits, you'll still have to check each meal's nutrition facts to ensure it's appropriate for any dietary restrictions you have.
You'll have to cook the meals in most cases, and they took me longer than the recipe cards said.
Clean-up's a beast sometimes. Some recipes required me to use so many dishes. This isn't specific to Green Chef, but it's a lot to deal with compared to the pre-portioned, ready-to-heat meals.
You might want to order more meals than they allow. You can only get up to four at a time, though if you're not feeding a family, there can be plenty of leftovers (you can get two to six servings per meal).
I wish you could substitute the protein more often, putting in chicken instead of pork, for example.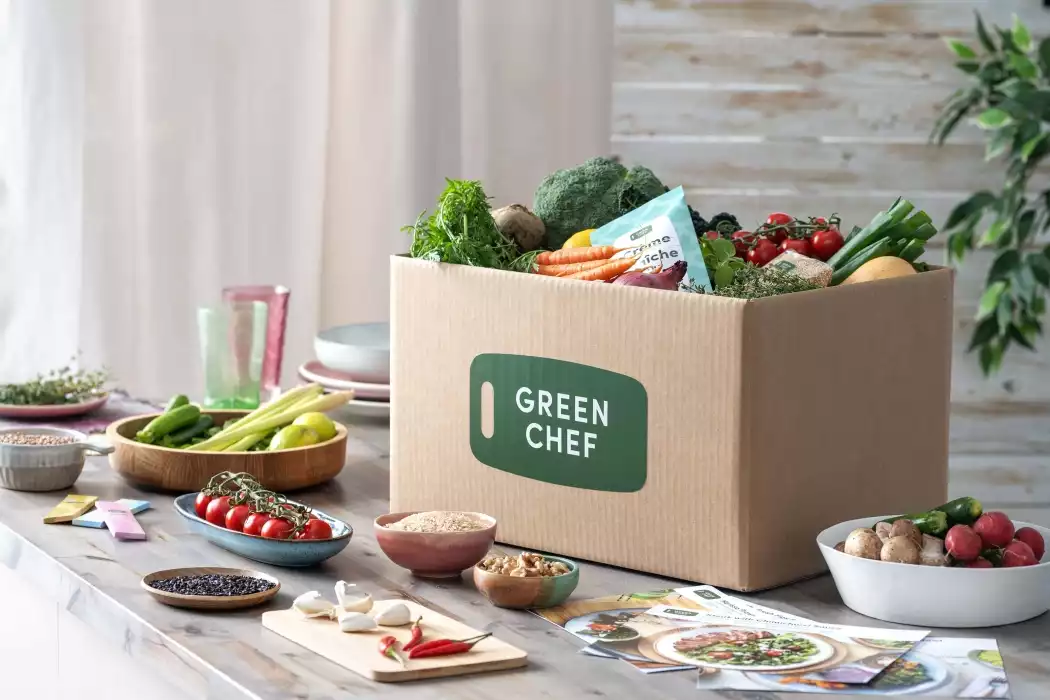 Where Health Meets Flavor | Green Chef
Chef-crafted recipes that tempt your taste buds, made with clean ingredients that nourish your body.
Get Started
We earn a commission if you click this link and make a purchase at no additional cost to you.
Honorable Mention: Does Blue Apron Have Heart-Healthy Meals?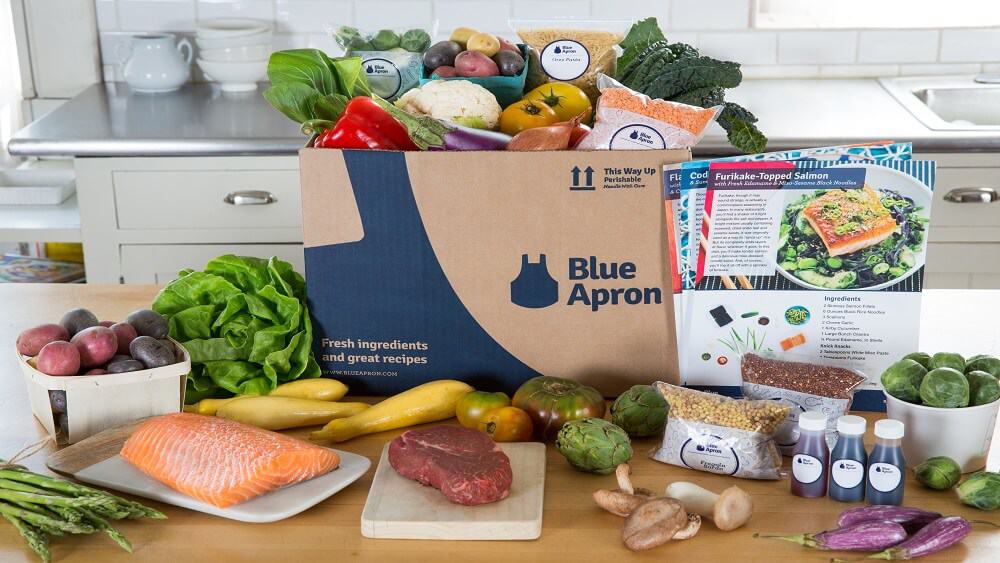 Blue Apron would be on the official list of the best heart-healthy meal delivery services if they expanded their Wellness section. There are only three to five Wellness meals at a time as of this writing. However, that might be all you need if you're not picky.
Blue Apron may work if you're not too concerned about the sodium at this point and you're simply looking for convenient, healthier choices overall to maintain heart health.
Best for: People looking to clean up their diets, families, people who love cooking once and having leftovers
Available plan options: Chef's Favorites, Wellness, Family-Friendly, Fast & Easy, Veggies
Pros
The wellness options are somewhat balanced, not unusually high in fats or carbs, and average to high in protein.
Wellness meals are typically below 600 calories.
The sodium isn't exceptionally high here, which is something you really have to watch out for in meal kits and meal delivery services. For example, the Moroccan-Style Chicken & Couscous has 390mg, on the lower end for meal kits and ready-to-eat meals.
Carb-conscious options are available, and even though they may not be labeled as such, they can also have fewer than 600 calories. The Chicken & Mushroom Agrodolce has 490 calories as prepared, with 46 grams of carbohydrates.
Cons
There were fewer options under the Wellness tab than I'd hoped for, and I had trouble finding other heart-healthy options under different tabs. (I'm not saying they aren't there, but they're not easy to find.) Even the meals under the Veggies tab had surprisingly high sodium.
Even though the Wellness section of Blue Apron is one of the better options for heart health, some of those can even be high in sodium, so double-check before you buy. Blue Apron is unlikely to work if your doctor has instructed you to go on a very low-sodium diet. Some options are incredibly high in sodium, like the Chicken & Chickpea Curry with Naan, with 2130 mg as prepared (2120 as packaged). That's 92 percent of the daily recommended value.
FAQs
Question: Does HelloFresh offer heart-healthy meals?
Answer: Yes, they do, but you must shop carefully. A lot of HelloFresh's meals are high in sodium. They have plans like Fit & Wholesome and Pescatarian, and you can look for labels like Calorie Smart and Mediterranean for clues as to which ones might be best. Always be sure to check the labels, though; I was pleasantly surprised by the 390mg of sodium in the Balsamic Fig Chicken with Roasted Potatoes and Mixed Greens, but shocked by the 1130mg in the Zucchini & Sun-Dried Tomato Risotto.
Question: What is the best food for heart and anxiety?
Answer: Omega-3s are good for heart health and anxiety, so look for healthy fats in your meals. Fish oil supplements are a good source of omega-3s, but you can get them from fish (mackerel, salmon, etc.), flaxseed, chia seeds, walnuts, eggs, and other whole food sources.
Question: What dissolves artery plaque fast?
Answer: You won't be able to dissolve it fast, but you can keep the problem from getting worse with dietary changes that include whole grains, lean proteins, healthy fats, and lots of fruits and vegetables. You'll need a healthy diet paired with exercise, quality sleep, making sure your weight stays in a healthy range,
Conclusion: It Depends
Choosing the best heart-healthy meal delivery service is complicated. For overall health, including maintaining good heart health, go with Fresh N Lean for single servings or Green Chef for feeding a family.
If you've been diagnosed with a heart-related condition, always check with your doctor before changing your diet. BistroMD or MealPro are most likely to fit your needs. If it's in the budget, NutriFit would also work. Still, I hesitate to recommend it over others because it's so expensive.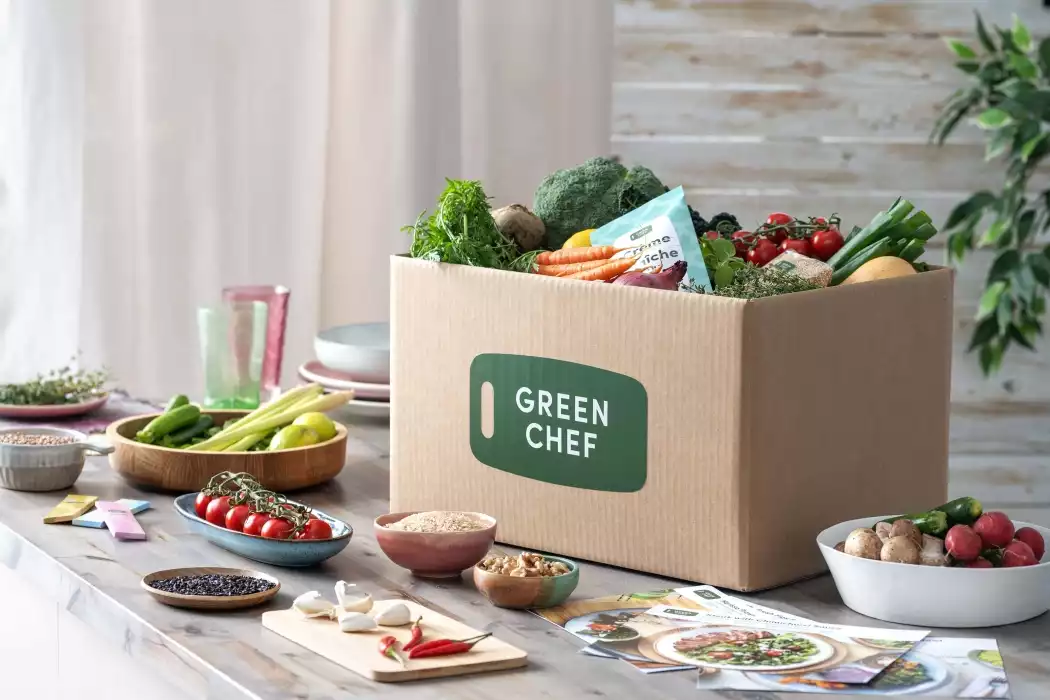 Where Health Meets Flavor | Green Chef
Chef-crafted recipes that tempt your taste buds, made with clean ingredients that nourish your body.
Get Started
We earn a commission if you click this link and make a purchase at no additional cost to you.
Continue reading:
Best Gluten Free Meal Delivery Services: Making The Gluten-Free Lifestyle Convenient & Delicious!
11 Best Low-Carb Meal Delivery Services
What to Look for in a Good Meal Replacement Shake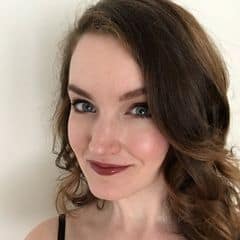 Crystal Schwanke has been on a fitness and health and wellness journey for more than a decade. She used to do wellness-related ghostwriting work and content writing for several well-known websites.
During this time, she tried all the protein powders, meal replacement shakes and mixes, and workout programs. Crystal's favorite way of eating is Paleo(ish) and even when she isn't writing about health and wellness and fitness, she often spends her time researching for the sake of learning. Her goal is to better equip herself so she can build a framework that will allow her to handle anything life throws at her.