I've always thought the most challenging part of sticking to any health and fitness goal was the meal planning, prep, and cooking, which makes Fresh N Lean vs Factor such a fantastic "problem" to have. If you're making this comparison, you're already thinking ahead and setting yourself up for success.
Every time I get serious about making changes, I feel like I'm on a workout-cook-eat hamster wheel until I can get into a solid routine again. Thinking about what you're going to eat and when can consume you when trying to set up new habits.
I've tried almost all the ways of eating, and they all involve devoting several hours per week to just the food component, not to mention the time spent working out and getting your steps in. Fresh N Lean and Factor give you your time back and provide healthy, fitness-focused meal options, so you don't have to devote so much energy to mealtimes.
From that angle, you can't go wrong with either. However, keep reading to see why one might be a better fit than the other for you and your specific needs.
Bottom Line Up Front
Fresh N Lean vs. Factor was a tough call for me. They're so similar in many ways, but there are enough differences for me to call Fresh N Lean the winner.
However, just because Fresh N Lean seems to have the most universal appeal due to its meal plan options, price, and ingredients, that doesn't mean Factor's far behind.
If you frequently ditch your dietary goals because you're hungry, you could appreciate the satiety the fats in Factor meals provide. In the meals I compared, Factor had larger serving sizes, too. If you don't love sticking to one way of eating and want to sample all that life (or at least a meal delivery service) has to offer, Factor could be the one for you, too.
Bottom line: They are both excellent. It just depends on what you're looking for, from food to guidance. I'll break it down further.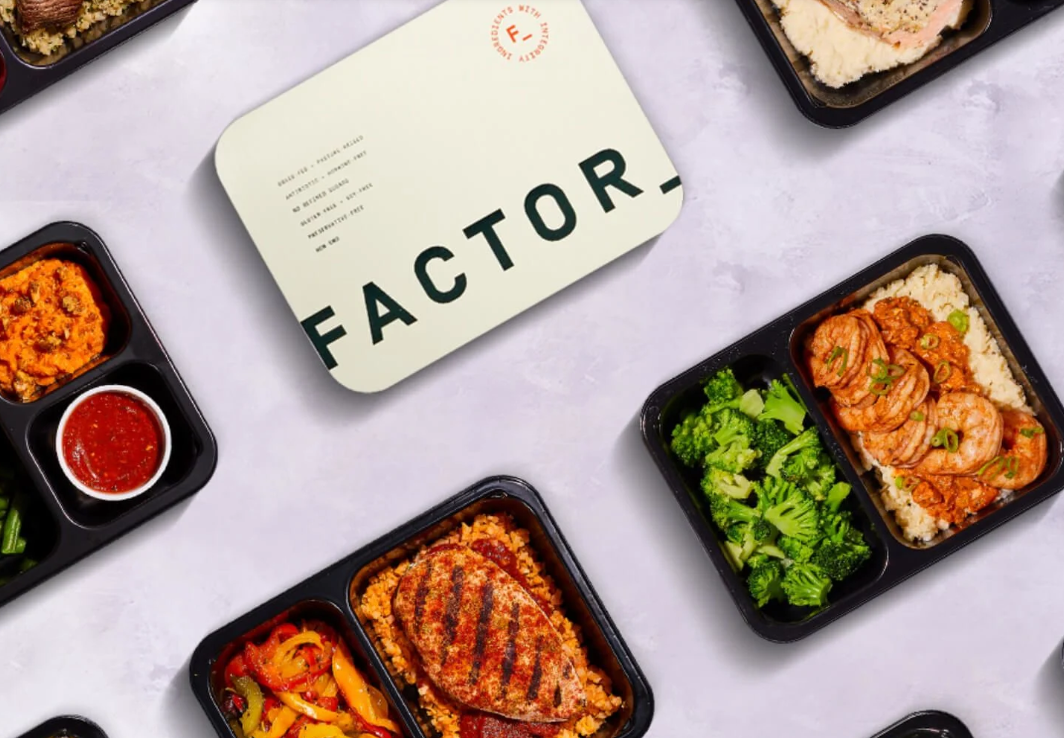 The Main Differences Between Fresh N Lean and Factor

Fresh N Lean has a lower sodium option, whereas Factor does not (some meals may be lower in sodium, but you'll need to look through all the recipes to find them).
Fresh N Lean delivers to all 50 states, whereas Factor delivers to 48 (no Hawaii or Alaska as of this writing).
Fresh N Lean has you choose a meal plan or a la carte, whereas Factor shows you a prioritized list of meals based on your preferred way of eating, but ultimately lets you choose from all the meals each week.
Fresh N Lean lists breakfasts as part of their subscription, whereas Factor's breakfasts are add-ons.
Fresh N Lean offers plans for five or seven days and lets you choose whether you want breakfasts, lunches, and/or dinners, whereas Factor's subscription is all about the number of meals you choose.
Fresh N Lean's add-on and snack options are limited, whereas Factor has smoothies, keto shakes, bundles, breakfasts, and more.
Fresh N Lean has 100+ meals across all meal plans each week, whereas Factor has 35.
Fresh N Lean doesn't offer nutrition coaching, whereas Factor does.
Fresh N Lean meals' ingredients are organic, GMO-free, and gluten-free. They use antibiotic-free and hormone-free grass-fed meat, free-range poultry, and sustainably caught fish.
Each meal is a single serving, which makes them convenient to use if you're tracking calories or macros or need help with portion control.
They're vacuum-sealed, so they stay fresh in the fridge, but the packaging also allows the food to be frozen for up to two months.
Meal plans include Keto, Protein+, Whole30-Approved, Paleo, Standard Vegan, Low-Carb Vegan, Mediterranean Diet, and Bulk.
The window to choose your meals each week is Tuesday at 12:00 PM (PT) through Friday at 11:59 PM. (You'll also need to cancel, make changes, etc., by this deadline.) If no meals are selected, they'll be chosen for you. You'll have them by the following Saturday (usually on Friday).
Best for: Individuals looking to stick to a specific type of meal plan and prefer organic ingredients, people who don't like to cook, people who want convenient meals, people who want lower-sodium options
How Many Calories are in Fresh N Lean?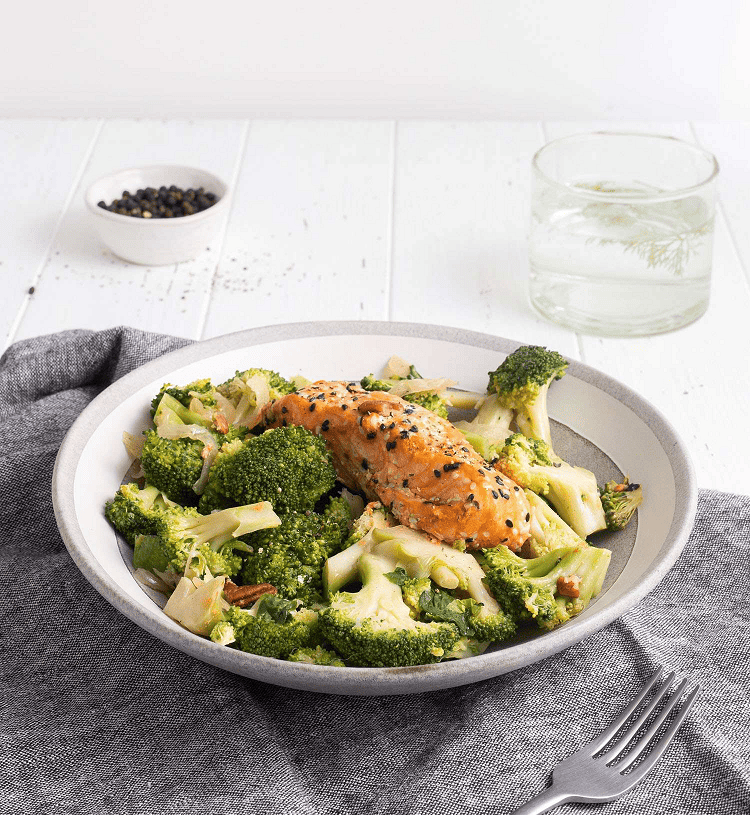 On average, Fresh N Lean meals have about 400 to 500 calories. Several have under 300 (I found several under the Low-Carb Vegan plan), while some have a little over 500.
Pros of Fresh N Lean
When browsing the menu, you can see how many grams of protein and carbs each meal has (not sure why fat's not listed) without clicking on it. Even when you click, it's a quick pop-up to show you more information, not a new page. This makes choosing meals a lot easier and quicker.
They deliver to all 50 states.
Recyclable packaging
They'll last up to 10 days in the fridge, but their packaging is acceptable for freezing the meals (for six to eight weeks) if you need to.
Even though you're limited to the meal plan you've chosen (unless you opt for the a la carte option), there are enough options to suit most ways of eating and help you with your fitness and health goals.
The breakfasts that are part of the plan are hearty and balanced.
Cons of Fresh N Lean
You have to email them about things I wish were available on their site, like switching from weekly deliveries to once every two, three, or four weeks, or ordering a one-time delivery instead of committing to the subscription.
Though there are ways around it (the a la carte option), the most straightforward and convenient way of using Fresh N Lean is to choose a meal plan and stick with it. This is great for people with a specific way of eating they want to follow, but not ideal if you want healthier options without feeling restricted.
People in Alaska and Hawaii may have to pay for shipping, even on orders over $100.00. (Orders that large get free shipping in the other 48 states.)
The a la carte option requires a minimum order of $85.00, and there aren't as many meals to choose from. The meal plan option is the best bet here if you can commit to one way of eating.
It's expensive.
I'd like to see more snack options as add-ons. There are a few flavors of almonds, some granola, oatmeal, and breakfast muffins.
Key Features of Factor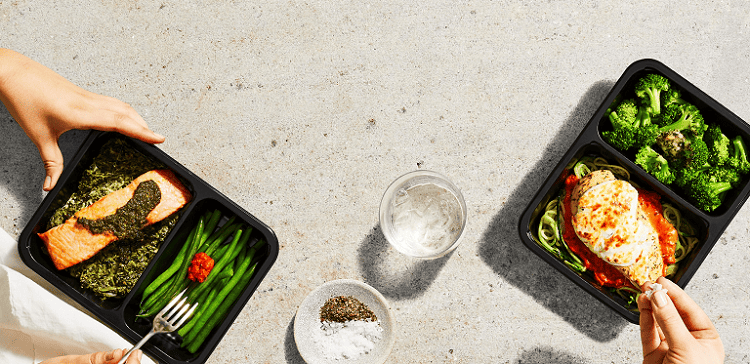 Factor meals are single-serving, too. Though you state a meal plan preference, you'll have access to all the meals across all meal plans each week, so you can mix it up, try new plans, and choose different macro counts to mix and match to fit your days.
Per-serving price is based on how many meals you order at a time. The more you buy, the less you'll pay per meal. They'll stay good for about seven days in the fridge. You'll see an "Enjoy By" date on each sleeve.
Some of mine had dates a little past the seven-day mark, and they still tasted fresh when I ate them eight or nine days after popping them in the fridge (I had too many plans during the week to get to them all in time, so I went a little over).
Factor meals are probably fine if you freeze and reheat them, but they don't recommend it, so I try to get through them without relying on the freezer.
Meal plan options include Chef's Choice, Keto, Calorie Smart, Protein Plus, and Vegan & Veggie.
Best for: People who prefer meals higher in fat, individuals who need quick and convenient options, people who don't like to cook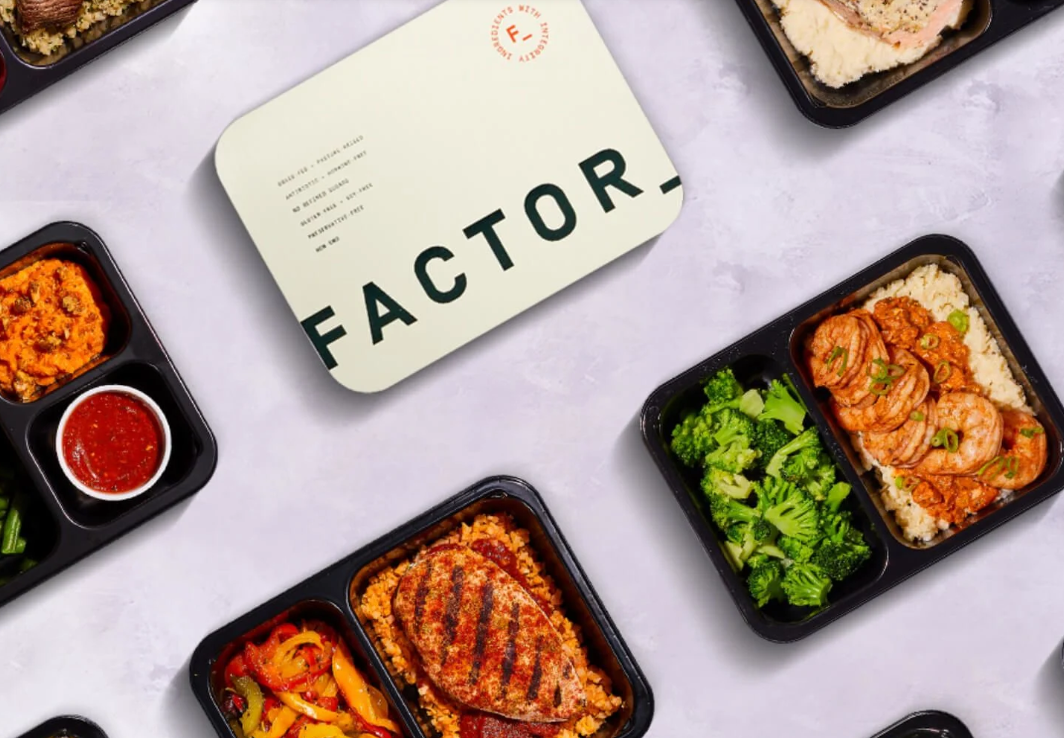 How Many Calories are in Factor?
On average, you can expect to find most meals in the 500-600 calorie range. However, you can find some much lower (they start at 250) or higher (up to 900). I typically stay around 500-600 calories per meal on average, and I didn't have trouble fitting Factor meals into my day.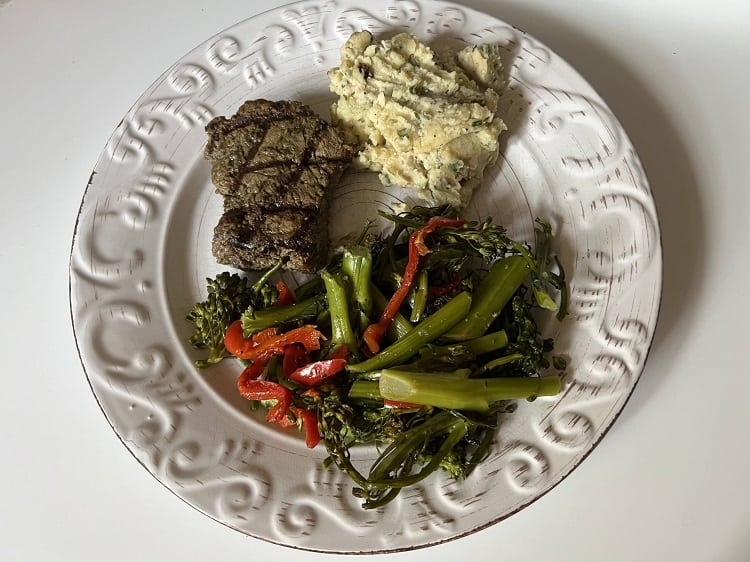 Pros: What Makes Factor a Good Choice?
You get flexibility within the Factor menu. You can select a plan, but you'll still be able to see–and choose–meals from other plans.
These restaurant-quality meals are full of flavor. I didn't feel like I was eating "healthy" food, and I tried examples from several meal plans. Across the board, the flavors and textures were amazing.
When you're looking at the meals for the week, you'll see each one labeled with the meal plan(s) it fits. That'll give you a good idea of whether it will help you stick to your dietary goals.
I felt full after eating these, which reduced my desire to snack and led to fewer interruptions and distractions throughout my day (hooray for productivity!).
Nutrition coaching is available, and you can start with a free 20-minute phone call.
Cons: What is the Downside to Factor Meals?
A lot of the meals seem a little high in fat.
They're expensive.
They don't recommend freezing them, so you'll need to be able to eat all the meals you order within about seven days. That makes ordering 18 for the best per-serving price a little tricky if you're only buying them for yourself.
To see the full macros for a meal, you'll have to click on it, wait for a new page to load, and then click back again to keep browsing. It slows the shopping process down.
Pricing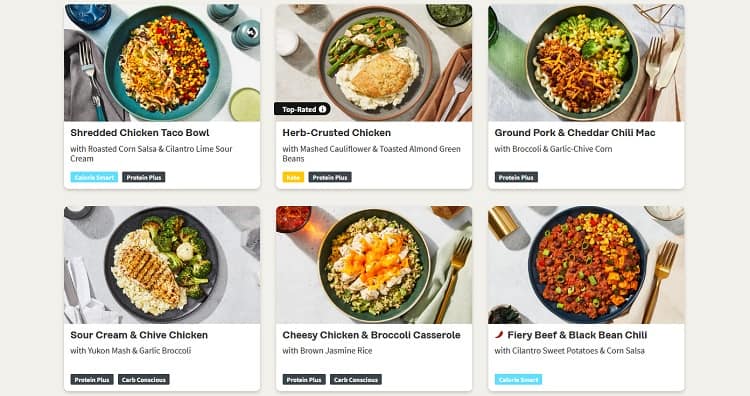 I was surprised to find that Factor's meals cost more per serving than Fresh N Lean's, on average. Fresh N Lean puts more focus on organic produce, so I expected a higher price.
I couldn't compare apples to apples here because I didn't have the same meal from each company, but in the few comparisons I could make, Factor's serving sizes appear to be larger (based on how many grams were in each serving size), which might be where the difference comes in, and how Fresh N Lean costs less.
Are Factor Meals Expensive?
Factor's meals start at $10.99 per serving. The more you buy, the less you pay per serving. If you want six, you'll pay $13.49 per serving. For eight, it's $12.99/serving. Ten will be $12.49 each. For 12, you'll pay $11.99 per meal, and for 14, it's $11.49. If you want 18, you'll pay the $10.99 per serving.
How Much is a Fresh N Lean Subscription?
It depends on the meal plan you choose. Vegan meals start at $9.99 per serving, whether you're on the standard or low-carb plan. Meals with meat (Paleo, Mediterranean, keto, Whole30, etc.) start at $10.32, with some options at $10.66.
A la carte entreés cost more. This week's menu has Paleo and Protein+ options, ranging from $13.99 to $14.49. I'd expect vegan options to run about $12.99 under the a la carte option.
Shipping
Fresh N Lean ships via UPS, GLS, or FedEx Air, and you'll get a tracking number to know when to expect it (usually on Fridays, but the meals are guaranteed by Saturday).
Factor uses Chicago Messenger Service, UPS, UDS, AxleHire, and FedEx. You'll get to choose your delivery day. That means I can opt for Monday, Tuesday, or Wednesday. You'll have a tracking number in your email so you'll know when to expect your meals. It may be different in other areas.
Packaging
Packaging is standard for both–insulated cardboard box on the outside, ice packs on the inside, and BPA-free recyclable plastic trays that hold the food.
You can recycle the cardboard (curbside pickup). Factor's insulation should be thrown in the trash, but Fresh N Lean's is biodegradable.
If you choose not to reuse or donate the ice packs, drain the gel from them into the trash, then check to see if the plastic film can be recycled in your town. It's technically recyclable but shouldn't go in with the curbside recycling.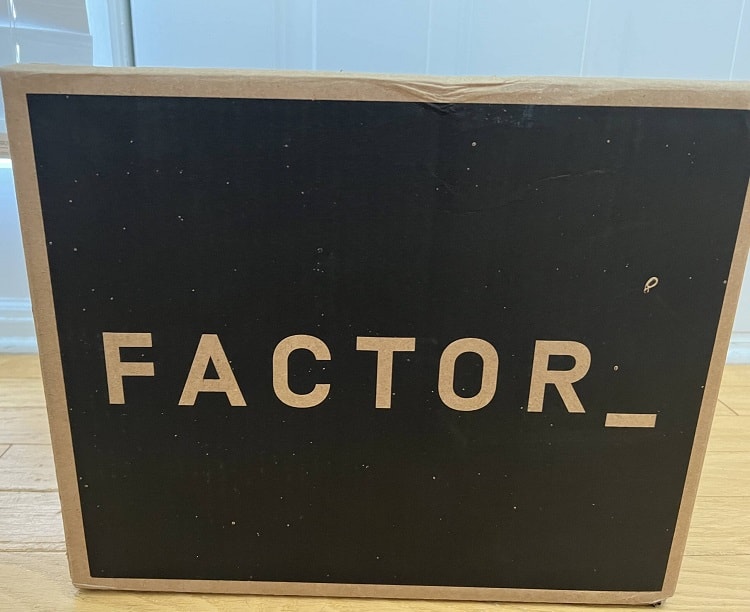 Alternatives to Consider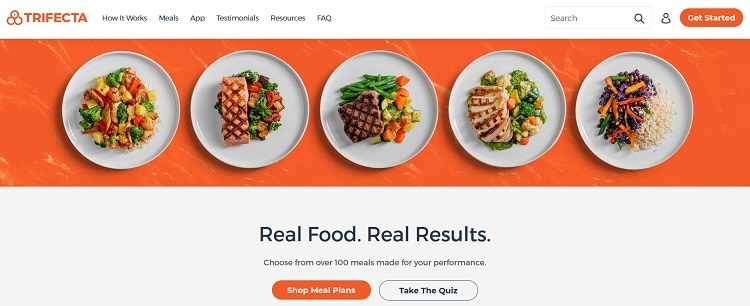 If you love having a community to cheer you on, Trifecta could be the healthy meal delivery service you've always wanted. The meals are ready-to-eat, made with organic ingredients, and designed to help you meet your fitness and health goals.
You can choose your own meals or have them choose for you. In addition, you'll get a customized plan to follow based on your goals. These are vacuum-sealed like Fresh N Lean meals, good for up to seven days in the fridge or three months in the freezer.

If you don't mind cooking, Green Chef is like the meal kit version of Factor and Fresh N Lean. Everything's organic, you can get several servings of the same recipe (so it's good for leftovers or families), and the average calories, macros, and sodium are reasonable.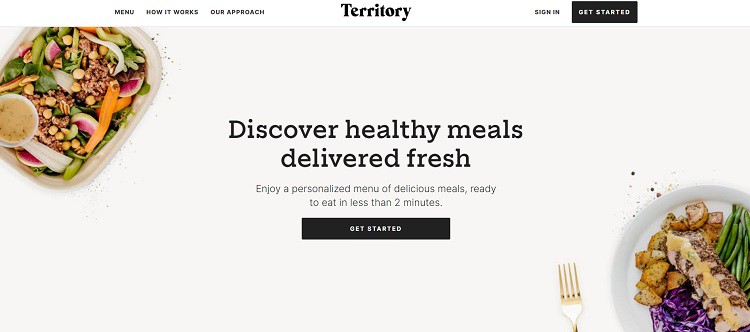 With Territory Foods, you can order up to 12 meals at a time. They're roughly in the 400-500-calorie range, dairy-free, gluten-free, and made without refined sugar. They'll deliver to you on Sundays, Wednesdays, or both.
Huel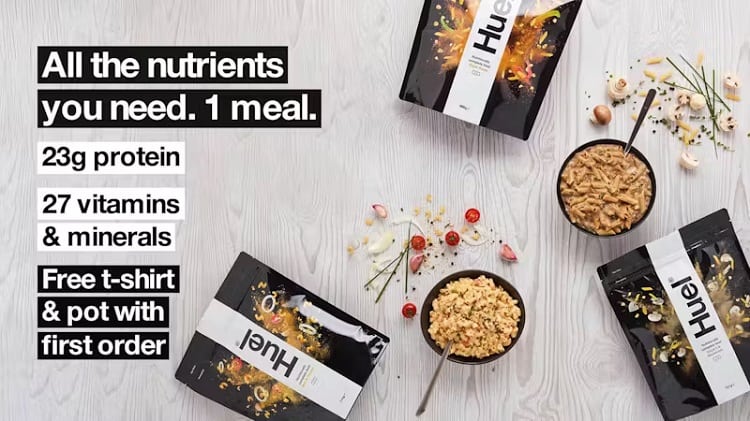 If you want to keep your lunch and/or dinner in a desk drawer and make things as convenient as possible, you might like Huel's Instant Meals. Scoop some out of the bag into a microwaveable cup, add water, and have a balanced, vegan meal of around 400 calories.
ReBuilt Meals
Rebuilt Meals are shipped to you via UPS or FedEx, but if you happen to live in the Tampa, FL, area, you'll be able to pick them up in person and save on shipping fees. You can choose from chef-prepared meals or a la carte (you get your protein, starch, and vegetables separately to create your own plates with ideal portions for your needs).
This is one of the most customizable options I've seen, with five meal plans, the option to have regular or double protein, anywhere from five to 30 meals per delivery, and the option to add up to seven breakfasts per week.
FAQs
Question: Is Factor Better than Lean Cuisine?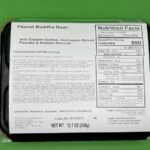 Answer: Factor meals are much more satisfying than Lean Cuisine meals. They tasted better and were more filling. Lean Cuisine meals tend to be more processed, too. So yes, Factor is better than Lean Cuisine.
Question: Can You Lose Weight on Fresh N Lean Meals?
Answer: Fresh N Lean meals aren't necessarily designed with weight loss in mind, but you can lose weight on them. They're nutritious and filling, and if you choose meals that work within your calorie/macro goals for weight loss each day (this will depend on your lifestyle, as well as several other factors), they can be a helpful component of a weight loss journey.
Question: Are Factor Meals too Fatty?
Answer: A lot of them contain a good amount of fat, but whether they're "too" fatty will depend on your goals and what you're focused on. If you're solely looking at calories or just trying to make healthier options to escape the SAD diet, the fat content may be fine for you.
However, if you're counting macros and your fats are low at the moment, or you want to focus on getting less fat in your diet for any other reason, they might be too fatty for you. You'll have some lower-fat options to choose from with Factor, but you might feel too limited to make a subscription worth it.
Conclusion: Fresh N Lean Gets the Most Points Here
I love Factor meals, but laying it all out like this, I see Fresh N Lean as the winner. While Factor is the right choice for some individuals, Fresh N Lean will check the most boxes for the most people. They're generally lower in fat and sodium, cost less per meal, and some can be hearty breakfasts that count toward your subscription.
Fresh N Lean's ingredients are all organic, antibiotic-free, grass-fed, etc., too, which usually bumps the price up and requires you to choose between ingredients and cost. In this case, you're getting the quality for less.
Though I bristle at the idea of sticking with a specific meal plan for a whole week, I know that's what a lot of people want, and it makes it easier to stick to health and fitness goals. That novelty-seeking tendency in meals is a "me" problem.
If that sounds like you, but you still want some guardrails like a specific meal plan would provide, you might have some luck with Factor's nutrition coaching.
If you're worried that switching to Fresh N Lean or Factor from your typical meals might leave you hungry, go with Factor. The higher fats and potentially larger portion sizes will help combat that feeling and ease into a healthier way of eating that supports your goals.
There's a case for each brand, but Fresh N Lean gets just a few extra points from me when I think about all the people who might be comparing Fresh N Lean vs Factor, and what their goals and needs could be.
Continue reading: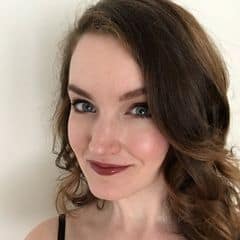 Crystal Schwanke has been on a fitness and health and wellness journey for more than a decade. She used to do wellness-related ghostwriting work and content writing for several well-known websites.
During this time, she tried all the protein powders, meal replacement shakes and mixes, and workout programs. Crystal's favorite way of eating is Paleo(ish) and even when she isn't writing about health and wellness and fitness, she often spends her time researching for the sake of learning. Her goal is to better equip herself so she can build a framework that will allow her to handle anything life throws at her.