There are plenty of paleo-friendly protein powders out there. Some of them are certified as Paleo supplements while others simply fall in line with this type of eating plan without actually being certified.
So, if you want to follow a healthier and more balanced diet, you can rest assured because there is some level of flexibility when it comes to the paleo concept.
The following products are what I believe to be some of the best paleo protein powder choices on the market and I have included them in my list based on their popularity, benefits, level of effectiveness, and consumer reviews.
1. Plant-Based Protein Powder by Orgain
This supplement is completely organic and it contains protein sourced from high-quality ingredients such as brown rice, chia seeds, and pea. Moreover, it comes with a complete profile of amino acids and it is free from soy, dairy, lactose, and gluten. Orgain Organic protein powder is made from non-GMO ingredients and it is a vegan-friendly product.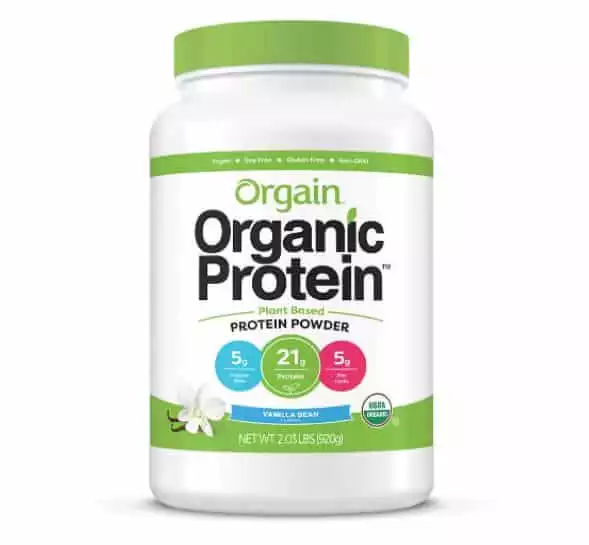 Ingredients
Protein blend – chia seeds, hemp, pea, and brown rice
Creamer base™ – inulin, rice bran extract, acacia gum, rosemary extract, and rice dextrins
Sweeteners, stabilizers, and thickeners – natural flavors, guar gum, monk fruit extract, xanthan gum, stevia, sea salt, etc.
Nutritional Values – per one serving (2 scoops)
| | |
| --- | --- |
| Calories | 150 |
| Dietary fiber | 5 g |
| Protein | 21 g |
| Carbohydrates | 15 g |
| Total fat | 3.5 g |
| Sugar | 1 g |
Pros
This paleo protein powder has a pretty good taste, even when you combine it with plain water
It has a good mixability, especially if you dissolve it in almond milk
It is a 100% organic supplement that contains high-quality ingredients and it is free from artificial compounds;
You can choose from a wide range of available flavors
Compared to most other similar protein powders, Orgain is not that expensive
Cons
A few consumers might find this product a bit pricey but that depends a lot on your available budget
Some clients have complained that this protein beverage has made them experience symptoms of an upset stomach
The flavored varieties can be a tad sweet for some people
One serving contains a lot of carbs which might not be good for those who want to lose weight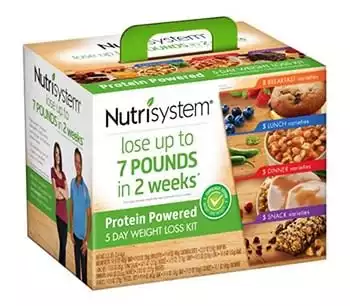 Why I Actually Like Nutrisystem
Look, in a perfect world I would recommend everyone just practice some self-control... but sometimes "sticking to a system" is what works best. For clients I work with who "just need a plan", Nutrisystem is one of the plans I recommend.
Choose Your Weight Loss Plan
We earn a commission if you click this link and make a purchase at no additional cost to you.
Prices and Where to Buy Orgain
Direct Via Orgain Online: My preferred method, it's available here. Going directly via Orgain also opens up the ability to capture discounts and new member bonuses.
On Amazon: You can also check Orgain Protein Powder here on Amazon.
2. Perfect KETO Collagen Protein
Not only is this supplement a paleo protein powder but it also suits a ketogenic lifestyle. It helps you lose weight while feeling satiated for a longer time. It is high in protein and healthy fats while also being low in carbs. The main purpose of the manufacturer was to induce and speed up the process of fat burn. Perfect KETO is also rich in fiber and contains MCT oil.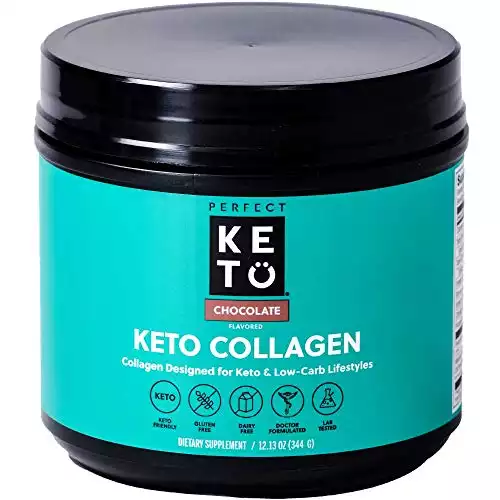 Ingredients
Medium chain triglycerides
Hydrolyzed collagen powder sourced from grass-fed cows
Minerals and vitamins – vitamin A, potassium, iron, phosphorus, etc.
Stevia leaf powder (for the unflavored variety only)
Cocoa powder (only for the flavored variety)
Nutritional Values – per one serving (one scoop)
| | |
| --- | --- |
| Calories | 80 |
| Dietary fiber | 1 g |
| Protein | 10 g |
| Carbohydrates | 1 g |
| Total fat | 4 g |
| Sodium | 70 mg |
Pros
Consumers can choose from four different flavors: vanilla, chocolate, caramel, and the unflavored version
It is a product manufactured entirely in the United States and it is sourced from grass-fed cows
The Perfect KETO protein powder is approved by doctors and tested in third-party labs
It is free from dairy and gluten
According to most reviewers, this powder has a delicious taste, no matter what flavor you choose to buy
It is said to strengthen one's hair, nails, and skin
Promotes a healthy digestive system and stronger bones
Acts as an appetite suppressant
This supplement doesn't contain artificial colors, flavors, binding agents, sweeteners, or other chemicals
Cons
It is an expensive supplement
A few clients have complained about the poor aftertaste this product has
One reviewer said that the powder made her deal with unpleasant side effects such as raised blood sugar level and headaches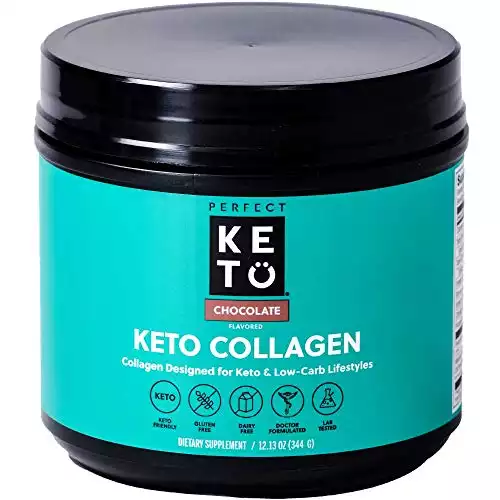 Perfect Keto Collagen Peptides Protein Powder | Amazon
Practical Powder: Dissolves easily into any drink, hot or cold. Mix into water, coffee, shakes, smoothies, yogurt, or oatmeal for a chocolate flavor that kicks your sweet tooth, but not your diet.
Buy at Amazon.com
We earn a commission if you click this link and make a purchase at no additional cost to you.
04/30/2023 11:00 pm GMT
Price
You can purchase the Perfect KETO Collagen Protein for $37-$39 – one container measures 340 grams.
3. Paleo Protein Powder by PaleoPro
This particular paleo protein powder is manufactured without whey which is a thing that sets it apart from most other similar supplements. Their protein comes from hormone-free and antibiotic-free eggs as well as from pastured-raised and grass-fed cows.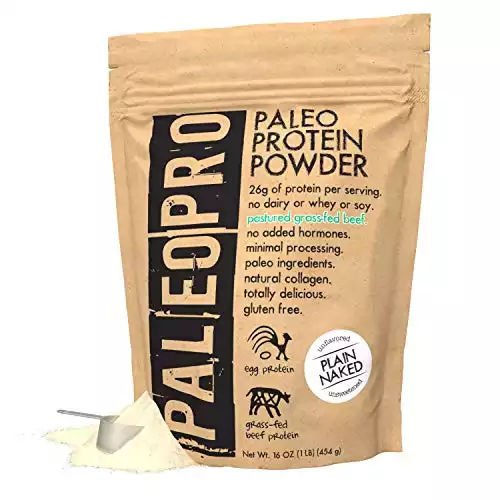 The product is marketed in no less than five available flavors. PaleoPro powder works as a protein supplement but it isn't a meal replacement. It has a decent taste and mixes well with milk or water. Still, if you add nuts or fruits to the mix, you should expect to find some clumps in the final beverage.
Ingredients
Protein blend – beef and egg protein
Sunflower lecithin
Natural flavors
Cacao powder (for the cacao variety)
Vanilla flavor (only for the vanilla variety)
Stevia leaf extract
Nutritional Values – per one serving (one scoop)
| | |
| --- | --- |
| Calories | 120 |
| Dietary fiber | 1 g |
| Protein | 26 g |
| Carbohydrates | 1 g |
| Total fat | 1 g |
| Sugar | 0 g |
Pros
This is a good-quality paleo protein powder that contains natural and safe ingredients
You can choose from the following flavors: Aztec Vanilla, Mayan Mocha, Ancient Cocoa, Banana Berry, and Plain
Naked. So, you won't get bored with the taste which, by the way, it is pretty good
Unlike other protein supplements, PaleoPro is specifically formulated for individuals who follow the Paleo diet
It is free from soy, dairy, whey, hormones, and antibiotics
There is a variety pack available for purchase
Cons
It can be a bit on the pricey side
A few consumers claimed this powder can be a tad had to mix
Some say it has a bitter aftertaste and, if you blend it, the product can produce an unpleasant smell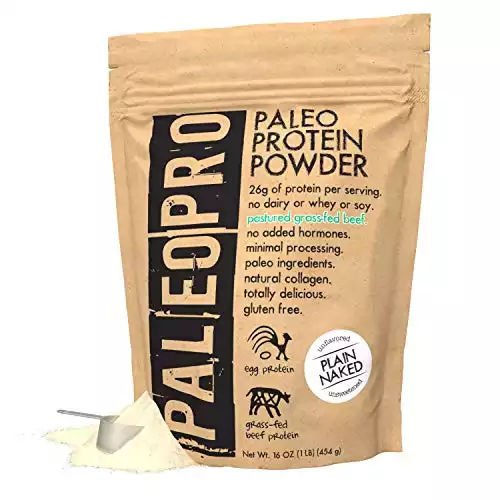 Price
If you want to buy the PaleoPro Protein Powder, you will find it on Amazon. One pouch of one lb. or 454 grams costs $40.48 for Amazon Prime subscribers. One-time buyers will have to pay $43 for the same amount of protein powder.
4. Bone Broth Protein by Ancient Nutrition
Ancient Nutrition's Paleo Bone Broth Supplement is low in fat while also high in protein, potassium, and other essential nutrients. This protein powder is the perfect choice for people with sensitive stomachs.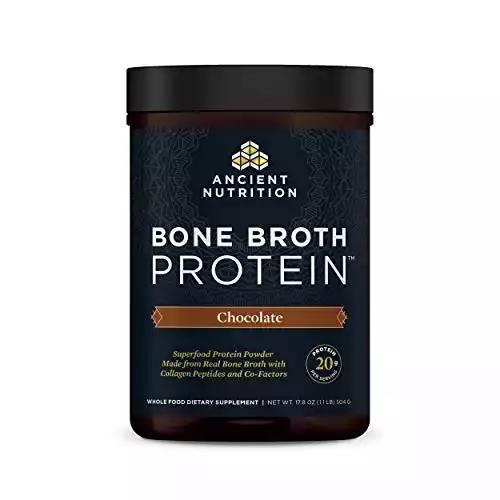 It is free from most common allergens and it suits a paleo way of life. One thing that differentiates this product from many other protein powders is the fact that it doesn't contain a lot of carbohydrates which will definitely help you lose weight or manage your weight-loss process a lot easier and more effective.
Ingredients
Protein concentrate sourced from organic-fed and free-range raised chicken
Coconut milk
Stevia leaf extract
Natural flavors
Guar gum
Luo Han Guo extract (this is an exotic fruit)
Xantham gum
Nutritional Values – per one serving (one scoop)
| | |
| --- | --- |
| Calories | 100 |
| Potassium | 270 mg |
| Grams of Protein | 20 g |
| Carbohydrates | 2 g |
| Total fat | 1 g |
| Sodium | 150 mg |
Pros
Promotes skin, joints, brain, and gut health
Fights aging signs
It is sold in many exciting and intriguing flavors such as Banana Cream, Cinnamon Apple, Turmeric, Coffee, Vanilla, Greens, and Chocolate (you can also opt for the unflavored variety if you want to add this supplement to smoothies or shakes)
It is a low-calorie supplement which supports weight-loss
Provides plenty of nutrients and minerals which supports a healthy lifestyle
It mixes well and dissolves quickly in any kind of liquid
Cons
Some consumers don't like the low content of fat that this supplement comes with
It can be perceived as an expensive product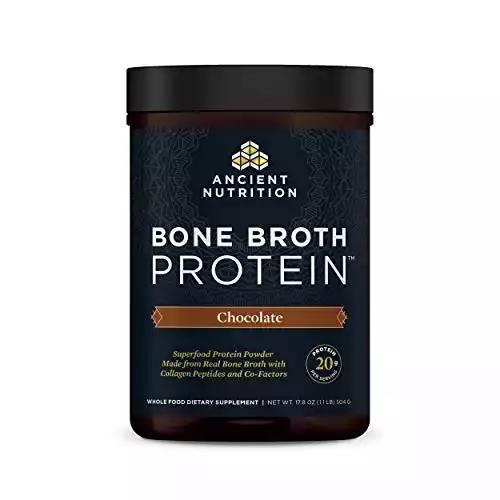 Price
The price of one tub of Ancient Nutrition Bone Broth that contains 20 servings is $39.56. This is a special promotional price.
5. Pea Protein Powder by Growing Naturals
I have included this supplement in my list of the best paleo protein powder options because it is easily digested, has a nice creamy texture, contains non-GMO ingredients, and provides a wide list of amino acids.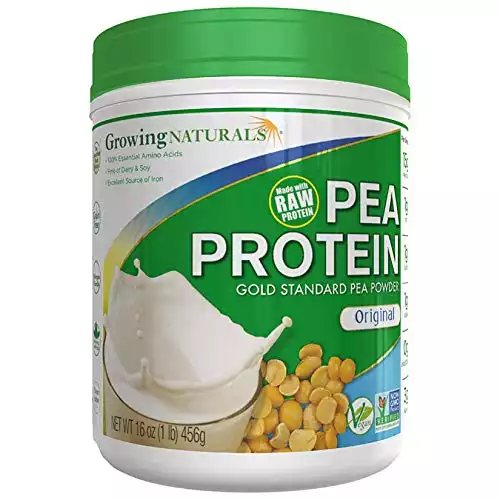 Moreover, Growing Naturals protein powder is a vegan-friendly product. Pea protein is low in fat and I recommend it as an excellent source of iron. Due to its pleasant taste, you can basically add this powder to any recipe or beverage you like.
Ingredients
Pea protein
Amino acid profile – alanine, glycine, leucine, arginine, proline, isoleucine, serine, valine, etc.
Vitamins and minerals – iron, calcium, vitamin A
Natural flavors
Nutritional Values – per one serving (one scoop)
| | |
| --- | --- |
| Calories | 70 |
| Dietary fiber | 1 g |
| Grams of Protein | 15 g |
| Carbohydrates | 1 g |
| Total fat | 1 g |
| Sugar | 1 g |
Pros
It is one of the most easily digestible protein powder out there
It is an affordable supplement
Contains non-GMO ingredients
This product is free from potentially-allergenic compounds like dairy, gluten, and soy
I'm talking about a kosher-certified supplement
You can choose from three different varieties: Original, Chocolate Power, and Vanilla Blast
It is a great source of iron
Suits the specific and unique needs of vegan people
Cons
Some consumers have their doubts that this pea protein supplement is truly paleo
A few reviewers have complained that the beverage is quite chalky
Some people don't like this product's taste but I guess that's a matter of personal preference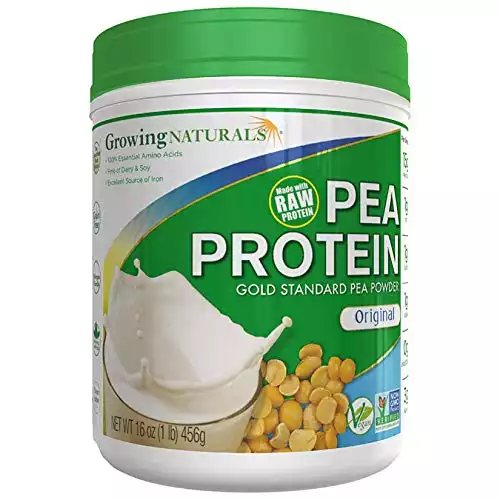 Price
You can purchase one container of Growing Naturals Pea Protein here One tub measures 16 ounces.
6. Beef Protein Powder by EQUIP
EQUIP's protein powder is a highly versatile supplement. You can add it to your favorite recipes to prepare baked goods. Also, you can include it in shakes, smoothies, or any other beverage of your choice. The entire philosophy of the manufacturing company revolves around the idea that all the supplements on the market should resemble real food as much as possible.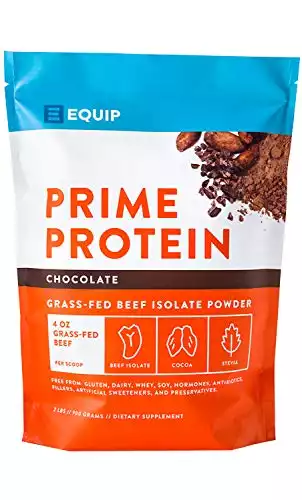 Ingredients
High-quality protein sourced from grass-fed cows (beef protein isolate)
Stevia leaf extract
Cocoa or vanilla flavor (depending on the variety you choose to buy)
This product is one of the cleanest protein powders on the market due to the fact that it contains only a few natural ingredients and nothing else.
Nutritional Values – per one serving (one rounded scoop)
| | |
| --- | --- |
| Calories | 100 |
| Dietary fiber | 1 g |
| Protein | 24 g |
| Carbohydrates | 1 g |
| Total fat | 0.5 g |
| Sugar | 0 g |
Pros
The formula of this paleo-friendly supplement mirrors real food
Its protein is sourced from grass-fed cows that are raised in the United States
It is a non-GMO product
There aren't any antibiotics or hormones in this supplement
You won't find any artificial flavors, chemicals, artificial colors, additives, gluten, or binding agents in the EQUIP protein powder
It is a paleo-approved product that provides plenty of nutrients and health benefits while also helping you lose weight
Cons
To obtain an optimum result when it comes to consistency and texture, you must always blend this powder with hot water and nothing else
The package can sometimes be tricky to handle
It comes in only two available flavors (the classic ones): vanilla and chocolate
Most complaints are related to the product's poor taste because of the stevia content
A couple of reviewers have said that EQUIP made their stomach ache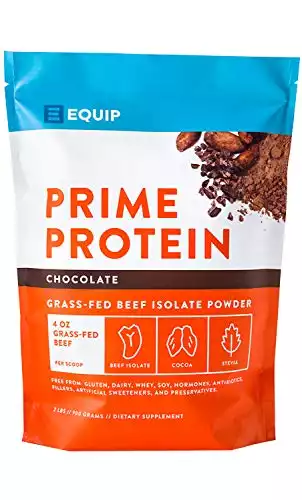 Price
One pouch of EQUIP Beef Protein Powder that contains 30 servings costs between $47.47 and $49.97. If you become a member of the Amazon Prime program, you will benefit from a discount of at least 5%.
The Best Paleo Protein Powder Options – Bottom Line
Although going paleo might increase your monthly expenses and it is also a diet that's quite hard to maintain, it has a huge potential for improving your general health. Moreover, in most cases, this eating plan works great when it comes to weight loss. All the paleo protein powders mentioned above will suppress your appetite and lower your cravings. So, make sure you buy one that suits your nutritional needs.
Recommended Reads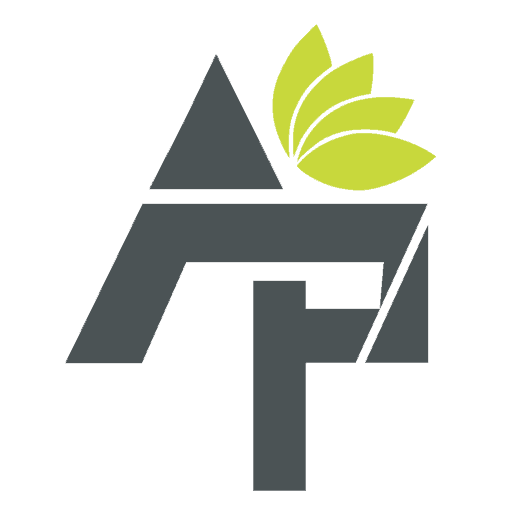 Alt Protein Team is a team of professionals and enthusiasts committed to bringing you the most up-to-date information on alternative protein, health and wellness, workouts, and all things health-related. We've reviewed a lot of products and services so you don't have to guess when you spend your hard-earned money on them. Whether you want to shed some pounds, build lean muscle or bulk, we can help you figure out what you need to do and what you need to have to achieve your goals.