Keeping a fit and healthy body requires a lot of perseverance and discipline. It mostly includes three main aspects: working out on a regular basis, developing healthy lifestyle habits, and having healthy nutrition. In fact, nutrition is key in our quest for fitness like muscle growth.
Those who want to lose weight and build muscle should focus on daily protein consumption, and among the best proteins, there are egg whites, so this is why an egg diet is perfect.
Muscle Egg is a leading brand when it comes to high-quality protein supplements as protein shakes. The struggle with drinking raw eggs is over! Now, you can enjoy a flavored egg white protein drink that not only is tastier but it is also healthier.
In our Muscle Egg review, you will find out plenty of useful details about this particular brand such as its ingredients, nutritional value, amino acid profile, pros, cons, price, and more.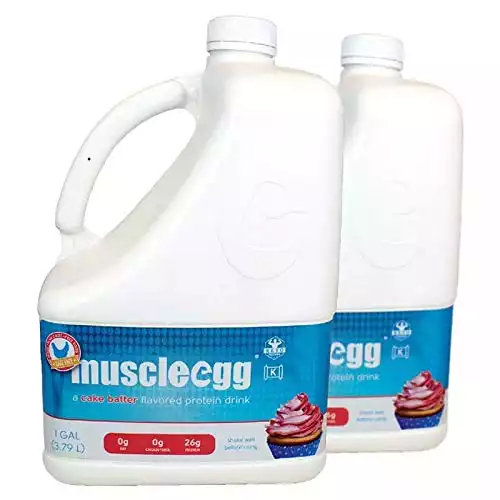 General Info about Muscle Egg Supplement
Muscle Egg promises this product is the best protein for developing muscle mass on the market. The company claims Muscle Egg is more than just a simple dietary protein supplement; it is a whole food, packed with liquid egg whites that come straight from its own farm. It is an affordable, convenient, and effective protein source.
This is a family-owned company and their liquid protein product is unique and full of fatty acids. They are the first enterprise that launched this kind of product on the market with the purpose of mass consumption.
Their formulas have quickly become popular due to their efficiency, convenience, and affordable price tag. Not to mention that they don't contain fat or cholesterol.
Ingredient Profile
You have probably guessed by now that Muscle Egg protein dietary protein supplement contains a lot of egg whites. This is one of the purest sources of protein that doesn't contain fat, cholesterol or carbohydrates. Muscle Egg has three non-essential amino acids and nine essential amino acids.
There are no less than 12 different flavors or versions to choose from.
This classic formula contains nothing more than pasteurized egg whites. It is free of additives and preservatives. One serving, which measures 237 mL, has only 130 calories and provides 26 grams of protein to lean muscle.
This is basically the same formula as the Original Egg Whites version.
The only difference is the way the main ingredient is achieved. This contains organic eggs which come from differently-raised chickens. The calories, proteins, and the overall nutritional value stay the same as in the formula mentioned above.
Besides pasteurized egg whites, this formula also comes with the following ingredients:
Natural flavors.

Cocoa.

Konjac Gum.

Dextrose.

Xantham Gum.

Sucralose.
Its calorie intake is 140 per serving and there are three grams of carbs contained by one cup of Muscle Egg Chocolate flavor supplement.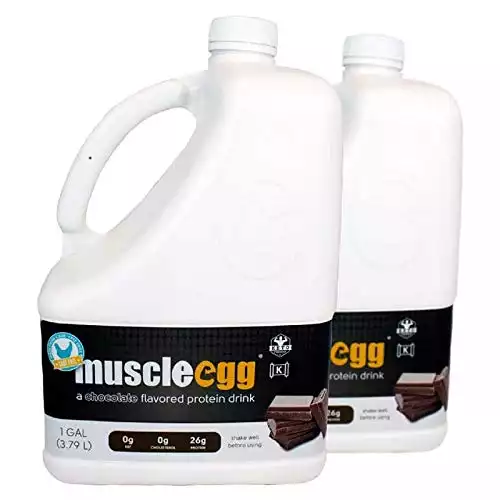 4: Chocolate Caramel Flavor
Like all the other flavors, this one also contains pasteurized egg whites along with natural flavors and cocoa, sucralose, and dextrose. One serving contains 140 calories and three grams of carbohydrates for your muscle mass.
The new ingredients that appear in this Muscle Egg flavor and that cannot be found in other versions of this supplement are food starch-modified and medium chain triglycerides. One cup of Vanilla Egg Whites has 25 grams of protein, two grams of carbs, and one gram of sugar.
Besides dextrose, Xantham Gum, Sucralose, Konjac Gum, and pasteurized egg whites, this formula also comes with some other ingredients such as natural color and citric acid. It has a total of three grams of carbohydrates and 140 calories per cup for your daily protein.
What differentiates this formula from the other Muscle Egg flavors, besides its taste, is that the cocoa contained by this supplement is processed with alkali. A 237 mL serving has three grams of carbohydrates and 25 grams of protein and all the amino acids profile that egg white provides.
In terms of ingredient profile, the Cake Batter formula is very similar to the Vanilla Egg Whites flavor. However, the Cake Batter contains two grams of sugar instead of one. Also, it provides three grams of carbs instead of two.
Besides the already-mentioned ingredients like pasteurized egg whites, sucralose, dextrose, natural flavors, and others, this formula also contains spice which gives this supplement a nice unique taste. One serving has 140 calories, two grams of carbohydrates, and only one gram of sugar.
10: Key Lime Formula
The main ingredients of the Key Lime flavor are:
Pasteurized egg whites.

Citric acid.

Natural flavors.

Medium chain triglycerides.

Food starch-modified.

Dextrose.

Sucralose.

Xantham Gum.

Konjac Gum.
A noticeable element of this formula is its 390 mg sodium content.
11: Fruit Cereal Egg Whites
Although the Fruit Cereal formula provides the same fitness and muscle growth benefits like all the other Egg Muscle flavors, there's something about it that some of you might not like. Besides natural ingredients, this formula also has some artificial flavors like triacetin and maltodextrin.
On the plus side, this product has no added sugars and other artificial sweeteners. The sugar was replaced with stevia, which is a natural sweetener. The Fruit Cereal flavor contains slightly more carbs than most of the other formulas: 5 grams. Still, a serving has only 120 calories.
12: Peach Cobbler Flavor
The Peach Cobbles Egg Whites flavor resembles the Fruit Cereal version described above. It contains the same ingredients and provides the same nutritional value. The only difference is that the place of stevia sweetener was taken by stevia leaf extract.
NUTRITIONAL VALUE (per one serving – 237 mL)

Calories

140

Carbohydrates

3 grams

Total Fat

0 grams

Protein

25 grams

Sodium

380 mg
Taste and Mixability
According to most of this product's consumers, the taste of the Muscle egg protein powder is great and more than pleasant. You will not even notice the fact that it contains egg whites.
There's no eggy taste, whatsoever! All their flavors are simply amazing and of course, all of them are great protein sources. It is something out of the ordinary that doesn't resemble the regular protein powder options which can have a grassy and unpleasant taste.
It is easy and convenient to consume this supplement. Muscle Egg is a drink that has a smooth texture just like milk, but it will help you lean muscle. This is due to a special process of homogenization. Everyone can find something they like and enjoy consuming because the company offers a wide variety of flavors.
Advantages
It is a high-quality, pure, and natural protein source.

It has a great taste and it comes in a wide range of flavors.

Muscle Egg protein supplement contains plenty of essential amino acids which are needed by the body in order to stay healthy.

It aids weight loss while building muscle mass.

Speeds up recovery time after intense workouts.

Positively impacts one's overall bodybuilding and fitness efforts.

It is a very affordable product.

Muscle Egg freshness can last up to two weeks.
Disadvantages
As stated by some consumers, this supplement's biggest drawback is its price tag. Muscle Egg can be considered a little expensive giving the fact that two gallons go for a little over 91 dollars. However, this aspect is compensated by all the advantages this product provides such as benefits, quality, quantity, and convenience.

Those of you who have egg allergies should avoid taking this supplement. Normally, egg whites have a protein that doesn't have any side effects on healthy people. Talk to your doctor to make sure you can consume this type of supplement.
| | |
| --- | --- |
| Strengths | Weaknesses |
| All-natural ingredients. | Overpriced – two gallons cost 91 dollars. |
| A pure source of protein. | Cannot be consumed by people with egg allergies. |
| Build muscle mass. | |
| Diversified tasty flavors. | |
| Healthy amino acids content. | |
Pricing Plan/Options
You can buy any of the Muscle Egg formulas on either their official website or on e-commerce platforms such as Amazon. However, the costs will vary from one option to another.
Amazon – all available flavors cost 91.65 dollars per two gallons of product. This price doesn't include the shipping cost which is 16 dollars.

Muscle Egg Official Website – there are several options to choose from, depending on the flavor and on the quantity you want to purchase. Also, you can buy one single flavor of Muscle Egg or customize your own multi-flavor package, with their Build Your Own Case option:

Two gallons – the original flavor costs 73 dollars, while the other formulas are 75.50 dollars.

Four gallons – you will be required to pay 137 dollars for the original flavor and 141 dollars for each of the other available formulas.

Four half gallons – clients must pay 87 dollars for the classic product formula and 92 dollars for each of the other Muscle Egg flavored versions.

Six half gallons – Muscle Egg Original costs 129 dollars while the other flavors are 135 dollars each.
Where Should You Buy the Muscle Egg Protein Supplement from?
You can easily find the Muscle Egg protein supplement online, on major e-commerce platforms such as Amazon. You can buy the one-gallon jug or the two-gallon container.
Also, all Muscle Egg flavors are available for purchase on the company's official website. Make sure to be well-informed before making a purchase because prices and product availability might vary.
How and When to Consume the Muscle Egg Supplement
Consuming a high-quality protein source was never so easy and convenient. With Muscle Egg, you just pour one serving – 237 mL – of liquid egg white in a glass and drink it up. You can safely consume it on a daily basis before an intense workout.
It is best to keep it in the refrigerator. If you keep it out of the fridge, make sure the container stays out for less than four consecutive hours. Although it lasts for up to two weeks if you keep it in the proper required temperature conditions, this is a perishable food.
The company produces new fresh whole food drinks every week. Still, according to their representatives, you can keep a jug of Muscle Egg in the fridge for up to a year and it will still be good.
Is Muscle Egg Supplement Worth Purchasing?
In this review, we have detailed all Muscle Eggs ingredient profile, pros, drawbacks, and benefits. So, why should you buy this protein drink? Well, first of all, it has a great taste unlike most of the other supplements on the market. It comes in plenty of different flavors that will meet everyone's tastes preferences.
Drinking Muscle Egg will lower the risk of developing salmonella. Drinking raw eggs can be nice for those who can stand the taste. However, ingesting raw egg can lead to contracting Salmonella. This is an ugly infection with nasty symptoms such as abdominal cramps, bloody stool, nausea, vomiting, and more.
No one should risk that when consuming their protein source. Muscle Egg's main ingredient is represented by pasteurized egg whites. They are properly processed, so there's no risk of contracting any kind of infection.
Putting It All Together
Muscle Egg protein drink is a great choice for those of you who want a high-quality pure protein source that is also healthy, affordable, and convenient. If you're an active on-the-go person, this product is the right choice for you. It saves a lot of time. You just pour it and drink it before a workout.
It is one of the healthiest options for people who have unique nutrition needs. We hope this comprehensive Muscle Egg review was helpful for you. If you have tried this product, please let us know how well it worked for you, in the comment section below.
FAQs
Question: How do you return something to muscle egg?
Answer: If you want to return a shipment to Muscle egg, due to the wrong package or damage done to it, you should contact them on their website, or the number that's provided.
Question: Are Muscle egg products made from real eggs?
Answer: Yes, Muscle egg provide products that are exclusively made from organic eggs, so basically what they do is manually separating the egg yolk from the egg white and putting them in sterile bottles that can be kept frozen for a couple of months.
Recommended Reads:
Disclaimer
Last updated: December 16, 2019
The information contained on www.altprotein.com website (the "Service") is for general information purposes only.
Alt Protein assumes no responsibility for errors or omissions in the contents on the Service.
In no event shall Alt Protein be liable for any special, direct, indirect, consequential, or incidental damages or any damages whatsoever, whether in an action of contract, negligence or other arising out of or in connection with the use of the Service or the contents of the Service. Alt Protein reserves the right to make additions, deletions, or modification to the contents on the Service at any time without prior notice.
Alt Protein does not warrant that the Service is free of viruses or other harmful components.
Fitness disclaimer
The Service offers health, fitness and nutritional information and is designed for educational purposes only. You should not rely on this information as a substitute for, nor does it replace, professional medical advice, diagnosis, or treatment. If you have any concerns or questions about your health, you should always consult with a physician or other health-care professional.
Do not disregard, avoid or delay obtaining medical or health-related advice from your health-care professional because of something you may have read on the Service. The use of any information provided on the Service is solely at your own risk.
You can also review our Editorial Integrity Policy.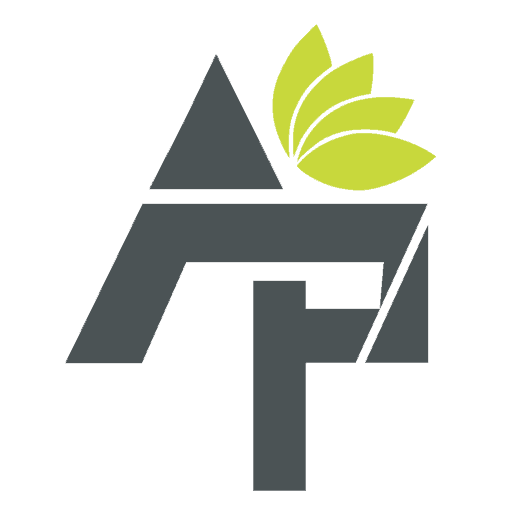 Alt Protein Team is a team of professionals and enthusiasts committed to bringing you the most up-to-date information on alternative protein, health and wellness, workouts, and all things health-related. We've reviewed a lot of products and services so you don't have to guess when you spend your hard-earned money on them. Whether you want to shed some pounds, build lean muscle or bulk, we can help you figure out what you need to do and what you need to have to achieve your goals.