There are plenty of aggressively-marketed supplements out there that claim they improve your weight loss results as well as your overall health. However, we all know that not all of those products actually work and they don't level up to the claims made by their marketing teams.
If you are wondering which powder supplement might truly perform well and it is also proven to work, you have landed in the right place. In our Blendfresh review, we will tell you exactly why this whole food powder is good for both your body and your mind. You will discover plenty of useful things such as the fact that Blendfresh contains clean, nutritious, and delicious ingredients.
What Is Blendfresh?
The Blendfresh powder is a relatively new supplement that was launched after a seven-year period of extensive research and development. All the product lines created by this company are fresh, safe, and they are made from premium-grade and high-quality fruits and vegetables.
Also, these products are processed in such a careful way that they retain all the nutrients of their ingredients. Therefore, you can rest assured that you are getting the best and most nutrient-dense elements that you can include in your daily eating regimen.
Ingredient Profile – What Are Blendfresh's Ingredients and What Are Their Benefits?
From whole veggies and fruits to seeds, sprouts, and grains, Blendfresh products contain anything your body needs in order to function properly. Each variety contains unique ingredients, so we will discuss each of the formulas marketed by this company.
Blendfresh Formulas Overview
All Blendfresh products are made with completely natural fruit and vegetables and they are categorized by color and natural pigments. This method of creating each supplement leads to powders that focus on a different part of one's health. Therefore, you can choose those items that your body needs and prefers. Moreover, you can easily include these beverages in your daily eating plan to enjoy the benefits that each of these powders brings.
1. Orange Fusion Ingredients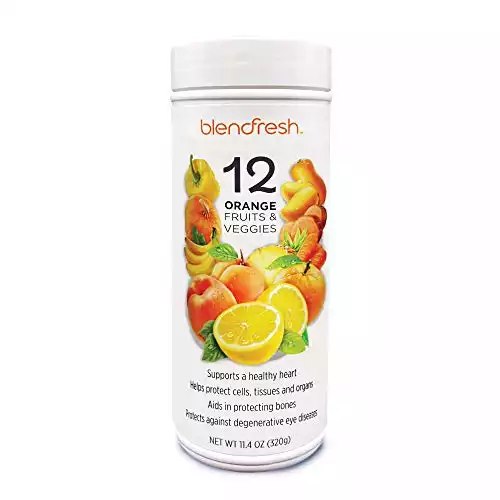 The Orange Blendfresh variety contains a mix of no less than 13 different yellow and orange vegetables and fruits:
Organic sweet potato;
Butternut squash;
Organic carrot juice;
Organic pumpkin;
Pineapple;
Banana;
Apricot;
Organic mango;
Organic acerola;
Peach;
Orange juice;
Yellow bell peppers;
Organic lemon juice.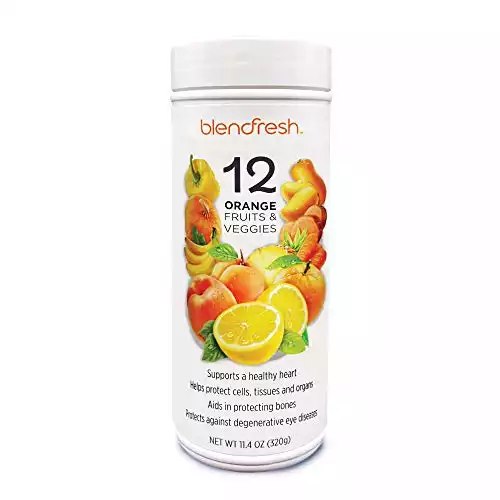 Orange Fusion Benefits
You can eat healthily and achieve a better life by consuming this orange powder supplement because it offers a lot of health benefits like the following ones:
Restores and repairs damaged tissues, organs, and cells;
Supports healthy eyes;
Strengthens your bones;
Improves the health of your urinary tract;
It is important for your normal development and growth;
Boosts your immune system.
2. Red Fusion Ingredients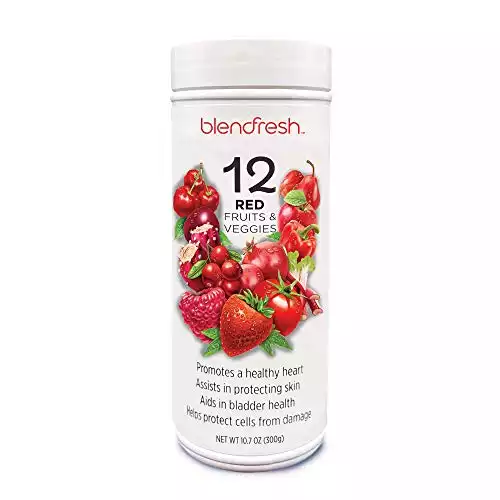 This is a low-calorie supplement that is made from 14 red fruits and vegetables:
Red pear;
Organic beet;
Beet juice;
Strawberry;
Organic apple;
Cranberry;
Pomegranate juice;
Raspberry;
Tomato;
Red pepper;
Organic acerola juice;
Cherry juice;
Rhubarb;
Prickly pear juice.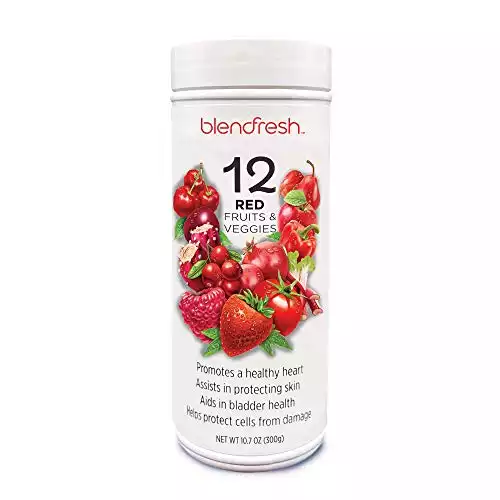 Red Fusion Benefits
Due to its red fruit and veggie selection, this supplement provides the following health benefits:
Supports the health of your bladder;
Promotes a healthy heart;
Boosts your immune system;
Protects body cells from potential damage.
3. Purple Fusion Ingredients
Blendfresh Purple Fusion is a blend made from 13 different vegetables and fruits, all of which are purple or dark blue:
Organic grape;
Organic beet juice;
Blackberry;
Organic acerola;
Plum;
Organic acai;
Purple carrot;
Organic blueberry;
Purple cabbage;
Blackcurrant;
Eggplant;
Black raspberry;
Passionfruit.
Purple Fusion Benefits
Research has proven that the superfoods contained by this supplement have certain natural pigments that lead to a healthier body:
Improves your memory;
Protects against colds;
Lowers stress levels;
Helps you age in a healthy way;
Boosts your heart' health;
Protects cells from being damaged.
4. Green Fusion Ingredients
Compared to all the other formulas presented above, the Green Fusion has the biggest number of ingredients. It comes with a mix of 15 green fruits and vegetables:
Kale;
Broccoli;
Spinach leaf;
Collard greens;
Lime;
Chard;
Organic green apple;
Green cabbage;
Kiwi;
Green peas;
Organic apple juice;
Asparagus;
Organic acerola;
Brussels sprouts;
Romaine lettuce.
Green Fusion Benefits
All the above green ingredients have powerful antioxidant properties and they deliver a large range of health benefits:
Lower your cholesterol level;
Prevent inflammation;
Restore and replenish your red blood cells;
Strengthen your bones and boost muscle growth;
Improve your immunity.
5. Plant-Based Fusion Protein Ingredients
This protein blend contains a complex mix of legumes, whole grains, beans, and seeds:
Plant-based protein blend: rice protein, quinoa, pea protein, flaxseed, spinach, potato protein, black bean, alfalfa juice;
Oat bran;
Stevia leaf extract;
Honey;
Agave inulin;
Citric acid;
Orange fiber;
Papain; etc.
Plant-Based Protein Benefits
One serving of this supplement provides 20 grams of protein and has the following health benefits:
Reduces body fat;
Lowers your appetite;
Curbs your cravings;
Strengthens your muscles;
Boosts the growth of lean muscle mass.
6. Seeds and Sprouts Fiber Ingredients
This is an original formula and there is nothing quite like it in the fitness and nutrition industry at the moment. It provides a combination of several sprouts, seeds, and legumes, as it follows:
Organic acacia gum;
Organic garbanzo bean;
Psyllium husk powder;
Organic lentil sprout;
Oat bran;
Organic pumpkin sprout;
Sesame sprout;
Organic millet sprout;
Flaxseed;
Sunflower sprout;
Chia seed; etc.
Seeds and Sprout Fusion Benefits
Among this supplement's benefits you will find the ones listed below:
Helps you achieve your desired weight;
Lowers appetite and curbs cravings;
Regulates calorie absorption;
Balances blood sugar levels;
Lowers cholesterol levels;
Regulates bowel movements.
7. Pre and Probiotic Formula Ingredients
Although this Blendfresh formula contains only six types of seeds and sprouts, it is highly nutritious and each serving has 20 billion colony forming units of healthy gut bacteria:
Organic buckwheat;
Lactobacillus acidophilus;
Bifidobacterium animals sip lactic;
Organic quinoa;
Organic amaranth;
Lactobacillus plantar;
Organic blackstrap molasses;
Organic millet; etc.
Pre and Probiotic Fusion Benefits
Due to its probiotic and prebiotic content, this variety has the following advantages:
Fights bad gut bacteria;
Restores healthy levels of good gut flora;
Increases your energy levels;
Speeds up the recovery process after a urinary tract or yeast infection.
Nutritional Value
Nutritional Facts – Fruits and Veggies Blends (red, orange, green, purple) – per one serving/scoop
Calories
30
Dietary Fiber
1-2 g
Carbohydrates
6-7 g
Total Fat
0 g
Sugars
3-5 g
Protein
1 g
Sodium
5-30 mg
Cholesterol
0 mg
Nutritional Facts – Pre & Probiotic, Plant-Based Proteins, and Seeds & Sprouts Blends – per one scoop
Calories
30-105
Dietary Fiber
3-7.5 g
Carbohydrates
1-9 g
Total Fat
0-0.5 g
Sugars
2-4 g
Protein
1-20 g
Sodium
30-220 mg
Cholesterol
0 mg
Besides the values written in the tables above, the Blendfresh mix also contains essential vitamins and minerals such as calcium, vitamin A, iron, and vitamin C.
The Company's Preferred Customer Program
If you try one or several of these formulas and you are happy with the way they work, you should think about becoming a member of the company's Preferred Customer Program. Once you join it, Blendfresh will deliver its products to your doorstep every month, as a subscription.
The main advantage of this program besides its convenience is that you will benefit from auto-shipped supplements that sell at a lower pricing rate. So, in other words, you will receive a significant discount if you subscribe to the Blendfresh monthly delivery.
It is easy to become a member of this program by signing up on the company's official website. Make sure to create an account first and then choose the Blendfresh product varieties you want to receive.
Are These Powders High-Quality Supplements?
Blendfresh's producer claims that this superfood powder provides its clients with wholesome, healthy, and tasty fruit and veggies powders. Most customers are completely satisfied with the fact that this product is kosher certified, gluten-free, pesticide-free, organic, clean, and non-GMO created.
Besides all these advantages, the entire amount of vegetables and fruits maintain all their nutrients, vitamins, minerals, and enzymes during the manufacturing process. The company achieves all that by using top-notch technologies such as Blendtec and Fresh Dried. Through these procedures, Blendfresh manages to sell excellent products that, as promised, have a positive impact on your body as well as your health.
How to Use the Blendfresh Powders
Although most people use these powders to prepare a delicious beverage, there are plenty of other ways in which you can use the Blendfresh supplements:
You can sprinkle a small amount of powder on top of a salad;
They taste great when combined with your favorite beverages, shakes, and smoothies;
You can easily blend the powder into a salsa of your choice;
Don't be afraid to stir this supplement into yogurts, soups, and even ice cream.
As you can see, there is a wide range of options that you should consider so feel free to use these products any way you want. Let your imagination fly free because the sky is the limit when it comes to incorporating these healthy formulas into your diet.
Due to the fact that you can add the powder to almost all your meals and snacks, you can receive the benefits of these products all day long. The Blendfresh supplements are highly versatile and they are easy to use while also enabling you to reach your health, wellness, and fitness goals.
How Much Does Blendfresh Cost?
You can purchase the Blendfresh powders from the company's official website or on Amazon. The prices may vary depending on the chosen formula as well as on the container's size.
a. Blendfresh Online Shop
The four color groups of fruits and veggies cost $24.99 per pouch (20 servings per container);
One 21.2-ounce container of Fusion Plant-Based Protein powder sells for $34.99;
One 7.41-ounce container of Fusion Seeds and Sprouts Fiber costs $16.99;
A container of Fusion Pre and Probiotic Blend that contains 3.53 ounces of powder is marketed for $21.99.
If you decide to purchase these products from the manufacturer's online shop, you will benefit from free shipping if you order exceeds $60.
You can also buy in bulk. To do that, simply select one of the available Fusion packs:
Fusion Plant-Based 7 Product Pack – $159.93 (you will save $15) – this pack contains all four fruit and veggies color blends and all three types of other formulas (fiber, plant-based, and pre and probiotics);
Fusion 4 Color Pack – $89.99 (you will save $10) – this option includes only the four color groups of powders.
b. Amazon
On Amazon, you have the possibility to buy one single pouch of each individual blend or you can also find several available mixed packs and their prices vary depending on the seller:
Each of the four color blends (Orange, Purple, Green, and Red) costs around $54; you might think that this is a little more expensive than the price found on the company's official website but, on Amazon, the shipping is totally free of charge even if you buy one single pouch of powder;
Pre and Probiotic Blend – around $23.99 for one container of 3.53 ounces;
Seeds and Sprouts Fiber – approximately $19.99 for a container of 7.41 ounces;
Plant-Based Proteins Blend – costs around $39.99 per a 21.2-ounce container.
Keep in mind that all these products listed above benefit from free shipping if you purchase them on Amazon while on the Blendfresh e-shop you must make an order of at least $60 to receive that advantage.
Drawing to a Close
Now that you have a clearer idea of what Blendfresh powders are and how they work, you should give them a try because they provide a healthy and well-balanced mix of fruits, veggies, prebiotics, probiotics, protein, and other essential minerals, nutrients, and vitamins.
Furthermore, you will be surprised by how easy is to include these supplements into your daily diet. One of the main advantages of this brand is represented by its large range of products that are made to suit and meet all their customers' need and preferences.
---
Disclaimer
Last updated: December 16, 2019
The information contained on www.altprotein.com website (the "Service") is for general information purposes only.
Alt Protein assumes no responsibility for errors or omissions in the contents on the Service.
In no event shall Alt Protein be liable for any special, direct, indirect, consequential, or incidental damages or any damages whatsoever, whether in an action of contract, negligence or other arising out of or in connection with the use of the Service or the contents of the Service. Alt Protein reserves the right to make additions, deletions, or modification to the contents on the Service at any time without prior notice.
Alt Protein does not warrant that the Service is free of viruses or other harmful components.
Fitness disclaimer
The Service offers health, fitness and nutritional information and is designed for educational purposes only. You should not rely on this information as a substitute for, nor does it replace, professional medical advice, diagnosis, or treatment. If you have any concerns or questions about your health, you should always consult with a physician or other health-care professional.
Do not disregard, avoid or delay obtaining medical or health-related advice from your health-care professional because of something you may have read on the Service. The use of any information provided on the Service is solely at your own risk.
You can also review our Editorial Integrity Policy.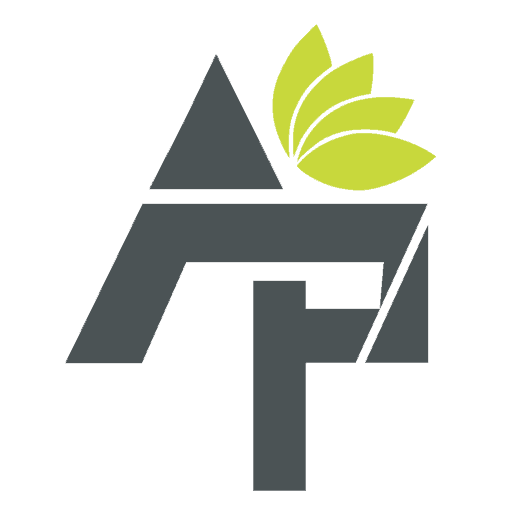 Alt Protein Team is a team of professionals and enthusiasts committed to bringing you the most up-to-date information on alternative protein, health and wellness, workouts, and all things health-related. We've reviewed a lot of products and services so you don't have to guess when you spend your hard-earned money on them. Whether you want to shed some pounds, build lean muscle or bulk, we can help you figure out what you need to do and what you need to have to achieve your goals.