When we think about burning fat and losing weight, we should always consider increasing protein intake while also lowering the amount of carbs, sugar, and fat we include in your daily diet.
After thorough research, I have come up with the following six supplements which I consider some of the best fat burning protein powder options on the market. You be the judge!
1. Gold Standard Whey by Optimum Nutrition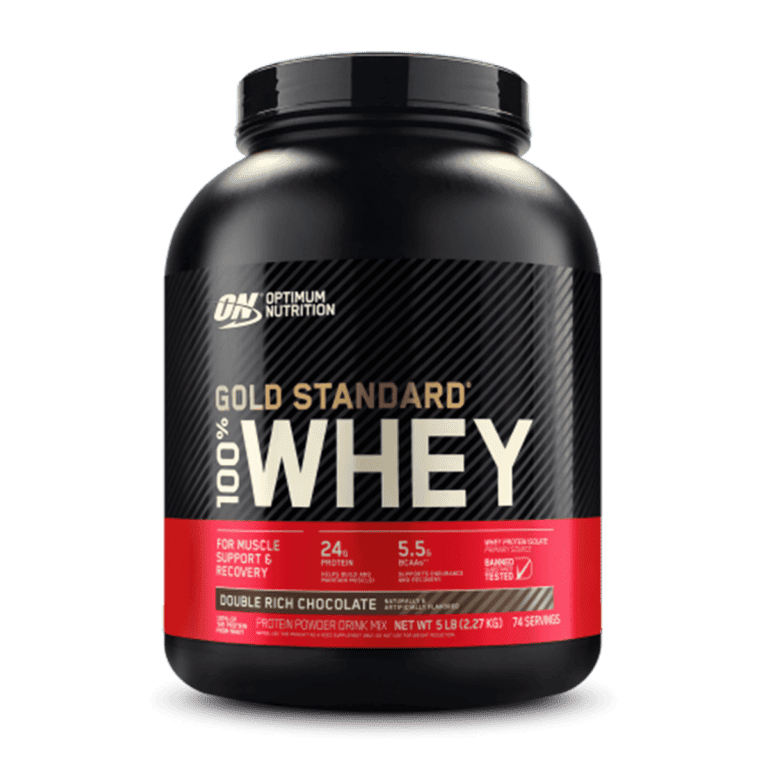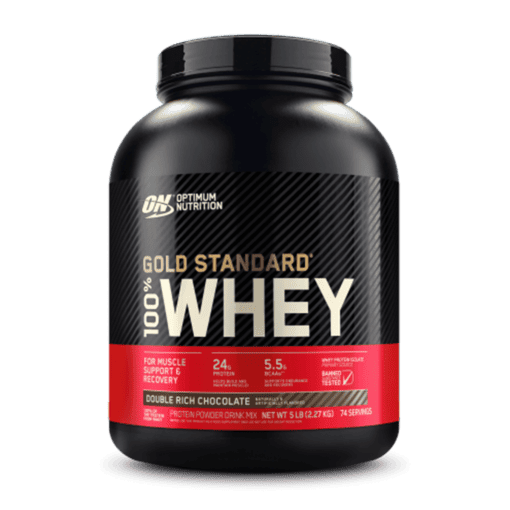 Gold Standard Whey is the best weight loss (weight loss protein) and fat-burning protein powder for a lot of people, both professional athletes and fitness enthusiasts. Most individuals consume one serving of this powder right after their workouts. Besides fat burn, Gold Standard is said to support lean muscle mass recovery and growth. Optimum Nutrition's fat-burning powder is both popular and less expensive than many other similar supplements.
Gold Standard Whey Ingredients
Protein blend – whey protein concentrate, whey protein isolate, and whey peptides
Lecithin
Lactase
Both natural and artificial flavorings
Acesulfame potassium
Milk
Soy
Aminogen
Minerals and vitamins – vitamins A and C, iron, and calcium.
Nutritional Values – per one serving (one scoop of about 30 grams)
| | |
| --- | --- |
| Calories | 120 |
| Protein | 24 g |
| Total fat | 1 g |
| Dietary fiber | The amount is not specified, but it appears to lack a significant amount of dietary fiber. |
| Carbohydrates | 3 g |
| Sugar | 1 g |
| Sodium | 130 mg |
Pros
It is one of the best protein powders on the market with plenty of fans, and it contains high-quality ingredients
You can choose from a wide range of available flavors (16): French vanilla, chocolate mint, cookies and cream, mocha cappuccino, white chocolate, and more
It is an affordable supplement
Contains a good-quality whey protein blend
It mixes well with any kind of liquid
Comes with digestive enzymes which promote a healthy digestive system
Cons
Contains artificial flavors and sweeteners
It has soy which is not good for people with food allergies
The ingredients label is not as descriptive as it should be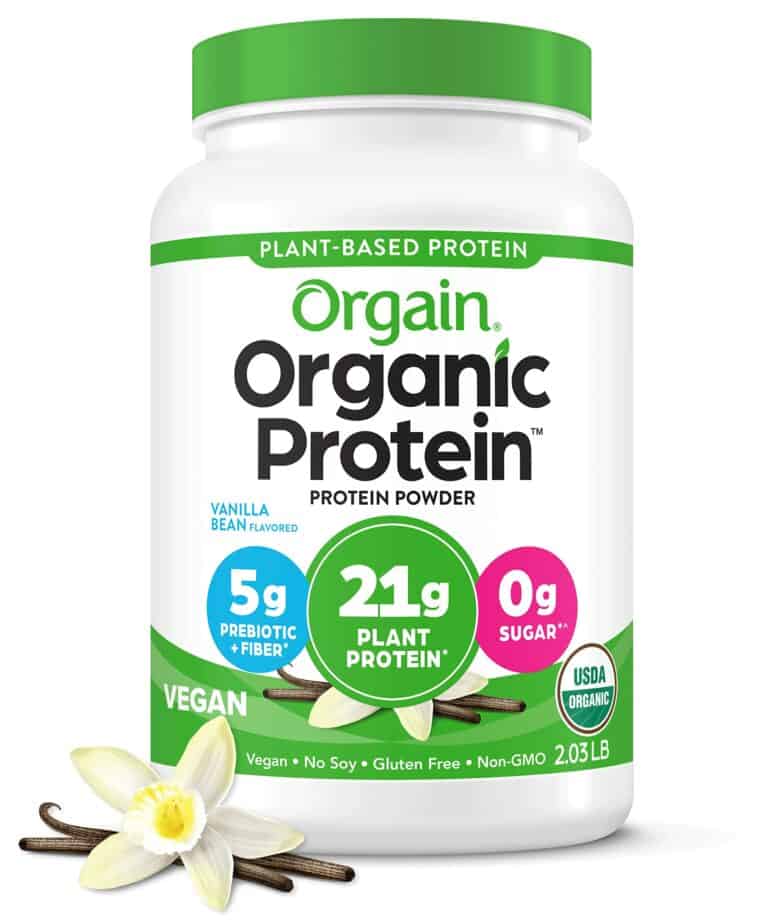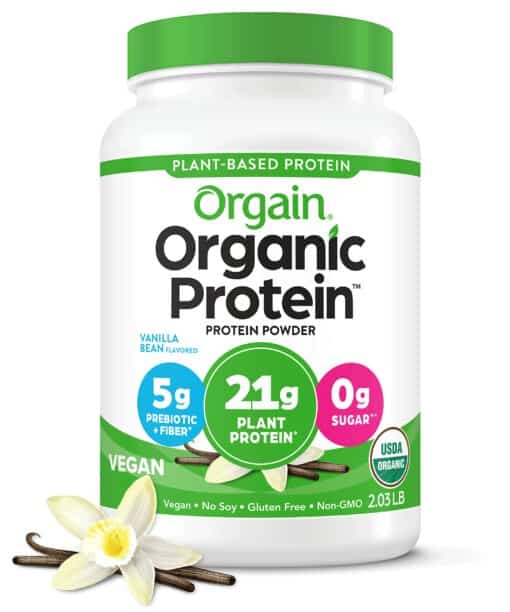 Unlike other fat-burning supplements, the Orgain protein powder comes with a simple yet effective formula. According to reviewers, this is a superior alternative with great taste. It is free from artificial ingredients, which is definitely a huge plus. Orgain is an organic product with a decent taste. Still, I have to confess that I only took the Vanilla flavor for a spin.
Orgain Protein Ingredients
Organic protein blend – brown rice protein, pea protein, chia seeds
Stevia extract
Creamer base – high-oleic sunflower oil, acacia gum, inulin, rice bran extract, rosemary extract, etc.
Natural flavors
Sea salt
Guar gum
Xanthan gum
Nutritional Values – per one serving (two scoops of about 46 grams)
| | |
| --- | --- |
| Calories | 150 |
| Protein | 21 g |
| Total fat | 3.5 g |
| Dietary fiber | 5 g |
| Carbohydrates | 15 g |
| Sugar | 1 g |
| Sodium | 180 mg |
Pros
This is a 100% organic fat-burning protein powder
It contains high-quality ingredients, and it doesn't have any artificial compounds
It tastes good. Ok, I'll admit! I liked the taste, but perhaps it was because of all the sweeteners this supplement contains: monk fruit, stevia, and erythritol
Mixes pretty well in any type of liquid such as water, almond milk, or juice
Cons
It is not as low-carb as most of the other fat-burning protein powders on this list
Might cause some issues for people who have a sensitive stomach
It can be a bit on the pricey side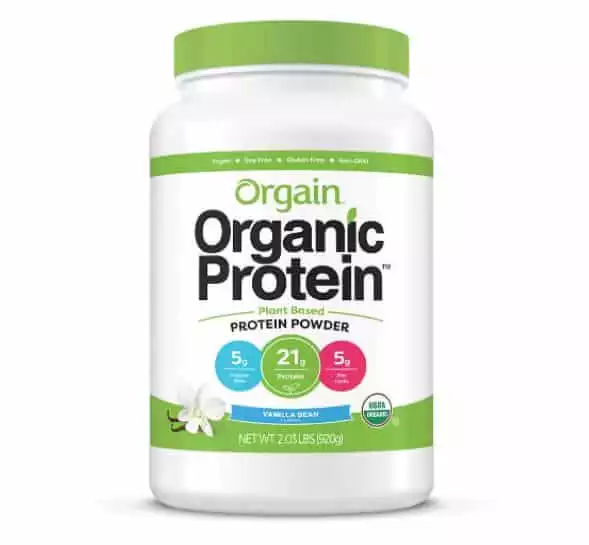 Why I Love Orgain
Smooth, slightly sweet (but not TOO much), all plant-based. Orgain is definitely one of my FAVS. Best of all, it doesn't break the bank.
Check Orgain.com Price
Check Amazon Price
We earn a commission if you click this link and make a purchase at no additional cost to you.
3. Egg White Protein by Naked Nutrition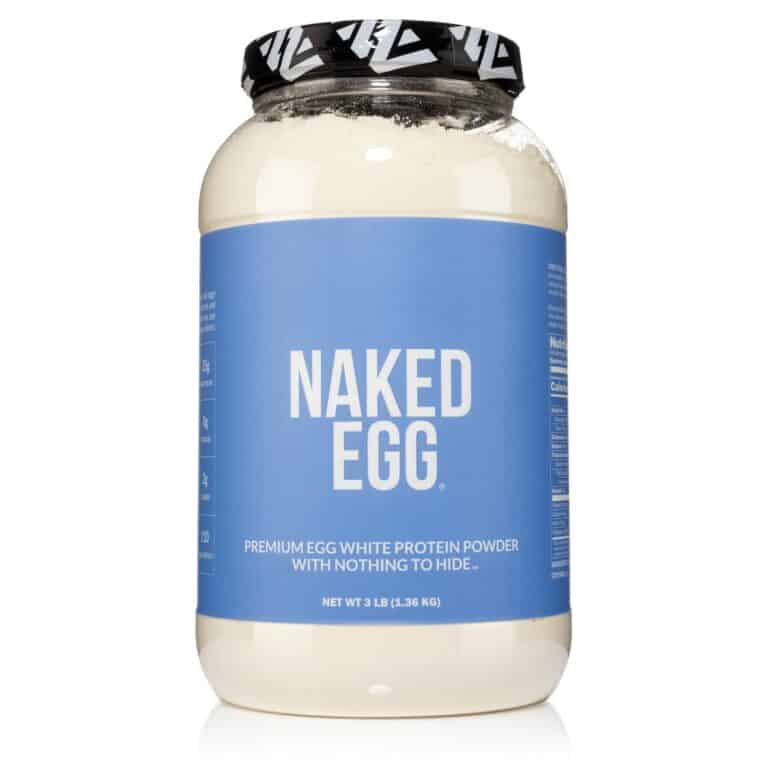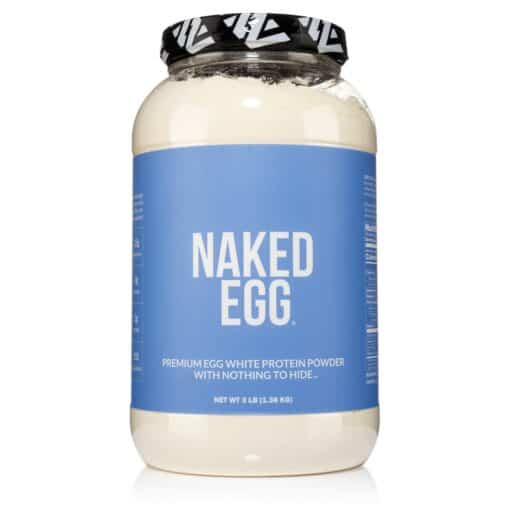 I simply love this product because it is formulated with clean and non-GMO ingredients. In fact, there are only two ingredients in this supplement, and Naked Nutrition's protein powder is free from added colorings or flavorings.
According to the company, this is a premium product, and all the eggs come from farms based in the United States. I'm sure you'll be glad to know that Naked Egg comes with a complete amino acid profile.
Ingredients
Egg whites
Sunflower lecithin
It contains a wide range of essential amino acids: leucine, lysine, valine, proline, isoleucine, serine, alanine, arginine, etc.
Nutritional Values – per one serving (two scoops of about 31 grams)
| | |
| --- | --- |
| Calories | 110 |
| Protein | 25 g |
| Total fat | 0 g |
| Dietary fiber | 1 g |
| Carbohydrates | 2 g |
| Sugar | 0 g |
| Sodium | 380 mg |
Pros
It is an excellent non-GMO product for those of you who want to lose weight, being a calorie-restricted supplement with a low amount of carbs
It doesn't contain added sugar, and it is fat-free
The product is a reliable one based on an independent test that was conducted in order to find out how much heavy metals and allergens Naked Egg contains
Being almost tasteless makes this product the perfect addition to any smoothie or recipe of your choice
It is a very good whey-protein substitute
Cons
Some consumers seem to think that Naked Egg contains way too much salt
It is pretty expensive
A few reviewers complained about the way this supplement taste, saying it quite unpleasant
Other people were not pleased with how empty the container was. According to them, it seems that the tub was barely half full
4. Raw Organic Protein Powder by Garden of Life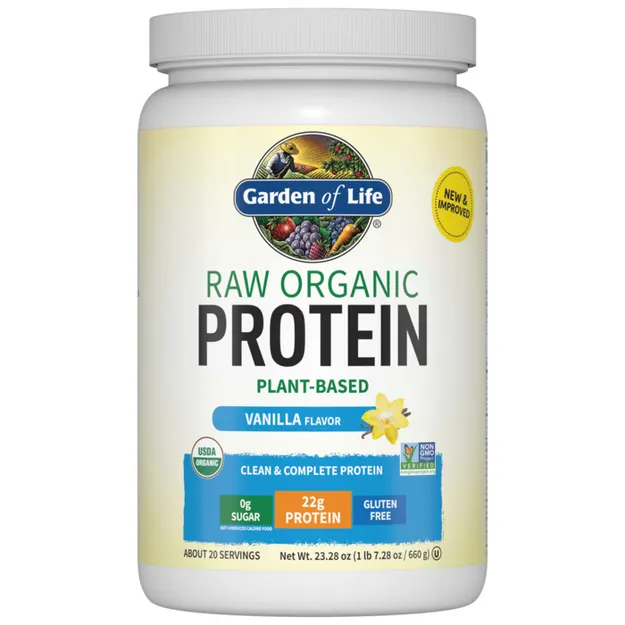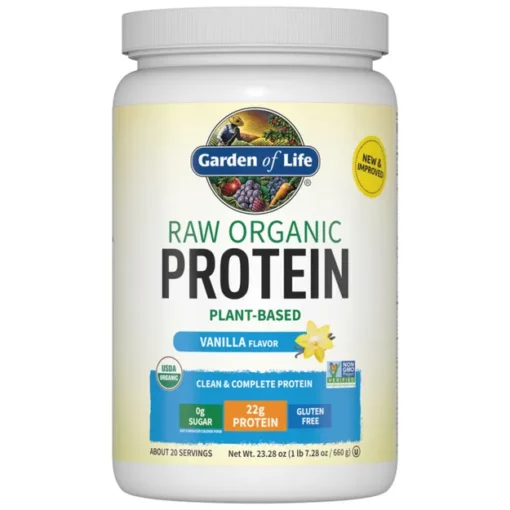 Garden of Life's protein powder is a good-quality supplement. Moreover, it is a low-maintenance product and a highly-convenient one. All you have to do to prepare a nutritious yet low-calorie beverage is mix a couple of scoops with water or milk, shake it up for several seconds, and then enjoy the drink. This fat-burning protein powder is organic and not expensive at all. However, there are a few red flags that concern me such as added flavors.
Ingredients
Organic protein blend – brown rice protein, amaranth sprout, pea protein, buckwheat sprout, quinoa sprout, cracked wall chlorella, chia seeds, lentil sprout, flaxseed, sesame seed sprout, etc.
Organic flavor blend – vanilla flavor, sea salt, stevia leaf extract, carob bean gum, guar gum, etc.
Probiotic and digestive enzyme blend – protease, cellulase, lipase, lactase, Lactobacillus Plantarum, etc.
Amino acid profile – alanine, glycine, leucine, proline, valine, etc.
Mineral and vitamin blend – iron, magnesium, potassium, vitamins A, C, D, E, and K
Nutritional Values – per one serving (one scoop of 31 grams)
| | |
| --- | --- |
| Calories | 110 |
| Protein | 22 g |
| Total fat | 2.5 g |
| Dietary fiber | 1 g |
| Carbohydrates | 2 g |
| Sugar | 0 g |
| Sodium | 180 mg |
Pros
Raw Organic Protein Powder has a nice smooth, tasty, and creamy consistency
It helps you burn fat, lose weight, grow and repair muscle mass
It is a tested and trusted brand in the health supplement industry
The product doesn't contain allergens like soy, dairy, and gluten
Cons
Some added flavors can cause an upset stomach;
The product might lead to some mild side effects like bloating or gas;
It seems that the company's attempt to rebrand and reformulate the product was not well-received by the Garden of Life consumers.
5. Vega Plant-Based Protein & Greens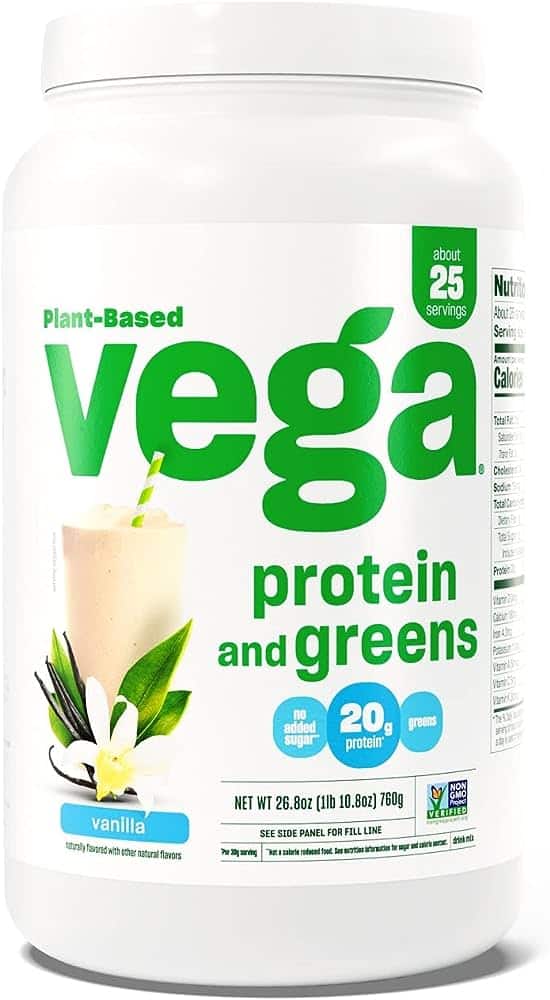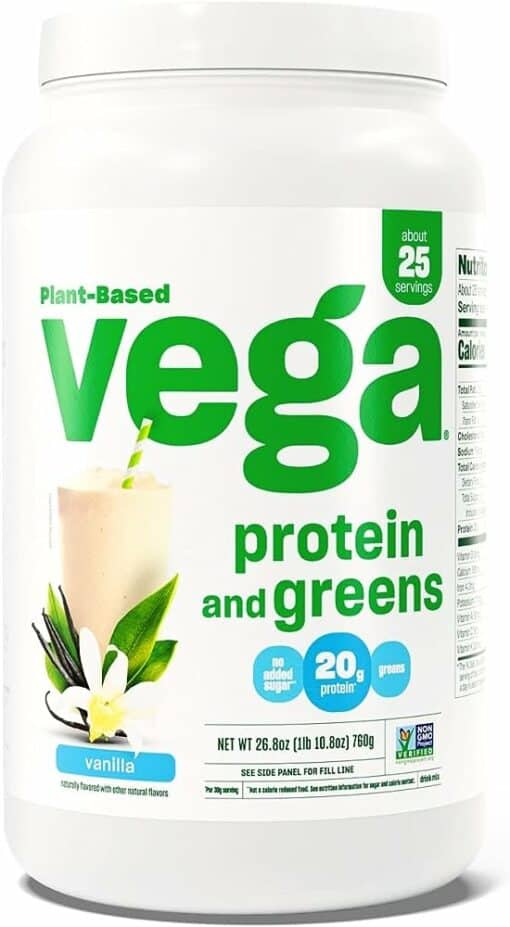 This is a highly-nutritious protein powder with very good fat-burning properties. Furthermore, it is a clean product because it is formulated with non-GMO ingredients and some of them are even organic. You can easily replace your morning protein shake with this dietary supplement. It can be easily combined with water, rice or almond milk, or any other liquid of your choice.
Ingredients
Pea protein
Pea Starch
Spinach powder
Stevia leaf extract
Xanthan gum
Natural flavors
Brown rice protein
Papain powder
Organic kale powder
Sacha inchi powder
Broccoli powder
Alfalfa grass powder
Minerals and vitamins – calcium, vitamin K, vitamin A
Nutritional Values – per one serving (one scoop of 33 grams)
| | |
| --- | --- |
| Calories | 120 |
| Protein | 20 g |
| Total fat | 2.5 g |
| Dietary fiber | 2 g |
| Carbohydrates | 6 g |
| Sugar | 1 g |
| Sodium | 270 mg |
Pros
It is a plant-based fat-burning fat loss protein powder
This vegan supplement is free from artificial preservatives and colors, and it is also gluten-free
It is available in a wide range of flavors: chocolate, vanilla, salted caramel, coconut almond, tropical, etc.
Vega is a reputable and trusted brand
Cons
It is pretty expensive
Its consistency can be a tad grainy and thick because it is a plant-based powder
Many consumers don't like the product's taste because it is not sweet enough
6. Huel Protein Powder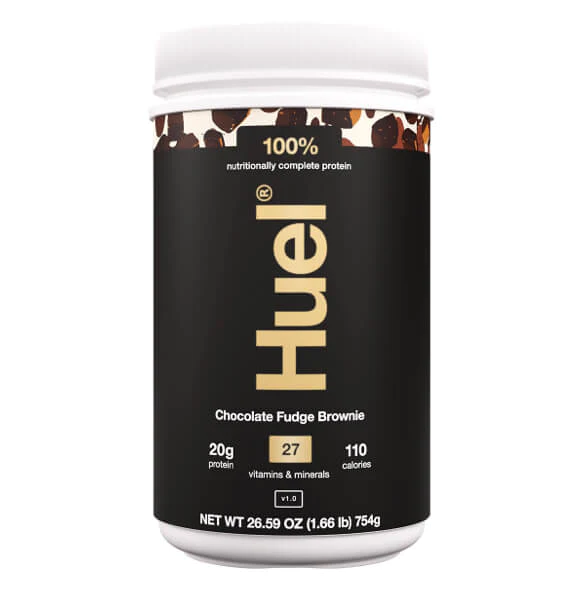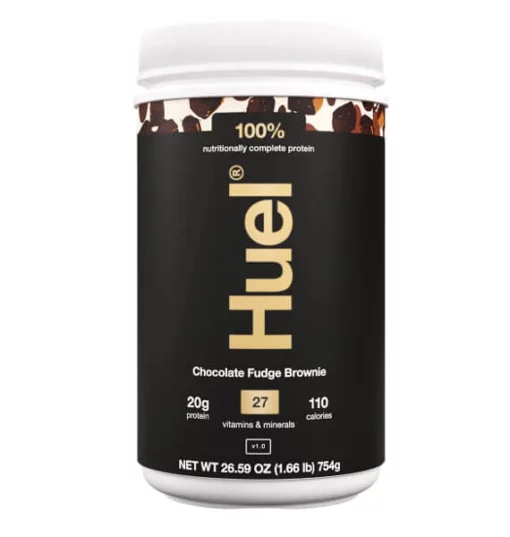 A British meal-replacement manufacturer markets huel protein powder. This product's formula was the creation of James Collier, a nutritionist. The company's main goal was to come up with a nutritious supplement that provides all the necessary nutrients an organism needs to consume in a day.
The thing I like most about Huel is its Omega-3 fatty acids richness even though we're talking about vegan protein powder. So, as you can see, unlike other products on my list, Huel is a meal replacement, not just a dietary supplement, with no less than 500 calories per serving.
Ingredients
Protein blend – brown rice protein, pea protein, and flaxseeds
Coconut-sourced MCT powder
Oats or gluten-free oats for the varieties that don't contain this compound
Natural flavors
Thickeners – guar gum and xanthan gum
Sucralose
Sunflower oil powder
Micronutrient blend – coconut flour, vitamin K2, vitamin D2, lutein, vitamin C, potassium chloride, calcium carbonate, biotin, etc.
Nutritional Values – per one serving (one cup of about 127 grams)
| | |
| --- | --- |
| Calories | 500 |
| Protein | 37 g |
| Total fat | 16 g |
| Dietary fiber | 9 g |
| Carbohydrates | 47 g |
| Sugar | 1 g |
| Sodium | 410 mg |
Pros
It is marketed in a large number of flavors so you will never get bored with its taste: berry, vanilla, coffee, gluten-free versions of all the varieties mentioned above, and an unflavored alternative
Huel might be your solution for a nutritious and fat-burning meal replacement
Most consumers simply love the product's macros. It contains a high amount of protein while also being low in sugar
It is formulated with Omega-3 fatty acids which offer you plenty of health benefits
This meal replacement is supposed to help you burn fat and lose weight
Cons
Most complaints are related to the product's artificial sweeteners and flavorings content
The gums included in the supplement can sometimes lead to certain issues such as digestive ones
There's a two-bag minimum order
Summary: Best Fat-Burning Protein Powder Choices
The protein powders that I've included in today's post have multiple purposes. They can help you burn fat but also weight loss, build lean muscle mass, and speed up your muscle damage recovery.
Each one of them has its own unique traits, so it is very hard to pick one brand (I truly know and empathize with you on that one, trust me). No matter which fat-burning protein powder you purchase, you should always pair it with a balanced diet, regular workouts, and an overall healthy lifestyle.
Ok, you got me! I will tell you what my honest opinion is. I have two favorite powders from the list above.
The first one is Naked Nutrition's egg-white protein powder which is a must if you're looking for a clean and safe supplement. The second product I simply love is Huel meal replacement which will do the trick if you want to replace an entire meal with it (it is very nutritious).
Other suitable alternatives you might want to take a look at:
Fuel Micellar Casein by Ascent Native – this is an excellent alternative to all the products listed above due to its amazing protein content. You will get 25 grams of protein per serving. Also, the manufacturer included only natural ingredients in the formula. It's a very good option if you're looking for a supplement that contains essential amino acids;
Cacao and Greens Essential Blend by Navitas Organics – this blend contains sunflower seeds, pea, hemp protein, pumpkin seeds, and flax. Not only will this product help you burn fat and weight loss but it will also increase your fiber and probiotic intake;
Profi Booster Vegan Protein Powder – this vegan protein powder is free from gluten and soy so it is safe to consume and it provides 20 grams of protein per serving. I must admit this one is another favorite of mine due to its complete profile of amino acids.
Recommended Reads: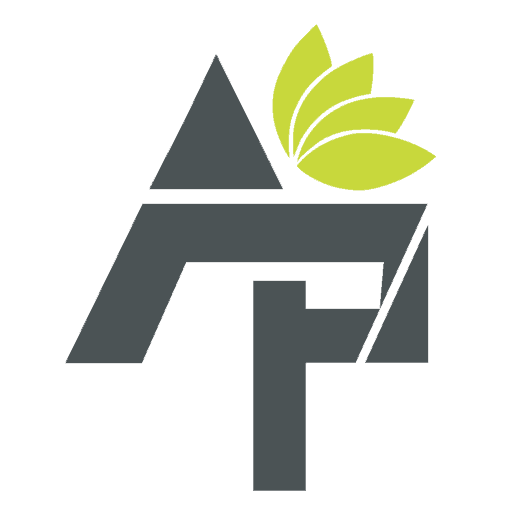 Alt Protein Team is a team of professionals and enthusiasts committed to bringing you the most up-to-date information on alternative protein, health and wellness, workouts, and all things health-related. We've reviewed a lot of products and services so you don't have to guess when you spend your hard-earned money on them. Whether you want to shed some pounds, build lean muscle or bulk, we can help you figure out what you need to do and what you need to have to achieve your goals.