If you are a fan of protein drinks and making smoothies you will probably want to own the best smoothie blender you can afford for the perfect making. Of course, the best version of this versatile kitchen tool must have strong blades and powerful motors (and hopefully dishwasher friendly). All these features enable green smoothie blenders to chop frozen veggies and fruits as well as crushing ice without leaving a texture with chunks.
However, searching for the best blenders for green smoothies can be a frustrating and daunting task because there are plenty of options out there that have many high-quality features that promise to give you a good smoothie.
This is why we have created this article in order to help you identify a great blender that will suit your needs, budget, and overall lifestyle in the most perfect way. We have included tools that excel at making good delicious and healthy smoothies, and have listed them by price, from the most affordable power blender to the most expensive blenders.
The Best Green Smoothie Blenders in 2022 – Overview
Which Are the Best Green Smoothie Blenders for 2022? – Top 6 Choices
1. Best Value for Money: Oster Pro 1200 Blender 2-in-1 with Food Processor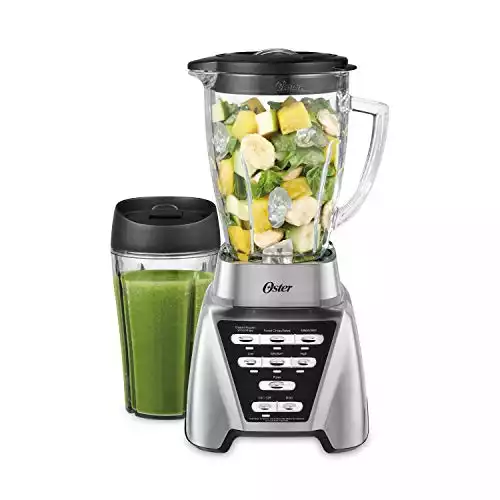 Features & Overview
Oster Pro is a 2-in-1 tool that includes both a smoothie blender for making green smoothies and a food processor. Moreover, it is a reliable product that provides seven-speed settings along with three types of functions;
It is a powerful blender that has a power of 1200 watts that helps you achieve smoothies of your desired consistency and texture;
Besides delicious smoothies, you can also use this high-performance blender to prepare soup with vegetables and other good mixtures. So, we could say this is a versatile product;
It comes with several useful accessories such as a glass jar, a chopping blade, a food processing bowl, and others.
Pros
It is a high-performance blender that comes with many superior features like variable speed settings and other customizable functions to get your perfect green drink;
The Oster Pro blender is an affordable product. It sells at a lower price without compromising on quality and performance;
It is a durable tool with a large capacity liquid smoothie cup of 24 ounces;
All its features come in handy and they are of good quality. We are talking about its chopping blade, food processing bowl which is BPA-free, and stainless steel durable slicing disk; Just perfect.
It blends everything, from greens vegetables to ice and other frozen ingredients.
Cons
Although it is a powerful blender that sells at a medium-level price, some users agree there are other better green smoothie blenders out there that perform better but those are a lot more expensive. So, it is all a matter of personal preference and available budget.
Price
Taking about the budget aspect, the Oster Pro blender can be purchased on Amazon. It costs $79.99.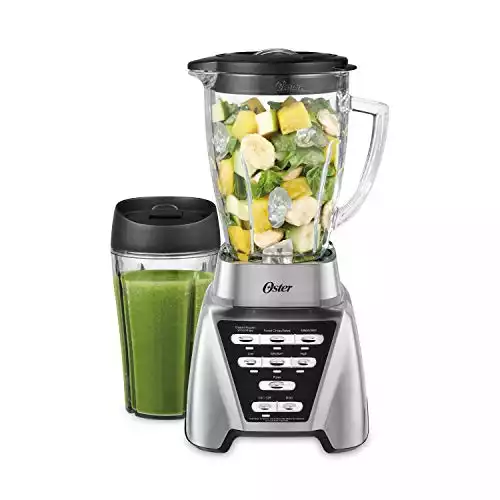 2. Most Powerful: Hamilton Beach Professional Blender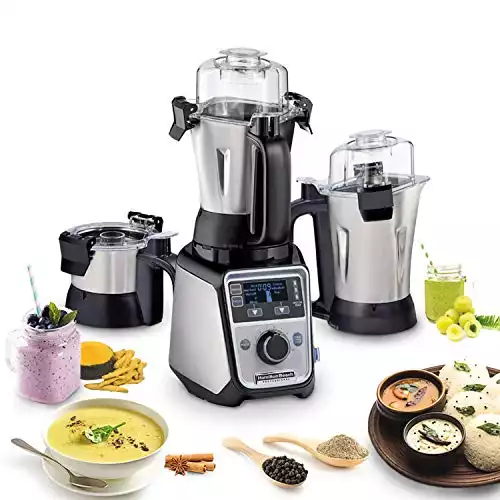 Features & Overview
This is one of the best green smoothie blenders on the market in 2022 that is easy to use and the manufacturing company provides excellent customer support;
The Hamilton professional smoothie blender is well appreciated and loved by most users. As a matter of fact, at a quick online search, you will only find four and five-star reviews while lower ratings are very hard to find;
If you're searching for a great yet affordable smoothie blender for making green smoothies, the Hamilton tool is an excellent choice for you although the size of its container is somewhat inconvenient;
Two of the main advantages of this useful kitchen tool are its container's shape and high-power blade construction making it one of the best blenders for green smoothies. Both lead to beverages that have a smooth consistency.
Pros
You can easily crush ice as well as frozen vegetables, fruits, and other ingredients due to this blender's 1800-watt power;
Two of its best features which are also great advantages are a pulse control and a variable speed dial. These functions help you achieve a better precision in terms of consistency;
The blender provides no less than four different programmed settings which lead to a thought-free smoothie preparation process;
It is easy to clean due to its one-touch auto-clean function. It is only obvious why this good blender has received so many high ratings.
Cons
Like in the case of its competitors, the Hamilton smoothie blender lacks a one-serving smoothie container.
Price
If you're interested in buying the Hamilton Beach Professional Blender, you can find it on Amazon, for the price of $366,99.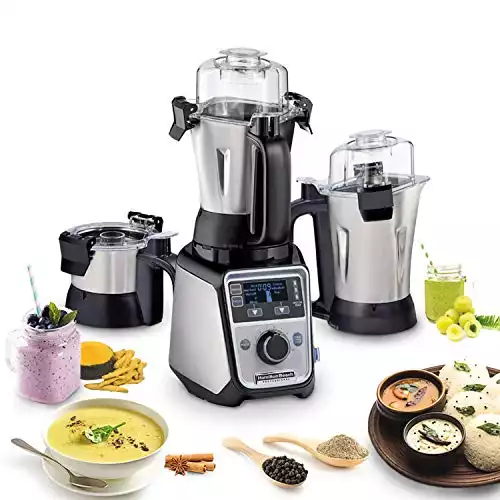 3. Best for DIY Use: Magic Bullet NutriBullet Blender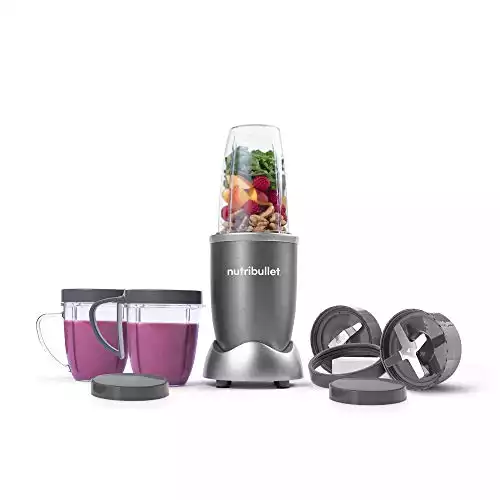 Features & Overview
Although NutriBullet is a small blender it is highly effective and will enable you to prepare any kind of blend or smoothie on the go. So, you're on the lookout for a smoothie tool that can make on-the-go or single-serving smoothies, this is the right choice for you;
It allows you to whip up superfoods, protein shakes, nutritious smoothies, soup, and many other types of concoctions by providing an easy-to-use and nifty unit;
It uses a cyclonic action technology so that this tool's blades are capable to blend and mix with effective power;
This blender is marketed along with several convenient accessories like three containers (two short ones and a third tall one), two blades (a flat one and an emulsifying one), a nutrition guide, and a manual full of recipes;
It has a power of 600 watts. So, this blender might not be the most powerful one but it sure is better than many other similar products, but making smoothies won't be a problem.
Pros
You will be able to blend any ingredients and achieve a smooth concoction due to this tool's high torque with an effective power;
There are many convenient accessories that come in the package;
The blade's design uses a cyclonic function which increases this tool's efficiency;
It is compliant with the US as well as Canadian standards;
You won't have to worry about finding new innovative smoothie or drink recipes because this blender sells with a comprehensive nutrition guide which includes a lot of easy recipes.
Cons
This is a rather small smoothie blender that has a compact container design and a power of only 600 watts. Therefore, you cannot blend large quantities of ingredients or liquid at the same time.
Price
The Magic Bullet NutriBullet can be bought on Amazon, for the price of $89,10.
Best for Individual Use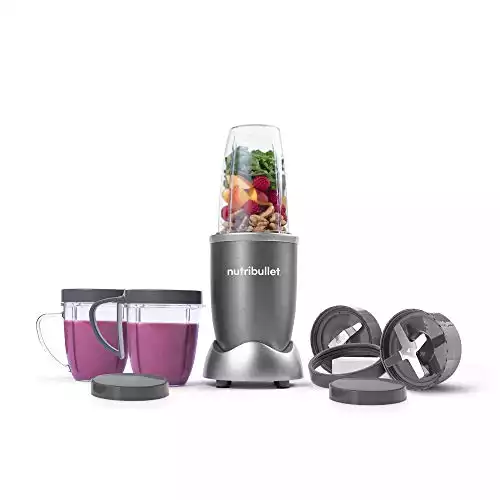 4. Best Overall: Blendtec Total Blender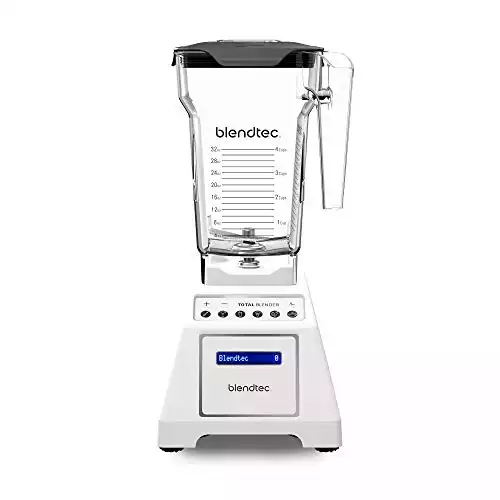 Features & Overview
This green smoothie blender provides great value for money and it is easy to use;
Blendtec is a single-blade smoothie tool that crushes ice and blends frozen fruits and vegetables, fruits peels, nuts, and fibrous vegetables. So, it is easy for you to prepare a nutritious good smoothie and personalized beverage. This tool is one of the best blenders for green smoothies available.
It comes with an auto shut off feature that enables you to prepare a delicious drink while also taking care of other matters at hand. In other words, this blender works great for people who are constantly busy or who like to multitask;
You will not be able to create single-serving smoothies because this blender doesn't come with an on-the-go container like other similar products. Don't get me wrong! You can still make a single-portion beverage but you will be required to pour it from the blender's jar to a smaller cup which is easy.
Pros
It comes with a powerful motor of 1560 watts which blends ingredients with tough textures and transforms them into a smooth drink without chunks;
This blender is very versatile and it can handle a large variety of recipes;
It has a stainless steel blade which makes the process of crushing ice a breeze;
It will be very easy for you to clean this tool due to its digital touchpad controls;
You can operate it hands-free due to its special smoothie preset function.
Cons
The lack of a personal size container might represent a major drawback;
Some clients have written a few negative online reviews, complaining about the quality of the container.
Price
You can buy the Blendtec smoothie blender on Amazon, for the price of $399.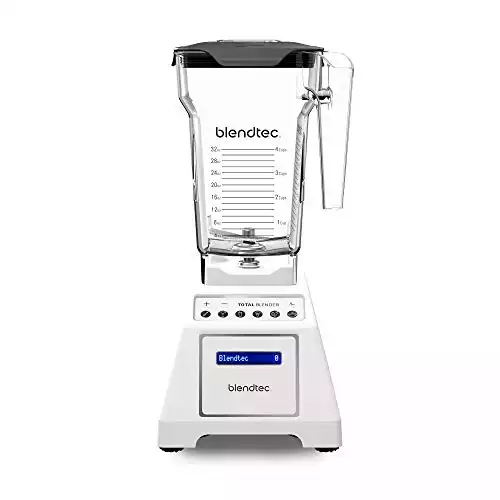 5. Premium Choice: Vitamix 5200 Series Blender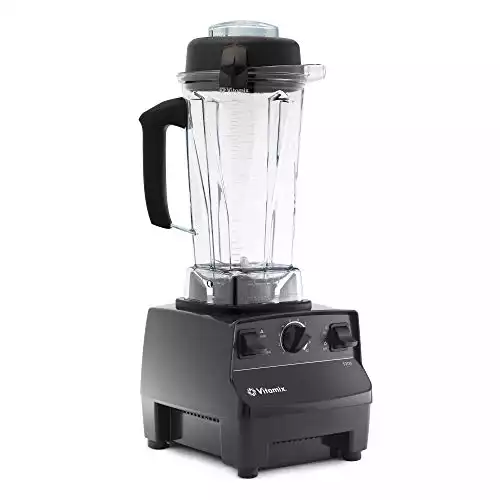 Features & Overview
You will be pleased to know that this green smoothie blender has received a lot of positive and 5-star reviews on many online websites and forums;
It is a premium kitchen tool that works in a powerful way and it is an excellent choice for those of you who love making a good large batch of nutritional or protein drinks;
It is a high-quality product with a price that matches its quality. So, we recommend you to purchase it only if you are planning to use it for more than just preparing smoothies. That way, you can benefit from all its functions, features, and overall perfect versatility;
Vitamix blender has a power of 1380 watts;
This is a great and durable smoothie maker that can last years but it can be a little frustrating to remove thicker ingredients and substances from its jar.
Pros
Due to its high versatility level, this blender performs more than great on a wide array of recipes and ingredients;
It is able to complete the majority of tasks quickly, in even less than 60 seconds;
It comes with stainless steel three-inch blades that allow you to obtain your perfect blending consistency;
You can even use this tool to prepare a tasty soup due to the blender's high speeds which heat up the ingredients like vegetables that you add to the container.
Cons
It is one of the expensive blenders in the market, but it is worth it, being a premium product; that will guaranty you making the perfect smoothie
There is no dedicated small container if you want to make single-serving smoothies.
Price
This productis sold on Amazon and it costs $394.34 (this is a promotional offer that Amazon provides at this moment; the initial price of this blender was $549).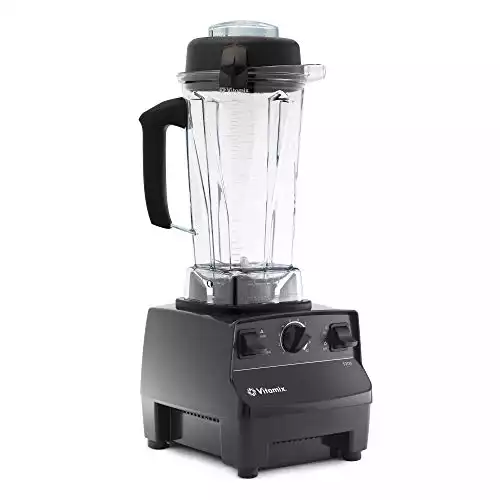 6. Most Affordable: Black & Decker Cyclone 10-Speed Blender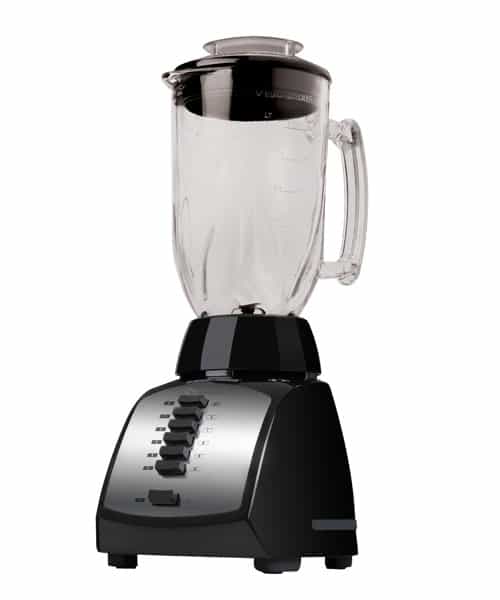 Features & Overview
This is a countertop smoothie blender with a power of 475 watts so it is less powerful compared to other green smoothie blenders;
It has a stainless steel blade and no less than ten-speed settings;
Its 48-ounce blending jar is specially designed for a cyclone mixing style;
The lid comes with a measuring cup and a cord storage;
This tool weighs a little over 10 pounds and it has received 3.3 stars out of a total of five.
Pros
It is a versatile power blender kitchen tool and it is good at plenty of things such as crushing ice, blending fruits and vegetables, and even grinding coffee beans;
This blender's lid comes with a measuring cup so it will be easy for you to keep track of how much of each ingredient you use;
It comes with a convenient cord storage;
It is one of the most affordable blending systems on the market;
You can easily clean this blender by placing it in the dishwasher;
Its manual functions are very helpful and thorough for making green smoothies.
Cons
It is not as good as other blenders but it does its job at blending pretty well considering its low price;
The position of the jar comes in handy for right-handed people only;
This is a pretty tall blender and you might have troubles in trying to store it under a kitchen cabinet;
You will have to go through two steps to start this blender.
Price
Unfortunately, this blender is currently unavailable on Amazon. Luckily, you can find it on eBay. It has a price tag of $34.58.
Drawing to a Close
So, now you know the blenders for green smoothies that you will find useful no matter which diet plan you are following. We have tried to include different alternatives that will fit any budget and will make a good suit in any personal preference. The tools presented above work great for every home chef. Whether you're chopping ice or blending fruits and vegetables, these products will help you prepare the right smoothies for a new health kick.
When you have the right type of blender, making good healthy and nutritious beverages that will help you reach your weight loss and fitness goals becomes an easy-peasy task.
We recommend you to take several factors into consideration (features, power, price, functions, accessories, dishwasher use etc.) before making a decision. After all, this should be a wise and long-term investment and the model you purchase should fit your personal needs for some years.
If you find it useful, share this article with your social media friends, to help them find a great blender as well.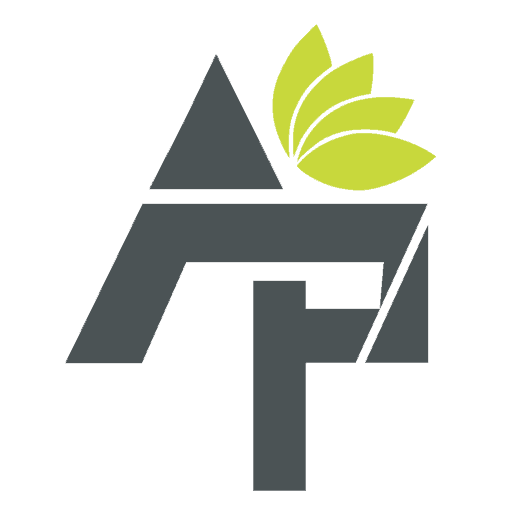 Alt Protein Team is a team of professionals and enthusiasts committed to bringing you the most up-to-date information on alternative protein, health and wellness, workouts, and all things health-related. We've reviewed a lot of products and services so you don't have to guess when you spend your hard-earned money on them. Whether you want to shed some pounds, build lean muscle or bulk, we can help you figure out what you need to do and what you need to have to achieve your goals.