I am sure many of you have tried plenty of diets and most likely none or just a few have actually worked. In this article, we will share with you our insights regarding two popular weight loss programs: Optifast and Slimfast plan. These two might have similar names. However, they have a different approach when it comes to helping people lose weight.
On the one hand, Slimfast is a diet plan that also provides several meal-replacement products and during which clients must consume those weight-management supplements by replacing one or even two main meals per day.
On the other hand, Optifast involves meal replacement but puts an emphasis on following a low-calorie diet. Each client will be required to have a strict 400-800 calorie intake per day. No matter which one of these systems you decide to follow, you should always see your doctor first.
Optifast vs Slimfast Benefits Overview
| | |
| --- | --- |
| Optifast Diet Plan | Slimfast Weight Loss Program |
| Patients receive plenty of help and support. | Offers safe weight-loss guidelines. |
| Easily to keep track of one's progress. | Products have a wide availability. |
| Offers more than a simple supplement. | You will get access to a BMI calculator. |
| You will lose weight quickly and healthily. | The program has simplicity and flexibility. |
A. Optifast Overview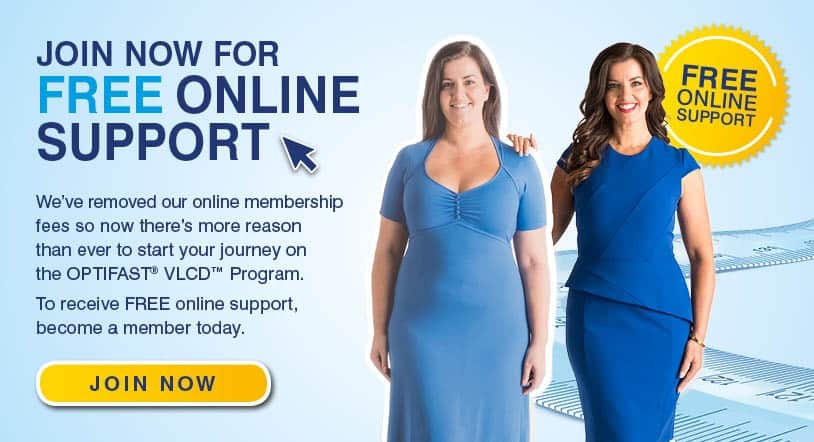 Optifast is more than just a meal replacement shake or weight loss product. It is a complex diet program offered as an effective solution for health-related issues such as being overweight. This program works for both adults as well as teenagers who deal with a body mass index of over 30.
What Is Optifast?
Optifast is a safe weight loss system which is medically supervised. Its main focus is to help you reduce your weight while also increasing your overall health. It usually lasts for up to 26 weeks and it involves the following benefits:
A medically-supervised meal replacement diet;
Free counseling;
An overall lifestyle education;
An ongoing personalized support.
Besides the popular Optifast weight-loss shakes, this program also provides other nutritional products like protein drinks, soups, supplements, and nutrition bars. All these are produced by Nestle which is a highly reputable brand.
Optifast was first launched on the market in 2010 and the program is available in the United States and Canada.
Who Should Try the Optifast Program?
People who need to lose a lot of weight in order to go through a gastric bypass surgery;
Those of you who are between 20 and 50 years old and deal with obesity-related health complications;
People who are prone to undergo a Bariatric medical intervention.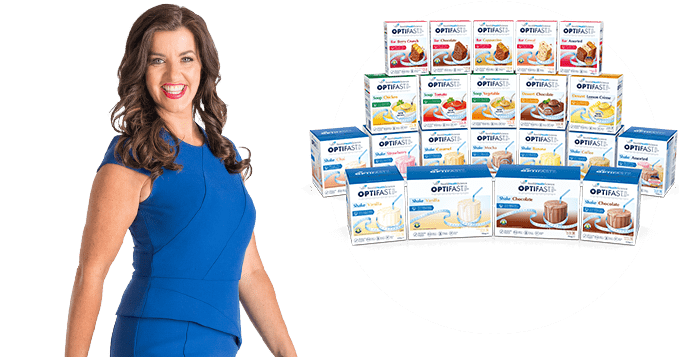 Optifast Main Phases
1. Screening Phase
Patients will visit a physician who will perform a health screening to decide whether or not this diet plan might have any health risks. During this phase, you will meet your support staff comprised of counselors, nurses, and even psychologists.
2. Active Weight Loss
The active weight loss period can last between four and six weeks depending on how your body reacts to the program's requirements. You can begin this phase only after you receive a clearance certificate from the doctor.
During these 4-6 weeks, you will be allowed to drink only the Optifast shakes. So, all your meals will be liquid. Therefore, you will have an approximately 800-calories intake per day. You will also have to see your psychologist as well as your physician a couple of times per day to make sure that everything is in order.
3. Transition Phase
This is another 4-6-week phase during which you will be informed about making healthy food choices and learn about portion control. Also, you will not have to drink the Optifast shakes anymore.
Another benefit that appears in this phase is that you will become a member of a support group and you will receive excellent insights from people who are going through similar situations and who are dealing with the same challenges imposed by the Optifast program.
4. Maintenance Period
The maintenance phase is the last one of this diet plan in which the patients must apply everything they have learned regarding proper lifestyle habits and healthy eating. They still need to see their physician on a regular basis. As a client, you will attend support classes and you will have to start exercising regularly.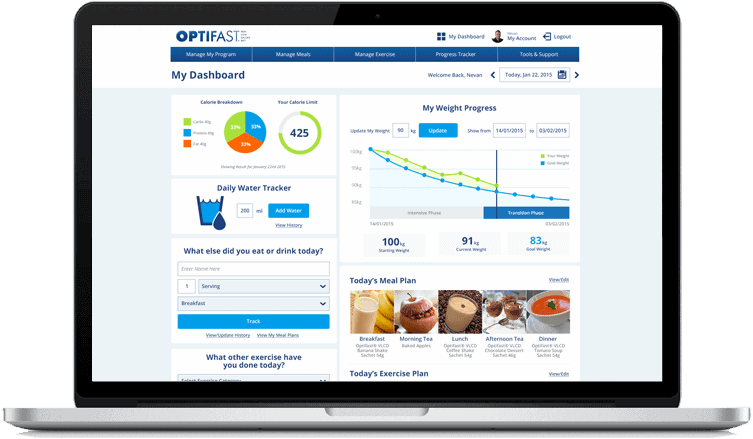 Optifast Nutritional Products
a. Optifast Shake
Let's talk a little about the most popular product of the Optifast diet plan. This shake contains 24 different minerals and vitamins and it is easy to prepare. If you don't want to waste several minutes to prepare the formula, you can opt for the company's alternative, a ready-to-drink shake.
Optifast shakes contain nonfat dry milk, fructose, calcium, canola oil, folic acid, and a few artificial flavors. They come with 18 grams of sugar per portion which can be a real issue for overweight patients. Still, this beverage contains beneficial ingredients that will make you feel fuller for a longer time.
b. Optifast Bars
These nutritional bars are rich in protein as well as dietary fiber. You can consume them as meal replacements or in between meals, as snacks. There are three available flavors: cappuccino, chocolate, and berry crunch.
c. Optifast Soups
You can buy these in packs of eight and one serving will successfully replace an entire meal. Optifast soups are an excellent source of protein and you can choose from three different flavors: vegetable, tomato, and chicken.
d. Optifast Desserts
If you have a sweet tooth, the dessert range provided by Optifast will satisfy your cravings. These delicious treats must be prepared in advance and they must be kept in the fridge until they achieve a thicker texture, similar to a mousse. You can choose from two varieties: chocolate and lemon crème.
Optifast Possible Side Effects
Although there aren't any severe side effects that come with following this diet plan, some patients might experience the following issues:
Nausea;
Constipation or diarrhea;
Fatigue;
The formation of gallstones in female patients might appear after a rapid weight loss.
How Much Does This Program Cost?
Following this diet plan will cost you approximately 150 dollars per week. However, this price might vary depending on which medical facility you attend as well as on which weight loss program they recommend you to follow. Most patients remain in this program between 18 and 26 weeks which means they must pay a total of 2,700-3,900 dollars.
Bottom Line of Optifast Diet Plan
So, does Optifast work? The answer is definitely yes! You will lose weight quicker than you might expect. Still, you will need to remain under medical supervision during the entire time you are in the program. On the other hand, this cannot be a long-term solution to your overweight issues.
It works great as a short-term weight loss method but after the program ends you must learn how to properly choose the foods that are healthy for you.
Besides Optifast, more and more people are talking about Slimfast which is another viable meal-replacement system that seems to work for overweight people. Their popular shakes are convenient meal replacements that can be consumed on the go. Slimfast also includes nutritional meal bars. Still, some consumers stated that these alternatives can become a little boring after a while.
What Is Slimfast?
Slimfast is a simple diet program during which you are allowed to consume only their ready-to-drink shakes, nutrition bars, and 100-calorie snacks. This diet was first introduced in 1977 and since then the company has gained a lot of popularity.
There are plenty of positives when it comes to Slimfast products such as convenience, availability (you can purchase them from local grocery stores), and the company's reputation and longevity.
Who Should Follow the Slimfast Program?
This weight loss system works great for people who are overweight or simply those of you who want to shed some extra pounds quickly. Still, this requires you to be perseverant and avoid cheating when it comes to eating only the allowed foods.
Slimfast is a suitable diet for plenty of lifestyles, including vegans and vegetarians. If you don't eat meat, all you have to do is to replace it with other protein sources such as tofu, black beans, and lentils. Slimfast is a gluten-free diet which makes it an excellent choice for people with special dieting needs.
Furthermore, if you are lactose-intolerant, you shouldn't worry about consuming Slimfast products because they are lactose-free as well. In the case of the shakes, you should simply combine the powder with soy or lactose-free milk.
Slimfast Main Phases
The Slimfast plan is quite easy to put into practice. Basically, it allows you to eat six times per day in three easy steps. For breakfast, you can have a Slimfast high-protein smoothie, for lunch a serving of Slimfast Advanced Nutrition beverage, and for dinner a low-calorie meal (e.g. veggie pasta). During the day, you are allowed to include three Slimfast snacks (crisps and chips) in between meals.
The three simple steps we mentioned above are the following ones: blend the beverages and replace two meals a day with these smoothies or shakes, indulge in three Slimfast snacks a day to satisfy your hunger and lower your cravings, and prepare one simple 500-calorie meal for dinner.
According to the manufacturer, this program provides simplicity and plenty of flexibility. So, in the end how you lose those extra pounds and how you maintain yourself slim is totally up to you.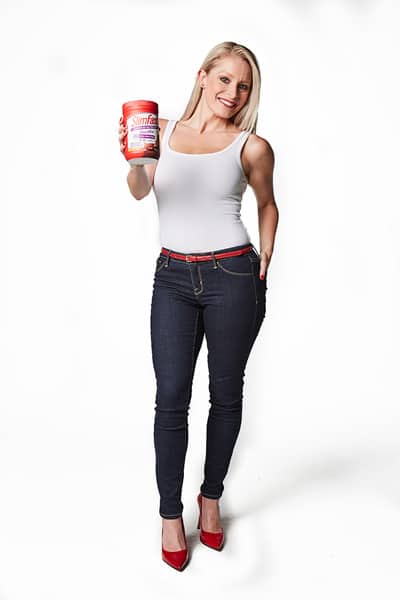 Slimfast Nutritional Products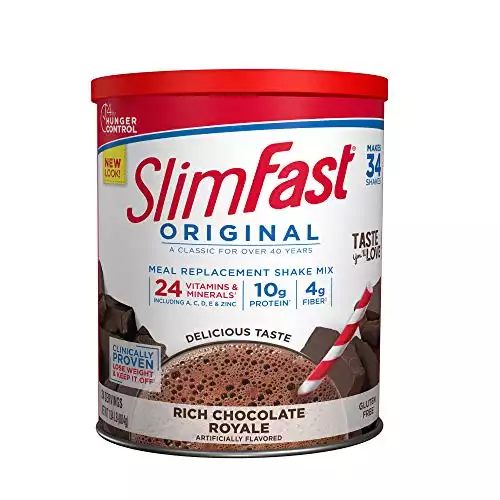 SlimFast Original Rich Chocolate Royale | Amazon
Packed with protein, vitamins, & minerals: The SlimFast Original meal replacement Shake Mix Powder is a balanced formula packed with 24 essential vitamins and minerals.
Buy at Amazon.com
We earn a commission if you click this link and make a purchase at no additional cost to you.
All Slimfast products and supplements have the main purpose of replacing regular foods and substitute meals. So, in this case, one of the most important concerns is represented by taste. Unfortunately, these shakes don't have a pleasant taste. Some consumers said the Cappuccino Delight flavor tastes like burnt coffee beans. Others told us these liquid supplements are too sweet and don't really feel like a real meal.
Slimfast shakes contain soy lecithin, calcium caseinate, processed cocoa, sucralose, glycerin, salt, mono and diglycerides, cellulose gel, and artificial flavor.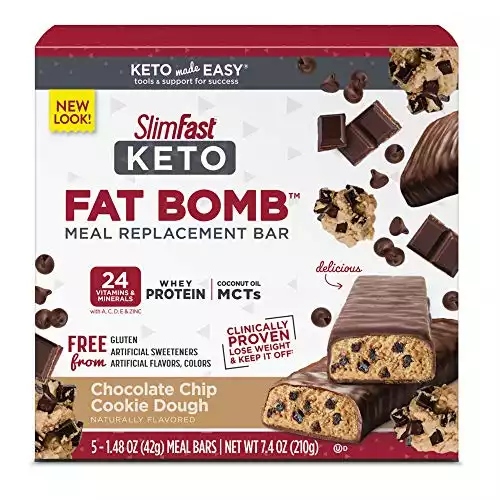 According to the manufacturer, the Slimfast cookies are just like the homemade and oven-baked treats. You can enjoy a sweet taste while also curbing your cravings. One serving of Slimfast cookies provides ten grams of protein and five grams of fiber. There are two available flavors: Peanut Butter Chocolate Chip and Double Chocolate Chip.
Slimfast chocolate bars will keep you full for up to four hours without interfering with your weight loss diet. The company provides two tasty varieties: Chocolatey Crispy Cookie Dough and Chocolatey Peanut Butter Pie. One portion provides five grams of fiber and 15 grams of protein.
SlimFast Keto Fat Bomb Snacks | Amazon
Each serving contains real cheddar cheese snack crisps with 6 grams total fat, 1 gram total carbs and 6 grams of protein per serving.
Buy at Amazon.com
We earn a commission if you click this link and make a purchase at no additional cost to you.
Slimfast representatives state that you can now include snacking in your diet plan without worrying that you will ruin your efforts. These tasty snacks have only 100 calories per serving. The chips are gluten-free and they are a decent source of protein (two grams) and fiber (five grams). You can choose between the Mesquite BBQ Baked Chips and Sour Cream & Onion Baked Chips.
When it comes to Slimfast Crisps, you will obtain three grams of protein and five grams of fiber by consuming one portion. In other words, one can say that these are guilt-free nutritious snacks. There are two options available that you can select from: Cinnamon Bun Swirl Drizzled Crisps and S'mores Drizzled Crisps.
Slimfast Possible Side Effects
Not many people have had negative experiences after consuming Slimfast products. However, there is a risk of experiencing one or several of the following side effects:
Fatigue;
Gas and bloating;
Headaches;
Diarrhea;
Vomiting and stomach cramps;
Increased bathroom breaks.
How Much Does Slimfast Cost?
Slimfast supplements are commercialized in drugstores, grocery stores, and on the company's official website. Prices might vary from one seller to another. For example, a combo package that contains six boxes of nutrition bars, 32 shake servings, and five containers of snack bars cost around 75 dollars without the shipping fee included.
An eight-pack of ready-to-drink shakes sells for the price of 9.88 dollars while one container of powder shake mix costs 8 dollars.
Bottom Line of Slimfast Diet Plan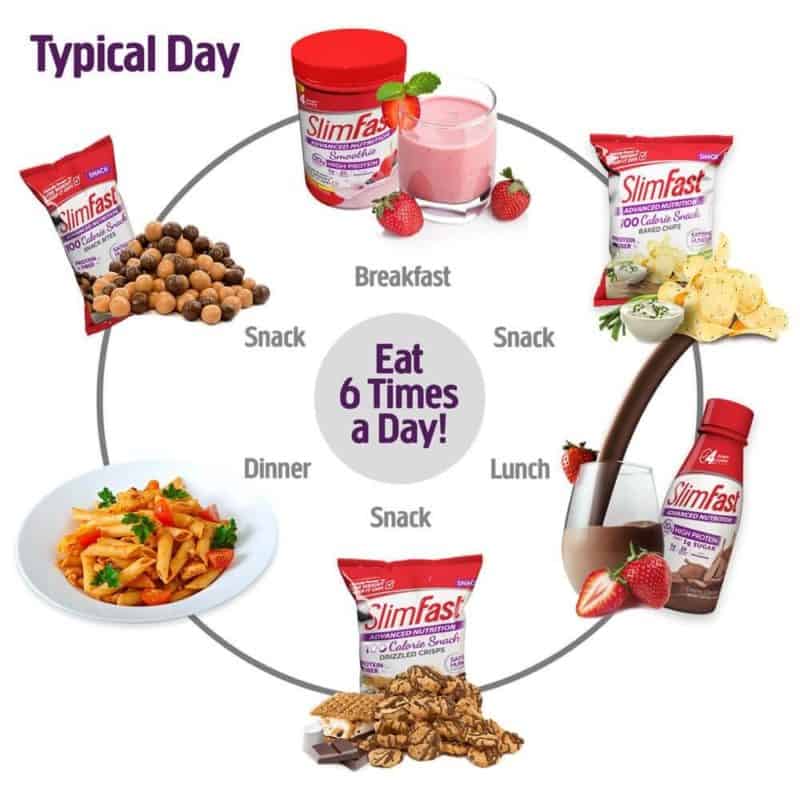 The Slimfast program works great and offers a balanced nutritional plan. It is effective for your weight management in the long term and teaches you about calorie intake and portion control. Still, it can be quite difficult and challenging to stick to this weight loss program for a long period because it is quite restrictive.
Optifast vs Slimfast Final Verdict – Which One Works Better?
Both these programs offer well-balanced diet plans and effective yet controversial products. Some say these supplements don't work while others are more than pleased with the results. If you are looking for a more complex program that includes support from nutrition specialists you should purchase the Optifast program.
On the other hand, if you are on a tight budget, Slimfast might cost you less but will not include trips to physicians, nutritionists, and psychologists. Slimfast plan has two main advantages: simplicity and flexibility.
So, which one convinced you more? Let us know in the comment section below!
---
Disclaimer
Last updated: December 16, 2019
The information contained on www.altprotein.com website (the "Service") is for general information purposes only.
Alt Protein assumes no responsibility for errors or omissions in the contents on the Service.
In no event shall Alt Protein be liable for any special, direct, indirect, consequential, or incidental damages or any damages whatsoever, whether in an action of contract, negligence or other arising out of or in connection with the use of the Service or the contents of the Service. Alt Protein reserves the right to make additions, deletions, or modification to the contents on the Service at any time without prior notice.
Alt Protein does not warrant that the Service is free of viruses or other harmful components.
Fitness disclaimer
The Service offers health, fitness and nutritional information and is designed for educational purposes only. You should not rely on this information as a substitute for, nor does it replace, professional medical advice, diagnosis, or treatment. If you have any concerns or questions about your health, you should always consult with a physician or other health-care professional.
Do not disregard, avoid or delay obtaining medical or health-related advice from your health-care professional because of something you may have read on the Service. The use of any information provided on the Service is solely at your own risk.
You can also review our Editorial Integrity Policy.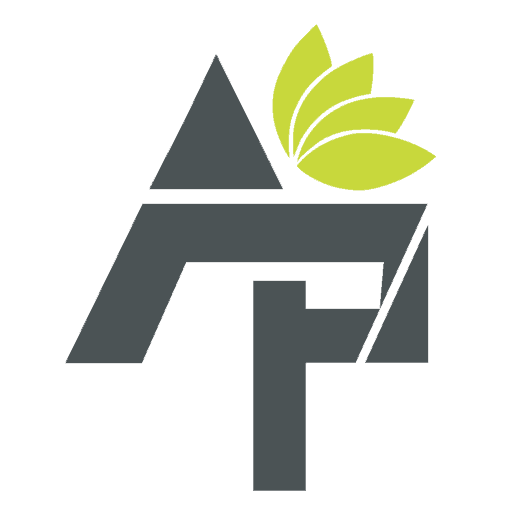 Alt Protein Team is a team of professionals and enthusiasts committed to bringing you the most up-to-date information on alternative protein, health and wellness, workouts, and all things health-related. We've reviewed a lot of products and services so you don't have to guess when you spend your hard-earned money on them. Whether you want to shed some pounds, build lean muscle or bulk, we can help you figure out what you need to do and what you need to have to achieve your goals.