Green power drinks have gained a lot of popularity lately. Who has the time to prepare homemade juices or smoothies? Choosing a power powder product as a supplement is a lot more convenient and has great health benefits.
But what exactly do your body and digestive health needs? Are you aware of which power green drink is the best for your needs? Good thing you landed here. Now, you can learn more about two of the most popular brands green superfood powder supplement drinks: Athletic Greens and Patriot Power Greens.
You're about to discover useful information regarding each brand's ingredients, health benefits, pros, and cons. Also, you will be able to compare their prices. In the end, you will achieve a clearer idea of how these powders work, and you will make a more informed purchasing decision.
| | |
| --- | --- |
| Athletic Greens Benefits | Patriot Power Greens Benefits |
| Packed with organic ingredients. | Contains healthy ingredients such as fruits and vegetables. |
| Boosts body strength & immunity. | Restores your body's energy and vitality. |
| Tastes better than most other power drinks. | 0 allergens (no gluten, soy, dairy, wheat). |
| Increases metabolism & burns fat. | Offers a 30-day money-back guarantee. |
| Contains antioxidants & probiotics. | Contains probiotics and digestive enzymes. |
The table presented above will help you make a quick and clear idea about both supplement products described in our comparative review. All these benefits, as well as other aspects, are detailed below.
A. Athletic Greens Energizing Blend Overview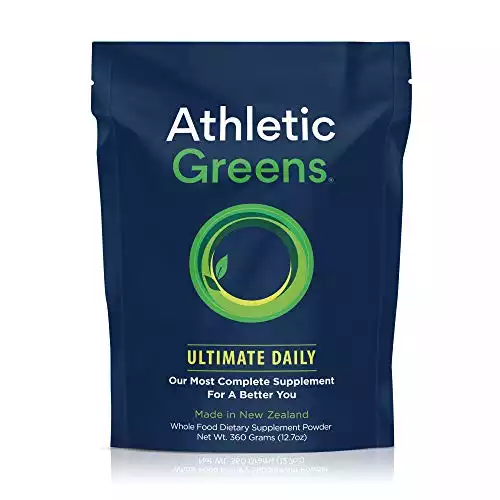 If you spend at least some of your time reading fitness-related content or following online fitness gurus, there's a huge probability you've already heard of this power drink brand. Public personalities such as Tim Ferriss said this supreme food product contains everything a nutritional source should have, like vitamins and minerals.
Athletic Greens developed a nutritious formula that covers your entire daily nutritional need for good health. It is recommended especially for active people. One serving of this power drink supplement can replace an entire meal.
*Precaution: Although this is a great product for your health that can be used as a meal replacement, we recommend you to have a healthy and balanced lifestyle and a complete diet. This means you should not give up on eating raw fruits, vegetables, and lean high-in-protein meat (this statement is valid for both powders presented in this review).
Ingredients
The Athletic Greens power drink contains an impressive number of high-quality ingredients. You will find no less than 75 ingredients. This power drink is full of nutrients, antioxidants, vitamins and minerals. All these active components are way too many to mention. Here's a list of some of them that stood out:
Green tea extract.
Broccoli flower.
Spirulina.
Milk thistle extract.
Probiotics.
Papaya powder.
Carrot root powder.
Herbs and antioxidants.
All ingredients mentioned above in green powders will lower your body's inflammation level while improving digestion health and immunity. Not to mention they are all organic. As you can see, the Athletic Greens drink is a solid antioxidant formula that can even be consumed as a meal replacement with all the needed nutrients.
What's interesting about this product is not so much that it helps you lose weight and improve your health but the fact that it lowers stress and acts as an instant energy booster.
Superior Choice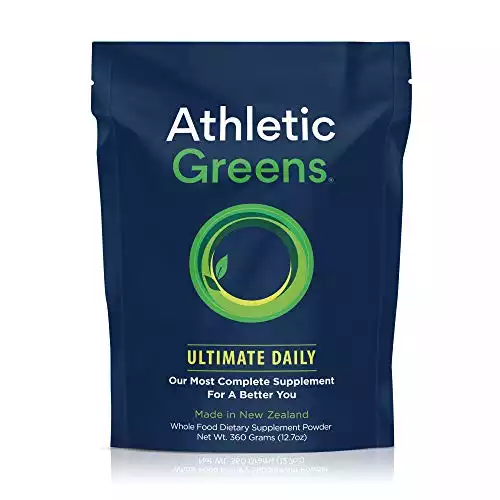 Pros
It's full of high-quality and healthy ingredients such as vitamins, minerals, and probiotics.
This product is loaded with vegetables, algae, and fruits. All these will increase your energy while providing endurance and strength.
It acts as a metabolism booster.
Most consumers are more than satisfied with this powder's taste. The Athletic Greens drink offers all those healthy ingredients embellished by a small amount of chocolate love.
This green powders contains significantly more digestive enzymes than other superfood powder and supreme food brands. This leads to improved digestion.
You will save a significant amount of money in the long run because Athletic Greens is a complete product. Therefore, you will not need to invest in additional supplements.
Cons
These green powders are quite expensive. Its price is higher than the average cost of all the other green powders on the market.
Some clients claim this product promises more than it actually delivers but this might be a subjective approach.
Price – Is This Product Worth Buying?
You can purchase the Athletic Greens powder (30 servings pouch) for $92.15 (this is a price offered by Amazon when you complete the subscription form; for a one-time purchase, the cost is $97 (check this listing for the latest live prices.)
Still, Athletic Greens for weight loss overcomes your expectations in terms of quality. What's even better is that the company drops this product's price to $77 for those customers who join the company's loyalty program.
Let's face it! The Athletic Greens brand has a more expensive price than other power drink formulas, considering that one serving costs 3.23 dollars. However, none of the other powders can really compete with Athletic Greens. This is an "all-in-one" product that is packed with minerals and vitamins. Also, Athletic Greens contain more probiotics than most of its competitors.
If you want to purchase the Athletic Greens digestive powder directly from the company's official website, you should know there are three main pricing plans available.
Athletic Greens Pricing Options
Double Hit: This option costs 147 dollars per month for two packages (a total of 60 servings).
Standard Supply: You can choose this pricing plan which costs 77 dollars with a 21% discount (monthly delivery) for a pouch of 30 servings.
Trial Pack: This suits those new clients who haven't tried the product before and aren't sure if Athletic Greens supplement is a power drink that suits their needs and preferences. You can buy this pack of 30 servings for 97 dollars (this price is available for a one-time delivery).
B. Patriot Power Greens Overview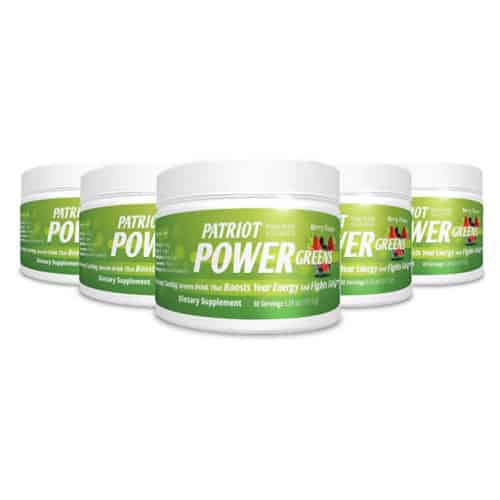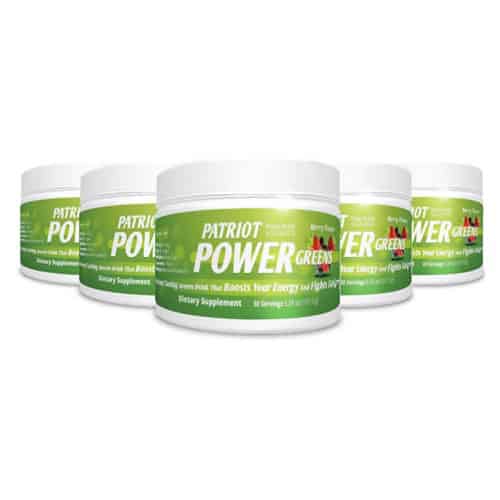 Patriot Power Greens is a top-notch powder created for elite military personnel. It was initially produced only for US soldiers and it was a secret project. However, its healthy ingredients worked so well that Patriot has become one of the most popular green power drinks on the market.
This powder, marketed as a health supplement made from natural ingredients, can be consumed once per day. Just add a scoop of powder to a glass of water and drink it up to achieve an energy boost.
Ingredients
The Patriot Power Greens is well-known for its natural and healthy ingredients. It contains 40 different fruits and vegetables. Most of the Patriot Power Greens ingredients are organic. They improve digestion as well as your body's nutrient absorption.
Here's a short list of the main ingredients:
Fruit and vegetables such as kale, broccoli, prunes, berries, and more.
Coconut water.
Prebiotic fiber inulin.
10 types of probiotic bacteria.
6 digestive enzymes.
Organic apple powder.
A downside of this product is the label which doesn't state the number of probiotics contained by the Patriot powder. This makes it harder for consumers to compare it with other products, in terms of effectiveness.
Considerable Alterantive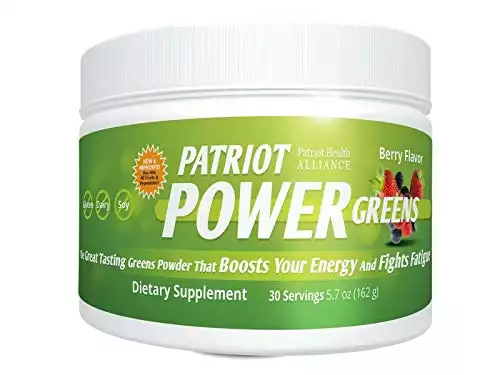 Patriot Power Greens Supplement
Patriot Health Alliance Patriot Power Greens, Berry Flavor. Boosts Your Energy and Fights Fatigue. 30 Servings.
Check Price
We earn a commission if you click this link and make a purchase at no additional cost to you.
05/01/2023 12:10 am GMT
Pros
This green powder is packed with healthy and organic ingredients that reduce inflammation and stress.
It is loaded with antioxidants and fibers which will clean your liver and blood.
It instantly boosts strength, endurance, and energy.
The Patriot Power Greens powder improves your overall immunity system.
Cons
It is a product that has stevia as its main sweetener. Although stevia is a natural ingredient, it is artificially extracted. This is not necessarily a downside but some might find it to be an issue.
The Patriot Power Greens powder doesn't taste very well. It has a decent flavor but there are other products such as Athletic Greens that surpass it when it comes to taste.
The company has a poor reputation regarding their customer service.
Some say that the product promises health benefits that are a little over-stated.
Price – Is This Product Worth Buying?
Patriot Power Greens can seem a bit expensive for some potential consumers. One container of 30 servings costs $50. However, it is a lot more affordable than Athletic Greens. On the other hand, it is pricier than other competitors. Like the Athletic Greens brand, this one has also developed its own pricing plan:
One canister of 30 servings (enough for a month supply) costs $59
3 canisters for a 90-day supply are listed for $149. You will also receive a couple of free health eBooks as well as a free shaker bottle.
5 canisters of 150 servings can be bought for $149. Free gifts that come with this pricing option: free shipping, two health eBooks, and a shaker bottle.
Yes, that's correct! The price is the same for the last two pricing options. Therefore, it is a lot more convenient to buy five canisters instead of three.
Unlike other health supplements, Patriot Power Greens is not listed on Amazon or other online websites. Still, you can contact the company by phone (1-800-230-8956) or via e-mail ([email protected]) to ask for more details regarding its products and buying process.
Nutritional Value – Brands Comparison
Athletic Greens vs Patriot Power Greens – Which One Should You Purchase?
So, now that you know more about each of these two powder brands, which one should you buy and which one will work better for you? Well, both of them contain healthy energizing ingredients and beneficial digestive enzymes.
If you are more of a picky eater who counts calories and pays attention to food's ingredients, you should definitely choose the Athletic Greens powder.
On the other hand, if you're looking for a good health supplement that doesn't break the bank, then Patriot Power Greens is a match made in heaven for your preferences.
No matter which one of these brands you buy, we can almost guarantee that you will not be disappointed by their benefits. Although their manufacturing companies might seem to brag about their products a lot, these two powders deliver on most of their promises.
Superior Choice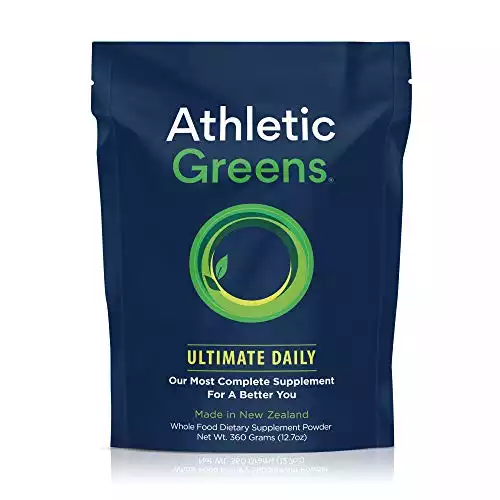 Considerable Alterantive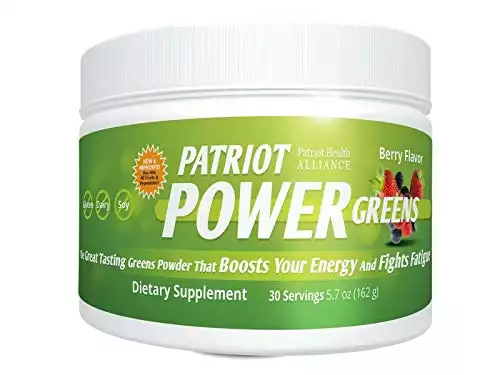 Patriot Power Greens Supplement
Patriot Health Alliance Patriot Power Greens, Berry Flavor. Boosts Your Energy and Fights Fatigue. 30 Servings.
Check Price
We earn a commission if you click this link and make a purchase at no additional cost to you.
05/01/2023 12:10 am GMT
Summing It Up
Both Athletic Greens and Patriot Power Greens are top-notch powders with high-quality organic ingredients that will provide instant energy, strength, endurance, and a wide range of health benefits: improved digestion and blood circulation, just to name a few.
Some of the superfood powders on the market can be quite expensive. However, these two brands presented in our comparative review are worth the high price tag.
If you can afford it, you should try the Athletic Greens powder here for 21% off as I think it's a superior product.
Still, choosing the Patriot Power Greens product and save a few bucks is not a bad decision either. Whatever your decision was, please let us know how well it worked for you, in the comments section below.
Recommended Reads: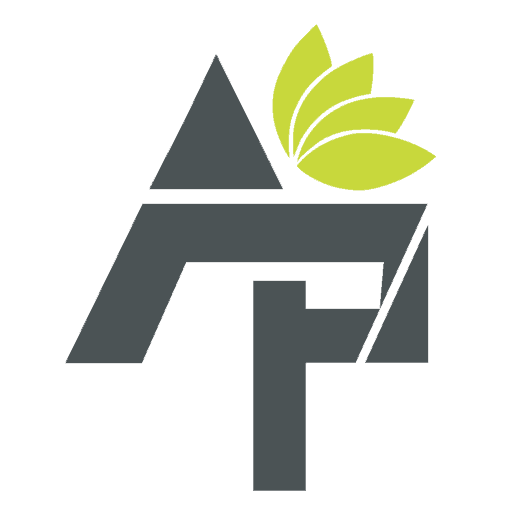 Alt Protein Team is a team of professionals and enthusiasts committed to bringing you the most up-to-date information on alternative protein, health and wellness, workouts, and all things health-related. We've reviewed a lot of products and services so you don't have to guess when you spend your hard-earned money on them. Whether you want to shed some pounds, build lean muscle or bulk, we can help you figure out what you need to do and what you need to have to achieve your goals.