Cardiovascular health is a major concern as cardiovascular disease is responsible for roughly 25% of deaths in the United States. While exercise and diet are the two major contributing factors to preventing cardiovascular disease, there are still constant research being done into other ways of improving cardiovascular health as a whole.
This research is what lead to the discovery of nitric oxide being a powerful biological signaling molecule. Though this happened back in 1998, it wasn't until 2009 that HumanN (then known as Neogenis) was created by Dr. Nathan Bryan.
The HumanN brand focuses on harnessing the power of nitric oxide for cardiovascular health, but specifically for those that are active or athletic and require heart health improvement.
Currently there are over 1,400 doctors that use HumanN products for their patients, along with numerous authorities in nutrition health and sports medicine that recommend their products.
HumanN currently offers 5 different health products, all of which use nitric oxide to some extent. Two of their most populars products are SuperBeets and BeetElite.
As you'd assume both of these products are primarily made of beets, which alone is very peculiar to those unaware of how rich in nitrates (and nitric oxide) beets are. Having two similar sounding products does make it tricky to decide which is right one for you.
Best as Dietary Supplement
Best as Pre-Workout Supplement
Bottom Line Up Front: Here's my high level recommendation…
Go with BeetElite (available here) if you are a gym rat (re: very active lifestyle) and want a good pre-workout.
Go with SuperBeets (available here) otherwise if you just want a daily super beet supplement.
What is in SuperBeets?
SuperBeets is a concentrated beetroot supplement that is optimized to deliver the ideal about of nitric oxide in each serving for the average adult. You daily serving can easily be mixed with water and drunk quickly. This supplement should not be mixed with anything but water and should be consumed as quickly as possible after mixing.
One serving of this powder is equivalent to three whole beets. It aids in nitric oxide production in the body, helps with blood circulation, balances out blood pressure, and most people also notice a boost of energy within 20 to 30 minutes of drinking it. This energy is combined with stamina so there is no crash.
Here is a rundown of what is in this product –
Ingredients:
Non-GMO Beetroot Powder
Non-GMO Beetroot Powder (fermented)
Natural Black Cherry Flavor
Malic Acid
Magnesium Ascorbate
Stevia Leaf Extract
Available in Original or Black Cherry Flavor
Nutritional Facts:
Serving Size – 1 teaspoon
Calories – 15
Sodium – 65 mg
Potassium – 160 mg
Carbohydrates – 4 g
Sugars – 3 g
Protein – 1 g
Magnesium – 10 mg
Vitamin C – 50 mg
HumanN realizes that there are a lot of so-called superfood supplements on the market that don't guarantee you'll get the marketed result from the product. This is often due to the manufacturer using cheap ingredients lacking in quality, yet promoting their product to be of high value. This isn't the case
with SuperBeets.
The beet crops used to create SuperBeets are carefully selected and then tested to ensure they have the right nutrient and nitrate levels. While normally eating the real whole food is better than a supplement, SuperBeets is actually more effective than eating beets whole.
This is because beets can vary so widely in actual nutrition and nitrate levels. Low quality beets may mean you'd have to eat many in order to get the same benefit just one teaspoon of SuperBeets offers.
SuperBeets is non-GMO, gluten-free and vegan-friendly. It is made from real foods and contains no fillers or additives.
What is in BeetElite?
BeetElite is a supercharged version of SuperBeets. It is designed for athletes that are focusing on performance nutrition and are looking for a supplement that will boost nitric oxide production during a workout or training exercise. BeetElite is essentially a double serving, providing what 6 whole beets
could do.
Just like SuperBeets, it is designed to be mixed in water and not mixed with other products. HumanN recommends this be consumed 30 minutes to an hour prior to exercise. With that being said many BeetElite lovers do end up either mixing this product into a pre-workout drink/smoothie or drinking it right before drinking their pre-workout.
Though not specifically recommended by the brand, many customer do find that they get the same effect. HumanN does stress, however, that this product should not be mixed with anything citrus or similar bottle juices. Citrus will negatively affect the nitric oxide production.
Here is what is in the BeetElite formula:
Ingredients:
Non-GMO Beetroot Powder
Non-GMO Beetroot Powder (fermented)
Natural Apple Flavor
Malic Acid
Magnesium Ascorbate
Stevia Leaf Extract
Available in Original or Black Cherry Flavor
Nutritional Facts:
Serving Size – 2 teaspoons
Calories – 30
Sodium – 130 mg
Potassium – 320 mg
Carbohydrates – 8 g
Sugars – 7 g
Protein – 1 g
Magnesium – 20 mg
Vitamin C – 100 mg
Just like SuperBeets, the same carefully tested and analyzed crop of beets is used in this formula as well. Overall all the same benefits of SuperBeets applies to BeetElite, but with the added benefit of more energy and stamina needed for exercise.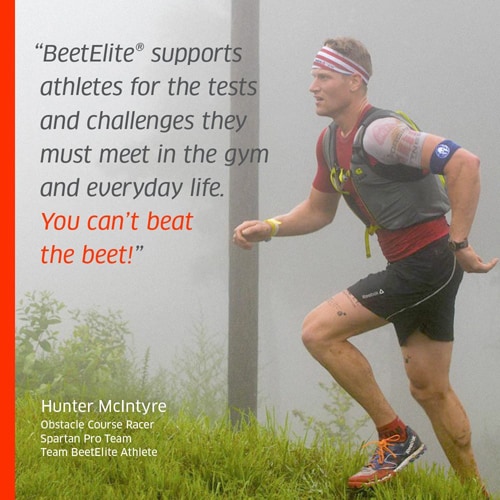 Numerous professionals and collegiate sports teams rely on BeetElite on a daily basis for improving training and sports performance. In fact there have been plenty of past and current Olympians that rely on BeetElite to provide the best source of nitric oxide power.
Unlike other beet supplements that aren't scrupulously tested BeetElite is based by a team of scientists, ranging from specialists in food science to kinesiology.
Another factor that sets BeetElite apart from the competition is that HumanN has had seven different clinical trials done on their product so far, something few other supplement brands can claim. BeetElite looks to be marketed towards those participating in cardio-heavy activities, though it certainly can be used by anyone that is working out or training, including crossfitters and weightlifters for example.
Which Should You Buy?
Best as Dietary Supplement
Best as Pre-Workout Supplement
The choice between SuperBeets and BeetElite actually isn't too difficult. While each product describes its recommended use, HumanN sums it up by describing SuperBeets as a daily nutritional supplement while BeetElite is a daily pre-workout supplement.
SuperBeets was specifically designed for overall health and nutrition in mind, with the effects of nitric oxide being a large factor. It is ideal for really anyone, whether you're hitting the gym every day or if you're just starting to pursue an active lifestyle.
They describe it as a "daily circulation superfood" which will give you energy and help balance blood pressure. Like other nutritional supplements, it is a good staple to have on hand every morning.
BeetElite isn't exactly a pre-workout, a sports supplement that gives energy and focus to your workout, but is designed to be taken with a pre-workout for an added boost. Pre-workout supplements are really designed for those that are going to be seriously working their body and aren't exactly for casual use.
Therefore BeetElite is best for those that already lead an active life and do cardio or strength training. It serves as a pre-workout "booster" that will give you more energy, stamina and the positive effects of nitric oxide than pre-workout alone.
All in all, if you're just looking to eat healthier and want the nutritional benefits of nitric oxide and beets, SuperBeets is perfect. If you instead love to go to the gym or out on runs but want something that will work with a pre-workout (or as one, depending on your activity level), then BeetElite is the right choice.
---
Disclaimer
Last updated: December 16, 2019
The information contained on www.altprotein.com website (the "Service") is for general information purposes only.
Alt Protein assumes no responsibility for errors or omissions in the contents on the Service.
In no event shall Alt Protein be liable for any special, direct, indirect, consequential, or incidental damages or any damages whatsoever, whether in an action of contract, negligence or other arising out of or in connection with the use of the Service or the contents of the Service. Alt Protein reserves the right to make additions, deletions, or modification to the contents on the Service at any time without prior notice.
Alt Protein does not warrant that the Service is free of viruses or other harmful components.
Fitness disclaimer
The Service offers health, fitness and nutritional information and is designed for educational purposes only. You should not rely on this information as a substitute for, nor does it replace, professional medical advice, diagnosis, or treatment. If you have any concerns or questions about your health, you should always consult with a physician or other health-care professional.
Do not disregard, avoid or delay obtaining medical or health-related advice from your health-care professional because of something you may have read on the Service. The use of any information provided on the Service is solely at your own risk.
You can also review our Editorial Integrity Policy.
(Visited 1,795 times, 1 visits today)
Health enthusiast, runner, protein nut. Owen likes to write about protein, particularly alternatve supplementation and supplement comparisons.