When you want to supplement your nutrition and it comes down to Balance of Nature vs. Athletic Greens, which one should you choose?
Balance of Nature has a whole system to use, while Athletic Greens offers a single product, but does that mean one is always better than the other? Maybe, maybe not.
Main Differences Between Balance of Nature vs Athletic Greens
The main differences between Balance of Nature vs Athletic Greens are:
Balance of Nature offers separate products that work in different ways, whereas Athletic Greens tends to combine a variety of types of ingredients (not just greens or vegetables) into one product.
Balance of Nature offers capsules for the Fruits and Veggies products, whereas you only get a powder with Athletic Greens.
Balance of Nature does not have to be refrigerated, whereas Athletic Greens does, once opened.
Balance of Nature does a good job keeping the ingredients recognizable so you know exactly what you're getting without putting too much thought into it, whereas Athletic Greens has ingredients that may have you raising your eyebrows and pulling out your phone to search what exactly it is that you might be about to put into your body.
Balance of Nature incorporates spices in one of their products, whereas Athletic Greens does not have them.
Balance of Nature offers free coaching to their subscribers, whereas Athletic Greens does not.
Balance of Nature seems to be designed for the average person, whereas Athletic Greens was designed for athletes (though either group can take either product).
Balance of Nature works best when you take it more than once per day, whereas Athletic Greens can be taken once in the morning (preferably on an empty stomach) and you're done for the day.
Our Pick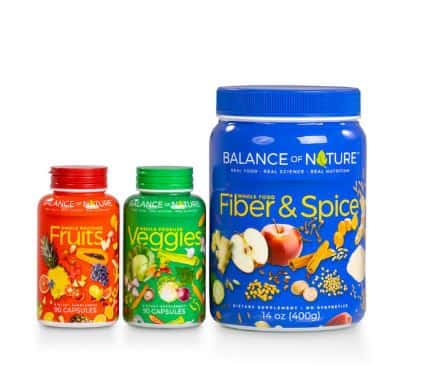 I Prefer Balance of Nature
If I had to pick ONE natural supplement, I would lean towards Balance of Nature here because it is more cost effective and focused greens and fruits offering. Plus, the customer service is GREAT and they don't lock into monthly payments.
Check Price
We earn a commission if you click this link and make a purchase at no additional cost to you.
Comparison Chart
Sometimes a simple side-by-side comparison helps make a decision easier. Here's how the comparison of Balance of Nature vs. Athletic Greens green juice offering looks in this format:
Balance of Nature
Athletic Greens
Products available
Veggies, Fruits, and Fiber & Spice
Daily Greens (Green Superfood Powder)
Claims
Better overall health, good for diabetics, high-quality ingredients, third-party tested, vegan, all-natural whole foods, no GMOs, gluten-free, no sugar or artificial sweeteners, no fillers
Good for energy levels, brain health, immune system, detoxing, keeping blood sugar levels normal, gut health, digestion (digestive enzyme), liver function, and hormone function
Ingredients
Veggies Greens Blend: Broccoli, celery, soybeans, cabbage, garlic, spinach, carrots, kale, wheat grass, cauliflower, onions, yams, cayenne peppers, shiitake mushrooms, zucchini

Fruits: Aloe vera, cherries, lemons, pineapple, apples, cranberries, mango, raspberries, bananas, grapes, oranges, strawberries, blueberries, grapefruit, papaya, tomatoes

Fiber & Spice: Fiber blend: psyllium husk and flax, apple, spices (cinnamon, ginger, turmeric, fennel, fenugreek, cumin, cardamom, allspice, nutmeg, mustard, coriander, and clove)

Organic spirulina, lecithin, organic apple powder, inulin, organic wheat grass juice powder, organic alfalfa powder, organic chlorella powder, organic barley leaf powder, acerola fruit juice powder extract, broccoli flower powder, papaya fruit powder, pineapple fruit concentrate, bilberry. Fruit extract, beetroot powder, rosehip fruit powder, carrot root powder, spinach leaf powder, cocoa bean polyphenol extract, grape seed extract, green tea extract, licorice root powder, lyceum berry fruit extract, ginger rhizome powder, slippery elm bark powder, kelp whole plant powder, alkaline pea protein isolate (protein powder), citrus bioflavonoids extract, artichoke leaf extract, citric acid, Rhodiola root dry extract, eleuthero root extract, rosemary leaf extract, milk thistle seed extract, alpha-lipoic acid, ashwagandha root extract, dandelion whole plant dry concentrate, hawthorn berry extract, beta-glucans, policosanol, coenzyme Q10, stevia leaf powder, vitamin K2, astragalus root powder extract, bromelain, burdock root powder, reishi mushroom powder, shiitake mushroom powder, probiotics
Price
Retail cost for Fruits & Veggies only: $89.95; Whole Health System with all three products: $159.95; Fiber & Spice: $69.95

Preferred Member cost (subscription): $69.95, $109.95, and $49.95, respectively (30-day supply)

$97.00 per 30-serving pouch (one-time purchase) or $77.00 if you subscribe. Travel packs are also available ($107.00 or $87.00 if you subscribe)
How to use
Three capsules each of Veggies and Fruits per day and one or two scoops of Fiber & Spice per day (morning and night). The package says you can chew the Fruits capsule or open the Veggies one to sprinkle on top of foods.
Mix one scoop with at least five ounces of water per day. Athletes and people with especially stressful lifestyles can take two servings per day.
Pros
Recognizable ingredients, capsule form keeps the Veggies and Fruits convenient to take
Well-rounded ingredients, one product covers several concerns, energy from green tea, only need to take it once per day, has a more detailed nutritional label and claims on the bag
Cons
Can only be purchased on the Balance of Nature website or Amazon, expensive, does not say how much of each vitamin and mineral you're getting from the product or layout specific claims on the Veggies and Fruits labels
You may not recognize all the ingredients and need to research the ones you're unfamiliar with, expensive, can only be purchased on the Athletic Greens site or Amazon, has to be mixed with water to be consumed (inconvenient at times), has to be refrigerated after it's been opened, no coaching
One major observation I made here was the sheer number of ingredients in Athletic Greens vs Balance of Nature. Even though I was comparing three Balance of Nature products to Athletic Greens, Athletic Greens green supplement still knocked it out of the park with a variety of fruits, veggies, probiotics, herbs, spices, and more (including vitamins and minerals).
Seriously, I highly recommend just going to the Athletic Greens green juice site and clicking through the ingredients to see what they are, what they do, and why they're included.
Find my full Athletic Greens review here!
There are ingredients that help with inflammation and digestion (even beyond probiotics), and the mix of mushrooms is a nice touch (good for vitamins B and D and overall wellbeing), too. I like that there's green tea extract, too, for energy, and CoQ10, which helps with fatigue and athletic performance.
If you don't like the taste of stevia or can't handle pea protein, that might ruin it for you, but those are the only potential negatives I see here.
Our Pick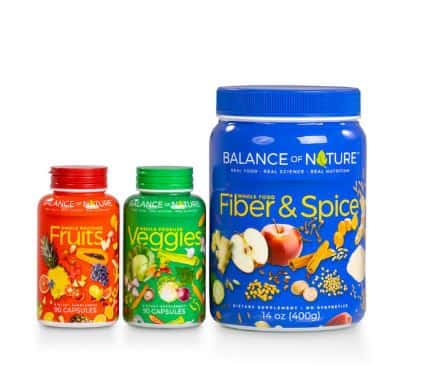 I Prefer Balance of Nature
If I had to pick ONE natural supplement, I would lean towards Balance of Nature here because it is more cost effective and focused greens and fruits offering. Plus, the customer service is GREAT and they don't lock into monthly payments.
Check Price
We earn a commission if you click this link and make a purchase at no additional cost to you.
What to Look for in a Supplement Like This
There are so many green powder supplements out there that are meant to boost your nutrition with vegetables, fruits, sprouted grains, and help different systems in the body, that it can be difficult to know which one to choose.
Finding the right one could be an expensive, disappointing task, or cause you to give up completely. Here's what you should look for:
The clarity in what the supplement is supposed to do for you. Supplement companies can't claim to treat diseases, but what they are allowed to say on the label should be a good enough starting point. Look for statements like "May support…"
Does it seem like the company is trying to word things in a way that makes them better than they and make you ask more questions they don't have the answers to on their site or label, or do they openly, honestly help you see why the product does what they claim it does?
Ingredients that work with your diet of choice (non-GMO, vegan, etc).
Sweeteners (or lack of) that agree with your body. If you react poorly to stevia, you'll want to skip over the powders that include it, even though it's known as a "natural" sweetener.
No, or few, fillers. You want to spend your money on dense nutrition, not extra "junk." If you don't recognize an ingredient, look it up.
How you have to take it. If you don't think you can choke down a green drink every day, you may prefer a capsule; if you struggle to take pills, you'll want the greens powder. Similarly, if you have to remember to take something two or three times per day rather than just once, that might play into your decision. You can't reap the health benefits if you're going to forget to take the supplements.
From where are the ingredients sourced?
Does it address one concern or several in one product? There's no right or wrong here as it's up to your preferences and needs.
FAQs
Question: Does Athletic Greens really work?
Answer: Yes, it does seem to promote overall health and help maintain steady energy levels throughout the day, improve digestion and regularity, and provide the nutrition your body can absorb and use.
Question: What is comparable to Athletic Greens?
Question: Is Athletic Greens FDA approved?
Answer: Athletic Greens meets FDA guidelines for supplements.
Question: When should I drink Athletic Greens?
Answer: Ideally, you should drink Athletic Greens first thing in the morning on an empty stomach. However, if that's not an option, any time of day should be fine. Nighttime might not be best since it's meant to boost your energy, though.
Question: Is Athletic Greens worth the money?
Answer: If you're going to supplement your nutrition with a powder-like this, this is one of the better ones to use. There's a wide variety of ingredients and they're straightforward about what you're getting, nutritionally, and as far as benefits go. Everything is clearly laid out on the label. It's nutritionally dense and covers a lot of bases in one product.
Question: Is Balance of Nature any good?
Answer:
It's not bad and any increase in nutrition will be a good thing for the average person. Is it a miracle-worker? Probably not, and it would be wise to check out other brands to see which one's the best fit for you before making a purchase. However, Veggies & Fruits will deliver extra nutrition and
antioxidants
, and the Fiber & Spice product does help with digestion and contains anti-inflammatory ingredients that could help your whole body feel better.
Question: Is Balance of Nature good for diabetics?
Answer: The packaging of Fiber & Spice even spells it right out that the product is good for diabetics. All of their products should be fine to take if you're diabetic, but we always recommend consulting with a doctor before using any supplement, especially if you have known health concerns.
Balance of Nature vs Athletic Greens: The Verdict
I like to get as much from one product as possible, but I also prefer capsules over mixing greens powder with water or juice, so it was a little bit of a tough call here—at first, on the surface.
After I went over the ingredients, pricing, pros and cons, the fact that I don't really want to coach, and how easy the companies make it to find the information I need in order to make an informed decision, it wasn't that close anymore.
I do appreciate Athletic Greens ingredient list and thorough label, though, so that was another point in their favor. Transparency goes a long way and I'm not sure I'm getting that from Balance of Nature (not that they're trying to hide anything necessarily, but it's harder to be sure of their integrity and faith in their own product).
I feel like I can be surer of what exactly I'm getting with a label like that. With Balance of Nature, I know I could improve my overall health, but they don't go into enough detail for me on what, exactly, is supposedly being affected by their Veggies and Fruits products (they do a better job on Fiber & Spice). In all fairness, they may be skittish about claiming anything on their labels after some trouble with the FDA in 2019 for that very thing.
Ultimately, I highly recommend Athletic Greens proprietary blend over Balance of Nature-based on the variety of ingredients and nutrition you can get from a single product versus a collection of them. Even if you're foregoing the Fiber & Spice because you're more focused on filling in gaps in your nutrition, you'll still need Fruits & Veggies together to get similar health benefits to what Athletic Greens supplement offers in one scoop. Athletic Greens does seem to benefit digestion and regularity, as well, which you'd need to use Fiber & Spice for if you chose Balance of Nature, anyway.
Our Pick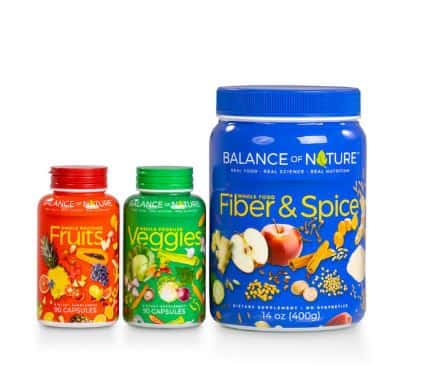 I Prefer Balance of Nature
If I had to pick ONE natural supplement, I would lean towards Balance of Nature here because it is more cost effective and focused greens and fruits offering. Plus, the customer service is GREAT and they don't lock into monthly payments.
Check Price
We earn a commission if you click this link and make a purchase at no additional cost to you.
The prices aren't that different (they're actually better if you're going for the full set of products from Balance of Nature) and the convenience of taking one product instead of three is a huge benefit, even though capsules are convenient, as well.
When I compared Balance of Nature to Garden of Life, it was a little trickier because the Garden of Life has so many products that do different things (with different ingredient lists) and the simplicity of sticking with Balance of Nature held some appeal. Athletic Greens feels more like a straightforward comparison, and it wins.
Further Read Greens Supplement, Superfood Powder and Green Juice Mixes: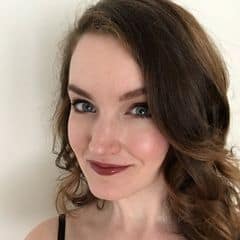 Crystal Schwanke has been on a fitness and health and wellness journey for more than a decade. She used to do wellness-related ghostwriting work and content writing for several well-known websites.
During this time, she tried all the protein powders, meal replacement shakes and mixes, and workout programs. Crystal's favorite way of eating is Paleo(ish) and even when she isn't writing about health and wellness and fitness, she often spends her time researching for the sake of learning. Her goal is to better equip herself so she can build a framework that will allow her to handle anything life throws at her.