In this Live Superfoods review, I look at what the company offers, how the products are priced, and how convenient they are to get. Is it worth it to seek out the Live Superfoods products or would the same thing from a different brand do just fine (or better)?
About Live Superfoods
The URL for Live Superfoods is actually HealthyGoods.com, though typing in "LiveSuperfoods.com" will land you in the same spot. Keep in mind, they don't only sell Live Superfoods products there.
You'll find a huge variety of brands, so shopping for your healthy lifestyle as a whole should feel easy. You can shop by brand and narrow it down to just Live Superfoods if you'd like, though.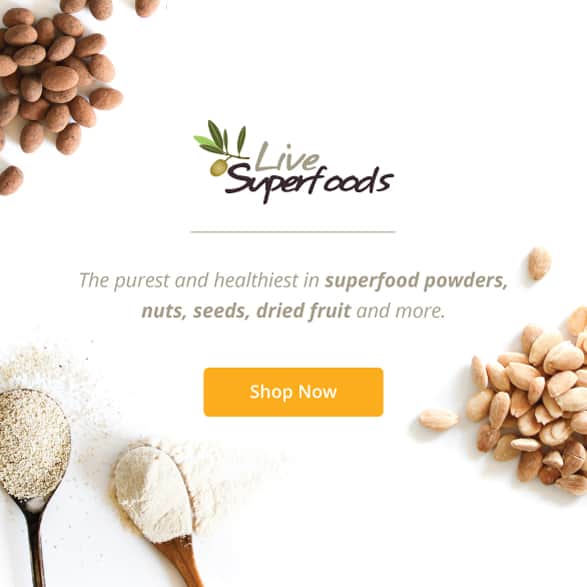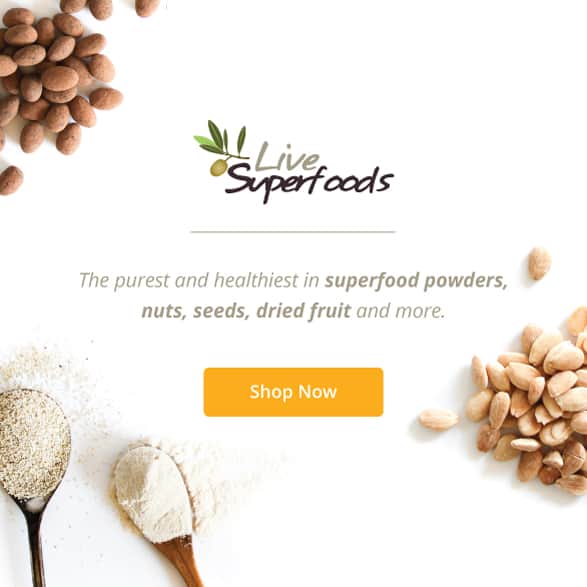 What Do They Offer?
You can get everything from almonds to snack on to powdered goji berries to add to smoothies. My favorite part of my whole Live Superfoods review was looking at just how much they do have. Here's a quick look, so you can get an idea of the variety here:
Almonds
Cacao beans
Hazelnuts
Mulberries
Hemp protein powder
Goldenberries
Himalayan pink salt
Lucuma powder
Yacon powder
Vanilla bean powder
Bee pollen
Camu camu powder
Spinach powder
Cacao butter
Dried mango slices
Cashews
Walnuts
Pecans
Chocolate covered coconut chunks
Amazon jungle peanuts
Acai powder
Sea buckthorn powder
Acerola cherry powder
Spirulina powder
Macadamia nuts
Pistachios
Nori
Chlorella powder
Bilberry powder
The list goes on. And on. If there's a superfood you've been looking for but have had trouble locating, check the Healthy Goods website because it's probably there. I have to admit, I'm an adventurous health nut and I've never heard of some of these. I want to try them all.
The Prices
The prices seem fairly reasonable to me. You could probably find comparable products for less if you scouted out a few different stores and weren't concerned with brand loyalty. However, the prices aren't exorbitant or anything for what you're getting.
In some cases, you'll be paying even less for the Live Superfoods brand than other name brands. There are a few cases where the Live Superfoods products will cost a good bit more, though. On average, the prices work out to be about the same.
With large purchases, you'll be able to avoid shipping costs, too. You may or may not be able to do that at other stores, depending on what you buy and whether you have a coupon.
All of the products within the Live Superfoods line tend to veer toward the more expensive end of the spectrum than, say, peanuts and dried cherries. Pistachios, macadamia nuts, mulberries, etc., cost more than those kinds of nuts and berries in general. Superfoods, whether whole or in their powdered form to be used as supplements, just tend to cost more than humbler, everyday items.
Here's a cost comparison for a few products using prices on the Healthy Goods site at the time of this writing for Live Superfoods products:
| | |
| --- | --- |
| Live Superfoods | Other Brand |
| Hemp protein (12 oz), $11.19 | Nutiva (16 oz), $13.99 at The Vitamin Shoppe |
| Organic nori sheets (50 sheets), $24.79 | Emerald Cove (50 sheets), $26.59 at Vitacost |
| Organic macadamia nuts (12 oz), $26.99 | Sunfood (8 oz), $15.99 at The Vitamin Shoppe |
| Organic cacao powder (12 oz), $6.39 | NOW Foods (12 oz), $8.07 at Vitacost |
| Organic raw virgin coconut oil (16 oz), $15.19 | Sunfood (16 oz), $12.99 at Target.com |
| Raw organic tahini (16 fl oz), $20.79 | Woodstock (16 oz), $8.74 at Vitacost |
| Gelatinized organic maca powder (12 oz), $28.79 | Gaia Herbs (16 oz), $20.99 at NaturalHealthyConcepts.com |
In most cases, the prices are fairly comparable, especially if you're factoring in potential shipping costs and any other products you may want to buy from a particular store.
Some of the price differences above may look like wider gaps than they actually are based on the amount you're getting for the price (like with the macadamia nuts). In some cases, however, you can actually get significantly more product for much less (see gelatinized maca powder).
Where to Shop
Your most successful shopping spot will probably be the Healthy Goods website, though you can find some of the products scattered here and there, like on Amazon. For now, your best bet is the Healthy Goods site.
Maybe they'll branch out and become available at other stores soon. I'd love to see a wider selection of products available on Amazon (and availability with Amazon Prime's free shipping) since I do so much shopping there anyway.
Right now, if you buy a Live Superfoods product on Amazon, you'll pay for shipping whether you're a Prime member or not. It's about $6.00, so nothing that will break the bank, but Prime has spoiled me. Unless you're just buying one or two relatively inexpensive things, you'll probably pay less at HealthyGoods.com because you won't have to pay for shipping.
Shipping is free on orders over $49.00 when you shop from the Healthy Goods site. Even if you go to the site for one or two things from Live Superfoods, you'll probably be so close to that mark, you'll do better to add something else in to hit the free shipping mark. It can be anything in the Healthy Goods store.
Should You Buy Live Superfoods Products?
If you love to try new things, from supplements to different types of nuts and berries, Live Superfoods is one great hub where you can find them all.
They have some products that might be hard to find elsewhere. If you live in a place where there aren't a lot of health food stores or grocery stores that carry unusual products, it may turn out to be your new favorite place to shop.
I'm kind of neutral on whether you should buy Live Superfoods products. They're comparable in price on most things, but other brands are more readily available. I don't like feeling like I need to purchase from Healthy Goods.
Sometimes—if I just need one item–I'd rather go pick it up in person to avoid shipping fees, or tack it onto an Amazon order. If I need $50.00 worth of superfoods and other healthy items, I see no reason not to go the Live Superfoods/Healthy Goods route.
Alternatives
The Live Superfoods brand includes an extremely wide range of products. Here are a few examples of alternatives you could try, but it'll really depend on what you're shopping for and how concentrated you want a specific powder to be (in some cases):
Amazing Grass Superfood Drink Powder (You might be able to use this instead of specific powdered greens, berries, and so on. It'll cost less upfront than hand-picking different superfood powders to blend into your smoothies and will probably taste better. Of course, if you're looking for one or two things in particular, the Amazing Grass product probably won't have it in the concentration you'd like. In that case, you'd want the Live Superfoods powders.)
Navitas goji berries (available at Walmart, Target, etc.)
Bulk sections at stores like Sprouts for nuts, dried berries, flours (like almond flour), dried mango, and pink salt
Live Superfoods Review: Final Verdict
Overall, I'd say my Live Superfoods review is positive. The products seem to be good quality, there's a solid variety of foods, you can find just about anything you could possibly want within the line, and the prices are pretty reasonable. The only things that I don't really like are:
The limited number of places to shop for them
The low number of reviews on products across the board (there were enough there to give me faith in the products, but I'd like to see more)
If these products were available for Amazon Prime or in Target stores, they'd get two thumbs up from me. If I were to rate Live Superfoods on a five-star scale, I'd give them a 4.6.