A common supplement you'll find alongside the typical range of protein powders is BCAA. BCAA, or branched-chain amino acid, supplements have been known to be beneficial for many years but only recently have studies shown just how important they are.
Many fitness authorities, from sports athletes to bodybuilders, now rely on these supplements to improve muscle growth, maintenance, and overall performance. BCAAS are a combination of three types of amino acids – leucine, isoleucine, and valine. As the name would suggest, these three amino acids are all branched together.
In fact, despite technically being amino acids, many believe these function more like essential amino acids because the body is unable to produce them. Roughly one-third of the 20 amino acids needed for muscle growth and health are BCAAs. There are many BCAA supplements out there, ranging from more famous, like Jym BCAA, to lesser known.
Bottom Line Up Front: If you are in a rush, my top pick is Evolution Nutrition BCAA 5000 available here, as it's my favorite go-to BCAA supplement.
Continue reading for the full take…
BCAA supplements can be found in a few different forms, with powder being one of the popular options. BCAA powder is best used in combination with a protein or other pre- or post-workout powder mix. You can easily find various protein powders with BCAA already added, which makes things much easier. Here are the top 5 BCAA powder supplements you can find.
#5 Jym BCAA – Post Jym Active Matrix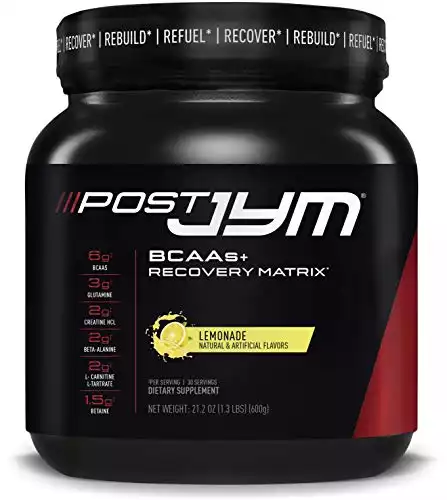 Jym Post Jym Active Matrix is a popular post-workout Jym BCAA supplement. This formula is designed to help your muscles recover after a workout by providing 5 specific ingredients for improving growth.
All Jym products are made of quality ingredients, with no questionable blends, fillers, concentrates or added formulas. This is a smaller brand, which means they pay particularly stringent attention to detail.
Post Jym Active Matrix is:
Available in two flavors – Fruit Punch and Watermelon
Available in one size – 30 serving container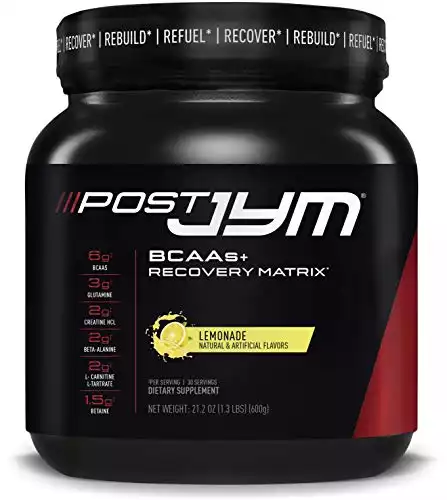 Each single serving scoop of Post Jym gives roughly:
6 grams of BCAAs
3 grams of Glutamine
2 grams of Creatine HCL
2 grams of CarnoSyn Beta Alanine
2 grams of Carnipure L-Carnitine L-Tartrate
5 grams of Betaine
1,000 mgs of Taurine
5 mgs of BioPerine
Each ingredient in Post Jym was specifically chosen for maximum muscle recovery and growth. Aside from the whopping 6 grams of BCAAs, glutamine and CarnoSyn help muscle gain. Carnipure, betaine and creatine HCL focuses on overall strength. The small amount of BioPerine is added to help your body absorb all of these ingredients efficiently.
If you're mainly looking for adding BCAA power post-workout, this powder is perfect. You can see even greater results by using the Pre Jym power prior to your workout, which also have BCAAs.
#4 BSN Amino X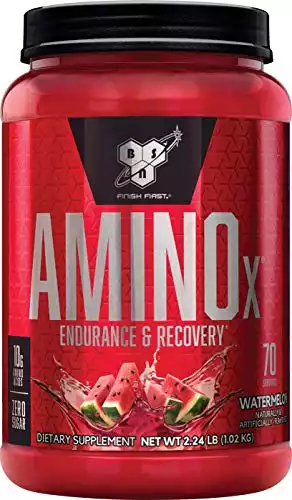 BSN Amino X is a BCAA blend formula created for intra-workout and post-workout consumption. Unlike some pre- or intra-workout drinks, Amino X is completely free of stimulants. All the energy and stamina you get from this drink is purely from its high-grade ingredients.
Amino X is:
Available in 9 flavors – Blue Raspberry, Fruit Punch, Grape, Green Apple, Strawberry-Dragonfruit, Strawberry-Orange, Tropical Pineapple, Watermelon and unflavored
Available in 3 sizes for powders – packets, 30 serving container and 70 serving container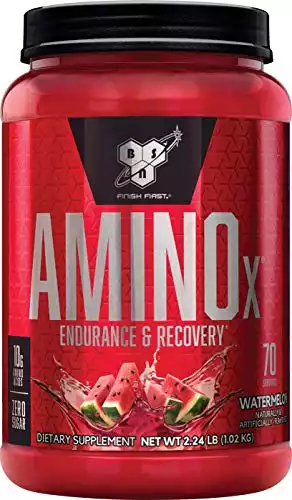 BSN Amino X BCAA Muscle Recovery | Amazon
AMINOx is a BCAA formula designed to support endurance during your workout and aid in muscle recovery post training, so you can push your performance to the next level.
Buy at Amazon.com
We earn a commission if you click this link and make a purchase at no additional cost to you.
05/01/2023 12:05 am GMT
One serving scoop of Amino X provides:
10 grams of Anabolic Acid Interfusion
2 grams of Efforsorb Endura Composite
500 IU of Vitamin D
Amino X's Anabolic Acid Interfusion is a BCAA blend of leucine, valine, isoleucine, alanine, taurine and citrulline. The Efforsorb Endura Composite is simply a blend of malic and citric acids, with sodium bicarbonate and cholecalciferol.
You'll notice right away that a huge difference between this powder and others is its effervescent quality. Not only is this really refreshing but BSN believes is helps the body absorb the nutrients more quickly.Many customers find the flavors to be amazing and combined with the bubbliness, you really can't go wrong. Some may find that this product works well for pre-workout due to its energizing qualities.
#3 BPI Sports Best BCAA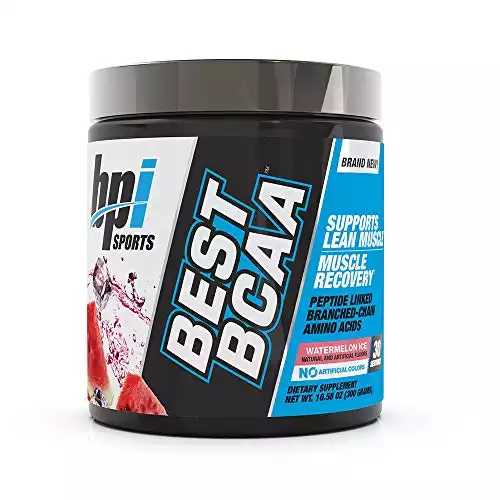 This BCAA powder by BPI Sports ranks high in popularity, even having won Two Excellence awards from BodyBuilding.com. The primary focus of Best BCAA is to reduce body fat, improve lean body muscle mass and protect muscles while promoting growth.
Read our full review of this BCAA Supplement here.
You can find Best BCAA:
Available in 12 flavors – Apple Pear, Fruit Punch, Lime Sherbert, Peach Cobbler, Watermelon Ice, Sour Candy, Passion Fruit, Green Fusion, Grape, Cherry Lime, Blue Raspberry and Arctic Ice
Available in 3 sizes – 5 serving container, 300-gram container, and 600-gram container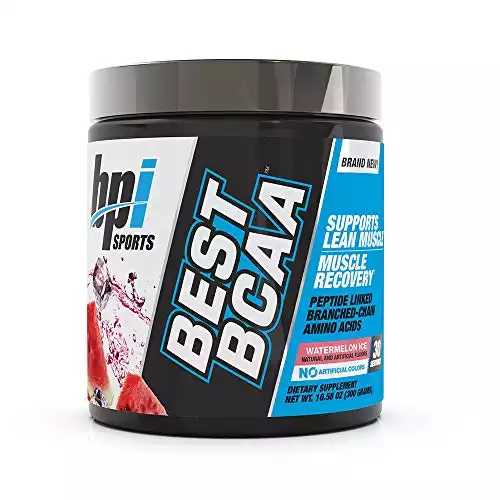 Each 10 gram scoop of powder has:
5 grams of Leucine
25 grams of Isoleucine
25 grams of Valine
1 gram of CLA Matrix
250 mg Agmatine
Best BCAA uses BPIs Oligopeptide-Enzymatic Technology, for maximum workout recovery in terms of speed and efficiency in reducing muscle soreness. It helps to slow down the muscle breakdown of muscle tissue after a workout, which works towards maintaining overall muscle composition.
This technology concentrates and bonds these three essential amino acids so you can achieve your best results. It also helps to activate the BCAA in your body more quickly, so your muscles can start healing right away.To save 20% on Best BCAA, click here and enter code "ALTPROTEIN" at checkout.
Note: You can check out the comparison that I did between BPI BCAA and SciVation Xtend (#2 below) here.
#2 SciVation Xtend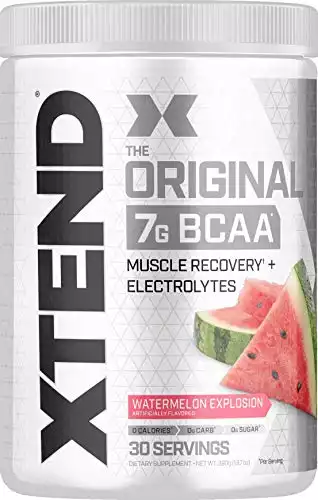 If you're specifically looking for an intra-workout powder mix that will provide plenty of energy and BCAA power, SciVation Xtend is a classic option.
This mix was one of the first BCAA powders developed specifically for intra-workout consumption. Though there are quite a few of this type of supplement on the market now, Xtend remains a tried-and-true choice.
Read our full XTEND review here.
Xtend is:
Available in 12 flavors – Blue Raspberry, Fruit Punch, Grape, Green Apple, Lemon Lime, Mango, Orange, Pineapple, Pink Lemonade, Strawberry Kiwi and unflavored
Available in 3 sizes for powders – 5 serving container, 30 serving container and 90 serving container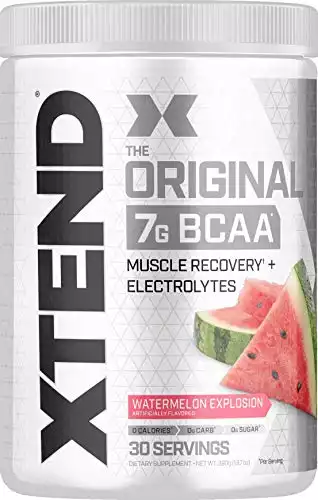 XTEND Original BCAA Powder | Amazon
The World's Number 1 BCAA Brand has been perfecting recovery since 2004 with 7 grams of BCAAs in the nature-designed and research-proven 2:1:1 ratio.
Buy at Amazon.com
We earn a commission if you click this link and make a purchase at no additional cost to you.
05/01/2023 12:09 am GMT
Each scoop of Xtend contains:
7 grams of BCAAs with a 2:1:1 ratio
5 grams leucine
5 grams of glutamine
1 gram of citrulline malate
Free of sugars, carbs and calories
Contains electrolytes
While some brands will use different BCAA ratios for their powders, SciVation decided to go with a classic 2:1:1 ratio of Leucine, Valine, and Isoleucine. This ratio has been found to be the most widely beneficial for intra-workout purposes. Adding in glutamine and citrulline malate only made this powder better.
Few BCAA powders have a 10-year claim to fame. Xtend continues to be one of the best powdered BCAA supplements on the market, easily ranking in the top 5 despite a flurry of new products making the rounds every year. It tastes great, mixes well and gives a noticeable improvement during a hard workout.
Note: You can check out my comparison of Xtend vs Optimum BCAA here.
#1 Evolution Nutrition BCAA 5000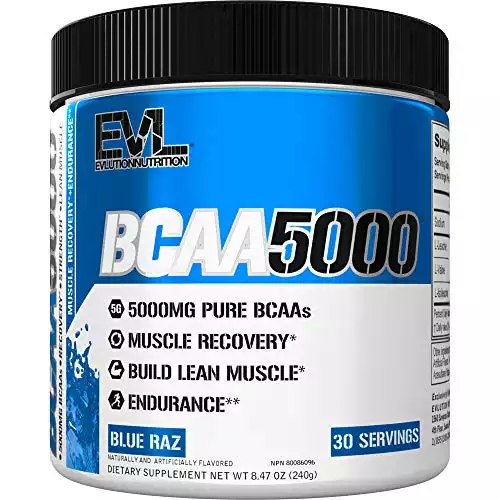 Sometimes basic is best, and in the case of Evlution Nutrition's BCAA 500, it could be the perfect choice. Evlution Nutrition made this powder with five primary purposes in mind – muscle recovery, muscle repair, lean mass support, protein synthesis and increased endurance.
BCAA 500 is:
Available in 3 flavors – White Grape, Lemon Lime and unflavored
Available in 2 sizes – 30 serving container and 60 serving container (unflavored only)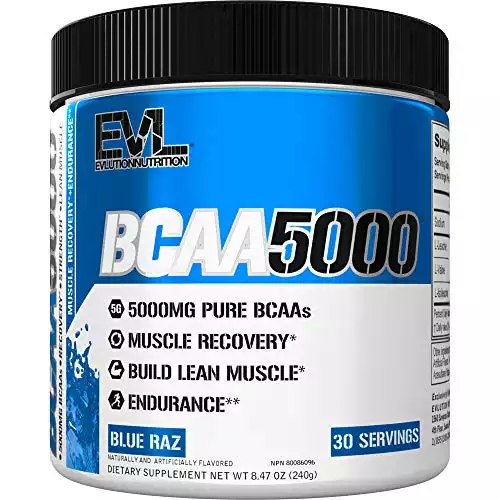 Each scoop contains:
2:1:1 BCAA ratio (Leucine:Isoleucine:Valine)
2,500 mg Leucine
1,250 mg Valine
1,250 mg Isoleucine
As mentioned earlier, most of the original BCAA powders were completely unflavored and were meant to be mixed with other drinks. While BCAA 5000 does offer two flavors, their unflavored powder is one of their more popular ones.
The taste of it isn't overpowering like many unflavoured BCAA powders are, making it ideal for creating your own mixes. Customers typically like to add it to a pre-, intra- or post-workout drink mix or straight to juice.
Compared to other products, there isn't a whole lot to say about the EVL BCAA 5000. If you're looking for an unflavored powder, it really can't be beat.
Final Thoughts – Jym BCAA & Beyond
Anyone that is striving to build muscle should consider adding a BCAA supplement, regardless of whether you're bulking up for a bodybuilding competition or building lean muscle tissue in preparation for summer weather.
It's worth the effort to carefully shop for the right brand for your needs rather than buying the first one that you find on shelves. If you are completely new to supplements, you may want to try a protein powder with added BCAA rather than mixing your own.
Recommended Reads: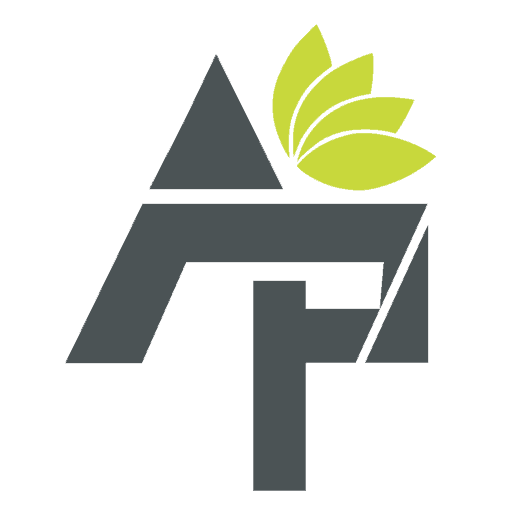 Alt Protein Team is a team of professionals and enthusiasts committed to bringing you the most up-to-date information on alternative protein, health and wellness, workouts, and all things health-related. We've reviewed a lot of products and services so you don't have to guess when you spend your hard-earned money on them. Whether you want to shed some pounds, build lean muscle or bulk, we can help you figure out what you need to do and what you need to have to achieve your goals.