Branch-Chain Amino Acids (BCAAs) are leucine, valine, and isoleucine, the three most important of the essential amino acids. These three amino acids promote the synthesis of protein, increase fatty acid oxidation, and combat obesity. Adding BCAA supplements to your daily fitness routine will help to promote faster muscle growth and encourage weight loss/fat-burning.
But which of the many BCAA supplements should you try? With so many options on the market, it can be tough to know which the best BCAA supplement is. Below, we'll take a look at Xtend BCAA, one of the highest-rated and most popular of the BCAAs around.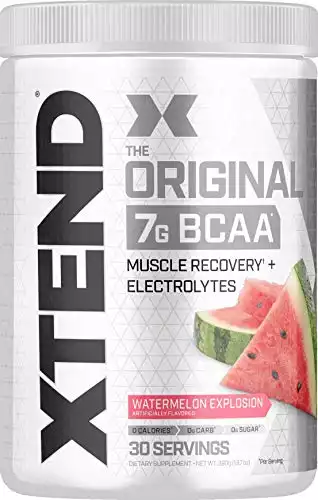 XTEND Original BCAA Powder | Amazon
The World's Number 1 BCAA Brand has been perfecting recovery since 2004 with 7 grams of BCAAs in the nature-designed and research-proven 2:1:1 ratio.
Buy at Amazon.com
We earn a commission if you click this link and make a purchase at no additional cost to you.
05/01/2023 12:09 am GMT
About Scivation Xtend BCAA
Xtend BCAA is a supplement designed to be mix in with water or juice before or after your workout. It comes in three flavors: watermelon, blue raspberry, and mango—unique flavors that set it apart from the many other "red fruit" BCAAs on the market.
In addition to BCAAs, the supplement provides both glutamine (for your immune system) and citrulline (a non-essential amino acid that improves endurance). The supplement is intended to be taken before your workout to give you the energy to get through an intense training session.
However, for those who want to speed up post-workout recovery, the BCAAs in this supplement is ideal for repairing the micro-damage to your muscles caused by resistance training.
Key Features
7 grams of BCAAs per serving
2:1:1 ratio (leucine to valine and isoleucine)
Sugar-free, carbohydrate-free
2.5 grams of glutamine per scoop
1 gram of citrulline per scoop
Zero calories
30 servings per container
Price: $19.25 — (For the latest prices and discounts, check here)
Specifications
Each scoop of the supplement delivers 7 grams of BCAAs: 3.5 grams of leucine and 1.75 grams each of isoleucine and valine. This amino acid ratio is standard, as leucine is the most important of the three essential amino acids. The supplement also provides immune-boosting glutamine and citrulline to increase your endurance. With zero calories and no sugar/carbs, it's as weight loss-friendly a supplement as it gets.
The powder also contains electrolytes to replenish the sodium and potassium lost during your workout. It's a useful pre- and post-workout supplement—it either gives you the energy to push through the training or provides the amino acids that encourage recovery from an intense weightlifting session.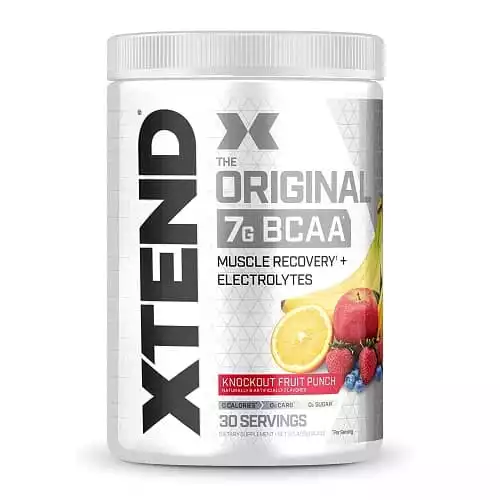 Pros of Xtend BCAA
Here are a few things users love about Xtend BCAA:
Good for all age ranges. This supplement can give you the energy to power through a workout, thanks to the endurance-boosting ingredients like citrulline. Even if you're older (40+), you'll find the supplement will help to improve your cardiovascular and muscular endurance. Essentially, it will give you the "oomph" to keep going when you would have gotten tired sooner.
Great flavors. While watermelon is the most popular of the Xtend flavors, the other two options (blue raspberry and mango) are also highly appealing. A lot of users have commented that this is one of the best-tasting of the supplements they have taken.
Well-balanced amino acids. The 2:1:1 ratio is effective for promoting muscle-building and recovery. With 7 grams of BCAAs per serving, you get a lot more "bang for your buck" than you do with other BCAA supplements.
Good results. The vast majority of reviews (positive and negative alike) claim that the supplement delivers results. Regardless of the downsides (see below), there's no denying the BCAAs provide the amino acids your body needs to build muscles. You WILL see results when taking this powder!
Cons of Xtend BCAA
As with any product, there are a few downsides to Xtend BCAA:
Artificial ingredients. For those who prefer "clean" supplements, this isn't the best choice. Xtend BCAA has a lot of artificial flavorings and sweeteners (it's how it's zero calorie, carbs, and sugar), including sucralose. It's definitely not the most natural of the BCAA supplements, so clean eaters beware.
Too sweet. One of the downsides of artificial sweeteners is that they can often be over-added, making a product too sweet for the average person. Many reviews that are overall positive have the same complaint: the powder is too sweet for their tastes. Even watering it down in a larger bottle isn't enough to stop the sweetness.
Artificial taste. If you like Kool-Aid or powdered juices, you'll like this product. If you're the kind of person who dislikes the flavor of artificial juices, this will definitely have that "chemical" taste in all the flavors.
Doesn't quite dissolve. One of the downsides of products like this is that they tend to have a hard time dissolving in water. The powder will often remain gritty and present in the bottom of your bottle, making the last bits of water a bit unpleasant. Even with a Blender bottle or a lot of shaking, you won't get full dissolution in cold water.
Is Xtend BCAA any good?
As you might already know, I think that Xtend BCAA is a decent product that can really help push you through your workout. The BCAAs in Scivation Xtend can help improve muscle protein synthesis, also boosting your endurance, as well as many have said that it could reduce muscle soreness. Because Xtend BCAA has electrolytes, it can be used not only as a recovery drink, but also as an in-workout supplement to help you for those long runs, or lengthy pump sessions.
My overall recommendation for this product is good — it does work as promised. The BCAAs in this supplement is ideal for repairing the micro-damage to your muscles caused by resistance training. It can also be a great supplement for long-distance runners as it can improve recovery time substantially.
One of the reasons for muscle soreness directly after a workout is dehydration — high-quality BCAAs can help replenish your electrolytes and help with muscle soreness. If you are going to give it your all in the gym, on the field, or in any sport that you love, investing in a great BCAA supplement is a good idea.
When should I take my Xtend BCAAs?
There is no set schedule for taking your BCAAs; it all depends on your budget and training goals. You can take BCAAs with other supplements as well to maximize your benefits. One of the strategies I like to use when taking my BCAAs is the 'sipping throughout the day' strategy from Bodybuilding.com — it can really help you maintain the full benefits of the BCAAs continuously as you train, recover, train, recover.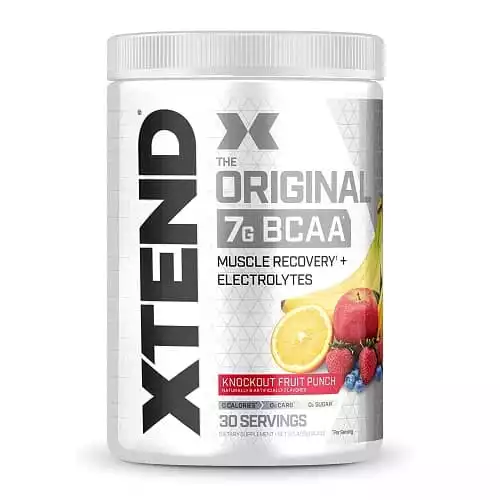 What are the benefits of BCAAS?
According to Healthline.com:
"Branched-chain amino acids (BCAAs) are a group of three essential amino acids: leucine, isoleucine, and valine. BCAA supplements are commonly taken in order to boost muscle growth and enhance exercise performance. They may also help with weight loss and reduce fatigue after exercise. This article contains all the most important information about branched-chain amino acids and their benefits."
These are essential to get in supplemental form because your body just does not produce them, yet all BCAA supplement products are not created the same.
Are BCAAs worth it?
While many bodybuilding forums, websites, and experts recommend BCAA supplements, the research is not definitive yet to show long-term success or big-time gains when it comes to bulking up. However, as I see it, that is not the main benefit of a high-quality BCAA supplement, the benefits I see being worth the investment are in the recovery phase of your workout.
Focusing on overall weight training sessions, paired with a high-quality protein powder supplement along with a BCAA supplement is going to give you the best long-term results. If you are unsure of timing, use, or if a supplement is for you, do your research. I spend a lot of time in the bodybuilding forums myself, ask a lot of questions, but I also take the time to do my real-life research and test out products too. It can be the best kind of research!
Other Options to Consider
Not sure Xtend BCAA is the right choice for you? Here are a few other options to consider:
BPI Sports Best BCAA Powder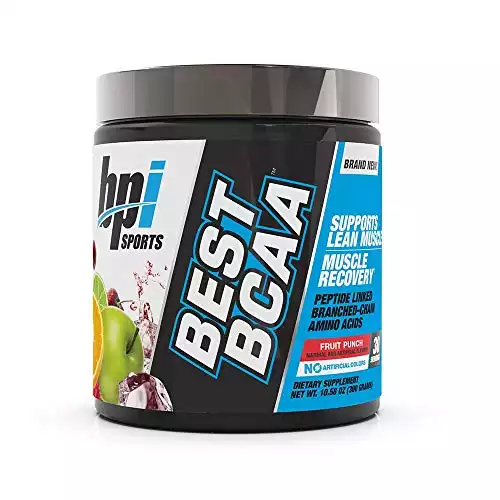 BPI Sports Best BCAA Supplement | Amazon
BPI Sports Best BCAA supports muscle recovery, repair, and helps prevent muscle breakdown during workouts. It's a versatile BCAA that can benefit anyone, from the avid bodybuilder to the everyday athlete and fitness enthusiast.
Buy at Amazon.com
We earn a commission if you click this link and make a purchase at no additional cost to you.
05/01/2023 12:04 am GMT
This BCAA powder offers a unique flavor (fruit punch) that you won't find anywhere else. It provides the same 7 grams of BCAAs per serving. However, the BCAAs are in oligopeptide chains, meaning they're more bioavailable (easier for your body to break down and absorb).
The addition of CLAs increases the endurance-boosting effects of the supplement. It has the same problem with the sweetness that makes users complain about Xtend, as well as the same addition of artificial ingredients. However, you'll pay a dollar or two less for the container!
Optimum Nutrition BCAA Capsules
Instead of powder to mix with water, this supplement from Optimum Nutrition delivers your BCAAs in capsule form. The capsules have an enteric coating that protects them until they hit your intestines to be absorbed into your bloodstream for efficient use.
They offer the same 2:1:1 ratio of BCAAs as Xtend, but there's no fuss about flavor and thus no need for artificial ingredients. It's a much more natural supplement that focuses on delivering JUST the amino acids you want. At $24 for 400 capsules, it's a product that provides both quantity and quality.
BulkSupplements BCAAs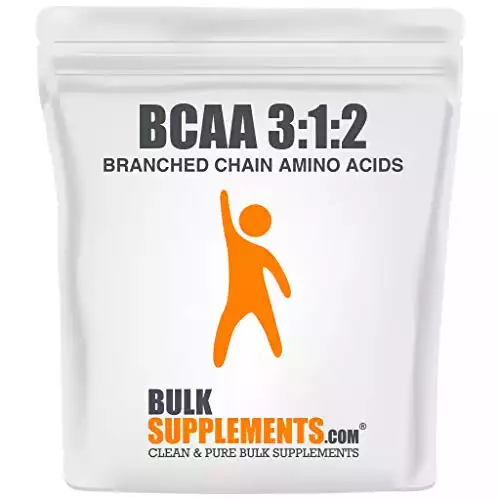 For those prefer "clean" supplements, you'll love this one. It contains no added ingredients; just a concentrated dose of the three most important amino acids. The ratio is the same at 2:1:1, but there's no sugar, carbs, artificial flavors, or chemicals to mess with your digestion.
It's intended to have little to no taste, so you can mix it in with whatever water or juice you're drinking. The price ($15 per container) is as easy to swallow as the powder.
Final Thoughts
Despite the downsides, Xtend BCAA is one of the best BCAA supplements on the market. It offers great results thanks to the excellent balance of amino acids, and the added ingredients (glutamine and citrulline) will only serve to enhance the effects. Though some may find the flavor just a little too sweet or artificial for their tastes, it's still one of the best-testing supplements on the market.
The price point is good, the nutritional value is top-notch, and there's no arguing with the endurance and recovery-boosting effects of the supplement. All in all, it's definitely one worth considering!
---
Disclaimer
Last updated: December 16, 2019
The information contained on www.altprotein.com website (the "Service") is for general information purposes only.
Alt Protein assumes no responsibility for errors or omissions in the contents on the Service.
In no event shall Alt Protein be liable for any special, direct, indirect, consequential, or incidental damages or any damages whatsoever, whether in an action of contract, negligence or other arising out of or in connection with the use of the Service or the contents of the Service. Alt Protein reserves the right to make additions, deletions, or modification to the contents on the Service at any time without prior notice.
Alt Protein does not warrant that the Service is free of viruses or other harmful components.
Fitness disclaimer
The Service offers health, fitness and nutritional information and is designed for educational purposes only. You should not rely on this information as a substitute for, nor does it replace, professional medical advice, diagnosis, or treatment. If you have any concerns or questions about your health, you should always consult with a physician or other health-care professional.
Do not disregard, avoid or delay obtaining medical or health-related advice from your health-care professional because of something you may have read on the Service. The use of any information provided on the Service is solely at your own risk.
You can also review our Editorial Integrity Policy.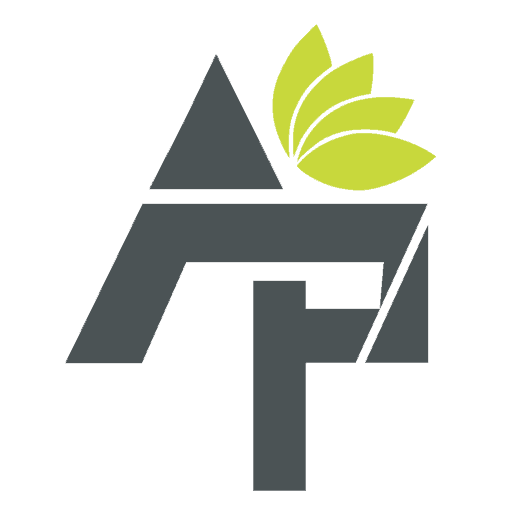 Alt Protein Team is a team of professionals and enthusiasts committed to bringing you the most up-to-date information on alternative protein, health and wellness, workouts, and all things health-related. We've reviewed a lot of products and services so you don't have to guess when you spend your hard-earned money on them. Whether you want to shed some pounds, build lean muscle or bulk, we can help you figure out what you need to do and what you need to have to achieve your goals.