If you already enjoy drinking tea or are interested in starting this new habit, choosing the best detox teas for weight loss can be a good choice if losing or maintaining weight is important to you. Aside from consuming herbs and spices that you may normally not have in your diet, drinking tea throughout the day is a good way of increasing your overall hydration.
Drinking atleast 8 glasses of water a day not only helps improve your health but consuming a lot of water helps with weight loss and reducing bloating. Tea is a great way of bumping up your water consumption if you happen to struggle with getting in your 8 glasses a day.
There are a few scam tea companies out there that make impossible promises or sell a product with suspect ingredients, especially when it comes to the "detox" buzzword. When you're looking into a certain detox tea product remember that, like most things in life, if it sounds too good to be true it probably is.
There is no magical detox tea that will completely remove toxins from body or be able to single-handedly make you lose those last stubborn 10lbs.
Quality teas certainly have some major health benefits, but don't let over-the-top marketing and pictures of super thin models fool you into thinking a hot beverage is the Holy Grail.
Best Detox Teas for Weight Loss
Here are the top 3 detox teas to try that can be helpful if you're trying to lose weight.
#1 Green Root Wellness Organic Detox Tea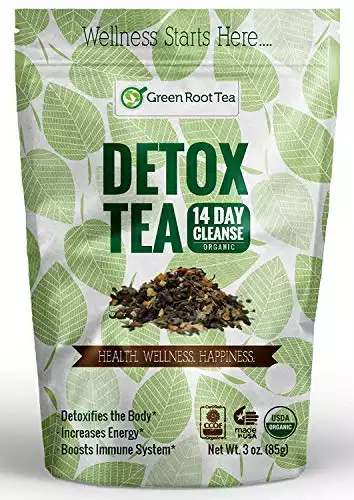 Green Root Wellness has a few different tea blends, all of which focus on specific health benefits. Their Organic Detox Tea is a very popular choice for those looking to kickstart their new weight loss regimen. This brand is smaller than others and may have fewer products but that only means they can truly focus on providing the highest quality loose-leaf tea possible.
Ingredients:
organic green tea
organic orange peel
organic cinnamon
organic ginger
organic senna
organic fennel
organic cacao
organic pomegranate
natural flavors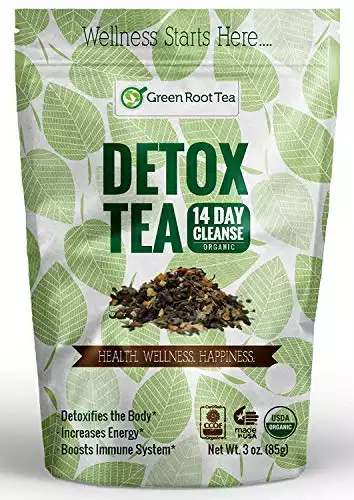 The Organic Detox Tea is primarily made of green tea, which isn't surprising given how great green tea alone is for boosting the metabolism. The green tea used in this blend isn't only organic, but also sourced from tea farms that practice Fair Trade guidelines. When it comes to getting a pure, natural detox tea you really can't get much better than this choice.
There are four main benefits that the Organic Detox Tea delivers. First off, as you would guess, the main purpose of this tea is to remove toxins and impurities in the body. The herbs and other ingredients in this blend were specifically chosen for these abilities.
Secondly, the Organic Detox Tea helps with weight loss due to the green tea and other herbal tisanes present in the blend. While Green Root Wellness can't promise how much you will lose, there are plenty of customers that have found it to help them weigh a few pounds and reduce tummy bloat.
You will also notice that this tea helps reduce unhealthy food cravings and suppress appetite. At the same time, you will also have improved digestion since ginger and orange peel are very effective at this. Finally, this tea will help your body rehydrate and help to balance electrolytes.
Green Root Wellness sells this loose tea blend in either a 14 or 28 day cleanse quantity, both of which can be purchased directly from their website.
#2 FitTea 14 Day Tea Detox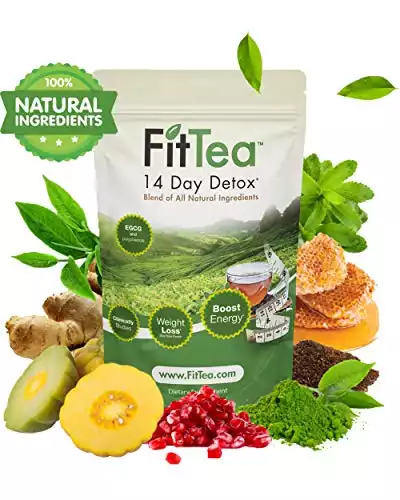 One of the first detox tea many people hear of, primarily through social media, is FitTea. This 14 or 28-day detox tea has been promoted by numerous health authorities and celebrities. While some of the results seem too good to be true, this tea is still a great choice due to the ingredients in it. Just don't fall prey to the marketing that may lead you to believe you'll drop 15+ lbs .
Major ingredients:
organic green tea
oolong wu yi tea
garcinia cambogia extract
pomegranate
organic rooibos
ginger
stevia
honey
guarana
matcha green tea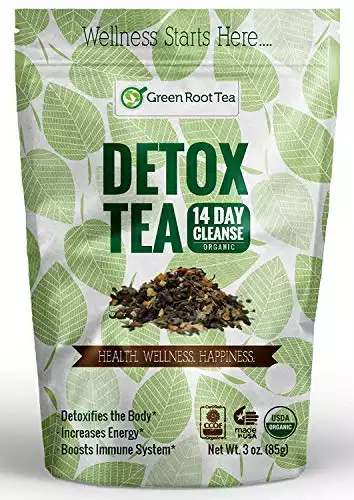 FitTea Detox Tea is one of the best detox teas for weight loss comes as a loose leaf blend that can be consumed hot or cold. It primary functions include energizing, speeding up the metabolism and reduce stomach bloat. The effects of green tea for weight loss are already known. The oolong wu yi tea is also effective at improving metabolic function and fat burning.
Garcinia cambogia is an Indian fruit that has high levels of hydroxycitric acid, which has helped those with obesity lose weight in some studies done.
FitTea recommends you drink this tea once in the morning, either with breakfast or without. As most brands also recommend, FitTea stresses that you will get the best results from this tea if combined with a strict healthy diet and exercise. However, even those that eat fairly well and exercise regularly still seemed to find reduction in bloating, which naturally left them looking slimmer.
You can find FitTea Detox Tea through their website and through select retailers like GNC, or (check this listing for the latest live prices).
#3 Afterglow Detox Tea Energizing & Purifying Combo
If you really want the most bang for your buck, the Afterglow Energizing and Purifying Detox Tea duo is a must-try. While most teas try to combine numerous benefits in one blend, Afterglow went a different route by creating two teas – one for morning and one for night. Having separate teas blends for both times of day means each tea has very specific benefits so you really get maximum effect.
Energizing morning blend ingredients:
organic green tea
organic rooibos
organic cambogia
white tea
oolong tea
ginger
juniper
anise
guarana
lemon myrtle
orange peel
goji berries
pomegranate
fennel
clove
lime
osmanthus petals
Purifying night blend ingredients:
organic rooibos
organic honeybush
senna
lemon myrtle
juniper
ginger
licorice root
anise
citronella
calendula
birch leaves
white willow bark
This 14 day cleanse provides two cups of tea per day – one for the morning and one before bed. The Energizing morning blend is loaded with ingredients to help with weight loss, but green tea, guarana and garcinia cambogia are the three major ingredients that help reduce fat.
The Purifying blend is all about detoxification. It doesn't have green tea, which contains natural caffeine and often the culprit for a restless night or difficulty falling asleep. Both teas help reduce appetite.
If you enjoying drinking tea throughout the day but don't like the jittery feeling you might get from having a cup of detox tea at night, Afterglow has the answer. These two blends are priced very well compared to others, and the idea of focusing on weight loss and detoxification at separate times means greater efficiency.
Final Conclusion – Best Detox Teas for Weight Loss
While detox teas aren't the answer to weight loss, they can be a useful tool alongside proper diet and exercise. Not only do the teas featured here help boost the metabolism and deliver natural energy, but most have additional herbs and ingredients that can help with overall physical and mental well-being.
Sipping on a cup of tea is undoubtedly relaxing, and substituting hot tea for a coffee in the morning is a positive step for health. Just keep in mind that these 3 best detox teas for weight loss will only give you positive results if your diet and exercise regimen are aligned.
Recommended Reads: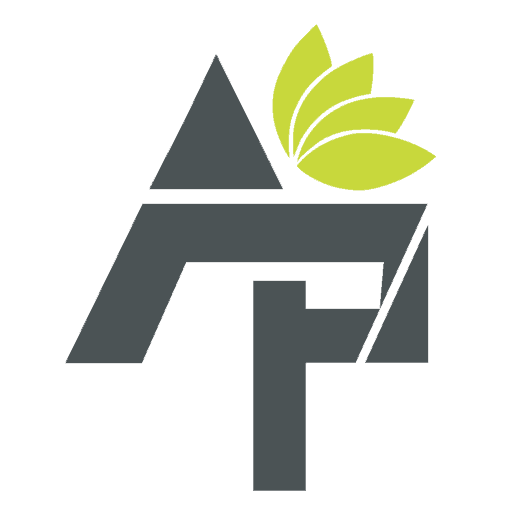 Alt Protein Team is a team of professionals and enthusiasts committed to bringing you the most up-to-date information on alternative protein, health and wellness, workouts, and all things health-related. We've reviewed a lot of products and services so you don't have to guess when you spend your hard-earned money on them. Whether you want to shed some pounds, build lean muscle or bulk, we can help you figure out what you need to do and what you need to have to achieve your goals.