FTC Note: Alt Protein may be compensated through the links in the post below, but the opinions are our own.
Whey protein is considered by many to be the most effective of the protein powders, at least when it comes to getting quick results. Whey protein concentrate is ideal for beginners who want a good pre- and post-workout protein supplement, and whey protein isolate is ideal for those on low-carb diets who want a quick-acting protein.
Of course, the fact that whey protein is so popular means that there are A LOT of products on the market. Finding the right whey protein powder can be quite the challenge! Naked Whey promises to be one of the best high quality whey protein powders around, and it may be an excellent option to consider if you can handle the price tag!
About Naked Whey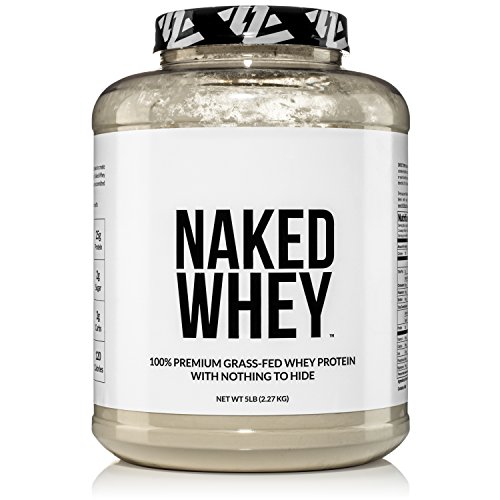 Naked Whey is a whey concentrate, meaning it is a good pre- and post-workout supplement for anyone looking for a quick and easy protein powder. However, unlike many of its competitors, it's unflavored. It's a protein powder you can mix with just about anything.
In order to produce the whey protein powder, Naked Nutrition (the manufacturer) collects cow's milk from grass fed cows raised on small dairy farms. The milk then undergoes processing to produce a non-denatured whey protein powder that contains all the clean protein, amino acids, and glutathione found naturally in cow's milk.
The vital nutrients of the milk are retained, producing a clean, pure protein powder. Compare it to some of the highly-processed powders on the market, and you can see why it's a great option to consider!
I LOVE Naked Whey
Pure. Clean. Whey. All made from grass-fed cows with no additional additives, fillers, or sweeteners. #SomeThingsAreWorthIt
I earn a commission if you click this link and make a purchase at no additional cost to you.
Key Selling Points to Consider
The milk comes from small dairy farms around the state of California.
There are no artificial sweeteners, flavorings, or colorings added into the powder, and it is completely gluten free and soy free. The milk is free of growth hormones and chemicals, meaning the protein powder is as natural as possible.
The manufacturing process does not include acid or bleaching (undenatured whey), leading to a much more natural, less "treated" protein powder.
The protein powder is unflavored, meaning it has its natural creamy taste. It is also packed with amino acids, glutathione, and clean proteins.
Specifications
100% Grass Fed Pure Whey Protein Concentrate
Non-GMO
Size: 5 lbs.
Price per Pound: About $18 (but

check Amazon here

OR check their site directly here).
Unflavored whey protein powder
25 grams of protein, 2 grams of sugar, 3 grams of carbs, 5.9 grams of BCAAs, and 100 calories per serving
Cold-processed to reduce contamination
Pros of Naked Whey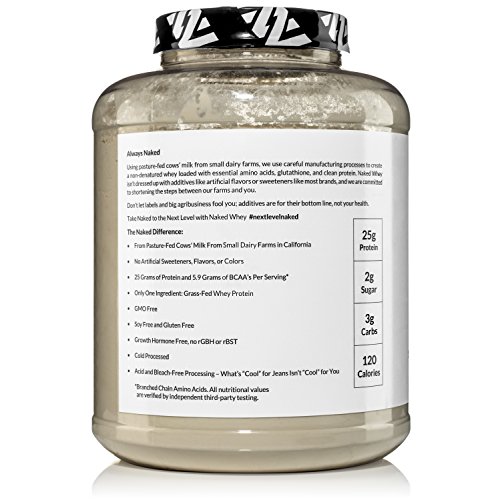 Here are a few of the positive things users have had to say about Naked Whey:
Great Taste —  A number of Amazon users have commented on the product, saying it is the "best tasting" protein powder they have ever tried. Users love the fact that there are no added flavors in the powder, so it has a natural, creamy flavor. There is no "Stevia" taste in the powder–a problem that is common among other natural, unsweetened protein powder. It's just simple and natural, making it an ideal option for those who want pure protein powder.
All Natural — The fact that the protein powder is gluten-free, soy-free, non-GMO, and made from 100% grass fed cows' milk is a huge selling point among the users of Naked Whey. With the world becoming more eco-friendly and environmentally conscious, many reviewers love the fact that Naked Whey is made without additives, chemicals, preservatives, or artificial ingredients.
Single Ingredient –– The more ingredients a food has, the higher the risk of unnecessary compounds and chemicals being absorbed. With Naked Whey, there is a single ingredient: pure, clean whey protein powder. There are no other ingredients, making this a popular choice among those looking to simplify their diet and eliminate unnecessary additives from their food.
Good Texture –– While many protein powders add a chalky, grainy texture to the drinks in which they are mixed, many reviewers commented on the quality of the Naked Whey when mixed into their drinks. The whey protein powder makes a rich, foamy drink with an extra creamy texture, and it is nice and smooth. There is none of the grit or grain that is common with cheaper protein powders.
Cons of Naked Whey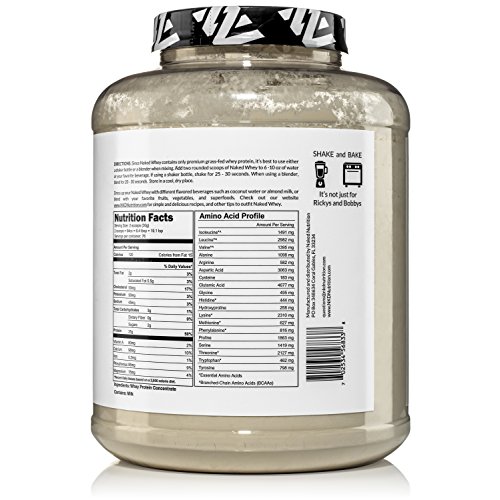 Here are some of the negative things people had to say about Naked Whey:
Pricey — The average 5-pound bag of protein powder will run you anywhere from $30 to $60, depending on the quality or brand. With Naked Whey, you pay a whopping $89.99 for a 5-pound container–twice the price of your average protein powder. I have had some success

purchasing it more cheaply through this listing

, however. While the powder is high quality, many users complained that the price was too high and they were unable to afford the powder.
Doesn't Mix As Well with Water –– While most reviewers commented on how well the protein powder mixes with milk, a number of people complained that it didn't mix well with water. They claim that it just becomes frothy after a lot of mixing, but even then there is still very clearly residue of the powder. Also, it won't mix in a shaker cup, but it HAS to be mixed in the blender to see the proper results.
Non-Certified — For those looking for an organic protein powder, Naked Whey may not be the right choice. While the product claims to be 100% pure, there are no certifications to prove that it is GMO-free or organic. It is not USDA Certified Organic or Certified Non-GMO Project. Without these certifications, many users feel hesitant to accept the claims that it really is as pure as it claims.
Naked Whey Alternatives: Other Natural Whey Protein Supplements to Consider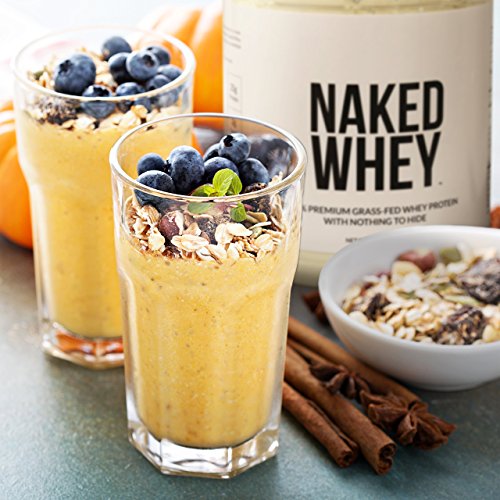 If Naked Whey doesn't appeal to you, why not consider:
Optimum Nutrition 100% Whey Gold Standard — If you're looking for a quality protein powder at a much lower price, consider Optimum Nutrition's Whey Gold Standard powder! It's one of the highest-rated supplements on the market, is packed with whey protein isolate, delivers a BCAA punch, and mixes easily with just about any liquid. Best of all, it's $30 cheaper than Naked Whey. It doesn't have the same "grass-fed" quality, but cost might make it a more realistic choice. Read my full Optimum Nutrition review for further deal.
Orgain Organic Protein Powder — If you want something you can be CERTAIN is fully organic, try Orgain. This plant-based protein powder is USDA Certified Organic, and is completely free of dairy, soy, gluten, and GMO ingredients. It contains fewer carbs per serving than Naked Whey, and delivers a protein punch to help you bulk up the natural way. (Check out my full review)
MRM Veggie Elite -­- If you're looking for a vegetarian or vegan alternative to whey protein powder, consider MRM Veggie Elite as your best option. It tastes good, blends well, has a good dose of branched-chain amino acids, and has a reasonable price tag. (Read my review here)
Other Alternatives to Naked Whey
Other Naked Protein Varieties
Naked also has a variety of other offerings, if you are a fan of the brand. You can check out their video overview below:

Where to Buy Naked Whey Protein?
There are two places I would recommend price checking Naked Whey.
Naked Whey Directly: They frequently offer loyalty discounts or special promos here. Check this listing.

Naked Whey Amazon Listing

: Naked promotes heavily on Amazon as well, particularly during peak Amazon sales periods.

Check this listing

.
Final Thoughts on Naked Whey and Coupon Code
I LOVE Naked Whey
Pure. Clean. Whey. All made from grass-fed cows with no additional additives, fillers, or sweeteners. #SomeThingsAreWorthIt
I earn a commission if you click this link and make a purchase at no additional cost to you.
If you're looking for a quality protein powder and don't mind paying a slightly higher price, Naked Whey is definitely a good option to consider. It is a fully natural product made from locally-sourced ingredients (it's manufactured in California), and it contains no artificial ingredients or additives.
It's as simple and natural as it gets, making it a great choice for those who want high-quality grass-fed protein above all else. With its great taste, easy mixing, and excellent nutritional profile, you'll find that this is one of the best whey protein powders on the market! Check out more protein powder options here..
Naked Whey Promo Code: There are no active discount codes right now, but if you check this listing you can see the latest discounts.
---
Disclaimer
Last updated: December 16, 2019
The information contained on www.altprotein.com website (the "Service") is for general information purposes only.
Alt Protein assumes no responsibility for errors or omissions in the contents on the Service.
In no event shall Alt Protein be liable for any special, direct, indirect, consequential, or incidental damages or any damages whatsoever, whether in an action of contract, negligence or other arising out of or in connection with the use of the Service or the contents of the Service. Alt Protein reserves the right to make additions, deletions, or modification to the contents on the Service at any time without prior notice.
Alt Protein does not warrant that the Service is free of viruses or other harmful components.
Fitness disclaimer
The Service offers health, fitness and nutritional information and is designed for educational purposes only. You should not rely on this information as a substitute for, nor does it replace, professional medical advice, diagnosis, or treatment. If you have any concerns or questions about your health, you should always consult with a physician or other health-care professional.
Do not disregard, avoid or delay obtaining medical or health-related advice from your health-care professional because of something you may have read on the Service. The use of any information provided on the Service is solely at your own risk.
You can also review our Editorial Integrity Policy.
(Visited 344 times, 3 visits today)
Health enthusiast, runner, protein nut. Owen likes to write about protein, particularly alternatve supplementation and supplement comparisons.