Finding a good protein powder isn't too difficult—throw a rock in any supermarket or grocery store and you'll hit at least half a dozen options. From whey to egg to casein to soy protein, you can find protein powder in a broad selection, with a good choice according to your needs.
But which is the "best" protein powder? Which powders offer you the best value for your money, the best formula for muscle building, and the best flavors? That's what we're all about: bringing you only the top of the line products and helping you know which are good and which aren't.
For today's review, we're going to look at one of the more popular whey protein powders: BPI Sports Best Protein. Read on to find out if it lives up to its name!
Note: If you use code "SUMMERPRO" at this listing at checkout, you can currently save 40% off.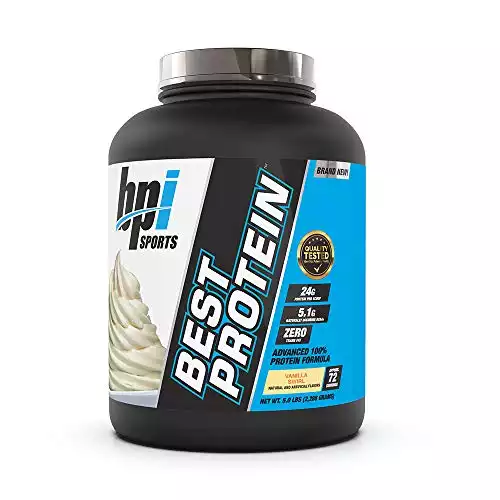 About BPI Best Protein
BPI Sports Best Protein is a whey protein, meaning it's a milk-based, fast-acting protein that is perfect for both pre- and post-workout supplementation. Whey protein is absorbed and utilized quickly, so you can take it before a workout to fuel up your muscles or after the workout to encourage faster muscle recovery. Whey protein is also much easier on your digestive system than other proteins.
This particular protein powder is aimed at LEAN muscle—meaning it's not going to pack on solid muscle mass, but it will encourage muscle growth while promoting fat-burning. It's a protein isolate whey with a higher protein content than other supplements, as well as less sugar and fats. The fact that it's an isolate, however, means it will be pricier than your average whey concentrate supplement.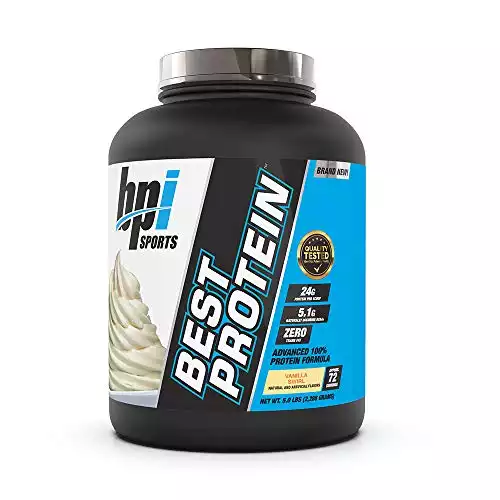 Key Features
24 grams of protein per serving
5.5 grams of BCAAs per serving
Microfiltered in cold temperatures
Made from 100% Whey
No fillers
120 calories per serving
1.5 grams of fat
2 grams of carbs and 2 grams of sugar per serving
$31.99 for a 2-pound container
Check the Latest Prices and Discounts Here
Specifications
If you're looking for a simple and effective protein supplement, you'll find this is a pretty good option. Made with zero filler ingredients, it's low in calories and carbs while delivering a hefty dose of both protein and healthy fats.
It does contain some artificial ingredients (sucralose as a sweetener, xanthan gum for the texture, artificial flavors, etc.), so it's not as "clean" as other protein powders. However, you'll find that it is made with 100% whey, making it a good option for the average bodybuilder.
With 24 grams of protein and 5.5 grams of BCAAs per scoop, you get a good amount of amino acids to encourage better muscle growth. The fast-digesting protein is easy on your stomach and unlikely to cause problems in your digestive system. The product does contain milk and soy, so this with allergies should avoid it.
Pros of BPI Best Protein
Here are a few things people love about BPI Sports Best Protein:
Good flavor – While many users can agree that the vanilla-flavored protein powder is one of the best of its type, there are many positive comments about the other flavors—from chocolate to brownie to salted caramel to snickerdoodle. If you like a bit of variety and want to try other creamy flavors, BPI Sports Best Protein is a good option to consider.
Easily mixed –– Not only does this protein blend well, but it's easy to mix. Users love how simple it is to mix with water (all you need is a spoon!) or their foods (makes for some delicious protein pancakes).
Good source of protein – With 24 grams of amino acids per scoop, you get more than enough protein to pack on the lean muscle. Add to that the 5.5 grams of BCAAs, and you'll see some visible results with just a few months of taking the supplement.
No indigestion – Some whey protein (especially the supplements with a lot of artificial flavors) have been known to cause digestive upset. Not so with this one! The majority of reviewers agree that they can take the protein powder without worrying about indigestion or stomach aches, both before and after their workouts.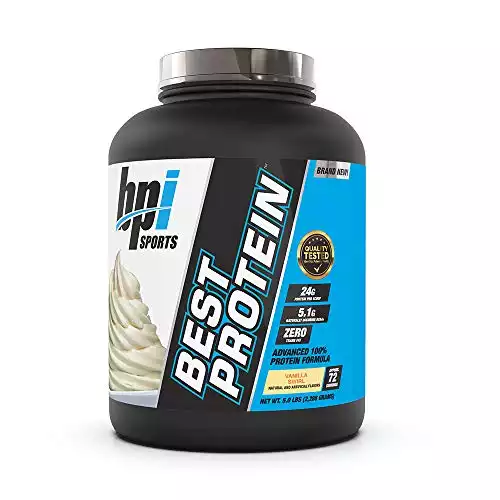 Cons of BPI Best Protein
As with any product, there are a few downsides to BPI Sports Best Protein:
Pricey – Paying $32 for 2 pounds of protein powder is a bit steep. The fact that it contains whey isolates means your body will more easily absorb the protein, but this protein supplement costs you at least 20 to 30% more than a more affordable whey concentrate without significantly better results. Note: PLEASE check this listing for the latest prices as I found my on sale for about 30% off.
Iffy ingredients – This protein powder contains two ingredients that you should be trying to steer clear of: High Fructose Corn Syrup and Sucralose. HFCS is one of the leading contributors to the diabetes problem in the U.S., and sucralose (also known as Splenda) is an artificial sweetener that can be terrible for your health.
Chalky texture – Some users have complained that the protein powder gives their drink a chalky texture unless thoroughly blended. While it's easy to mix into your water or food, you may end up with odd-textured food. It's best to mix the protein powder in a blender, where the aeration can thoroughly combine the powder with the liquid.
Other Options to Consider
Not sure BPI Sports Best Protein is the one for you? Here are a few options to consider:
If you're looking for top-quality protein powder at an amazing price, Optimum Nutrition's Gold Standard whey protein is your best choice.
Not only do you get 5 pounds of protein at just over $55, but it's high quality, good-tasting whey protein that makes some delicious shakes and protein snacks.
The double rich chocolate flavor is considered one of the tastiest on the market, and the product has over 10,000 5-star reviews on Amazon. For the cost, you won't find better than this!
For those who want whey isolate over concentrate, this Cellucor whey protein delivers exactly what you need. It's a whey isolate that contains 25 grams of protein and 5.5 grams of BCAAs per serving, with just 130 calories in each scoop.
It does contain a bit more carbs and a bit less fat than the BPI Sports Whey protein, but you also get naturally occurring digestive enzymes to encourage better metabolism and absorption of the protein. Sadly, it's a tad pricey–$50 for 4 pounds.
This is a high-quality protein powder developed with elite and professional athletes in mind, meaning it's a great choice for those who want to see serious results. Each scoop of protein powder delivers 25 grams of protein and 5 grams of BCAAs.
However, it contains 5 grams of carbs, so it's not the best option for those on a low-carb, high-protein diet. It's a pre- and post-workout supplement that can fuel you up at any time of day or night. It's one of the more affordable protein powders–$39 for 4 pounds.
Reviews
"This is the most delicious protein I have ever had. It isn't chalky and actually tastes like chocolate. However, I do prefer to blend it with milk instead of water. I also cooked with it as well making chocolate protein French toast and I also made breakfast protein shakes with them which included chocolate peanut butter and strawberry chocolate (all were extraordinary). I always recommend ordering from Amazon since it's such a better price than going to a store and trying to buy it. P.S. The cookies and cream one is also bomb" Amazon Customer
Final Thoughts on BPI Best Protein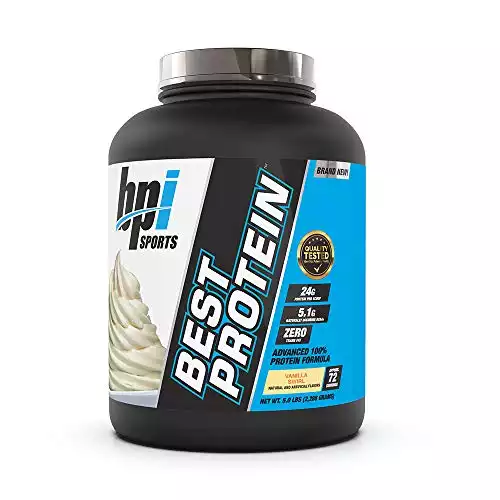 BPI Sports Best Protein offers a high-quality protein powder with great flavors, an excellent nutritional profile, and good results. It may have a few drawbacks (the ingredients, price, and consistency), but overall it's a protein powder that's worth investing in if your goal is to pack on lean muscle.
Recommended Reads:
Use code "SUMMERPRO" at this Listing to Save 40%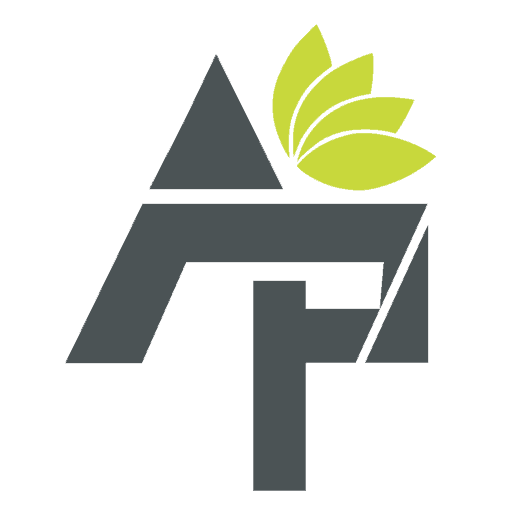 Alt Protein Team is a team of professionals and enthusiasts committed to bringing you the most up-to-date information on alternative protein, health and wellness, workouts, and all things health-related. We've reviewed a lot of products and services so you don't have to guess when you spend your hard-earned money on them. Whether you want to shed some pounds, build lean muscle or bulk, we can help you figure out what you need to do and what you need to have to achieve your goals.