If you're serious about building muscles chances are you are currently taking or considering taking a protein supplement.
Not all protein supplements are created equal and it can be difficult to choose which kind is best for you and your needs.
Whey protein is one of the most popular forms of protein supplements and you'll have hundreds of brands to choose from on the store shelf.
Selecting a Good Grass Fed Whey Supplement
Whey protein contains a wide range of essential amino acids that are absorbed quickly by the body to be used to rebuild damaged muscle cells after your hard lifting session at the gym. Whey is the liquid part of milk that separates during cheese production when the fatty parts of the milk sink to the bottom and the whey floats to the top of the milk container.
Milk actually contains two types of protein, casein and whey. You'll never see liquid whey protein on the shelf because after the whey is separated from the rest of the milk, it is processed through a series of steps to become the powdered form you see everywhere.
Whey protein comes in three forms based on the way the whey is processed during production. Concentrate contains about 70-80% whey protein and the rest is lactose and fat. Whey isolate contains 90% or higher protein and essentially no lactose and fat. Hydrolysate whey is pre-digested and is absorbed by the body much faster than concentrate or isolate whey.
If you are lactose intolerant or have sensitivity to lactose it is recommended to use isolate or hydrolyzed whey protein.
Specific Grass Fed Protein Criteria to Look at
Shopping for a whey protein powder can be confusing. There are hundreds of options on the shelf all with fancy labeling to convince you that their brand is the best. Prices of whey protein vary widely based on source and production style of the whey. We did some research and determine our favorite grass fed whey protein supplements using the following criteria:
All natural – The protein supplement must all contain natural ingredients (ideally organic whey protein). No artificial flavors or colors for us.
Source of whey – The whey protein must come from grass fed cows. We checked the labeling carefully for this.
Taste – No wants to drink chalk. Flavor is important to us. We also don't want that artificial sweetener taste either. When it comes to taste, it can be subjective, of course. We all want to know, does it take good in my morning protein shake?
Cost – Grass fed whey protein will most likely cost a little more than non-grass fed whey protein, but we still wanted to make sure it was affordable for the Average Joe.
3 Best Grass Fed Whey Protein Powders
1. Bodylogix Natural Whey Protein
Bodylogix Natural Whey protein supplement is a relatively new all-natural supplement in the marketplace. Bodylogix is one of the only companies that have successfully produced a high quality protein content made with natural ingredients that tastes good. Bodylogix only uses milk produced by grass-fed, hormone- and antibiotic-free cows.
The company regularly tests the milk to ensure that it is free of bovine growth hormone and antibiotic residue. Bodylogix is a Canadian company that produces their products in a NSF-certified manufacturing facility in Winnipeg, Manitoba and all their products are independently tested by third party independent labs for purity and safety.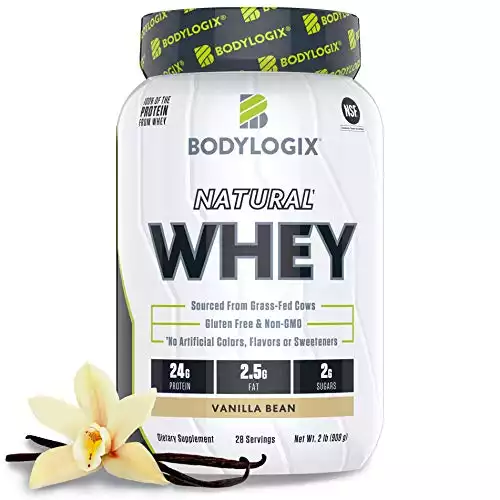 Not only does Bodylogix care about creating a pure and natural product, they care about the environment. Bodylogix Natural Whey protein supplements come in compostable protein bottles made with biodegradable materials.
Bodylogix Natural Whey protein contains no GMOs, artificial sweeteners, colorings, or other ingredients. Also, it tastes good, which is surprising since most of the good tasting protein supplements have sweeteners in them.
However, Bodylogix does use Truvia, a natural sweetener, to make it taste good. Some testers loved the taste while others found it to be a bit sweet. A single serving contains only 120 calories and has the ideal balance of protein content to carb ratio.
Additionally, there is only 60 mg of sodium per serving. Many supplement companies tend to use sodium as a cheap flavoring alternative similar to sugar, but a quality protein supplement should not rely on salt or artificial sweeteners to make it taste good.
Bodylogix Natural Whey should only be used as a protein supplement after your workout and not as a meal replacement as it lacks vitamins and minerals. You can certainly add those to the mix and create your own meal replacement, but it just requires an extra step.
To top off all the positives of the whey protein, it is very affordable at less than $1 per serving. Bodylogix Natural Whey can be purchased in vanilla bean or dark chocolate in the concentrate or isolate form. Check out this product listing for more details.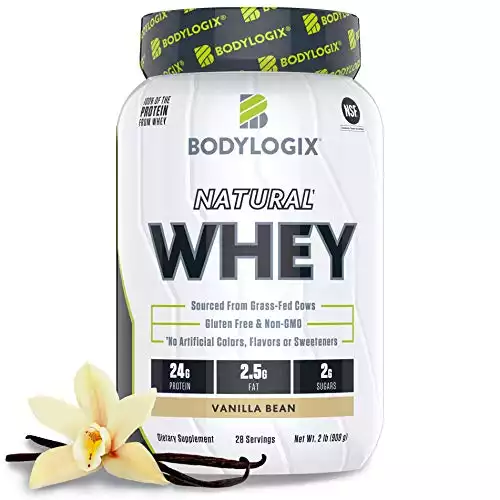 2. Bluebonnet 100% Natural Whey Protein Isolate
Bluebonnet is not a common protein supplement name, but it is one of the best grass fed whey protein supplements on the shelf. Bluebonnet uses milk from grass-fed cows that are not treated with antibiotics or bovine growth hormone. Bluebonnet is a small supplement company based in Sugar Land, Texas that takes pride in producing some of the best quality natural products in the marketplace.
Bluebonnet produces one of the highest quality, micro-filtered whey protein isolate mixed with naturally occurring immunoglobulins, which helps support the immune system. At almost 100% purity, Bluebonnet produces the highest biological value protein on the market.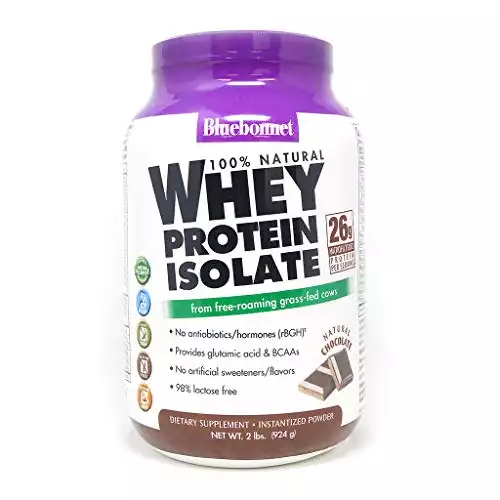 This means you get a whey protein supplement that has all the essential amino acids in adequate quantities that your body needs to grow and repair muscle cells.
Bluebonnet uses a special low-temperature method that creates this ultra pure protein and intact immunoglobulins while other manufacturers tend to use heat-process that can denature the whey protein.
Bluebonnet 100% Natural Whey Protein Isloate is made only of natural ingredients, which are undenatured whey protein isolate, natural vanilla flavor, non-GMO sunflower lecithin, and MCT oil. It is soy- and gluten-free for even the most sensitive people. One serving contains 125 calories and 60 mg of sodium.
Bluebonnet sweetens the whey protein powder with Stevia, a plant-based natural flavor. Reviewers found the taste to be okay. Since the whey protein is more natural it is not as sweet and more of a mild taste. The powder can be mixed with water, almond milk, or regular milk for better taste.
Flavors include French vanilla, strawberry, and chocolate. Vanilla was my personal favorite. It makes the best morning protein shake — just add some almond milk, coconut milk, and your choice of frozen fruit for a great meal replacement any day of the week! You can see more flavor and pricing options here.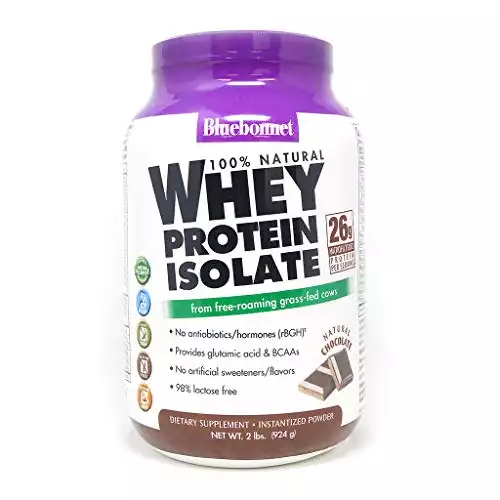 3. Source Naturals True Whey
Source Naturals produces another great grass fed whey protein supplement. The milk used to produce the whey protein comes from cows that are not given any growth hormones, pesticides, chemicals, or GMO feed. The True Whey protein powder does not contain an emulsifier like Soy Lecithin.
The only ingredients are whey protein concentrate, natural vanilla flavor and Stevia. It's a great option for someone who is sensitive to soy products. Source Naturals True Whey is a great whey protein concentrate as well, meaning it does not contain emulsifiers or additives.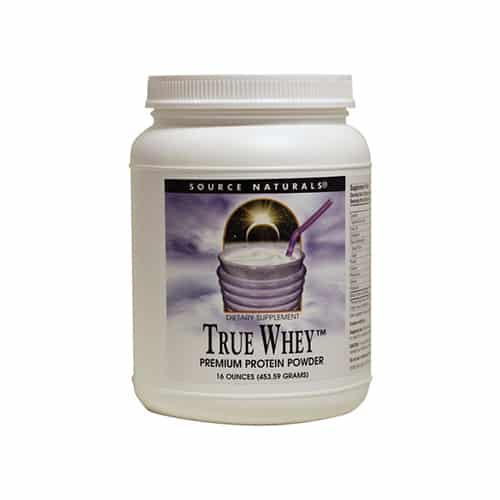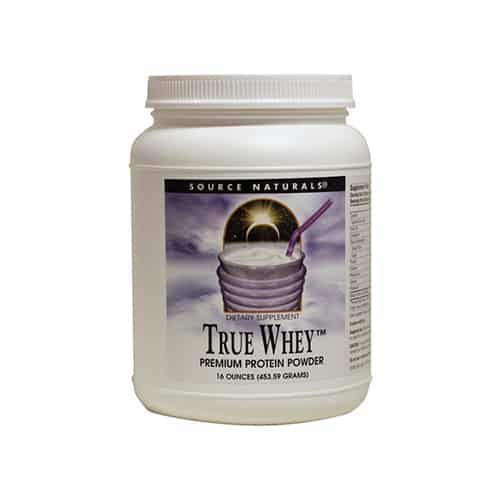 Reviewers went one of two ways on the flavor. Some thought it was too sweet while others thought True Whey had a mild taste. However, they all agreed that the powder mixes a little differently than other brands. I found it to be just the right balance. It really depends on what you are used to.
I'm more of a fan of milder tasting protein supplements, personally.
It's not uncommon to see clumps of powder at the top, especially if you mix it in water with a spoon. I'd recommend using the powder in a smoothie with fruits and vegetables for the best taste and mixing. True Whey is a great protein supplement for those who are looking to lose or maintain weight lost.
One serving is only 45 calories and 20 mg of sodium. At 1.4 lbs, the True Whey is more expensive for its size compared to the other two protein powders. However, be sure to check the latest pricing here.
The Final Verdict – Compare Which Grass Fed Protein is Best
Whey protein supplements are a great addition to your diet if you're looking to bulk up or lose weight. Not all whey proteins are created equal. We really like grass-fed whey protein supplements as they are more natural and better for the environment.
While we can't pick the best whey protein for you since taste is very much a personal preference, we certainly can recommend these three protein supplements to you as they are the best on the market.
High Level Overview of the Best Frass Fed Protein Powder:
Recommended Reads on Pure Whey, Plant Based Protein Powder, and Other Natural Protein Powders: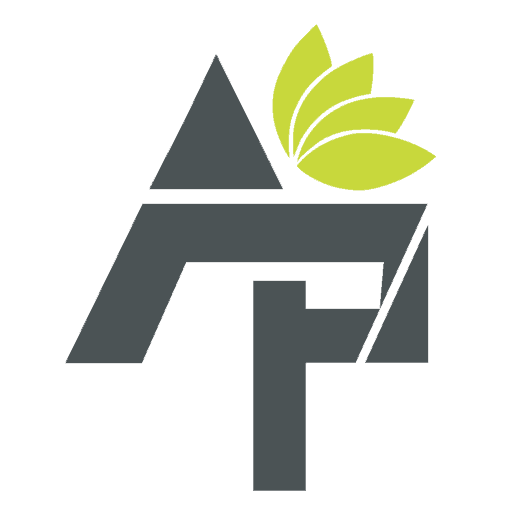 Alt Protein Team is a team of professionals and enthusiasts committed to bringing you the most up-to-date information on alternative protein, health and wellness, workouts, and all things health-related. We've reviewed a lot of products and services so you don't have to guess when you spend your hard-earned money on them. Whether you want to shed some pounds, build lean muscle or bulk, we can help you figure out what you need to do and what you need to have to achieve your goals.