In this Bare Performance Nutrition Protein review, I'm looking at the two formulas—whey and vegan—to see if they're high-quality supplements on their own. From there, I compare the two to see if one is clearly a better choice over the other.
Bare Performance Nutrition Protein Overview
These both look promising.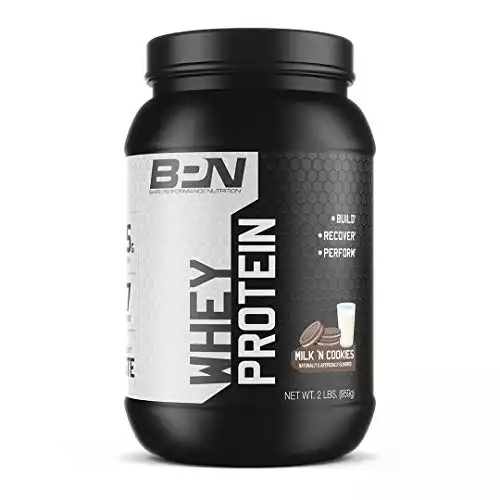 Types of Protein Powder Available
You have two options: whey and vegan.
Whey (Available in 2-lb or 5-lb Tubs)
Flavors available in the 2-lb tub:
Cinnamon Roll
Mint Chocolate Chip Ice Cream
Milk N' Cookies
Salted Caramel
There's a nice flavor selection here, but I have to wonder where all the basic flavors are. The more interesting flavors are nice because you don't have to mix them with much else to appreciate the flavor or use them in unusual dessert concoctions (like protein ice cream).
That said, I sometimes like to create my own shake masterpieces by adding fruit, peanut butter, or almond butter, and even some vegetables (not always) for a more well-rounded meal. I'd love to see vanilla and chocolate, maybe even strawberry added to the line-up. The 5-lb tub comes in chocolate, but it isn't an option at the moment.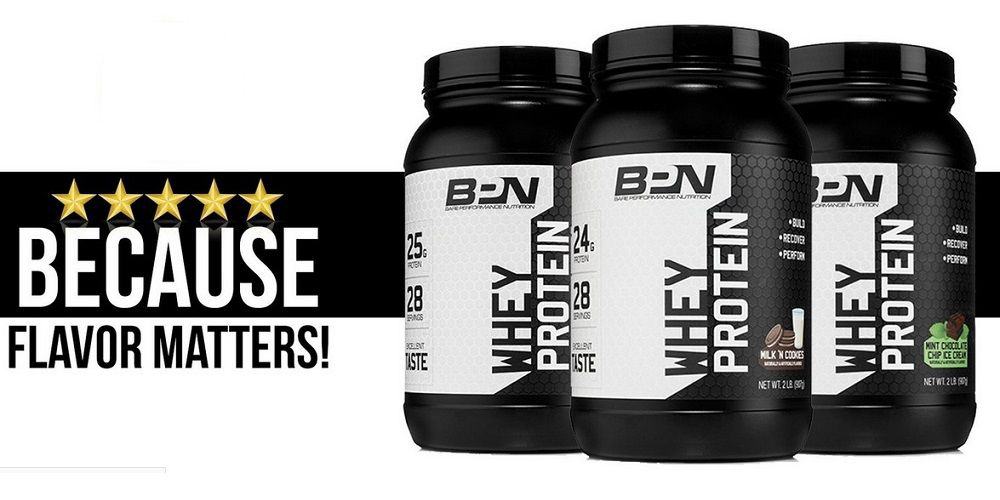 You get 28 servings in this one, which is a little disappointing since it won't even last a full month. However, it's only around $30.00, which is significantly less than some other options on the market. It probably won't break you, but it might be annoying to have to buy several tubs at once or go purchase them one at a time so frequently.
And in the 5-lb tub:
Fudge Chocolate
This one is listed as unavailable or out of stock everywhere at the time of this writing, so I'm not sure if it's coming back, getting an update of some kind, or gone for good.
If it sounds like the one you'd want, keep your eyes open for it when you're ready to purchase just in case it's back on the market.
This tub has 70 servings and wonderful reviews. I can't find a price for it since it's not available, though. My best guess is around $65.00, based on the price of the smaller tub.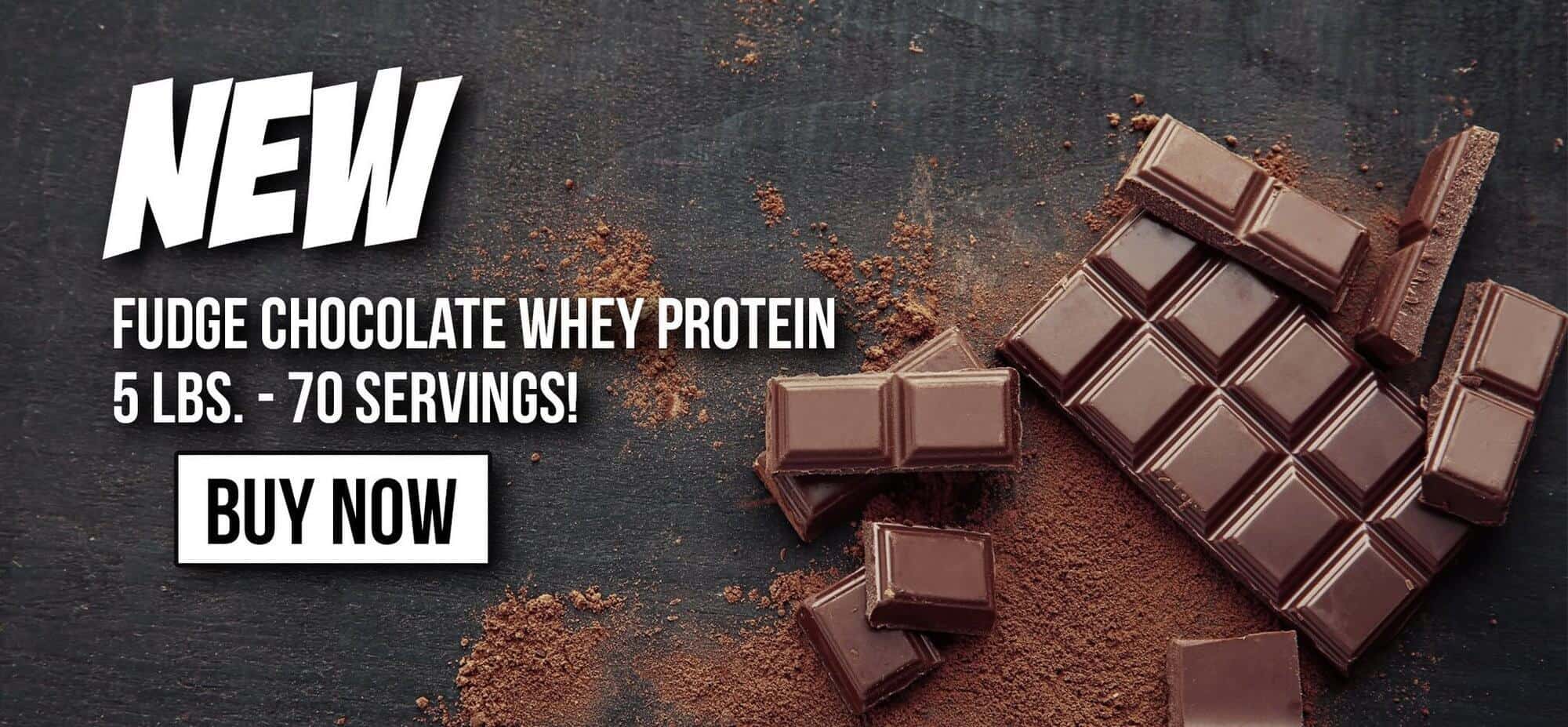 So what's in the whey protein?
Well, there's the protein blend, of course, which is made of whey protein concentrate and whey protein isolate. There is also a branch chain amino acid blend of L-Leucine, L-Isoleucine, and L-Valine. As you probably can expect from almost all protein powders, there are natural and artificial flavors. There's also papain, protease, and…unfortunately (in my opinion), sucralose.
I was gung-ho about the list of ingredients and ready to order a 5-lb tub as soon as it came back into stock until I saw that. I'm just not big on sucralose. It makes me feel terrible and I'm not convinced it's not at least a contributing factor in certain diseases.
By the way, papain is an enzyme from unripe papaya that helps break down protein. Protease is another enzyme that helps break down proteins and peptides. Not much to worry about there, as far as I can tell.
That judgment's totally based on a handful of articles I've read and how it makes me feel personally. Some people love it and have no trouble, so if that's you, you'll probably adore this product. The rest of the list looks great. It's short and not full of things to look up. The natural and artificial flavorings may give some people pause, but as I said, those kinds come with the territory of protein powders.
Vegan
If you don't care for banana-flavored things, the vegan option may not be the best for you. It only comes in a 2-lb (27-serving) tub of Chocolate Banana. It does have very good reviews, though, so if you don't mind banana or chocolate, this may seem heaven-sent to you.
The fact that only 27 servings come in this tub is a little more grating here because you'll be paying an extra $10.00 for the vegan formula and getting one less serving.
Where Does the Protein Come From?
I love being the bearer of good news and I get to be, in this case. This isn't soy-based, which can be troublesome for a lot of people. It's not brown rice protein, which had some arsenic drama around it years ago. Instead, the protein comes from:
Peas
Pumpkin seeds
Watermelon Seeds
My stomach doesn't tolerate pea protein well, but I think I'm in the minority (for the record, most whey protein can cause issues for me, too). I'd still like to try it out for at least a couple of weeks.
Why?
The sweeteners that are used in this one—monk fruit extract and agave inulin—seem to be more natural options than the sucralose in the whey formula. Why didn't they use those there, too? Not sure, but I wish they had. In my mind, monk fruit, agave inulin, and stevia are the three best options when you're avoiding actual sugar.
It's also:
Smooth and creamy, something a lot of vegan protein powders are not
Organic
GMO-free
Non-allergenic
Gluten-free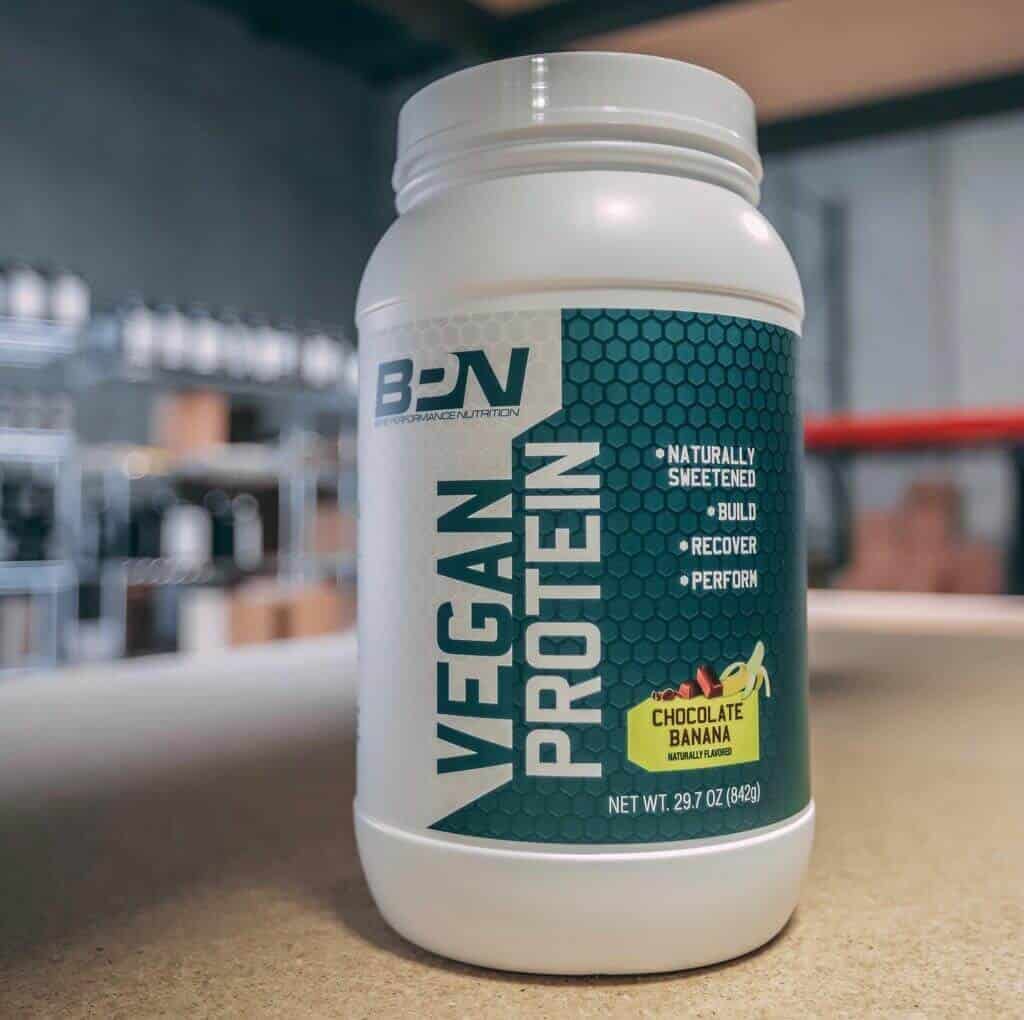 The vegan formula does have a longer list of ingredients, but they still look pretty clean for a protein powder. I'm a nutrition nerd and I'd be comfortable consuming this from that standpoint. So what else is in the vegan formula, besides the protein blend and monk fruit extract?
Alkalized cocoa powder
Clean Cream™, which is a mix of high oleic sunflower oil, tapioca starch-modified, tapioca dextrin, natural flavors, and D Alpha Tocopherols
Natural flavor
Guar gum
Salt
Guar gum can cause stomach discomfort in some people, but that's my only real concern when looking through this list.
Nutrition Profile
Let's assume you're trying to decide between the two formulas and don't have any moral or physical reason to choose one over the other. Here's how they compare:
| | | |
| --- | --- | --- |
| | Bare Performance Nutrition Whey Protein | Bare Performance Nutrition Vegan Protein |
| Calories | 130 | 110 |
| Fat | 2 g | 2 g |
| Saturated Fat | 1 g | .5 g |
| Cholesterol | 60 mg | 0 mg |
| Sodium | 105 mg | 435 mg |
| Potassium | 120 mg | Not listed |
| Total Carbohydrate | 3 g | 4 g (2 g dietary fiber) |
| Sugar | 3 g | < 1 g |
| Protein | 25 g | 20 g |
| Vitamin C | 2% DV | Not listed |
| Phosphorus | 10% DV | Not listed |
| Calcium | 8% DV | Not listed |
| Magnesium | 6% DV | Not listed |
From what's listed on the labels, these are pretty close and most people could go with either one. If the extra five grams of protein are important to you, go for the whey. If you're concerned by the higher sodium levels in the vegan formula, go with the whey.
Trying to cut calories wherever you can? Spare yourself 20 by going the vegan route. Same story with cholesterol, if you're concerned about that number.
The amounts of vitamin C, phosphorus, calcium, potassium, and magnesium are pretty minimal, so I wouldn't personally factor those in, but they're nice to have.
I can't say one is better than the other aside from what I said about the sweeteners. A side-by-side comparison shows them to be extremely similar and it comes down to personal preference and any digestive issues you might have.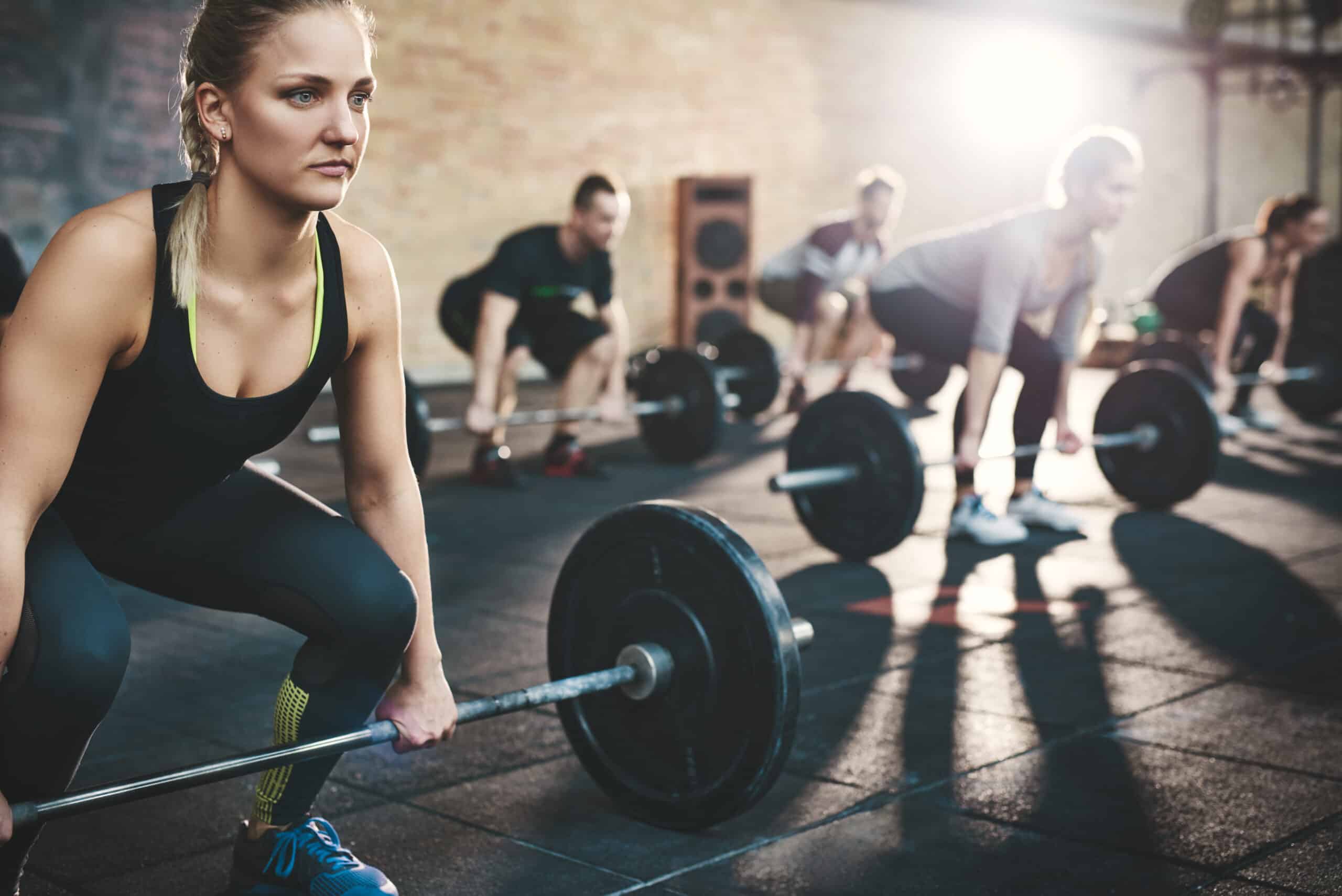 Pros and Cons
Overall, there are more serious pros than cons here. I can nitpick about tub sizes and flavors, but honestly, my overall Bare Performance Nutrition protein review says "WINNER!" when it comes down to quality.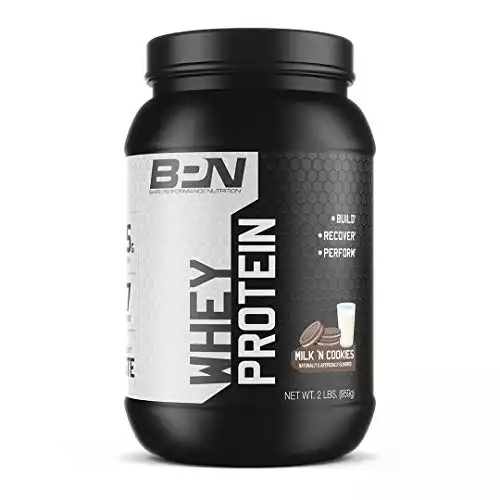 Pros
Not an unnecessarily bloated ingredients list, which means there's less of a chance it'll leave you feeling the same (as in, bloated)
There's a lot of protein per scoop compared to other brands—25 in the whey and 20 in the vegan
There's not a tremendous gap between the total number of grams per serving and the number of grams of protein, which suggests quality—you're getting your money's worth
There are several brands that price their products higher
Though there isn't a huge selection, a lot of the flavors Bare Nutrition Performance offers sound delicious
Cons
You don't get a full month's worth of product in a tub
You could probably find less expensive options
Sucralose in the whey formula (only a con if you can't or don't want to tolerate sucralose)
May no longer be available in the 5-lb tubs
I found the flavor selection lacking, personally, but this won't matter to everyone
Other Options to Consider
Bare Performance Nutrition protein is hard to beat, but here are a few to look at before deciding on one:
Sun Warrior: It comes in three versions and each one is available in at least three flavors (chocolate, vanilla, and natural). These are vegan, gluten-free, soy-free, and organic.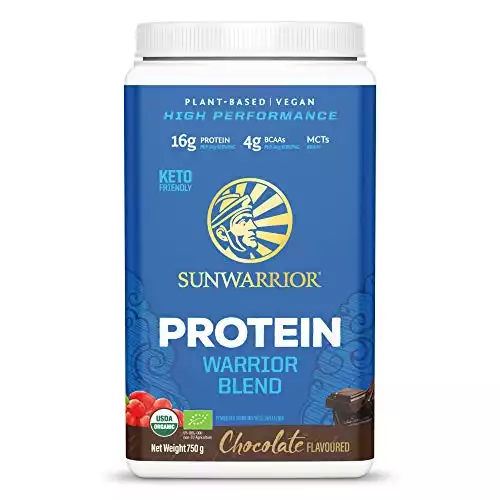 Warrior Blend Organic | Sunwarrior
Contains electrolytes to keep your body fit and functioning at a peak performance; Promotes lean muscle growth, a boost in metabolic rates, and optimum recovery of your body all in one organic protein powder.
Check Price
Buy at Amazon.com
We earn a commission if you click this link and make a purchase at no additional cost to you.
Optimum Nutrition 100% Whey Gold Standard: This one uses another less-than-ideal sweetener, in my opinion (acesulfame potassium) but the rest of the ingredients don't look any worse than the ones in Bare Performance Nutrition's whey products. It comes in lots of flavors, more than one size tub, and has 24 grams of protein per scoop.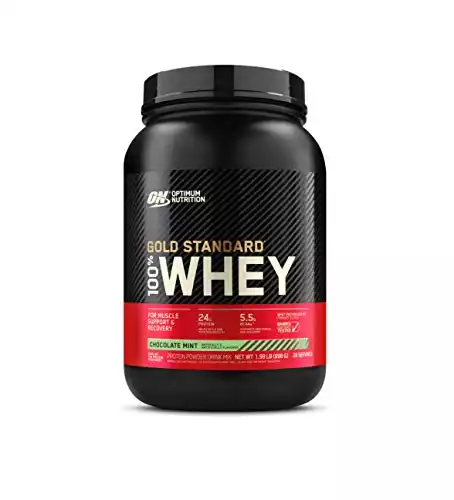 Optimum Nutrition Gold Standard Whey Protein Powder | Amazon
Combined with ultra-filtered whey protein concentrate, each serving provides 24 grams of all-whey protein and 5.5 grams of naturally occurring Branched Chain Amino Acids (BCAAs) which are prized by athletes for their muscle building qualities.
Buy at Amazon.com
We earn a commission if you click this link and make a purchase at no additional cost to you.
05/01/2023 12:10 am GMT
Recommended Reads: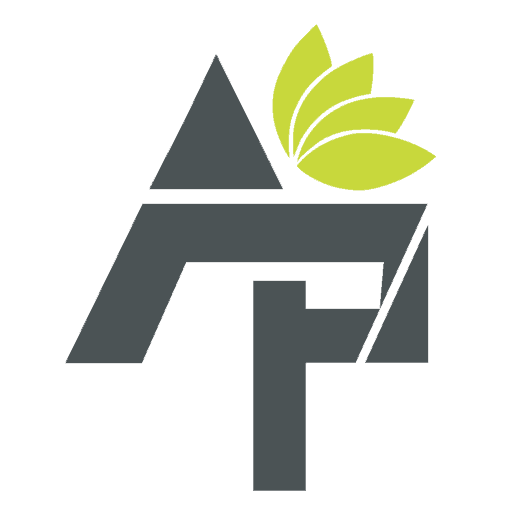 Alt Protein Team is a team of professionals and enthusiasts committed to bringing you the most up-to-date information on alternative protein, health and wellness, workouts, and all things health-related. We've reviewed a lot of products and services so you don't have to guess when you spend your hard-earned money on them. Whether you want to shed some pounds, build lean muscle or bulk, we can help you figure out what you need to do and what you need to have to achieve your goals.