FTC Note: Alt Protein may be compensated through the links in the post below, but the opinions are our own.
Looking for a good veggie-based source of protein? Most vegetarians and vegans will not consume whey, casein, or egg protein thanks to the fact that they come from animal proteins. Soy protein is one good vegetarian/vegan alternative, but many people prefer to avoid soy thanks to the fact that it contains phytoestrogens that may cause health problems.
For vegetarians and vegans, pea protein is an excellent option to consider. It offers a lot of benefits, contains a good balance of amino acids (amino acid profile), and is easy on your digestion. Naked Pea Protein Isolate offers an excellent natural source of plant-based protein for your weight loss/muscle-building diet.
About Naked Pea Protein Isolate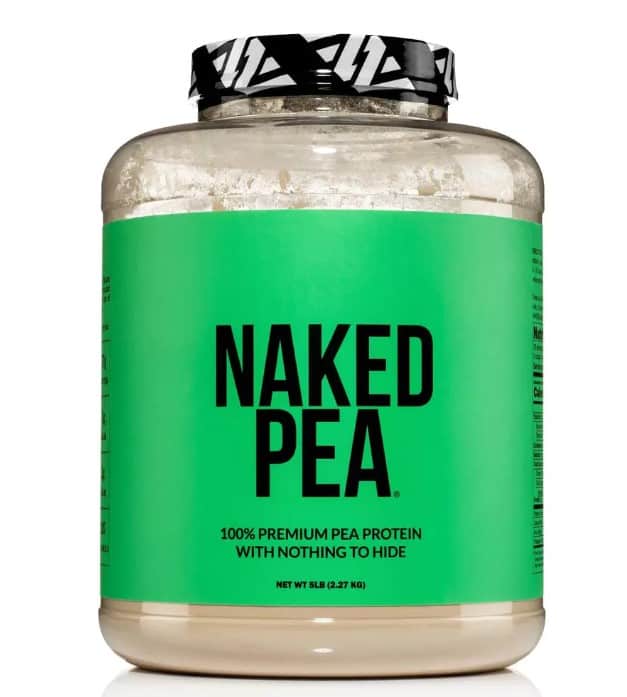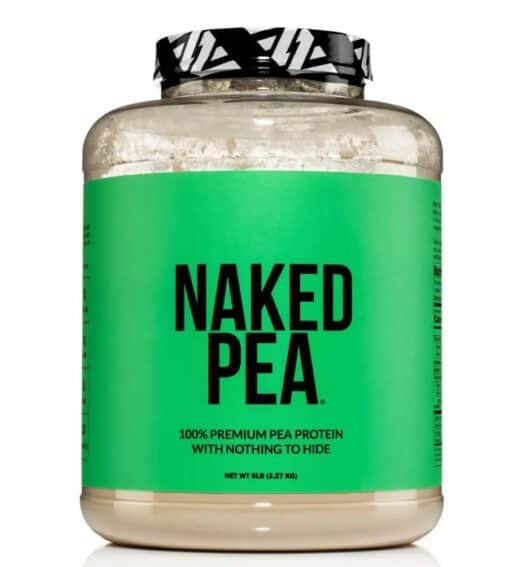 Naked Pea is a protein isolate, which means it is a concentrated form of pea protein. Protein isolates are usually more processed than protein concentrates. This means there is a higher risk of added ingredients or fillers. With Naked Pea, however, there is only one ingredient: Yellow Pea Protein. The powder is made exclusively from raw yellow peas that have been grown on environmentally-conscious farms in Canada and the United States.
It's a 100% dairy-free, gluten-free, and soy-free product, one that delivers a solid 27 grams of protein per serving (protein content). This includes all 9 amino acids essential for muscle growth. You even get 5.7 grams of Branched Chain Amino Acids (BCAAs), ensuring effective post-workout muscle repair with every serving.
Key Nutritional Features of Naked Pea Protein Powder
2 grams of carbs/sugar per serving
Calories per serving: 120
100% natural; non-GMO, gluten-free, soy-free, growth hormone-free
No artificial sweeteners, colorings, or flavorings added
Made in North America
Vegan/vegetarian-friendly
Grown using environmentally-friendly farming practices
Price: $54.99 for 5 pounds/Price-per-pound: $11
Ideal for Pre/Post-workout smoothie
Nake Pea Protein Supplement Specifications
The beauty of Naked Pea is that it's 100% natural and contains just one ingredient: raw yellow peas. There are no chemical or artificial ingredients in the mixture. The fact that it's pea protein isolate means that it delivers a hefty dose of amino acids, providing your body the protein it needs to fuel your muscles and make repairs after exercise.
Naked Pea is designed to be both vegan and vegetarian-friendly, meaning it is produced without any risk of contact or cross-contamination with animal products. It was also produced on eco-friendly farms, making it a "green" product through and through. Peas are wonderfully easy to digest, and this pea protein is designed to be as gut-friendly as possible. There are no sweeteners, chemicals, or flavorings in the protein, ensuring a natural flavor.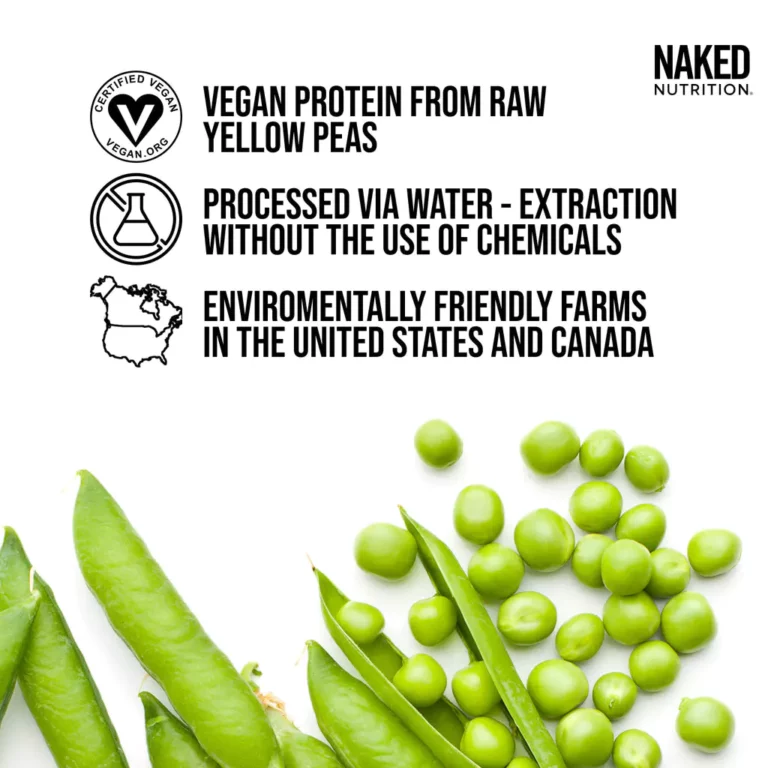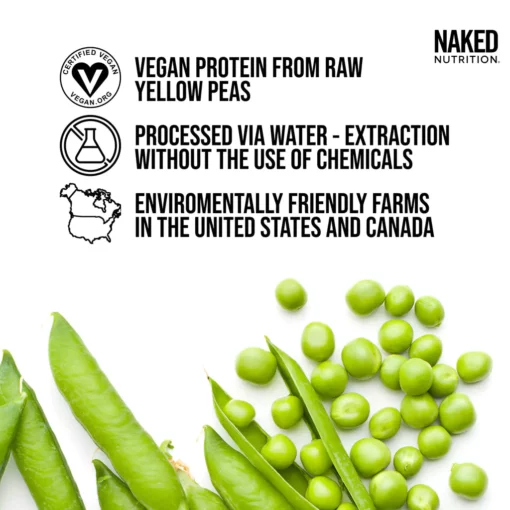 Pros of Naked Pea Protein Isolate
Here are a few of the good things users have had to say about Naked Pea Protein Isolate:
Decent flavor — If you're expecting a very "pea-heavy" flavor, you'll be delighted to find that is not the case with Naked Pea. There is a lot of "green" in the taste, but it has the natural subtle sweetness of peas. It blends beautifully with green smoothies and fruit shakes, though it's not as good when added to water. It makes your juices creamy and thick–perfect for a hunger-busting post-workout snack.
Vegan-friendly –– For vegetarians and vegans looking to add protein to their diet, this is one of the best products to consider. It is 100% vegan, and it has no unnatural ingredients added. It's a wonderful addition to your healthy, natural lifestyle and diet.
High-quality protein –– Many reviewers have called Naked Pea the "best quality pea protein on the market". There are a number of competing products, none of which have as many positive reviews or as high a ranking as Naked Pea. The product not only delivers 100% natural pea protein, but it provides more protein per serving (and BCAAs per serving) than its competitors.
Easy to digest –– Many proteins (such as whey and casein protein) have been known to cause digestive upset. However, with Naked Pea Protein Isolate, there is little to no risk of stomach problems or indigestion. Consuming this protein powder is like eating a hefty dose of peas, which are natural and fairly easy on the digestive system.
Cons of Naked Pea Protein Powder
As with any product, there are a few negative things people had to say about Naked Pea Protein Isolate:
Packaged in China — This is a bit odd for a product that claims to be "Made in North America". Products are often made or packaged overseas due to lower labor and material costs, but there is also less supervision and thus a higher risk of quality control issues. It doesn't mean Naked Pea is a bad product–it's just something to be aware of before buying.
Bland — Unlike many other protein powders, Naked Pea is made to be as simple as possible. Aside from the "green" flavor, there is little else to taste in the supplement. If you drink it alone with water, it will taste bland. Mix it with juice, green smoothies, or vegetarian milk (almond, soy, etc.) to make it more portable.
Iffy consistency — Unlike whey or casein protein, this pea protein doesn't mix as well. If you just use a shaker bottle, the pea protein will form clumps in your juice or water. You have to drink it quickly in order to stop the protein from separating and settling to the bottom, or else keep shaking it before each drink. If blended, it creates a lot of unnecessary froth, making it hard to fit in smaller bottles.
Chalky texture –– A number of reviews have called the protein powder "chalky" in texture when mixed with water. It's the downside of an all-natural protein powder that doesn't have extra added ingredients to make it easier to mix.
Other Options to Consider
If you think Naked Pea might not be the protein powder for you, here are a few other vegan/vegetarian options (plant-based protein) to consider:
Source Naturals Pea Protein Power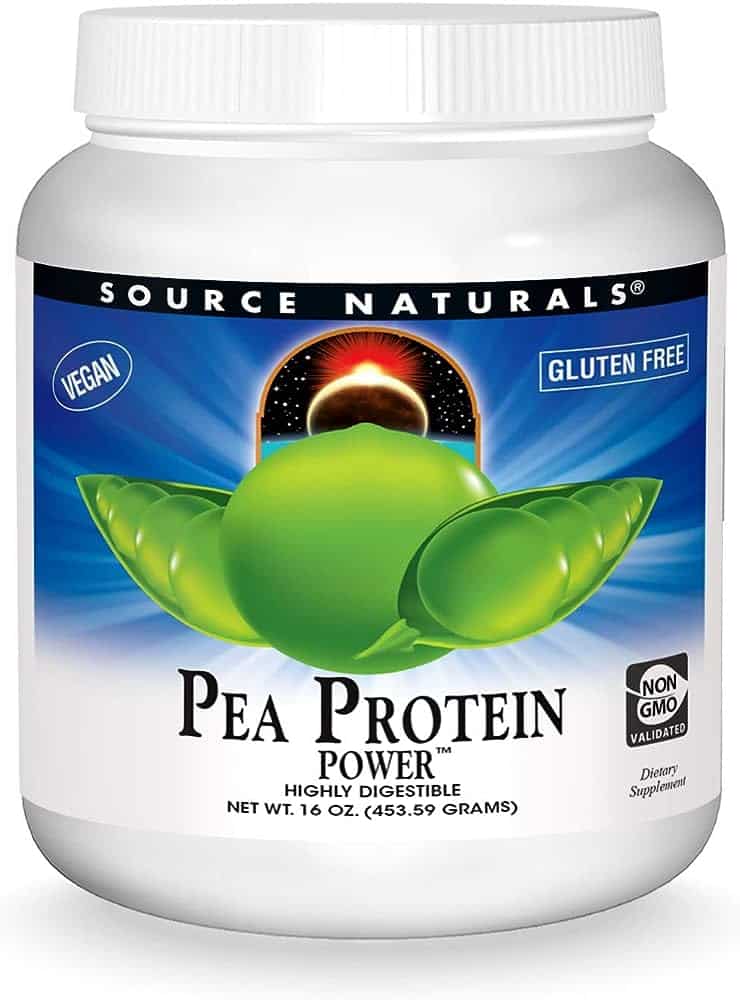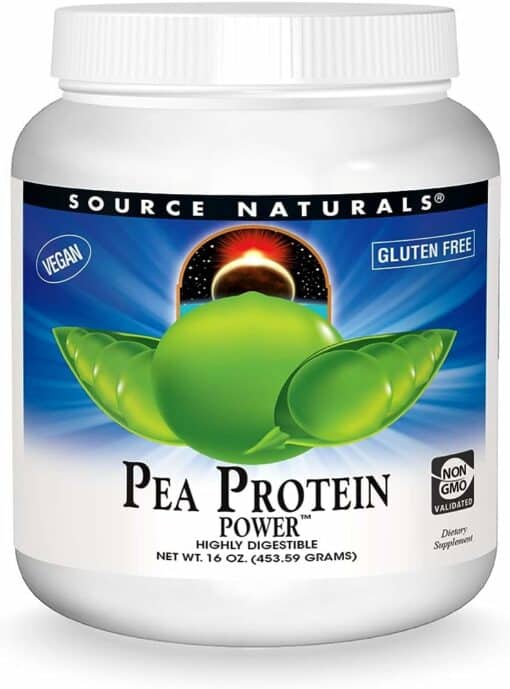 It's a cheaper alternative to Naked Pea. It contains all nine essential amino acids as well, though in smaller quantities than Naked Pea. You don't get the same nutritional value per serving. It's another non-GMO, gluten-free, cholesterol-free, hypoallergenic vegan protein worth trying. For the full scoop on Pea Protein vs Whey Protein, check out my full comparison.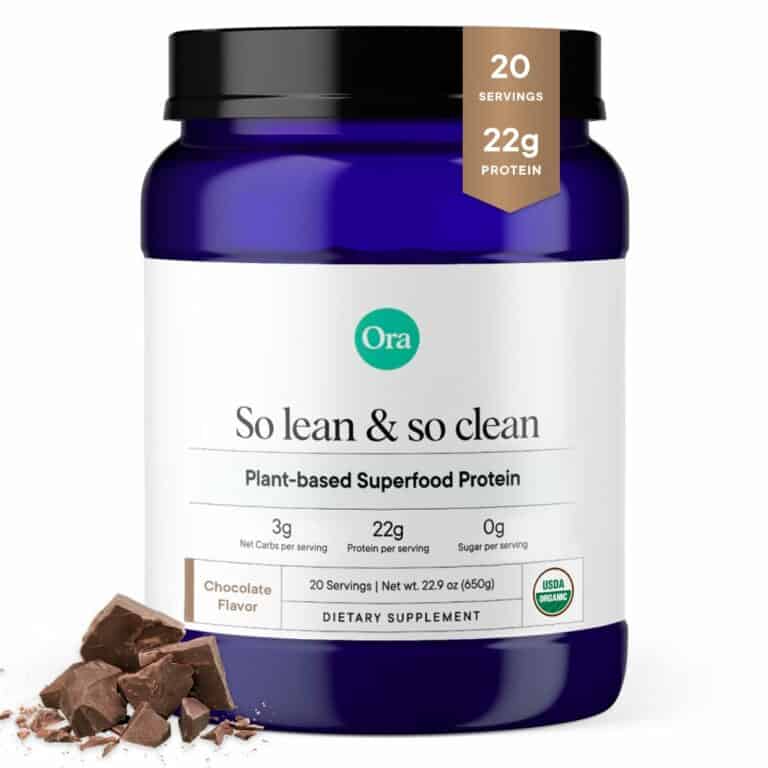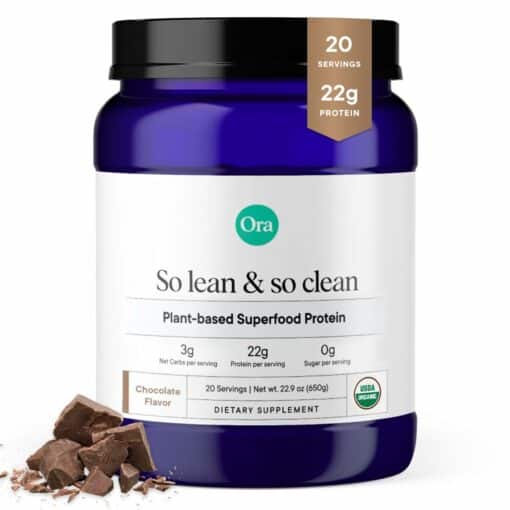 This is another vegan protein powder derived from all-natural sources (such as Acai, hemp, flax, pea, quinoa, and rice). It only contains 19 grams of protein per serving, and it's a bit higher in sugar than Naked Pea. However, the delicious Vanilla Chai flavor makes it a much more popular option for those who like added flavor in their soy or almond milk smoothies. It's a diet-friendly protein worth the try. For more details on Ora USDA Organic Protein Powder!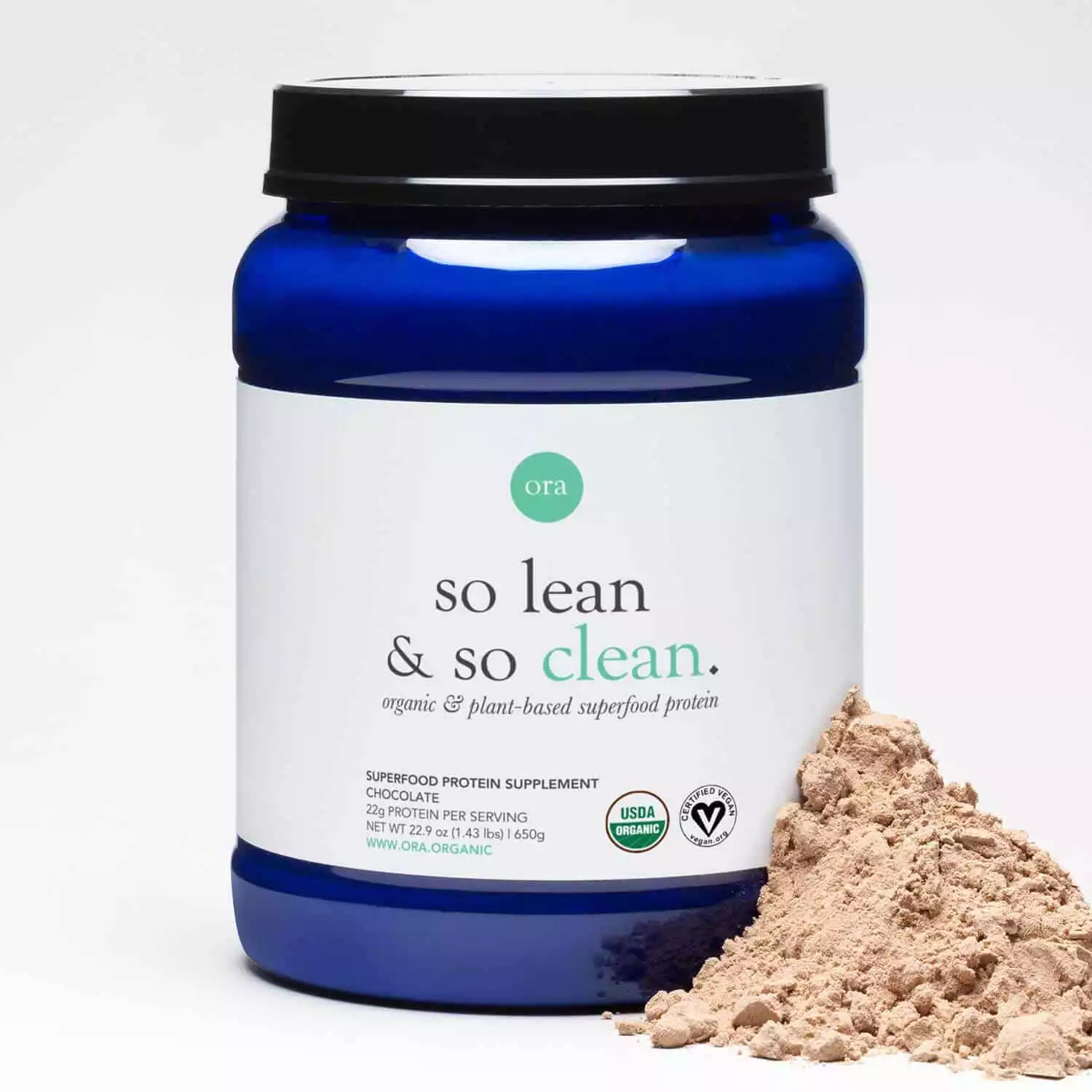 Take 10% Off Ora Organic
Ora Organic has generously offered our readers 10% off their order used promo code ALTPROTEIN at checkout!
Save 10% Here
We earn a commission if you click this link and make a purchase at no additional cost to you.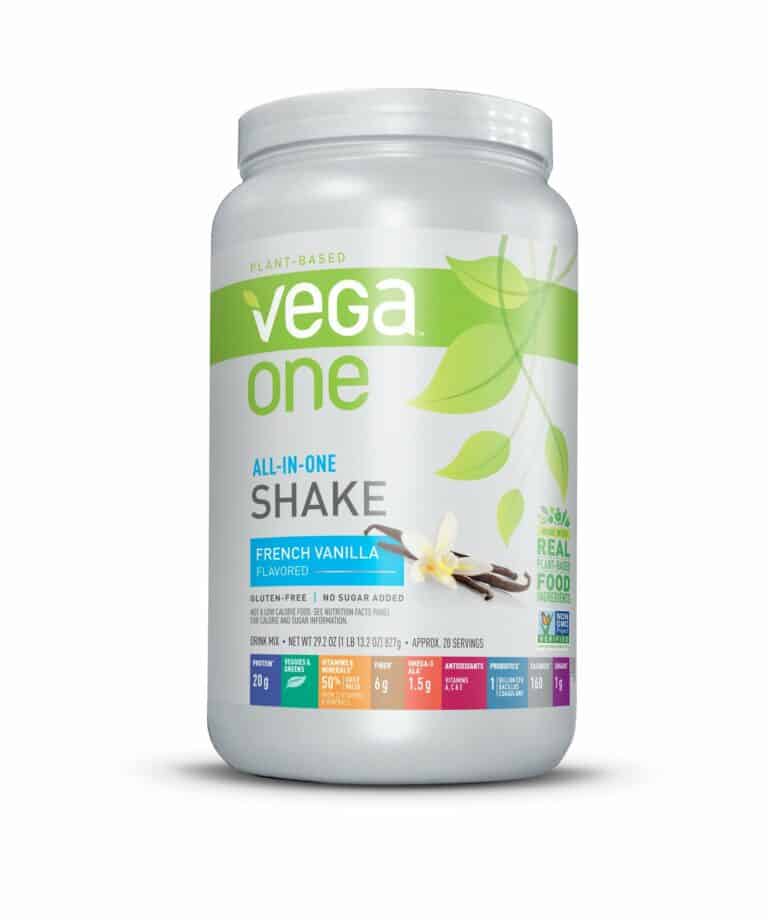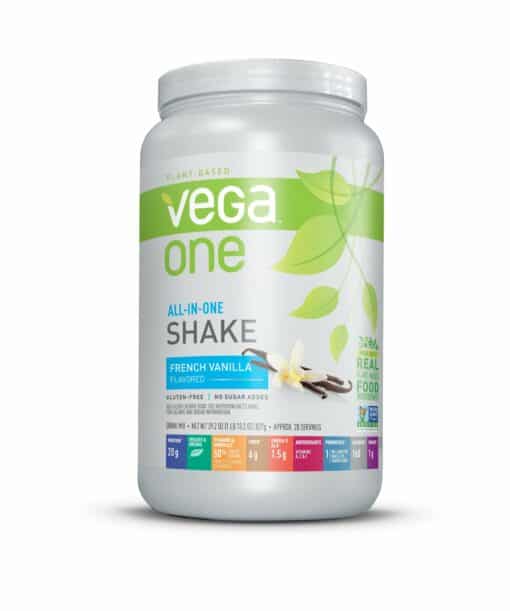 This is more of a meal replacement product than pure protein powder. In addition to 20 grams of plant-based protein, the powder also delivers the equivalent of 6 servings of fruits and veggies–more than 50% of your daily nutritional needs. It comes in a wide range of delicious flavors and is vegan-certified, non-GMO, and gluten-free. Definitely an option worth considering! You can check out my full Vega One All in One Nutritional Shake review!
Editor's Choice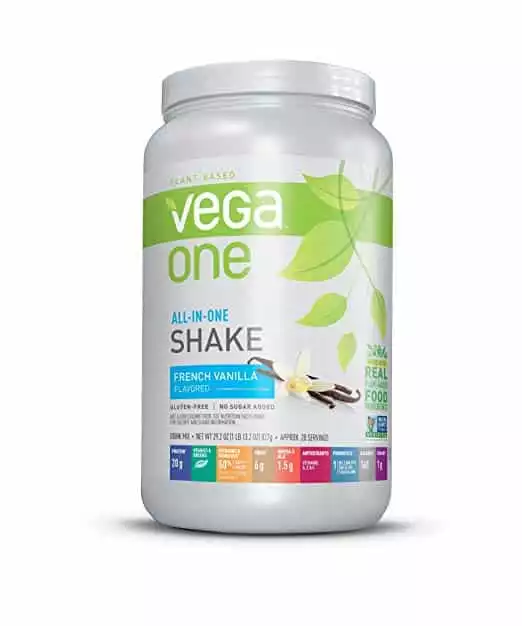 Why I Chose Vega
There's a lot of hype about certain brands, particularly in the multi-level marketing space. Vega is actually a GREAT alternative (with top of the line ORGANIC ingredients), BUT sells at a much lower price point. Check it out!
Check MyVega.com Price
Check Amazon Price
We earn a commission if you click this link and make a purchase at no additional cost to you.
Naked Pea Protein Review: The Final Scoop
If you're looking to go all-natural, this is an excellent plant based protein powder to consider. It contains just ONE ingredient, meaning it's as safe and healthy as possible. Though it's a bit pricey, it's definitely worth trying to obtain vegan-friendly protein.
Remember: You can check out the latest deals and prices on Naked Nutrition here.
Recommended Reads on Other Protein Source Supplements: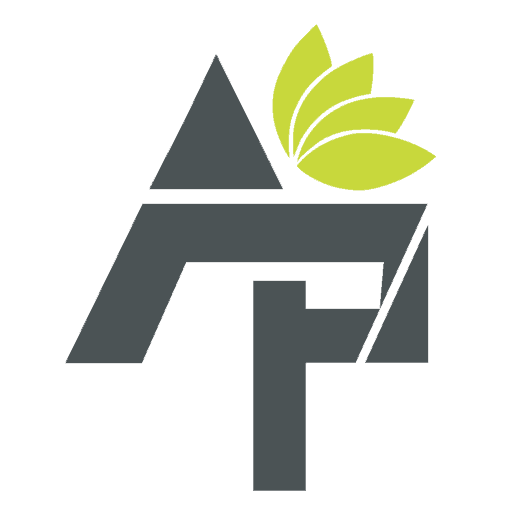 Alt Protein Team is a team of professionals and enthusiasts committed to bringing you the most up-to-date information on alternative protein, health and wellness, workouts, and all things health-related. We've reviewed a lot of products and services so you don't have to guess when you spend your hard-earned money on them. Whether you want to shed some pounds, build lean muscle or bulk, we can help you figure out what you need to do and what you need to have to achieve your goals.