Eating healthy doesn't have to taste awful. Plant-based protein doesn't either. There are great tasting vegan protein powders out there, you just have to know where to look — starting here!
With the vast majority of protein powders containing animal by-products, it can be difficult for vegans to find a plant-based protein powder that provides the protein power they need to achieve their goals. A vegan diet can be tricky enough, let alone trying to track down supplements that align with that lifestyle.
Bottom Line Up Front: Vegan supplements aren't always known for tasting great… BUT my favorite tasting vegan powder is Vega One available here. It's by far the least gritty and best tasting one I've tried.
Of course, continue reading for the full take…
Thankfully more and more companies are stepping up to the challenge of creating high-protein powders that use only natural plant sources. There is an unfortunate stereotype that vegetarian and vegan protein powders are bitter, gritty and even gross tasting.
While some products certainly don't taste good, don't let one bad experience put you off. As more and more people look into organic diets and a reduction in animal food products, supplement companies are coming out with new vegan-friendly options all the time.
Delicious vegan protein powders that work do exist– and here are the top 3 best-tasting ones you can find.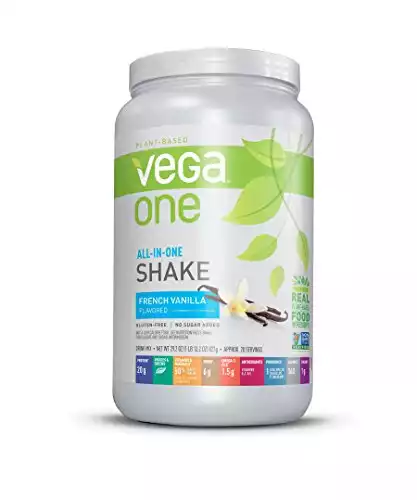 If you're a vegan that wants to support a company that only focuses on products for your lifestyle, Vega is an excellent choice. Vega makes only 100% vegan-friendly nutritional supplements that are "clean". Read our whole list of 7 best tasting vegan protein powders for 2018.
This means all of their powders are gluten-free, non-gmo and contain no artificial ingredients or additives. When it comes to getting your required protein intake, their Vegan One Nutritional Shake is everything you could want in terms of nutrition and taste.
Details
Available in Chocolate, Berry, Natural, Vanilla Chai, French Vanilla, Coconut Almond and Mocha
Sold in bulk containers or in packets
Total nutrition means this can be a meal replacement
Nearly 70% of ingredients grown right in the US, Europe, and Japan
All flavors except for chocolate and mocha are caffeine-free
Aids in weight loss when combined with proper diet and exercise
Basic Nutritional facts for 1 serving
Calories: 160
Total Fat: 6g
Total Carbs: 13g
Sugar: less than 1g
Protein: 20g
Editor's Choice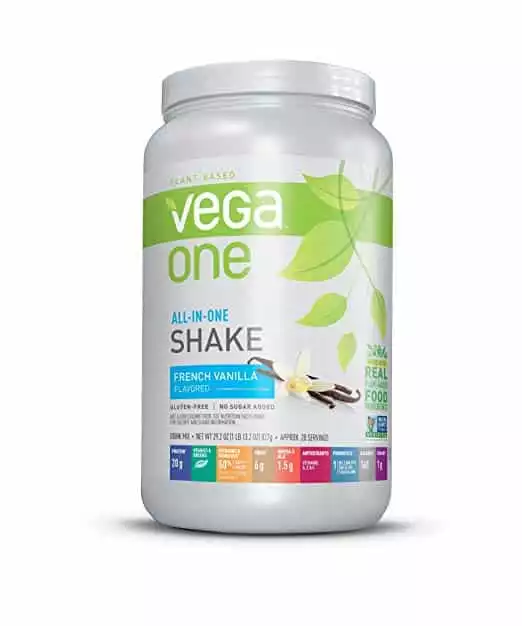 Why I Chose Vega
There's a lot of hype about certain brands, particularly in the multi-level marketing space. Vega is actually a GREAT alternative (with top of the line ORGANIC ingredients), BUT sells at a much lower price point. Check it out!
Check MyVega.com Price
Check Amazon Price
We earn a commission if you click this link and make a purchase at no additional cost to you.
The Vega One Nutritional Shake is much more than a protein powder, but rather a complete powdered supplement for overall health. I've always endorsed this amazing product, check out my past reviews and comparisons. Aside from a healthy serving of 20 grams of protein, this powder is filled with various vitamins and minerals, antioxidants and probiotics.
Due to its high plant protein content the Vega One powder is 25% fiber. There are 1.5 grams of Omega-3s fatty acids and a 1 billion CFU probiotic blend. This powder is also a rich source of antioxidants- primarily A, C , and E.
If you're accustomed to normal whey protein powders, you might be surprised at how vividly green the Vega One plant-based protein powder is. This is because they used a mix of broccoli, kale, spirulina and Vega's own chlorella as protein sources.
Many fans find that this powder does have a slight "green" taste but isn't overwhelming in flavor like many other brands. The spirulina and chlorella content is greatly beneficial, as both of these are considered superfoods. Thanks to these two algae, one serving of Vega one gives 20% of your daily calcium needs
as well.
#2 Garden of Life Raw Organic Protein Powder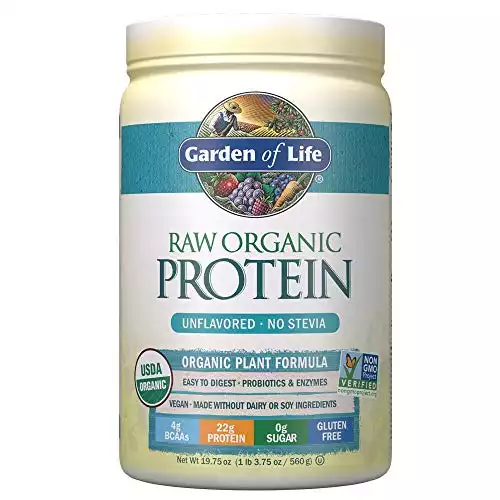 Garden of Life Raw Organic Protein Powder | Amazon
22 grams of complete, sugar free plant protein from USA-grown peas and 13 RAW organic sprouts. Help your muscles recover with a clean nutritional shake and get back in the gym faster.
Buy at Amazon.com
We earn a commission if you click this link and make a purchase at no additional cost to you.
04/30/2023 11:45 pm GMT
Garden of Life is all about natural products, so it's hardly a surprise that one of their protein powders made the list. Their Raw Organic Protein Powder is a fan-favorite and popular since it uses raw sprouts as a protein source.
The taste is quite good, and it gives noticeable results when consumed as recommended regularly. Check out my full Garden of Life Raw Organic Protein Powder review for even more info.
Details
Available in Chocolate Cacao, Vanilla, Vanilla Spiced Chai and Unflavored
Sold in 20 to 23.4oz containers, depending on flavor
Offers 22 grams of protein from 13 types of raw sprouts
8 grams of BCAAs in each scoop
Loaded with vitamins A, D, E and K
Contains live probiotics and digestive enzymes
Certified USDA Organic, Vegan, and Gluten-free
Contains no fillers or additives
Gentle on the stomach
Basic Nutritional facts for 1 serving (Chocolate Cacao)
Calories: 130
Total Fat: 2.5g
Total Carbs: 5g
Sugar: 0g
Protein: 22g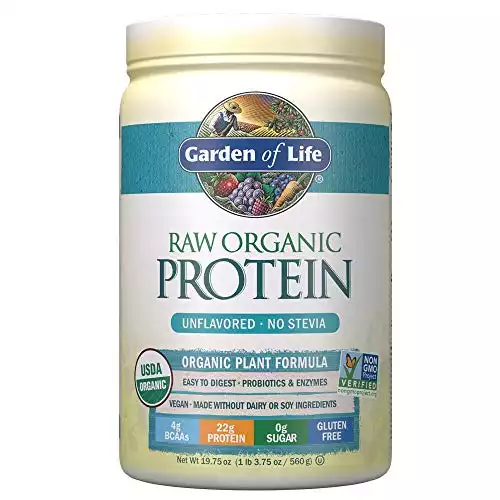 Garden of Life Raw Organic Protein Powder | Amazon
22 grams of complete, sugar free plant protein from USA-grown peas and 13 RAW organic sprouts. Help your muscles recover with a clean nutritional shake and get back in the gym faster.
Buy at Amazon.com
We earn a commission if you click this link and make a purchase at no additional cost to you.
04/30/2023 11:45 pm GMT
While all three flavors of Raw Organic Protein are delicious (save for the unflavored option), the Chocolate Cacao is the most popular. This flavor is rich, not too sweet or too grainy in texture. Overall it's very natural tasting and sweetened with a very small amount of organic stevia. It mixes well into smoothies or in a shaker with water or almond milk.
This powder is 100% certified organic and utilizes non-GMO sprouts as its protein source. With a combination of 13 different types, you'll be getting your protein from a variety of sources vs. one single protein source. This variety of sprouts means you are getting different vitamins and minerals in one powder. Raw Organic Protein also has probiotics for digestion and a healthy serving of essential amino acids.
#3 S.A.N Rawfusion Plant Based Protein Supplement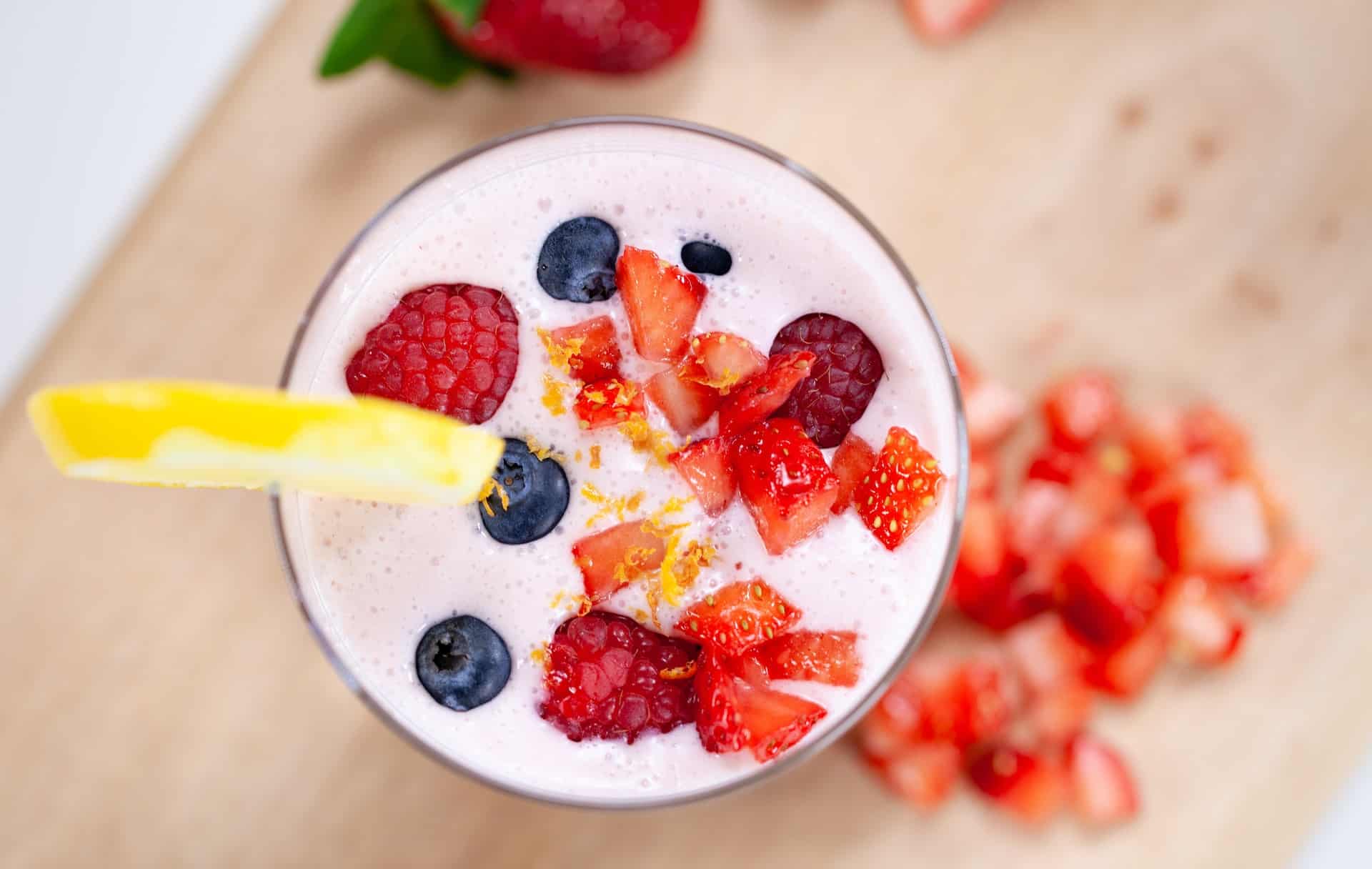 S.A.N Nutrition Corp has been providing top quality supplements for athletes and fitness fiends since 1996. While the majority of their protein line consists of traditional whey and other popular non-vegan sources, they now have a 100% plant-based product on the market.
Their Rawfusion powder has received quite a lot of attention, even from non-vegans who were already fans of this brand and wanted to experiment with plant protein.
Details
Available in Banana Nut, Chocolate Strawberry, Natural Chocolate, Peanut Chocolate Fudge and Vanilla Bean
100% dairy-, soy-, allergy- and animal-free
Completely raw vegan powder formula
Excellent taste and mixability
Designed for overall muscle maintenance
Made of 80% protein
Low glycemic and cholesterol-free
Made of 3 different raw plant protein sources
Basic Nutritional Facts for 1 serving
Calories: 116
Total Fat: 7g
Total Carbs: 5g
Sugar: 1g
Protein: 21g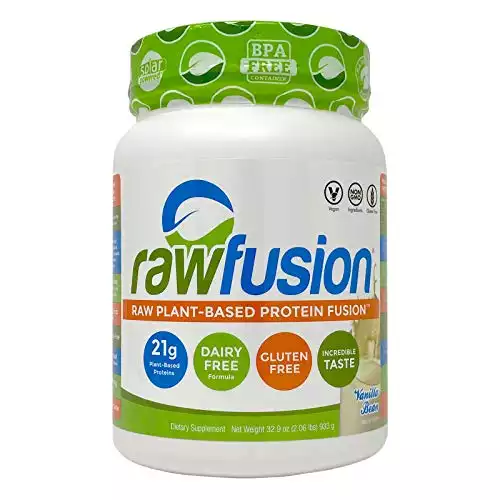 SAN Nutrition RawFusion Plant Protein Powder | Amazon
RawFusion is a delicious raw plant protein supplement that rivals the protein quality and content of other protein powders. High in animal-free protein and premium ingredients, it's a new generation of plant protein without any sacrifices.
Buy at Amazon.com
We earn a commission if you click this link and make a purchase at no additional cost to you.
04/30/2023 12:15 pm GMT
S.A.N spent a year researching and developing their vegan protein powder Rawfusion. This is hugely popular protein powder in the vegan community and is consistently praised for its amazing flavor. This powder is completely non-GMO, organic and free of major dietary allergens. With 21 grams of protein, it is right on par with other powders. S.A.N used their style of bio-fermentation in Rawfusion.
This powder is made up of 3 different plant proteins – pea protein, sprouted brown rice, and concentrated artichoke protein. Added in is an EFA-rich sunflower oil to round it all out. Amazingly enough, this powder contains a whopping 4.5 grams of BCAAs in each scoop, which is impressive for a vegan powder, and higher than many popular whey proteins. Even those who aren't vegan should consider using this powder.
#4. AlkaMind Organic Daily Protein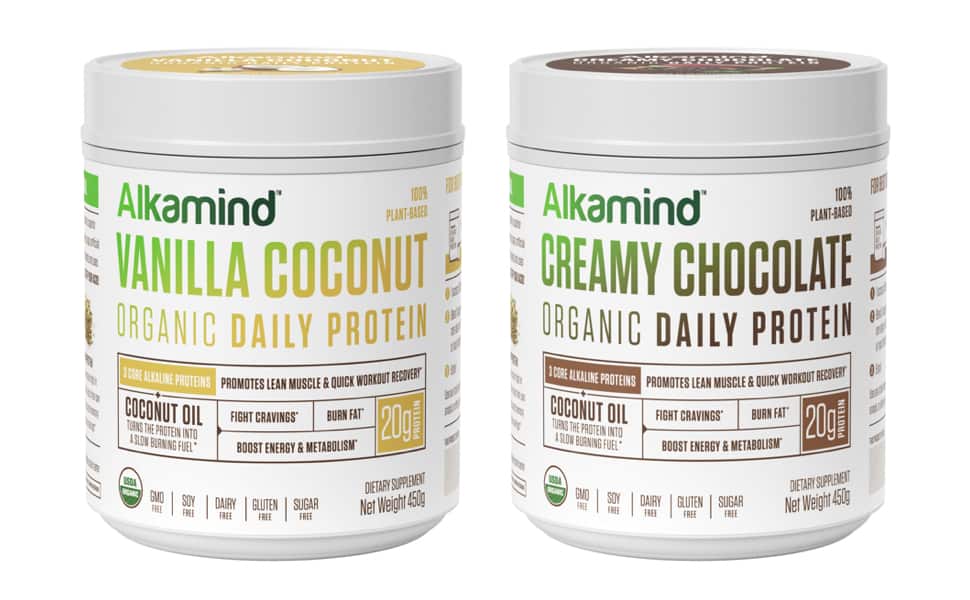 This powder comes in two available flavors: creamy chocolate and vanilla coconut. It has a great taste and it can be used as a healthy in-between-meals snack, a full meal replacement, or after an intense workout. Furthermore, it speeds up muscle recovery and helps build muscle mass.
Ingredients
Alkamind is rich in natural organic ingredients:
Vegetable protein blend – pea protein, hemp protein, Sacha protein;
Seed and sprout blend – chia seeds, flax seeds, millet sprout, quinoa sprout, and amaranth sprout;
Coconut oil powder – 900 mg per one serving; helps nutrients absorption;
Additional ingredients – certified organic guar gum, natural coconut flavor, lo han berry extract, natural vanilla flavor.
Price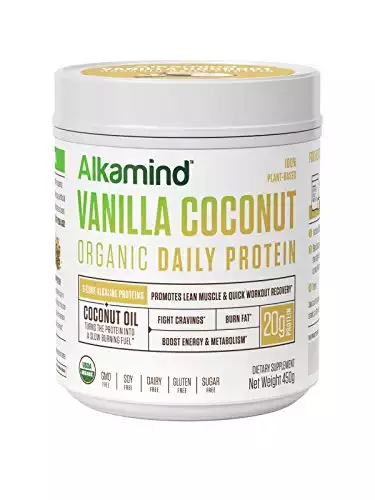 A tub of AlkaMind that has 450 grams costs $34.99 on Amazon. This container offers 15 servings (check here for the latest price).
Bottom Line of AlkaMind Organic Daily Protein
One serving of the AlkaMind protein powder provides 18 grams of protein. It boosts your energy as well as your metabolism. Moreover, this product is said to lower cravings. It is a certified vegan product that contains coconut oil and three main alkaline proteins. You can easily mix it plain water, coconut or almond milk, or even add it to your favorite smoothie.
#5. MRM Veggie Protein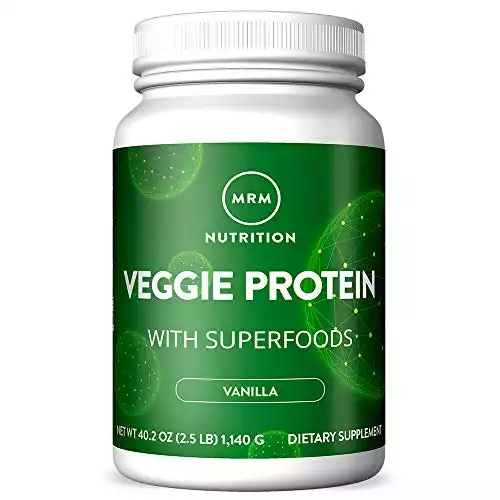 MRM Veggie Protein is a supplement powder that doesn't contain any artificial sweeteners or flavors and it is a gluten-free product. This fruit-vegetarian blend mixes well and many consumers say it has a pleasant sweet hint of vanilla. Due to these aspects as well as many other advantages, MRM is a great whey protein powder alternative.
Ingredients
This powder has a full amino acid profile combined with a complete digestive enzymes blend and a high content of antioxidants. All these ingredients lower gas and bloating discomfort and are easy to digest. Some of the main elements of this powder are:
Omega 6, Omega 3, and Omega 9;
Muscle synthesis nutrients such as arginine and beta-alanine;
Raspberry powder;
Grape skin extract;
Spinach powder;
Cranberry powder; etc.
Other additional ingredients are organic brown rice, flax seed powder, stevia, natural chocolate flavor, and salt.
Price
There are two flavors of MRM Veggie Protein available on the market: vanilla bean and chocolate mocha. Each of them comes in two quantity options: 1.6 pounds and 2.04 pounds. So, the price may vary depending on the provider and the quantity you choose to purchase.
It usually ranges between 11.40 and 12.00 dollars per pound. So, a container of 30 servings costs around 28-29 dollars (check here for the latest price).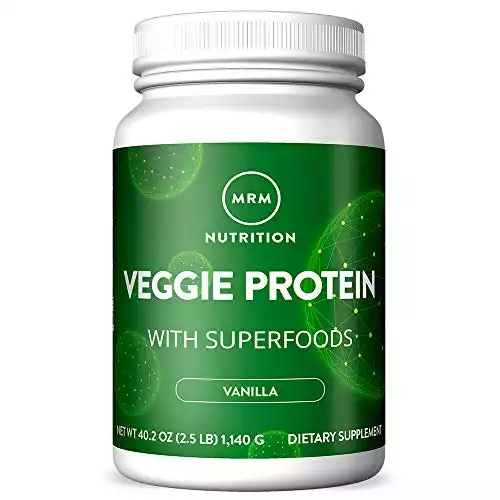 Bottom Line of MRM Veggie Protein
One scoop of MRM which is approximately 38 grams contains 130 calories and 22 grams of protein. This is a very good and effective green powder that can be easily mixed with filtered water or transformed into a smoothie. It promotes a healthy and controlled weight management.
#6. Orgain Organic Protein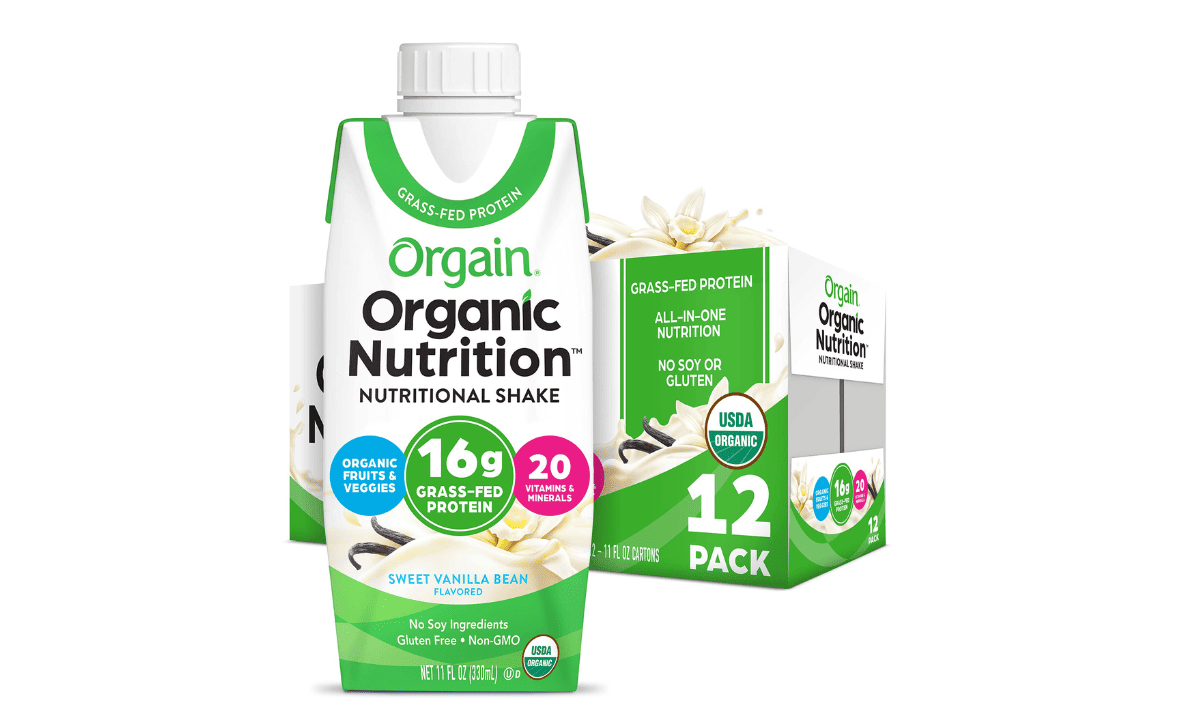 When it comes to your workout preferences and needs, this brand takes an organic and natural approach. If you are a vegan who is looking for an effective protein intake you can definitely give this product a try.
Orgain is a vegan supplement with a nice taste and a full amino acid profile. Its 21 grams of plant-based protein support muscle recovery and growth.
Ingredients
Orgain comes with two main categories of ingredients: a protein blend and a complete BCAA amino acid profile.
a. Protein Blend
This category of ingredients comprises organic brown rice, organic pea, organic hemp protein, and organic chia seed. Taking this mix after an intense workout will help you benefit from these plant-based protein sources which will lead to optimal muscle recovery and growth.
b. BCAA Profile
This blend makes you feel stronger, more energized and helps boost your endurance. Moreover, it increases muscle mass and speeds up muscle recovery time.
Besides these two main types of ingredients, you will also find additional elements such as the following ones:
Fiber blend (coconut flower nectar, pea fiber, quinoa, etc.);
Adaptogen herb blend (maca root, Reishi mushroom, Ginkgo Biloba leaf, etc.);
Antioxidant blend (pomegranate, Goji berry, blueberry, green tea, etc.);
Fruit powder blend (apple pectin, strawberry, pineapple, banana, papaya;
Probiotic and prebiotic blend (Lactobacillus sporogenes);
Super Greens blend (spirulina, spinach, chlorella, wheat grass, etc.);
Digestive enzymes blend (protease, cellulase, lactase, lipase, etc.).
Price
Several factors like size and flavor influence the price of this vegan protein powder.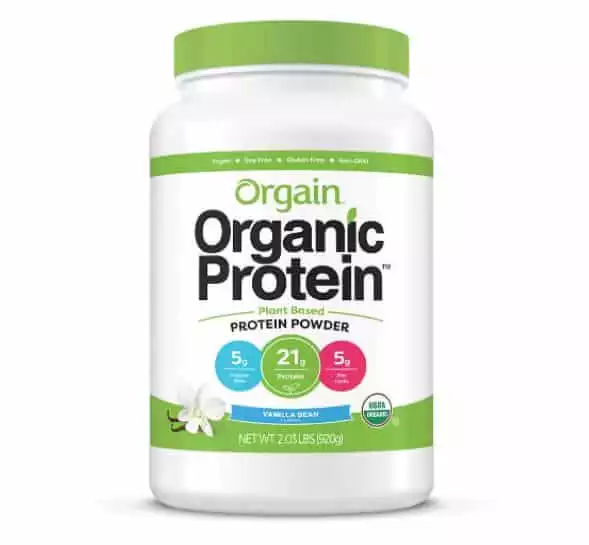 Why I Love Orgain
Smooth, slightly sweet (but not TOO much), all plant-based. Orgain is definitely one of my FAVS. Best of all, it doesn't break the bank.
Check Orgain.com Price
Check Amazon Price
We earn a commission if you click this link and make a purchase at no additional cost to you.
By Flavor
There are also two other available flavors (pumpkin spice and natural unsweetened flavor) but there are not available in all container sizes on Amazon:
Pumpkin Spice is available only in 1.02-pound tub which costs 30.80 dollars;
Natural Unsweetened Flavor can be purchased only in a 1.59-pound tub and its price is 48.85 dollars.
By Size
Bottom Line of Orgain Organic Protein
So, if you are a vegan athlete and you're in need of a high-quality protein intake, Orgain is the perfect choice for your needs. It provides an amazing blend of minerals, vitamins, and protein. With this product, it is easy to prepare an on-the-go healthy shake.
#7. Sprout Living Epic Protein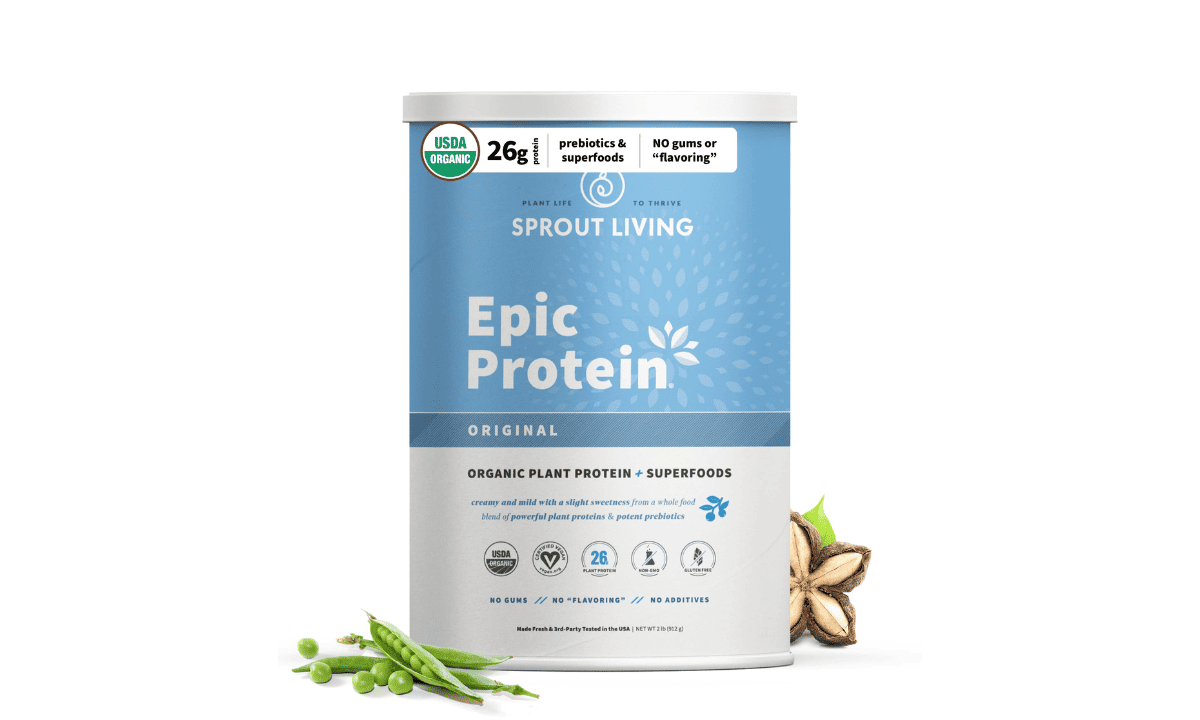 If you're a fan of vegan protein powders, then you should definitely try the Sprout Living Epic Protein supplement.
As you will see on the label, this product includes only natural and clean ingredients without using any added sugars or additives. According to some consumers, probably the only missing ingredient, in this case, is a probiotic blend.
Ingredients
Epic Protein comes in five different options: original, Vanilla Lucuma, Chocolate Maca, Green Kingdom, and sample kit. Although these products might contain some not-so-natural ingredients, the company markets them as clean and hypoallergenic.
One serving contains 110 calories and provides 19 grams of protein. Also, the Epic blend is made of yellow pea, sprouted brown rice, cranberry seed, and Jerusalem artichoke. Still, different flavors have slightly different ingredients. For example, the Chocolate Maca also contains cacao, cinnamon, and stevia leaf.
If you purchase the Vanilla flavor, you will also find ginger root, vanilla bean, and baobab fruit. Another popular flavor that sells well is the Green Kingdom which besides the standard ingredients of the original formula also contains spirulina, spinach, kale, and other ingredients.
Price
You can easily purchase this product on e-commerce stores such as Amazon. Sprout Living Epic Protein price ranges between $24 and $123, depending on the size of the container.
The smallest bag measures one pound and its price is $23.96 (check here for the latest price) while the largest container of five pounds costs approximately $120.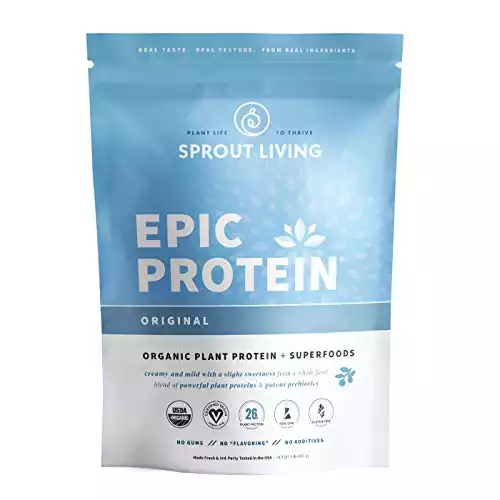 Bottom Line of Sprout Living Epic Protein
Not only is this product an effective protein supplement but it also has a nice creamy texture and a pleasant taste. One great advantage is the fact that you can choose from four different flavors.
Making Vegan Protein Shakes a Meal Replacement
I get asked this question a lot — Owen, do vegan protein shakes count as a meal replacement? Are there enough carbs, nutrients, protein in any vegan shake that can make it a suitable meal replacement? For that, I have to say a resounding, yes!
What makes a high-quality vegan protein shake a meal replacement? Basically, if you want to replace a meal, say, breakfast with one of these shakes, just do it. If you are worried about a number of healthy carbs, for example, why not add a banana?
You can always add some healthy fats as well, such as cashew butter, avocado, even coconut oil. Why not? If you want to replace a meal with a vegan shake, do it! Vegan smoothies are also great for people with food sensitivities or even those who need to go gluten free, for example. I say find the vegan protein powder you love and have fun with it!
The Best Vegan Protein Whole Food Sources
This is a helpful infographic that I reference on the fly:


The Final Shake on Great Tasting Vegan Supplements
Getting enough protein can be tricky enough for the average athlete eating a standard diet with meat and dairy protein sources. Finding a good TASTING vegan powder can also be tricky. Many supplements use hemp protein, a great protein source but tends to have an odd taste.
A common nutrition concern for vegetarians and vegans, especially those into bodybuilding and strength training, is getting enough protein to ensure their muscles can repair and grow properly.
While your vegan diet should be tailored to your active lifestyle, protein powders certainly have their place in your pantry. Not only do they give you an easily accessible boost of protein, but also are loaded with vitamins and minerals thanks to their plant-rich formulas.
If you're concerned that you're not getting enough protein or just recently decided to add supplements to your daily diet, save yourself money, time and frustration by testing out one of these 3 delicious powders first.
Additional Readings: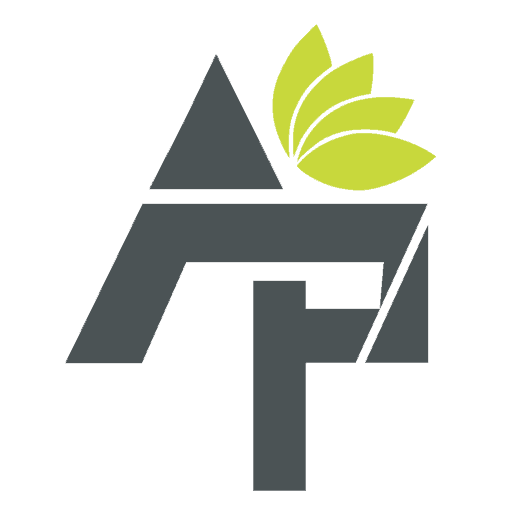 Alt Protein Team is a team of professionals and enthusiasts committed to bringing you the most up-to-date information on alternative protein, health and wellness, workouts, and all things health-related. We've reviewed a lot of products and services so you don't have to guess when you spend your hard-earned money on them. Whether you want to shed some pounds, build lean muscle or bulk, we can help you figure out what you need to do and what you need to have to achieve your goals.