Protein is often referred to as the building block of life. After all, proteins play essential roles in the human body.
They do most of the important work in cells and are required for structure, function, and regulation of the body's tissues and organs. From serving as antibodies and enzymes to providing structure and support for cells, proteins are critical for a healthy, functioning body.
While many people consume their protein through their normal meals, some people need additional protein to supplement their daily nutritional intake. Many bodybuilders and fitness enthusiasts consume extra protein through protein supplements to help repair and build muscle tissue.
While there are multiple different types of protein supplements on the market, whey protein is by far the king of the market.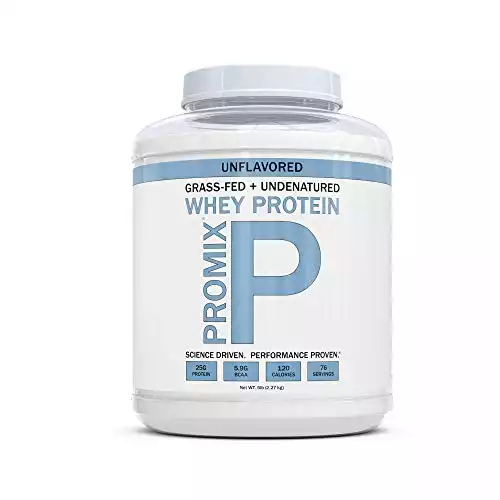 About Whey Protein – A Quick Primer
Whey protein is derived from the liquid part of milk that separates during cheese production, which then undergoes processing to become a powder that can be added to shakes, food, and protein bars. It is important to remember that not all whey protein powders are created equal.
Concentrate whey protein is about 70-80% protein and contains some lactose and fat. While it has the best flavor, if you're sensitive to lactose, you'll want isolate or hydrolysate whey. Isolate whey protein powder is 90% or higher protein with very little lactose and fat. Hydrolysate whey on the other hand is a pre-digested form that allows the body to absorb it faster.
Promix Nutrition was founded in 2012 with the mission, "Science Drive. Performance Proven." The company works directly with registered dietitians, exercise physiologists, and kinesiologists to develop the most effective products possible on the market today.
It addition to using a scientific formula, the company tests all its products in the lab, in the gym, and in competition. Furthermore, Promix Nutrition promises to use only 100% Non-GMO ingredients and organic whenever possible, no artificial flavors, colors, or sweeteners, and no artificial preservatives.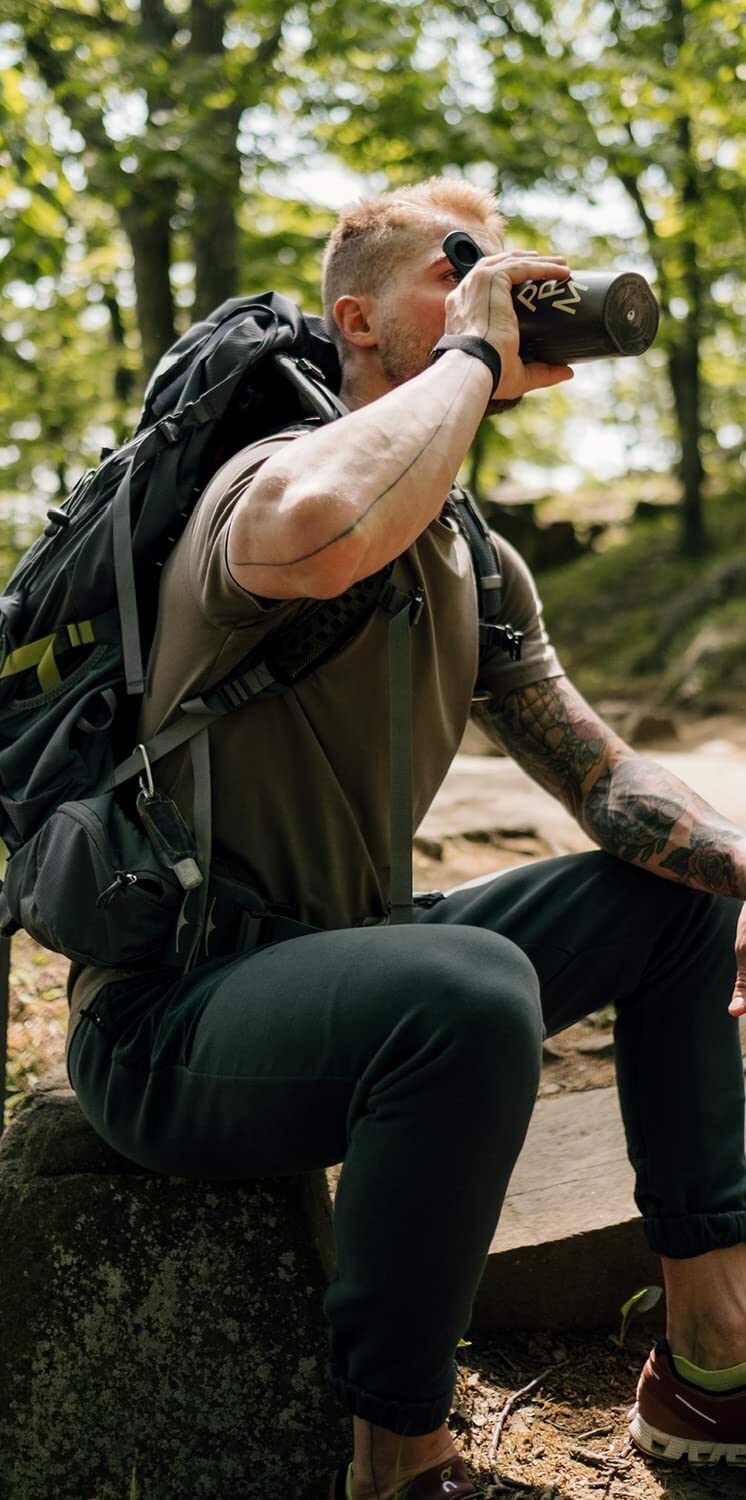 About Promix 100% Grass-Fed Whey Protein
Promix 100% Grass-Fed Whey Protein powder comes from the milk of only grass-fed cows. Promix uses a cold-processed microfiltration process to produce a non-denatured whey protein with high quality bioavailability and amino acid profile. The protein powder is naturally rich in immune-globulins, lactoferrin, CLA's and growth factors to help you meet your protein needs and fitness goals.
The Promix Grass-Fed Whey Protein powder comes in chocolate and natural/unflavored so you can use the protein in a shake, in food, or even make your own protein bars. A single serving of two scoops yields up to 20 g of protein, 4.9 g of branched chain amino acids and 100 calories.
The only two ingredients in the bag is grass-fed whey protein concentrate and less than 1% non-GMO sunflower lecithin (a natural emulsifier to help create that smooth, creamy texture when you add water).
The Quick Facts
Protein Source:
Grass-fed whey
Ingredients:
Grass-fed whey protein concentrate, non-GMO sunflower lecithin
Amount of Protein per Serving:
20 g
Amount of BCAAs per Serving:
4.9 g
Number of Calories per Serving:
100 cal
Flavors:
Natural/Unflavored, Chocolate
Package Size:
5 lbs (91 servings)
Retail Price:
$79.99 (

see here to save

)
Cost per Serving:
$0.88
The Reviews – What I Heard on the Street
Promix 100% Grass-Fed Whey Protein powder is a relative newcomer to the protein supplement marketplace, but it has quickly soared to one of the best grass-fed protein powders available for multiple reasons.
The company uses only the best ingredients and tests all their products through third party laboratories to ensure the highest quality possible without heavy metals or hormones. If you're still unsure of the quality, the company will gladly send you a copy of its heavy metals report. How's that for transparency and honesty?
One of the biggest selling points of the Promix Grass-Fed Whey Protein powder is its retail price. At first you might balk at the price tag of $79.99 (see here for details), but remember this bag is 5 lbs. and contains 91 servings. That is roughly about $0.88 per serving, which is almost unheard of for a grass-fed whey protein powder. You can't really beat that.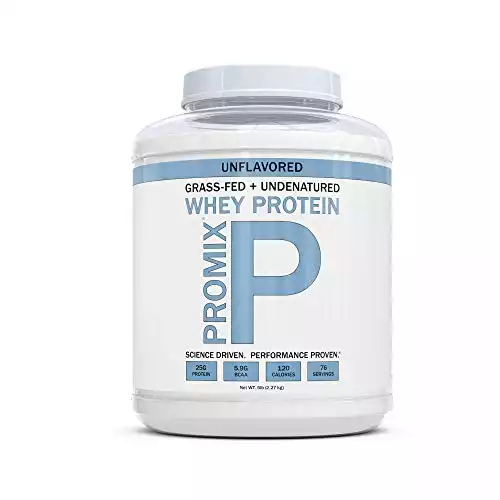 The whey protein in Promix's Grass-Fed Whey Protein is in the concentrate form meaning it does contain some lactose and fat. While most people will not have any problems digesting the product, those who are lactose-intolerant or very sensitive to lactose might want to consider another product.
The product contains only two ingredients: 100% grass-fed whey protein concentrate and non-GMO sunflower lecithin, which is used as a natural emulsifier and is a common ingredient in natural protein powders. There are absolutely no artificial sweeteners like Xylitol or Aspartame.
The limited edition chocolate flavor does contain organic evaporated cane juice and organic raw cacao to sweeten and flavor the chocolate taste. Compared to other chocolate whey protein powders on the market, this is one of the cleanest ingredient lists you'll find. In addition to no artificial sweeteners, there are no artificial flavors, added colors, gluten, or soy.
Most reviewers love both the chocolate and natural/unflavored flavors of the Promix Grass-Fed Whey Protein powder. The powder blends easily with water, almond milk, or a smoothie of your choice. Several reviewers thought the chocolate flavor was mild and tasted a bit like hot chocolate, while a few found the chocolate flavor to be slightly bitter from the raw cacao.
Flavor is often very personal so it's tough to truly review the flavor, but I enjoyed it. If you do find the taste to be slightly bitter, I suggest adding the powder to almond milk, a banana, and some peanut butter for a delicious smoothie.
The natural/unflavored flavor truly has very little flavor and is perfect for cooking and baking. You can easily add the powder to anything from fruit smoothies to protein bars to mac-n-cheese. The powder mixes well in water and food with very minimal clumping.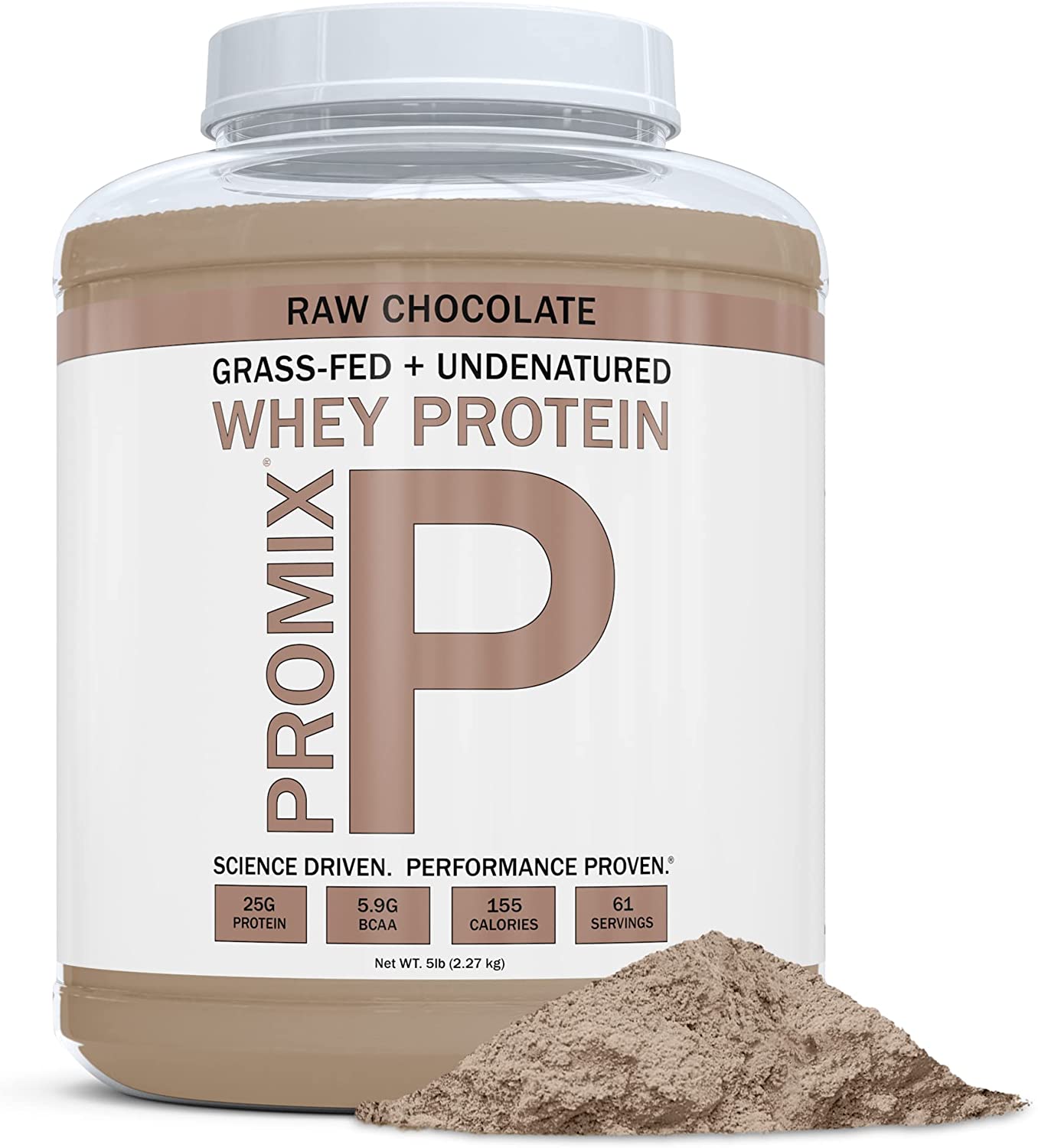 In addition to the very budget-friendly price and great taste, Promix Nutrition's customer service is superb. Promix sells its products at a hard-to-beat price because it sells directly to consumers without a middleman (unless you count Amazon as one).
The company welcomes you to call or email them with your questions. They will openly answer any questions about any products and provide you access to their third party lab reports for quality assurance. That's extremely rare in the health supplement industry.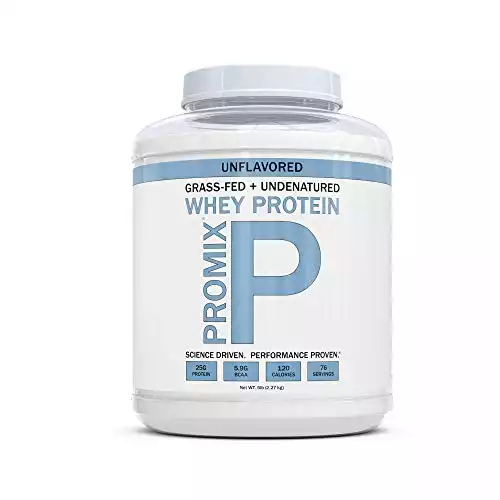 Pros of Promix Grass-Fed Whey Protein Powder
Budget friendly at $0.88 per serving (

check this listing for the latest prices

)
Great taste and texture
Only two ingredients
Superb customer service
Non GMO ingredients
Uses third party labs to test for heavy metals and other quality assurance testing
Cons of Promix Grass-Fed Whey Protein Powder
A few reviewers found the chocolate to be slightly bitter (I found it actually nice, not too sweet…)
The chocolate flavor is limited edition
The bag that it comes in does not reseal well
A bit pricey up front, but it's a 5lb bulk pack
The Verdict – Would I Purchase Again?
I give Promix 100% Grass-Fed Whey Protein Powder two thumbs up overall. Not only is the bulk price of the protein powder an amazingly budget-friendly $0.88 per serving, but also the simple two-ingredient list and taste are excellent. In an age where ingredient lists often require a dictionary to read, this simplicity is much appreciated.
While the protein powder may not be 100% organic, it is produced from milk of 100% grass-fed cows. In addition to its pure ingredients, the company ensures its products are high quality through third party laboratory testing. It's definitely a buy for us, despite the higher price.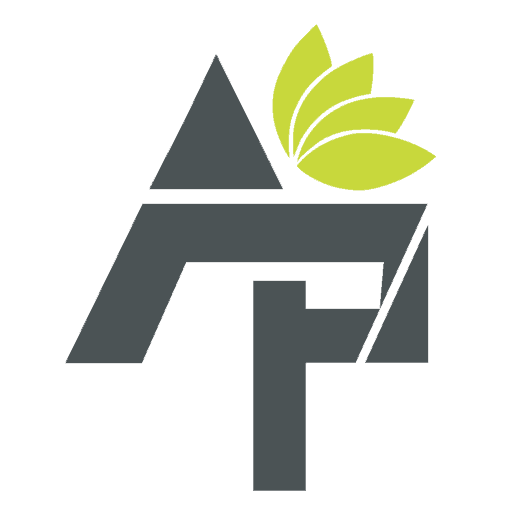 Alt Protein Team is a team of professionals and enthusiasts committed to bringing you the most up-to-date information on alternative protein, health and wellness, workouts, and all things health-related. We've reviewed a lot of products and services so you don't have to guess when you spend your hard-earned money on them. Whether you want to shed some pounds, build lean muscle or bulk, we can help you figure out what you need to do and what you need to have to achieve your goals.