If you're looking for a healthy snack to control your hunger, a chia bar made by Health Warrior can do the trick. Maybe you've tried to prepare a protein bar from scratch but you're too busy to do that on a regular basis (just like me; though, I must confess, I am busy but I am also a bit lazy, too). So, these Health Warrior snacks are a convenient and nutrition solution to eat on the go.
There are plenty of other options on the market, but, somehow, I find these products to be the most suitable ones for my needs because they are not overwhelmingly sweet. Moreover, these bars aren't very expensive (well, they aren't cheap either) or chalky.
So, I think you should also give them a try. In the following sections, you will find out more about Health Warrior chia bars such as their ingredients, price, and more.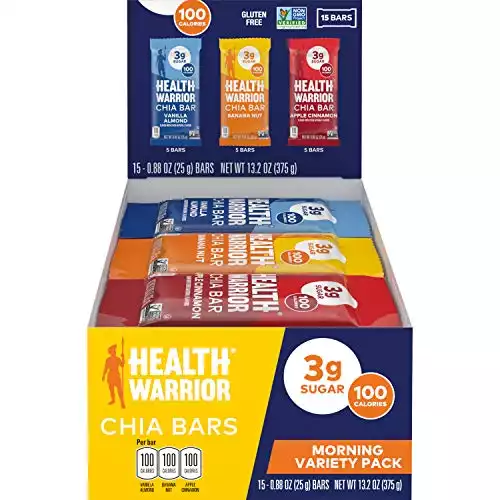 What Are Health Warrior Chia Bars?
First things, first! Health Warrior is a brand that markets a wide variety of superfoods. They have one single mission: to provide their customers with nourishing supplements that contain powerful ingredients which are both healthy and tasty. The company's most popular products are Chia Protein Bars, Pumpkin Seed Supplements, and Chia Seed Bars. I haven't tried all of them but according to most reviewers, all these products are delicious.
Chia bars will fuel your body with strength and energy. They will sustain intense workouts or long jogging sessions. Chia seeds are really healthy and nutritious and they have gained a lot of popularity in the last couple of years, although they have been around for a long time. They have simply become mainstream nowadays. Chia seeds provide plenty of healthy compounds like protein, calcium, fiber, fatty acids, and magnesium.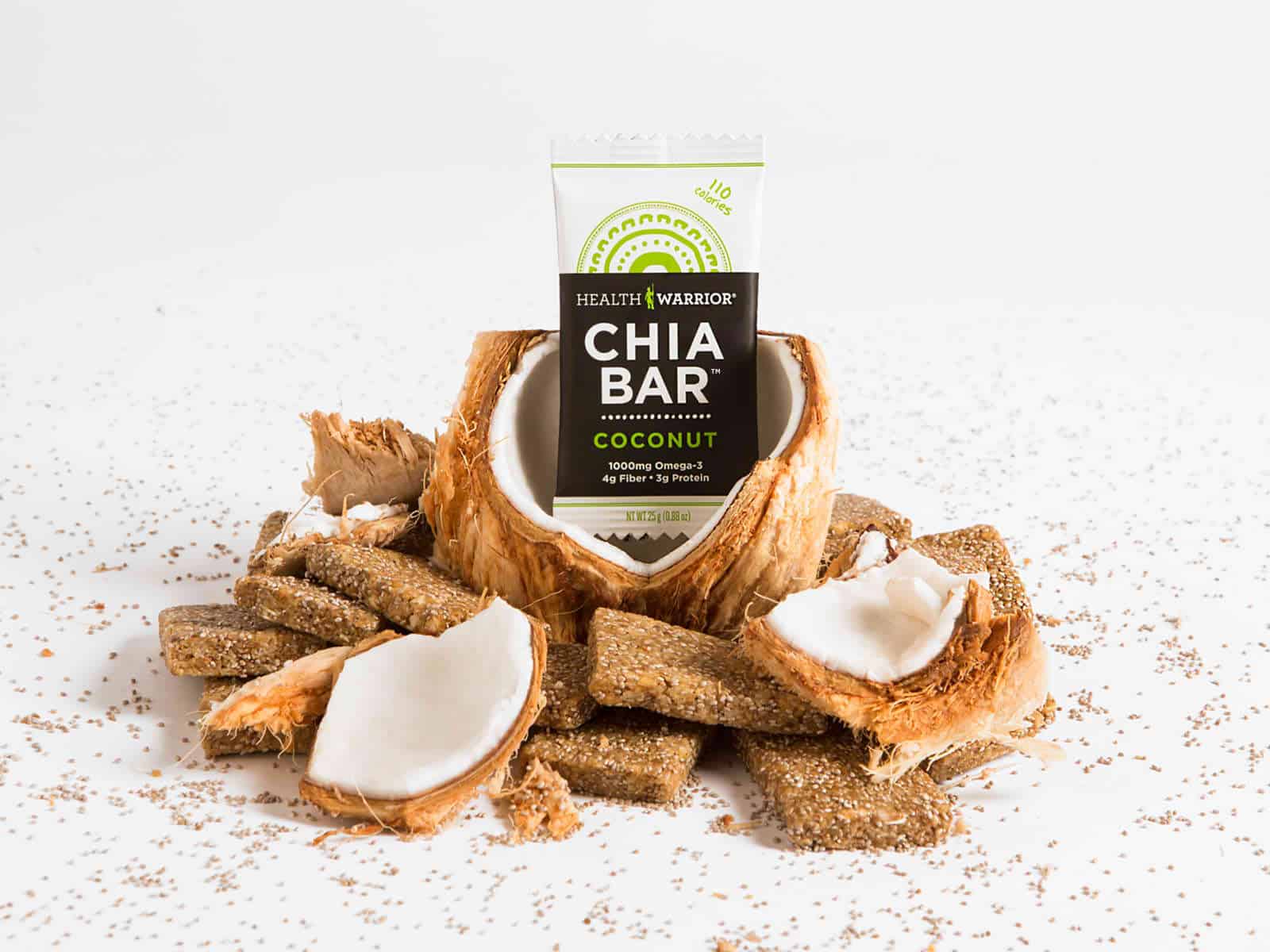 Ingredient Profile
Health Warrior chia bars are made from organic, natural, and vegan-friendly ingredients. They are free from sugar. In other words, there aren't potentially-harmful elements like sucralose, aspartame, or fructose in these snacks.
The label also mentions the fact that the bars are free from allergenic compounds like dairy, soy, and gluten. On the other hand, Health Warrior bars do have tree nuts (cashews, almonds, and coconut). Here are the main ingredients that you will find in these chia bars:
White chia seeds;
Brown rice syrup;
Sea salt;
Organic brown rice crisps;
Cashew butter;
Cranberries;
Rolled oats;
Arabic gum;
Monk fruit extract;
Unsweetened coconut;
Almonds;
Dried cherries;
Organic cocoa butter;
Natural flavors;
Natural vitamin E;
White grain sorghum extract; etc.
The list presented above is an estimated one and it can vary depending on the flavor you choose to purchase.
Texture, Taste, and Available Flavors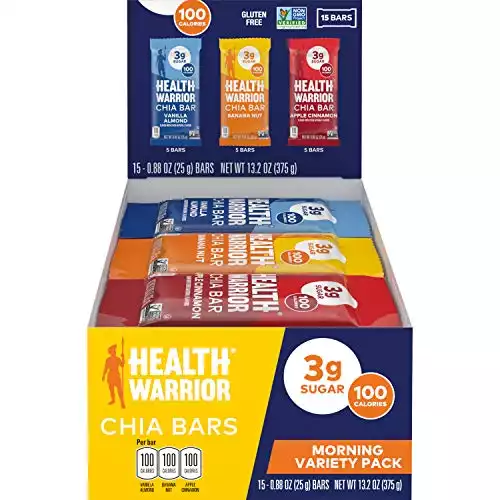 If you ask me, texture is very important when you buy a protein bar. These products are made with tiny chia seeds, so it is only normal that you will feel them while you eat the bar. Still, the texture of these products isn't offensive. It resembles the texture of popcorn: each bite is a bit crunchy. So, if you don't mind some chia seeds leftovers floating in your mouth after you consume this bar, then everything will be just fine.
Even if you don't like chia seeds residues, you can solve this small issue by drinking a small amount of water after eating the bar. To conclude with, I find these bars to be crunchy yet soft and chewy, just like a granola bar.
Regarding these bars' taste, they will not disappoint you. The majority of consumers think that all the flavors have a great taste. These bars are both nutritious and delicious, which is pretty hard to obtain from a fitness or health supplement.
Health Warrior chia bars are sold in more than 10 available flavors:
Acai berry
Banana nut
Chocolate peanut butter
Apple cinnamon
Cookie dough
Dark chocolate cherry
Vanilla almond
Mango
Coconut
Tropical variety
Caramel sea salt
Dark chocolate
I cannot help it but tell you which my favorite varieties are. I like most of them but I simply love the following flavors, in this exact order: Dark Chocolate Cherry, Banana Nut, and Apple Cinnamon.
Nutritional Values – per one serving (one chia bar = 25 grams)
| | |
| --- | --- |
| Calories | 100 |
| Total fat | 5 g |
| Carbohydrates | 14 g |
| Protein | 3 g |
| Dietary fiber | 5 g |
| Sugar | 3 g |
| Sodium | 45 mg |
How Well Do Health Warrior Chia Bars Work?
In terms of performance, I believe these supplements work great. I don't know about other consumers, but, in my case, these chia bars are effective and they offer immediate results. Every time I eat one of these snacks, I feel an energy boost that keeps me going and powers up my body for workouts, running, or going through a normal yet stressful day.
Besides their high-quality ingredients and their high level of effectiveness, I also love the fact that Health Warrior chia bars have started a war against processed snacks.
Their natural compounds, especially their primary ingredient (chia seeds) are natural and organic. They keep you satiated for a longer time while also boost brain focus and physical performance.
Pros and Cons
Advantages
These chia bars are healthy and they can even be consumed by kids;
They are delicious yet low-calorie snacks (only 100 calories per portion) that can help you lose weight or maintain your current weight;
The product is flavorful without containing a lot of sugar;
These chia bars will fit any lifestyle. They are even suitable for people who follow a gluten-free diet;
Most consumers think that all flavors are delicious and the taste of these supplements is natural and doesn't feel artificial;
The bars are rich in healthy and natural ingredients as well as essential nutrients such as fiber, protein, and Omega-3;
The company applies good manufacturing practices and their label is transparent.
Disadvantages
A few consumers have complained about the fact that these bars are way too small;
Some say that even though the taste is decent, it can be a bit too sweet;
When you consider their size, these supplements can be perceived as pretty expensive;
The Health Warrior chia bars have a chewy texture which makes them stick to your teeth. I, for one, always feel the need to clean my teeth after every chia bar I consume;
If you are very hungry one bar might not suffice so you might need to pair it with something else like a banana or an apple.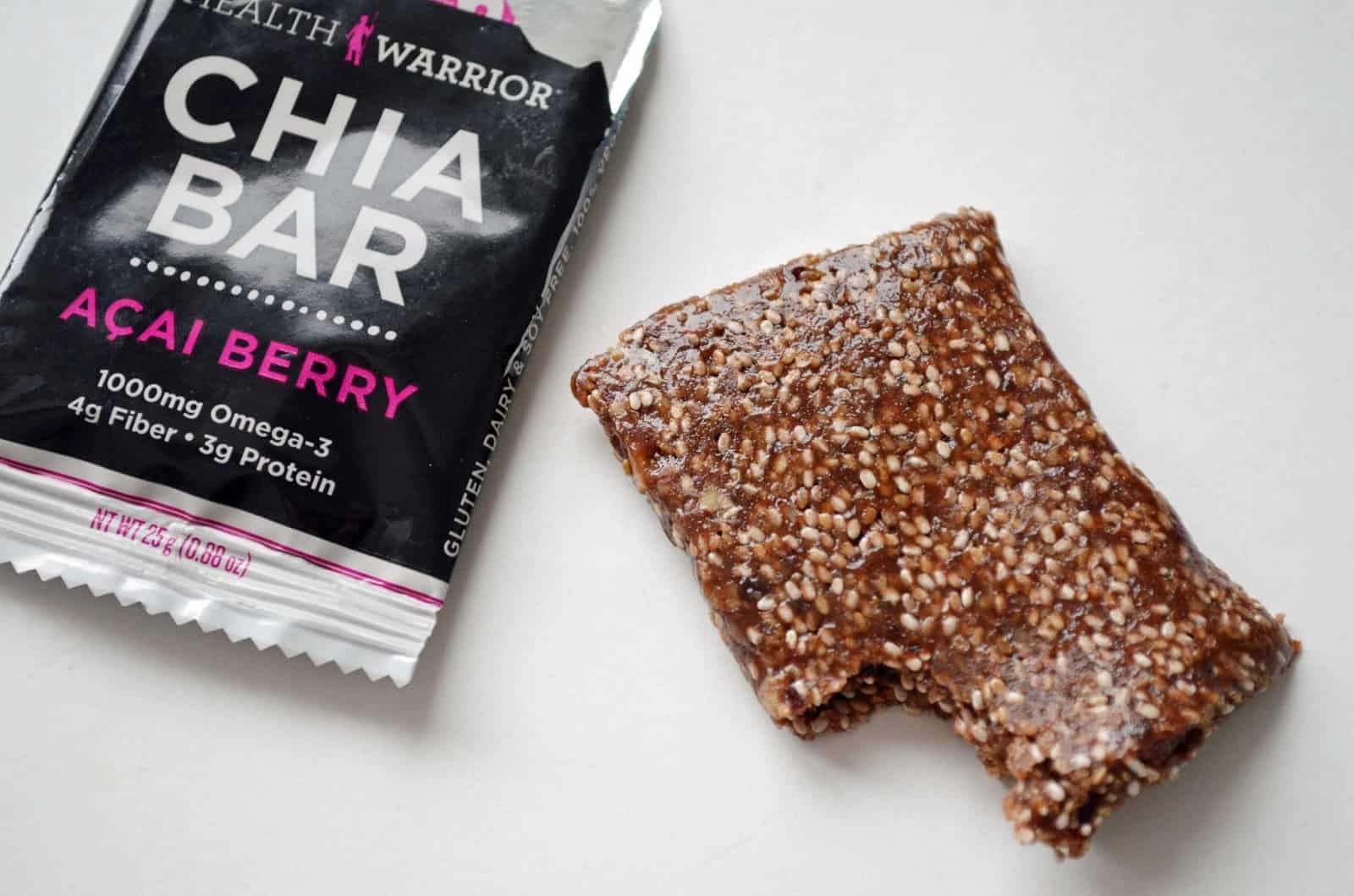 How Much Do These Chia Bars Cost?
These gluten-free, vegan, and soy-free bars can be purchased on either the company's official website or on other online sellers such as Amazon.
On Amazon, the cost of one box of Health Warrior chia bars that contains 15 servings varies between $14.74 and $17.90, depending on the flavor you choose to purchase. For instance, varieties such as chocolate, chocolate peanut butter, and coconut are less expensive than flavors such as cookie dough, vanilla almond, and tropical mix.
Besides Amazon and the manufacturer's online platform, you can also find these snacks at Target, Whole Foods, Safeway, as well as a couple of other grocery stores.
Why Are These Bars So Healthy?
So, why should you consume these chia bars and what makes them so healthy? Well, first of all, you should pay attention to their nutritional label. These supplements are full of essential nutrients. Moreover, they don't contain potentially-allergenic compounds such as dairy, soy, or gluten and they are made from non-GMO ingredients.
One bar provides only 100 calories. Furthermore, it is high in both fiber and Omega-3 and low in sugar. Health Warrior's producer knew how to come up with a healthy and nutritious snack without sacrificing its taste.
Chia Seeds Health Benefits
a. Nutritious, Calorie-Restricted, and Healthy
First and foremost, chia seeds are superfoods. They provide a huge amount of nutritious elements that come with a low number of calories. 28 grams of chia seeds contain 4 grams of protein, 11 grams of fiber, and 9 grams of healthy fats. Moreover, these superfoods also offer an important range of vitamins and minerals such as vitamins B1, B2, and B3, calcium, zinc, magnesium, and others.
b. Rich in Antioxidants
These tiny seeds are rich in antioxidants which protect the healthy fats that these superfoods contain; not to mention that antioxidants have plenty of health benefits and they fight free radicals which are responsible for premature aging.
c. Carbs in the Form of Soluble Fiber
The majority of carbohydrates that chia seeds contain come in the form of fiber which won't unbalance your insulin level. Also, fiber is easily digested but its absorption is produced slowly. This keeps you satiated for a longer time. Talking in numbers or percentages, 40% of the chia seeds' weight is represented by fiber.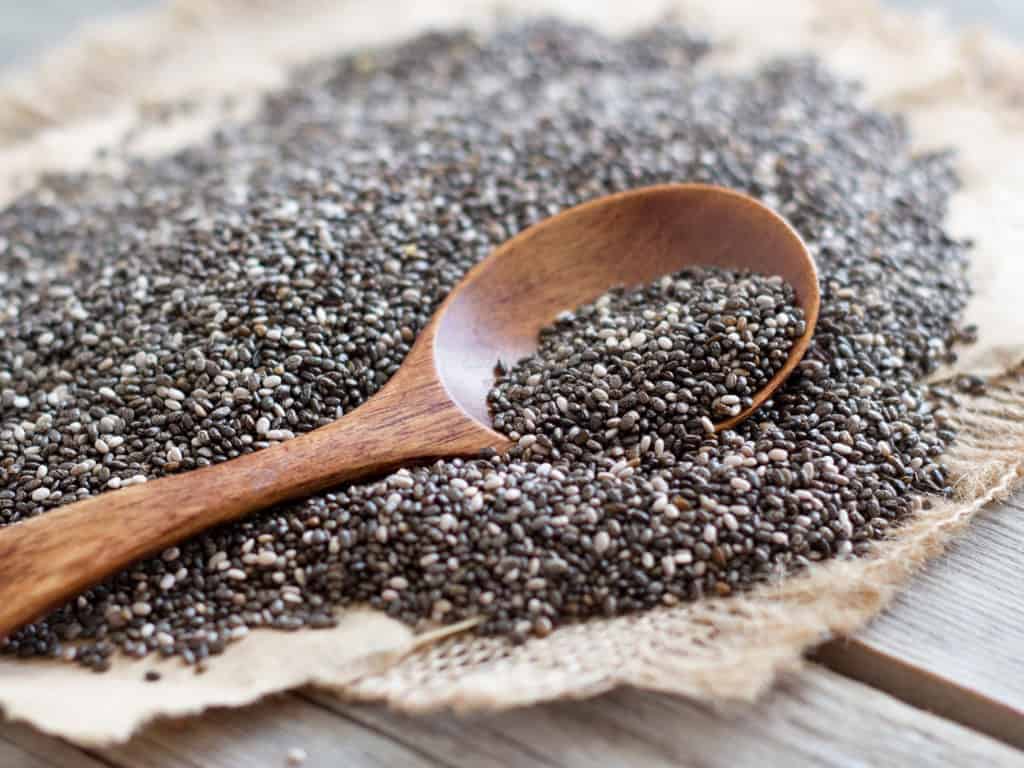 d. High-Quality Nutrients that Can Help You Manage Your Weight
Both fiber and protein found in these superfoods are high-quality and they can help you lose weight. On the other hand, studies have shown mixed results so, if you are truly committed to a healthy lifestyle, you should always combine the consumption of chia bars with a well-balanced and calorie-restricted diet and regular workouts.
e. Lowered Risk of Heart Conditions and Stronger Bones
According to certain specialists, chia seeds might even lower the risk of cardiovascular diseases. Also, these small superfoods are rich in essential nutrients that protect and strengthen your bones.
Here are some other benefits that chia seeds and chia bars are said to provide:
Chia seeds are said to balance blood sugar levels;
They are supposed to provide anti-inflammatory effects, reducing chronic body inflammation;
Chia superfoods might prevent several health conditions like heart issues and even cancer.
Health Warrior Chia Bars Review – the Final Verdict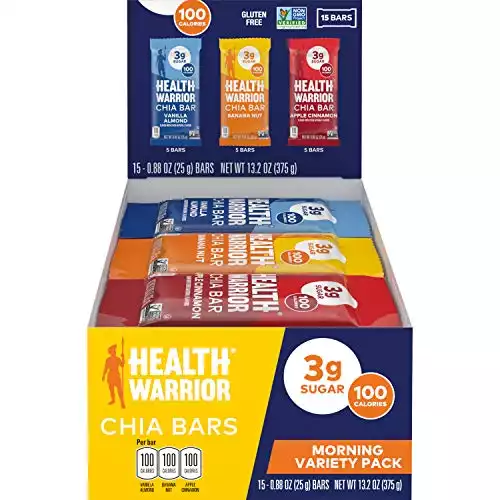 When I first tried the Health Warrior chia bars I truly enjoyed them. They are tiny yet delicious snacks and I recommend you to give them a try. However, these supplements are a bit pricey so, I don't believe I will purchase them on a regular basis.
Maybe if their size was a little bit bigger, I would consider these nutritious chia bars as part of my daily diet. Still, as you could discover in my Health Warrior chia bars review, they provide plenty of benefits and contain natural and safe ingredients.
Recommended Reads: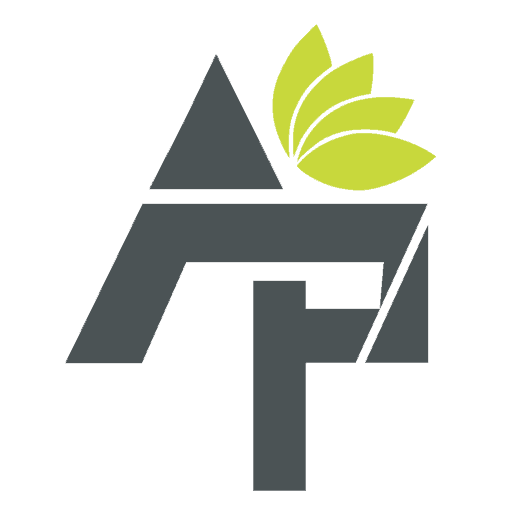 Alt Protein Team is a team of professionals and enthusiasts committed to bringing you the most up-to-date information on alternative protein, health and wellness, workouts, and all things health-related. We've reviewed a lot of products and services so you don't have to guess when you spend your hard-earned money on them. Whether you want to shed some pounds, build lean muscle or bulk, we can help you figure out what you need to do and what you need to have to achieve your goals.