If you ask me, all Quest bar flavors are tasty but some of them are more delicious than others, that's for sure. I guess it also depends on personal preference but most reviewers tend to vote for the same varieties over and over again. No matter what flavor you choose to try (although I suggest you try them all), you should know that Quest bars will fuel your body with energy and help you burn fat.
One of these gluten free quest protein bars contains about 190 calories, 4 grams of net carb, 21 grams of protein, and plenty of dietary fiber. You can also find them in different flavors like white chocolate raspberry, cookies and cream, peanut butter, etc.
Without further ado, here are some of the best Quest bar flavors for their fiber-rich bars.
Which Are the Best Quest Bar Flavors? – Top 11 Choices
*I have selected the following Quest bar varieties based on their popularity and consumer reviews (and, a little bit, based on my own personal preferences). Also, they are listed in a certain order, based on their taste rating.
If you have tried this flavor before, you'll know what I am talking about and why I have decided to place this flavor at the very top, on my list. Chocolate Chip Cookie Dough is without a doubt the most delicious Quest bar flavor out there.
I sometimes want to eat more than one single bar at a time; they are that good. Still, you shouldn't exceed the recommended serving which is one bar. Otherwise, you might end up gaining weight instead of slimming down.
This bar has real chocolate bits inside so it is way better than most other similar protein bars that use cocoa powder or butter instead
of true chocolate. Quest bar's Chocolate Chip Cookie Dough is a sweet flavor with a buttery texture that is dense yet chewy.
Ingredients
Whey protein isolate;
Milk protein isolate;
Almonds;
Unsweetened chocolate;
Water;
Soluble corn fiber;
Cocoa butter;
Sea salt;
Natural flavors;
Palm oil;
Sucralose;
Calcium carbonate;
Stevia and Erythritol.
Taste rating: 10/10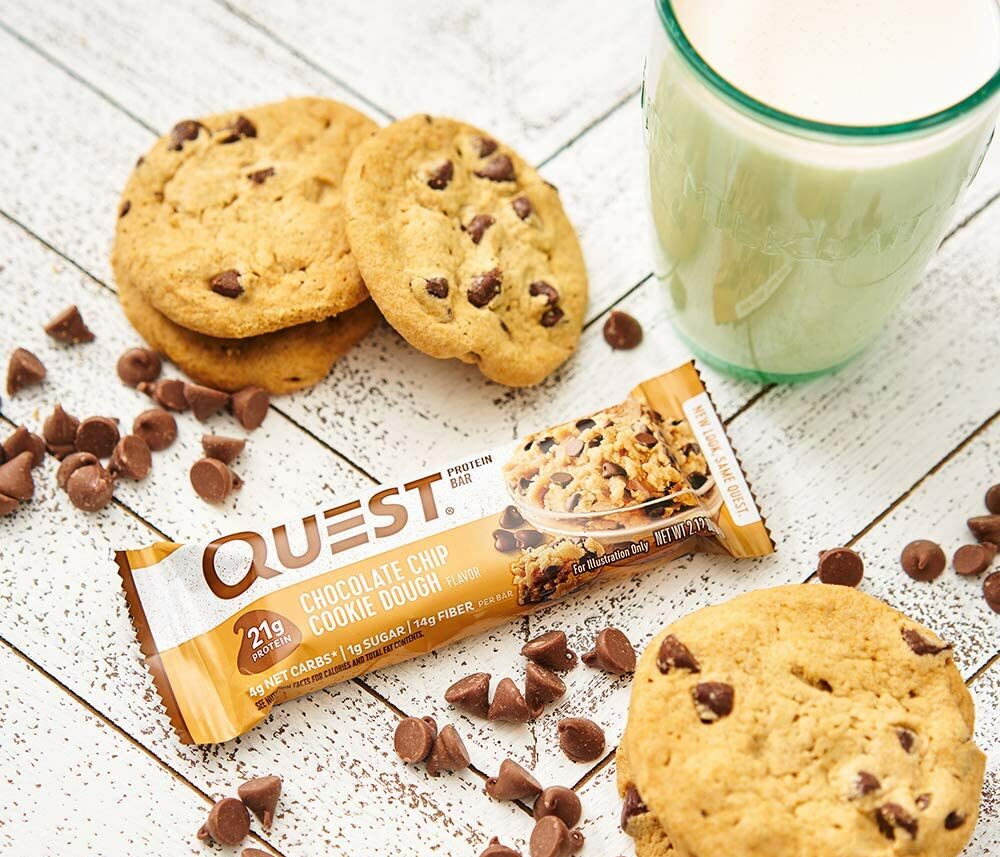 Next on my list of best Quest bar flavors is Cookies & Cream, which reminds me of Oreo biscuits which I simply love. So, you can rest assured because you're in for a delightful treat with this Quest bar variety.
Still, like in the case of Chocolate Chip Cookie Dough, you should not consume more than one or maximum of two bars at once. If you start eating more, you will feel like you have a cement brick inside of your stomach. Trust me when I say this because I am simply talking from personal experience.
This bar is basically a large and square Oreo with its two tasty chocolate quest bar cookies embellished with milk cream in between. It is a treat that anyone would like to indulge in.
What's even better is that Quest has managed to make it tasty yet nutritious. This bar is as delightful as Oreos but without the harmful effects of artificial additives and sugar. Besides its incredible taste, this bar can also build muscle mass and speed up the fat-burning process of your body.
Ingredients
Protein blend – whey protein isolate and milk protein isolate;
Water;
Natural flavors;
Dextrin;
Alkali-processed cocoa;
Almonds;
Sea salt;
Sunflower lecithin;
Coconut oil;
Baking soda;
Sweetened with Stevia;
Xantham gum;
Sucralose;
Cocoa butter; etc.
Taste rating: 10/10
3. Chocolate Brownie
This Quest bar flavor is so yummy that I cannot even begin to describe how tasty it is. If you eat a regular brownie or other chocolate-based desserts, you will feel good at first but after a while, you will deal with a sugar rush and mood swings.
Fortunately, this fiber-rich supplement is both delicious and healthy. It will fuel every single cell in your organism. Unlike other Quest bar flavors, the Chocolate Brownie one is best served hot so I recommend you to heat it up a little in the microwave (no more than 15 seconds).
This snack won't make you fat because it contains a low amount of net carbs while also being full of essential nutrients and proteins. It is a pleasurable way to transform your body and build lean muscle mass. These bars come with a deep cocoa flavour which is also a tad salty.
Ingredients
Protein blend;
Almonds;
Soluble corn fiber;
Water;
Cocoa;
Sucralose;
Stevia;
Calcium carbonate;
Palm oil;
Natural flavors; etc.
Taste rating: 10/10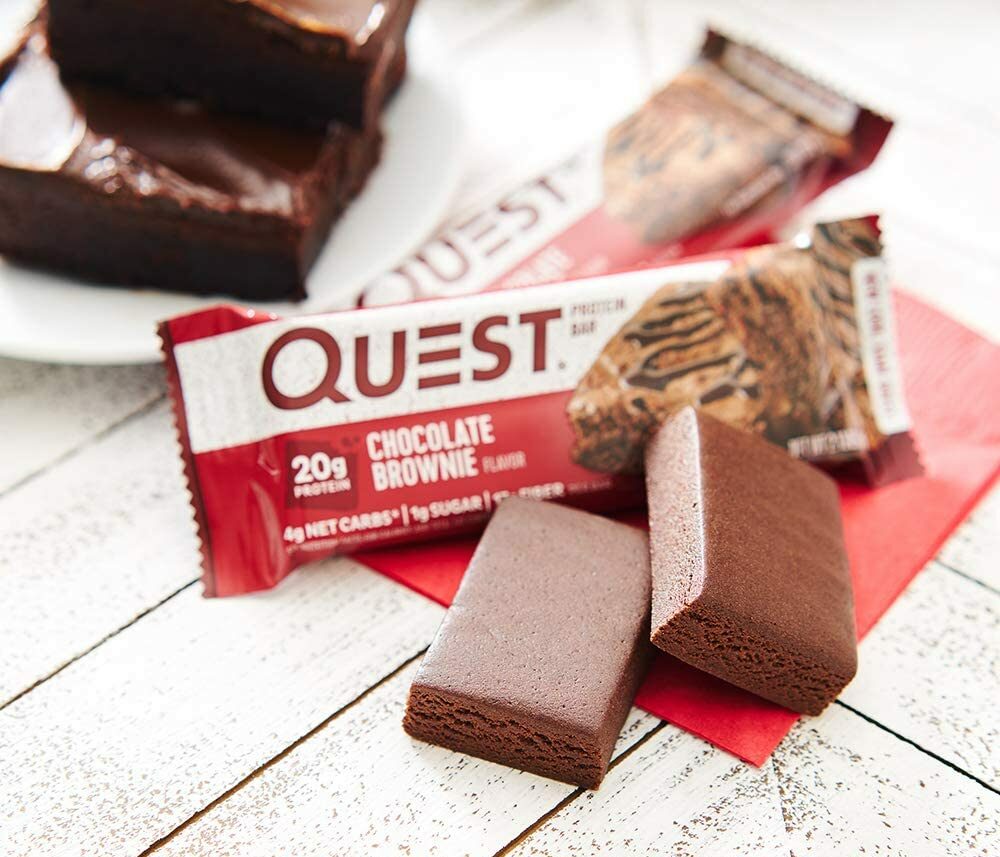 For all of you chocolate lovers out there, it doesn't get any better than this! This Quest bar variety is twice as tasty as all the other chocolate-based flavors because it contains a lot more of your favorite ingredient.
You won't feel anything anymore. All the other tastes will simply go away and all there's left is a decadent chocolatey pleasure. Its secret is in the chocolate trifecta: unsweetened chocolate, cocoa, and cocoa butter.
Furthermore, due to the fact that cocoa and an abundance of chocolate usually mask whey protein's taste which can be pretty chalky at times, there's no wonder that this particular Quest bar flavor is one of the best options to choose from.
Actually, the company's representatives started from this variety when they came up with the Mint Chocolate Chunk flavor which I will present next.
Ingredients
Whey protein isolate;
Milk protein isolate;
Erythritol;
Unsweetened chocolate;
Sea salt;
Stevia;
Natural flavors;
Cocoa that is processed with Alkali;
Cocoa butter;
Palm oil; etc.
Taste rating: 10/10
5. Mint Chocolate Chunk
Due to the peppermint oil content, this Quest bar provides a minty and cooling sensation with each bite you take. The combination of mint flavor with huge chocolate cookie chunks just make you feel like you've died and gone to Tasty Treats Heaven.
If your favorite sweets are After Eight chocolates, then you'll simply love this Quest bar variety. You will be able to enjoy the pleasure of a tasty chocolate bar without stressing about getting fat.
The bar is rich in protein and fiber content which will slow down your digestion, curb your cravings, and satisfy your hunger.
Ingredients
Protein blend;
Cocoa butter;
Turmeric;
Fruit juice;
Baking soda;
Stevia;
Coconut oil;
Palm oil;
Peppermint oil;
Water;
Almonds;
Sea salt; etc.
Taste rating: 9/10
I hope you're done with chocolate by now because it is time to talk about another Quest bar that focuses on apple flavor instead of the classic taste of chocolate or vanilla. It is a perfect variety to consume in autumn.
This product truly has the taste of a real cinnamon-spiced apple pie. It will remind you of applesauce. Apple Pie flavor provides you with a natural, fresh, and energizing taste of an apple and the flavor that is left in your mouth is the one of apple juice.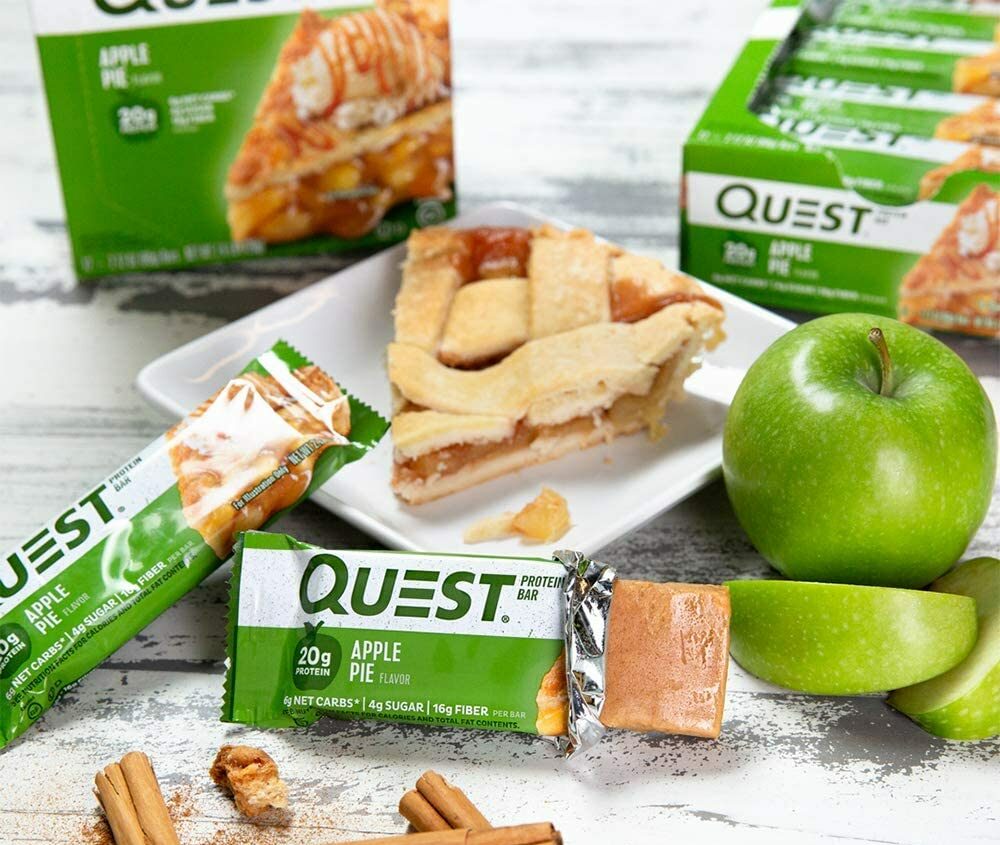 The only thing that some people might not like is the fact that the manufacturer decided to add a hint of cinnamon which makes the product a little bit piquant. Still, it is one of the best Quest bar flavor. It is a protein-rich product which provides a higher amount of nutrients. The Apple Pie flavor manages to please everyone.
Ingredient
Protein mix made from two ingredients: whey protein and milk protein isolates;
Apples;
Cinnamon;
Sucralose;
Natural flavors;
Malic acid;
Water;
Almonds;
Sea salt;
Prebiotic fiber;
Palm oil; etc.
Taste rating: 9/10
7. S'mores
This is a one-of-a-kind Quest bar flavor. The manufacturer has included cinnamon in this formula which makes the product have a graham-like taste. However, the chunks of chocolate combined with cocoa butter will add a nice texture along with a delicious taste to this particular Quest bar.
Still, I must confess, that no matter how delicious this flavor is, I had a hard time getting a marshmallow flavor but it doesn't represent a problem for me.
Another thing I love about this variety is given by its crisp cracker pieces which melt in your mouth. It is a gluten-free product that can be an optimal snack for those of you who are trying to lower their cravings.
This protein bar will slow down your digestion and it will make you feel satiated for a longer time. Simply put, you will feel fuller as well as healthier and your body won't request the consumption of sweets or junk food anymore.
Ingredients
Protein blend;
Almonds;
Natural flavors;
Cinnamon;
Cellulose gum;
Stevia;
Sea salt;
Cocoa butter;
Baking soda;
Xantham gum;
Water; etc.
Taste rating: 8/10
8. Vanilla Almond Crunch
If you ask me, this Quest bar is very good. The best part is the combination of crunchy almond bits with the bold vanilla flavor. The mix leads to a delicate and sweet taste.
Vanilla fans will truly love this variety because it is the perfect blend of nutritious elements and good-quality taste. According to both reviews and the manufacturer, the Vanilla Almond Crunch bar is a snack dedicated to consumers who have a more refined palate and who simply love almonds.
So, if you want a Quest bar that has a simple yet enjoyable taste, this one is the perfect choice for your preferences. Consuming this snack will increase your protein intake. Also, you will feel less hungry and your body will build lean muscle mass.
Ingredients
A protein mix made from whey protein and milk protein isolate;
Sucralose;
Water;
Palm oil;
Erythritol;
Soluble corn fiber;
Sea salt;
Almonds;
Natural vanilla flavor;
Taste rating: 8/10
9. Banana Nut Muffin
This protein bar reminds me of banana bread. It has great taste and I think it is delicious but it's only "mistake" the company made was that it didn't make it a bit sweeter. That would've made it perfect.
Imagine that you enjoy a tasty banana muffin without the harmful effects of carbohydrates and grams of sugars that a real muffin contains. So, this treat will give you a moment of indulgence without making you fat.
In fact, it will provide you with enough proteins to build muscle mass. I strongly recommend you to eat these bars with tea. They work perfectly as midday snacks, too. Long story short, this bar is packed with proteins and backed by an excellent taste. So, spot-on, Quest!
Ingredients
Whey protein isolate;
Milk protein isolate;
Water;
Dried bananas;
Walnuts;
Sea salt;
Almonds;
Prebiotic fiber;
Cinnamon;
Palm oil;
Natural flavors;
Stevia; etc.
Taste rating: 8/10
If you enjoy an occasional cinnamon bun or any other cinnamon-based bakery good, then this Quest bar flavor is definitely the right option for you. This bar is a great part of a protein-rich diet that will reduce body fat, build muscle mass, and fuel your organism with all the essential nutrients it needs. And, you will benefit from all these advantages without sacrificing the taste.
Unlike many other flavors, Cinnamon Roll's taste is fairly strong without being overwhelming. In any case, one thing's for sure! It will definitely satisfy your taste buds, especially if you are a cinnamon bun lover. Every single bit will unleash a nice cinnamon fragrance in your mouth.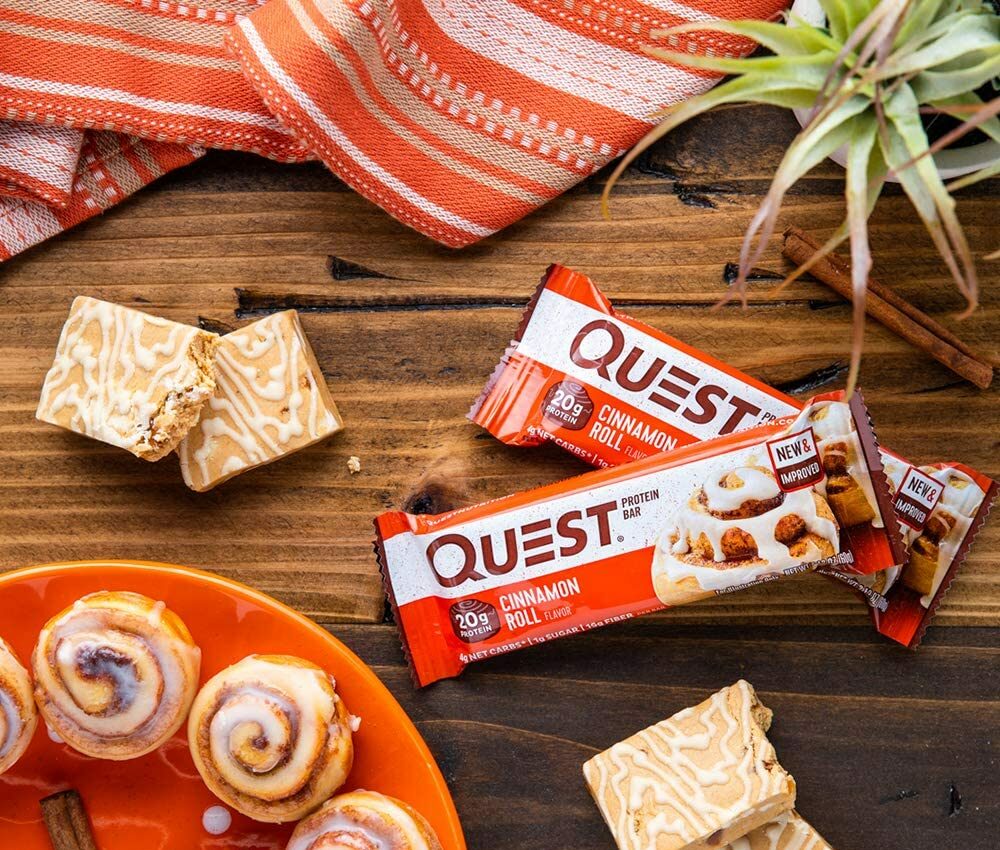 Moreover, this Quest bar flavor comes with a sticky texture that will surely remind you of a real cinnamon roll. For those who like this taste, then Cinnamon Roll Quest Bar is the perfect supplement for people who want to increase their protein intake.
Ingredients
Protein blend;
Water;
Almonds;
Palm oil;
Stevia;
Cinnamon;
Calcium carbonate;
Soluble corn fiber;
Sea salt; etc.
Taste rating: 7/10
11. Coconut Cashew
Bringing up the rear of my best Quest bar flavors list is Coconut Cashew. The company has included real cashews and dried coconut pieces in this bar's formula. You will not find these two ingredients in any other protein bar. I like coconut in general, but I simply love the taste and sweetness that coconut provides for this product.
In fact, this bar achieves a natural level of sweetness without the need of sucralose. Quest's producer has managed once again to come up with a unique and tasty combination. This Quest snack provides a well-balanced level of flavor strength.
In my opinion, this was an experiment made by the company but I believe it was a successful one because the cashew taste balances and complements the coconut flavor. Shortly after the launch of this particular Quest variety, the bar has gained a lot of enthusiasts. This has led to a Coconut Cashew fan club.
Ingredients
Protein blend;
Almonds;
Dried coconut;
Cashews;
Sea salt;
Palm oil;
Stevia;
Water;
Natural flavors;
Prebiotic fiber; etc.
Taste rating: 7/10
Frequently Asked Questions about the best Quest bar flavors
Final Thoughts
So, there you have it! These are the best Quest bar flavors to choose from. They all have a great taste and a nice consistency. Whether you like a chocolate-based flavor or you're a fan of a fresher apple or fruit-based variety, Quest protein bars are an excellent addition to any diet plan. These treats are healthy and nutritious. They are full of fiber and protein so you can enjoy a delicious snack that won't interfere with your weight-loss goals.
Recommended Reads: