Low sodium protein powder is difficult to find because so many of the leading brands use sodium as a cheap way to enhance taste.
Ever wonder why gatorade tastes so good? It's because of the relatively large quantities of sodium they use to improve the flavor without adding more sugar or calories.
The same principle holds true for many of the top protein supplements. In this article, we will be reviewing the best low sodium protein powder products on the market.
Bottom Line Up Front: I really like Nutiva Hemp Protein as an all natural plant based protein with ZERO grams of sodium.
My Top 5 Low Sodium Protein Powder Picks
This page will be continuously updated with new products as they are released to the public. Our criteria to be considered as "low sodium" is to have less than 100mg per serving.
Best Overall
ZERO gram of sodium
Organic supplement, dairy-free, no additives
Contains only 90 calories, 3g of fat, and 9g of carbs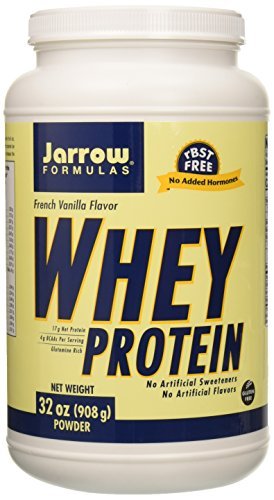 Best Organic
All-natural with no artificial sweeteners
Only 40mg of sodium per serving
An appetite killer with only 100 calories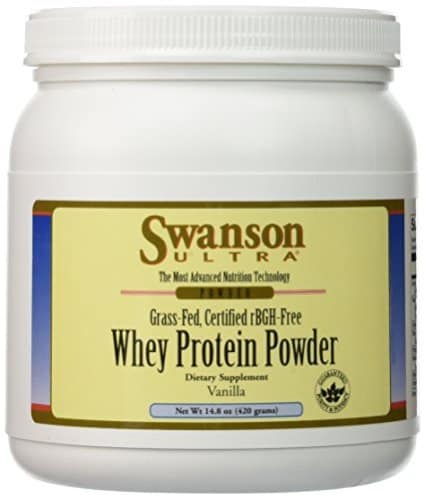 Best Budget
Quality ingredients with AFFORDABLE price
Mixable with liquids with good body and consistency
Only 30mg of sodium per serving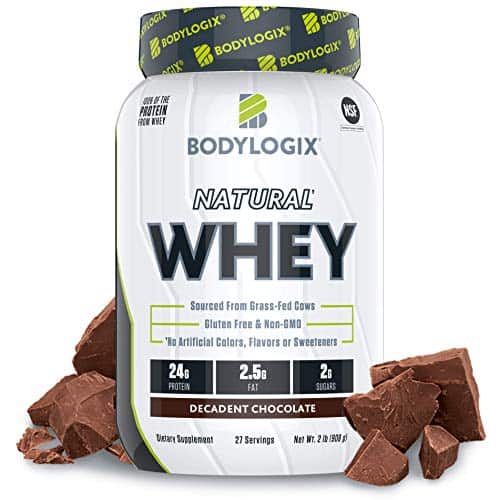 Best Quality
Provides 24g of complete protein per serving

Sourced from grass-fed cows

Contains no artificial colors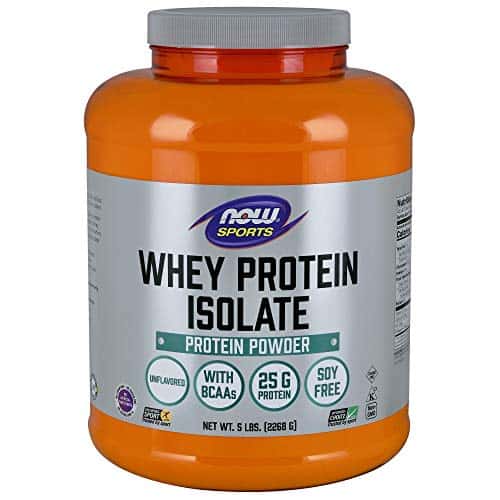 Best Low Calories
Protein powder with BCAAs
Unflavored
No artificial sweeteners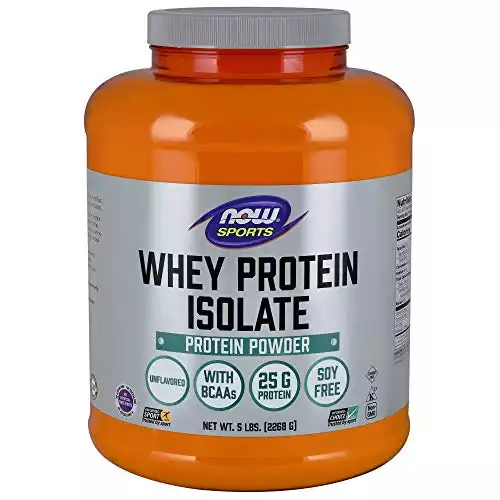 NOW Sports Nutrition Whey Protein Isolate | Amazon
This is a high-quality protein that is both bioavailable and easily digested. Whey protein has naturally occurring branched-chain amino acids (BCAAs). NOW Whey Protein Isolate is ideal for active individuals.
Buy at Amazon.com
We earn a commission if you click this link and make a purchase at no additional cost to you.
05/01/2023 12:11 am GMT
Now Foods is a popular brand for protein supplements, but not all of their protein supplements are low sodium. Their Whey Protein Isolate is a low calorie, low fat, and low sodium alternative for health conscious users.
The formula also contains a high concentration of Branched Chain Amino Acids (BCAA's) which is essential for muscle growth and recovery. Customer reviews attest tot he fact that this is one of the best whey isolates on the market today.
With just 110 calories (5 from fat) and 45mg's of sodium per serving, it delivers 25 grams of protein with a full amino acid profile amounting to 28 grams per serving. Usually there is one thing not to like about a protein because everyone has to cut corners somewhere, right? Wrong, at least with Now Foods isolate. This is one of the best pure protein supplements on the market.
Now Foods Whey Proein Isolate is pretty simple at its core. It has two ingredients, whey protein isolate and soy lechtin. This is a nice change from other protein supplements with exhaustive ingredient lists. The simple formula is also remarkably easy to mix with anything from water to shakes/smoothies, and virtually any recipe or protein intake method. It takes a 3 second blender spin or about 30 seconds of hand stirring to fully mix.
Altogether, this Whey Protein Isolate is ideal for people trying to gain significant muscle mass without being overloaded with sodium and calories. It is also extremely good value, at roughtly $65 for 5lbs of protein ($0.81/oz). Check out this listing for the latest discounts.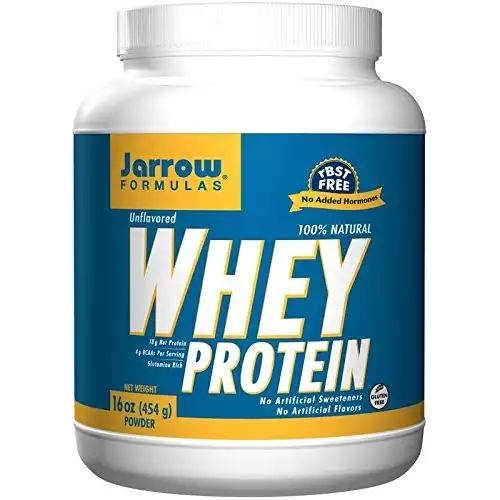 Jarrow Formulas whey protein is another excellent low sodium protein powder in terms of value for the money. The standard French Vanilla flavor is subtle but tasty, without being overbearing.
It is an all natural product, with no artificial sweetener or additives and rBST free (only natural flavor ingredients). Overall, it's a good combination of affordability, performance, and natural ingredients.
Nutritionally, Jarrow Farmulas offers 18 grams of protein with only 94 calories and 2 grams of fat. While the protein content is about average, the protein to calorie ratio is very good. Most importantly, it only has 40mg of sodium per serving! This is among the lowest sodium levels we have seen in any full bodied protein supplement.
The nice thing about this protein powder is that you can drink it with just water and it tastes fine. Mixing is easy, as the protein readily dissolves into any liquid with only minimal stirring. It also happens to be a great appetite killer, more so than most supplements.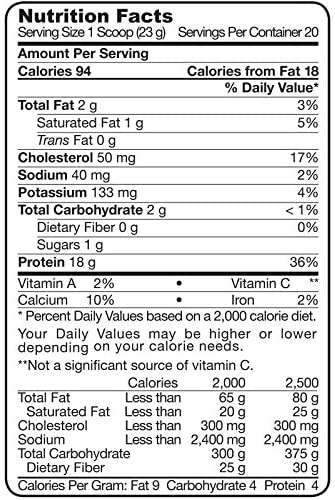 With only 100 calories this might be surprising, but something about Jarrow Formulas whey protein does the trick. To top it off, it will not break the bank at roughly $22 per container. See this listing for the latest discounts.
Go With Nutiva Instead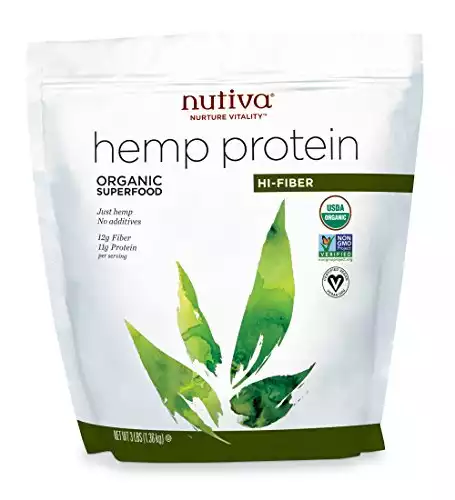 Nutiva Organic Cold-Pressed Raw Hemp Seed Protein | Amazon
Nutiva's all-natural cold press extraction process yields a clean, plant-based protein that's high in Omega 3 fats and antioxidants without the use of dangerous and harmful chemicals, hexane, or heat.
Buy at Amazon.com
We earn a commission if you click this link and make a purchase at no additional cost to you.
04/30/2023 11:00 pm GMT
This is a bit of a different protein supplement and is not one of the typical whey protein supplements. Nutiva hemp protein is a more wholistic plant based protein. It's not for everyone, especially if you like and enjoy whey protein. It's something different for people who have trouble digesting whey or have experience heavy gas or discomfort in the past.
As an organic supplement, it has only the best ingredients and is completely dairy free with no additives or fillers. You can read my full review of Nutiva here.
This is a nutrient protein supplement that goes beyond just protein. If you are looking for massive amounts of protein, the 15 grams probably isn't enough. However, if you are looking for a highly digestible – easy on the stomach – protein, than this should be your first choice. It features only 90 calories, 3 grams of fat, and 9 grams of carbs.
The added benefits come in the form of 8 grams of dietary fiber, 370mg of potassium and 0mg of sodium (yes, that's ZERO milligrams of sodium)!
Again, hemp is not for everyone. It does have a distinct taste that is not over-powering but not entirely bland either. If this is a problem, it is not hard to mask it with almond milk or other varieties of milk (also try adding a banana). There are also plenty of purchasing options for Nutiva hemp protein.
You can start out with the 16 ounce container to start (just to try), or you can order the two-pack deal or the 3-pound vacuum packed bag for less than $40. See the complete pricing options for this low sodium protein powder by visiting this Amazon link.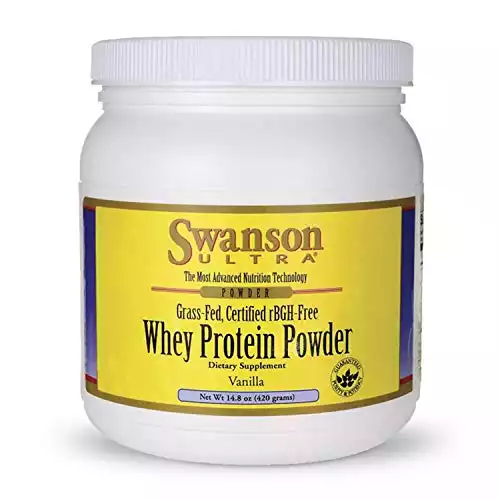 Swanson Grass Fed | Amazon
Swanson Grass-Fed, Certified rBGH-Free Vanilla Whey Protein Powder with Aminogen comes from grass-fed cows that are never treated with hormones. It's the protein powder discerning, health-conscious people choose to keep their minds at ease and their bodies healthy.
Buy at Amazon.com
We earn a commission if you click this link and make a purchase at no additional cost to you.
04/30/2023 12:50 pm GMT
Swanson is a longstanding protein brand with a very strong record of using top quality ingredients for an affordable price. Their whey protein offering is one of the better options for low sodium diets without skimping on protein content. The base protein has an unsweetened vanilla flavor profile. It's a nice, mixable powder with a good body and consistency to it when mixed with liquids.
Swanson provides an even 20 grams of protein per serving. 20 grams is considered the key tipping point for users looking to get a full bodied protein, so this is nice. Best of all for low sodium folks, it only has 30mg of sodium per serving. On top of that, it only has 90 calories per serving.
This is a solid product. It doesn't have any flashy advertising, but it has had some of the most consistent and highest reviews for years now. They have improved the formula slightly over the years, but the core product remains the same (and that's a good thing because it means they are doing it right the first time).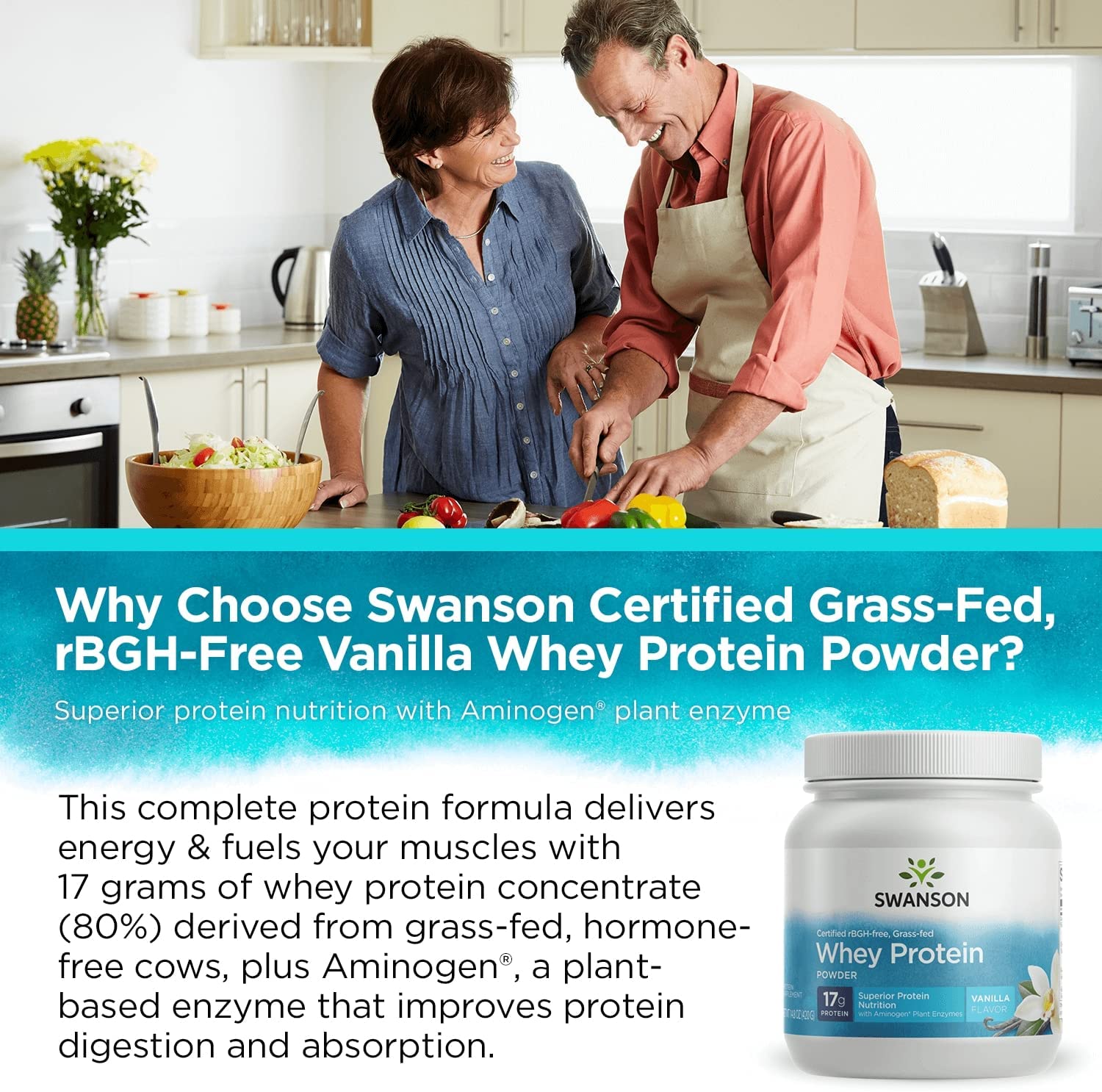 The price point for Swanson is right about average. You can expect to spend around $25 for a 36.5oz container. For the latest pricing options, check out this Amazon listing.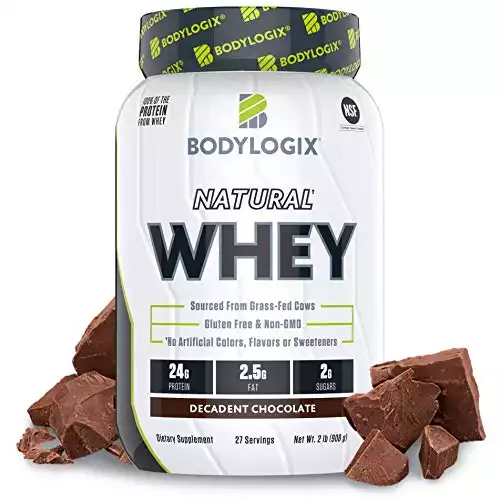 Bodylogix Natural Grass-Fed Whey Protein Powder | Amazon
Bodylogix Whey Protein Powder helps you supplement your diet with much-needed protein. The whey is sourced from grass-fed cows and the powder contains no artificial ingredients, colors, or flavors.
Buy at Amazon.com
We earn a commission if you click this link and make a purchase at no additional cost to you.
There are many reasons to lick Bodylogix Natural Whey, not the least of which is their environmentally friendly appeal. In the whey protein market, it is difficult to find a quality whey protein blend with whey from grass-fed cows not treated with hormones or fed GMO products.
As with grass-fed meat, grass-fed whey has a better nutrient profile (and is better for you) than many of the mainstream alternatives. Check out the full assessment here.
As for the sodium profile, Bodylogix has only 60mg of sodium per serving , 24 grams of protein, and only 120 calories. This is an excellent sodium/protein/calorie ratio for a protein drink, ideal for those on low calorie and low sodium diets. 24 grams of protein is a fair amount of protein per serving and should be more than enough for most health and fitness needs.
Bodylogix is naturally flavored with stevia extracts, but has a nice – slightly sweet – taste that pretty much anyone will enjoy. If you don't like a bit of sweet, than this probably isn't the right supplement for you. It is highly mixable and we particularly enjoy it as shake or smoothie with almond milk.
If you are looking to buy, this listing frequently offers discounts.
The Final Scoop – Comparing All the Low Sodium Protein Powder Options
The following is a quick summary table of what I've discussed above. Use this to help guide your purchasing decision.

Go With Nutiva Instead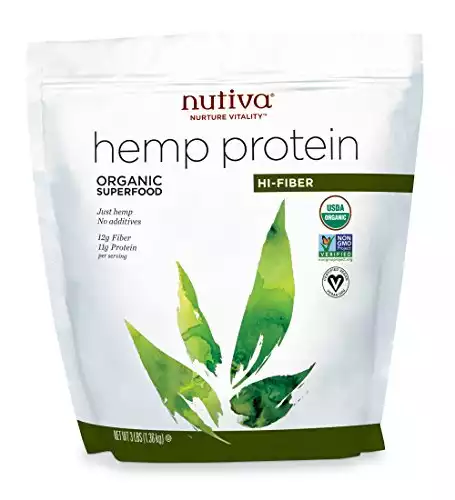 Nutiva Organic Cold-Pressed Raw Hemp Seed Protein | Amazon
Nutiva's all-natural cold press extraction process yields a clean, plant-based protein that's high in Omega 3 fats and antioxidants without the use of dangerous and harmful chemicals, hexane, or heat.
Buy at Amazon.com
We earn a commission if you click this link and make a purchase at no additional cost to you.
04/30/2023 11:00 pm GMT
Recommended Reads on Other Protein Source (Vegan Protein) and Meal Replacement Supplements:
Disclaimer
The information contained on www.altprotein.com website (the "Service") is for general information purposes only.
Alt Protein assumes no responsibility for errors or omissions in the contents on the Service.
In no event shall Alt Protein be liable for any special, direct, indirect, consequential, or incidental damages or any damages whatsoever, whether in an action of contract, negligence or other arising out of or in connection with the use of the Service or the contents of the Service. Alt Protein reserves the right to make additions, deletions, or modification to the contents on the Service at any time without prior notice.
Alt Protein does not warrant that the Service is free of viruses or other harmful components.
Fitness disclaimer
The Service offers health, fitness and nutritional information and is designed for educational purposes only. You should not rely on this information as a substitute for, nor does it replace, professional medical advice, diagnosis, or treatment. If you have any concerns or questions about your health, you should always consult with a physician or other health-care professional.
Do not disregard, avoid or delay obtaining medical or health related advice from your health-care professional because of something you may have read on the Service. The use of any information provided on the Service is solely at your own risk.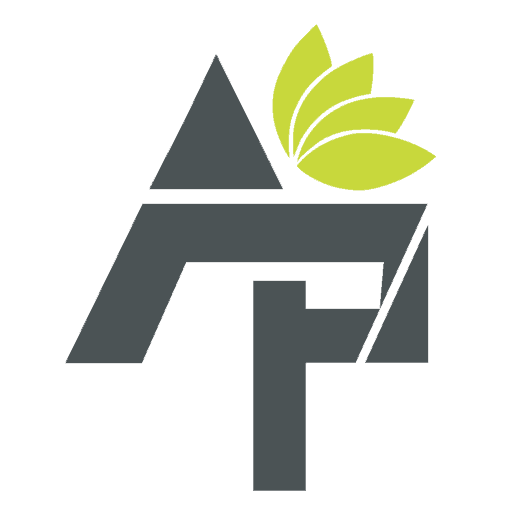 Alt Protein Team is a team of professionals and enthusiasts committed to bringing you the most up-to-date information on alternative protein, health and wellness, workouts, and all things health-related. We've reviewed a lot of products and services so you don't have to guess when you spend your hard-earned money on them. Whether you want to shed some pounds, build lean muscle or bulk, we can help you figure out what you need to do and what you need to have to achieve your goals.