Sometimes after a tough workout pounding a protein shake just doesn't do it. You just smashed your deadlift record and your muscles are spent and your stomach is growling with hunger. It's time to feed the beast.
Why Protein Pancakes?
If you're prepping for your next bodybuilding or physique show or even just trying to lose some weight, pancakes are probably one of the last things you can eat. Pancakes are full of carbs and sugar and have very little nutritional value. But, they taste good don't they?
What if I said you could eat pancakes? Many health supplement companies now make protein powder pancake mixes or your could even just make your own using your favorite protein powder. Yum!
Protein pancakes not only taste delicious, but also are beneficial because the high protein content leaves you feeling more full. This prevents hunger for an extended amount of time, prevents overeating and unnecessary snacking, which ultimately leaves to good weight management control.
There are many protein powder pancake mixes on the market today. I decided to take the time to try a bunch of them to determine which ones are worth your money and your taste buds.
Let's just say this was one of my favorite review projects. I reviewed protein powder pancakes mixes for their protein content, overall nutritional content, ease of making, and taste.
Our Top 5 Favorite Protein Powder Pancake Mixes
About Time Protein Pancake Mix
About Time has been producing high quality whey protein isolate products since 2008. They most recently added a protein powder pancake mix to their extensive list of whey-based protein products. Their gluten-free protein pancake mix is available in three different flavors – maple syrup, chocolate chip, and cinnamon spice.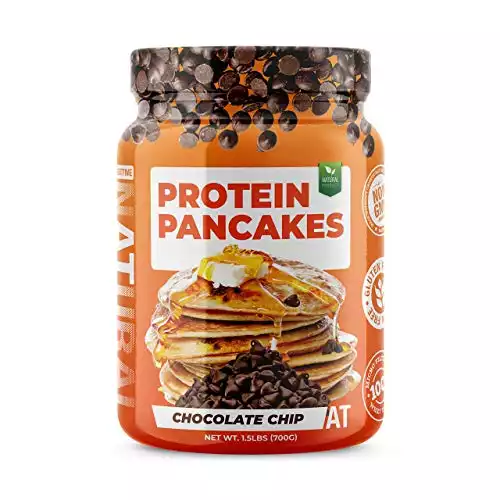 Each mix is based primarily made with oatmeal flour, whey isolate, buttermilk powder, and flax seed powder and other smaller ingredients for taste depending on the flavor. Each pancake contains between 21g to 27g of whey protein isolate, 6g of fiber from the flax meal, and 290 calories. Each flavor is naturally sweetened with Stevia. All you have to do is just add water and cook on a griddle.
The About Time Protein Pancake Mix is one of my favorite out-of-the box mix. It's super easy to make – just add water!
After a tough workout the last thing you want to think about is a complicated recipe with multiple ingredients. A single serving size is a 6-inch pancake, which is about the size of your average dinner plate. Not to mention these babies are fluffy. One or two of these and you're definitely stuffed for a while.
Each serving contains about 21g of protein. All the flavors are quite good, but we really liked the maple syrup. You don't even have to use the real stuff!
A 10-serving container retails for $27.99 or roughly $2.80 per pancake. About Time almost always offers a 20% discount if you use the code "natural" knocking the price down. However, shipping can be expensive unless you spend over $75 then it's free. You can check out this listing for the latest prices.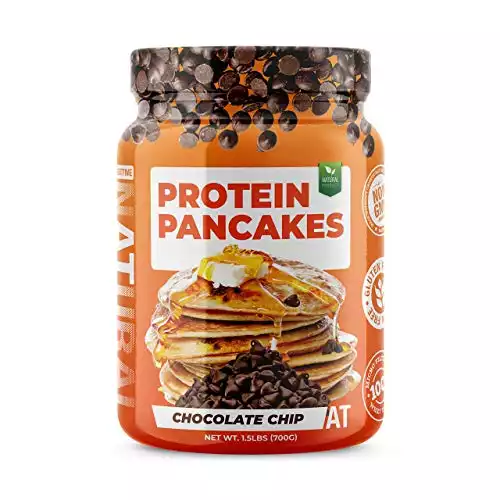 Flapjacked Protein Pancake and Baking Mix
Started by Jennifer and Dave Bacon, Flapjacked is a homegrown business designed to create products for their children who have special health and dietary needs. The Protein Pancake Mix is Flapjacked's staple product.
Made with whole oats, sweet cream buttermilk, and coconut flour, these pancakes contain 20 grams of protein, 5 grams of fiber, and 200 calories.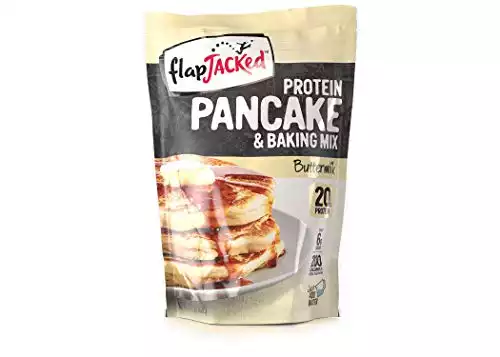 The product comes in four flavors: buttermilk, carrot spice, cinnamon apple, and banana hazelnut. Every flavor is fortified with whey protein isolate and pea protein powder.
Flavors are naturally sweetened with fruits and vegetables and do not contain any GMOs or artificial sweeteners. All you need to do is add water and cook or use the product as a flour replacement in other recipes.
Flapjacked is another favorite mix of our reviewers. I especially love that all the flavors contain no GMOs and artificial sweeteners. There is no Stevia here. I love the taste of each flavor, especially the classic buttermilk. I also love the versatility of the product. You can use it to bake all your favorite treats.
A 12-ounce, 6-serving bag retails for $8.99 or $1.50 per pancake making it a great budget-friendly option. Check the latest pricing at this listing.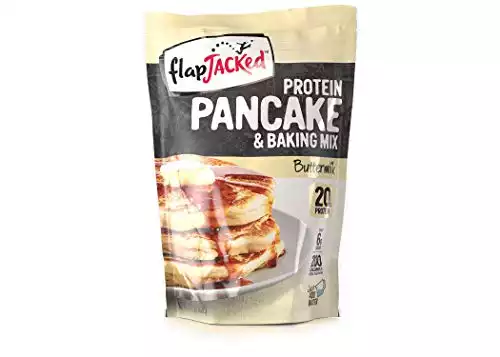 MET-Rx High Protein Pancake Mix
MET-Rx High Protein Pancake Mix is one of the original protein powder pancake mixes on the market. Each serving contains as much protein as a three egg white omelet. Each serving contains 12 grams of protein, 2.5 grams of fat, and several key vitamins and minerals for muscle metabolism.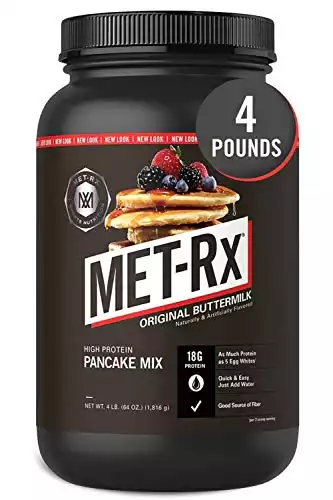 While not as clean as other protein powder mixes, MET-Rx contains wheat flour, sugar, wheat gluten, and Metamyosyn HPP protein blend. The original buttermilk flavor is easy to make – just add water – and tastes great. It's easy to add other ingredients, like blueberries or bananas, to make a wide variety of flavors.
Our reviewers enjoyed the classic buttermilk taste and the fluffy consistency of the mix. However, compared to other mixes, the MET-Rx High Protein Pancake Mix contains less protein per serving and contains ingredients like wheat and sugar. While most people won't have a problem with the ingredient list, those who are allergic or sensitive to gluten or milk products should avoid this mix.
A 32-ounce container contains 16 serving and retails for about $0.88 per pancake, the MET-Rx is very budget-friendly. You can check this listing for the latest prices.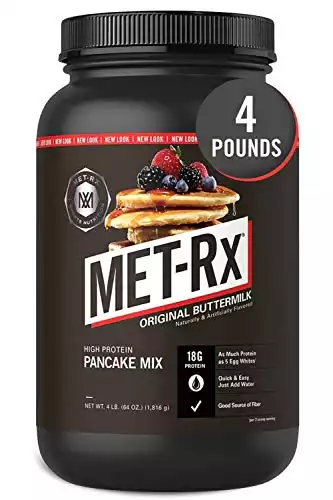 P28 High Protein Pancake Mix
Three brothers, who owned a bakery, created P28 after discussing the importance of nutrition with their personal trainers at the gym. Developed with the aid of their trainers and nutritionists, P28 now sells breads, bagels, wraps, and pancakes.
Their original buttermilk buckwheat mix contains 14 grams of protein per pancake, no GMOs and no artificial flavors or preservatives.
Other flavors include white chocolate, chocolate coconut, and strawberries n' cream. I loved these flavors. Both chocolate flavors are made with real chocolate. I had to resist from eating these for breakfast, lunch, and dinner.
Each pancake is only 160 calories and contains 14 grams of whey isolate protein. The company recommends eating two for a total of 28 grams of protein. We loved how fluffy and rich these pancakes tasted.
A 10-serving container retails for $12.99 or $1.30 per pancake, but check here for the latest pricing.
Tri-O-Plex High Protein Pancake and Waffle Mix
Tri-O-Plex High Protein Pancake and Waffle Mix is another popular protein powder pancake mix. Each pancake contains 198 calories, 2 grams of fat, and 13 grams of protein. Ingredients include enriched all purpose flour, CJ protein blend (soy protein isolate, whey protein isolate), sugar, and eggs.
While I didn't love this mix, they did like the simple taste and the ability to mix in other ingredients to create your own favorite flavored pancakes. While the mix is easy to prepare and the pancakes were fluffy, the mix misses the wow factor that some of the other mixes have.
A 17-serving container retails for $16.00 or about $0.94 per pancake (check here for latest)
Quick Comparison – Best Protein Pancakes
The Final Bite – My Personal Favorites
Protein powder pancakes are easy to make on your own as well, but if you're short of time and want something you can just add water to, any of the above protein powder pancake mixes are great options.
Each one has its positives and negatives. If you're looking for something with a high protein content and great taste, my personal two favorites (the ones I have in my pantry right now) were About Time and Flapjacked.
Recommended Reads: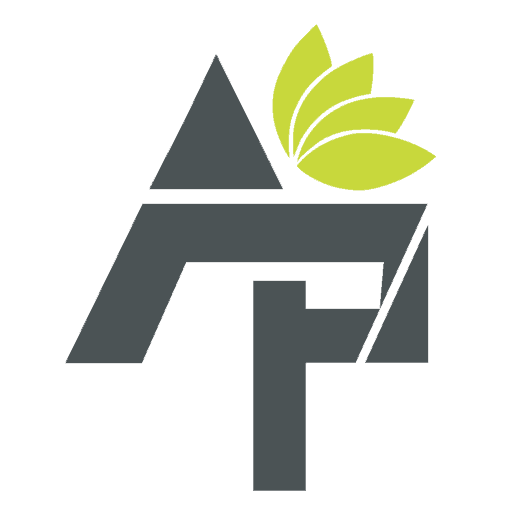 Alt Protein Team is a team of professionals and enthusiasts committed to bringing you the most up-to-date information on alternative protein, health and wellness, workouts, and all things health-related. We've reviewed a lot of products and services so you don't have to guess when you spend your hard-earned money on them. Whether you want to shed some pounds, build lean muscle or bulk, we can help you figure out what you need to do and what you need to have to achieve your goals.