In this Aria protein powder review, we'll look at protein vs. filler, the price for what you're getting, where to buy, how it tastes and performs, and more. Should you buy Aria protein? Maybe. But read this first.
About Aria Protein Powder
Designer Protein designed Aria protein powder with women in mind, and it's a blend of soy and whey proteins. It's more than just that, though (see the ingredients list below). It only comes in vanilla flavor, but you can do a lot with a vanilla base. Add fruit, greens, cacao powder, or whatever you like to change the flavor. It also only comes in the 12 oz. size.
I have a few concerns about Aria protein powder to address in this review. That doesn't mean it's all bad or that no one should ever buy it and use it, so don't think that's what I'm trying to say. There are some definite perks to this protein powder, as well.
Aria Protein Shake Ingredients
Aria Protein powder has a pretty long list of ingredients. Usually, protein powder brands either try to avoid that or they pack their product with superfoods to increase the amount of nutrition you'll receive from it. That's not really the case here. Ingredients in the vanilla Aria protein powder include:
Protein blend (soy protein isolate, whey protein concentrate, and whey protein isolate)
Soluble corn fiber
Fructose
Oat fiber
Natural vanilla flavor
Brown rice syrup
Soy lecithin
Citrus fiber
Soy isoflavones
Stevia leaf extract
Mixed Tocopherols
Calcium phosphate
Vitamin D3
Folate
Blend of probiotics and prebiotics (plus fiber and organic aloe vera)
Breakdown of Ingredients
Let's break those ingredients down.
Protein blend: Great! Nothing to see here, as long as you can tolerate whey and soy well.
Corn fiber: It's a fiber that can take the place of added sugars. I would consider this one-though not necessary in a protein powder–a neutral ingredient.
Fructose: Sugar. It enhances the taste, but it's not strictly necessary.
Oat fiber: More filler/fiber. It will help with satiety and could have additional health benefits.
Natural vanilla flavor: No complaints. It gives the shake some flavor.
Brown rice syrup: Sugar.
Soy lecithin: Helps everything mix well.
Citrus fiber: More fiber. It may work as a stabilizer or emulsifier here, as it's been substituted for carrageenan in other products.
Soy isoflavones: These are phytoestrogens, which means they can weakly behave like estrogen. I encourage you to do your own research to decide whether they would be good for your body or not.
Stevia leaf extract: Another sweetener, calorie-free and from a plant.
Mixed tocopherols: Added for flavor.
Calcium phosphate, vitamin D, and folate: Added vitamins and minerals, so not necessarily good or bad.
A blend of prebiotics and probiotics are always good, as long as they agree with your digestive system.
Nutrition Label

Here's a quick look at the basics of the nutrition label:
Calories (calories from fat) – 90 (10)
Fat (saturated) -1g (0g)
Complete Protein – 15g
Carbohydrates (sugars/fiber)– 5 (1g/3g)
Cholesterol– 0mg
Sodium – 110mg
Potassium– 40mg
Vitamin C – 100% DV
Calcium – 30% DV
Folate – 100% DV
Biotin – 100% DV
Vitamin D – 30% DV
Iron – 10% DV
Phosphorus – 50% DV
Taking a Closer Look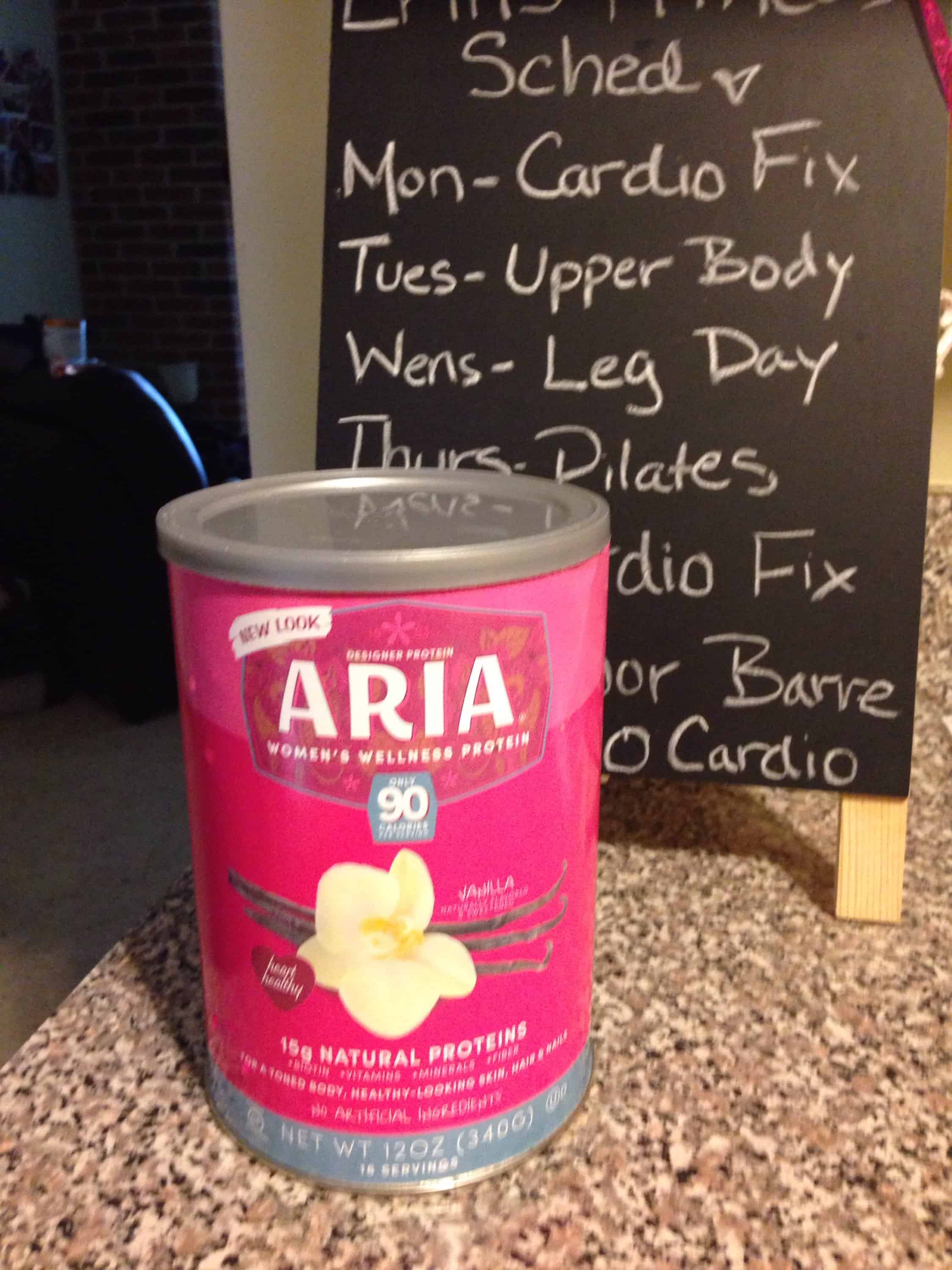 The grams of protein versus the grams of product in a serving doesn't really impress me, but I do appreciate the fiber. Designer Protein says 15 grams of protein and that each serving is 21 grams (total weight, which means protein and other ingredients). I also like the fact that the calories are low enough to allow for other ingredients so you can customize your shake. I also appreciate that it's not sweetened with aspartame, something that will automatically make me put a product back on the shelf.
I love that there are vitamins and minerals in here that are good for women to have, especially the folate and biotin. I was glad to see the prebiotics and probiotics, too.
Taste and Performance
People really seem to be impressed by the taste of it. I did notice that the majority of reviews across the board said how good it was blended, though. The comment I saw about using it with a shaker bottle said it was good, but still had a little "texture."
Texture is not unusual for any protein powder, but it's something to be aware of if you need your drinks smooth. In that case, you may want to look for a whey protein or commit to using a blender. It is disappointing that this only comes in vanilla, but it's not a big deal. Especially if you were already planning to make your shakes in a blender and add things in. You'll get your variety that way, and the possibilities are endless.
Value for the Money
Aria protein powder's retail cost is around $17.00, but you can find it for a lot less than that pretty easily. For example, at the time of this writing, it's about $11.00 at Vitacost.com.
So what do you get for that under $20.00 price point?
Fifteen servings (two scoops per serving) of decent protein powder. If you drink it daily, expect to pay somewhere between $20.00 and $40.00 per month for the Aria Protein Powder. That's still less than some other brands that sell you a month's worth at a time.
Is this the best protein powder out there? No. Is it worth the price? I would say so. I paid the Aria protein powder price for lower quality protein when I first got started in fitness.
The fact that they call it a "shake mix" instead of just a protein powder makes me more forgiving of the fillers and other additions.
Where to Buy It Aria Designer Whey
You can pick it up in person next time you go shopping, or you can shop online. It's available at several stores.
Vitacost
Walmart
The Vitamin Shoppe
Amazon
Pros and Cons of Aria Designer Whey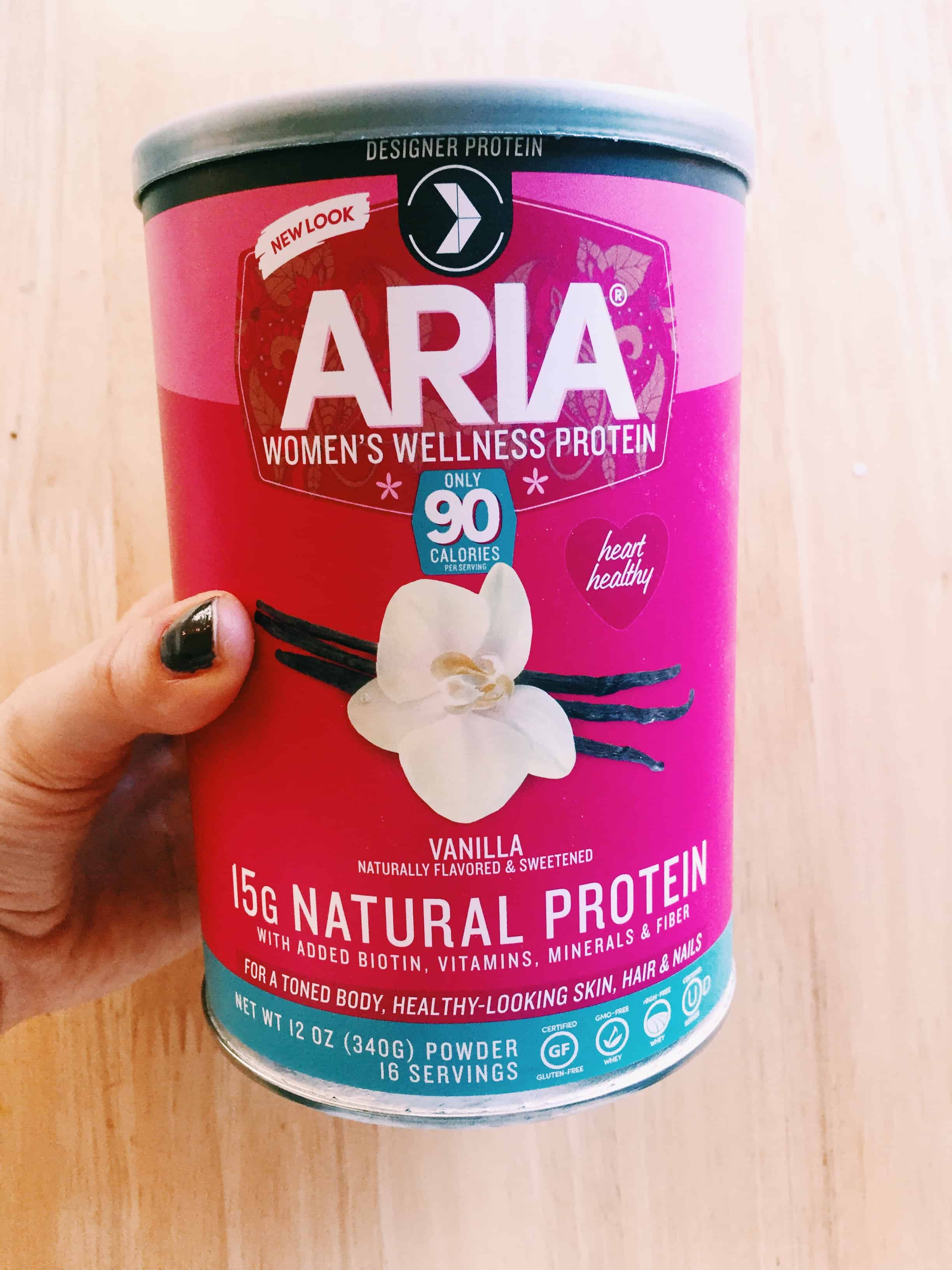 In this case, a pro for some could be a con for someone else.
Pros
It's easy to find and available online and in brick and mortar stores.
It contains 15 grams of protein (other brands have more, but this isn't bad). Note: Some sites list it as 14 grams, but Designer Protein says 15.
If you're not strict about keeping soy or whey/dairy out of your diet, you'll get a nice blend of both from this powder.
The addition of folate and other vitamins and minerals is great for women.
It's sweetened with brown rice syrup and stevia, not artificial sweeteners that can come with nasty side effects.
The formula really does seem to take women's needs in mind. It's not a generic protein powder and less protein may be just what you need, depending on your size, goals, and how often you're consuming protein shakes.
Cons
There are a lot of fillers in here compared to other protein powders on the market.
A lot of people are trying to stay away from soy these days. Others have trouble with whey. If you fall into either category, this one's not for you.
You could get more protein per serving from another protein powder.
Aria Designer Whey Alternates | Other Protein Powders to Consider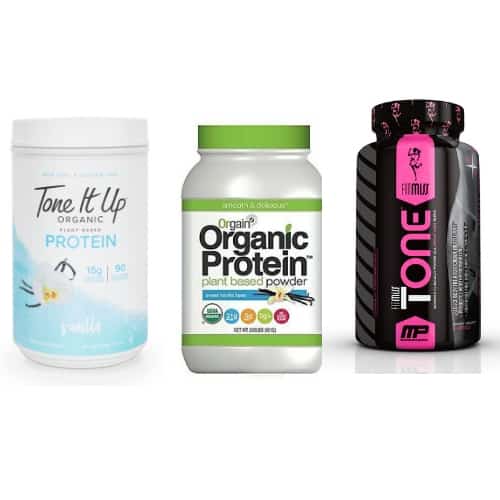 While Aria protein powder is a good option, especially for women, there are others you may want to look at.
]

Tone It Up Plant-Based Protein Powder

: This one costs more, at around $23.00 for 14 servings. However, if you're looking for a different mix of protein (this one is made up of pea and pumpkin seed protein) that's sweetened differently (monk fruit extract, in this case), this is a good one. It comes in vanilla, chocolate, peanut butter, and coconut flavors. The composition is about the same, with 15 grams of protein in a 23-gram serving size (one scoop).
Orgain: Here's another vegan option (pea, brown rice, and chia seed) that's good for women. You get 21 grams of protein and six or seven grams of fiber per serving. A tub is about $15.00, but you only get 10 servings. NOTE: you can save an additional 10% using this link here.
FitMiss Delight™: You can get a 2-lb tub (36 servings) for less than $25.00, and this is more of a "shake" than a true protein powder, due to the presence of a greens & fruit blend. It has probiotics and added vitamins, too, on top of 16 grams of protein. The protein mix is a bit unusual—a blend of whey protein concentrate, Solathin™ Potato protein, egg albumin, micellar casein, whey protein isolate, and whey protein hydrolysate—and it's sweetened with artificial sweeteners. Depending on what you're looking for, this could still be a good fit.
FAQ's For Protein Powders
What Happens If You Don't Get Enough Protein While Working Out?
The most probable symptom is feeling tired, because protein supplies you with energy. Protein is vital for muscle growth, repair, and maintenance, but it has a huge role in your immune system as well. When you exercise, your body uses a lot of protein to repair muscle, and if you don't consume the right amount, you won't recover your muscles, and if it gets serious, you can debilitate your immune system.
Can I Build Muscle Without Protein Powder?
Protein shakes are made for daily use in order to ingest the recommended daily dose of proteins. If you are trying to develop muscle mass quickly, getting a protein shake before or after exercising, will definitely help. It doesn't mean that if you don't drink it, you will never reach your goal, but it definitely will take you longer, and you will need to check that you are eating a lot of protein in your diet to recover your muscles after working out.
Is Aria Powder Gluten-Free?
Yes. This powder is Non-GMO and Gluten-Free and is an excellent source of vitamins.
Does It Have Any Artificial Sweeteners?
This protein powder has stevia in it, but since it is a natural herb, it is not considered as an artificial sweetener. However, the powder does contain sugar.
Should You Buy Aria Protein Powder?
Going into this review, I was going to say no. But now I think the answer could be maybe—or even yes, as long as you're not sensitive to dairy or soy and can handle a combination of both. I
Is this the highest quality protein powder out there? No. But it's also affordable, accessible, tastes good, and performs well when mixed. Overall, it's a good protein powder supplement, better than most I've tried.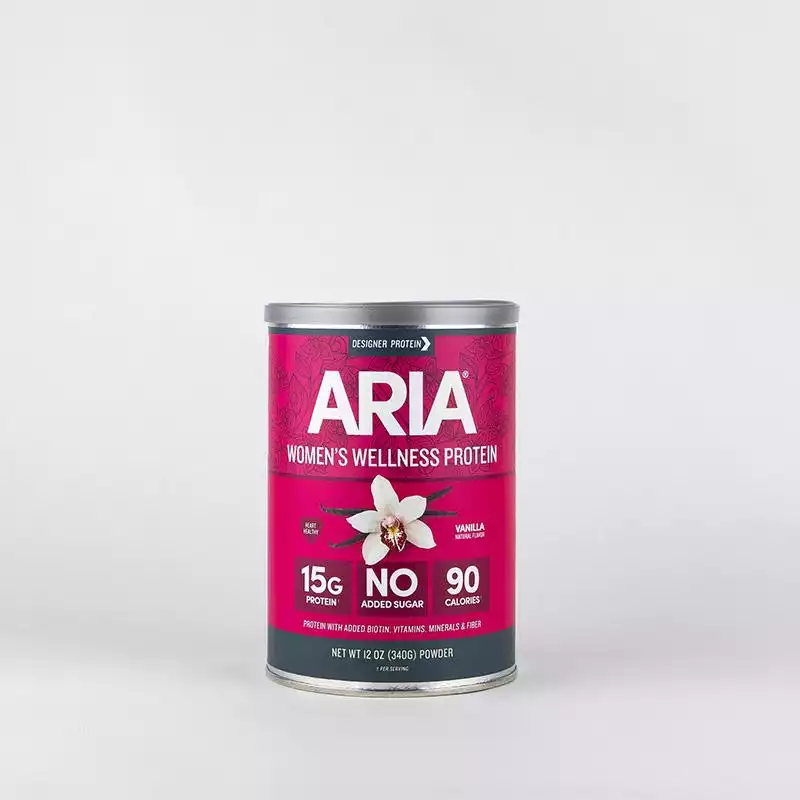 Save 25% Off Aria Today
Designer Whey is offering a special discount for 25% off your first order with email sign up here! This means you can save an additional 25% off Aria, too.
Buy Now
We earn a commission if you click this link and make a purchase at no additional cost to you.
Further Read: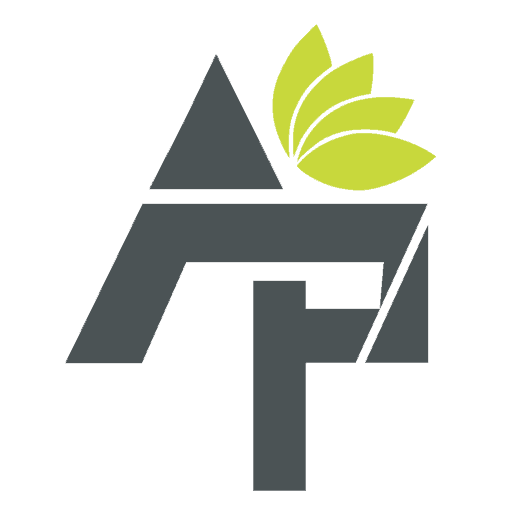 Alt Protein Team is a team of professionals and enthusiasts committed to bringing you the most up-to-date information on alternative protein, health and wellness, workouts, and all things health-related. We've reviewed a lot of products and services so you don't have to guess when you spend your hard-earned money on them. Whether you want to shed some pounds, build lean muscle or bulk, we can help you figure out what you need to do and what you need to have to achieve your goals.