Everyone loves the experience of eating a well-cooked, finely crafted, gourmet meal. But sometimes, there's just not enough time in a busy day to even grab a quick bite. Or if there is, that quick bite is something that we know is not aligned with our health and fitness goals.
That's where meal replacement shakes come in. The idea behind it is a convenient nutrition shake that contains all the calories and nutrients found in a typical solid food meal.
Although many people think that they are a relatively new phenomenon, meal replacement shakes actually have been around for quite a while. According to Google Trends, meal replacement shakes have been constantly increasing in popularity and are now more popular than ever.
Is the rise in popularity of healthy meal replacement shakes due to our increasingly health-conscious society? Or is it a reflection of our increasing desire for efficiency and convenience? Whatever the reason, it looks like meal replacement shakes are here to stay.
And when it comes to meal replacement shakes, two brands immediately stand out: Soylent and Ensure. In this article, we will break down both of these brands' flagship products and examine their respective pros and cons.
By the end, you will be better informed as to which of these meal replacement shakes would be more ideal for you.
Main Differences Between Soylent vs Ensure
The difference between Soylent and Ensure:
Soylent has more dietary fiber compared to Ensure
Soylent has less sugar per serving (Ensure has almost double the sugar per serving)
Ensure is generally cheaper at roughly $1.25 per serving, whereas Soylent is more expensive at around $2.70 per serving
Soylent: Food Reformatted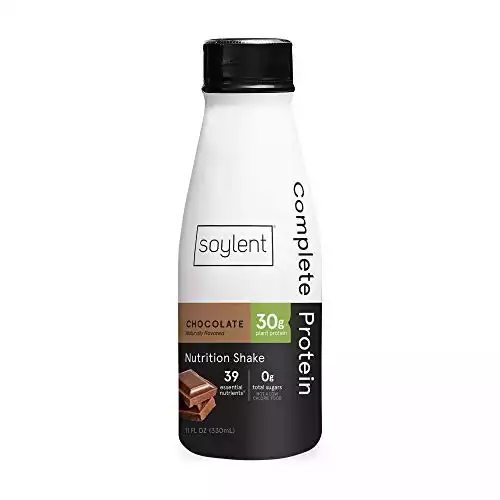 A Brief History of Soylent
Soylent was founded in 2013 by a bunch of Californian startup entrepreneurs who were frustrated with cost and effort it took to prepare, purchase, and consume food. Food that they found neither healthy nor enjoyable.
Hence, the creation of Soylent. Named after a fictional product in Harry Harrison's 1966 science fiction novel Make Room! Make Room!, news of the company's impending launch went viral in 2014. As a result, it generated over $2 million in preorders prior to its launch.
Soylent Current Product Line
Initially released only as a powder, Soylent's product line now includes a Soylent bar and a Soylent Meal Replacement drink as well, with a caffeinated version also available.
Its powdered product line is currently in its ninth iteration, known as Soylent 1.8. Its meal replacement drink version is called Soylent 2.0.
For the purposes of this review, we will be focusing exclusively on the Soylent powder and drink (non-caffeinated "Soylent diet"); its main products.
Soylent Nutritional Information
Soylent Powder (Version 1.8)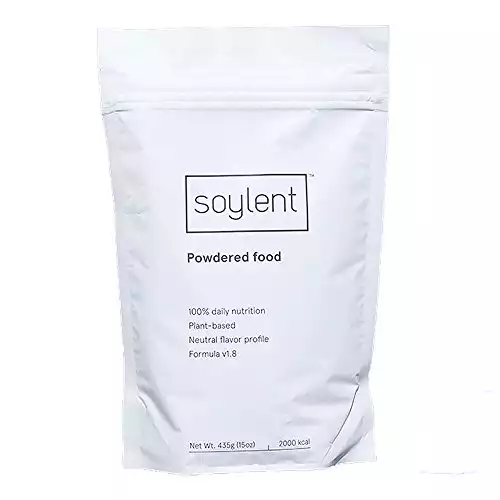 Main Soylent Ingredients
Soy Protein Isolate, High Oleic Canola Oil, Maltodextrin, Isomaltulose, Soluble Corn Fiber, Modified Food Starch, Soy Lecithin, Xanthan Gum.
Calorie Count
400 calories per serving.
Macro nutrient Breakdown
Macronutrients: Each serving has 20g protein, 39g carbohydrates (including 5g fiber and 15g sugar), and 20g fats (1.5g saturated fats, 3.5g polyunsaturated fats, and 14g monounsaturated fats).
By calories, the ratio of protein/carbs/fats is 20%/35%/45%.
Soylent 2.0 (Meal Replacement Drink)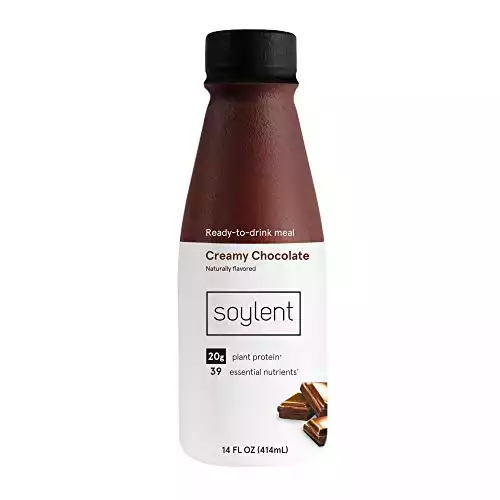 Main Ingredients
Filtered Water, Soy Protein Isolate, Maltodextrin, High Oleic Sunflower Oil, Isomaltulose, Canola Oil, Rice Starch, Oat Fiber, Isomaltooligosaccharide, Soy Lecithin.
Calorie Count
400 calories per serving (one bottle).
Macronutrient Breakdown
Each serving has 20g protein (high protein), 36g carbohydrates (including 3g fiber and 9g sugar), and 21g fats (1.5g saturated fats, 3.5g polyunsaturated fats, and 16g monounsaturated fats).
By calories, the ratio of protein/carbohydrates/fats is 20%/33%/47%.
Our Soylent Review
Nutritional Content
Both the powder and the drink maintain the same 20g of protein per serving; comprising 20% of total calories. While this is a normal protein to total calorie ratio, we want to highlight the source of Soylent's protein, which is soy protein isolate.
Soy protein, simply put, may not be ideal for men. One clinical study found that excessive soy protein intake decreases serum testosterone levels in healthy men. In that study, the male volunteers consumed 56g of soy protein daily (high protein) for 28 days; the equivalent of three servings of Soylent a day for a month. The result? A 19% decrease in serum testosterone levels.
However, other studies have shown normal soy protein intake levels to have no testosterone lowering effects, with another study showing resistance trained men taking 50g of soy protein (high protein) for 12 weeks had no lowered testosterone. They also had similar lean mass increases compared to subjects consuming whey protein.
Therefore, it is likely that, as a male, as long as your daily soy protein intake is kept moderate (20 – 25g daily), you will not experience any negative side effects. Keep in mind however that this intake level is equivalent to only one serving of Soylent per day!
Hence, if you are a man, it is advisable if you keep your Soylent intake at no more than two servings daily; ideally at one.
Moving on, we can see that Soylent's macro-nutritional breakdown is more biased toward fats than carbohydrates, although not overly so. The fats come from either high oleic canola oil (the powder) or sunflower oil (the drink).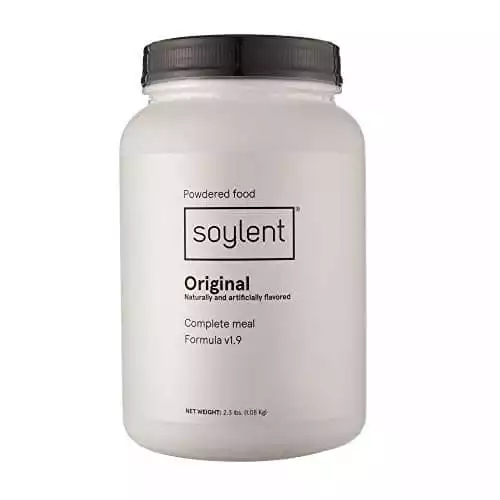 These are both good sources of unsaturated fats which have lower bad cholesterol levels and provide essential Omega-3 and Omega-6 fatty acids. Saturated fat content is kept low at 1.5g per serving.
Most of the carbohydrates in Soylent come from maltodextrin. Maltodextrin is a food additive derived from any starch. While the FDA classifies it as a safe food additive, you should know that it has a very high glycemic index, from 85 to 105, meaning high spikes in your blood sugar levels (decreasing insulin resistance).
Further, maltodextrin has also been linked to changes in gut bacteria composition in a way that can increase the growth of bad gut bacteria.
Hence, if you are diabetic, insulin resistant, you may want to be careful about consuming Soylent. Likewise, if you have digestive issues.
The maltodextrin content is actually more of a negative than the added sugars on Soylent's label. Those added sugars on the label are actually isomaltulose. Although this ingredient is FDA-mandated to be labeled as sugar, it really acts as more than a slow digesting carb, with a glycemic index of only 32.
Finally, Soylent's fiber content is adequate, although only for the powder version. Assuming a full 2,800 calorie per day diet, which equates to seven servings of Soylent, you would get 21g of fiber in the drink version and 35g in the powder version. The daily recommended fiber intake is 30g.
Soylent Taste
If you are drinking Soylent for the taste and not its utility, you are an outlier. Everywhere, most people rate Soylent's taste as neutral at best. This is particularly true for the powder version. It tastes a little bit like half and half, with a bit of a gritty aftertaste.
The Soylent 2.0 comes in three flavors, original, cacao, and nectar. Its taste is definitely better than the powder version, with the original flavor being described as vanilla flavored milk, something like Nesquik. The nectar flavor's taste is like the leftover milk after eating a bowl of Fruit Loops while the cacao has a more chocolatey fudge taste.
Overall, Soylent's value does not lie in its taste, although its drink versions have superior flavor compared to the powder version.
Soylent Value for Money
Per 400 calorie / 100 calorie serving, each Soylent product costs the following:
Soylent Powder (Version 1.8): $1.83 / $0.46
Soylent 2.0 Original: $2.83 / $0.71
Soylent 2.0 Nectar: $3.25 /$0.81
Soylent 2.0 Cacao: $3.25 / $0.81
If you subscribe to monthly deliveries on their website, you get a 16% discount on the powder and 5% on the drink.
Assuming a daily 2,800 calorie intake (seven servings of Soylent), it would cost you anywhere from $12.81 to $22.75 per day. This translates to $89.67 to $159.25 per week. Considering the average American spends $151 to $180 per week on food, Soylent actually shows high value for money.
Ensure: Complete Balanced Nutrition
A Brief History of Ensure
Ensure is a product line launched by Abbott Laboratories in 1973. Abbott Laboratories is a global healthcare conglomerate with over 100 years of history.
Ensure Current Product Line
Given how long Ensure has been in the market, it has a very extensive product line. For the purposes of this review, we will only be looking at their 'Complete Balanced Nutrition' line, which comprises Ensure Original (powder and drink form), and Ensure Plus.
Ensure Nutritional Information
Ensure Original Powder
Main Ingredients
Corn Syrup, Corn Maltodextrin, Sugar, Corn Oil, Sodium & Calcium Caseinates, Soy Protein Isolate, Artificial Flavor, Potassium Citrate, Magnesium Chloride, Calcium Phosphate, Sodium Citrate.
Calorie Count
250 calories per serving.
Macronutrient Breakdown
Each serving has 9g protein, 34g carbohydrates (including 13g sugar), and 9g fats (including 1.5g saturated fats).
By calories, the ratio of protein/carbohydrates/fats is 14%/54%/32%.
Ensure Original Shake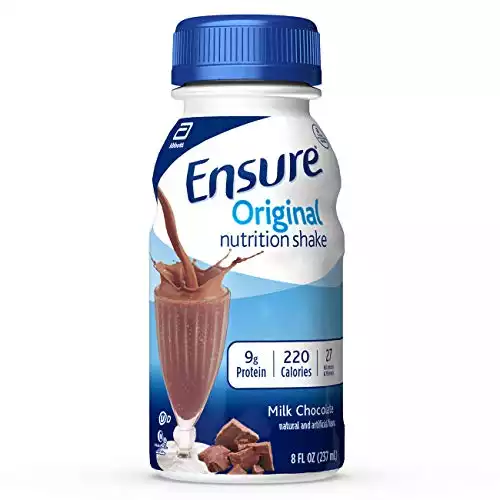 Main Ingredients
Water, Corn Maltodextrin, Sugar, Milk Protein Concentrate, Canola Oil, Soy Protein Isolate, Cocoa Powder (Processed with Alkali), Corn Oil.
Calorie Count
220 calories per serving.
Macronutrient Breakdown
Each serving has 9g protein, 33g carbohydrates (including 1g of fiber and 15g sugar), and 6g fats (including 1g saturated fats).
By calories, the ratio of protein/carbohydrates/fats is 16%/59%/25%.
Ensure Plus Shake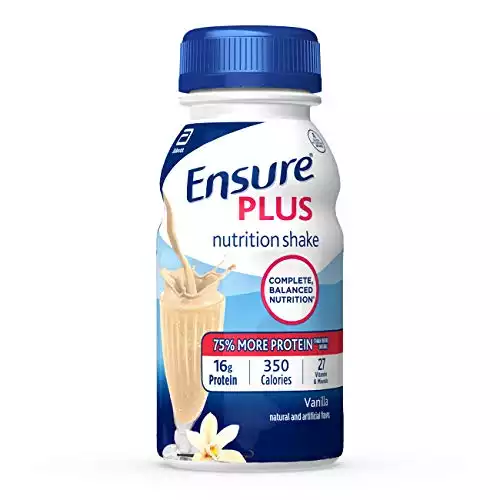 Main Ingredients
Water, Corn Maltodextrin, Sugar, Blend of Vegetable Oils (Canola, Corn), Milk Protein Concentrate, Soy Protein Isolate, Cocoa Powder (Processed with Alkali).
Calorie Count
350 calories per serving.
Macronutrient Breakdown
Each serving has 13g protein, 51g carbohydrates (including 22g sugar), and 11g fats (including 1.5g saturated fats).
By calories, the ratio of protein/carbohydrates/fats is 15%/57%/28%.
Our Ensure Review
Nutritional Content
From a protein standpoint, Ensure's protein drinks comprise about 15% protein on a per calorie basis. While not bad, this is definitely on the lower end and would not be ideal for people who need higher protein intakes, such as athletes.
Further, Ensure's protein source also comes partly from soy protein, which as we have shown may not be ideal for males, especially in higher quantities. However, unlike Soylent, Ensure's protein source comes from both soy protein and milk protein.
Ensure's offerings are also much more biased toward carbohydrates. While being carbohydrate heavy is not necessarily a negative, in Ensure's case it definitely is. This is because of the high sugar content in Ensure, ranging from 16% to 27% of total calories! And the sugar in Ensure is normal sugar, not the low-GI isomaltulose found in Soylent.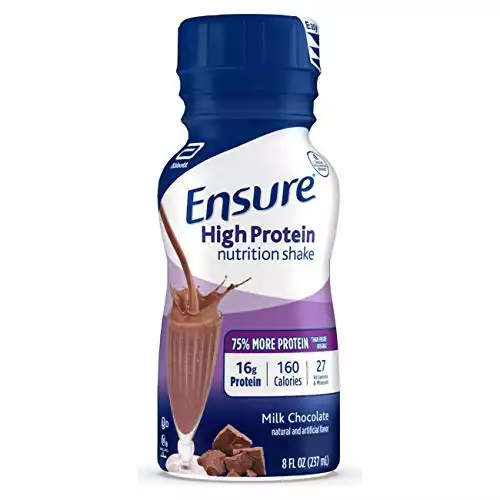 In addition to the sugar, much of the carbohydrate content in Ensure comes from maltodextrin; the negatives of which we have highlighted previously. Given that practically all of the carbohydrates in Ensure come from sugar and maltodextrin, Ensure's carbohydrate content is definitely low quality.
Further, Ensure's fiber content is basically non-existent. Therefore, if you have diabetes, insulin resistance, or digestive issues, Ensure is definitely not for you.
The fat content in Ensure is fairly neutral, coming from a canola and corn oil. These are both good source of unsaturated fats with cholesterol lowering health benefits.
Ensure Taste
Ensure's powder only comes in a vanilla flavor, however its shakes come in vanilla, milk chocolate, strawberry, dark chocolate, butter pecan, and coffee latte. Ensure's shakes actually taste pretty good, with many reviewers describing its taste as comparable to a milkshake.
Ensure Value for Money
Using average prices for Ensure online, we have calculated an approximate price for Ensure on a 100 calorie basis.
Ensure Original Powder: $0.56
Ensure Original Shake: $0.66
Ensure Plus Shake: $0.59
Soylent vs. Ensure: The Showdown
Now that we've looked at both brands, the question you want answering is; which brand is more suitable for you? Let's look at how they stack up against each other in terms of nutrition, taste, and value for money.
Nutritional Content
Soylent wins here hands down. It's not even a contest. On the protein angle, Soylent has a significantly higher percentage of protein. The drawback is that Soylent's protein source is exclusively soy protein, while Ensure has a combination of soy and milk protein. However, on balance, Soylent still comes out with a slight edge here.
On the fats angle, they are about equal in terms of what comprises the fats. Canola, sunflower, and corn oil are all healthy oils. However, Soylent's macro nutrient breakdown is more biased towards fats and thus contains more of these healthy fats as well as more minerals and vitamin nutrients.
It is on the carbs that Ensure loses out completely. The fact is that Ensure is loaded with sugar; 16% to 27% of total calories! Added sugars shouldn't comprise more than 5% to 10% of your daily calorie intake; the amount of added sugars in Ensure is absurd and seriously detracts from its claims of being a health drink. As mentioned, Soylent's 'added sugars' is really isomaltulose, which has a low glycemic index.
Both Ensure and Soylent use maltodextrin, which is a negative, however, they are equal in this regard. Soylent also does have one more advantage over Ensure, and that is dietary fiber, which is non-existent in Ensure.
Taste
From a flavor perspective, it's another no contest: Ensure wins hands down. Soylent's taste is probably its number one drawback and at best, takes some getting used to. However, Ensure's superior taste can likely be attributed to its high sugar content.
Value for Money
In terms of costing, on a per 100 calorie basis, Ensure is significantly cheaper for its shakes compared to the Soylent 2.0 nutrition drinks. However, the Soylent power (version 1.8) still remains slightly cheaper compared to the Soylent Original powder.
Final Verdict: Is Ensure or Soylent Best?
When it comes to choosing a nutritious meal replacement shake, Soylent is the clear winner. Sure, it may not taste as good, but that's only because it does not contain loads of added sugar.
And yes, the Soylent 2.0 nutrition drinks may be more expensive than the Ensure, but it's still cheaper than the average food cost. Plus, you can always opt for the Soylent powder, which is equally nutritious (more minerals and essential nutrients) but much cheaper.
While these are both sold as well-balanced meal options in a bottle, they really aren't geared towards weight loss. In sort, if you are looking to lose weight with meal replacement products, there are other weight loss options.
Quick Review Table
Soylent
Ensure
Advantages
Disadvantages
Advantages
Disadvantages
Better nutritional profile
Poor taste
Superior taste
Extremely high added sugars
No real sugars
Reliance on soy protein
Shakes are comparatively cheaper
Worse nutritional profile
Good fiber content
Overall more costly
Lack of fiber
Where to Buy Soylent Online
Soylent can sometimes be found in supermarkets, but online vendors can vary. These are the following places I check (and price compare) for buying Soylent online:

Where to buy Ensure Online
Similarly, Ensure is widely available in most supermarkets, BUT specific varieties or flavors can be hit or miss. Here's where I check online first:
FAQs
Question: Is Soylent Drink Keto-friendly?
Answer: No, Soylent is not Keto-friendly, but these drinks are vegan and even though they are low in carbohydrates, they will not help you reach ketosis
Question: Is Soylent healthy for me?
Answer: Yes, Soylent is a healthy drink that is good for health, providing 20% of the essential dietary needs in a day, but there is one issue with the drink, and that is it's the low fiber content, meaning you will not be able to use it only as a meal replacement, but you will have to add foods rich in fiber in your diet.
Question: What are Ensure drinks for?
Answer: Ensure high protein drinks are drinks that meet the daily calorie and protein intake criteria, so you can use them as a meal replacement if you want to gain weight. These shakes are not for weight loss, as they contain 18 grams of sugar per bottle.
Recommended Protein Drink Reads:
Disclaimer
Last updated: May 2nd, 2022.
The information contained on www.altprotein.com website (the "Service") is for general information purposes only.
Alt Protein assumes no responsibility for errors or omissions in the contents on the Service.
In no event shall Alt Protein be liable for any special, direct, indirect, consequential, or incidental damages or any damages whatsoever, whether in an action of contract, negligence or other arising out of or in connection with the use of the Service or the contents of the Service. Alt Protein reserves the right to make additions, deletions, or modification to the contents on the Service at any time without prior notice.
Alt Protein does not warrant that the Service is free of viruses or other harmful components.
Fitness disclaimer
The Service offers health, fitness and nutritional information and is designed for educational purposes only. You should not rely on this information as a substitute for, nor does it replace, professional medical advice, diagnosis, or treatment. If you have any concerns or questions about your health, you should always consult with a physician or other health-care professional.
Do not disregard, avoid or delay obtaining medical or health-related advice from your health-care professional because of something you may have read on the Service. The use of any information provided on the Service is solely at your own risk.
You can also review our Editorial Integrity Policy.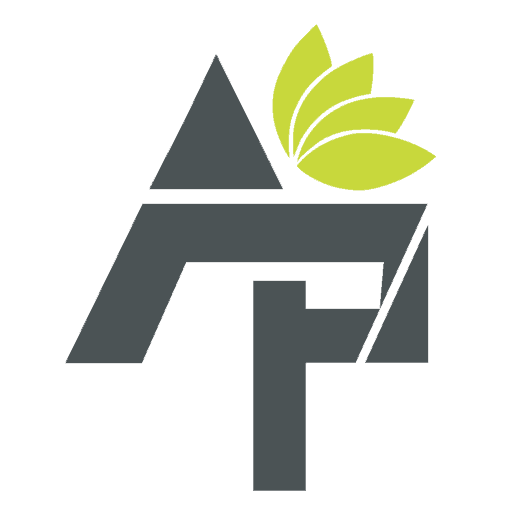 Alt Protein Team is a team of professionals and enthusiasts committed to bringing you the most up-to-date information on alternative protein, health and wellness, workouts, and all things health-related. We've reviewed a lot of products and services so you don't have to guess when you spend your hard-earned money on them. Whether you want to shed some pounds, build lean muscle or bulk, we can help you figure out what you need to do and what you need to have to achieve your goals.