If you're too busy to prepare all your meals, you could give meal replacements a try. I bet you've heard of Soylent but how much do you know about one of its main competitors, Ambronite? In today's comparative review, I will be giving you all the necessary details regarding these two products' ingredients, pros, cons, health benefits, prices, and more. By the end of this article, you will have what it takes to make a more informed purchasing decision.
Ambronite vs Soylent – Brief Comparison
| | | |
| --- | --- | --- |
| | Ambronite | Soylent |
| Calories/serving | 500 | 400 |
| Ingredients | Essential nutrients, vitamins, etc. | Amino acids, antioxidants, etc. |
| Taste and flavor | Average; 4 available flavors. | Neutral; 3 available varieties. |
| Shipping policy | Worldwide | Only the US and Canada |
| Price/meal | Approx. $10 | Approx. $6.25 |
Ambronite Drinkable Supermeal Overview
What It Is
This nutritional drink can be consumed as a meal replacement or a simple snack. According to its manufacturer, Ambronite is not like any other popular supplement because it has a special and clean formula that provides real nutrition due to its high-quality ingredients. So, if you're looking for high-protein content and a satisfying taste, this might be the perfect option for you to consider.
When it comes to following a well-balanced diet and healthy overall nutrition, things got a lot more complicated than they used to be. Nowadays, people live busy lives and they are always on the run. Still, you don't have to feel hungry all the time for the sake of following a strict schedule. Ambronite drinks keep you satiated for hours.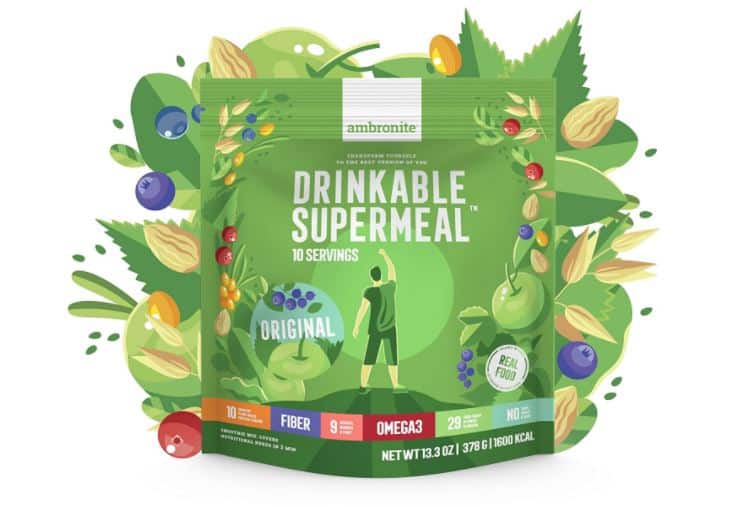 Ingredients
With Ambronite, you won't have to worry about nourishing your body in a proper way anymore. All this beverage's ingredients are sourced from wholesome foods. This way, your body will benefit from a lot of health benefits that Ambronite provides. Here is a complete list of all this supplement's ingredients:
Oat protein;
Oats;
Oat fiber;
Spinach;
Almond;
Chlorella;
Bilberry;
Apple;
Nettle leaf;
Agave syrup;
Flaxseed;
Cranberry;
Spirulina;
Blackcurrant;
Nutritional yeast;
Vanilla;
Natural flavors;
Guar gum;
Sea buckthorn;
Mineral salt.
As you can see, there are only plant-based ingredients in the Ambronite shakes. Also, all these elements are GMO-free, they don't contain artificial additives, wheat, or dairy compounds. While some ingredients are organic, others are not. On the other hand, in my opinion, it is more important to consume a clean and nutritious supplement than an organic yet more synthetic version of it.
Nutritional Facts
Ambronite Drinkable Supermeal Nutritional Values – per one serving (38 g)
Calories
500
Protein
30 g
Dietary fiber
10 g
Total fat
19 g
Carbohydrates
51 g
Sugars
15 g
Cholesterol
0 mg
How to Prepare and Use
These shakes are incredibly easy to prepare and consume. It will only take you a couple of minutes to create a delicious beverage. All you need is a shaker cup which will lead to a smoother drink texture and consistency. One packet is enough to achieve a delicious treat. Add some water or another liquid of your choice, mix it up, and enjoy this tasty blend.
Caution! If you suffer from a chronic illness, you should discuss with your doctor before introducing this supplement in your daily diet.
How Good Is Ambronite's Taste?
The Ambronite team is constantly tweaking its shakes formula. Every new recipe has significant improvements. For starters, they mix well and have a smoother texture. Also, each new modification is supposed to improve the taste of this beverage as well.
On the other hand, you shouldn't have great expectations when it comes to Ambronite's taste. The product is promoted as a natural and healthy meal replacement so consumers shouldn't necessarily choose to drink Ambronite for its taste. Some say its flavor resembles the one of an oatmeal Slurpee. When it comes to flavor, the predominant taste is given by the vanilla content. Others say the taste reminds them of raw and unsalted almonds. There are four available varieties marketed by Ambronite: original, banana, ginger apple, and berries.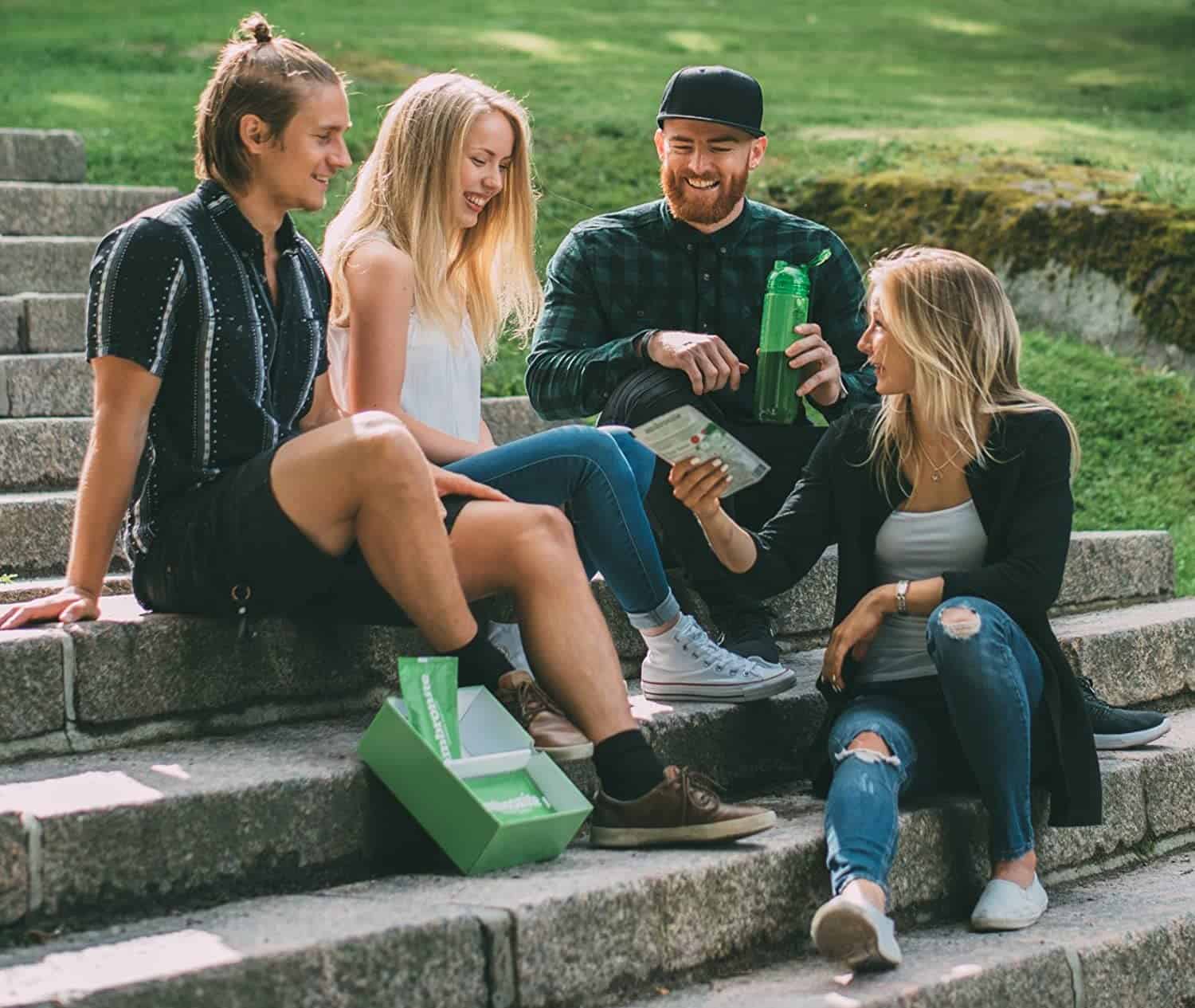 Benefits
A great advantage of Ambronite shakes is that they can be consumed by virtually anybody. It doesn't really matter if you want to lose a lot of weight of if you're simply trying to maintain your figure. This beverage works great for those of you who are too busy to cook multiple meals per day. Furthermore, it is good for bodybuilders, professional athletes, and even people like you and me who like to have an active lifestyle.
Here are the main benefits of using Ambronite as a meal replacement:
Saves you a lot of time. You will achieve a complete nutritional meal in only 60 seconds. Also, it allows you to substitute any meal, anywhere you go;
Boosts your energy level, mental focus, and brainpower. All these are due to this beverage high protein content;
Contains more than 40 different nutrients which cover your body's entire nutritional need. The secret that lies behind this benefit is the well-balanced combination of proteins, minerals, energy, vitamins, and healthy fats that this supplement provides;
Ambronite Drinkable Supermeal contains no less than 18 different whole food ingredients which help both your mind and body to thrive. So, this shake is also great for your overall health;
It can change your mood and life for the better. By consuming healthy products and following a proper diet, you can become happier and start living your life to the fullest.
Pros and Cons
Advantages
One scoop of Ambronite Drinkable Supermeal will provide you with all the essential nutrients your organism needs. Your body will be fueled with good-quality ingredients;
This supplement doesn't contain any artificial flavorings, added sugar, or GMOs. Therefore, it represents a natural product;
You can save a lot of time by replacing some of your regular meals with this shake. With Ambronite, you can forget about having to shop for a lot of individual ingredients. You can easily prepare multiple shakes and store them for later which helps you plan ahead;
The manufacturer offers global shipping services. Moreover, if you have a minimum order of four packs, you will benefit from free worldwide delivery.
Disadvantages
This product is quite expensive. One serving is almost $10 which is a bit much for a meal replacement, considering that ten bucks might be the cost of a nice lunch out, at a restaurant;
If you're following a low-carb diet, Ambronite might not be the perfect option for you, thinking that it contains 51 grams of carbs per serving.
How Much Does Ambronite Cost?
On Ambronite official website:
3 bags of 30 servings – $71.14;
5 bags of 50 servings – $118.58;
10 bags of 100 servings – $237.15.
On Amazon:
A pack of 7 meals – $69.30.
The other options (packs of 3 and 5) were unavailable at the moment in which this review was made.
Soylent Overview
What It Is
Soylent is a leader in the meal substitution industry. You can either choose their ready-to-drink version or opt for their powdered alternative. The first option saves you more time because you won't have to prepare it. Just open the bottle and enjoy this refreshing beverage. Soylent shakes are full nutritious meals. They are rich in fiber, protein, sodium, fats, etc.
These drinks can help you lower your hunger sensation and feel satiated for a longer period. One bottle of Soylent which counts for 14 ounces offers consumers over 20% of their organism's daily nutritional needs.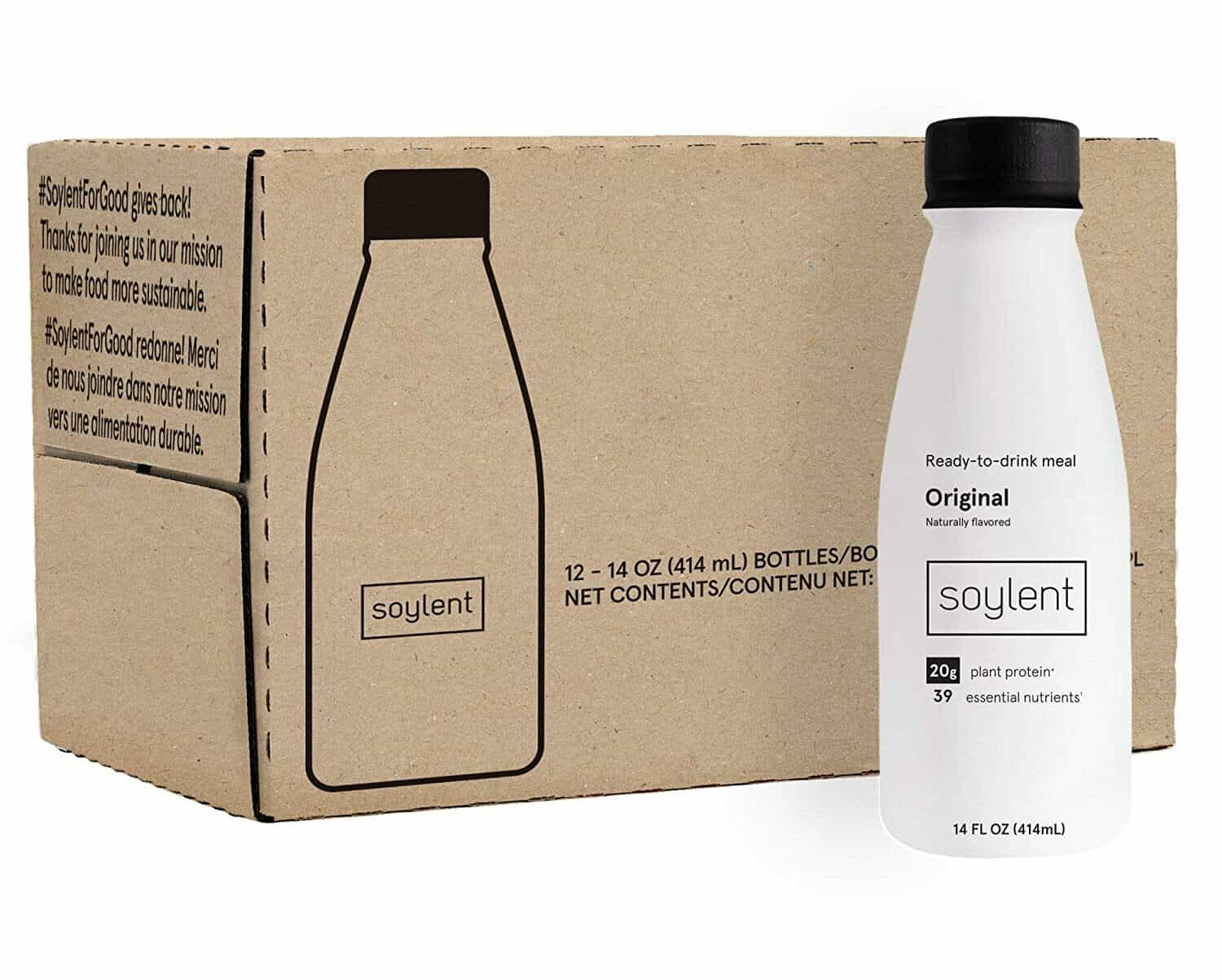 Ingredients
Soylent formula:
Oat powder;
Grapeseed oil;
Whey protein isolate;
Maltodextrin;
Salt;
Calcium carbonate;
Potassium gluconate;
Magnesium gluconate;
Creatine;
Monosodium phosphate;
Powdered soy lecithin;
Ferrous gluconate;
Methylsulfonylmethane;
Choline bitartrate.
Other ingredients:
Amino acids;
Sprouted quinoa;
Green superfoods – barley grass, spirulina, chlorella, spinach, etc.;
Antioxidants – acerola cherry, pomegranate, etc.;
Prebiotics – pea fiber, yacon root;
Digestive enzymes – lipase, lactase, amylase, etc.;
Adaptogens – Reishi mushroom, holy basil leaf.
There are a few compounds that I'm not so sure about:
Maltodextrin – this thickener can lead to certain side effects such as spiked blood sugar levels and it can interfere with your healthy gut bacteria;
Rancid vegetable oils – if a product contains way too many oils, these ingredients can become rancid in time and lead to the appearance of free radicals which might damage your arteries;
Synthetic vitamins – this type of vitamins are made by men in a lab so they are not natural and this means that your body will not process them in the same way it does with natural-sourced vitamins;
GMO soy – GMOs have always been controversial but I'll leave this complex topic for another article.
Nutritional Facts
Soylent Nutritional Values – per serving (one bottle)
Calories
400
Protein
20 g
Dietary fiber
3 g
Total fat
21 g
Carbohydrates
36 g
Sugars
9 g
Cholesterol
0 mg
How to Prepare and Use
If you choose to buy the bottled version, there's nothing you must do in terms of preparation. Just remove the cap of the bottle and enjoy your Soylent drink. For the powdered version, you will need to mix one scoop of product with water or any other beverage of your choice. Either way, Soylent is a highly convenient supplement.
You can even prepare multiple shakes and store them in the fridge for later consumption. Still, it is best to consume these shakes while they're still fresh.
How Good Is Soylent's Taste?
According to most reviewers, Soylent definitely has a more neutral taste compared to Ambronite. However, this is a debatable subject because while some people think it tastes great, others say it is a rather blunt flavor. These shakes come in three available varieties: original, nectar, and cacao.
It is pretty complicated to try to describe Soylent's taste in an accurate way but one thing's for sure: it does have a slightly gritty texture so make sure you mix it as well as possible.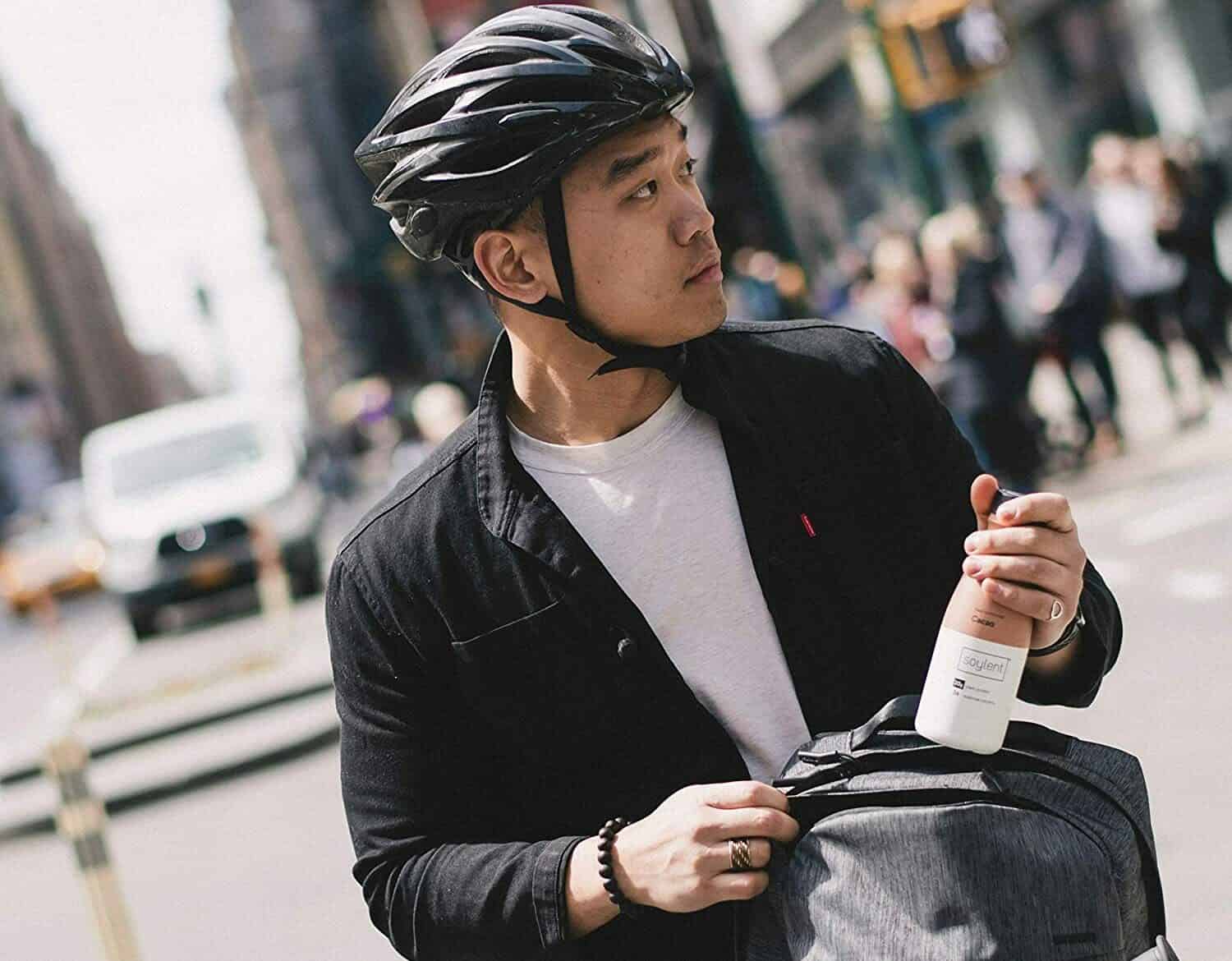 Benefits
Soylent might not be the healthiest supplement on the market but it does provide some important health benefits:
Improves the way your skin looks;
Helps you lose weight;
Boosts your energy levels;
Acts as an effective appetite suppressant;
It is a decent nutritional meal replacement;
It is said to improve one's mood.
Pros and Cons
Advantages
Soylent is a convenient meal replacement: it is easy to prepare and save you a lot of time;
Saves you plenty of money: one serving costs approximately $6.25;
Offers all essential nutrients sourced from wholesome food ingredients;
Helps you lose weight and maintain a slim figure.
Disadvantages
Unfortunately, Soylent contains way too many carbs which might be a drawback, especially for those of you who are on a low-carb diet;
Despite the fact that it contains essential nutrients, it doesn't have everything one's body truly needs;
A few users complained about its taste, saying it feels like they're drinking the milk that's left in a bowl of cereals;
Shipping is not available outside of the United States and Canada.
How Much Does Soylent Cost?
On Soylent.com, the minimum order in the case of the drinkable version is 12 bottles which cost $32.30 (for the original flavor) and $37.05 (for the cacao variety). The powdered alternative is $54 for 7 pouches with 35 meals (original flavor) and $60.80 for the same amount of the cacao flavor.
You can also purchase this product on Amazon:
Ambronite vs Soylent – Final Verdict
Both options are good and might help you reach your health and fitness goals. However, the final choice is all yours and it depends a lot on what your personal preferences, budget, and needs are. For example, Ambronite might make you less nervous but Soylent is less expensive.
Also, while Soylent might be tastier and more portable, it is not as healthy as Ambronite. In the taste department, I could say there's a tie, although some consider Soylent more neutral yet tastier than Ambronite. Finally, the first product discussed in this comparative review (Ambronite) is less portable which means is best to consume it right after you prepare it.
Recommended Reads: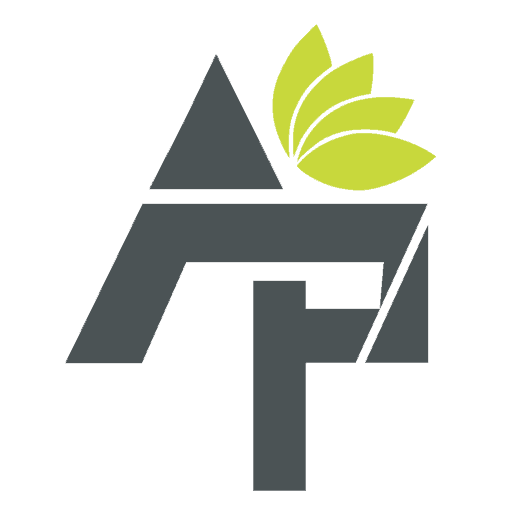 Alt Protein Team is a team of professionals and enthusiasts committed to bringing you the most up-to-date information on alternative protein, health and wellness, workouts, and all things health-related. We've reviewed a lot of products and services so you don't have to guess when you spend your hard-earned money on them. Whether you want to shed some pounds, build lean muscle or bulk, we can help you figure out what you need to do and what you need to have to achieve your goals.