Coffiest by Soylent promises it's drinkers to deliver a ready to drink breakfast and morning coffee combo in a singular bottle, all the while providing you with 20% of your daily nutritional needs with 150 mg of caffeine.
Unlike the typical meal replacement drink, Soylent claims that you won't have to sacrifice any flavor with this drink, as there is a light roasted coffee taste with a hint of a chocolate flavor.
A bottle of Coffiest contains four hundred calories of plant-based nutrition, such as soy protein and algal oil, which is made in a GMP certified facility in the USA. You won't find any lactose or nuts in this breakfast drink, which is shipped out in a recyclable packaging.
Coffiest has a thin consistency to it, thin enough to pass a protein shake. There is a strong coffee flavor to the drink that is bitter if you're not used to drinking black coffee. After you swallow your drink, you get a hint of a chocolate taste, that tastes like a combination of cocoa powder and the leftover milk in your bowl after eating a chocolate cereal.
A lot of people who use Coffiest talk about how much they enjoy the taste of Coffiest and how easy the drink was to use. However, on the opposite end of the spectrum, a lot of customers complain that Coffiest didn't meet their taste preferences, that the texture of the drink was extremely powdery, and that the mix of the drink tastes like burnt coffee and chocolate.
A lot of other users also discussed that it didn't help to curb their huger for very long and for not working extremely effectively, the program was extremely expensive. If you're interested in reading more about the pros and cons of drinking Coffiest are, keep on reading!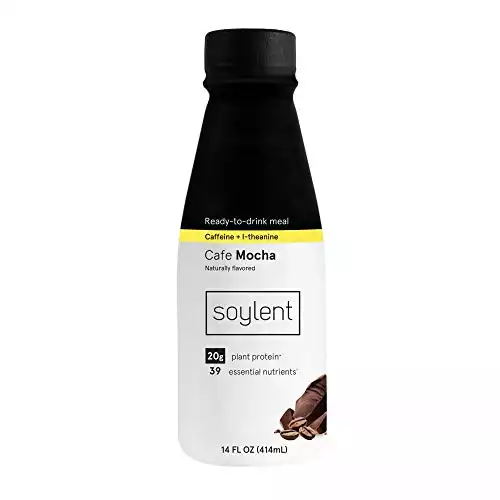 What kind of nutrition does Coffiest by Soylent have?
According to the details released by Soylent, Coffiest is a nut-free, lactose, and vegan meal replacement drink. The only downfall that Coffiest has is that it isn't organic, kosher, allergen, gluten-free, or GMO-free. Each bottle of Coffiest has:
400 calories
25 micronutrients
7 grams of carbohydrates
21 grams of fats
20 grams of protein
2 grams of saturated fat
300 milligrams of sodium
3 grams of fiber
9 grams of sugar
0 grams of trans fat
0 grams of cholesterol
In order to improve the taste of meal replacement drinks, a lot of companies put a lot of sugar into the drinks. However, Coffiest only contains 9 grams of sugar, which is a lot less than what other companies put into the drinks.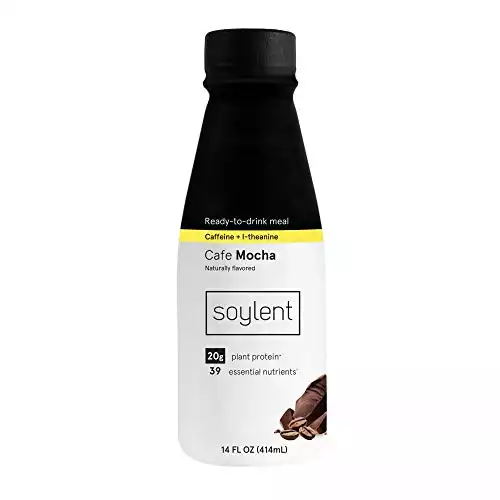 How do meal replacement drinks work?
While we won't get into great detail about how exactly meal replacement drinks work, some quick background information about how meal replacement drinks work can help you to understand how
Coffiest works.
The amount of energy that is contained in food is measured out in calories, which represent the amount of energy it takes to raise the temperature of one gram of water by one degree Celsius. Different macronutrients have a different amount of calories, such as carbohydrates, protein, and fat.
One gram of protein will have four calories, while one gram of fat will have nine calories. Foods that are higher in fat will be higher in caloric intake. No matter the type of food you eat, if you consume more calories than you burn, your body will store this extra energy as a form of fat.
If this calorie surplus continues for a long period of time, it will lead to unwanted weight gain.
However, if you force your body to burn the extra fat reserves, you will start to lose weight. By using a meal replacement drink, you are providing yourself with a quick, easy, and efficient way to get nutrition, but you are also supplying your body with fewer calories than a traditional breakfast comes with.
This means that when combined with exercise and a healthy diet, you will have an easier time reaching your fitness and weight loss goals.
What type of nutrition does Coffiest by Soylent provide to my body?
Soylent has released their ingredients list of Coffiest, which goes as the following:
Filtered water, Soy Protein Isolate, Maltodextrin, High Oleic Algal Oil, Isomaltulose, Natural Coffee Flavor, Canola Oil, Coffee Powder, Natural and Artifical Flavors, Oat Fiber, Alkalized Cocoa Powder, Isomaltooligosaccharide, Soy Lecithin, Potassium Chloride, Tricalcium, Phosphate, Magnesium Phosphate, Salt, Choline Chloride, Gellan Gum, L-theanine, Sodium Ascorbate, Sucralose, Zinc Sulfate, Niacinamide, dl-alpha-Tocopheryl Acetate, Ferric Orthophosphate, Calcium Pantothenate, Copper Gluconate, Vitamin A Palmitate, Manganese Sulfate, Potassium Iodide, Pyridoxine Hydrochloride, Riboflavin, Thiamin Hydrochloride, Chromium Chloride, Biotin, Sodium Selenite, Folic Acid, Sodium Molybdate, Phytonadione, Vitamin D, Vitamin B12.
Of all of the ingredients listed in this meal replacement drink, soy protein isolate is the most common ingredient that is used within the food industry; soy protein isolate contains a minimum of 90% protein. Soy protein is often found as a standalone powder supplement, but it is also commonly found to improve the texture and moisture retention of meat.
Algal oil is an ingredient that is taken from fermented algae, which is much more of a sustainable way of obtaining omega-3 fatty acids. Isomaltulose is a slow and sustaining release carbohydrate that is derived from beets, which helps to lower blood glucose levels and improve insulin response.
L-theanine is an amino acid that is typically found in green tea, which can help to reduce the amount of jitteriness that is commonly associated with caffeine.
The rest of the ingredients that are involved in this drink are healthy nutrients that should be a part of healthy diet, as well as a few ingredients in there to help improve the texture and the taste of the drink.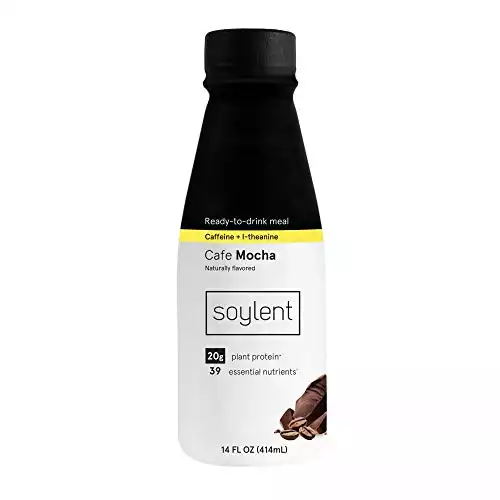 What's the price tag of Coffiest by Soylent look like?
These bottles are provided to you via a monthly subscription, so no matter which option you choose, you will continue to receive the same amount each month; all charges will be processed via your card accordingly. If you are looking to change your plan or cancel your subscription to Coffiest, you will need to login to your Soylent account.
All Coffiest orders come with a 30-day refund policy, minus shipping and handling. Soylent also sells Coffiest through Amazon.com, at the same price tag.
Advantages of using Coffiest
For every case of Coffiest that is sold, Soylent donates one meal to the World Food Program. For every subscriber that Soylent has for Coffiest drink, they donate four meals to the World Food Program.
Depending on your taste preferences, you may find that this drink has a smooth taste
Doesn't leave users bloated or gassy
20% of your daily nutrition is offered inside one serving (one bottle)
Can be used as a meal replacement, but also can be added into your diet as an accompaniment to help you curb snacking, or just to help you have more energy throughout the day, in a healthier way
Has L-theanine in the drink, which is an amino acid that is found in green tea that cancels out the jtterniess that's from a caffine buzz, which will help you concentrate
Bulk buying options are avaliable if you're interested in drinking more than one Coffiest a day
If you're really into drinking coffee for breakfast, the coffee taste in this drink is the prevalant flavor
A lot of users comment that after drinking Coffiest severeral times, the taste of the drink becomes less unpleasant
Avaliable via a subscrption service with Soylent or through Amazon.com
Disadvantages of using Coffiest
Depending upon your taste preferences, you may find that the drinks taste like spoiled milk and/or burnt coffee
Taste of drinks isn't consistant
Won't leave you feeling full for very long
Very expensive; $3.08 a bottle (For the latest prices and discounts, check here)
No saving options for when you're buying in bulk
As a side note, I would also like to mention that Soylent is often upgrading their Coffiest formula, with new formulas every few months. That means that the taste of Coffiest is constantly changing and transforming, as well as the nutrition that is in each bottle.
Conclusion
Meal replacement drinks are known for their high sugar content, which makes them more of an over glorified dessert that just happens to have the well rounded nutritional content that is key when looking for optimal health.
Whether you happen to be looking for a meal replacement drink, a breakfast that has a kick of caffeine, or just a meal replacement drink that features coffee, Soylent's Coffiest delivers 20% of your daily nutritional value in just one bottle, with a low sugar content.
The cost of a singular bottle is $3.08 (For the latest prices and discounts, check here), which means that you're literally paying for the convenience of a balanced nutrition meal. There also aren't any savings options if you happen to be interested in buying in bulk. If you have tried Coffiest by Soylent, let us know what you think in the comments!
Recommended Reads: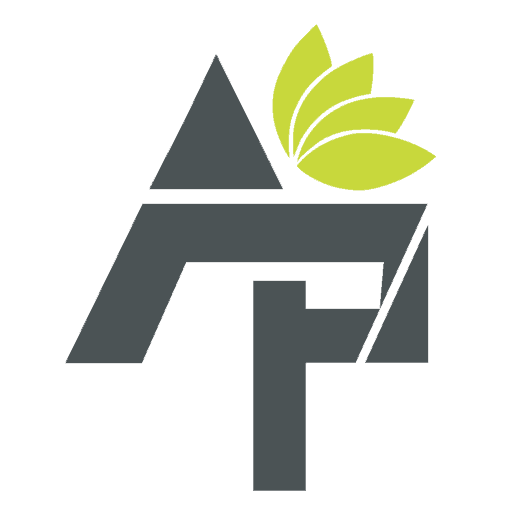 Alt Protein Team is a team of professionals and enthusiasts committed to bringing you the most up-to-date information on alternative protein, health and wellness, workouts, and all things health-related. We've reviewed a lot of products and services so you don't have to guess when you spend your hard-earned money on them. Whether you want to shed some pounds, build lean muscle or bulk, we can help you figure out what you need to do and what you need to have to achieve your goals.