One of the biggest industries in the United States is the dieting industry. This is because people are obsessed with losing weight and being the ideal image of physical perfection. Researchers today have estimated that the diet industry is worth $66 billion. This could be in part because of the media and the push for physical perfection and pursuing beauty.
The dieting industry can in a way be looked at as if it were a seasonal industry. However, there is a real need in the United States for women and men to find a way to maintain a healthy lifestyle. Over 35% of the American population is obese. This means that they are more likely to suffer from heart disease, diabetes, and a number of other health problems.
Gaining control over your weight after it has been out of hand can be tough. So many people try to lose weight only to fail and end up gaining weight. This can turn into a ridiculous cycle that continues to affect a person's health and in some cases even leads to an early death.
However, the good news is that weight issues can be solved and you can find common ground when trying to lose weight by joining a community of people who are also struggling with their own weight loss issues. In addition, you can help yourself by checking out one of the many weight loss companies that are out there today.
Main Differences Between Nutrisystem and Atkins
The main differences between Nutrisystem vs Atkins are:
Nutriystem offers more fresh ingredients, whereas Atkins is primarily pre-packaged frozen meals
Nutrisystem has less sodium per serving, whereas Atkins meals are higher in sodium
Nutrisystem focuses on portion control, whereas Atkins focuses on low-carb dieting
Nutrisystem and the Atkins Diet have both been around for quite a while. Both companies have their own success stories, and both have not worked for everyone. Check out this review to find out which of these weight loss options could be a viable choice for you.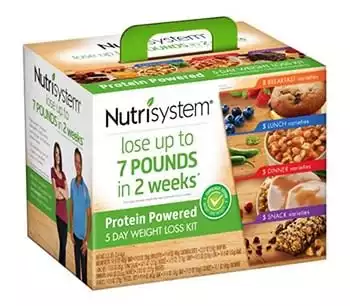 Why I Actually Like Nutrisystem
Look, in a perfect world I would recommend everyone just practice some self-control... but sometimes "sticking to a system" is what works best. For clients I work with who "just need a plan", Nutrisystem is one of the plans I recommend.
Choose Your Weight Loss Plan
We earn a commission if you click this link and make a purchase at no additional cost to you.
Nutrisystem – About the Company
Nutrisystem was founded in 1972 in Fort Washington, Pennsylvania by Harold Katz. The company started as a series of brick and mortar stores that offered weight loss products and counseling.
The company maintained these stores for 27 years. In 1999 they chose to change their business model and went to a direct to customer model. At this time, there were two ways in which you could order the products. You could go online, or you could use their 1-800 number to call and get the products and services.
The company claims that you can lose 7" and up to 13 lbs in just the first month of dieting. There have been millions of individuals who have had their weight loss success with Nutrisystem. They claim to promote "safe, effective weight loss." Today there are even targeted plans that tailor to men's needs and the needs of those who have Type 2 Diabetes. Nutrisystem offers a 100% money back guarantee, so if you are interested in trying their plan, you will find that you have nothing to lose.
The Plan
Nutrisystem offers many different plans for you to consider.
Basic
The basic plan is an easy to follow 4-week meal plan with a selection of pre-selected ready to go meals. This plan is the most affordable but is very basic. There is a menu of foods that you can choose from with choices like: Cinnamon Bun Bar, Sweetened O's Cereal, Chocolate Chip Baked Bar, Double Chocolate Caramel Bar, Red Beans and Rice, Chicken Noodle Soup, White Cheddar Mac N Cheese, Spicy Kung Pao Noodles, Thick Crust Pizza, Mushroom Risotto, White Cheddar Popcorn, Toffee Crunch Cookies, and Cheese Puffs. The plan features 18 days worth of food, and you get a breakfast, lunch, dinner, and 1 snack each day for women/2 snacks each day for men each day.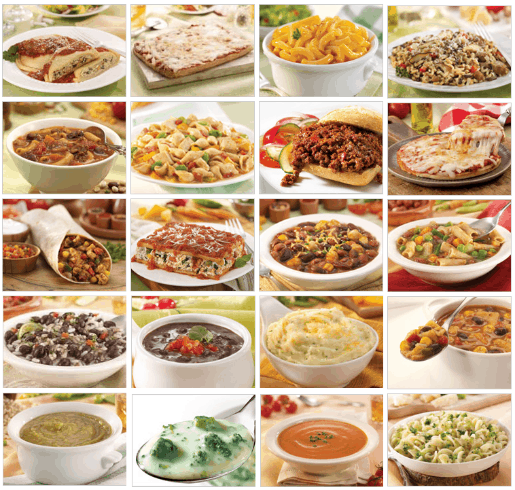 Core
This plan comes with everything that the basic plan does. It also features unlimited support that is available 24 hours a day. This plan offers the same food choices as the basic plan. So, basically, if you are going to choose your own foods you might as well upgrade to the Core plan so that you have the additional unlimited support which can really help to motivate you during your weight loss. This plan also features a breakfast, lunch, dinner, and snack each day.
Uniquely Yours
The Uniquely Yours plan has all of the features of the previous plans, but there are an additional 50 food items to choose from, giving you over 150 choices. This is a great way to have variety really. Plus, there are frozen foods, and in this plan, you can have as many of those frozen foods as you choose.
The great thing about the Uniquely Yours Plus option is that you can get all of the previous features and you get one Nutrifit Shake per day. This is a great option because it gives you the most for your money. You get all of the support, all of the food choices and a delicious shake to enjoy at some point during the day.
The Vegetarian Plan is the same plan as the Core Plan but offers you the chance to be assured that you will only receive vegetarian meals and snacks. Again, women get breakfast, lunch, dinner, and snack while men get breakfast, lunch, dinner, and two snacks.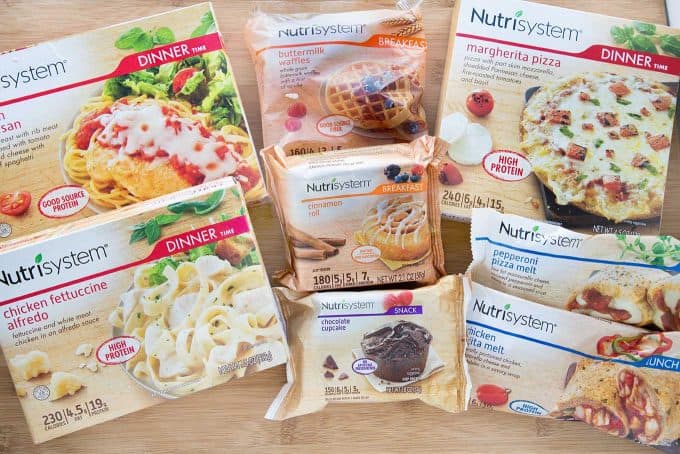 Basic
Diabetes, $10.18/day (chef's choice), $11.07/day (your choice) – Women's pricing
The Basic Diabetes plan is unique in that it can actually help you to get your diabetes under control or even help to ensure that you maintain control once you get control. So, this can be a great option for men and women living with Type 2 Diabetes that do not know where to begin in choosing the right foods and how to balance them.
Core
The Core Diabetes Plan features all of the same benefits as the Basic Diabetes Plan, but also allows you to choose your foods and have full services available to you like with the Core Plan. This plan is an excellent option for those living with diabetes and something that you will want to consider if you are struggling to get your blood sugar under control.
Uniquely Yours
The Uniquely Yours Diabetes option features all of the previously mentioned diabetes plan choices. Plus, you get the benefit of additional food choices. There are actually 145 choices (a few less than the non-diabetic version, but only like 5 less so not a huge deal).
A Few Details About the Products
Nutrisystem offers a complete diet program. You do not eat foods that are not a part of the program, and you do not need to grocery shop or do anything to prepare your foods. This is a great option for those living very busy lifestyles.
You will find that you do not need to meal prep and you have all of the tools available to you that you need. The best part is that the foods are healthy and can offer you complete nutrition so that you are getting all of your nutrition needs met as well.
Easy to Follow The program is so easy, and you can stick to it no matter who you are or what your lifestyle is like.
Foods You Enjoy – There are many foods that you can enjoy with this program. One of the things that I personally enjoyed was that I could still eat many of my favorite foods because they had them available through the meal plan.
Safe – You are not starving, and you are getting all of your dietary and nutritional needs met.
Effective – If you follow the plan, you will lose the weight.
Spotlight on a Few Products
I thought that I would share a few of my favorite foods from the program. I will admit that I did not see drastic weight loss results and many of the foods tasted very artificial and were not the tastiest. That being said, there are several products that I actually enjoyed and if you could order them individually these are all products that I would continue to use. My big problem is that I do not need a month's worth of food because the program overall was not for me.
I will admit that I am a super picky eater. I am going to mark out my favorite foods, but I do realize that there are other options in the nutrisystem foods and meal plans that some people might like.
Best Nutrisystem Breakfasts
Cinnamon Roll – This one is so good that you will forget that you are eating healthy. While I did find the bread ratio to be a bit much, overall this was a delicious choice, and I have certainly had non-diet cinnamon rolls that were not as good as these.
Cinnamon Bun Bar – Considering the whole program, this is a top five of mine. I would seriously not have these if they were available to purchase by the box.
Nutri Flakes Cereal – This cereal is delicious and tastes so good. I love that it is a healthy cereal option because I LOVE cereal.
Best Nutrisystem Lunches
Spinach and Cheese Pretzel Melt – This is the perfect alternative to a pocket sandwich. It is warm, delicious, and offers enough cheese to make you feel as though it is a food that is not good for you.
Double Chocolate Caramel Bar – This is another one that would be a pantry staple at my house if I could get it on a regular basis. These bars are delicious and quickly became one of my top favorite protein bars of all time.
White Cheddar Mac and Cheese – Let's face it, no healthier alternative to mac and cheese is going to be perfect! However, this one really is a good attempt and one that you will enjoy. I know that I did!
Spicy Kung Pao Noodles – These noodles are amazing! They taste delicious are a little spicy and overall are something that I would continue eating.
Best Nutrisystem Dinners
Margherita Pizza – This pizza is a good attempt at pizza. I have certainly had pizza that was not as good. I did try cooking it in the oven instead of in the microwave and thought that the crust developed a nice crunch when I did this.
Stuffed Shells – Stuffed shells are usually a great choice. This is one of the best options for a meal that I have found, but the pasta is not very good. It had a weird thick texture and wasn't quite firm enough. It almost reminded me of a thin bread instead of pasta.
Whole Wheat Ricotta Crepes – Whole wheat ricotta crepes are a great choice of something to eat. I have always been a huge fan of crepes, and while these were a decent attempt, I would be lying to you if I did not say that I was disappointed.
Best Nutrisystem Snacks
Chocolate Brownie Sundae – The chocolate brownie sundae is just the perfect sweet treat for you if you are hoping to have a little desert. I really enjoyed this one and think that it is a delicious option for anyone who loves chocolate and ice cream.
Orange Cream Bar – I have always loved orange cream flavors, and this bar is no different. It is a really good choice, and even though I realize it is healthier than the original, I could be just as happy with this one.
Cheese Puffs – These are a great snack and a great alternative to something bad for you when you need a little salty snack. I really liked these and would definitely purchase them if they were available for individual purchase.
Features
There are a wide variety of features that you should be aware of with Nutrisystem. These include the following (but I promise there are more)
Easy pre-packaged meals, pre-portioned meals and snacks.
Meals that offer full nutrition.
Enough food to keep you feeling full all day long.
The chance to eat five to six times a day with the option to add your fresh produce.
Delicious desserts that you will be able to enjoy.
Healthier versions of your favorite junk foods.
Benefits
There are also many benefits that you will be able to find when thinking about the Nutrisystem diet program.
Weight loss
Controlled blood sugar
Lower Cholesterol
Pros
Easy to use
Convenient automatic monthly deliveries
Affordable, you won't have to go to the grocery store
Quick shipments
Delicious choices that make you forget you are dieting
No meal planning
Cons
No fresh choices, all pre-packaged
No chance to have what you are craving if it is not already on hand
Higher priced than some other options
Must pay more if you are not getting automatic deliveries
Must choose all of a month's choices at once
Overall Results and Impressions
I have tampered with many diets in the past. I once gave Nutrisystem a try for three months. I would love to say that I lost a lot of weight, but the weight loss amounted to under ten pounds. I feel as though I could have lost more weight on my own eating healthy, whole foods. I found it very hard to actually stick to this plan and to eat pre-packaged foods all the time.
I do think that it would have been significantly easier had I lived alone when I was going through this. However, when I was fixing delicious home cooked meals for my family and sitting down to one of these meals, it made me pretty sad, and I often felt hungry afterward.
I would probably never try Nutrisystem again as long as the program remains the way that it is now. If I were able to choose a few of the products in a box on their own or even individually on their own, there are some foods that I would purchase and always have on hand from the Nutrisystem diet.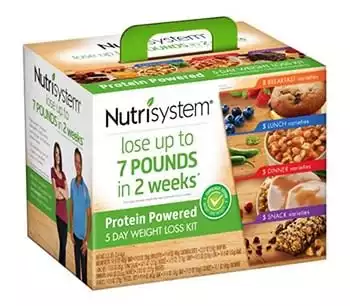 Why I Actually Like Nutrisystem
Look, in a perfect world I would recommend everyone just practice some self-control... but sometimes "sticking to a system" is what works best. For clients I work with who "just need a plan", Nutrisystem is one of the plans I recommend.
Choose Your Weight Loss Plan
We earn a commission if you click this link and make a purchase at no additional cost to you.
Atkins Diet
Dr. Robert Coleman Atkins developed the Atkins diet plan. He was a cardiologist. The diet put severe restrictions on carbohydrates, and recent information has claimed that this might not be the healthiest option for long-term weight loss and maintenance. The Atkins diet is the original low carbohydrate diet. It is an excellent choice for anyone who is interested in having quick weight loss results from the consumption of proteins and fats.
Today one of the most popular choices in a diet is a low carbohydrate diet. The Atkins diet was the original low carb diet. It preceded Keto and some of the other choices that you will see today. The Atkins diet promotes the mentality of eating the right foods instead of eating less food. While this is a great idea if you are never going to eat carbohydrates again, it is not something that will help you keep weight off. So, many critics say that this is probably not the best choice for long-term weight loss.
When Dr. Atkins was doing his research through his patients, he quickly discovered that patients could improve their health by eating right than by eating less. There is over forty five years of evidence that supports some of these claims as long as the person being studied stuck to the plan and made it their lifestyle rather than a diet.
There are many additional long-term benefits on top of weight loss that you can have with the proper lifestyle changes. While the Atkins diet started as a fad, it quickly became a way of life for many who are continuing to see the health benefits. Dr. Atkins claimed that people who eat food for fuel rather than eating for calories are going to have the greatest benefits.
The Plan
There are a few different Atkins plans that you can try. Each of these plans is low carb, and the plans work to teach you what happens as you continue to consume carbohydrates. There are actually two different plans. They are the Atkins 20 and the Atkins 40. The original diet was in a book, and that is when it became popular. Today you can find all of the information that you need online for free.
Atkins 20
The Atkins 20 is the original Atkins plan. It is a very simple program that anyone is capable of doing. With the online tools, you can even find meal plans that will take the guesswork out of what you are eating. There are four phases in the Atkins 20 plan.
Phase One – This phase requires you to eat a very restrictive diet. You will stick to 20-25 grams of net carbs per day. You can eat foundation vegetables (those which are lower in carbs), healthy fats, proteins, nuts and seeds, and cheeses (well most of them).
Phase Two – During Phase Two you can have a daily net carb intake of 25-50 grams. You get the foods that you could have in Phase One. You can also have berries, melon, cherries, whole milk ricotta, whole milk cottage cheese, whole milk Greek yogurt, tomato juice, and legumes. It opens up some additional foods for you to choose from which allows you to have more variety.
Phase Three – It is during Phase Three that you can have 50-80 grams daily of net carbs. You get all of the foods from phases one and two. Plus, you get additional fruits, starchy vegetables, and whole grains.
Phase Four – Phase four is the same as phase three except that you get to increase your carb intake to 80-100 grams per day.
This plan is known for its weight loss benefits and for the ability to improve your overall health.
Atkins 40
The Atkins 40 plan is easy to follow. With this plan, there are no phases. You just start eating 40 carbs per day and stick to that. So, there is no confusing practices and additional things to learn or try and figure out. Instead, you just need to make sure that you are going to improve your overall health with a plan that is low in carbs. There is a breakdown of how you eat the carbs that is important to understand.
Carb Meal Goals
Each day you will be eating 10 grams of carbs at each meal (breakfast, lunch, and dinner) and 5 grams of carbs for two snacks.
Daily Dietary Break Down and Goals
These are the foods that you should be eating each day and how many carbs you should consume from each of these food groups. They include: Foundation Vegetables (15 grams net carbs in 6-8 servings), Protein (0 grams net carbs in 3 4-6 oz servings), Added Fats (0 grams net carbs in 3 servings 1 TBS each), and Other Carbohydrates (25 grams net carbs in 3-5 servings at the rate of 5 grams per serving).
Both of these plans can work to help you lose weight, which one you choose can be based on your needs. If you do not do well with changes, then the Atkins 40 could be better for you. If you want the most dramatic results, you will want to try the Atkins 20.
Atkins 20 vs Atkins 40
As you can see above, Atkins 20 is aimed at gradually getting you accustomed to a new diet, with steady progress over time. In contrast, Atkins 40 is for those who are "changers" and like to do things "cold turkey" and get right to the point.
So Which is Better? I would stress that this is a very personal decision. Do you like incremental habit change or clean breaks? Personally, I found Atkins 20 to be easier psychologically to sustain as it engrains dieters habits over time. But that's just me!
A Few Details About the Products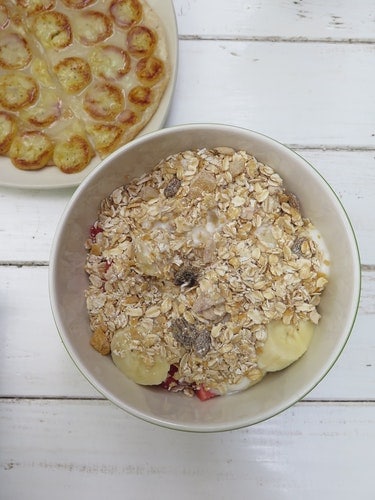 While you can do the Atkins diet without any special products, there are some products out there that can help you with your success. The products range from snack bars to full meal kits that will provide you with all of the nutrition that you need.
Atkins Meal Kits
Each of the meal kits features a guide with a shopping list and meal plan, recipe booklet, carb counter, book (Atkins Made Easy), free shipping, online support, and phone support.
Frozen Foodie – The Frozen Foodie meal plan features a selection of fourteen frozen meals. You can even choose your own meals to customize this plan fully.
Evening Chef – The Evening Chef meal plan features a selection of fourteen frozen meals, seven shakes, and seven meal bars. This is another plan that you can customize as well.
Easy Peasy – The Easy Peasy meal plan features a selection of fourteen frozen dinners, seven snack bars, and seven shakes. This plan has a number of ways to help you to be able to lose weight.
Atkins Bars
There are three different types of bars: Trail Bars, Meal Bars, and Snack Bars. Each of these different types of bars offers their own unique benefits and flavors.
Trail Bars – Trail Bars are a great healthy snack bar. There are three flavors that you can choose from: Coconut Almond Bar, Dark Chocolate Sea Salt Caramel Bar, and Dark Chocolate Peanut Butter Bar. These bars each feature 8 grams of protein and are a delicious treat to have that helps you maintain energy and avoid feeling hungry.
Meal Bars – Meal Bars are a pretty good alternative to fast food or convenience foods when you are on the go. These bars feature 13-17 grams of protein and can quickly replace a meal. There are eleven different flavors of the Meal Bars, which include: Chocolate Chip Cookie Dough Bar, Chocolate Chip Granola Bar, Blueberry Greek Yogurt Bar, Chocolate Peanut Butter Bar, Almond Coconut Bar, Peanut Fudge Granola Bar, Vanilla Pecan Crisp Bar, and Chocolate Almond Caramel Bar.
Snack Bars – Snack Bars offer a delicious tasting treat on the go. They also help to cure that sweet tooth or sugar craving that you might have. There are eighteen different snack bar flavors which include: Peanut Butter Protein Wafer Crisps, Chocolate Mint Protein Wafer Crisps, Lemon Vanilla Protein Wafer Crisps, White Chocolate Macadamia Nut Bar, and Peanut Butter Fudge Crisp Bar.
Atkins Frozen Food and Meals, prices vary based on market areas
Frozen foods that are available from Atkins are a great meal and snack opportunities. There is something for every meal from breakfast to dinner, and they even have pizza.
Breakfasts – There are many great choices for breakfasts in the frozen food section of your supermarket when you are on the Atkins diet. These include Ham and Cheese Omelet, Bacon Scramble, and Farmhouse-Style Sausage Scramble.
Lunches and Dinners – In addition to having breakfast options, there are also great choices for lunches and dinners. These choices include Pork Verde, Beef Stew, Meat Lasagna, Chicken Marsala, Roasted Turkey with Garlic Mashed Cauliflower, and Beef Teriyaki Stir-Fry, Beef Merlot.
Atkins Shakes – $7.19-8.89/4-pack, $13.98/powder, $20.97-25.99/12-pack
Atkins shakes offer a great way to get full nutrition in a convenient and delicious shake. These shakes are a great choice for someone who wants a delicious and easy meal.
Atkins Treats – $6.29/5-pack, $23.96/20-pack, $35.94/30-pack
Atkins Treats are the answer to your sweet tooth and a delicious way to stop those sugar cravings in their tracks.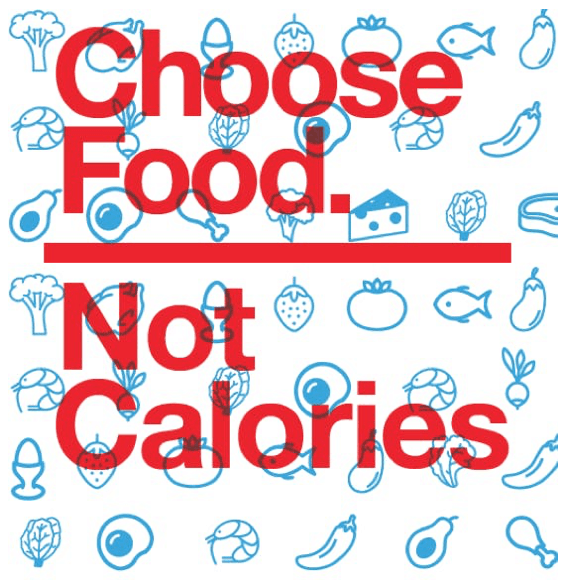 Atkins Benefits
Many people do not fully understand the scope of benefits that they can have with the Atkins diet. You can definitely benefit from this diet!
No hunger pains – With the Atkins diet you will actually feel full and enjoy eating. You will not have to suffer from hunger pains or the feeling of being hungry.
Energy levels are consistent – When you are eating the Atkins plan, one thing is for certain – you are going to actually have the energy to tackle life even if you are a busy mom like I am.
Lose fat – When your body is not running on carbs, it will start running on fat. This means that you lose weight quickly and that you will see a definite difference in the percentage of fat that your body has.
Regulate blood sugar – Finally, you are going to be able to regulate your blood sugar. This means that you will have a steady blood sugar level.
Pros
Easy to learn
Flexible plans to meet your needs and your style
Convenience foods that are specific to the plan
Affordable
Create your own meals from your own groceries
Cons
Lack of convenience foods
Long-term results leave researches conflicted
Convenience foods can be expensive
Not all convenience foods are available online or in markets across the U.S.
Overall Results and Impressions
I must admit that when I personally tried the Atkins diet, I ended up losing weight. However, I was not able to stick to this plan for long. I am actually primarily vegetarian, and I found the Atkins plan to be one of the hardest diets that I have ever attempted.
This could, in part, be because I have a mild egg allergy and so many of the foods and recipes contain eggs. Additionally, I have read a lot of conflicted materials about the diet and whether or not it is actually healthy.
Bottom Line: If I have to choose, I personally prefer the more systematic plan for Nutrisystem here. While Atkins does now offer delivery, I found the Nutrisystem kits to be generally more fresh and consistently good over time. Remember, you can save 50% off your first 2 weeks of Nutrisystem here right now.
Always remember to supplement a good diet with exercise and a healthy lifestyle for the best results!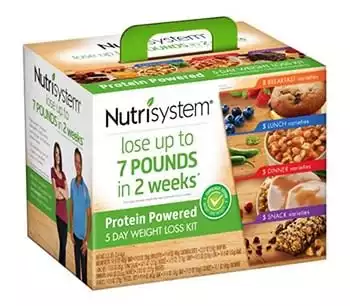 Why I Actually Like Nutrisystem
Look, in a perfect world I would recommend everyone just practice some self-control... but sometimes "sticking to a system" is what works best. For clients I work with who "just need a plan", Nutrisystem is one of the plans I recommend.
Choose Your Weight Loss Plan
We earn a commission if you click this link and make a purchase at no additional cost to you.
FAQs
Question: Is The Atkins Diet Dangerous?
Answer: If you are considering to try the Atkins Diet Plan, you should consult with a specialist, because this diet recommends eating a large amount of fat and protein which usually is not advised as it may increase the risk of heart disease and cancer. This diet also does not work for vegetarians and vegans as the menu is quite limited.
Question: How Many Calories Do You Eat on Nutrisystem?
Answer: In the first week, you consume around 1000 calories a day in order to help the weight loss process, and after the first week, men consume 1500 calories and women 1200.
Question: How Much Do Nutrisystem and Atkins Diet Cost?
Answer: There are different meal plans when we are referring to Nutrisystem, but all in all, you should not spend more than $333 per month (including shipping). With the Atkins Diet, you do your own grocery shopping every week and costs around $400 per month.
Question: Is Nutrisystem OK for Diabetics?
Answer: Yes, Nutrisystem offers lots of different plans for men, women, people with diabetes 2 and seniors.
The Final Drop: Atkins or Nutrisystem?
Losing weight is tough. One thing that many people do not realize is that there are a wide range of products available for both the Nutrisystem diet and the Atkins plan. In fact, with the new Atkins meal kits, you can get your complete nutrition delivered weekly. Both offer you the chance to lose weight in different ways.
Neither one has guaranteed long-term weight loss unless you are sticking to the plan. Once you go off of the plan, it becomes harder to maintain weight since both plans are so strict and disciplined.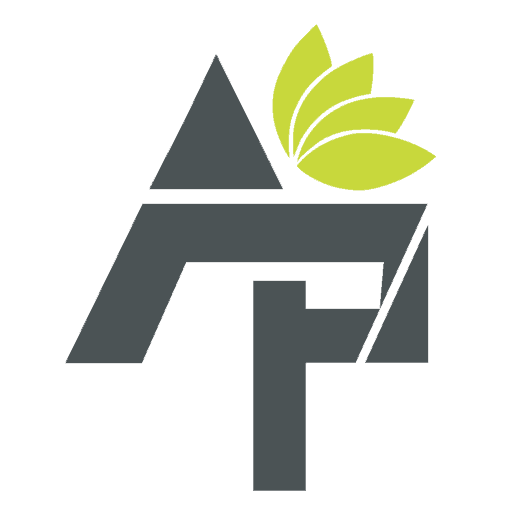 Alt Protein Team is a team of professionals and enthusiasts committed to bringing you the most up-to-date information on alternative protein, health and wellness, workouts, and all things health-related. We've reviewed a lot of products and services so you don't have to guess when you spend your hard-earned money on them. Whether you want to shed some pounds, build lean muscle or bulk, we can help you figure out what you need to do and what you need to have to achieve your goals.