If you're thinking of changing your diet, it can be a little overwhelming. Losing weight is a serious committment.
There are so many diets to choose from that trying to work out which one is best for you is a challenge – and then you have to go grocery shopping, measure your portions and count calories (if you're looking for an overview of different diets, this article might help you out).
Bottom Line Up Front: Just to save you some time (if you have better things to do than read our treatise), here's my conclusion up front. While Slimfast is certainly cheaper and more readily available in supermarkets, it is not nearly as tailored or structured as Nutrisystem. That's why I chose Nutrisystem (Buy One, Get One Free Deal).
Ideally, if you want to lose weight and keep it off, you will learn to cook healthy meals and snacks using fresh ingredients and come up with long term plans to switch to a healthier lifestyle.
Unfortunately, though, it's not always that easy to figure out what suits you in the first place. Plus, sticking to a diet when you have no outside support can be difficult.
If you find it hard to have self-control when you're eating, a diet program or weight-loss plan could be a great option for you. It's a good way to kick-start weight loss goals without making things too complicated or stressful to figure out, and having it structured for you may make it easier to stay motivated.
Today we're taking a look at two choices: Nutrisystem and Slimfast. We'll examine both plans and what they include, as well as the ingredients they use, the costs involved, the pros and cons, and more.
Main Differences Between Nutrisystem vs SlimFast
The main differences between SlimFast and Nutrisystem are:
Nutrisystem offers pre-packaged FULL meals, whereas SlimFast is primarily protein drinks and shakes
Nutrisystem can be tailored to suit your needs, whereas Slimfast does not offer that level of personalization.
Nutrisystem offers full telelphone support, whereas Slimfast does not
Slimfast is more readily available in grocery stores, whereas Nutrisystem has to be ordered online for meal delivery
The Nutrisystem offers a lot more variety in terms of food, whereas Slimfast can get pretty repetitive after a while.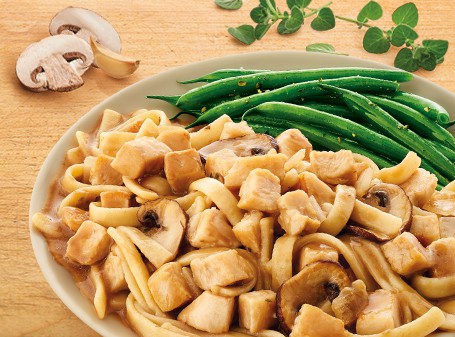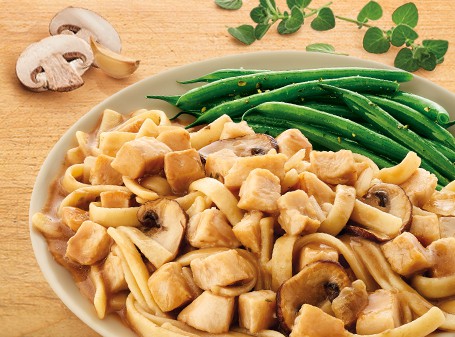 Founded in 1972 by Harold Katz, Nutrisystem is based in Philadelphia. Although they originally provided weight loss advice and a few products in stores, in 1999 the business changed, and they began to sell supplements and products online and through call centers.
So how exactly does it work?
Nutrisystem is a weight-loss plan that does all the work for you. Don't have time to measure your ingredients? Worried about giving yourself the wrong portion size? Don't worry: they have it covered. You can choose between having easy-to-make meals or prepackaged ones. The latter is a great option if you're tight on time.
The plans vary depending on what you need, but they're designed to be the right combination of ingredients for you. They'll include all the nutrients your body needs whilst promoting weight loss, and they say that the meals are tasty and varied so you can enjoy eating whilst sticking to the plan. Some of the ingredients include:
Protein – lean protein is essential for healthy nails and hair, strengthening your bones, and building muscles, amongst other things.
High fiber – fiber keeps you full for longer, which is helpful when you're trying to avoid the temptation of snacks between meals. It's also incredibly good for your heart and can be found in vegetables, fruit, and whole grains.
Low-glycemic carbohydrates – these 'good' carbs keep your body fuelled and ready to go without spoiling your weight-loss plan.
Nutrisystem's foods do not include artificial colorings or flavorings and are mostly low in sodium. They do offer a vegetarian plan, but unfortunately, don't offer a plan that is suitable for vegans at this time.
The Pros and Cons of Nutrisystem
There are a lot of positives when it comes to Nutrisystem:
Convenience – if you work long days, this is a really great option for you. Not only does it take the effort out of meal planning and shopping, but you also have the option of pre-prepared meals, meaning you don't even have to cook. It opens up a healthy diet plan for those who just don't have time to complete these tasks themselves
Counseling support – if you need help, Nutrisystem is there for you. Whatever question you need to ask or information you need, you will be able to speak to someone about it
Smartphone app – there's a Nutrisystem app, too, which helps you to record how you're doing. This is a nice touch and may help you to stay on track
Variety – there's a good variety of meals and snacks, meaning you won't be bored eating the same things again and again, and you won't feel as though you're depriving yourself of interesting tastes and flavors
However, there are a few downsides to consider:
Cost – it's expensive. You have to sign up, which feels like a big commitment given the cost. Although you're getting a lot of conveniences, it's definitely on the pricier side – so it will be up to you to determine if it's worth the expense
Not family-friendly – it's suited more for individuals than families, as the portion sizes are designed for one person
Not vegan-friendly
Some facts about Nutrisystem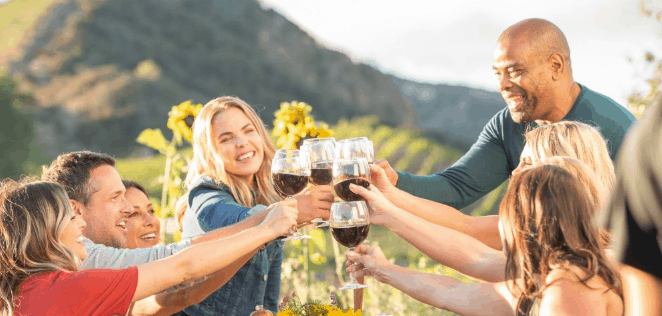 Here's some more information you need to know:
The plan is only designed for short-term use: this means that when the plan ends, you'll have to start your own healthy eating plan. If you lose weight using Nutrisystem, you will need to continue to watch your portion sizes and eat the right things to keep the weight off.
Price breakdown: The basic plan is between $10-$11 per day, or $280-$320 a month. The Uniquely Yours plan (tailored to your needs) is $12-$14 per day or $344-385 per month. There's also the intermediate pricing plan, at $11-$12 per day – and you can opt for a monthly payment alternative, which costs between $299 – $340.
Side-effects: There is a range of possible side-effects including diarrhea or constipation, nausea, and cramping. Basically, if you change your diet drastically, stuff can happen! If you're at all worried, see your doctor for medical advice.
What's included?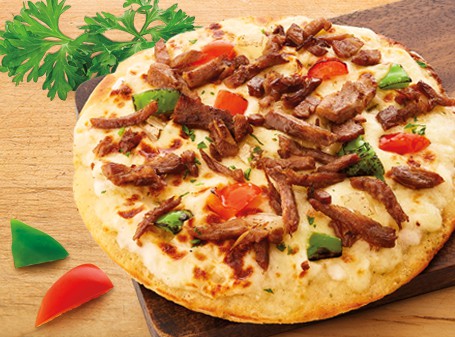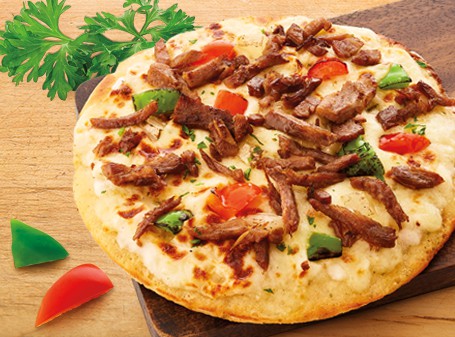 There are more than 150 items to choose from. These include frozen meals, ready-to-go meals that you may need to add water to or heat up, and packaged snacks. You can also eat nuts, fruits, and vegetables. You should eat little and often, 4-6 times per day. Here are some of the options:
Breakfasts – granola, oatmeal, pancakes, and more
Frozen meals – there are a range of tasty options including chicken parmesan, pizza, and steak with mac and cheese
Lunch and dinners – pizza, pasta, chicken, soups – there's a big range to choose from here
Desserts – cakes, brownies, cookies, etc – you won't feel as though you're missing out on sweet treats!
FAQ's About Nutrisystem
Here are some commonly asked questions:
Can I use Nutrisystem during pregnancy or whilst breastfeeding?
Nutrisystem advise that you do not follow their plan during pregnancy as it is not suitable for expectant mothers. You can use Nutrisystem during breastfeeding, but your baby must be at least four months old, and you have to follow a special plan that allows for more calories for breastfeeding mothers – you can do this by calling their helpline and speaking to an advisor for more information.
How long does it take to lose weight with Nutrisystem?
Women can lose up to 13 pounds and 7 inches during the first month on Nutrisystem Fresh, and a 1-2lb per week on average after that. Men can lose up to 18lb and 8 inches during the first month on Nutrisystem for Men, and 1-2lb per week after that. However, this can vary depending on the individual.
Can I use dressings and oils on my Nutrisystem meals?
Yes (unless you're on FreshStart Week 1). They count as Extras, of which you are allowed 3 a day (these have to be 10-35 calories per serving).
Are the NutriSystem foods gluten-free?
They are not certified gluten-free, but they do offer a few items that don't include gluten ingredients.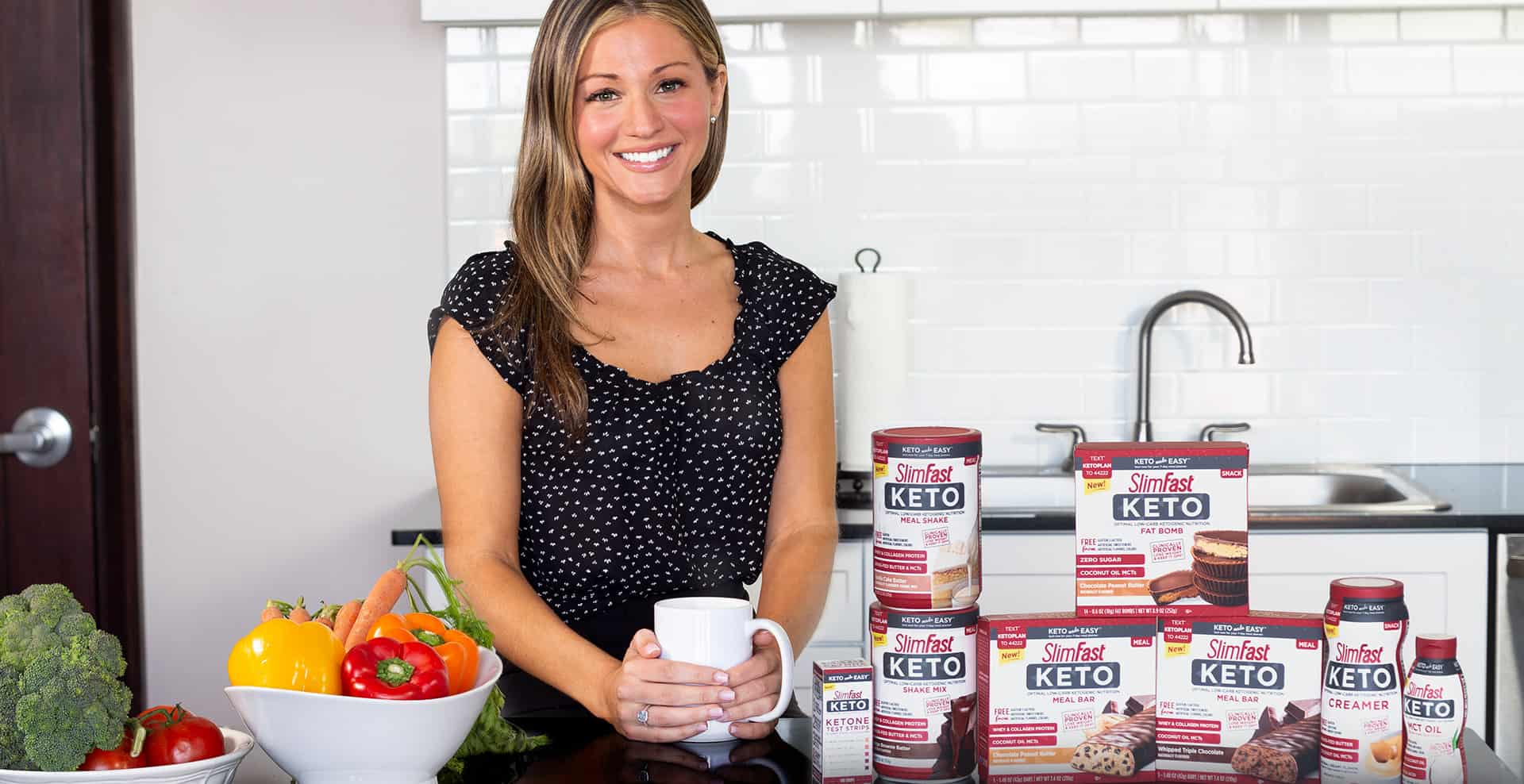 Chances are that, somewhere along the line, you've heard of Slimfast. They're a very popular brand, first introduced in 1977, with a pretty good reputation. It's a diet program that allows you only to consume their pre-made shakes, nutrition bars, and snacks. You've probably seen Slimfast products in grocery stores – this makes it a very convenient option.
Slimfast could work for you if you're looking to lose a few pounds. It's suitable for vegetarians and vegans, and the products are lactose-free.
Just like the Nutrisystem plan, the Slimfast plan allows you to eat six times a day. You replace two meals a day with Slimfast smoothies or shakes and have a 500-calorie meal for dinner. You are also allowed three Slimfast snacks per day. The idea is that by having the snacks, you won't be left hungry for too long, and by sticking with their branded treats, you won't go over your calorie count limit.
The idea is pretty simple, and, like the Nutrisystem plan, takes a lot of the thinking out of it for you.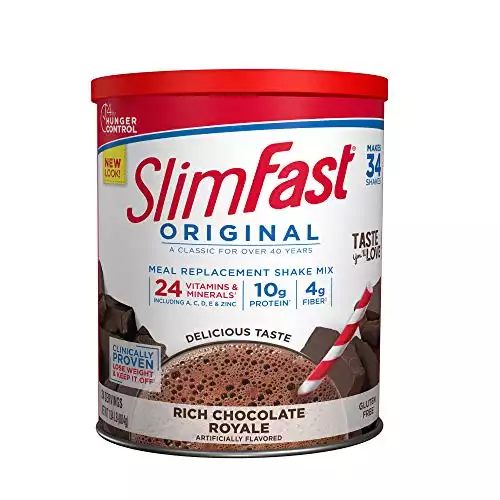 SlimFast Original Rich Chocolate Royale | Amazon
Packed with protein, vitamins, & minerals: The SlimFast Original meal replacement Shake Mix Powder is a balanced formula packed with 24 essential vitamins and minerals.
Buy at Amazon.com
We earn a commission if you click this link and make a purchase at no additional cost to you.
The Pros and Cons of Slimfast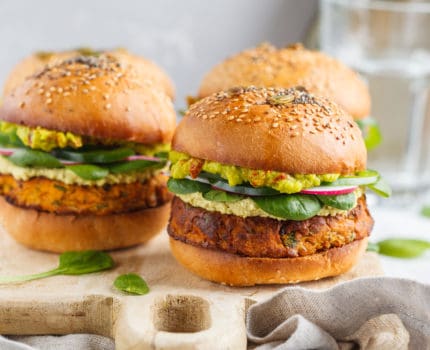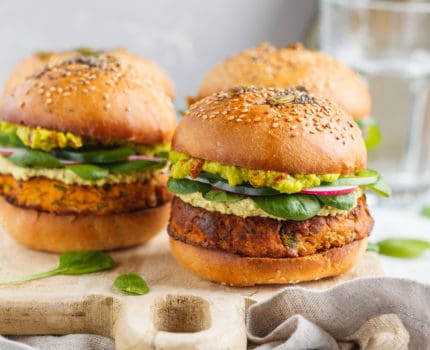 The positives of Slimfast are:
Ease of use. The plan is so simple, meaning you don't have to do a lot to prepare for it, except buy the items and prepare yourself a simple 500 calorie meal each day
Convenience. As we mentioned earlier, having Slimfast products available in grocery stores makes it easy to find and use them. You can also order them on Amazon, and sometimes you can get bulk deals which may help keep the cost down
Flexibility – you can pick and choose your products, and of course, you can choose which 500-calorie meal you cook each day
There are some downsides, however:
The plan is controversial according to some. It doesn't encourage healthy eating habits in the long run and contains a fair amount of sugar. Some people report putting the weight back on when they finish the plan
Taste – the shakes and smoothies are designed to replace meals, so you'll be drinking them a lot – but according to some, they taste artificially sweet, and are not as satisfying as a proper meal. You might find drinking smoothies and shakes pretty repetitive after a while
Lack of support – unlike Nutrisystem, you do not have access to support in your diet plan. This may make it a little harder to stay on track
Some facts about Slimfast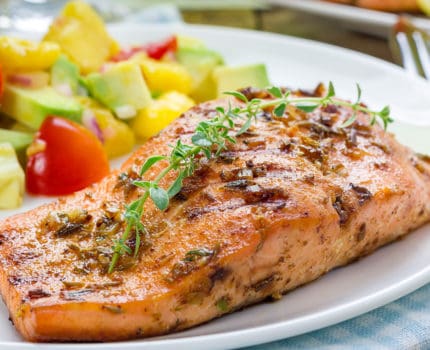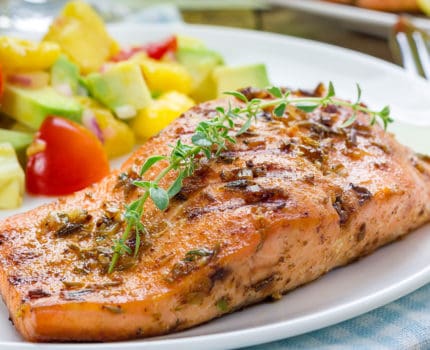 Here's what you need to know about Slimfast:
Pricing. The prices can vary depending on where you buy them, but sometimes you can get products in bulk to cut the costs a little, or you can use Amazon's subscribe and save to save a little money. The Original Chocolate Rich Chocolate Royale shake powder (14 servings) currently costs $23.99 in Walmart
It has a new Keto range, which is more suited to those wanting to follow a low-carb ketogenic diet. It includes high fat, moderate protein, and is low in carbohydrates
Side-effects: these can include fatigue, headaches, bloating, diarrhea, vomiting and stomach cramps, and more trips to the bathroom
What's included?
You have a variety of products to choose from, including:
Powdered and ready-made shakes – these are to replace two of your regular meals a day. They're full of protein, vitamins and minerals, and carbohydrates. The idea is that they will keep you full whilst helping you to lose weight
Chips – Slimfast has a range of savory snacks, including baked chips and pretzels – perfect if you get a mid-morning snack craving
Sweet snacks – these include chocolate bars: the chocolatey crispy cookie dough bar and the chocolate peanut butter pie bar. Slimfast claims these can keep you full for up to four hours. You can also get other treats, like peanut butter chocolate or cookies. If you have a sweet tooth, you can satisfy your craving without compromising your diet plan.
FAQ's About Slimfast
Here are some commonly asked questions:
How do I make up the shakes and smoothies?
You simply mix with skimmed milk (you can use dairy-free milk if you prefer). Alternatively, you can buy them pre-made, but these are more expensive.
What kind of food can I cook for my 500-calorie meal?
Slimfast recommends meals including protein and fresh vegetables – like a chicken and vegetable stir-fry, for example, or baked trout with salad. These food choices will generally fall into a 500 calorie limit.
On average, how much weight do people lose following the Slimfast plan?
People tend to lose on average of 1-2lb per week following the plan.
How do I keep the weight off once I've lost it?
Slimfast offers a maintenance plan, which involves replacing one meal a day with a Slimfast shake or bar. The most important thing with any weight loss plan is to keep up with exercise and physical activity!
Is Slimfast suitable for men as well as women?
Yes – the plan allows for extra calories for men, meaning you will have enough to keep you going.
What's the Verdict?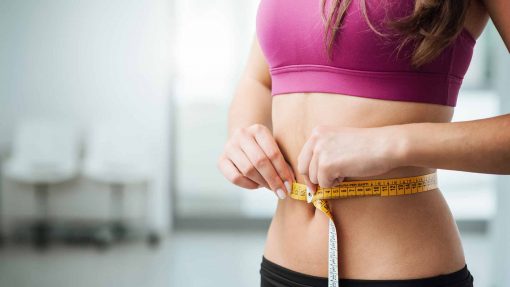 If you're looking to kick-start your weight loss, either one of these options could work for you, but they are quite different in terms of what they can offer you.
On the one hand, the flexibility of Slimfast is appealing. If it doesn't work out, you can easily switch to something else. The convenience of being able to pick up Slimfast products whilst doing your usual grocery shopping is a huge bonus, too. The products themselves are not the cheapest, but the flexibility means you're not tied to it if it works out too expensive for you. It's also suitable for vegans, which gives it an advantage over Nutrisystem.
However, some people report that the shakes taste artificial and don't feel as satisfying as eating a proper meal, and it takes a lot of willpower to stick to having two of them a day, especially after a few days. You have to enjoy smoothies and shakes to be able to stick to it. Others dislike the heavy reliance on snacks, suggesting that it doesn't encourage a sustainable healthy diet once the plan ends.
Nutrisystem feels like more of an investment. It can be a little daunting to sign up for, especially when you consider the cost, which is not inconsiderable. It's not a viable long-term option for most people, which means eventually you will have to go it alone and make your own plans for your meals and snacks. However, it offers a lot for the money.
Why We Chose Nutrisystem: With the choice of pre-prepared meals and snacks, it's a great option for those who are feeling overwhelmed with how to begin a weight loss plan. In fact, the individualized plans plus telephone support really makes the difference in terms of both making a perfect plan and sticking to it. Finally, the array of healthy and interesting meals and snacks to choose from means you are more likely to enjoy the diet and therefore stick to it. Altogether, there's a lot that Nutrisystem brings to the table. For all of these reasons, Nutrisystem is our pick.
If you want to know more about the different plans Nutrisystem offer and to check out the costs involved, click here to read our article about it.
Recommended Reads:
Medical Disclaimer: This article is purely informational. Please consult a registered dietician or qualified medical professional who can speak to your unique situation and circumstances.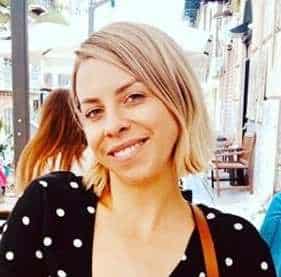 Jodie Chiffey is a nutrition and health expert who owns over 50 pairs of athletic shoes and puts them to good use. She is always looking for a new healthy recipe, loves juicing and tests new products at home, and reports back to us here at Alt Protein. Jodie's articles and recipes can also be found on her successful blog called The Juice Chief.
Why are you giving advice for Alt Protein?
I know firsthand how confusing and frustrating it is when you are trying to research health and fitness-oriented topics on your own as a complete beginner. 
I have made many mistakes when I have followed the wrong advice or didn't understand some information properly. 
I hope that sharing my knowledge and experience through Alt Protein can help others find the right way for them as fast and conveniently as possible.
What do you like best about health and wellness?
I think that everyone who embarks on the journey of a healthy lifestyle and fitness gradually realizes that it is a complete transformation of all the aspects of your existence.
Little by little, you become the best possible version of yourself both physically and psychically. What started as a big challenge suddenly feels like the only viable way of living. 
But what's even better is that you become a living example and inspiration for the others around you, which can have a real impact on the whole society.
What is your favorite source of protein?
I like to keep things as natural as possible, so I am really into a well-balanced protein-rich diet. Nevertheless, I definitely won't say no to a delicious protein shake – especially if it is full of nuts.