When it comes to daily meal preparation, you must have strong organizing skills to save as much time as possible without making a mess in the kitchen. Fortunately, nowadays, there are plenty of tools, appliances, and food prep containers that can simplify the entire process of preparing your weekly meals. In today's piece, I have decided to present you some of the best food storage containers on the market.
Which Is the Best Meal Prep Container for Weight-Loss? – My Top 6 Options
1. Glad 25-Ounce Containers
The Glad containers always come as a set of five boxes. They are medium and small-sized, and they are perfect for salads and soups. If you want to lose weight or you're following a diet plan and are trying hard to consume smaller meals, these 25-ounce containers are great for your needs.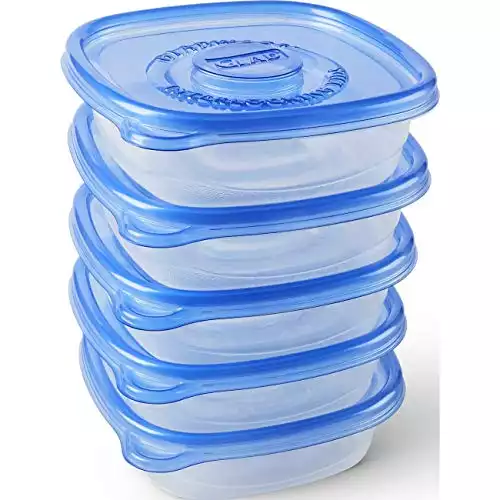 What I like most about them is the fact that they are significantly deeper than other lunch boxes. Therefore, you can easily store your soups in them. I've listed some other characteristics that describe the Glad meal prep containers, below:
Characteristics
The containers come with leak-proof lids that also have a tight seal type of lock
Not only are these food holders very affordable, but they are also safe to place in the freezer. Moreover, you can conveniently heat your meals in the microwave directly in these containers and then, clean them in the dishwasher
The lids are so strong that you won't have to worry about spills. They remain closed even when you invert them
The plastic is free from BPA, so these containers are safely reusable
Despite all the above advantages, a few reviewers expressed their disappointment, saying these containers are not completely dishwasher-safe. One consumer even stated that the ones she bought began to leak shortly after she started using them.
Price
Like I mentioned above, the Glad 25-Ounce Containers are surprisingly affordable. One pack of five counts is sold for the price of approximately $4.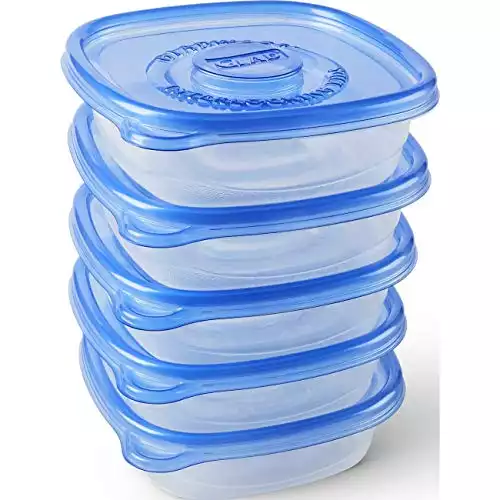 2. Bento Lunch Box
These meal prep containers have three different compartments and are ideal for those of you who like their meals neatly portioned.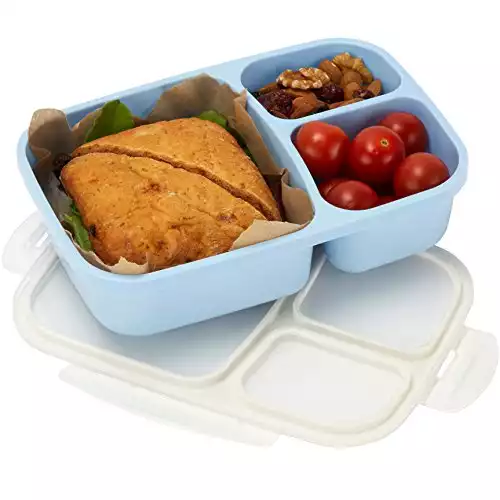 Moreover, Bento containers are leak-proof, and they will help you organize your food a lot easier. This way, you can consume nutritious and balanced meals.
Characteristics
Here are some of Bento lunch box characteristics that make it one of the best meal prep containers for weight loss:
You won't deal with annoying leaks between the three sections of the lunch box
The lid is also leak-proof which makes this container the perfect choice for office lunch
It is very easy to clean, and the container's plastic is safe and durable, being BPA-free
Bento containers meet all the standards of the FDA
You can safely clean it in the dishwasher, and the container is also microwavable
It will help you control your portion which is excellent if you want to lose weight
As a drawback, some consumers have complained about the quality of this container's materials, especially when it comes to the lid. They said the lid is too hard to open, and it might get difficult to close after a couple of washes.
Price
You can buy the Bento Lunch Box on Amazon. This food storage container costs $12.89.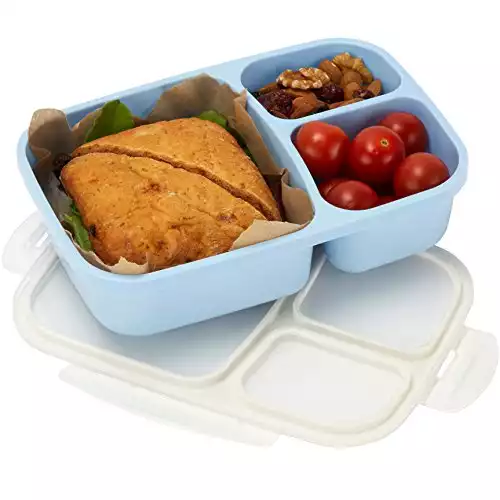 3. Glass Meal Prep Containers by Prep Naturals
These are one of the most popular meal prep containers for dieting. Clients simply love Prep Naturals lunch boxes, especially because they are made of glass instead of plastic.
It's true that this material can be harder to carry but, with these vessels, you can stop worrying about the chemicals that might leach into your meals.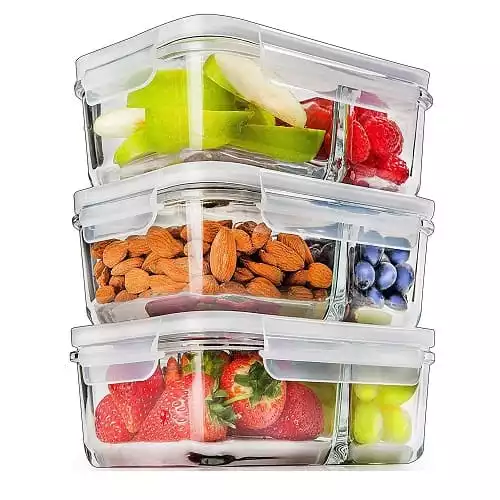 These containers come with lids made from plastic, but you can easily remove those when you heat your food in the microwave.
Characteristics
You will find some other important features in the following list:
Prep Naturals containers are durable and safe to use
Each container has two different compartments
Not only are these boxes easy to clean, freeze, or heat, but they are also eco-friendly, and they look amazing (Prep Naturals have a slick and elegant design)
The lids come with a smart locking feature. However, make sure to remove them before placing the containers in the oven, microwave, or dishwasher
The concept of portion control will seem like a breeze once you start using these containers. You will regain control over the amount of food you consume which will help you follow your diet by the book
There were several complaints regarding the containers durability as well as the lids' level of quality. Also, one consumer said that, in his opinion, the dividers are simply pointless, but that depends on how you want to use the vessels.
Price
You can purchase a pack of three Prep Naturals Containers for the cost of $19.99.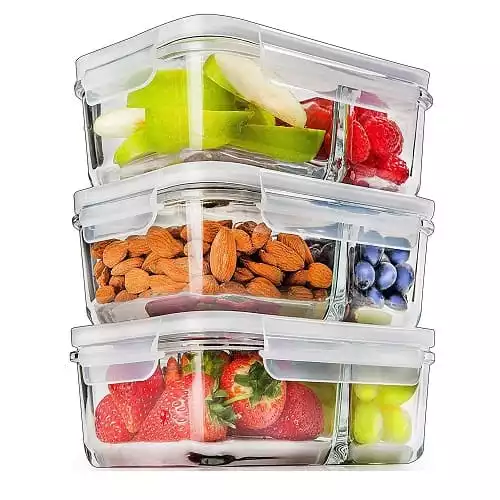 4. 3-Compartment Meal Prep Containers by Simple Houseware
As the name says it, these containers have three compartments each. Therefore, I consider them a wonderful solution for when you want to measure the portion size of each main nutrient and to keep a balance and a good ratio between proteins, vegetables, and carbohydrates.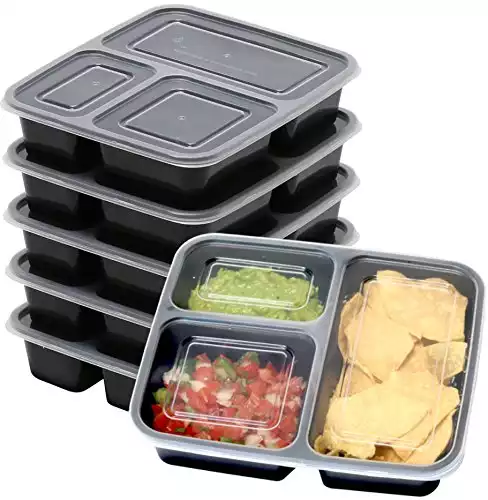 Each container has 36 ounces, so they are large enough to store healthy yet bigger foods such as salads.
Characteristics
Some of the main characteristics of Simple Houseware meal prep containers are the ones listed below:
The plastic is BPA-free, so these vessels are safe to use
They keep the ingredients separated, and the foods won't leak from one section to another
Simple Houseware containers will keep your meals fresh
The materials from which these containers are fabricated are all approved by the FDA
Even though they are made from plastic, these boxes are quite durable, and they are easy to store
The lids are air-tight
The boxes can resist temperatures as low as -40 degrees Fahrenheit and as high as 320 degrees Fahrenheit
You can easily and quickly clean them in the dishwasher
This product is very affordable
On the other hand, several consumers were not pleased with the quality of these containers, saying they can crack or break after a while.
Price
On Amazon, a package of 6 Pack Simple Houseware Meal Prep Containers is marketed for the price of only $9.87. You can also opt for packs of 10 counts ($12.87) and even 30 containers ($29.87).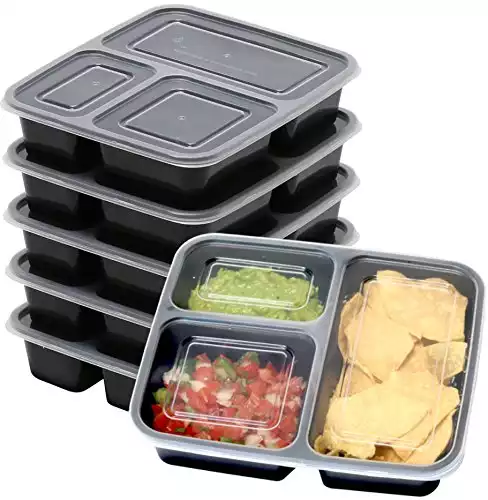 5. Silicone Food Storage Containers by Collapse-It
These containers are made from silicone and you can place them in the microwave or the oven with their lids on (the only thing you must remember is to open the small cap placed in the middle of the lid for proper ventilation which leads to an efficient reheating).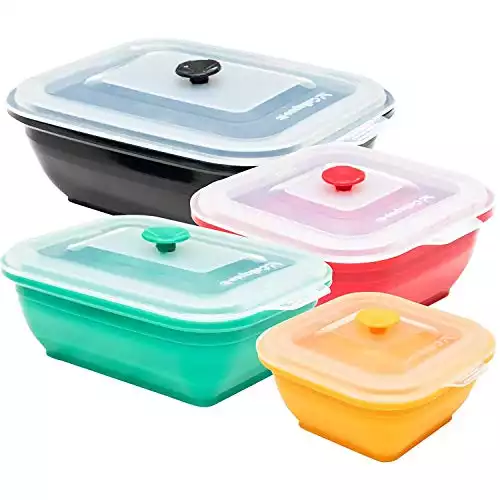 The fact that they have a collapsible feature makes them easier to store. These types of food containers come in handy, especially when you have a tiny kitchen and not enough storage space.
Characteristics
Here are the things that differentiate the Collapse-It containers from other similar products:
The classic package comes with four different rectangle pieces of different sizes
You can also choose to buy the set that has round containers
The entire set is collapsible which means, when you're not using it, the containers will fold to half their initial sizes
You can easily store the set in your kitchen
The boxes are safe to use or place in the freezer, oven, and microwave. Moreover, they have a sealed vacuum feature, and they are very durable
The materials are BPA-free, and each of the container's color will help you control your nutrient portions – each color is assigned to a certain type of food: veggies, carbs, protein, etc.
The vented seal on top of the lid is leak-proof, and the entire pack is compact and easy to use. All these characteristics make the Collapse-It set the perfect choice for work lunchboxes
The majority of reviews are positive, and most consumers simply love this meal prep storage set. However, a few people said these containers are not as sturdy as one would expect, especially when they are full.
Price
As I said, you can either purchase the set of rectangle pieces, or you can opt for the round containers. Either way, you will have to pay $39.99 for all four pieces of the Collapse-It Container Set. These boxes are more expensive than many other similar food storage products.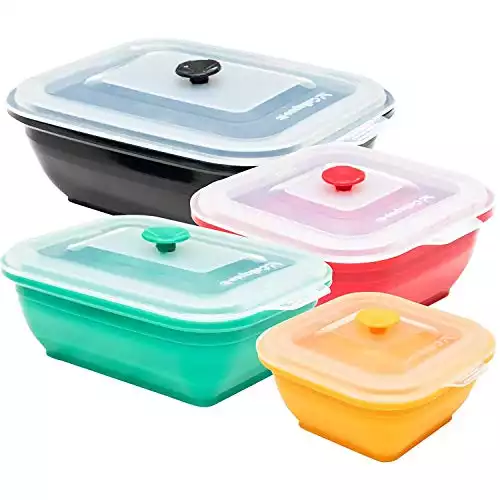 6. Pyrex Storage Container Set
This set contains no less than 20 different pieces. Clients can use the boxes' colorful lids to their advantage. What I mean is they can assign each color to a certain food. For instance, one could store meat in green containers and salads in red containers.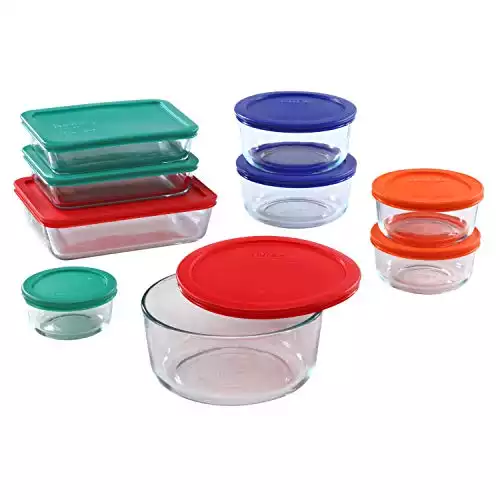 With these boxes, you will become more organized than you've ever been. Pyrex vessels are made from durable glass, and they are safe to use in the oven or the microwave. Moreover, they are very easy to clean.
Characteristics
Here are some more things you should know about this set that will help you make a more informed purchasing decision:
This food storage set is a highly versatile one. I simply love their variety when it comes to sizes, lid colors, etc. You can safely use these glass container multiple times a day without having to worry about harmful chemicals that plastic containers might have
They are durable and dishwasher-safe, and you can use them to control your portions
Glass containers are a good idea when you have a lot of leftovers. Leftover foods seem to last longer in glass boxes than in plastic containers
Although they aren't collapsible, the Pyrex vessels are easy to store, and they don't occupy a lot of space in your kitchen
I must confess I haven't used these containers myself, but I did find several reviews from people who were rather disappointed with the Pyrex meal prep set. According to them, the lids of the containers don't always create a tight seal. In fact, it appears that this lid-related issue only occurs with the blue lids.
Price
The Pyrex Container Set costs between $48.50 and $54.89, depending on the seller.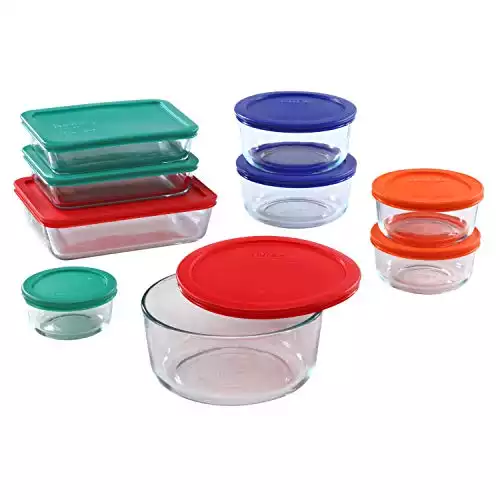 What to Look for When Buying the Best Meal Prep Containers for Dieting
Choose Air-Tight and Leak-Proof Lids
When you are buying a food storage container set, make sure the lids are leak-proof and have an air-tight seal feature. After all, nobody wants to find out that their food created a whole mess inside their lunch bag. It's true, however, that certain types of lids are better than others. There are a couple of tricks you can do to test the quality of the lids:
Place a small amount of liquid inside the container, then close the lid. After that, lean the box on one side to see whether or not the liquid will seep out
With the lid closed, shake the container for an entire minute to test the durability of the lid
Drop the closed container on the kitchen counter to see if the lid stays on or if the box cracks
Buy Microwave-Resistant and Dishwasher-Safe Containers
Although, in my opinion, the best types of containers are those made from glass, you can also opt for plastic food boxes but make sure they are BPA-free which means that they don't contain harmful chemicals that might mix with your food, especially when you heat them up.
Other Important Aspects to Consider
Buy only freezer-friendly containers that will preserve your meals for a longer time
Choose those products that are also convenient, easy to use, and easy to clean. I will let you in on a little secret in terms of ease of cleaning; the best meal prep containers are those made from either glass or stainless steel
Select containers that are portable so that you can use them on the go
Be aware of those brands that advertise their products as being extraordinary and claiming some unrealistic things. If you have never used food containers before, I recommend you start with a standard set and then, go from there
Below, I have created a brief comparative overview to see what differentiates glass containers from plastic food boxes:
| | |
| --- | --- |
| Glass Food Containers | Plastic Food Containers |
| Easier to clean and safer to use | Are lightweight which makes them the perfect option for an active lifestyle |
| Free from harmful chemicals | They come in various sizes which makes them highly convenient |
| Are pricier yet economical in the long run due to their durability | Plastic containers are easily disposable, and they cost less than glass containers |
| Can be a bit heavy to carry around if you're always on the road | Some plastic materials might contain dangerous compounds |
Further Reads:
FAQs
Question: What are Plastic Food Containers Made Of?
Answer: Plastic food containers are made of polystyrene which is usually recycled and used for food containers, toys, coat hangers, cups and more.
Question: How Many Containers Do You Need to Meal Prep?
Answer: There is not just one answer to this question as it depends on the diet you are following and the number of meals you want to prepare. If you are looking for meal containers for the whole week, there are usually great deals on sets of 12, 14 to 16 boxes.
Question: Can You Microwave Plastic Meal Containers?
Answer: Plastic meal containers release toxic cancer-causing substances in the food, so it is best to avoid heating them if they are not labeled microwave-safe for use.
Let's Recap
Although some might think (including me) that glass containers are safer than plastic ones, all the products that I have included in my article are safe to use due to the fact that they are BPA-free. Also, the boxes presented above are some of the best meal prep containers for dieting, and they have all received plenty of positive feedback from consumers.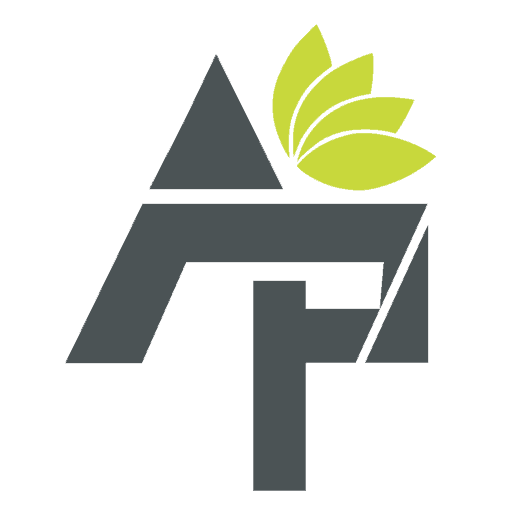 Alt Protein Team is a team of professionals and enthusiasts committed to bringing you the most up-to-date information on alternative protein, health and wellness, workouts, and all things health-related. We've reviewed a lot of products and services so you don't have to guess when you spend your hard-earned money on them. Whether you want to shed some pounds, build lean muscle or bulk, we can help you figure out what you need to do and what you need to have to achieve your goals.